Takashi Miike: Fantasia Filmography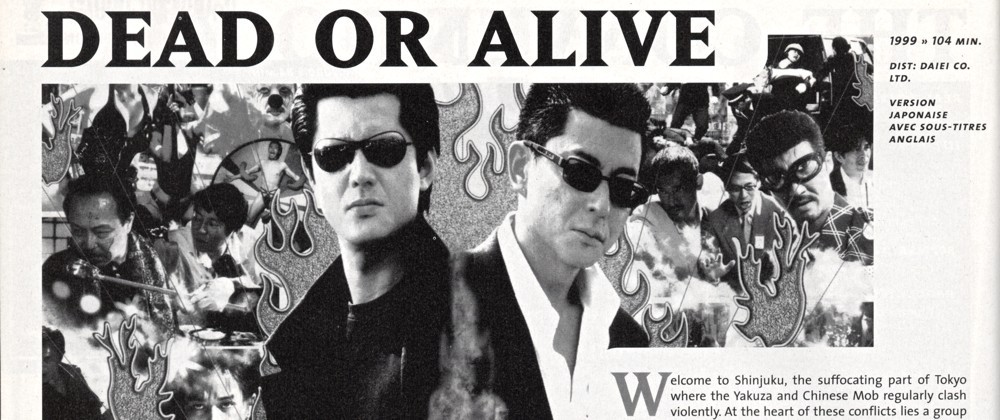 This is the master list of Takashi Miike titles presented during the first 20 years of the Fantasia International Film Festival in Montreal, QC, Canada. The list includes 29 feature films, two TV episodes, one anthology segment, and one short film. Click on each title to view PDF scans of the original catalogue entries for the films. From 2005 onward you can also click through to Fantasia's web archive listings with links to trailers and other info. And you can also download a master PDF document containing all 32 catalogue entries (see below).
The filmography was researched and compiled by Peter Rist. Catalogue scans and links were provided by Randolph Jordan.
1997
Fudoh: The Next Generation (Gokudô sengokushi: Fudô) – North American Premiere
1999
Rainy Dog (Gokudô kuroshakai)
2000
Audition (Ôdishon)
Dead or Alive (Dead or Alive: Hanzaisha) – North American Premiere
2001
Dead or Alive 2: The Birds (Dead or Alive 2: Tôbôsha) – North American Premiere
Visitor Q (Bijitâ Q) – North American Premiere
2003
Graveyard of Honor (Shin Jingi no Hakaba) – Canadian Premiere
Ichi the Killer (Koroshiya 1)
The Man in White (Yurusarezaru mono) – North American Premiere
Shangri-La (Kin'yû hametsu Nippon: Tôgenkyô no hito-bito)
2004
Deadly Outlaw: Rekka (Jitsuroku Andô Noboru kyôdô-den: Rekka)
Gozu (Gokudô kyôfu dai-gekijô: Gozu)
One Missed Call (Chakushin ari) – North American Premiere
2005
Izo (Izô: Kaosu mataha fujôri no kijin) (Web listing here.)
Three… Extremes – Anthology Film, Second Segment: Box (Web listing here.)
2006
Arthouse Ultraman – Two Episodes of the TV Series Ultraman Max (Urutoraman Makkusu): Who Am I? and Miracle of the Third Planet (Web listing here.)
The Great Yokai War (Yôkai daisensô) (Web listing here.)
2007
Big Bang Love: Juvenile A (46-okunen no koi) (Web listing here.)
Sun Scarred (Taiyô no kizu) – International Premiere (Web listing here.)
Zebraman (Web listing here.)
2008
Sukiyaki Western Django (Web listing here.)
2009
Yatterman (Yattâman) – Canadian Premiere (Web listing here.)
2010
Crows Zero II (Kurôzu zero II) – Canadian Premiere (Web listing here.)
2011
13 Assasins (Jûsan-nin no shikaku) (Web listing here.)
Ninja Kids!!! (Nintama Rantarô) – Canadian Premiere (Web listing here.)
2012
Ace Attorney (Gyakuten saiban) – Canadian Premiere (Web listing here.)
For Love's Sake (Ai to makoto) – North American Premiere (Web listing here.)
2013
Lesson of the Evil (Aku no kyôten) – Canadian Premiere (Web listing here.)
Shield of Straw (Wara no tate) – North American Premiere (Web listing here.)
2014
The Mole Song: Undercover Agent Reiji (Mogura no uta – sennyû sôsakan: Reiji) (Web listing here.)
2016
As the Gods Will (Kamisama no iu tôri) – Canadian Premiere (Web listing here.)
Keep on Rolling! (Korogashiya no pun) – short (Web listing here.)
Terraformars (Terafomazu) – North American Premiere (Web listing here.)
PDF Downloads