Nothing Is Wrong: Notes on Costume in Klute (1971)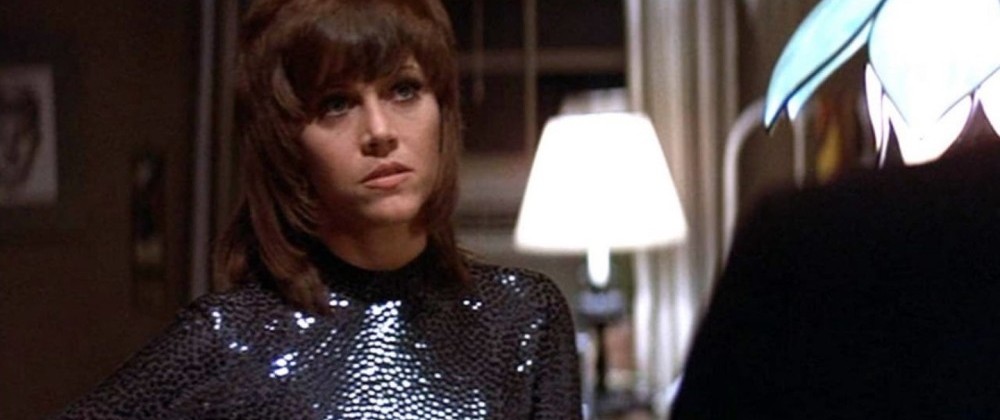 Who —or what— is Jane Fonda? Movie superstar? The offspring of Hollywood legend? Fitness queen? Political pariah? Some of the important factors in the iconic attribution of a cinematic figure in the culture are those extra-curricular aspects formerly managed by the studio system. In what Foster Hirsch describes as the 'parallel texts' of Hollywood stars and their offscreen lives, Jane Fonda's biography contributes ineffably but tangibly to her myth as icon (Foster Hirsch, 1991: 256). With the dissolution of the classical system in the Sixties, such intersections and interstices became associated with the personal and the political, if they can ever be separated. Fonda's individuality and modernity, forged partially from associations with her heritage and her husbands' interests, would largely inform the public about her from the perspectives of new images of gender, sexuality, class, patriotism, nation, activism, globalism, femininity and fashion. She is the epitome of the modern. Her appearance in Klute (1971), a self-abnegating role in the tradition of noir, offers a connection that intertwines these cultural phenomena, illustrating how Fonda became an object of fascination and iconicity and infiltrated the public consciousness. A survey of the film's costumes gives insight into the intertwining of cinematic and private personae as they became associated with the figure of Fonda, an increasingly politicised person at the time of the film's production.
The story of a prostitute in trouble following the disappearance of one of her alleged johns, it is a film about acting; a meditation on performance anxiety and exploitation; and a study of female character. Fonda's evolution into a political person, forged before, during and after production, created an iconic image of her as an anti-war anti-Christ, crucified by the US media in a particularly difficult time for that country, then engaged in a fruitless and unpopular war in Vietnam. Fonda's name was besmirched in a ruthless pattern of propaganda, editorials and rumour-mongering emanating from the FBI and the White House (in the person of Charles Colson) and characterised by spurious sourcing calculated to indict her for her views (Hershberger, 2011: 171-174). Just how Fonda became constructed as a representative symbol of the United States is explored here through the interaction of the costuming of her character, Bree, in this film of deep resonance, with matters both personal and political reflected in the character's emotional arc.
Written by Alan and Dave Lewis and directed by Alan J. Pakula with costumes designed by Ann Roth, Klute is a murder mystery in the noir tradition but ultimately reversing the trajectory of that genre because the protagonist, Bree Daniels (not the titular detective) is truly the femme fatale – her apparent fate is inscribed in the film's mode from the beginning, with death looming large in the ambiance and portents surrounding her. Constructed as a surveillance thriller but equally a character study, this was the film which truly brought Fonda to the public as star. Pakula expanded her role, struck by Fonda's new intensity (Collier, 1991: 201). She had received an Academy Award nomination for her previous immersive role as a suicidal actress in They Shoot Horses, Don't They? (Pollack, 1969), a metaphorical account of the brutal lives led by many in the Depression adapted from the Horace McCoy novel. She was also an international sex symbol after her starring role as Barbarella (Vadim, 1967) in which her director husband had made her over, Bardot-style, intent on furthering the success he had achieved by her role in La Curée aka The Game is Over (Vadim, 1966) when he felt that he had finally cracked a way to show her to her best, quirky advantage, a revelation of her true persona as he saw it (Vadim, 1986: 263-4).
Sex is currency in Klute. Fonda plays a jobbing prostitute trying to make it as an actress while attending auditions for fashion shoots. She epitomises the term model/actress/whatever. 'Whatever' means call girl in this film. Fonda had previously essayed the role of prostitute in Walk on the Wild Side (Dmytryk, 1962). As Bree Daniels, she occupies two worlds, fashion and prostitution, both aspects of performativity in which women are solicited as compliant objects for men to buy and sell as they choose. Bree is not entirely the duplicitous woman familiar from the noir tradition, nonetheless her life is an overlap of two brutal male-dominated worlds over which she has little or no control. The voiceover informs us that she has spent two months in prison after being tracked down by police through obscene letters sent to her by a presumed one-time client and senior industry executive, Tom Gruneman (Robert Milli) who is now mysteriously missing. Bree is trying to get her life together in the aftermath of this cataclysmic event. Molly Haskell classifies Bree as a 'neo-woman,'
… torn between the negative and positive of the feminist consciousness —rage at the old order, hope for the new — … anaesthetized, at an emotional and cultural 'stasis,' a death. But it is out of this death, out of the ashes of her sacrifice that the new woman will be born.
(Haskell, 1987: 41)
The first image we see in the film is of a tape recorder and Pakula establishes the tropes of surveillance and voyeurism, a political theme he would explore more fully in his subsequent films, The Parallax View (1975) and All the President's Men (1976). The Gruneman family's loss is established with a simple cut to an empty chair. The tape machine plays Bree's voice as the disruption becomes clear: "Nothing is wrong … Let it all hang out… Do it all – and fuck it." As Hirsch puts it, "Jane Fonda's voice bristles" (Hirsch: 201). Fonda said, "it came from my gut" (Patricia Bosworth, 2011: 326). In terms of fashion and the year in which Klute was released, 1971, Yves Saint Laurent issued his mini-fur collection which became famous as the Happy Hooker look in a tour de force of bad taste. Prostitution was now an emblematic style choice. However, Bree and her emotional journey are a refutation of that ideology. Bree is many things, but happy is not an adjective that could describe her state of mind or her place in the world of looking. How she presents herself – as a model, as a private individual at home, visiting her shrink, attending auditions, turning tricks – tells a story about her emotional state. Viewed alongside the star's personal development at this time, the costumes of Klute sum up not just her roles to date but the role of fashion in women's existence. Its afterlife and effect on late twentieth century style tells its own story.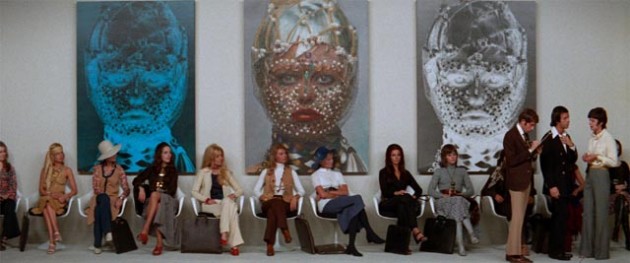 1. Irene Dunne would have had it. When we first see Bree she is at a model callout, seated far right of frame, dressed head to toe in grey beneath a negative of a model's blown up image. Her outfit is distinguished by a black patterned knit jumper, a long pendant and a wide brown belt cinching her at the waist of a patterned pale grey button-up midi length skirt slit to the thigh. Her tights are grey, her shoes are grey. Her outfit could be described as conservative. She is seated beneath a triptych of depersonalised faces adorned with 'mod' headgear and embellished faces, shot in negative in a reference to the machine-woman that gave pleasure in Metropolis (Lang, 1924). (We might also note the film The Boyfriend (Russell,1971) with its clear references to Weimar Berlin and of course Cabaret (Fosse, 1972).) One girl is rejected for being too pretty; Bree's hands are dismissed as 'funny.' The world of superficiality is rife with put-downs. She immediately leaves and goes to a phone booth, dials a number and asks for a client. We are immediately placed in a world where looks and sex are traded. Fonda was engaging on her political journey including feminism so this was not an obvious role.
"Would a real feminist do that?" Fonda asked herself. "A real feminist wouldn't have to ask herself such a question" (Fonda, 2006: 248). But, as Peter Rainer, suggests, "most roles worth playing are politically _in_correct" (Rainer, 1992: 148). Fonda had herself spent time as a model, signing with the legendary agent Eileen Ford. For Bree, these events, rejection and submission, are interchangeable; the one forces the other to happen. Hers is a dissociative and fragile personality, trading on fearful symmetries, grounded in gravity and sorrow. Her self-esteem is based on her appearance, her confidence is boosted by being sexually abused for money (or, that is the audience's perception). Likened by Haskell to Clara Bow, she says, "both are women going about the business of saving their fragile egos and both are in danger of losing their souls" (Haskell: 82).
The still reveals her as just another girl, lined up, ready for rejection, reinforcing the male symbolic order which is barely disrupted by these women's participation in their own eroticised destruction. It is, in other words, a cattle call and a foreshadowing of things to come. Rejection by one man leads to her soliciting another's attention. It's a simple equation of desire and desirability. This is a film about the buying and selling (and killing) of women. When she picks up her trick in a hotel room, she undresses with her back to camera and famously fakes an orgasm whilst checking the time. This is part of what Haskell identifies as enacting the feminist fantasy, "a miraculous immunity" (Haskell: 387).
It is one of the great moments in Seventies cinema and would elicit varying responses, including those from Pauline Kael and Molly Haskell "who recognize bad sex when they see it". As Linda Williams points out, "Kael tacitly acknowledges that a popular film can use simulated sexual performance to express the complex psychology and drives of its characters and perhaps something more nuanced than simply good or bad sex. She also implicitly acknowledges, through her very demand for yet another sex scene, what [Vincent] Canby cannot admit: that screening sex, up to and including depictions of the quality and kind of orgasm, conjoins with interest in character and narrative and is now a valid expectation at the movies" (Williams, 2009: 179; Kael, 2000: 280-1). Fonda's corporeality is an essential part of her cinematic being and significance.) 1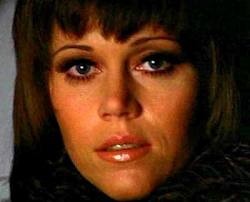 Monkey 'do
Fonda took the role in Klute because she needed money: her activism had already led to an arrest in March 1970. She moved to New York to immerse herself in research prior to the shoot, meeting call girls and madams, going to after-hours clubs. "Never once during those evenings did a pimp even try to solicit me. I interpreted their ignoring me as a sign that I wasn't right for the character of Bree Daniel [sic]." Her insecurity led her to try to leave the production but she "began searching for a way to play a call girl differently – tough, angry, but not totally hardened – and this was when I drew on my experiences with some of the call girls I'd gotten to know in Paris with Vadim." That was when the character evolution began to occur: Bree "would be an actress, a talented one, whose life experiences, including early sexual abuse and a consequent need to always be in control, had led her to choose hooking as the way to pay for acting classes and rent. From that realization on, I turned a corner" (Fonda, 2006: 249; 251).
Costume designer Ann Roth's background was in design at Carnegie-Mellon University (formerly Carnegie Institute of Technology) in Pittsburgh. Her first film credit is for The World of Henry Orient (Hill,1964) and she would continue to excel primarily at contemporary film costuming such as Midnight Cowboy (Schlesinger,1969) although her late work on productions like The Talented Mister Ripley (Minghella,1999) indicates her dedication to period and social accuracy. Fonda had recently been known primarily for her sex kitten roles and for bringing a unique sense of modernity to light comedies. Now she was sporting a look that was more suited to the times and to her own immediate needs as a busy young mother involved in political campaigns. She had cut her famously long dyed-blonde hair to achieve the marcelled bob for They Shoot Horses… and after that film's emotional aftermath proved too much she altered her hairstyle again as she embarked on major life changes.
The impact of the costuming in Klute cannot be denied: it had an immediate effect on what was worn on the streets, with Fonda's hairstyle in particular becoming a signature of the period. It was not planned for the role per se – she'd been sporting a version of it for several months before she signed for the film, this somewhat unisex choice of monkey cut or "a battle-ready shag," as Devin McKinney anoints it (McKinney, 2012: 270). Roth brought Fonda to hair stylist Paul McGregor at St Mark's Place to shape the hair (Bosworth, 2011: 321). This radical reinvention was not merely an outward move in the sense of the Vidal Sassoon-inspired five-point cut which had received such publicity since its avocation by Mary Quant: Bree was not just a figment of the costumier's vivid brain – she was very much a projection of Fonda's own physical self, an exegesis of the persona who was divorcing Roger Vadim and engaging on a quest for herself through political and cultural engagement. Many of the costumes were Fonda's own or if not then they imitated the style then sported by the actress. According to Patricia Bosworth, amongst other things, Roth chose the fringe bag and brass-buckled belt as well as the thigh-high boots and stretchy sweaters (Bosworth: 322). As Stella Bruzzi points out, "Films of the mid-1960s such as Darling and Two for the Road brought in the by now common practice of 'shopping' rather than designing film costume, of buying in designer off-the-peg items" (Bruzzi, 1997: 7). However, what might be a surprise to learn is that Fonda was so instrumental in how her character was dressed as she revealed in an interview to celebrate the film's 40-year anniversary:
Well, a lot of the clothes I wore were my own clothes. [Costume designer] Ann Roth replicated my [trench] coat she had made for me to wear tonight. Turn around [points to a photograph of her in the film], those boots, the skirt, the sweater, they were all mine. The choker was mine; the purse was mine. It became kind of iconic. The hairdo was mine! (Elle, unpaginated)
She expresses the view that
… Klute, from a fashion point of view, is the most iconic film I've done. You can see there's been a resurgence of the fashion [with] Klute —like clothes. (Ibid.)
It was a long way from the space-age costumes created by Paco Rabanne for Barbarella. Bree's presumed death is foretold within the first 10 minutes – she strides up the steps to her apartment building and overhead, framing the shot at the top left-hand corner and dominating the image, is the lit sign 'Buckley Funeral Parlor.' This is not an accident of production design, it's a clue. This is the story's focus – actual death, and the death of the soul. If the arc in Klute leads to Bree's anticipated demise, the graph is established here.
2. We gather together to ask the Lord's blessing. In her uniquely feminine environment, Bree wears a dark pink kaftan, lights a candle, smokes a joint and sings a church hymn. McKinney states, "Jane inserts it [the hymn] on impulse. Yet the need to sing the song is Bree's, and it places us in the room with her. We cannot say where the song comes from, or why it should haunt us" (McKinney: 280). Fonda wanted to live on the set once the apartment was dressed and a flush toilet installed. "It was lying on that bed every night that I was able to imagine what Bree would want to surround herself with. What books she would read. That was where the idea of the photograph of John F. Kennedy came from – particular kinds of photographs on the wall. Having a cat. What I would feed the cat. I mean, just a whole lot of specific things. I brought a lot of my own things onto the set" (Brown, 2005: 103).
3. One way or another, the Capricorn woman will get her recognition. She is clad in a men's striped pyjama top lying in her antique frame bed, covered in a traditional patchwork quilt. She reads Linda Goodman's Sun Signs. Fonda was born 22 December 1937, on the cusp of Sagittarius and Capricorn. Goodman might say of her goat-like inclinations, "Capricorns never deviate an inch to the left or right. They steadily follow the upward path, with inbred faith in the security of the well-travelled road, and contempt for the enticing short cuts they know are full of pitfalls" (Goodman, 1970: 405). Bree's amusement (and the placing of the bookmark) suggests Fonda is reading about herself.
She had to remain visible and vocal, because she thought if she did she would be accepted and gain credibility with other activists – even though she often didn't know what she was talking about. —Bosworth: 297
4. You have to know yourself and relate. Primping for her day and feeding her cat tuna for breakfast, she wears a slinky form-fitting brown short-sleeved turtle neck over a white button-up skirt. She is clearly braless: this set a trend in the early Seventies and suggests a new kind of liberation from structured existence.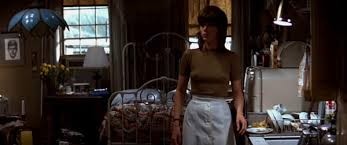 Bree braless
The doorbell rings. John Klute (Donald Sutherland) is newly arrived in New York City from rural Pennsylvania to investigate the disappearance of his friend Gruneman and the trail provided by Gruneman's associate Peter Cable (Charles Cioffi) leads to Bree, who may have been hired by him. Later, an acting agent gives her a talking-to.
5. Why do I still want to trick? Wearing a grey ribbed turtleneck and tan suede jacket, Bree attends her shrink (Vivian Nathan). This is how she dresses for this aspect of her private existence. We know, even if she does not, that she tricks to retain control – that's the turn-on (Haskell: 366). Early in the film's rehearsals, Fonda declared that Bree would never reveal herself to a male psychiatrist: Pakula then hired Nathan. The scenes were shot at the film's conclusion, "by which time I would have fully internalized Bree," Fonda writes (Fonda, 2006: 252). Her hands (funny or not) express her conflict as she grips the air. As Thomson states, "this is truly a film about Bree and about the several ways in which being a psychiatric patient (talking about oneself), being a hooker (acting out), and being an actress (acting in) are overlapping or in a rhyme scheme" (Thomson, 2008: 444). Bree admits she wants to feel in control but we realise that when someone dials her number, she is in a vulnerable state of surrender.
Fonda declared of her experience in psychoanalysis: "I've discovered that the problems of Jane Fonda the actress are exactly the same problems of Jane Fonda the human being. I know that the better I can become as a human being, the more fulfilled I will become as a person and the better I will become as an actress" (Kiernan, 1973: 124). Nathan told Patricia Bosworth, "Jane and I were sitting opposite each other in every scene, and I kept seeing that implacable Henry Fonda expression reflected back at me … So little humanity. I'm not saying Jane was her father in drag, but there are elements of his sternness and incomprehension in Jane's portrayal of Bree. Not just in that performance, but in her as a woman." (Bosworth: 327). Perhaps it would be fair to appropriate Barthes, and state simply that the face of Jane Fonda is an Idea – or the expression of several Ideas simultaneously (Barthes, 1957/1983: 57).
She had never examined her own position, had never realized the extent to which her own life was affected, had to be affected, by her father's career … She did, indeed, look like her father, but there was a quietness about her which was not mere manners but something physical, like the quietness of an animal, of a fawn, say, who freezes and relies on its dappled camouflage in a time of danger. — Henry Sutton, The Exhibitionist: 158;180
Control is established by the person who is watching Bree. Voyeurism is established in the film's first moments at the callout, now it is a mode of dominance and her way of life. Klute falls into a subset of crime cinema, the surveillance film, the contemporary version par excellence being The Anderson Tapes (Lumet), released the same year. In this world of fascinating phallocentrism, Bree is at the centre of the male gaze that has become a structuring film form (Mulvey, 1975: 303-313). The tropes are all there: the investigation, the private eye, the tape recordings of phone calls, the over the shoulder shot device of the voyeur, the feeling of being watched and the concomitant fear, overlaid with the tension and dread from that group of films described as film noir. What narrative impetus contributes to this particular expression of femininity? One of the governing ideas in examining the paranoid woman's film is that of the specular (Doane, 1987: 123-154). As Diane Giddis has it, Bree's paranoia paradoxically (or logically) increases with the presence of Klute in her life (Giddis in Nichols, 1976: 197). Bree wants to retain control of her response to every scene – be it sexual or acting. It is all a performance. In taking the role of Barbarella, Fonda had exhibited, as McKinney puts it, "a creative drift toward camp," which had led her to turn down the lead in both Bonnie and Clyde (Penn, 1967) and Rosemary's Baby (Polanski, 1968) (McKinney, 2012: 267). In a sense, Bree's costumes offer a survey of Fonda's previous film roles, and, consciously or not, point her cinematic character in a more powerful direction in this transitional film.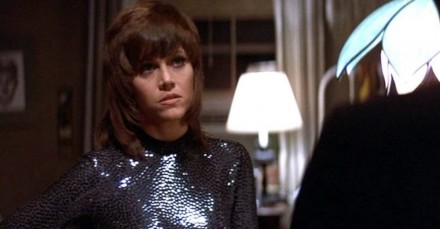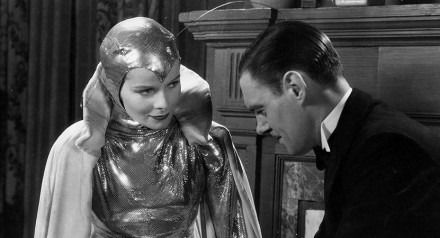 Christopher Strong, by Dorothy Arzner, with Katherine Hepburn
6. Family-type man – it figures. In an extraordinary shimmering black sheath-like gown, trimmed with a feather boa, Bree visits an older client, Mr Goldfarb (Morris Strassberg), and tells him about her trip to Cannes as she performs a striptease. He never touches her. The dress reminds us of another spectacular Hollywood costume, the fancy dress that Katharine Hepburn wears in Christopher Strong (Arzner, 1933), all the more extraordinary for its being in a film in which Hepburn is customarily dressed in utilitarian attire. Bree is then watched outside her apartment building by Klute as she returns, covered up with a long beige mackintosh. The undertow of Klute is sadness and the palette of muted colours reflects and expresses that directly. This is an expressive text of enacted fantasy. The suggestive serpentine sheath embodies a secretive sexual vision of upperclass life, the feather boa an element of camp caricature that aestheticizes a certain brand of Twenties erotic artifice as part of that canon determined by Susan Sontag (1964, unpaginated). This was a period in which Thirties films were shown on television and there had been a revival of interest in both Art Nouveau and Art Deco. Vintage shops were springing up everywhere and the term 'retro' coming into vogue. In Klute, we are thrown into Bree's universe, what Sontag describes as "Being-as-Playing-a-Role … the farthest extension, in sensibility, of the metaphor of life as theatre" (Ibid.)
The shimmering backless black lamé gown that collapses come-hither into bed-readiness was a daring choice, exposing not just Fonda in terms of physicality but opening up the character to a different level of exploitation, particularly in front of Klute, who is not accustomed to this type of masquerade (and whom it barely impresses). As she repeats her act for him in her apartment a floorboard squeaks and Klute goes up to the roof to find the voyeur. The more Bree exposes of herself to Klute, the more she is exposed to danger.
Don't be afraid. I'm not. We see a figure — which is clearly Cable — listening to tapes of Bree's voice. The film's loss of its generic suspense structure is meaningless. It is displaced by the arc of fear in this study, during which Bree battles with control and love. The generic impetus of noir is usurped by a different point of view (See Gledhill in Kaplan, 1980: 16). Pakula stated of Bree, "she has a compulsion to seduce, and it's that compulsion that almost destroys her in the end" (Brown: 105).
7. Fuck off. Bree has a white ruffled shirt, a maroon halter top and skirt and high black boots. Her ex-pimp, Frankie Lagourin (Roy Scheider) gives Klute the runaround and Arlyn Page is dead – a suicide. Klute hands Bree the tapes of her calls and she throws them in the trash.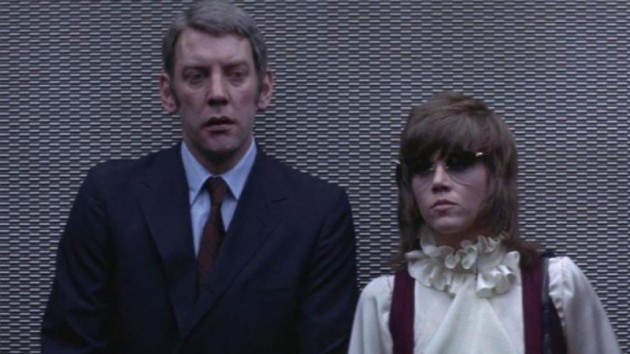 Donald Sutherland
As Jeanine Basinger reminds us, "By 1970, the number of great movie star personalities developed by Hollywood's star machine had begun to wane" (Basinger, 2009: 524). Fonda had managed the feat of having two separate, rarely interlocking careers, between Hollywood and France. She hadn't won the Academy Award for the role of Gloria and it was widely assumed to be because of her steadily increasing political activism. Her situation during filming was problematic and politicised, yet gains retrospective weight for being such a clearly transitional role.
8. Very interesting accent. Bree is rejected again, this time at an audition for Saint Joan which she performs with an Irish accent (Siobhán McKenna had famously played the role in her own accent on Broadway). She is dressed down, in red shirt and jeans. This is perhaps another private self, playing someone else. Now Klute is watching her.
9. I'd to let her go. Perhaps because of a continuity, editing or pacing problem we jump cut from to Bree's previous outfit, covering her eyes with oversized sunglasses meeting the madam (Rita Gam) who had previously employed Arlyn Page.
10. As far as I'm concerned she's dead. Wearing a red top at a nightclub, it appears to Bree from chatting with people that Arlyn is a victim of someone who possibly killed Gruneman.
11. Wearing a wifebeater, Bree flips photographs of dead women at New York City morgue.
12. Bree is being watched again. She is alone in her apartment, wearing the dark pink kaftan. At home, supposedly alone, she is soft, feminine, gentle. Her costume's colour scheme alters. We understand what Giddis means by the dangers posed by Klute: the closer Bree stays to him, the closer her watcher Cable gets to her (Giddis: 197).
13. I just don't want to be alone right now. Bree wears a beige mac over her men's striped pyjamas and asks Klute to be with her. She eventually has sex with him. What's the matter? You were terrific! A real tiger! Are you upset because you couldn't make me come? I never come with a john. We are again reminded that this is always a film about performance.
14. She used to dress like you. Wearing the tan jacket again, she asks about Arlyn.
15. No, he was an older guy. Bree is clad in a a tribal-style metal-toothed neckpiece, a pink wifebeater and long brown skirt. She and Klute finally find Arlyn (Dorothy Tristan) alive and strung out with another freak in a rundown tenement building waiting for a fix. Bree is upset and jumps out of a taxi, running to Frankie in a nightclub where he is holding court. She is supine when Klute finds her.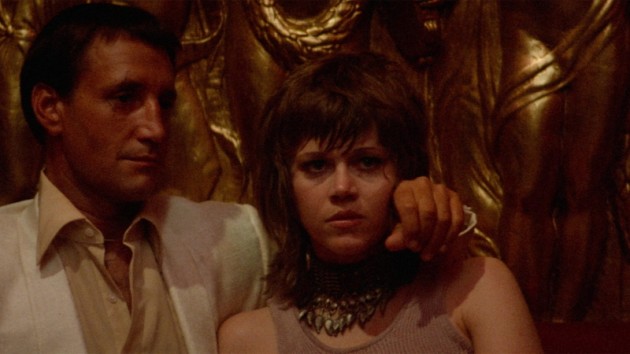 Bree with her ex-pimp, Frankie (Roy Scheider)
We presume Bree to be fierce (in contemporary parlance) and her projected image is just that when she is with Frankie. However her vulnerability triumphs over her desire and we sense her fear of him. In the still above she is clearly intimidated in his overbearing presence and appears, like Arlyn, to be in thrall to heroin. The neckpiece seems as much to envelop her as it does create an image of power. When she is in his embrace, he is in control. It is a total reversal of what we have come to expect: she collapses despite her body armour. She is now endorsing the power structure and the symbolic order while the male retains his historic stability as aggressor (Bruzzi: 120). As Pam Cook states, "the concept of fetishism … traditionally used to condemn fashion and costume for their impurity … can instead be employed to illuminate the ways in which our erotic obsessions with clothes are also transgressive in their play with identity and identification. Identification is another area which has been perceived in a limiting manner by film theory, with consequences for discussion of screen costume" (Cook, 1996: 46). As Bree's clothes become ever more revealing she is steadily and exponentially more vulnerable. We might refer to Jane Gaines, who suggests that costume might actually present in tension with the film's narrative. Thus, clothing functions not only as an index of identity but also of its suppressing (Gaines and Herzog, 1991: 180-211).
16. Klute arrives to Bree's apartment, which is in disarray. She is in her dark pink kaftan and he tidies up and watches over her, wresting her from her nightmares. We sense an enviable warmth and closeness between these individuals, echoed in the colour of Bree's clothing.
17. It could've been me…What I would really like to do is be faceless and bodyless. Bree is at her shrink's, clad in her grey ribbed turtleneck, and tan jacket. She has adopted her officious persona once again, to impress the one woman she cannot fool.
18. He took care of me … It's easy to manipulate men, right? Bree is in an aqua top, in bed, as Klute watches over her again, reaching out to touch her face. The over the shoulder shot and movement is ambiguous.
19. Barefoot in a striped Breton teeshirt and jeans, Bree pets her cat as she takes the call that informs her of Arlyn's death.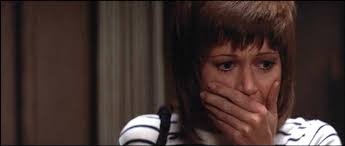 In bed & Arlyn's body is found in water at the portside
The simplicity of her costume enhances the purity of her expression. We see hurt, dread, fear, anger, realisation. Pain is etched on those Fonda features. The stunning sad eyes remind us of her father and his legendary integrity onscreen, a mask for real feeling and a repository for the audience's response. As he came to represent the average decent American, so too does Jane Fonda look like the average American woman in this sequence, at least at this time. Beyond her immediate physicality and movement, Fonda brings the hurt vulnerability of her eyes to the role. When she affects bravado, we sense fear. When she affects enjoyment, we see desperation. Bree is a part of many parts, a role of many roles. Effectively she is a character in search of a role. Her job is to role-play for clients. It is, as David Thomson shrewdly points out, virtually an analysis of the acting profession itself (Thomson, 1994: 251); as such it reveals some of the Jane Fonda method long before her fitness programme became a daily workout for her millions of female admirers who took to heart her message of physical empowerment. The film operates in a larger metatextual level concerning performativity with all that might suggest in the realm of sexual exchange.
20. He's seen me horrible, he's seen me ugly, he's seen me mean, he's seen me whorey – and it doesn't seem to matter. Back with her shrink, still in the grey ribbed turtleneck, Fonda does the famous monologue, a naturalistic 'lapse' which James Naremore characterises as "playing from relatively static, frontal positions with a second actor nearby who nods or makes short interjections" (Naremore, 1988: 45). As Thomson states, "this is truly a film about Bree and about the several ways in which being a psychiatric patient (talking about oneself), being a hooker (acting out), and being an actress (acting in) are overlapping or in a rhyme scheme" (Thomson, 2008: 444). In other words, we are in the presence of a narcissist. Interviewed by James Lipton, Fonda recalled the first day she attended Lee Strasberg's class at the Actors' Studio. She recalled simply, "I knew I was alive" (Inside the Actors' Studio: The 250th Episode).
I'm trying to stay out of it. In the same outfit, Bree is being watched as she makes a phone call. In real life, Fonda's calls would soon be monitored by the FBI who were stepping up their surveillance of her throughout 1970.
22. You're not going to get hung up on me, are you? Bree is naked in bed with Klute, paradoxically refusing visual pleasure. Without these constant costume changes, are we seeing the real Bree? Is Klute an agent for positive change?
23. The only responsibility you have to me is to enjoy yourself. I will do anything you ask. Accompanying Klute to a market, Bree wears her striped tee-shirt and brown skirt again, tugging on his jacket as he selects fresh food for dinner. She shoplifts an apple. The lighting is more naturalistic and softer on Fonda's features. They return to find her apartment has been broken into and a pair of men's semen-stained underwear have been left for Bree to find.
24. I've done terrible things. I've killed three people. Wearing a blue turtleneck and denim skirt Bree is watched by Frankie as she cleans up her apartment. Klute pleads with her but she claims she is going to a girlfriend's place. She dons a leather-trimmed trenchcoat and is followed by Cable as she walks past a hearse loading a coffin at Buckleys'. It appears it is her time to die.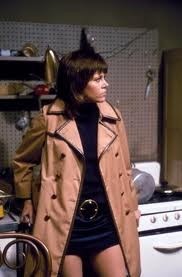 Following her to Goldfarb's garment factory, Cable corners Bree and plays her the tape recording of his killing Arlyn. Tears drip off Fonda's face. Fonda had done no preparation for the scene, preferring "to let the raw impact of the scene carry me." She attributes her consequent crying to "an archetypal sadness…. sadness for all the women who are victims of men's rage, sadness at our vulnerability" (Fonda, 2006: 253). Klute arrives and sees Cable trying to kill Bree. Cable sees Klute and falls out of a window to his death.
Such was the perception of Fonda's dominance by whoever happened to be her husband, she admits in one of her memoirs, "In my second act, the rap on me was that 'there was no there there,' that I was only whatever my current husband wanted me to be" (Jane Fonda, 2011: 30). As such, she is linked with Brigitte Bardot, another of Roger Vadim's protégées, who had a troubled exit from his influence and many public incidents arising from her emotional problems and also essayed a quasi-political career. In all three of Fonda's films with Pakula (the others were Comes a Horseman, 1978; and Rollover, 1981) she would portray psychological stories of autonomy complicated by contradictory, self-destructive urges. The critical (Freudian) view of her attempt to constantly replace her father with a husband meant that her transformations were derided in that context. However, as McKinney reminds us, "in the years from 1969 to 1972 – her most fruitful and extreme, as artist and activist – her quest has been to discover for herself, often alone and scorned, what it means. That has been the point of all these changes and risks, these demands on self and society, and they have left not just the daughter but the father – and the country they both love – changed forever" (McKinney, 2011: 283).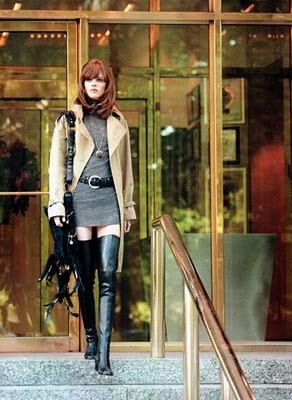 Bree re-captured by Terry Richardson
Tamar Jeffers-MacDonald explores the idea that audiences watch their favourite star's dress and behaviour in order to learn from them and emulate their style: "film has always been a place for audiences to see how to behave as well as to dress" (Jeffers-MacDonald, 2010: 13). Whether the clothing can exist independently of narrative discourse will redouble its potential as relevant and real The images for Terry Richardson's shoot are almost perfect duplications of Fonda's wardrobe and variations thereon. Published in a Vogue Nippon editorial in August 2010, they demonstrate the contemporary significance of the film's impact as well as its ongoing influence in the fashion world. Regular re-invention or re-visiting of 1970s fashion has been attributed to economic downturns and therefore an identification with the period in question, which itself was a time in which previous eras' styles were pillaged and pastiched (website inactive: theatreoffashion.co.uk/2011/08/23/in-the=spotlight-1970s/).
For an hour I'm the best actress in the world. Fonda states of Alan J. Pakula, that he "was alert to every nuance and knew just how to draw it out of me" (Fonda, 2006: 254). The contradiction in Fonda, the most obviously political actress to achieve superstardom, becoming a fashion icon, is replete with paradox, and nobody was more aware of this than Fonda herself, who went through deeply conscious processes to reconcile the difficulties in her personality and her fame. 2 In the margins of any film exist the scribbled notes of biography, metatextuality and the external world. What was it that transformed Fonda into such an important signifier of the contemporary? When she decided to write her memoirs, she recounted
My life hasn't been a representative one, but I was sure the themes that ran through it were universal enough to resonate with others and that if I could write it deeply, below the surface it could provide a road map for others. This would be for them and for me – a deeper, fuller life review than what I had put together for my sixtieth birthday. One that would help me – not to grow old but to grow myself into myself, and into Act III. (Fonda, 2011: 72)
Fonda's biographer, Patricia Bosworth, gives her subject more credit: "Her shifting images would become projections of precise social moments. Women's roles were changing drastically, and Jane's life would reflect this" (Bosworth: 184). As a representative of the era, Richard Dyer chose Fonda as his ideologically constructed star par excellence in his groundbreaking study, Stars (1979/1998). As such, he contends that her image of structured polysemy altered with the times, from progressive to reactionary (Dyer: 63-85). After Klute concluded shooting, Fonda attended the Winter Soldier hearings in early 1971. As Tessa Perkins claims, "Jane Fonda was, it seemed, the Hollywood star who, in the seventies at least, came closest to being a feminist heroine" (Gledhill, 1991: 240). The significance of that achievement is not lost on Fonda herself, who wore a tee-shirt bearing her own image as Bree Daniels in a recent televised conversation about her life, a dialogue which centered on self-empowerment, sexuality and contentment (Lifetime TV, 2013). Her self-awareness as cultural icon rests on not just this performance but upon her political activities which resulted in her outsider status. The codifying of her essential character appears intricately associated with this persona.
Amongst Fonda's contemporaries nominated for the Academy Award for Best Actress were Julie Christie, Vanessa Redgrave and Janet Suzman. Her fame had now eclipsed her father's even if her legend was yet to fully emerge. She delivered a short speech crafted by her lawyer, Richard Rosenthal, which was calculated to appease both Old Hollywood and the New Left: "There are a lot of things to say … but now is not the time to say them." In July 1972 she was engaged in a tour of Vietnam and was famously photographed wearing a helmet and climbing up onto an anti-aircraft gun owned by the North Vietnamese. She was immediately dubbed 'Hanoi Jane.' Reception and circulation of the myth of the star as a political person was already active prior to Klute's production. Fonda became involved with Donald Sutherland and he joined in with her radicalisation project, which had originally been inspired by his wife, Shirley. Fonda co-starred with him in Steelyard Blues (Myerson, 1972) and she then worked with Godard on Tout Va Bien (1972). She shot film of her trip to Vietnam which went mysteriously missing.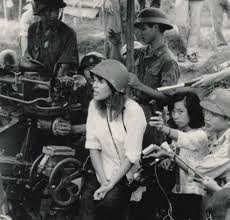 Miss Army Recruitment, 1972
Fonda would marry radical Tom Hayden wearing an Indochinese peasant blouse in January 1973. Her life had become a Pakula-esque nightmare of Government-sponsored surveillance and intimidation: her fear was unknowable. Fonda's politics may have heralded a new era in American culture and on a personal level led to a perceived split with her father, but he too had been a liberal Democrat and remained so, ever since his own father brought him to the lynching of a black man suspected of rape, when he was a small boy. By now his daughter was a version of Tom Joad, as described by Devin McKinney, a character "recoiling from the vengeful community toward the isolation of a moral position forced on him by circumstance" (McKinney, 2012: 108). She had become a vehicle for inchoate nationalised rage during a seemingly interminable and incomprehensible war in an unknown and irrelevant territory. Now she was model/actress/pariah.
She had tried hard to give her life a specific gravity. That life became inextricably enmeshed with her acting roles, as Hirsch points out: "That the performer actually lived the part, or that dramatic impact depends on audiences thinking that they did, elevates autobiography to Hollywood myth … sometimes if the performer's offscreen image generates enough buzz, the parallel-lives motif can occur in mid-career or earlier, as it did with Jane Fonda. In pictures like Coming Home (1978) and The China Syndrome (1980) Fonda is enacting a kind of double role" (Hirsch: 256). In the former, the protagonist evolves into a political activist. In the latter, Fonda's character also mimics her real-life radicalising. Hirsch continues, "Her offscreen convictions permeate these roles, but Fonda is a shrewd self-propagandist: her characters' feelings and the way they look (how they wear their hair, how they dress) rather than the issues (the war in Vietnam, nuclear disarmament) take up most of the screen time. In dramatising her radicalisation, her body remains central to her iconography – a through line in her career from the Vadim phase to her workout tapes in the eighties" (Hirsch: 257). Embodiment, corporeality and sexuality are intrinsically connected with Fonda's representation onscreen.
Klute is an impeccable neo-noir, replete with fearful symmetries and light balancing dark in this, the first of Pakula's superlative paranoid trilogy, driven by Gordon Willis' photography and an intriguing and unusually eerie minimalist score composed by Michael Small, which only lightens up for a trumpet solo in a naturalistically shot marketing scene. Fonda's performance is perfect, a total commitment to emotional specificity and nuance, a brilliant character essay. And yet, as director Pakula reported, she was immersed in her activist projects and spent every evening and even breaks between scenes dedicating her time to running a campaign and making phone calls. The Black Panthers were hanging around the set and the FBI had already paid Fonda a visit in her father's New York brownstone where she was staying for the shoot. Fonda gave everything of herself to every project which bore her name. Molly Haskell calls Bree a "grubby prostititute" and classes Klute in a group of 'neo-woman's films': "The women of these films, torn between the negative and positive of the feminist consciousness – rage at the old order, hope for the new – have arrived, anaesthetized, at an emotional and cultural 'stasis,' a death. But it is out of this death, out of the ashes of her sacrifice, that the new woman will be born" (Haskell, 1987: 31; 41). Pauline Kael had made a prediction when she reviewed They Shoot Horses…: "Jane Fonda stands a good chance of personifying American tensions and dominating our movies in the seventies" (Kiernan: 265).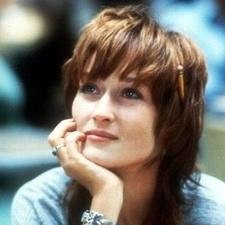 Monkey see: Meryl Streep in Silkwood (1983)
Fonda continued to sport her haircut offscreen and it became inextricably associated with her. It is paid homage in the character of Silkwood, another inadvertent political activist, and tragic victim, in the ubiquitous film directed a decade later by Mike Nichols (above). Its status as emblem was thus cemented in a cinematic meta-circle – Fonda had originally developed a project about Karen Silkwood with screenwriter Joe Eszterhas. She became a uniquely powerful woman in Hollywood with her own company, IPC Films and a slate of successful films. She was nominated for Best Actress at the Academy Awards three years running, for Julia, Coming Home (for which she won) and The China Syndrome. The profits went to fund the Campaign for Economic Democracy, Tom Hayden's organisation. She was nominated again for Best Actress in a Supporting Role in On Golden Pond (Rydell, 1981) which united her with her father and Katharine Hepburn. In 1980 she was in the top ten box office stars. Hollywood was finally a liberal place – more so perhaps than the United States in general. Fonda was a unique, complicated and problematic star (See Krämer, 2009: 104-118).
24. I know enough about myself to know that whatever lies in store for me it's not going to be setting up housekeeping with somebody in Tuscarora and darning socks and doing all that … I'd go out of my mind. Wearing a purple top and tan jeans Bree is at Klute's feet in her apartment. The voiceover of her speaking with her shrink informs us that she is not a housekeeper. The colours have deepened throughout her association with Klute; her life may be about to change for the better, despite her best efforts.
Fonda received a Life Achievement Award from the American Film Institute in June 2014, an affirmation of a great career which inevitably calls to mind her social priorities, political campaigns and her representation, both on- and offscreen. Jane Fonda's star text is multifaceted and complex, as is the woman herself. Her costuming in Klute signifies a character in search of a role, which can be read retrospectively as a comment on Fonda's own overt quest for meaning in wider society. Her vulnerability adds a new layer of depth to her textual presence as star. Her deploying of her star power in the political arena was not just remarkably brave, it clarified her individual meaning – model/actress/activist. And, as journalist Louis Wise reminds us, this was "an era when an actor speaking out was rare, and somewhat raw, not exactly welcomed by the government of the day" (Wise, 2014). A new play, The Trial of Jane Fonda, starring Anne Archer, played at Edinburgh in July/August 2014. Fonda was not involved in it albeit she agreed to give her side of the story. According to the writer, Terry Jastrow, "she said, 'You have no idea the amount of hatred and vicious, vitriolic anger this is gonna stir up'" (Ibid.)
25. I'm leaving now… I don't expect to be back. The dramatic affect of Klute derives from the film's own signature modality of melodramatic dread. Clothes may not maketh the woman, but they are an expressive device of every arc in the narrative. It is with a retrospective glance that we view Bree Daniels as Fonda's own conflicted avatar of ambivalence, one of the vehicles through which she obtained her status as an individuated political person and avowed feminist. The final shots of Bree show her wearing the same conservative grey outfit we met her wearing at the model callout. Is this her true self after all? Refusing the male gaze? As Haskell says of these 'neo-woman' films of the era, "her rebellion is defensive, and her victory often pyrrhic" (Haskell: 336). Do we really believe she can be herself outside this city with a man she doesn't know? Has he changed her perception of herself or her status? The sensation is that we have come full circle and have gone nowhere at all. This is not, then, an example of a transformation narrative in its truest meaning.
However, Bree's refusal to take a trick from the last phone call as she departs is a tremendous sign (maybe even a Sun sign?) of her new self, her independence deriving, ironically, from a relationship in which she is perceived to be equal with the titular enigmatic character who is bringing her away from all of this – and all of those clothes. The apartment has been stripped of her identity. The symbolic order has been faced and partially redressed and a new kind of semiotic is engaged in this confrontational circle. It is in the aftermath of Klute that we understand its significance and its ambiguous drift towards nihilism despite the fake-happy ending (surely a prerequisite for anyone in the oldest profession).
The costumes of Klute in a sense move us through Fonda's own cinematic incarnations – ingénue, sex kitten, camp icon, vamp, strong and politically engaged woman. Utilising the power of potentially transformational dress in taking Bree from the past to the future, fashion is literally looked at from the male perspective via the voyeuristic patterns emblemised by the camera in its imitation of the killer's gaze.
It seems that Bree is no longer anybody's victim. She has been temporarily transformed. She has defied and transcended the outcome of her own generic narrative and is embarking (hesitantly) on a new one with an unlikely Pygmalion in this study of textual progression. Nobody has her number any more. Jane Fonda: model/actress/American.
Bibliography
Books
Barthes, Roland (1957/1983). Mythologies. London: Granada Publishing.
Basinger, Jeanine (2009). The Star Machine. New York: Vintage.
Bosworth, Patricia (2011). Jane Fonda: The Private Life of a Public Woman. London: The Robson Press.
Bookbinder, Robert (1993). Films of the Seventies. New York: Carol Publishing Group.
Brown, Jared (2005). Alan J. Pakula: His Films and His Life. (New York: Back Stage Books.
Bruzzi, Stella (1997). Undressing Cinema: Clothing and Identity in the Movies. New York: Routledge.
Butler, Jeremy G. (ed.) (1991). Star Texts: Image and Performance in Film and Television. Detroit: Wayne State University Press.
Chapman, James, Mark Glancy and Sue Harper (eds.) (2009). The New Film History: Sources, Methods, Approaches. London: Palgrave Macmillan.
Collier, Peter (1991). The Fondas: A Hollywood Dynasty. London: HarperCollins.
Cook, Pam (1996). Fashioning the Nation: Costume and Identity in British Cinema. London: British Film Institute.
Doane, Mary Ann (1987). The Desire to Desire: Women's Films of the 1940s. Bloomington, Indiana: Indiana University Press.
Dyer, Richard (1979/1998). Stars. New Edition. London: British Film Institute.
Fonda, Jane (2006). My Life So Far. London: Ebury Press.
________ (2011). Prime Time: Love Health Sex Fitness Spirit. Making the Most of All of Your Life. London: Vermilion.
Fonda, Peter (1998). Don't Tell Dad: A Memoir. London: Simon & Schuster, 1998).
Gaines, Jane M. and Charlotte Herzog (eds.) (1991). Fabrications: Costume and the Female Body (AFI Film Readers). London: Routledge.
Gledhill, Christine (ed.) (1991). Stardom: Industry of Desire. London: Routledge.
Goodman, Linda (1970). Linda Goodman's Sun Signs. London: Pan.
Haskell, Molly (1987). From Reverence to Rape: The Treatment of Women in the Movies. Second Edition. London: University of Chicago Press.
Heath, Stephen (1981). Questions of Cinema. London: MacMillan.
Hershberger, Mary (2005). Jane Fonda: A Political Biography of an Antiwar Icon. New York: The New Press.
Hill, John and Pamela Church Gibson (eds.) (1999). The Oxford Guide to Film Studies. Oxford: Oxford University Press.
Hirsch, Foster (1991). Acting in Hollywood: With Photographs from the Kobal Collection. New York: Harry N. Abrams/AFI Press.
Hollinger, Karen (2006). The Actress. New York & London: Routledge.
Kael, Pauline (2000). Deeper Into Movies (New Edition). London: Marion Boyars.
Kaplan, E.Ann (ed.) (1980). Women in Film Noir. London: British Film Institute.
Kiernan, Thomas (1973). Jane Fonda: An Intimate Biography. London: Talmy Franklin.
MacDonald, Tamar Jeffers (2010). Hollywood Catwalk: Costume and Transformation in American Film. London: I.B. Tauris.
McDonald, Paul (2001). The Star System: Hollywood's Production of Popular Identities (Short Cuts). New York: Columbia University Press.
McKinney, Devin (2012). The Man Who Saw a Ghost: The Life and Work of Henry Fonda. New York: St Martin's Press.
Morrison, James (ed.) (2010). Hollywood Reborn: Movie Stars of the 1970s (Star Decades) (Star Decades: American Culture/American Cinema Star). New Jersey: Rutgers University Press.
Naremore, James (1988). Acting in the Cinema. Berkeley and Los Angeles: University of California Press.
Nichols, Bill (ed.) (1976). Movies and Methods Vol. I. Berkeley: University of California Press.
Rainer, Peter (ed.) (1992). Love and Hisses: The National Society of Film Critics Sound Off on the Hottest Movie Controversies. San Francisco: Mercury House.
Street, Sarah (2001). Costume and Cinema: Dress Codes in Popular Film. London: Wallflower Press.
Sutton, Henry (1968). The Exhibitionist. London: Bernard Geis Associates.
Thomson, David (1994). A Biographical Dictionary of Film. London: Andre Deutsch.
________ (2008). "Have You Seen…?" A Personal Introduction to 1,000 Films.London: Allen Lane.
Vadim, Roger (1986). Bardot, Deneuve and Fonda: The Memoirs of Roger Vadim. London: Hodder and Stoughton.
Williams, Linda (2009). Screening Sex. London: Routledge, 2009.
Articles, Essays & Journals
Callahan, Dan, 'Jane Fonda in Klute,' Bright Lights Film Journal 30 April 2005. https://brightlightsfilm.com/hooker-with-a-heart-of-darkness-jane-fonda-in-klute/#.X4y9DNBKi00 Retrieved 09 May 2015.
Gibson, Pamela Church, 'Film Costume,' in Hill and Church Gibson (1998), 36-42.
Giddis, Diane, 'The Divided Woman: Bree Daniels in Klute,' in Nichols (1976), 194-200.
Gledhill, Christine, '_Klute_ 1: A Contemporary Film Noir and Feminist Film Criticism,' in Kaplan (1980), 6-21.
________. '_Klute_ 2: Feminism and Klute,' in Kaplan, op. cit., 112-128.
Greenspun, Roger, '_Klute_,' New York Times, 24 June 1971. www.nytimes.com. Retrieved 09 May 2015.
King, Sarah, 'Jane Fonda's Antiwar Activism and the Myth of Hanoi Jane,' https://uwspace.uwaterloo.ca/handle/10012/6226 Retrieved 09 May 2015.
Krämer, Peter, 'When 'Hanoi Jane' Conquered Hollywood: Jane Fonda's Films and Activism, 1977-81,' in Chapman, Glancy and Harper (2009), 104-116.
Laverty, Chris, 'Clothes on Film,' https://clothesonfilm.com/author/benenuts/. Originally published in Moviescope, Issue 20, 2011. Retrieved 10 May 2013.
Mulvey, Laura, 'Visual Pleasure and Narrative Cinema,' (1975) in Nichols (1985), 303-314.
Sontag, Susan (1964) 'Notes On Camp.' Retrieved 20 Nov 2014.
Vineberg, Steve, 'Notes on the Method: Jane Fonda 1969-1971. Part 2,' Critics at Large, 26 January 2015. https://www.criticsatlarge.ca/2015/01/notes-on-method-jane-fonda-1969-1971.html Retrieved 09 May 2015.
Wise, Louis, 'Cause Celeb: Anne Archer defends Jane Fonda's stance on Vietnam in a new play,' Sunday Times, The Culture, 06 July 2014: 14.
Websites:
www.elle.com/news/culture/jane-fonda-_Klute_-interview. Retrieved 14 October 2012 [no longer available]
http://fondaklute.blogspot.com/ Retrieved 30 July 2014.
https://jenniferfabulous.blogspot.com/search?q=jane+fonda Retrieved 14 October 2012.
https://www.thecherrypicks.com/stories/how-jane-fonda-gave-klute-complexity-and-an-oscar/. Retrieved 14 October 2012.
http://fashionfilmstudies.blogspot.com/
Filmography (Select)
Barbarella (1968) d. Roger Vadim
Barefoot in the Park (1967) d. Gene Saks
Cat Ballou (1965) d. Elliot Silverstein
The Chapman Report (1962) d. George Cukor
The Chase (1966) d. Arthur Penn
The China Syndrome (1979) d. James Bridges
Comes a Horseman (1978) d. Alan J. Pakula
Coming Home (1978) d. Hal Ashby
La Curée aka The Game Is Over (1966) d. Roger Vadim
Cage of Love aka Les félins (1964) d. René Clément
Julia (1977) d. Fred Zinnemann
Klute (1971) d. Alan J. Pakula
Rollover (1981) d. Alan J. Pakula
Steelyard Blues (1973) d. Alan Myerson
They Shoot Horses, Don't They? (1969) d. Sydney Pollack
Tout Va Bien (1972) d. Jean-Luc Godard
Walk On The Wild Side (1962) d. Edward Dmytryk
Television/other
Discovering Henry Fonda (2012) d. Lyndy Savile
Inside the Actors' Studio: The 250th Episode (2013) Bravo Channel
Oprah Presents: Masterclass (2012) (OWN)
The Conversation … with Amanda de Cadenet (2013) Lifetime TV
Copyright
All images property of Warner Bros.; www.theguardian.com; ABC Motion Pictures; and Vogue Nippon/Terry Richardson.
Notes
Fonda would cement her contribution to sexual expression in Seventies cinema in a scene in Coming Home (Ashby, 1979). See Patricia Bosworth on the fraught conditions in which that was achieved (428). Linda Williams continues that Fonda's "sexual performances were as crucial to the 1970s cinematic knowledge of sex and perhaps as important and influential in their own female sphere as Marlon Brando's animal sexuality was in that of the male. It's not accidental that the quintessential American sexuality of both actors was forged in relation to European and specifically French associated movies" (Williams: 180). We see another attempt to forge this insinuating masochistic (but ultimately tragic) character in an adaptation of Judith Rossner's novel, Looking for Mr Goodbar (1977, Richard Brooks) starring Diane Keaton; while the DNA of both films seems to be invoked (including Fonda's monkey 'do) in the adaptation of Susanna Moore's In the Cut (2003), directed by Jane Campion and starring Meg Ryan. ↩
One might also mention Vanessa Redgrave, for whom Fonda named her daughter by first husband Roger Vadim, but Redgrave's fame remains of a different variety. ↩