NOIR CITY INTERNATIONAL: the 18th Annual San Francisco Film Noir Festival, 24 January – 2 February, 2020, "It's a bitter little world". Part 1
Part 1: Defining Film Noir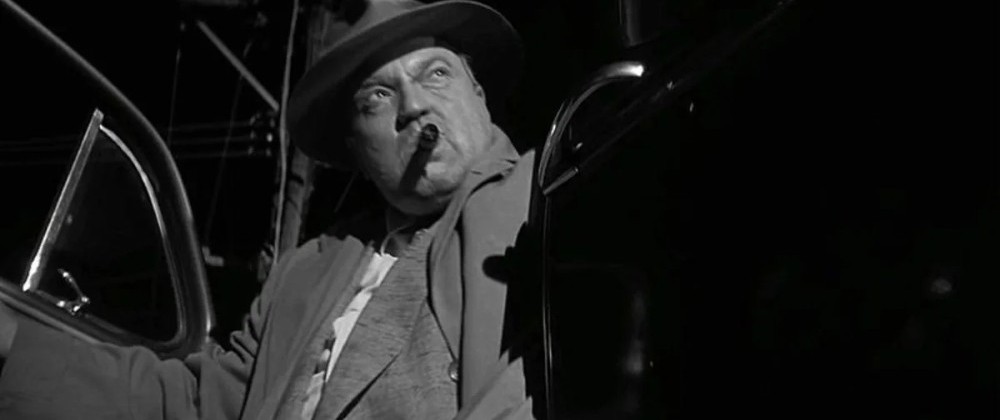 Noir City 18 was one of the very best, if not "the best" of the more than 190 film festivals that I have attended over approximately 45 years of constant cinephilia. Before reviewing this great edition it might be useful to sketch some answers to the much asked question, what is film noir?, and extend the discussion of what we, and specifically what Eddie Muller, the founder of the Film Noir Foundation, and the many U.S. "Noir City" festivals, as well as being the host of TCM's "Noir Alley" series, considers to be "international noir."
Defining Film Noir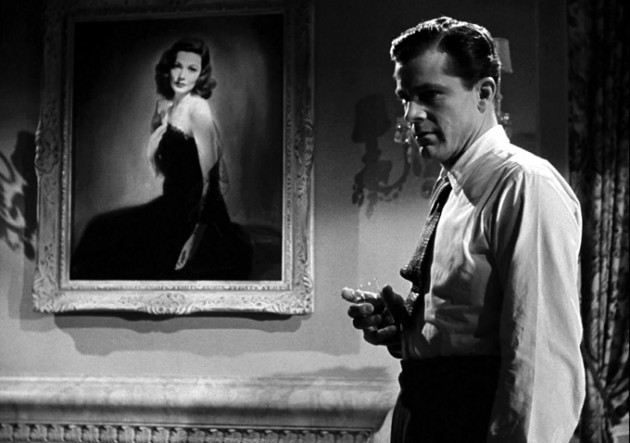 Laura
On the four occasions that I have taught a course on Film Noir at Concordia University, I have concentrated on the "American" film noir, with three main sections devoted to a director – Robert Siodmak – a writer – Cornell Woolrich – and a cinematographer – John Alton, all working on Hollywood films during the "classic" period, 1939-1958. But I have gone beyond that to trace the roots of noir in German Expressionism of the silent era, French "poetic realism" of the late-1930s and the U.S. "hard boiled" novel. I have also, on occasion, gone beyond the "classic" period of the U.S. tendency into Japan of the 1960s and American "retro-noir," including the comic pastiche of Carl Reiner's Dead Men Don't Wear Plaid (1982), starring Steve Martin. I have always suggested that although I don't consider film noir to be a genre – like the Western or the Gangster film – we should think of there being a collection of shared traits of both style and theme/narrative/characters, not every one of which an individual film must have in order to be considered noir. For example, for "style" we expect black and white cinematography, low key lighting, extreme high, low and oblique angles, night-for-night exteriors, shot on location, with settings such as back alleys, stairwells, dingy offices, rented rooms, bars and night clubs. For "themes," we suggest the presence of some of the following: an all-pervasive corruption; post-World War II (WWII) existentialism; psychopathology; a "murky" world, where there is a blurring of distinctions between good and evil, right and wrong; cynicism; and, pessimism. For narrative, we often find a high degree of subjectivity, with voice-over narration and flashbacks; a slippage or a passage into crime; a general sense of oneirism, a "dreamscape" perhaps. Principal characters can suffer from amnesia, paranoia, split personality, or be duplicitous, especially the vulnerable, but strong and cunning femmes fatales. The U.S. film genre that is most closely related to noir is that of the Private Eye, featuring (usually) "tough guy," lonely detective characters working outside the law, who have to deal with petty criminals, and crooked or incompetent police officials. Objects that often function as motifs include guns, fedora hats, trench coats, cigarettes, lampshades, telephones and alcoholic beverages. No single film will exhibit all of these traits. But, I wonder if there is a condition that is absolutely necessary for every film that could be termed noir in the same way that Musicals must have songs and/or dances. The most likely candidate is "murder/s" or at least an "attempted murder," which could occur before the timeline that the film depicts.
Some History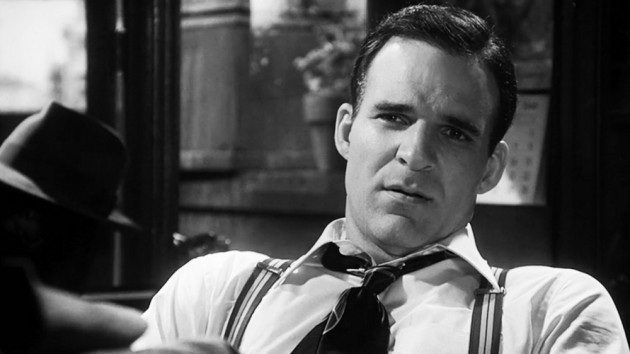 Dead Men Don't Wear Plaid
The term film noir, is, of course French, and was used by critics who had been starved of Hollywood films during WWII in France until the summer of 1946, when Parisian audiences were suddenly graced with the release of five "movies which shared a strange and violent tone, tinged with a unique kind of eroticism: John Huston's The Maltese Falcon [1941], Otto Preminger's Laura, Edward Dmytryk's Murder, My Sweet, Billy Wilder's Double Indemnity, and Fritz Lang's The Woman in the Window [all, 1944]." 1 When the films were released they would have been advertised as "crime" or "suspense melodramas." Raymond Borde and Etienne Chaumeton, from whose 1955 book the quotation is taken, argued that film noir was a new, darker, less escapist tendency in Hollywood entertainment that constituted a "series" of films closely related to série noire crime literature (pulp fiction). They wrote: "A series can be defined as a group of motion pictures from one country sharing certain traits (style, atmosphere, subject matter …) strongly enough to mark them unequivocally and to give them, over time, an unmistakable character." 2 Borde and Chaumeton were keen to point out that there were other closely related "series" that they didn't consider as being noir, including police procedurals, which they termed "documentary-style" films, like Jules Dassin's The Naked City (1948), where the murders were examined "from without, from the point of view of the police official," whereas in film noir the examination is "from within, from the point of view of the criminals" [or private eye]. 3
Some writers take film noir to be a genre, including Foster Hirsch in his book The Dark Side of the Screen (1981) and James Damico's narrative model, expressed in "film noir: A Modest Proposal" (1978). 4 Arguably the most sophisticated approach to a genre model was taken by the British critic and film historian, Michael Walker. In "Film Noir: An Introduction," to The Movie Book of Film Noir (1992), he suggests that film noir is a "generic field" in which "seeker hero films noirs" constitute "a major noir category. In these films, the hero's investigation takes the form of a quest into a dangerous and threatening world, the noir world. This noir world has two facets. On the one hand it is an underworld of crime, vice and murder; on the other, it lies behind … the 'respectable world,' the world of bourgeois order and propriety." 5 Another category, derived from James M. Cain novels, is that of "victim heroes," where i) a "femme fatale becomes the key figure who lures/tempts/seduces the hero into the noir world and ii) the hero becomes a 'victim' of his own desires." 6 A third category, "the paranoid noir story," derived from the novels of Woolrich, David Goodis and Dorothy B. Hughes, most often is one of a "man who becomes a victim of a violent and hostile world and who lives in fear. Typically, he is an ordinary man who becomes involved in a situation which threatens his life…" 7 Walker goes further generically in suggesting that there is an ideal situation of noir character relationships, where there is "a particular configuration of three interlocking sexual triangles. Five character types are involved, linked together": "husband/older male" linked to "femme fatale" linked to "hero" who is linked to "domestic woman," who is linked to "respectable man." Walker continues, "In other words, all three central characters – femme fatale, hero and domestic woman – are between alternative partners. First seen in Double Indemnity, where Lola as domestic woman is underdeveloped as an alternative to Phyllis as femme fatale, the structure finds its most complete expression in Out of the Past [dir., Jacques Tourneur, 1947], another reason why the film seems so central to the noir cycle. The structure can be seen with only minor variations in films noirs as diverse as The Killers [dir., Robert Siodmak, 1946], The Woman on Pier 13 [dir., Robert Stevenson, 1949], Night and the City [Jules Dassin, 1950], Sunset Boulevard [dir., Billy Wilder, 1951], and Angel Face [dir., Preminger, 1952]." 8

As it happens, Out of the Past has long been one of my favourite films noirs, along with Siodmak's Criss Cross (1949), Anthony Mann's Raw Deal (1948), with cinematography by John Alton, Orson Welles' Touch of Evil (1958), often regarded as the last noir in the classic cycle, and Joseph H. Lewis' The Big Combo (1955), also shot by Alton. They all look great and feature male/female relationships that are dangerous (or in danger), or illicit. All of them, most certainly, include at least one murder, and, perhaps such a potentially tragic human relationship should also be considered as an essential ingredient of films noirs (in my view, at least).
Enter Eddie Muller
Writing about film noir, its antecedents, and recent trends in Neo-noir —films or television series made after 1959, which deliberately reflect noir stylistically and/or thematically— or, Retro-noirnewer films that are set in the past, and refer to noir —have multiplied in recent years. Our Concordia University library alone contains over 90 film book titles with "noir" in the title, many of which I haven't even glanced at. No doubt I am missing extraordinary insights into the many facets of noir. Nevertheless, I trust Eddie Muller as THE expert on all things noir, even though his slogan, "barroom not classroom" is misleading. He doesn't want us to think of him as being in any way an "academic," and yet, he surely is the greatest of film noir historians, having interviewed numerous male and female actors, directors, writers and producers working in Hollywood and elsewhere. One of the things that sets him apart from others is that he is distinctly anti-auteurist. In his introductions and conclusions to TCM weekly "Noir Alley" screenings, he insists on regularly discussing the contributions of all of these individuals as well as cinematographers, and sometimes even art directors. He is himself a writer of noir fiction, and his most recent book, Gun Crazy: The Origin of American Outlaw Cinema, argues that the film's finished product is not just the work of the director, Joseph H. Lewis as auteur, but also of the author of the original Saturday Evening Post story, "MacKinlay Kantor, producer Frank King and his brothers Maurice and Herman, director of photography Russell Harlan, performers Peggy Cummins and John Dahl, and screenwriter Dalton Trumbo, hired covertly by the Kings after his blacklisting by the industry's authorities." 9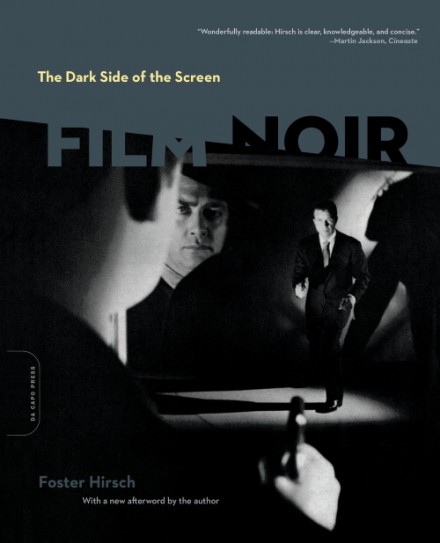 Muller doesn't consider every film that he programs for his Noir City festivals or TCM TV shows to be truly a film noir, and he often uses the terms, "noir-tinged" or "noir-stained" for these works. He does an entertaining, short video segment every week for the Facebook page, "Noir Alley" which is called "Noir or Not?" He claimed himself that one of the films that he showed on TCM in January, 2020, The Captive City (1952, dir., Robert Wise) was not noir, but he showed it because it was a "landmark in the evolution of the American crime film" towards the "investigation of crime syndicates," and away from noir stylistics, while this particular film functioned "as much a newspaper story" as a "crime story." 10 The film that Muller showed the previous week, The Big Night (1951, dir. Joseph Losey) was called a coming-of-age story of revenge, and when he discussed it in 2017, on "noir or not," he concluded that he was "on the fence," because it is "not really a true noir crime story." 11
Both films are consensus noirs according to most listings, including the Internet Movie Database, the Film Noir Encyclopedia, and DVD Beaver. 12 Of the approximately 95 titles of "classic" period U.S.-made films noirs that Muller has asked the question, is it "noir or not," over 45 are noir by consensus, but nine of these are "not" for Muller. These include, Hell's Island, 1955, dir. Phil Karlson), which has a noir "feel to it" but where the story is more of a James Bond-like "adventure"; Between Midnight and Dawn (1950, dir., Gordon Douglas), also with the right noir look and feel to it, tends to be more of a "buddy cop" rather than "nasty cop" movie; The Thirteenth Letter (1951, dir., Preminger), is a "shadowy message melodrama," based on Henri Georges Clouzot's Le corbeau (The Raven, France, 1942); Beyond the Forest (1949, dir., King Vidor), is a Betty Davis "melodrama," but not a "serious" film noir; The Tattered Dress (1957, dir., Jack Arnold), absolutely doesn't have the noir look. 13 In recent months Muller has said "not" to three consensus noirs, including the "prison movie Convicted (1950, dir., Henry Levin) – 29 January, 2020 – The Well (1951, dir., Leo C. Popkin and Russell Rouse), a timely approach to race in America, which Muller thinks is a "fantastic" film and which he has shown at a number of his Noir City festivals – 25 December, 2019 – and Boomerang! (1947, dir., Elia Kazan), which is more of a documentary-like "courtroom drama" – November, 2019. [[These three can be accessed through another, more recent, Noir Alley, "videos" page:
https://www.facebook.com/noiralley/videos/511739566223042/]]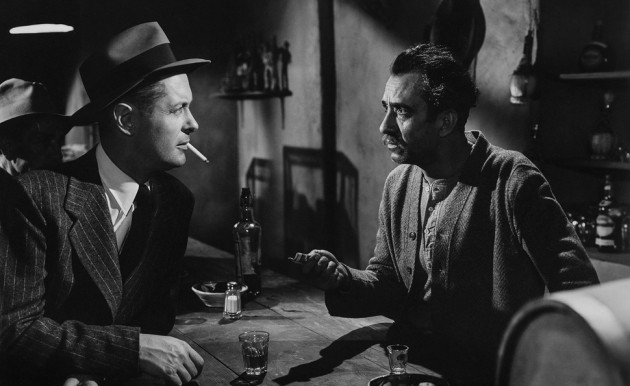 Ride the Pink Horse
Traditionally, films featuring a woman as the central character have not necessarily been included in the noir canon. Walker cites Andrea Walsh for using the term "noir woman's films" as an appropriate designation, and he suggest that these films constitute a "generic field" which is not "subsumed" by the "noir generic field," but interacts with it. 14 Walker suggests that that there was a "persecuted wife cycle" consisting of 14 films from the 1940s and early-1950s, beginning with Alfred Hitchcock's first Hollywood film, Rebecca (1940), and which really took off with George Cukor's Gaslight (1944), a remake of Throrold Dickinson's British film adaptation of Patrick Hamilton's 1940 play, Gaslight. Muller concurs that Rebecca is not a real film noir and he is "on the fence" with Gaslight, calling both "women in jeopardy" films. Nevertheless, Muller is determined to give women in noir a much higher profile than they have been granted, in the past. His second book on film noir, Dark City Dames (2001), consists of interviews with six surviving actresses of the era, three of whom, Audrey Totter, Marie Windsor and Jane Greer were renowned for playing femmes fatales, while the other three, lesser known figures, Evelyn Keyes, Colleen Gray and Ann Savage played a variety of roles. [[Eddie Muller, Dark City Dames: The Wicked Women of Film Noir (New York: Regan Books, 2001).
Interestingly, Muller focuses on the difficulties faced by the actresses in dealing with powerful patriarchal figures like Howard Hughes and Otto Preminger, and he has carried this revisionist approach into his current work. In introducing, The Hitch Hiker (1953), directed by Ida Lupino, he called her the "most talented and versatile woman in the history of movies," implying that she may have been the most talented and versatile "person" in Hollywood of the late-40s and early 50s, regardless of gender. In his more recent introduction to Robert Montgomery's Ride the Pink Horse (1947) on Noir Alley, Muller raved about producer Joan Harrison, who had brought Montgomery the "hard-boiled classic" novel, written by Dorothy B. Hughesa female writer who Muller regularly champions. 15 Muller noted that Harrison had been Hitchcock's "protégé," implying that her work for the director has been under-appreciated. She had written five screenplays for Hitchcock. Muller stated that Harrison wrote the first draft of Ride the Pink Horse (uncredited) and convinced the owners of an old-fashioned hand-operated, Taos, New Mexico carrousel to have it dismantled and shipped to Hollywood. It was the most significant item of decor in the film, and Harrison had scouted it, keeping the film's action close by Hughes' home in Santa Fe. In the most recent edition of the Noir City E-Mag, Muller notes in his introduction that women always make up 50% of the audience at Noir City film festivals: "Just as many women of all ages, attend our festivals as do men. So it's become a mission of mine to ensure that gender balance is reflected in the pages of the NOIR CITY e-magazine." 16
Noir City International:
https://www.noircity.com/index.html
Notes