NOIR CITY INTERNATIONAL: the 18th Annual San Francisco Film Noir Festival, 24 January – 2 February, 2020, "It's a bitter little world" Part 2
International Film Noir
Noir City
Many non-classic period films have been challenged by Muller as being "noir or not" and more than fifteen films made outside the U.S. have been considered, including a couple of British films. I was really disappointed that he didn't think It Always Rains on Sundays 1947, dir., Robert Hamer, to be fully noir, but rather he found this key film in the UK noir tradition to be merely "kitchen sink noir." 1 Of the others, he asked the question of five Japanese films, including three directed by Akira Kurosawa, Rashomon (1950) – clearly "not" noir – and two crime films made before that, Yoidore tenshi (Drunken Angel, 1948), and Nora inu (Stray Dog, 1949), both of which are noir for Muller, and both of which are included among the four key Japanese titles for Alexander Ballinger and Danny Graydon's survey, The Rough Guide to Film Noir. 2 On the Kurosawa films, Ballinger and Graydon write: "His Drunken Angel (1948), with its striking imagery and sharp-suited gangster anti-hero played by Toshiro Mifune, proved captivating. Though the humanistic emphasis of Kurosawa's filmmaking ensured that the overall impact of the film was not cynical and world-weary like much of noir, so many brilliant stylistic touches echo or anticipate the genre that it was obvious that Kurosawa was a master of the dark art and the crime film in the making. His next project was the police procedural Stray Dog (1949), a flawless application of US noir tone and style to a Japanese setting, in which a rookie cop frantically tries to track down his lost gun in Tokyo." 3 We don't normally consider such narratives as noir, but as Muller said "even though it is really a policier, there is enough in this movie to qualify it as film noir." 4 For the 14th edition of the San Francisco Noir City film festival in 2014, which was brilliantly entitled, "It's a Bitter Little World," Muller presented a program of international noir, which included eight American films, most of which were located elsewhere, and 19 "international" films. The first Sunday, 26 January was devoted to two double bills of Drunken Angel and Stray Dog. In his program notes, Muller said of the former: "In this heartbreaking tragedy of hard luck and social crisis, Kurosawa lays bare the terrible effects of the American occupation and shows the world that human misfortune knows no national boundaries" and of the latter, that the "trail [for the gun] leads through crowded slums in the teeming, murky underworld of Tokyo, inevitably leading to scantily clad showgirls, one of whom, the disturbed cutie Harumi [Keiko Awaji], is torn between loyalty to her lover and doing the right thing." 5
French Noir and the Heist Noir
The most unusual San Francisco Noir City program was the 15th that was staged in 2017. Entitled "The Big Knockover," Muller and his partners focused on one of his favourite genres, the "heist film," which he claims really took off with The Asphalt Jungle (1950, dir., John Huston), but which can be traced back to The Great Train Robbery in 1903. Also called the "caper film," of the 24 examples that were shown at Noir City 15, a large majority (15) were made after 1958, and just under half (11) were "international." In his introduction Muller noted that "All of the titles on this year's program, regardless of the country they come from, feature two elements crucial to noir: the anti-hero's ingrained self-destruction and a rueful acceptance of fate's indifference to our best-laid plans." 6 Three French films were included in this program, Du rififi chez les hommes (1955, dir., Jules Dassin), the English title of which, Rififi became "international short hand for heist films," Classe tous risques (The Big Risk, 1960, dir., Claude Sautet), and Le clan des Siciliens (The Sicilian Clan, 1969, dir., Henri Verneuil), an international co-production between France, Italy and the U.S. 7 Given the origin of the term/concept/genre, film noir in France, it is not surprising that the largest number of films in the first fully-international program in 2014, apart from the U.S. (eight) came from that country: six, including the Noir City premiere of Rififi. The oldest film in the program, Pépé le Moko (1937, dir., Julien Duvivier), set in the Casbah of Algiers, is often included in the category of "Poetic Realism," a movement that both pre-figured the look and feel of film noir and inspired French film criticism of the 1950s. The four other French films included two directed by Henri-Georges Clouzot, Quai des orfèvres (Jenny Lamour, 1947), and La salaire de la peur (The Wages of Fear, 1953), as well as Un si jolie petite plage (Riptide, 1949), directed by Yves Allégret, and Deux hommes dans Manhattan (Two Men in Manhattan, 1959), directed by Jean-Pierre Melville. Riptide can be understood as bridging "poetic realism" with the French nouvelle vague (new wave) of the late-1950s, while Melville's work was openly inspired by American film noir, and loved by the younger "new wave" directors, who were former critics of the journal Cahiers du cinéma. In contrast, Clouzot's acclaim in France, and internationally, was dimmed in the late-1950s by these same critics/directors.
The first Saturday of Noir City 18 (25 January 2020) was devoted to France with four films: a matinée double bill Panique (Panic, 1947, dir., Duvivier), and Razzia sur la chnouf (Razzia, 1955, dir., Henri Decoin) —and an evening double bill— Le doulos (Finger Man, 1962, dir., Melville), and Mélodie en sous-sol (Any Number Can Win, 1963, dir., Verneuil). Surprisingly, I had never seen any of these films before, although in retrospect I realize that I should have seen Panique, especially because the director, Duvivier, considered it to be his best film. Based on a novel written by Belgian-born Georges Simenon, well known for creating Inspector Maigret, Panique has been interpreted as a reflection on the Vichy French collaborating with the Nazis a few short years before. In a small French provincial town, with no specific time frame established, a woman is found dead, and immediately an outsider, Monsieur Hire (Michel Simon), presumably Jewish, and the only person who is not drawn to the crime scene, is suspected of being the murderer. He is a misanthrope —at one point declaring, "I don't like men, policemen even less"— and a sham spiritualist, going by the name of Dr Varga. Unfortunately for him, he is in love with Alice (Viviane Romance) who has just come out of jail, where she served 233 days and nights for a crime committed by her boyfriend Alfred/Fred/"Freddy" (Paul Bernard). During Alice and Alfred's reunion love scene, in bed, it is revealed to the film audience that he was the killer. Of all the townspeople, only Hire knows this —he witnessed the murder— but, eventually, he is pursued by a "lynch mob," chasing him onto a rooftop, from where he falls to his death. As well as functioning as a serious critique of fascistic tendencies in human individuals, and mob rule, Panique is very much a film noir, thematically, if not stylistically. Nevertheless, the film is visually impressive with very many crane shots, and other camera movements, extreme camera angles and the use of framing and editing to separate and isolate Hire from the other characters, especially Alice. Hire is often framed by his window, looking out, and early in the film, after a tilt up- and track in- to his figure in silhouette, there is a cut to a crane shot moving down and into the criminal couple, embraced in bed. During Hire's denouement, with low angle shots on him intercut with extreme, high angle long shots of the mob below, this scene is cross cut with Alice and Fred dynamically enjoying themselves on a fairground roller coaster. Also, as James Quant argues, Duvivier has been underestimated as an auteur. He writes: "The director, even when shooting on location in rural Quebec or an African desert, accentuated spatial confinement, most memorably in the Algerian medina of Pépé le moko, and from the outset of Panique, Duvivier clogs his already constricted frames with conveyances: the tram that takes Hire from Villejuif to Paris, the convoy of fairground vans, the mortuary van … the little boat that ferries Hire and Alice to Wolves' Island, … taxis, the fire trucks, the fair rides whose circular journeys send light raking over the nocturnal ceiling of Hire's garret … For all the vehicular motion, back and forth, round and round, up and down, the prevailing aura in Panique is one of stasis and inexorability …" 8 It is a great film, and also a great film noir.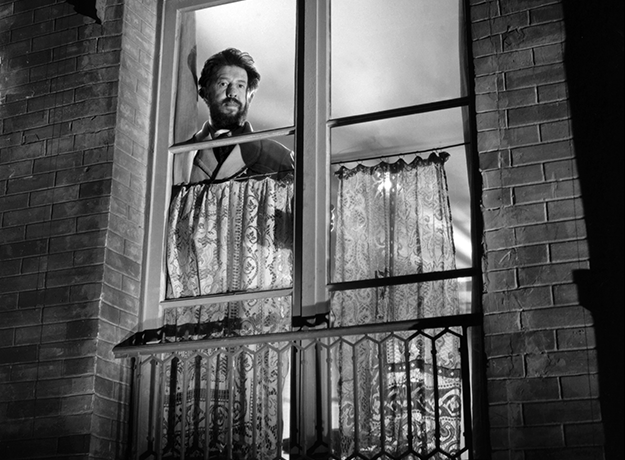 Panique
Before introducing Panique, Muller stated that France is one of the two countries with most material to draw from, and hence it was really difficult to choose only four films. His introduction to Razzia began, interestingly, with a discussion on the writer of the source novel, Auguste Le Breton. According to Muller, Le Breton, who was something of a petty criminal, himself, was inspired by seeing The Asphalt Jungle to write the novel, Du rififi chez les hommes, and co-write the script of the film, Rififi, which Muller said is the "greatest heist movie ever made." Le Breton had direct experience with drug trafficking in France, and Raffia (aka Raid on Drugs), which was released a few days before Rififi, featured much of his own dialogue. He even appeared as himself, in a small role. Muller pointed out that Raffia could never have been made in the U.S. during the 1950s because of the Hollywood Production Code still prohibiting any explicit depiction of illegal drugs or their trafficking. Indeed, the film depicts the production and distribution of all kinds of narcotics, including heroin, cocaine and opium, as well as marihuana. Jean Gabin plays a master criminal, Henri Ferré, "Le Nantais," who returns from the U.S. and is hired by a drug lord, Paul Liski (Marcel Dalio) to help make his operations more efficient. Liski gives the soave Ferré a cover by appointing him the manager of a restaurant, whose cashier, Lisette (Magali Noël), immediately falls for him. Even though it was typical for Hollywood films of the era to cast older men as romantic leads, Gabin was 50 when he made Razzia, while Noël was a mere 22, and looked even younger. It is obvious that their relationship rapidly becomes sexual, which clearly would not have been possible in a Hollywood film, even disregarding the huge age difference, and the fact that were not married. When Henri oversees a huge shipment of drugs from the port of Le Havre to the U.S., which is subsequently intercepted by the French police, one becomes suspicious about who he is working for. This suspicion is enhanced when a police raid on the restaurant arrests everyone except Lisette, who had been given a telephone number to call by Henri, if his life is in danger. At the end of the film, it is revealed that "Le Nantais" has been an undercover cop from the beginning. Razzia has been called a "police procedural," and, although we could question why the great male star of French film for the past twenty years, Gabin, was playing a gangster, the perspective of the film is always seen from the world of crime, and it hardly, if ever moves beyond that to the world of the police. Therefore it is very much a film noir.
The Saturday evening session began with Le doulos, and Muller gave an extensive introduction to the director, Melville, who was an "Americanaphile" to such an extent that he took his name from the writer Herman Melville. He loved U.S.—made crime pictures and gangster movies. He had fought in the French Resistance [which is when he took his nom-de-plume], as had the co-star of Le doulos, Serge Reggiani. Muller called Melville, "the father of the new wave," and Jean-Paul Belmondo, who had presumably met Melville during the making of Jean-Luc Godard's À bout de soufflé (Breathless, 1960), was the top-billed co-star. The 2019 Noir City 17 festival, "Film Noir in the 1950s," showed Breathless on the final Saturday evening as "On one level, a loving tribute to Hollywood B moviemaking, but more crucially a simple tale told in non-traditional, exhilarating cinéma verité style; it heralded not only the arrival of France's nouvelle vague –but a seismic shift in movie style and technique." 9 According to Muller, Melville exemplified the DIY spirit, since with no possibility of working "through the establishment" he invested his own money in a building, which became "his studio." As Muller suggested in his introduction, "after 40 minutes" of Le doulos we might wonder "what the hell is going on?" Maurice Faugel (Reggiani), recently released from prison, robs and kills a man, and then buries the loot. A burglary he commits then goes wrong, but he is saved by Silien (Belmondo). In his program notes, Muller writes, "As the plot thickens, it's impossible to discern who's telling the truth and where their allegiances lie," and he quotes Melville in "wryly" noting that "All characters are two-faced, all characters are false." 10 Of the 18 characters whose names appear in the credits of Le doulos, 12 are connected to the underworld —all of whom are arguably duplicitous— and at least nine of these are killed before the end of the film. Whoever attempted to provide a detailed plot for Wikipedia had a difficult job on their hands! 11 It is surely a key French film noir.
Whereas the first three French films were all shown on (excellent) digital copies, the final Saturday screening, of Any Number Can Win was on a beautiful 35mm, Dialiscope print. In his introduction, Muller suggested that this was the film where "Gabin passed the torch to Alain Delon." The young male lead was supposed to be played by Jean-Louis Trintignant, but Delon said he would do it for free, as long as he could have some of the foreign rights to the film. He got the part. Charles (Gabin), after being released from prison decides he will do one last big "job" before he retires from crime: robbing the casino at Cannes. He hires one of his jail-mates, Francis (Delon), along with a car mechanic, Louis (Maurice Biraud), Francis' brother-in-law. Francis is a gambler in more ways than one: he involves himself in a relationship with a dancer at the casino, which almost cripples the operation. The heist is staged and shot brilliantly by director Verneuil and cinematographer, Louis Page, especially in the use of the widescreen frame (aspect ratio, 2.35:1). Delon/Francis has to crawl horizontally along an air ventilator – accentuating the width – and then go down an elevator shaft – which vertically slices the frame – and into the vault. Surely this scene must have influenced Brian de Palma's decision to shoot Mission Impossible (1996) in widescreen (2.39:1)? The final scene of Any Number Can Win, where Francis has to get the bag of money across the Casino's outdoor plaza to Charles is remarkable for its staging in depth and editing. Most of it was filmed on location, as was much of the last half hour of the film, all of it being virtually dialogue free. The police are looking for Francis, whom they suspect, and he notices them in a point-of-view shot. Charles is breakfasting in the café across the swimming pool, and a tracking shot reveals their positions and the distance between them. How does Francis get the loot over to his boss, and avoid it being seized by the police, even if they arrest him? The very last shot of the film is sensational, but I shouldn't reveal it here… Although there is some amour fou on Francis' part, and although the story is told from the perspective of the criminals, on black and white film stock, it seems to me that Any Number Can Win is not as noir as the other French films on the program. But it is a terrific entertainment, and a great widescreen example of the heist genre.
Noir Latin American Style
The festival began on Friday evening with two world premiere restorations, of Argentinian films directed by Román Viñoly Barreto: La bestia debe morir (The Beast Must Die, 1952) on 35mm, and El vampiro negro (The Black Vampire, 1953), a digital restoration. My first experience of going to a Noir City festival was to visit Chicago's at the Music Box Theatre, with my wife, in August 2016. Unfortunately, Chicago being the "windy city," our flight, in a small plane, was cancelled and our visit was delayed so much that I missed seeing the film I most wanted to see: Los tallos amargos (The Bitter Stems, 1956, Argentina), dir., Fernando Ayala, on a Film Noir Foundation (FNF), 35mm restored print from the UCLA Film and Television Archive. I still have yet to see this really important film, and so I anxiously await Flicker Alley's BluRay launch in the
not-too-distant future (hopefully). We made sure we flew to San Francisco more than a day in advance of the opening of Noir City 18, so that I wouldn't miss these premieres.
Muller was joined in introducing The Beast Must Die, by the Argentine film historian and archivist, Fernando Martín Peña, who had rediscovered the film 18 years ago. Peña noted that when people think of Argentina, they think of Maradona [the footballer], the Tango and [Jorge Luis] Borges. In fact there is a connection here, because along with Adolfo Bioy Casares, Borges loved a lot of English-language detective fiction and they published a number of novels in translation, as The Seventh Circle Collection El séptimo circulo, the first of which was The Beast Must Die. Muller and Peña discussed the source novel, written by "Nicholas Blake," the pen name used by Cecil Day-Lewis, for his "psychological suspense" novels of lesser repute, as well as the co-writers of the script, Viñoly Barreto and Narciso Ibañez Menta, who also played the leading role in the film. Spanish-born Menta was like the "Lon Chaney of Argentine cinema" who had "studied Orson Welles' mise-en-scène" and who had actually met him. In fact, Menta, who went on to become an art director and director of Argentine television series, adapted Edgar Allan Poe stories "two years before Roger Corman" [for television: Obras maestras del terror (Masterworks of Terror, 1959)]. They discussed how most Argentine film directors came from theatre or radio, and Viñoly Barreto was no exception, being an acclaimed legitimate theatre director in Uruguay, where he was born.
As promised, the restored print was indeed gorgeous, emphasizing Alberto Etchebehere's fine black and white cinematography. The studio-shot material is very much "Classical Hollywood," with its continuity editing, while the exteriors look less like England and more like the U.S., even though all of the English character names had been retained. The key action that triggers the detective story would never be seen in a Hollywood film. The young son of Frank Carter (Menta) is killed by a hit-and-run driver. Whereas in the novel, a private eye Nigel Strangeways is hired to search for the killer, Carter —who is himself a novelist, nom-de-plume Felix Lane—becomes his own detective, desperate for revenge. Interestingly, the film depicts many examples of women being the victims of male sexual predators, but Felix is different, and much of his story is told in flashback —one of many aspects of the film that marks it definitively as noir. Most of us had believed that the novel's only screen adaptation was Claude Chabrol's Que la bête meure (1969, France), and I remember really appreciating that film when I saw it about 40 years ago. However, Muller was keen to note that the Argentine version was "the true first cinema edition," and in his introduction he stated that it is "the best." 12 Similarly to The Bitter Stems, the restoration was done by the UCLA archive and funded by the FNF, with support from the Hollywood Foreign Press Association's Charitable Trust (The HFPA Trust) and with special thanks to Peña, Luis Scalella and Argentina Sono Film (the original production company).
The North American premiere of a subtitled, FNF financed, 35mm print of El vampiro negro had taken place at the 2014 San Francisco Noir City festival. But the film needed restoration, and, thanks again to the HFPA Trust, the UCLA archive, Peña, Scallela and Argentina Sono Film, and for this restoration, The Miner Anderson Family Foundation, I was able to see a beautiful copy of this amazing film. Nothing will ever take away from the greatness of Fritz Lang's original German version of M (1931), and Joseph Losey directed a fine, under-appreciated remake in 1951, but Viñoly Barreto's version is a revelation and as at least as noir as the others. Co-written by Viñoly Barreto and La bestia debe morir's cinematographer, Etchebehere, El vampiro negro is, amazingly, a proto-feminist work. The focus is on the blonde cabaret singer, Amalia/stage name Rita, played by Olga Zubarry, protecting her young daughter, Cora (Nelly Panizza) from the pedophiliac serial killer. Zubarry was a big star in Argentina, but a popular comedian, Nathán Pinzón bravely took on the role of the pedophile, Prof. Teodoro Ulber, an English teacher, no less, who is rooming with Amalia's friend. El vampiro negro is also ahead of its time in criticizing all men for being potential sexual predators. Initially we see a night club entertainer slapping a man for his advances, while Dr Bernar (Roberto Escalada), the prosecutor in the case, consistently pursues Amalia, who equally, consistently rejects him, eventually telling his devoted, paralyzed wife (Gloria Castilla) about him. The homeless man who finds the first victim's body is arrested, and eventually the beggars and sewer-dwellers work together to catch Ulber.
There are many similarities between El vampiro negro and Lang's M including the apparent timidity and small stature of the killer and his whistling Edvard Grieg's "In the Hall of the Mountain King," which aids in his capture. Whereas Lang's film brilliantly compares the appearance and the organization of the police with that of the criminals (and the beggars), Viñoly Barreto's film equally brilliantly suggests that all men are potential sexual predators. The production design by Jorge Beghé is uniformly, strikingly noir, with its sets and locations —nightclubs, stairwells, alleyways, sewers— as is the magnificent black-and-white cinematography of Anibal González Paz. None of the three killings of young girls is actually shown, but the brutal dumping of their bodies in rivers, drains and sewers is grotesquely suggestive. In the introduction to La bestia debe morir, Peña remarked how interesting it is that in seemingly every one of Viñoly Barreto's films, a child is killed!
Three other Argentine films have been shown at previous San Francisco Noir City festivals: two in 2014, No abras nunca esa puerta (Never Open That Door, 1952), directed by Carlos Hugo Christensen and based on two stories written by Cornell Woolrich (aka William Irish), arguably the most noir of authors, and Apenas un delincuente (Hardly a Criminal, 1949), directed by Hugo Fregonese, both of which were shown on newly struck 35mm prints, funded by the FNF; and a neo-noir, "heist movie," El Aura (2005), directed by Fabián Belinsky, shown in 2017. Another Christensen/ Woolrich film, Si muero antes de despertar (If I Should Die Before I Wake, 1952), has shown at some other Noir City festivals on a 35mm print funded by the FNF. Unfortunately, I have only been able to see these two Woolrich adaptations on YouTube in very poor copies, but I have written about them, suggesting that If I should Die Before I Wake —what a great title!— "is arguably Christensen's finest achievement. With the director's developing interest in making films subjectively, exploring the psychology of the central character, Christensen was an excellent fit for a filmmaker to adapt Woolrich's writing for the screen." 13 I concluded my entry on the director, with the comment, "He should be better known as a master of subjective film form, low-budget sensual melodrama, and Argentine film noir." 14 It is certainly great that the FNF has taken such a strong interest in Argentine film noir, and I am of the opinion that the greatest of U.S. noir cinematographers, John Alton, may have been the key person responsible for developing noir stylistics as early as 1935, in Argentina, when he was the cinematographer for Alberto De Zavalia's Escala en la ciudad (Stopover in the City), a story of the rivalry of a ship's captain and a wealthy passenger for the love of the same beautiful woman, set in the port city of Buenos Aires. It is by no means a great film, but as I wrote in the same historical dictionary, it "provides a remarkable introduction to Alton's command of lighting: characters walk in and out of discreet pools of street light, a young blonde prostitute (Esther Vani) and her [chaste] client (Héctor Cataruzza) are framed in silhouette by her doorway, and lamps are clearly shown to be switched on and off inside her apartment." 15
The second country, for which the Noir City 18 programmers had most difficulty in reducing to only four selections, is Mexico. Only two Mexican films had shown at previous San Francisco Noir City festivals, both in 2014: En la palma de tu mano (In the Palm of Your Hand, 1951, dir., Roberto Gavaldón), and Víctimas del pecado (Victims of Sin, 1951, dir., Emilio Fernandez). The first was shot by Canadian-born Alex Phillips, one of the two best cinematographers during the época de oro "golden age" of Mexican cinema (late-1930s, 1940s, and early-1950s), while the second film was shot by the other one, Gabriel Figueroa, who in my mind was the greatest black and white cinematographer of all time. 16 Mexico was graced with all of the final Saturday program (February 1st): two films shot by Figueroa, Distinto amanecer (Another Dawn, 1943, dir., Julio Bracho), and Salón México (1949, dir., Fernandes), one shot by Phillips, Crepúsculo (Twilight, 1945, dir., Bracho), and one directed by Gavaldón, La noche avanza (Night Falls, 1952). In introducing the first of the two matinée films, Another Dawn, Muller suggested that indeed, Figueroa may have been the finest of all black and white cinematographers, and in his program notes, he wrote: "Forget the many overlapping plot threads, the thrill of this exceptional film – one of the progenitors of Mexican cinema's 'Golden Age' – is in the sensual performances, the stylistic flourish of Julio Bracho's direction, and the absolutely stunning cinematography of the legendary Gabriel Figueroa, whose pictorial genius may surpass even that of his Hollywood contemporary John Alton." 17 Muller was joined in introducing all of the Mexican films by Daniela Michel, the Founding Director of the Morelia (Mexico) International Film Festival, whose programming had inspired him to focus on Mexican noir. On Another Dawn they noted that the female star, Andrea Palma was the director's older sister. Both siblings had a very sophisticated upbringing —they were two of the eleven children of a wealthy landowner and textile factory operator —and she was the first great Mexican film diva, after her leading performance as Rosario in the sensational La mujer del porto (The Woman of the Port, 1934, dir., Arcady Boytler & Raphael J. Sevilla). Her father's death and desertion by her boyfriend leads Rosario into prostitution, and a sexual liaison with a man, she later learns is her brother, culminates in her committing suicide. Now that's "melodrama"!
I had seen Another Dawn in 1994 as part of an extensive, travelling Centre Pompidou retrospective of Mexican cinema at the Cinémathèque Québécoise, with French sub-titles, and I wrote in my notes that it is "the second indisputably great Mexican film, after La mujer del Puerto, with the same star!" 18
That screening was of a 35mm print, and the San Francisco screening was also of a 35mm print from the Universidad Nacional Autónoma de México (UNAM), listed at 108 min. If anything, this print of Figueroa's first foray into film noir was even more beautiful than the first one I saw. The action of Another Dawn takes place mostly over a single night (during a 14-hour period), and the plot combines that of a thriller and the cabaretera genre, with serious commentary on governmental corruption. 19 Octavio (Pedro Armandáriz) is a union leader who learns of a government official being assassinated, and knows of papers, which implicate the Governor, Don Santos (Felipe Montoya) in the killing as well as in illegal anti-union activities. Octavio runs into a former fellow university activist, Julieta (Palma) at a movie theatre, which interestingly is showing a musical scene from Braco's first feature film, !Ay, qué tiempos señor don Simón! (Those Were The Days, Senor Don Simon, 1941). Julieta decides to shelter Octavio in her apartment, but they are followed there by a government spy, Jorge Ruiz (Octavio Martinez) who poses as an electricity inspector. Shockingly, she ends up shooting him when he threatens her. Her husband, Ignacio (Alberto Galán), who is aware that she was in love with Octavio when they were all student activists together, is jealous, and we wonder if he will renege on his promise to retrieve the incriminating documents from a p.o. box, and aid in Octavio's escape. Ignacio is currently having an affair that Julieta knows about, while she resists rekindling her own love for Octavio when they are alone for three hours in a hotel hideout. Octavio and Julieta's support of the working class is clear and mutually expressed: worker friends of the couple had crated up and shipped out the dead body as if it is a grandfather clock, and railway workers guard Octavio from Don Santos' thugs at the end of the film. Julieta has given her son, Juanito (Narciso Busquets) the documents to carry to Octavio at the station, knowing that she was going to be searched. The ending of Another Dawn is brilliant. A high position camera views the train pulling out of the station, from behind, and then it cranes down to reveal Julieta and Juanito together. She hasn't joined Octavio on the train, as was planned, choosing "duty" over "love," and when a reformed and repentant Ignacio joins them on the platform, Juanito asks his mother why she didn't leave, and Julieta replies "I would have cried more if I had gone."
Most of the middle half hour of Another Dawn (from minute 50) takes place in the Tabú night club/cabaret, where Julieta works as a hostess, and where most of the film's major characters interact. When she and Octavio dance to Ana María González's singing of Agustín Lara's "Cada Noche un Amor," it is clear that their love is being rekindled. Ignacio gives Octavio the papers and he is deliberately knocked unconscious by the owner's henchmen and hidden to protect him from the politician's gangsters, who are also in the Tabú club. The film's musical score was credited to Mexican composers Raúl Lavista and Manuel Esperón. Gonzalez and Lara were also Mexican, but the other performer who is shown to be singing in the club, Kiko Mendive, was Cuban, and I assume that many of the musicians were also Cuban. In Saturday night's closing film, Salon Mexico, the classical cabaretera in the program, the principal location of the first half of the film is the dancehall, Salón México, and the music that is played mixes Mexican (and Cuban-inspired) danzón and son cubano. In the beginning, dancing couples are on stage for the Gran Concerso de Danzon, and the Cuban band, Son Clave de Oro is led by Jose de Perez. 1948,'49 and '50 were the peak years of Cuban music in Mexico, and Mexican films. As Ned Sublette writes, "With the arrival of the mambo, the Mexican cabareteras genre came into its own. Pérez Prado's first picture in Mexico was Coqueta (Tease), a Ninón Sevilla vehicle filmed in February 1949. In 1950 Aventurera (Adventuress), considered the classic of the genre, featured Pérez Prado's unmistakable sound in the underscoring. That year he had music in no fewer than eighteen Mexican features, which carried his music to the entire Spanish-speaking world." 20 Mercedes (Marga López) is a dancer and wins a dancing competition with Paco (Rodolfo Acosta) who takes all the prize money and the trophy, allowing her only to keep the trophy after she has complained so much. We realize that the greasy-haired, pinstripe-suited Paco is a gangster, and probably Mercedes' pimp. He beats her mercilessly, but Mercedes needs the money to pay for her sister Beatriz's (Silvia Derbez) education in a prestigious convent school, so she steals his wallet. She is protected by a lone figure, the security guard of the Salón México, Lupe López (Miguel Inclán), who also aids in Beatriz's relationship with an aviator hero. Both films allow Figueroa to provide magnificent images of a contemporaneous Mexico City by day and by night. But whereas Another Dawn is rigorously dark, Beatriz's mostly daytime story is reminiscent of the cinematographer's work with Fernandez on the films that championed Mexico's national heritage, and that have a rural setting e.g., Maria Candelaria (1944) and Bugambilia (1945). Unfortunately, although the visual contrast between light and dark, richness and poverty, order and criminality is impressive, the overtly patriotic tone of the latter part of the film seems strained, and is far less convincing than the Figueroa/Fernandez classics such as those just cited. The film noir first half of Salon Mexico, though, is extraordinary, and its digital presentation (courtesy of the Cineteca Nacional México) at the Castro Theatre really did justice to its black and white contrasts.
I had never seen either of the other two Mexican films that were shown, before. In introducing Crepúsculo, Ms Michel emphasized how the cinematographer, Phillips did well to reveal life in Mexico City and its architecture for Bracho, as she said Figueroa had similarly done for Fernandez in Another Dawn. The second (Bracho) film to be shown during the afternoon session, Crepúsculo was also presented on a beautiful 35mm print from the Cineteca Nacional. It stars Arturo de Córdova as a brilliant surgeon, Dr Alexandro Magino, who is enraptured by the image of a student's sculpture, before being struck that the art class' model is a naked Lucía (Gloria Marín), with her back turned toward him. He had loved Lucía in the past, but had lost contact with her. He is about to embark on a trip around the world, and when he arrives back at the airport in Mexico after three months away, Dr Magino discovers that Lucía is married; to his best friend Ricardo (Manuel Arvide), no less. Lucía's younger sister, Cristina (Lilia Michel) appears on the scene and falls madly in love with the doctor, who has been increasingly obsessed by Lucía. At the beginning of the film, Magino's dilemma is that he doesn't understand if he accidentally killed Ricardo by failing to successfully complete a dangerous operation on him or if his mental illness provoked him into murder. Although this melodrama of unrequited passion is not strictly noir, the extreme obsessiveness of the characters' feelings combined with the subjective telling of the story through flashbacks and dream sequences renders the film for Muller to be "more like a feverish hallucination than the typical Mexican melodrama, especially given the exalted combination of Alex Phillips' sublime cinematography and Raúl Lavista's soaring, 'rip-off-the-roof score." 21
Roberto Gavaldón, who directed Night Falls, the opening film in the evening program, is generally considered to have made more of the better Mexican films noirs than anyone else. When New York's Museum of Modern Art (MoMA) mounted a 13 film series in tribute to the director in the spring of 2019, it was entitled, "Roberto Gavaldón: Night Falls in Mexico." Their introductory notes claim that his work "spans the cultural divide at the center of Mexican national cinema, embracing both rural sagas of peasant life (the genre made internationally famous by Gavaldón's contemporary Emilio Fernandez) and urban dramas centered on moneyed professionals (as in the cosmopolitan work of Julio Bracho). But whether they wear a sombrero (like Pedro Armandáríz in Rosauro Castro [1950]) or a fedora (like Arturo de Córdova in En la palma de tu mano), Gavaldón's protagonists are marked by ungovernable passions and gnawing self-doubt, as they move through an unstable world toward a frequently unkind fate." 22 Muller and Michel noted in their introduction that Gavaldón received his film training in the U.S., and that his work tended to be more "realist" than that of other Mexican directors. Michel suggested that he was the "best technician" and that he had "great connections" with actors. Armandáriz, who in the 1940s was the model hero for Mexican men, often playing mestizo characters, is the most despicable of villains in Night Falls, as the arrogant Jai alai champion and arch womanizer, Marcos Arizmendi. He uses his fame to seduce a number of women, all of whom he abandons. He is very much connected to the criminal underworld, and eventually his monetary debts to them, and his terrible treatment of women, cause his come-uppance. The digital copy came from the Filmoteca UNAM.
In a follow-up essay I plan to discuss the other seven double bills in the International Noir program —from the Republic of Korea, Italy, (the former) Czechoslovakia, England, Japan, and (the former) West Germany. But here it is worth summarizing the strengths of French, Argentine, and Mexican film noir. As stated above, French "poetic realism" of the 1930s, (along with the "hard-boiled" novel and German "expressionist" silent film) has long been thought of as an important antecedent to American film noir. Also towards the end of the decade, French films generally, received more attention in the U.S. than they had since the domination of American screens by the Pathé Frères company before World War I. Now though, French films were admired for their artistic qualities and their seriousness. After July 1st 1934, the Hollywood Production Code demanded that any suggestion of sexual contact be repressed to the extent that any depiction of adultery was outlawed, and married couples slept in separate beds. 23 Some films made outside of the studio system, including films made in other countries, escaped the legislation, but still could have restricted release and/or censorship by local authorities. Although there were French censorship restrictions on nudity and explicit sexuality, French filmmakers could be much more honest about human nature, sexual attraction, and criminal acts, including the depiction of prostitution. It was the suggestiveness of the newly recognized U.S. films noirs that appeared in France after World War II, and their surprising tendency to show the darker side of life, that struck French critics as being different from regular Hollywood fare, and perhaps also being closer to what was expected of their own films. All four of the French films shown at Noir City 18 depicted illicit sexual liaisons, and only one, Razzia contained what could be termed a "happy ending," but throughout the film, the audience sides with the Gabin character, who is being portrayed as a master criminal.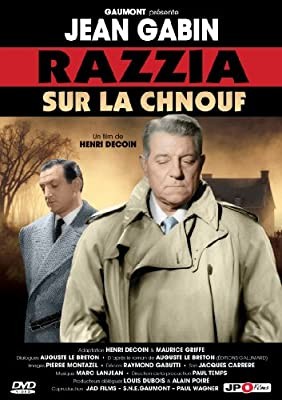 The Rough Guide to Film Noir and the BFI Screen Guide, 100 Film Noirs, both of which were published in Great Britain, recognize International Noir, and both include French film titles. Ballinger and Graydon even include two French films in their "Canon" of "50 essential film noirs," while Jim Hillier and Alastair Phillips include no fewer than eight French films in their essential "100 film noirs." 24 There are a further 11 French films listed in an appendix of Hillier and Phillips' book as "Another 100 Film Noirs," including Razzia, while Ballinger and Graydon highlight 14 other French films in their section on "International Noir: Dark Side of the Earth," including Le doulos. 25 On the other hand, less than three pages of the Rough Guide are devoted to Latin American noir and of the seven films highlighted, only Aventurera (dir., Alberto Gout) was made before 1992! The only Latin American film to be included in 100 Film Noirs is Terra estrangeira (Foreign Land, 1995, Brazil), directed by Walter Salles and Daniela Thomas, and only two more, Gout's Sensualidad (1951, Mexico) and El aura can be found in the second 100. This lack is another indication of how Latin American films noirs, and Mexican and Argentinian film noir in particular are still very much underestimated by many film historians. The FNF however have been doing a great job, along with Señor Peña and the organizations listed above, in restoring three Argentine titles, Los tallos amargos, La bestia debe morir, and El vampire negro, and in funding new 35mm prints of Don't Open That Door, If I Die Before I Wake, and Hardly a Criminal (see above). Indeed, one could possibly find significant roots of film noir in the Argentine "tango films" of the silent era, especially those directed by "El Negro" Ferreyra (1889-1943). Ferreyra's first film as a director was made in 1915, and his first notable film was El tango de la muerte (The Tango of Death, 1917), of which Jorge Couselo wrote: "It sketches particular people (the girl from the edge of town who leaves home to live a life of sin, the seducer, the thug), and puts the action in a low-life riverside café, attended by complacent waitresses."44 26 Ferreyra's best-known silent film was La muchacha del arrabal (The Girl from the Slums, 1922) because the film's title song was later recorded by the most celebrated tango singer, Carlos Gardel. But all of Ferreyra's tango films are lost, so we might never be able to appreciate the beginnings of a film genre that focused on working class Porteños from Buenos Aires and its environs, where dock workers and sailors would fight for the love and attention of the very few young women in their midst. As for the roots of Mexican film noir, we can go back to even before Woman of the Port, and to the first Mexican sound film, Santa (1931, dir., Antonio Moreno), which tells the story of an innocent country girl who is raped by her boyfriend and flees to the city, where she becomes a prostitute. Neither the depiction of rape nor prostitution ("white slavery") was allowed in Hollywood films after 1933, and yet, the suggestiveness of the connection between crime and sexuality, which becomes a staple of Hollywood film noir, are strongly present in Argentine and Mexican film melodramas from their very beginnings. Suggestion: did what we know as film noir actually begin in Latin America?
Notes