NOIR CITY INTERNATIONAL: the 18th Annual San Francisco Film Noir Festival, 24 January – 2 February, 2020, "It's a bitter little world", Part 3
International Noir from Republic of Korea, Italy, (the former) Czechoslovakia, England, Japan, and (the former) West Germany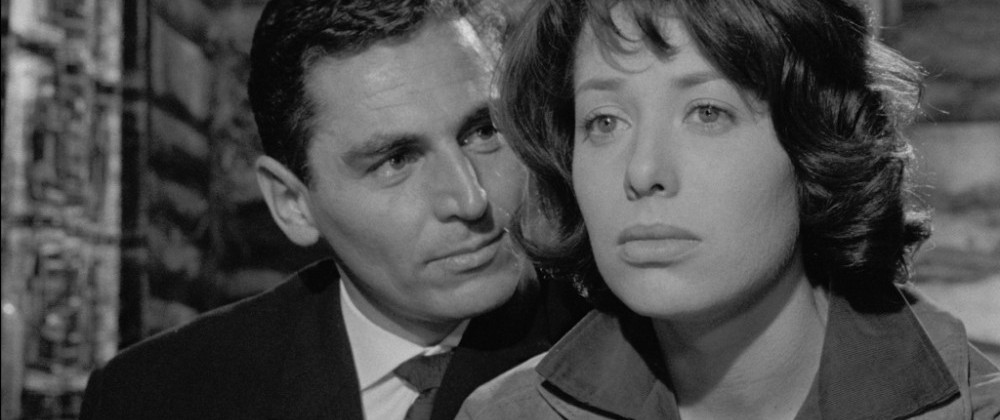 Both Japanese films that were shown, on Thursday, 30 January, Sabita naifu (Rusty Knife, 1958) and, Kawaita hana (Pale Flower, 1964) had been shot in widescreen, with an aspect ratio of 2.35:1. They were the last examples of scope framing (Nikkatsuscope and Shochiku Grandscope, respectively) that we saw during Noir City 17 – there had been four others, including Any Number Can Win – and such inclusions constituted a highlight, for me. We don't normally associate widescreen with film noir, and there are only a couple of consensus American films noirs from the classic period that were shot in 35mm, anamorphic Regalscope (2.35:1), Twentieth Century Fox's black-and-white version of CinemaScope: The Tattered Dress and Plunder Road (both 1957). Fox had introduced 35mm, anamorphic, color CinemaScope (2.55:1) in 1953 with The Robe, and initially the format was reserved for films that were either spectacular or presumed to be potentially very popular. Color CinemaScope was for "A" pictures, while Regalscope was for "Bs." Thus we can find a few more 'Scope films in colour that are often considered to be noirs, including Sam Fuller's House of Bamboo, Stuart Heislers' I Died a Thousand Times (both 1955), A Kiss Before Dying (1956, dir., Gerd Oswald), and Nicholas Ray's Party Girl (1958). 1 We should also include Allan Dwan's Slightly Scarlet (1956), which was shot by RKO in a rival process, SuperScope (2:00:1). Another consensus black-and-white film noir, William Wyler's The Desperate Hours (1953) was shot in a rival widescreen process, VistaVision (2.00:1), while another, I The Jury (1953, dir., Harry Essex), was shot by John Alton in 3-D. Nevertheless, three is a very small number of key American, black-and-white, films noirs to have been made in a widescreen process.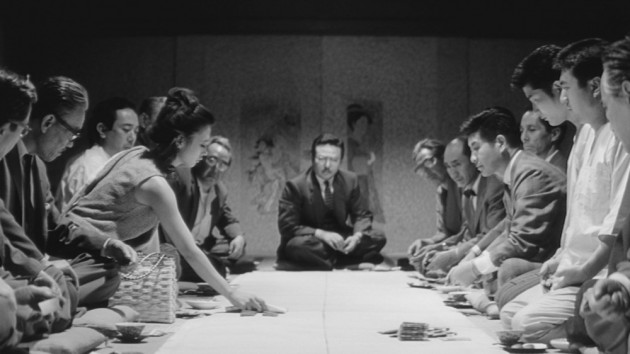 Pale Flower
The situation was very different in Japan, where anamorphic, black-and-white crime movies were very popular, especially at the Nikkatsu studio. Indeed, the Criterion Collection included four such films in an Eclipse series box set, entitled "Nikkatsu Noir," one of which had shown as a "heist movie" in Noir City 15 (2017), Kenju zankoku monogatari (Cruel Gun Story, 1964, dir., Furukawa Takumi), and one of which I have featured on my Film Noir course, Colt wa ore no passport (A Colt is My Passport, 1967, dir., Nomura Takashi). Both of these films star Shishido Jô, famous for having surgery done on his cheeks to puff them out. In a third of these Nikkatsuscope "Noirs," the one that was programmed this year, Rusty Knife, directed by Masuda Toshio, Shishido appears in a minor role, pre-surgery. The star, though, was Ishihara Yûjirô, who along with Kobayashi Akira , whose role as a bartender launched his career, was a member of the "Nikkatsu Action Big Three plus One," according to Mark Schilling. 2 Ishihara had appeared in the first of the "sun tribe" (_Taiyozoku), wild youth films, Taiyo no Kisetsu (Season of the Sun, 1956), following which he became Nikkatsu's biggest star of mukokuseki akushun, "borderless action" films which mixed Japanese genres of yakuza (gangster), comedy and others along with influences from Hollywood westerns and teen-rebel films. 3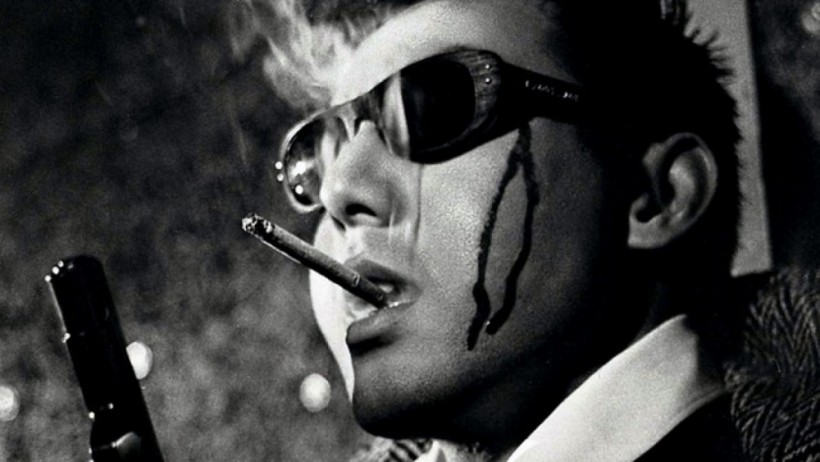 Rusty Knife
Rusty Knife was co-written by Ishihara's brother, Shintarô and the young director, Masuda, who went on to become Nikkatsu's top director of action films. Tachibana (Ishihara) had decided to go straight after being released from prison. He runs a bar, and Terada (Kobayashi) works for him. Along with fellow young punk, gangsters Shimabara (Sishido) and Terada, Tachibana had witnessed the murder of a politician, but he refuses to "rat" on the rival gang leader Katsumata (Sugiura Naoki), especially because Shimabara is killed very early in the film for trying to blackmail Katsumata. (Shishido, had died just before the festival started, on 21 January at the age of 86). Many Japanese yakuza films which are considered to be noir because their stories are told from the perspective of outlaws not the police, for their striking black-and-white visuals, and for their pessimistic views, only feature women in minor, often sexualized roles. But in Rusty Knife, the second-billed actor is Kitahara Mie, as Nishida Keiko, the orphaned daughter of the dead politician, who works as a news reporter. She is a really intelligent, headstrong character and tries to get Tachibana to come clean. Kitahara had co-starred with Ishihara in the previous years' I Am Waiting (dir., Kurahara Koreyoshi), which is the fifth film in the Nikkatsu Noir boxset, and the only one not made in Nikkatsuscope. One of the most interesting aspects of Rusty Knife is how it depicts the city of Udaka as struggling to rebuild after World War II and U.S. occupation, and how it implicates high-ranking men in corruption. In his introduction, Muller compared the film to Captive City (see notes above) and the films of Richard Fleisher. For example, Fleisher's Bodyguard (1948) and The Clay Pigeon (1949) implicate organized crime in big business, while The Narrow Margin (1952) focuses on attempts to protect a witness from assassination by organized crime. Rusty Knife was shown on a digital copy, courtesy of Janus Films and the Criterion Collection.
In introducing Pale Flower, Muller stressed that it is one of his all-time favourite films. I thought I had seen it before, and I certainly recognized some of the gambling scenes, but this screening of a beautiful 35mm 'Scope print made it seem as if I had never seen any of it. As of this writing, Pale Flower is certainly, now, one of my own favourite Japanese films, and without a doubt, the best of Japanese film noir. Based on an original story written by Ishihara Shintarô (the brother of the star, above), a hard-line conservative who became Governor of Tokyo, the script was co-written by the director, Shinoda and Baba Masaru. In a video interview included on the Criterion Collection, Blu-ray disc, Shinoda discussed how Baba wanted to reduce the dialogue during the key gambling scenes to only one line. But the director considered that hanafuda "flower card" gambling was the core of the story, so he added dialogue and elaborated on the visual representation of the sessions involving Muraki (Ikebe Ryô), a 40 yr old yakuza recently released from prison, and an obsessive young teenage gambler, Saeko (Kaga Mariko). 4 Their relationship is totally based on the charge they both get from gambling, even though they are both ravishingly, sexually attractive. Her background is never explained, although she does appear to be part of a very rich family. Kaga was chosen for her "borderless" looks – her pouty lips and wide eyes are a bit reminiscent of Brigitte Bardot – while Ikebe had been chosen by Shinoda because he looked wonderful, when walking. According to Muller, Ikebe really wanted to be a legitimate theatre actor, but he froze on stage and didn't want to act again. The director managed to get a great performance out of him, and revive his career at Shochiku. Shinoda had moved Kaga from TV for his previous film, Namida o shishi no tetegami ni (Tears on the Lion's Mane, aka "A Flame at the Pier," 1962) where she played the daughter of a rebellious dockworker who leads a strike. At the end she learns that her rock'n roller boyfriend has accidentally killed her father. In the Pale Flower video interview, Shinoda discussed how Japanese intellectuals of his generation were torn between the U.S. (capitalism) and the Soviet Union (communism), unable to find their own, new, Japanese way. Many of Shinoda's films, including Tears on the Lion's Mane and Pale Flower reflect this dichotomous struggle in a pessimistic way. Both were filmed in Yokohama, where the U.S. navy used to be based, and where the red light district was deserted by 1964, allowing Shinoda and his cinematographer, Kosugi Masa to shoot freely, at night, for Pale Flower (representing Tokyo). Muraki and Saeko are both loners who want to escape traditional society. Saeko drives Muraki in her sports car scarily fast, and they gamble wildly. Eventually, Muraki encourages Saeko to believe that the biggest "kick" is for her to witness him commit a murder.
So many Japanese films of the late-1950s and early-1960s were shot in black-and-white 'scope. We consider many of them now to be strong examples of film noir, which is surprising given that a wide screen tends to open up the world in a relatively optimistic way. Noir characters tend to be trapped, both physically and psychologically/emotionally, situations that surely favour a tighter, narrower frame like the Academy aspect ratio of 1.33:1, which was how almost all films were shot before 1954. However, beginning in 1966, the Hungarian director, Jancsó Miklós made three films in black and white, with a widescreen aspect ratio of 2.35:1 that showed how such a format could be strategically ironic. Szegénylegények (The Round-Up, 1966), Csillagosok, katonák (The Red and the White, 1967), and Csend és kiáltás (Silence and Cry, 1968), are all concerned with the failed attempts of Hungarian patriots (in 1869) and communists (in 1919) to escape the clutches of the Austrian and White Russian armies. Not only were the films set on the wide-open Hungarian plains, but they are filled with elaborate tracking and panning camera movements, all of which would normally indicate a sense of "freedom." But the protagonists of these films are always being captured, recaptured, tortured and abused in many ways. There is no way out of the widescreen frame. Although there might not be examples of such extreme contrast between format and subject matter in Japanese cinema, it is clear that many directors had mastered the use of widescreen composition in advance of directors in other countries. For example, in Kurosawa Akira's Yojimbo (1961), we find the magnificent use of vertical bars and other frames within frames to accentuate the idea of spying, while Kobayashi Masaki made widescreen black-and-white his own domain, with Ningen no jöken (The Human Condition, 1959-1961). As Alexander Jacoby writes, "… from The Human Condition onwards, the adoption of the 'Scope frame allowed him to perfect a more precise, pictorial style, grouping characters onscreen in elaborately composed tableaux, the stasis of which was punctuated by sudden eruptions of movement." 5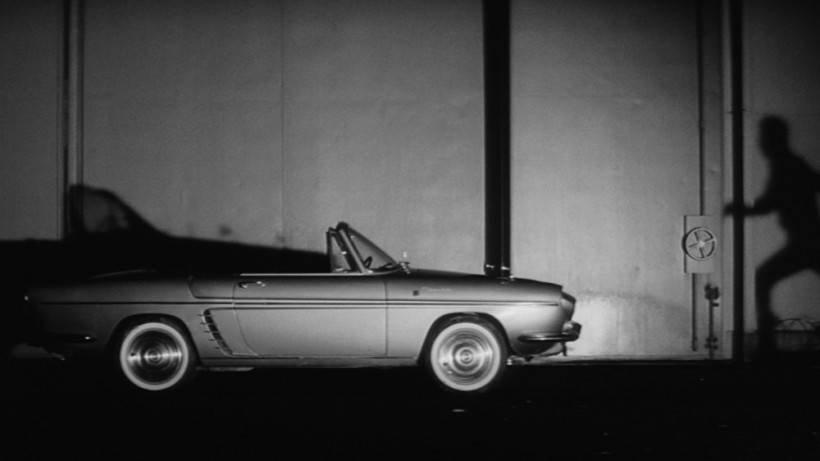 Pale Flower
Pale Flower begins in documentary style with long shots of a bustling Tokyo, and gradually, the frame tightens on the two principal characters, while the world gets darker. For the first gambling scene, there are other women involved, but when the stakes get higher, it is clear in the long shot, diagonal views of the gamblers that Saeko is the only female participant. Reverse angle singles of Muraki and Saeko establish their unspoken connection, and close-ups, which are strange to see in 'scope, intensify their special relationship. After their last scene of gambling, when the police raid the den, Muraki and Saeko escape to an adjacent hotel room, and he cleverly implies that they are sleeping together by pulling a duvet over them on the floor. The scene ends with Muraki clutching his chest in resisting the urge to join Saeko in sexual intimacy, viewed by a camera mounted high above them, looking down, vertically. This extreme camera angle was used once previously in the film, over and above a gambling table, and would become the stylistic signature of Shinoda's most celebrated film, Shinjû: ten no Amijima (Double Suicide, 1969). Vertical columns, bars and doorways are often prominent features of art direction in Pale Flower and back walls seem to come closer to the camera as we progress. The film ends with Muraki, walking towards the camera from the bleached-out prison courtyard, returning to his cell as the doors close in the background and the image fades to black. Pale Flower was listed in the catalogue as being a digital presentation, but Muller (as he often did throughout the festival) thanked Anita Monger, his co-programmer and film booker for managing to secure a 35mm print from Janus Films. And, I must say, that I have looked at the Blu-ray disc during our COVID-19 "lockdown," and find it to be a "pale" rendition of what we saw in the Castro Theatre at 7:00pm on Thursday, 20 January 2020. If a good 35mm print is available, it is still so much better to see a work that originated on film, like that, on a big screen.
The first Sunday was devoted to the Republic of (South) Korea, with a repeated double bill. The first of these almost didn't happen. Luckily, Eddie Muller was joined in presenting the films by Cho Hyun Jin of the UK Korean Cultural Centre. The DCP provided by the Korean Film Archive of Hanyo (The Housemaid, 1960) wouldn't play. A number of solutions were attempted by Ms Cho, including the transfer of a copy she had on her own, personal electronic device, just in time for the first screening. The Housemaid, directed by Kim Ki-young is probably the best known of all the Korean "classic" films. For the second edition of the Pusan (now Busan) International Film Festival (PIFF, now BIFF) in 1997, the highly popular festival director, Kim Dong-ho mounted a retrospective to Kim Ki-young. In the early, glory years of PIFF, many foreign film critics and historians were in attendance, and the Kim Ki-young films, especially The Housemaid drew a lot of praise and attention. 6 Within Korea, The Housemaid already had a great reputation: Kim even remade his own film, twice, in 1971 and 1982, and Im Sang-soo remade it with the same title in 2010. Perhaps most famously, Oscar winner, Bong Joon-ho claims that Kim should have been recognized alongside figures such as Imamura Shohei (Japan) and Luis Buñuel (Europe) as importantly dealing honestly with human sexuality. In a 2013 interview conducted by the Criterion Collection, Bong argues that it was his new generation of Korean filmmakers in the 1990s who really "discovered" Kim Ki-young's work, and that The Housemaid was the most important of his films, combining "crime melodrama," and social commentary, even "horror" film tropes, with a unique exploration of female sexuality, on the cusp of a crackdown on the nation's sexual mores following a military coup in 1961. 7
Myung-sook plays Lee Eun-shim, the working class maid who is employed by Kim Dong-sik (Kim Jin-kyu) and his wife (Ju Jeung-nyeo), a middle class couple who live in a two-story house, with their two children. Most observers have called Miss Lee a femme fatale, a "monster," or worse, but Kim So-young, a feminist who wrote an essay for the retrospective catalogue of the 20th Hong Kong International Film festival (1996) suggested that "Male critics have stressed on [sic] the grotesque aspects of the maid's character by employing terms … which fall into the Freudian description of feminine sexuality as a dark continent. Put in the historical context, the film, however, betrays the simplified reading which narrowly focuses on incomprehensible femininity." 8 She argues that The Housemaid "can be read not only as an interrogation of female sexuality but male subjectivity in crisis." 9 Indeed, although the horrific disruptions brought to the Korean nuclear family by the maid, including the death of a child, are revealed to be the imaginings of Mr Kim after his reading a true story in the newspaper, the film ultimately serves as a warning about the complacency of the Korean middle class and a criticism of their patriarchal values. The Housemaid was decades ahead of its time.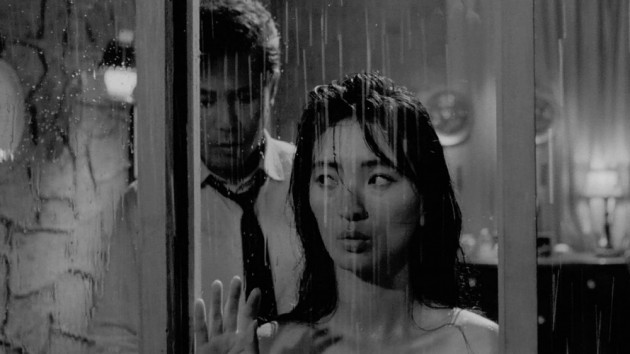 I had seen The Housemaid before, on more than one occasion, but I had never seen Geomeun meori (Black Hair, 1964) before. Directed by Lee Man-hee, this film was shown digitally, on a DCP provided by Eric Choi of the Korean Film Archive, with thanks also going to Ms Cho of the UK Korean Cultural Centre. Lee had also been granted a retrospective by BIFF in 2005, and of all the Korean directors of the 1960s "golden age," it seems that he was the one the most generally admired within the industry, with some even considering him to be a "genius." 10 Director Park Chan-wook (the "Vengeance" trilogy) and film critic Kim Young-jin recorded a very interesting voice-over commentary on Black Hair for the Korean Film Archive, Lee Man-hee Collection of DVDs in 2010, and they made reference to this widespread admiration. Rightly so, they are very critical of the film's messy narrative and some of the acting, but they consistently recognize Lee's accomplished mise-en-scène and directing of actors. The central performance of Moon Jung-suk as Yeon-sil, the wife of a gangster whose face is scarred on the orders of her husband, and that of Lee Dae-yob as the taxi driver who enables her recovery, are exemplary. According to Park and Kim Young-jin, Black Hair is the clearest example of film noir not only in Lee's 51-film career, but also, probably in 1960s Korean film production, generally. Indeed, the first half-an-hour of Black Hair showing Yeon-sil's decline into a life of prostitution is remarkable for the realism of its backstreet settings, the use of frames within frames, Jang Gi-jong's lighting and Seo Jeong-min's 'Scope (2.35:1), black-and-white cinematography. Throughout, I was struck by the preponderance of unfinished building site locations, which look far more "run-down" than "built-up." It is a great-looking example of film noir, but an imperfect, unfinished one.
I also had mixed responses to the Monday screenings of two films from Italy. I had seen and admired Michelangelo Antonioni's first feature film, Cronaca di un amore (Story of a Love Affair, 1950) in the past, but I had never thought of it as being a film noir, which I now think it definitely is. Antonioni wrote an original story, inspired by James M. Cain's 1934 novel, The Postman Always Rings Twice. The film features a beautiful femme noire, Paula (Lucia Bosé) who had married the rich and much older Enrico Fontana (Ferdinando Sarmi), shortly after her good friend, Giovanna had mysteriously died falling down an elevator shaft in their home town of Ferrara. There is also a "seeker" character of a Milan detective, Carloni (Gino Rossi) who has been hired by Fontana to follow Paula on suspicion of her infidelity. Ironically, in investigating Giovanna's death (which has happened over seven years before the film's action begins), Carloni tracks down Guido (Massimo Girotti), who had been Giovanna's fiancé, and who then travels to Milan to warn Paula that the two of them may be suspected of murder; and they begin a passionate affair, an amour fou. There is no clear evidence of murder in Cronaca di un amore, but Paula and Guido plan to murder Fontana, and the ending is as ambiguous as the rest of the film has been full of intrigue and mystery. The film was extremely important in bringing a new, important director, Antonioni to the international world of the art film, and in pointing Italian "neo-realism" in a different direction – towards the upper classes, and criticizing them – while intensifying documentary-like observation. Anita Monga managed to persuade the Instituto Luce Cinecittà to supply a fine, English sub-titled 35mm print.
The 9pm screening of Un maledetto imbroglio (The Facts of Murder, 1959) enabled us to experience a certain amount of comic relief. Based on an enormously popular 1957 novel, Quer pasticciaccio brutto de via Merulana, screenplay co-writer and director Pietro Germi cast himself as the police inspector, Dr. Ciccio Ingravallo, who initially investigates an apartment robbery, where the neighbours suspect one another. The investigation turns serious when a witness is murdered. As Muller's program notes suggest, Un maledetto imbroglio is "an engaging miscella of thriller, policier, black comedy, and subtle social commentary" on post-war Italy.55 11 Germi's leading co-star is Claudia Cardinale, whose passion and beauty illuminate the role of Assuntina, the dead woman's maid, who is both suspect and victim. Predominantly "neo-realist," except for the larger-than-life characters played by Germi and Cardinale, Un maladetto imbroglio is "Less noir than a police procedural – but hugely entertaining by any label."56 12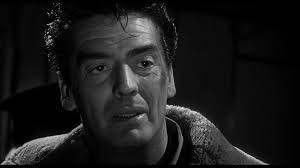 Long Haul
Both films showing on Wednesday evening, labeled as coming from "England," were shown on 35mm prints. The print of the first of these, The Long Haul (1957, dir., Ken Hughes) came from Sony. It was quite familiar to me, having shown a few times on TCM, and although it is a "British" film, I am sure that it was targeted at the North American audience, for two reasons: the pairing of Hollywood star, Victor Mature with British blonde bombshell star, Diana Dors, who desired U.S. exposure; and terminology – the focus is on long distance Leyland "lorry" driving, which in this film, as in all the Americas, is called "truck" driving, or "trucking." 13 I have been assured that the designation "lorry" is still used in Britain, not "truck." The highlight of the evening was the introduction to The Long Haul by Mature's daughter, Victoria, who gamely appeared before almost every screening as "Ms Noir City 2020." Trained in opera, she also sang a few songs, most memorably, on the final Saturday "Por un amor," a popular Mexican song composed by Gilberto Parra in 1941 for Lucha Reyes, which she sang beautifully in Spanish, accompanied by Nick Rossi's guitar. The Long Haul definitely qualifies as noir: Harry Miller (Mature) a U.S. serviceman, stationed in Germany has moved to Britain to be with his wife, Connie. She is played by Gene Anderson, who has black hair, while Lynn (Dors), who Harry falls for, is his boss' girlfriend. The "trucking" company boss is also a criminal, and it is interesting that Lynn is presented as being much more sympathetic than Connie. Perhaps more than a crime thriller where two women are in love with the same man, The Long Haul works really well as a commercial for British Leyland Motors, with a memorable closing action scene, where Harry maneuvers his "truck" over the muddy, barren, rolling hills of Scotland.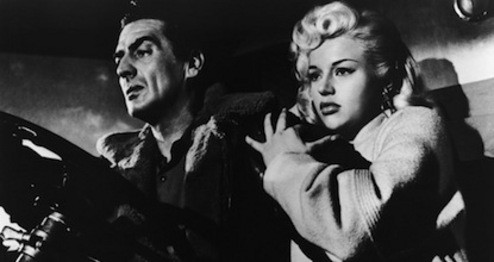 Long Haul
Anybody who was expecting a riotous comedy, because Peter Sellers gets second billing, would have been shocked to find him playing an arch-villain in Never Let Go (1960, dir., John Guillerman). A "black comedy" this is not. Richard Todd, who was nominated for an Oscar as Best Actor in a Leading Role in 1950 for The Hasty Heart (1949), never quite made it as a Hollywood star. His leading role here as John Cummings, a mild-mannered cosmetics salesman who has his new, uninsured Ford Anglia car stolen by the people who sold it to him, becomes an action character out for revenge. His transformation from mild-mannered cosmetics salesman to penniless, jobless, wifeless, angry man, turned extremely violent, pre-dates by over ten years, even nastier, but similar examples such as Deliverance (1972, dir., John Boorman), and especially Straw Dogs (1971, dir. Sam Peckinpah). As Muller wrote in his program notes, "This is British 'kitchen sink' cinema with a nasty noir twist."58 14
Both films from the former West Germany, shown on the Second Friday night were really interesting. The 9pm film, Schwarzer Kies (Black Gravel, 1961), directed by Helmut Käutner, was very controversial on its release, because it reminded audiences of their post-war struggles with U.S. military occupation, the "black market" of essential items, prostitution, and the remnants of anti-Semitism. Several scenes had been cut by the censors, but the F.W. Murnau Stiftung (archive) have restored the original full-length version, and Kino Lorber, who will eventually produce a BluRay disc, supplied the DCP, with English sub-titles. Robert Neidhardt (Helmut Wildt) drives truckloads of stolen gravel, and dumps one of these loads to conceal a dead body. The film is very much noir in its focus on an average young male character, Neidhart, whose need to make a living puts him outside the law, leading to more and more dangerous and lethal situations. I was really excited to be able to see, Nachts, wenn der Teufel kam (The Devil Strikes at Night, 1957), by Siodmak, the most consistently good director of U.S. films noirs. Although he was born in Memphis, Tennessee to German Jewish parents, Siodmak grew up in Germany, and directed a number of films there until Hitler came to power, when he left to make films in France, until his move to the U.S. in 1940. Surprisingly, perhaps, he moved back to Germany in 1955 after a brief sojourn in France, and according to Muller, The Devil Strikes at Night is the most powerful of the ten German-language films he made before his retirement in 1970. (He also made a couple of films in French and a few more in English.) Based on the true story of the murderer, Bruno Lüdke, in Hamburg, during World War II, the film was truly original in its focus on the German home front and how the Nazis wanted to cover-up the fact that undetected serial killing could have been happening under their watch. They also chose to convict a suspect who was not Aryan, and hounded out the police detective/_kriminalkommissar_, Axel Kersten (Claus Holm), who was on the right track. Although not strictly noir in that the "seeker" character's love relationship, or any others (for that matter) are not central in the narrative, the status of women in peril in an ugly world, controlled (and uncontrolled) by men is central to The Devil Strikes at Night. Expectedly, for the directorial work of Siodmak, the leading exponent of black and white noir style, the cinematography, credited to Georg Krause, was consistently and appropriately dark. It was great to see the projection of a 35mm print from the Goethe Institute, courtesy of Beta Films. The Devil Strikes at Night was highly regarded on its release, receiving a nomination for the Best Foreign Language Film Oscar in 1958, and winning as many as ten German Film Awards, including Beste Regie (direction) and Beste Kamera/Bildgestaltung for Siodmak and Krause.
Two films from the former Czechoslovakia, shown on Tuesday, were both made in widescreen and shown in 2.35:1 aspect ratio copies. Jiri Weiss' Třicet jedna ve stínu (90 Degrees in the Shade, 1965) was an early example of a "Euro pudding," an international co-production between Czechoslovakia and the UK, which was released in two different language versions, English and Czech. Four of the six top-billed actors were British, while the other members of the cast were Czech. The screenplay was written by David Mercer, based on a story co-written by Weiss, and since the director had lived for a time in England after World War II, he was perfectly bilingual. Also the English version is longer and features less dubbing, and so this was the version that was shown on a DCP from Cohen Media. Most of the action takes place during the day, in and around a Prague liquor store, which is being audited by Rudolph Kurka (Rudolf Hrusinský). He discovers a lot of missing, expensive bottles of scotch and cognac, and suspects Alena (Anne Heywood) who works in the storeroom. She is the victim not just of the investigation, but also of her boyfriend, and immediate supervisor, Vorell (James Booth). If not as typically noir as other films in the festival, 90 Degrees in the Shade is an excellent film in its combination of sexual frankness – the British 1960s touch – with "the themes of repression and regret that were infused in so many films of the Czechoslovakian New Wave."59 12
… a páty jezdec je Strach (… and the Fifth Horseman is Fear, 1965), directed by Zbynék Brynych, is one of the most important films of the Czech new wave, and had been released in the U.S. in 1968. Set during the Nazi occupation, the director deliberately made the time period ambiguous – the building exteriors, as Muller suggested in his introduction look somewhat medieval, but the costuming and interior décor look contemporaneous (1960s). Thus, like many of the best films made in the Soviet bloc, this one is decidedly allegorical. Dr. Braun (Miroslav Machácek) is a Jewish doctor who is no longer allowed to practice medicine and is forced to catalogue Jewish possessions that have been confiscated (by the Nazis). We get to know a number of residents in the apartment building where Brawn lives and an escaped partisan, needing morphine, is brought to him. Helped by a sympathetic music teacher (Olga Scheinpflugová), Braun goes all over Prague, eventually securing some. Most of the film takes place during the course of a single night, and so much of the action takes place in the confined space of the apartment stairwell, which is often filmed in oblique angles. The pessimistic subject matter of … and the Fifth Horseman is Fear along with the strange claustral combination of art direction, camera angle and wide screen frame produce a frightening noir scape. Muller thanked Ms Monger again, this time for her being able to acquire the 35mm print from the Czech National Film Archive.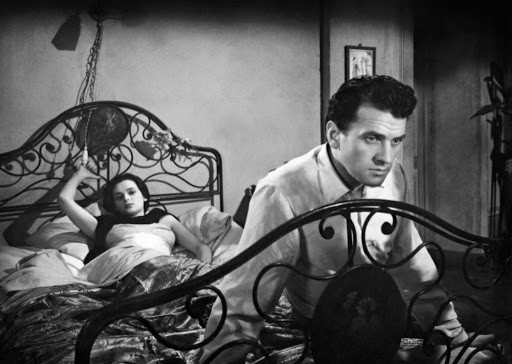 Cronica di un amore
Ultimately, the main reason why I feel that San Francisco's Noir City 18 was such a great film festival is that so many of the films Eddie Muller chose to program, brilliantly encourage us to reflect on the world we are living in today. In other words, these films were way ahead of their time, and weren't just popular, genre entertainments. We would not normally think of Antonioni's "art film," Cronaca di un amore as being a film noir, nor a serious, clandestinely anti-Soviet Czech new wave film such as … and the Fifth Horseman is Fear. Films like Duvivier's Panique, and Siodmak's The Devil Strikes at Night remind us that there is a resurgence of fascism in the world, while through the opening up of communications provided by internet channels, we are now aware of so much government corruption and criminal activity, that was evident in the 1958 Nikkatsu film, Rusty Knife, and even earlier in Bracho's Another Dawn (1943). Most remarkably, Muller continues to be so cognizant of how women in film have been under-appreciated, that he deliberately searches for, and finds proto-feminist work, such as Viñoly Barreto's El vampiro negro, Kim's The Housemaid, and Distinto amanecer. In two of these, a woman was top-billed — Olga Zubarry in El vampiro, and Andrea Palma in Distinto amanecer — while in the other, Myung-sook was sensationally original as the housemaid. In other films, an actress not only played a leading role but acted her part un-stereotypically; e.g., top-billed Moon Jung-suk as a "good woman" with Black Hair, who happens to be a gangster's moll, and Marga López as the taxi dancer who supports her sister in Salón México; 2nd-billed actresses Diana Dors, who is an atypical femme noire in The Long Haul, Kaga Mariko, the mysterious, addicted gambler in Pale Flower, and Kitahara Mie as the intelligent and strong reporter in Rusty Knife. I missed the great performance by Ingrid Bergman as the scarred Anna in En kvinnas ansike (A Woman's Face, Sweden, 1938), because I had to leave on the final Sunday to get back to work in Montreal on Monday morning. However, I had seen that film before on 35mm at the 19th Bologna film festival, Il Cinema Ritrovato, in 2015, and it struck me then, as it does now as, arguably her finest role. I was also sorry to miss the 35mm screening of Andrzej Wajda's Popiól I diament (Ashes and Diamonds, 1958), which, for many of us, is the Polish equivalent of Orson Welles' Citizen Kane (1941), in being, arguably its country's greatest film. I had seen it many times before, though, and at least once on 35mm.
As I write this in our "lockdown" during the COVID-19 pandemic, I am so pleased that I didn't miss Noir City 18 in San Francisco. Seeing 12 of the 22 films projected in 35mm, all of them in black-and-white, and some of them in 'Scope was a real treat. I am already nostalgic for the big screen experience, not just for the sake of seeing films the way they should be seen, but also for being in an appreciative crowd, and for being able to meet new friends, in person. I always sit in the balcony of the Castro Theatre because I insist on being in line with the projector (although sometimes I would like to be a bit closer to the screen), and there are other cinephiles who always sit in the same seats. So, this year, I enjoyed talking with a couple of these new friends and comparing notes – a special benefit in being a regular festivalgoer. There is absolutely no substitute for the theatrical cinema experience!
Notes