Guiseppe Lanci: The Shape of Light
Interview in Palermo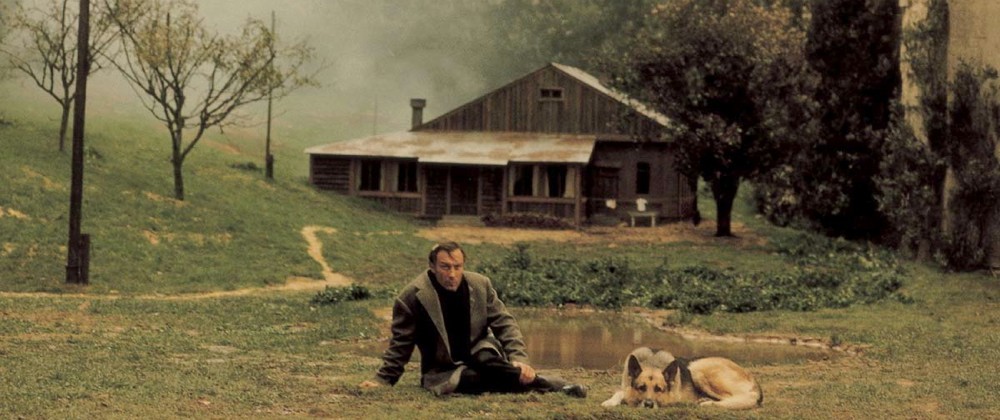 Giuseppe Lanci (Rome, 1942) started working as a director of photography in 1977, after serving an apprenticeship as camera assistant and camera operator (on, among others, Bernardo Bertolucci's Spider's Stratagem [1970]). Since then Lanci has worked as director of photography with some of Italy's most esteemed directors, in some cases establishing a close and intimate association. With, for example, Marco Bellochio, with whom he worked as DOP since Leap Into Void (Salto nel vuoto, 1979). Furthermore having worked with the Russian director Andrei Tarkovsky on Nostalghia (1983), and then with Roberto Benigni, Daniele Luchetti, Lilliana Cavani, Pasquale Pozzessere. Lanci has also photographed the last four films of Nanni Moretti, from Palombella Rossa (1988) to La Stanza del Figlio (The Son's Room, 2000). We met up with Giuseppe Lanci at Palermo, on the occasion of a five day seminar organized by the District of Sicily on The Shape of Light, an event which saw the participation of hundreds of students, filmmakers, and cinephiles from across Italy.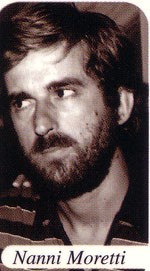 How has cinematography changed in the last thirty years?
I went to the Centro Sperimentale di Cinematografia in Rome during the period of the New Wave. We were witnessing a cinematographic quality which had 'unchained' itself in many senses in films from the postwar period until the end of the 1960's. Even the montage was much more liberated, and directors, with Godard at the forefront, were searching for greater liberty. Even when it came to shooting, using hand-held cameras, using natural lighting, or lighting in a way which seemed natural, such as through open windows, etc. In other words an absolute freedom whether with camera movement or lighting, even if the film stock in those days was of a low sensibility in comparison to today. I filmed Leap Into Void with 100 ASA, but today you can easily use 500 ASA. The most important name in this period from a European standpoint is without a doubt Raoul Coutard.
And in our country?
In Italy there was still a more classical style of photography, and I am making reference to colleagues such as Carboni, Martelli, who worked with Fellini up until La Dolce Vita (1959). Meanwhile other new cinematographers with different ideas were also emerging, like Gianni Di Venanzo, especially with black and white. But this black and white image with its own proper aesthetic beauty had a characteristic quality of merging lighting to atmosphere or ambience. Hence from this point on maybe cinematography acquired a more important significance, a complete symbiosis with the film and the narrative.
Can the meeting between director and director of photography influence the career of one or the other?
During the seminar I cited the example of the meeting between Pasolini and Tonino Delli Colli on Accatone (1961), a meeting of a good director of photography and a great poet. From that moment Tonino became an extraordinary professional, perhaps the greatest we have had since the war. With the cinema of Fellini, on the other hand, there was without a doubt a decisive turn with the arrival of Gianni Di Venanzo from 8 ½ (1963) onward.
Which films or filmmakers have made a particular impression on you?
The rapport with Andrei Tarkovsky on Nostalghia certainly was for me an event which I remember with great emotion until this day. I meet people of college age who confide with me that they decided to become a director of photographer after seeing that film, or directors who decided to enter cinema thanks to Nostalghia. For example, one day there was a Brazilian boy who happened to be at my house that decided to come to Italy to make films after seeing Nostalghia. So it has been an important film for many people, and much more for me because I was lucky to work with Andrei for a year.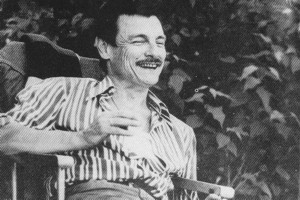 Andrei Tarkovsky
How did you meet?
It was quite by accident. He was looking for a director of photography who was also mentally prepared for this adventure, and through various sources my name came up. A friend of mine who spoke Russian and studied cinema in Russia – and who later worked as assistant director on Nostalghia – introduced me to Andrei. I remember when he called to tell me that Tarkovsky wanted to meet me. We met at Piazza Navona for tea, and at the end of this encounter he takes out a script and offers it to me. I can feel the emotion of that moment right now.
Can you tell us about the film's 'dynamic photography'?
Andrei used to tell me that cinema uses time like a narrative element, while the photography normally remains constant for the duration of a sequence. It is precisely time that the 'dynamic photography' exploits to render a different consistency to the film. An example is the atmospheric conditions within nature: if during a cloudy day the sun comes out at a certain moment this will modify the condition of the light. In an interior space if someone enters a dark room and turns on the light this will change the condition of the light. However, this is all tied to precise actions. This discourse is amplified in Nostalghia, where in addition to variations in natural light were added variations which correspond to emotional motivation rather than any sense of logic.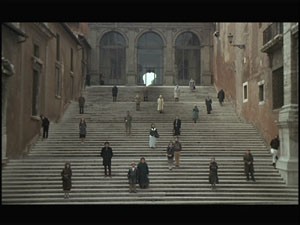 Nostalghia
Were there any particular technical corrections that were adopted in function of these emotionally motivated changes?
During the shooting phase we used a transport mechanism posted in front the lights – a series of metal sheets hung on a frame – to vary the light intensity without modifying the color temperature. While in the post production there was a much more marked technical intervention because the film was printed with a system called ENR at Roma Technicolor laboratory. With the ENR process I was able to desaturate the colors to the maximum and augment the contrast in a scene, even if this restricted me to print on color positive even the sequences shot in black and white.
During some scenes you also used different shooting speeds, sometimes barely noticeable.
During the filming Andrei would ask for certain precise frames a slight increase in shooting speed, hardly noticeable, and therefore far from the slow motion effect we have been accustomed to seeing in many films. This was solely to have greater suspension, therefore always in the service of a certain atmosphere in the film. Technically this variation in speed consisted of a slight adjustment of the diaphragm. Andrei was very precise and exacting with his choice of photography, and not only myself but the whole troupe was so impressed by his personality that we complied voluntarily with his every request.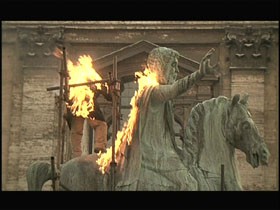 Nostalghia
In the course of this seminar you have lamented the fact that it always gets more difficult to shoot a film in Italy with careful attention to the cinematography. For what reason?
Principally because there is a lack of respect for the profession in Italy. In the few films I have shot with foreign crews and production I actually discovered a greater professional respect. Then certainly there is the lack of preparation, because if films are not well prepared you will end up improvising on the set. Another reason is the understanding of shooting schedules, because if you shoot a film in ten weeks or in five weeks the result will be clearly different. With the advent of digital editing there is also the tendency to pass the complete negative through the telecine and then in AVID, without printing the so called 'dailies' which I think are very important for controlling possible technical problems. This happened with a film shot abroad, where an entire scene had to be reshot after only discovering an exposure problem during the montage.
Strictly technically speaking, why is it that Italian films are no longer made with the same care as they once were?
Maybe what is missing is an actual love of cinema. The problem is that there are no longer understanding producers who invest in projects they care about. We no longer have the person who loves the film so much that they want it made as fine as it possibly can. The operative now is to make the film only with the budget in mind, sometimes regardless of whether the film is good or not.
(This interview was conducted in Italian and translated by Donato Totaro. For original Italian version click here: )
(Guiseppe Lanci: Le Forme della Luce
)