23rd Leeds International Film Festival
November 4-22, 2009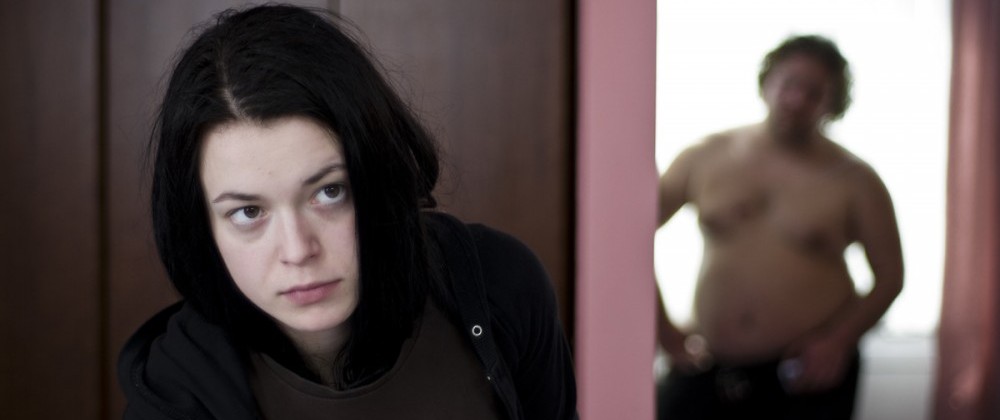 November in Leeds is film festival time and even a strike by the city's refuse collectors which was in its ninth week did nothing to dim the enthusiasm of festival organisers and audiences: the event was extended by one week and was better attended than I've noted before.
Most mainstream pre-releases were screened in the town hall. This is an impressive Victorian edifice capable of holding a large audience. Large venues for films are in short supply these days, but a cavernous acoustic makes this one problematic: you strain to catch the dialogue. It is a tradition at festivals to make the opening film a crowd-pleaser, even if box-office success sometimes proves elusive. Sadly even the talents of George Clooney, Ewan McGregor and Jeff Bridges cannot redeem The Men Who Stare at Goats (Grant Heslov, US/GB, 2009). This satire of the US military's attempt to harness psychic powers strives for the jaunty tone which Arthur Penn brought to his films in the early 1970s, but it is undermined by the absence of narrative direction and directorial vision. The other opening film was Bright Star (Jane Campion, GB/Australia/Fr, 2009). This account of Keats's relationship with Fanny Brawne has aroused conflicting opinions. For me the fatal flaw is that Keats makes such a colourless hero, which is the fault of the script and direction more than Ben Whishaw's portrayal. A medical student would have a more robust outlook on life. Nor is it a good omen when a supporting character proves more interesting than the lead, but this is what happens with Paul Schneider's portrayal of Charles Armitage Brown, Keats's companion and sometime rival in love. The third big hitter among pre-releases was in a different class. A Serious Man (US, 2009) is the latest work from the Coen brothers, who explore their Jewish roots and discover a seam of dark comedy once mined by Woody Allen. Larry Gopnik is a physics professor who tries to impart uncertainty principle to his pupils as his own life unravels. His career is in jeopardy, his brother is arrested and his wife wants him to leave the family home so that her new lover can move in. When it seems that things can get no worse, they do. The Coens follow Philip Roth in eschewing sentimentality. Biting, funny and moving, this was my top film of the festival.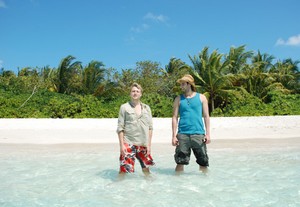 Among offerings which won't reach the multiplexes, five films stood out among the official selection of new releases. My favourite was A Thousand Oceans (Tausend Frieden, Luxembourg/Switzerland, 2008), which was given its UK premiere. Meikel is about to take over his father's business when his free-wheeling friend Bjorn persuades him to take a holiday in the Maldives. Bjorn likes the relaxed lifestyle so much that he stays there, while Meikel returns to face the music. He finds that his family are evasive and refuse to discuss Bjorn. When Meikel tries to return to the island to discover what has happened to his friend, the travel agent announces that it is barred to travellers. So far this is a conventional narrative, but at this point the opening of the film is rerun with a different outcome. The doctor Meikel meets on the plane and tries to date assumes a new significance. This is a multi-layered film exploring the windows of the mind. Like Blow-up it draws something mysterious from the everyday. A thought-provoking film.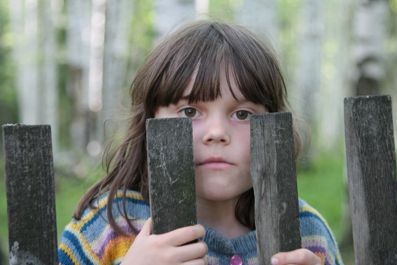 Mermaid was my pick of the films at Leeds last year. Also from Russia and also taking the viewpoint of a lonely girl forced in live in her imagination is Wolfy (Vasili Sigarev, 2009), which received its first UK screening after scooping festival awards in Russia, Ukraine, Zurich and Portugal. This is a bleaker exploration of childhood than Mermaid. An unnamed girl lives with her mother, who brings a succession of men to the house and sinks into alcoholism. Occasionally the mother brings gifts for the child, including a spinning top (volchok also means 'little fox', which gives the film its title). Hanging around a cemetery provides the girl with an escape: her friend is a boy whose funeral she witnessed and whose grave she tends. Sigarev is a visual stylist in the mould of Tarkovsky. Go along with that and the film offers rich rewards, though the subtitles hinder rather than help.
More conventional in structure and a CICAE prizewinner at Berlin is Ander (Roberto Castón, Spain, 2009). Unmarried Ander is in his forties and runs the family farm, while having a desultory relationship with unmarried mother Reme. An accident forces him to take on Peruvian labourer José to help. An attachment builds between the two men, albeit with some hesitation on Ander's part. His dour mother disapproves of his unmarried state and of bringing in an outsider, while keeping her own suitor at arm's length. Her death changes everything. Ander, Reme and José have to work out their changed relationship. Castón takes a compassionate view of his characters, evoking a conservative society coming to terms with change. He risks a slow pace, in accord with the rhythms of life in the rural Basque country. Occasionally the narrative stumbles, but this is an involving drama for those who are willing to stick with it.
Slovenian Girl (Damjan Kozole, Slovenia/Germany/Serbia/Croatia/Bosnia Herzegovina, 2009) is equally non-judgmental and very much a drama for today. It is set in Ljubljana, where European Union motorcades regularly hold up the traffic (Slovenia holds the rotating EU presidency). Alexandra is a student who works as a prostitute among the EU officials and politicians to pay for her upmarket flat. Problems start when a client dies of a heart attack and she slips out of the hotel after phoning for an ambulance. The police search for Slovenian Girl, the nickname she gives herself in her newspaper advertisements, but a criminal gang find her first and try to recruit her. She escapes, but she has made enemies. This is a taut thriller with unobtrusive direction and cinematography. Alexandra isn't a sympathetic character, but she's a compelling one who isn't easily forgotten.
The last of my top six selections is Francesca (Bobby Paunescu, Romania, 2009), which received its UK premiere at Leeds. This is another film for our times. Francesca is intent on migrating to Italy in pursuit of a better life. Her boyfriend Mita is meant to follow, but he dabbles in property speculation and falls foul of a moneylender intent on revenge for an unpaid debt. The extent of Mita's predicament only becomes apparent to Francesca when she is on a coach to Italy. The film takes time to build, but the final scenes compel attention in the understated way we have come to expect from Romanian cinema since The Death of Mr Lazarescu.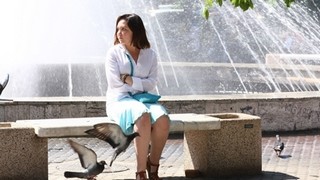 If humour is absent in Francesca, The Happiest Girl in the World (Radu Jude, Romania/Netherlands, 2009) provides a counterpoint. Delia is a frumpy teenager who wins a car and the opportunity to take part in an advertisement for the soft drinks manufacturer organising the competition. Her parents accompany her to Bucharest. She argues with her father, who wants her to sell the car and has his own plans for the proceeds. The advertisement shoot is beset by problems and the sponsor is at loggerheads with the director. The film has a simple structure and offers gentle satire reminiscent of British comedies from the 1950s. My qualm is that stylistically Romanian cinema has not moved on since the social realism of Mr Lazarescu, but as if to answer this criticism a retrospective of Romanian shorts from young film- makers revealed a variety of stylistic approaches. There was a recurring theme: I was left musing on why so many Romanian films are about journeys taken, if not always completed.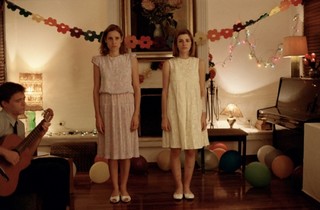 Two comedies caught my eye. Dogtooth (Giorgos Lanthimos, Greece, 2009) and The Misfortunates (Felix van Groeningen, Belgium, 2009) both introduce us to dysfunctional families. In Dogtooth the father runs a factory. He is the only member of the family who leaves the spacious villa set on the outskirts of a city. His wife acquiesces in infantilising their three grown-up children who are kept within the grounds and fed misinformation about the dangers of the outside world: cats are the world's most dangerous animals. The children devise their own games including experimenting with anaesthetics and licking each other. The parents' control extends to making them behave as dogs when the family pet proves difficult to train. The one visitor allowed in the villa is Christine, a female security from the father's factory who provides for the son's sexual needs. She is the only named character. When she smuggles a video into the house, the closed world implodes and violence ensues. Fixed camera shots give the film a studied appearance which resembles The Truman Show or a Hockney painting. This is a world where the sun is always shining. Life in the villa has its own logic akin to the world of a Buñuel film and provides a similarly subversive perspective on how we construct our lives. You have to accept the logic, or the film leaves you baffled. Dogtooth was a prizewinner at Cannes and proved popular with Leeds audiences, meriting an extra screening. The Misfortunates is more realistic in style, but equally anarchic. Gunther is a writer. When he becomes a father, he looks back on his own family life. Money problems forced his father and three uncles back to their family home, where his long-suffering grandmother looked after them. They passed their time drinking and creating mayhem. You wouldn't like the Strubbes as neighbours, but they make amiable company for an hour or so and who doesn't warm to Gunther for having the strength of purpose to transcend his background?
Seven Minutes in Heaven (Omri Givon, Israel/Fr/Hungary, 2008) and Pomegranates and Myrrh (Najwa Najjar, Palestine Territories/Fr/Germany, 2008) come from opposing sides of the Israeli-Palestine conflict, though both focus on the effect of violence on individual couples. Seven Minutes in Heaven follows Galia as she tries to piece together events after the suicide bombing which left her injured and her boyfriend dead. She encounters Boaz who pulled her from the wreck and she is attracted to him. Initially this appears to be a conventional linear narrative, but like A Thousand Oceans it develops into something more complex. A flaw for me is that Boaz has little to do except smile. For Galia to find him interesting he needs to be a stronger character. Pomegranates and Myrrh follows a young Palestinian Christian couple whose land is confiscated by Israelis. Zaid is arrested for trying to defend his property, while Kamar is torn between supporting him and pursuing her interest in dance (and in the charismatic choreographer Kais). The women in both films strive to avoid becoming victims and both films are imbued with a sense of humanity which can easily be missed in more polemical works.
Another film about being a victim is Catherine Breillat's take on Bluebeard (France, 2009). In modern times two girls play in an attic. Catherine reads the Bluebeard story to her frightened sister Marie-Ann. The eighteenth-century Marie-Catherine and her sister Anne are impoverished when their father dies. Marie-Catherine improves the family fortunes by catching the eye of Bluebeard and marrying him. She seems to love him, but she will not sleep with him until she reaches adulthood. When he goes on a journey, he gives her keys to every room in the castle with the proviso that one door should not be opened. She ignores her husband's injunction and discovers the bodies of his three previous wives. When he returns to find that she has disobeyed him, her fate seems sealed, but this is a feminist take on the story and Marie-Catherine is not as innocent as she seems. This film doesn't waste a frame (it runs for 80 minutes) and generates intriguing parallels between the two pairs of sisters as well as raising questions about guilt and guile. The only trouble is that it left me cold.
A film enjoyed by younger audience members was West of Pluto (Henry Bernadet and Myriam Verreault, Canada, 2008). Set in the suburbs of Quebec it covers a day in the life of a group of teenagers, beginning with interests they present to their class, including one on astronomy. After school there is a party which in the absence of adults gets out of hand. The trouble is that West of Pluto adds little to this well-worn scenario, though the aftermath of the party provides the film's most interesting moments as we come to see the characters in a different light, including the budding astronomer. Scenes are intercut with footage of a rocket to Pluto being launched. Pluto was demoted from its status as a planet, but this makes a tenuous link to the identity crisis of a teenager. Another teenage party which gets out of hand is seen in Sun Alley (Leander Haußmann, Germany, 1999), which was screened in the 'Twenty Years of German Reunification' strand organised in conjunction with the University of Leeds. The film is set in the dying days of Communist rule and takes a nostalgic view of the regime. Here the teenagers' enthusiasm for rock music points up their contempt for the authorities and their own very different values. The party has a structural role in the film. This cannot be said of its counterpart in West of Pluto, which serves no purpose except to provide dramatic incident.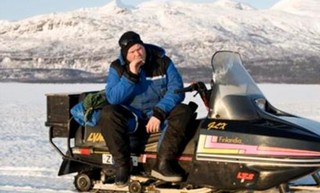 While road movies once signified rebellion, now film-makers rebel against the genre. The festival offered two offbeat road movies. North (Rune Denstad Langlo. Norway, 2009) was well received at Berlin and had its UK premiere at Leeds. Jomar is recovering from a nervous breakdown. After learning that he might be a father, he leaves the safe world of the mental hospital and his mundane job. Armed with a copious supply of alcohol he goes north to see his child. This being Norway he travels on a snowmobile rather than by car. On the way he meets an array of eccentric characters who offer differing perspectives on life. I liked the old man in a tepee who meets an unexpected end. Aficionados of deadpan humour will appreciate this film which at 78 minutes never outstays its welcome.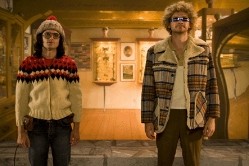 Bunny and the Bull (Paul King, GB, 2009) goes one step further: the protagonist Stephen Turnball never leaves his flat until mice eat his food. The agoraphobe recalls a journey around Europe with his friend Bunny, who seems possessed of most vices and indulges them to the full. The humour is broad and anarchic: fans of The Mighty Boosh from the same director will recognise its televisual style. Stephen's journey to the front door provides a framework for the film, even if the adventures on the road and the claustrophobic world of the flat never really mesh. Anybody who enjoyed Withnail and I will not worry about such niceties.
Two films examine couples whose relationships which gain spice from a third person. Low Lights (Ignas Miškinis, Lithuania/Germany, 2009) was another UK premiere. Tadas and Vita are locked in an unhappy marriage. Cautious Tadas meets an old friend who invites him to cruise the streets at night. They meet a drug dealer whose car is stolen and youths who show off their cars and driving skills. Tadas's marriage is reinvigorated when Vita joins in their games, though not until the trio are involved in a crash. The premise seems contrived and the characters are not interesting enough to make me care about them, though the twists and turns of the plot kept me watching.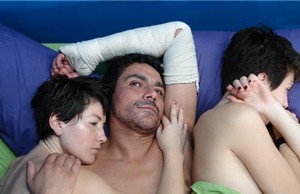 199 Tips to be Happy (Andres Waissbluth, Chile/Spain, 2008) has more credible characters. Tomás and Helena live in Barcelona, where Helena is a model and Tomás is publicising the book 199 Tips to be Happy. Helena's brother disappeared in a swimming accident; his girlfriend Sandra comes to stay with them, changing the dynamics of their relationship which becomes a ménage à trois. The film has an underlying humour which contrasts with the unremitting gloom of Low Lights. The feeling of a city caught in a heatwave is successfully evoked.
The jury prize in the Golden Owl Competition at Leeds went to La Pivellina (Tizza Covi and Rainer Frimmel, Austria/Italy, 2009). This is the story of Patty, a circus performer in Italy who finds a little girl alone in a playground. An anonymous note in the girl's coat says that the mother will come back for her. Patty assumes that the message was meant for her and obeys the injunction to look after the girl despite her partner's reservations and the risk of falling foul of the authorities. The girl is nicknamed Asia and becomes a member of the extended family. This is a simple tale, simply told. I found it slight, though the same might be said of Bicycle Thieves, which also focuses on marginal members of society.
The jury commended Puccini and the Girl (Paolo Benvenuti and Paola Baroni, Italy, 2008), the story of Puccini's affair with a maid. This is an attempt to portray the creative artist at work, which like Bright Star has to confront the problem that to the outsider the process of creation is inherently dull. There is no dialogue, but Puccini's letters are spoken by way of providing context. Piano versions of Puccini's operas and Italian folksongs provide an aural backdrop to the unfolding tragedy. When two people encounter each other and I expect a greeting, it comes as a jolt when yet another glorious melody takes its place. Silent cinema sought to get round the absence of dialogue with intertitles; this film leaves the problem unresolved with the avoidance of speech coming across as a conceit. At least it looks good. My other disappointment was Samson and Delilah (Warwick Thornton, Australia, 2009), which has garnered favourable reviews and attracted attention at Cannes. Minimalist Australian films seem to be a staple of festivals. This is more minimal than most, with no conversation between the two main characters. Samson and Delilah live in an isolated Aboriginal community. They are forced to leave and head for Alice Springs, living rough and descending into theft. An accident to Delilah is the catalyst for a return to a more settled life in the community, where she looks after Samson who has suffered from his solvent abuse and is in a wheelchair. It takes magic to turn this grim story into compelling drama and for me the magic is lacking. This made it difficult for me to empathise with the characters. The relentlessly downbeat quality is alienating: aside from the lack of dialogue I missed variations in pace and mood. Significantly the most successful scenes are in the town, where there is more interaction with other people: Delilah finds a gallery where her grandmother's rugs are being sold. That gives her the idea of trying to sell her own paintings, but she is ushered out of the upmarket shops. Here I could feel anger on her behalf, but this was dissipated as she joins Samson in sniffing petrol. The film resists the notion of being a documentary about indigenous Australians, but for me it fails to hold together as a drama.
I had no opportunity to sample the documentaries on offer with the exception of the UK premiere of Encirclement (Richard Brouillette, Canada, 2008). This critique of neo-liberalism offers an array of intellectuals talking to camera, the most well-known contributor being Noam Chomsky. The film provides plenty of ammunition against neo-liberalism, but the debate is one-sided. Surely the supporters deserve their say. My second reservation is length: at nearly three hours the number of screenings is likely to be limited. Thirdly a distinction between neo-liberalism and neo-conservatism is needed: the terms are not synonymous. Finally it would be good to hear views from those in the third world who are on the receiving end of neo-liberalism rather than from well-heeled, white and predominantly male academics who make a living from sniping on the sidelines.
There was a welcome attempt at this year's festival to include more debate, including a symposium on Heimat and a conference on film music. I attended the Open Cinema Unconference, which looked at how audiences for the sort of films screened at the festival could be widened. One session was on the internet, including an innovative attempt by OpenIndie to offer an open platform where film-makers can upload their work. The second session looked at film in Leeds and the role of the university. The final session considered microcinemas such as the Cube in Bristol and the Hyde Park in Leeds. The key issue of how to attract audiences only came up in the closing moments. From the experience of Alex McKenzie who founded Vancouver's Blinding Light Cinema and who was a speaker at the conference, outreach work doesn't increase audiences, so the question which the event was intended to address remains open. Too much time was devoted to preaching to the converted. There is a case for looking at the other arts, which face similar problems of widening access
The Leeds festival is reviving after three disappointing years. There are niggles – Vue 2 is too small as a major venue, films in different venues overlap when a slight change in timing would avoid frustration and two venues consistently run late, so that I had to miss the endings of several films – but the city's residents are privileged to have access to a diverse range of films which few centres outside of London can rival. Leeds City Council deserves congratulating for its continuing support of film culture in these straitened times.