Vancouver 21st International Film Festival: A Review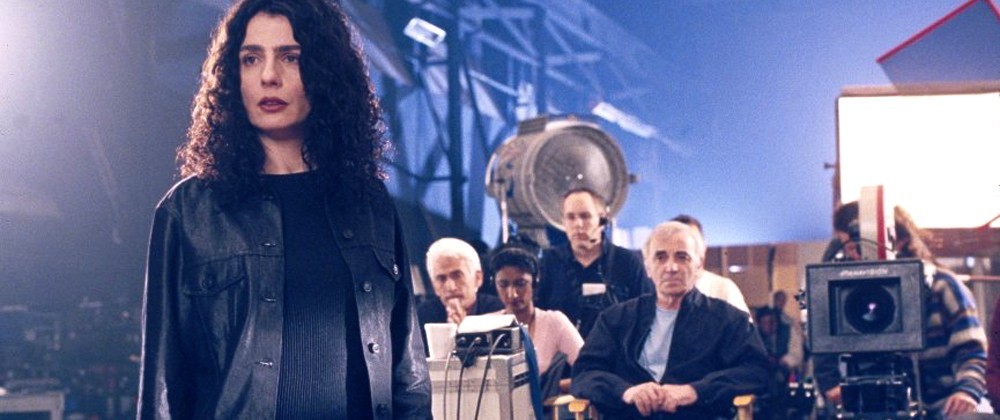 One of the most exciting changes for the Vancouver International Film Festival is that it now has a formidable presence in the heart of Vancouver's entertainment district, Granville Mall's Theatre Row. Since the nineteen-twenties, Theatre Row has been the home to music halls, ballrooms, picture palaces, cabarets, and restaurants. Today, it remains the home to many of these same establishments, including, of course, a number of movie theatres.
For its twenty-first year, the Festival has added Theatre Row's Granville Theatre, a cineplex offering up to seven new screening venues. It joins the Vogue Theatre, a nineteen-forties 'picture palace,' located just across the Mall. Added last year as a full time venue, the Vogue is built in a marvelous art deco style and accommodates 1150 seats. This theatre continues to be home for all of the Festival's gala performances. Completing this roster of downtown venues is the Pacific Cinematheque. Located on the neighbouring Howe Street, this smaller theatre has been Vancouver's long-standing centre for art cinema.
This year's Festival is an especially exciting episode in its development because the adding of these venues is a prelude to a much bigger plan. By the fall of 2004, the Festival plans to open a new headquarters downtown, the Vancouver International Film Centre. Designed as both a production and theatre complex, this building will be located only a few blocks away from Theatre Row. Festival organizers have said that one of the chief benefits of these centralized venues will be the "increased ease of catching back-to-back screenings." The location will also promote easier access for out-of-town visitors staying at local hotels used by the festival.
However, there are two other festival venues, outside the downtown core, that have contributed greatly to the festival. The Ridge and the Blinding Light are more than a few kilometers away from Theatre Row. They are a schlep! However, for their ambience and theatre culture, these theatres would represent a tremendous loss if discarded for the centralized venues.
The Ridge Theatre is the birthplace of the festival. Built of modernist design in the nineteen-fifties, the Ridge is located on Vancouver's residential Westside. In the nineteen-seventies, it became Vancouver's first repertory theatre. Since then, the Ridge, along with the Pacific Cinematheque, has been a driving force in encouraging Vancourites to push their aesthetic boundaries and consider unfamiliar genres. The Blinding Light, located in Vancouver's historic Gastown, pushes aesthetic boundaries to an even further extreme. This theatre, a microcinema of only one hundred seats, is North America's only full time underground cinema. These were the venues for this year's festival: a picture palace, a cineplex, a repertory theatre, and art and underground cinemas. Each one of them lending to the festival different ambiences and traditions of cinema-going.
Over the sixteen days of the festival, I was able to view thirty-five of the three hundred or more films offered. In my selection of films, I was drawn by one distinct thread that, in my view, ran through all of the festival categories: many of the productions presented are the fruits of what film-makers Peter Wintonick and Katerina Cizek have described as the "new visual revolution." As they illustrate in their Seeing is Believing: Handicams, Human Rights and the News, new video technology has afforded the ordinary person-on-the-street easy access to the tools to document horrific life events, compelling family histories or, on the lighter side, home movies with 'Hollywood' inspired storylines. The handicam, especially now with its production quality bells and whistles, enables the ordinary person to produce a work that will meet a number of exhibition standards, including broadcasting and theatrical release. Certainly, the film industry is no longer restricted to an elite of Bolex cameramen and Moviola editors.
I believe that Atom Egoyan is one of the leaders of this visual revolution. Egoyan presents his latest film, Ararat, at the Festival. In an earlier film, Family Viewing, he explores the potential of video especially with regard to its 'polaroid' capabilities to capture truth. The role and power of video is the narrative linchpin to this 1987 film. The film's characters are drawn out and defined by their relation to video: that is, either in terms of how they are depicted on video or how they use video to depict others. These characters, members of an extended family, are compelled to sort out their identities and relations within the context of the video records that they observe. Each of these records purports to deliver the truth about one or other aspect of the family's history, identity, or dysfunction.
In Ararat, Egoyan presents a docudrama about the Armenian holocaust in Turkey. In this film, he continues to engage questions about the rise of video technology as a new means of truth production. Let us look at how the film's primary storyline begins. It involves a young male adult named Raffi who arrives at Toronto airport with two film cans and a video camera in hand. He is interrogated by a customs inspector. Upon learning from Raffi that he is returning from a trip to Turkey, the inspector proceeds to quiz him about the contents of the cans. The inspector suspects that the cans contain not film but drugs. Raffi protests that the cans contain extra location footage for a film being made at a Toronto studio. For his defense, Raffi pulls out his video camera and plays back some digital footage of Turkish terrain and Armenian icons. Interestingly, Egoyan situates the video's screen as an overlay on the mise en scène. The screen stands in the foreground dominating and blocking the dialogue between the inspector and Raffi. The screen seems positioned to stand in contest to the inspector's accusation. This video rendering encourages us to believe the truth of Raffi's plea of innocence.
I should note that it is revealed at the end of the film that the cans are full of drugs. Surprisingly, Raffi is set free. What is not revealed, however, is the extent of his complicity in the smuggling. Given Raffi's declaration of motives as corroborated by his video playback, we wish to still presume his innocence.
Who is to dispute the video camera? With news and information bastions such as CNN and BBC World built upon frontline videography, how can we take issue with this technology's capabilities to capture truth? With the plethora of video cameras available to the ordinary person, who is to dispute it? However, as with his earlier Family Viewing, in Ararat Egoyan continues to press his audience to query the power of this technology to disseminate or reconstruct the truth. This is where I believe we should take our cue for viewing this year's festival. Wintonick and Cizek's video and Egoyan's film have become the cornerstones of my experience of this year's Festival. My inclinations towards them was, in a certain sense, a response to the grave atrocities that now beset us worldwide.
Doubtless, my appetite for documentaries, cinema verite, and real time dramas at this year's festival has been whetted by the almost daily news of social injustices or terrorist acts and my compulsion to seek some remedy to stop them. At the start of each of the films I viewed, I asked myself these questions. Do the profilmic events I witness reliably furnish the truth? As such, can they be confidently dispatched as surrogates of the reality they depict? Can they then be used to combat social, economic, and moral crimes through the courts, a World Court perhaps, or if appropriate, through constructive civil disobedience. To be sure, I am seeking a 'cinema' of direct engagement; one that blurs the proscenium stage, uniting my private and perhaps distant world with the immediacy of the many public worlds currently suffering great trauma. This is the 'cinema' that is offered by activist filmmakers and videographers. In effect, by their claim, they enable me to walk up to them, take up their challenge, and with them strive to contribute towards a greater justice and peace for all humankind.
This is certainly a tall order. However, at this year's Festival, there seems to be a meeting of minds amongst the organizers, activist film and video makers, and spectators like myself. We all seem to seeking blunt and 'grainy' truths. We are yearning for the clatter of those 16mm projectors of our old school classrooms. That clatter gave us a handle on the world as it delivered stories and pictures about our homes and places far away. While we began to distrust this handle back in the nineteen-sixties and seventies, we nonetheless recall how it offered the calming voice of a professor or the cocksureness of a war correspondent. Even though we know now that this clatter sometimes spun out vested interests at the expense of distorting truths, we still long for its seduction. Why are we yearning for it now? The answer is '9-11.'
Consider the introduction to the Festival's Souvenir Guide. The organizers enthusiastically announce their line-up of programs, including their "three anchoring programs: Canadian Images, Nonfiction Features and Dragons and Tigers: The Cinema of East Asia." They then mention their other programs: Cinema of our Time, which features other nations of the world, followed by Spotlight on France and Special Presentations. The organizers wish us to traverse the world this year with the variety of programs they offer under the umbrella of "Same Planet, Different Worlds." However, there is one program element that pulls this Festival together for its organizers. They offer a special "series" entitled "Holding History Accountable." We cannot dismiss its prominence since it sits on the page in emboldened type while the other programs do not.
We are compelled to carefully read the text that surrounds this title. We learn that "many of the most interesting films [that the organizers] have seen explore the recent historical conditions behind the fears and conflicts of our time." These recent conditions were: "the blazing shadow and gathering storm clouds" of last year's September 11th. The films yield a remarkable "constellation of perspectives" from both storytellers and documentarians. Most importantly, we learn that:
Filmmakers today are providing a powerful tool to the growing international consensus that the perpetrators of evil, no matter how mighty or how hidden, be held accountable to the universal principles of human rights.
To be sure, the organizers have secured a socio-political mandate for this year's festival. I am frankly enthralled by their remarks. They have created a festival very much in keeping with the political energies of this city. Vancouver is a city of polarized politics. Like most cities, it is comprised of Westside 'business-types,' some of whom go to the Ridge Theatre, for example, and marginalized impoverished Eastsiders who haven't seen the inside of a theatre for years. Vancouver's downtown eastside contains the poorest postal code, 'V6A,' in all of Canada. The striking difference about this city, compared to others, is its robust populism. Vancouver offers a formidable grassroots ready to conquer socio-economic injustices seen to be initiated by business or governmental interests. We have only to recall that recently the:
Vancouver Area Network of Drug Users told 30 film production companies to financially compensate sex-trade workers displaced when production companies come into their strolls, or face protests (Vancouver Courier, August 21, 2002).
In my view, the Festival organizers echo the activism and sentiments of Vancouver's public. This is plainly reflected in the many ground-breaking and iconoclastic films they have chosen. They desire to be key activists in the forefront of this "new visual revolution." They boast that many of their choices are "international or North American premieres." While "Holding History Accountable" sets the tone for exploring our despair and confusion over '9-11' and other recent atrocities, we find a number of films in each of the other programs that are "probing deeply and urgently behind the headlines and oversimplifications of our time." For example, we find Nettie Wild's Fix: The Story of an Addicted City in Canadian Images, Andrew Y-S Cheng's Shanghai Panic in Dragons and Tigers, Ken Loach's The Navigators in Cinema of our Time, and Atom Egoyan's Ararat in Special Presentation. Peter Wintonick and Katerina Cizek's Seeing is Believing: Handicams, Human Rights and the News is, of course, my cornerstone in "Holding History Accountable."
The organizers say that "filmmakers today are providing a powerful tool . . . [to uncover] . . .the perpetrators of evil, no matter how mighty or how hidden . . . ." It seems that they have summoned these 'powerful tools,'video and cine cameras, as if they are apostles of truth. They are giving this technology an inordinate amount of recognition. It seems that the camera operators are being shuffled into the background. However, if we think back to our experience of '9-11' last year, those video cameras pointing up into the sky capturing torrents of flame have become invincible for us. Amongst mounting wreckage and debris, the cameras parked upon their operators' shoulders stoically performed as producers of truth. Particularly, their power rests in their capability to give us memory and obligation.
Nettie Wild's Fix: The Story of an Addicted City has these qualities of activism. For its graphic detailing of the plight of drug addiction in Vancouver's downtown eastside, it is a highly seductive film. Especially, for the local community, Vancouverites, it has the formula for compelling them into some kind of action. The film is ripe with gruesome close-ups of people injecting themselves with heroin and clashes of opinion between businessmen and reformists. Its narrative thread is a love story between an advocate, who is a devoted Christian and single mother, and a hardcore junky, a former IBM salesman, who is determined to kick the habit. While "Fix" uses 'blunt and grainy facts' to deliver its message, it cushions them with this 'delicate' romance. In her exploration of the human condition within Vancouver's downtown eastside, Wild has certainly gripped our emotions and challenged our intellect. If Wild's mission was to place the responsibility for these atrocious circumstances in the hands of each member of the audience, I believe she has succeeded.
Having offered this praise, I would now like to consider a caveat. Vancouver Sun film critics, Katherine Monk and Marke Andrews, have said that in "Fix" "it's hard to shake the feeling we're being played with when familiar political rhetoric takes precedence over a thorough examination of the central characters (November 15, 2002, p. F2)." I disagree. In her film, Wild is placing the political rhetoric or battle of ideologies on trial, not the characters. Her film is about the apathy and intolerance inspired by this rhetoric. The characters, while integral, are only the supporting cast. If Monk and Andrew are referring to the advocate and the junky, Ann and Dean, Wild delivers considerable information about their backgrounds and aspirations. In my view, Wild has achieved the requisite balance between theme and character development in her film.
For Vancouverites, especially those of us who have joined the fight against the socio-economic injustices of our city, Wild's film became the flagship for the festival. When looking at other films, especially those from abroad, we were on a certain quest for parallels. More specifically, we were in search for remedies. Often, however, we learned that our city and its people are in much better shape than many other parts of the world. We have only to think of films about Northern Ireland, for example, Bloody Sunday, or about the Middle East, for example After Jenin. In this regard, two films from China particularly caught my attention, Shanghai Panic and Cry Woman. For example, a number of parallels can be made between Shanghai Panic, which looks at urban alienation spurred by Chinese politics, and the circumstances in our city. Cry Woman looks at the subjugation of Chinese women in both Chinese culture and politics.
I will also remark about one other feature of the Festival that I believe is spurred on by Vancouver's hyper-politicized community. The film line-ups became 'cafes' where conversations about politics and aesthetics intermingled with one another. In addition, there was often someone handing out a leaflet and occasionally a petition.
I wonder whether the festival will reprise such a socio-political mandate next year. While the organizers made an earnest attempt to not let their "Holding History Accountable" overshadow their other programs, it was certainly the filter through which I made all my film choices. In this first review of this Festival for Offscreen, my goal has been to give greater background on the theatre and urban cultures which form the festival's backdrop. Next year, I plan to put aesthete's cap back on and sit back and enjoy films such as the Czech film, Autumn Spring or something from Spotlight on France. Possibly, I might just adopt an apolitical stance…..but that's unlikely.