A Visit to Korea: a Tale of Pi-Fan, 2001
5th Puchon International Fantastic Film Festival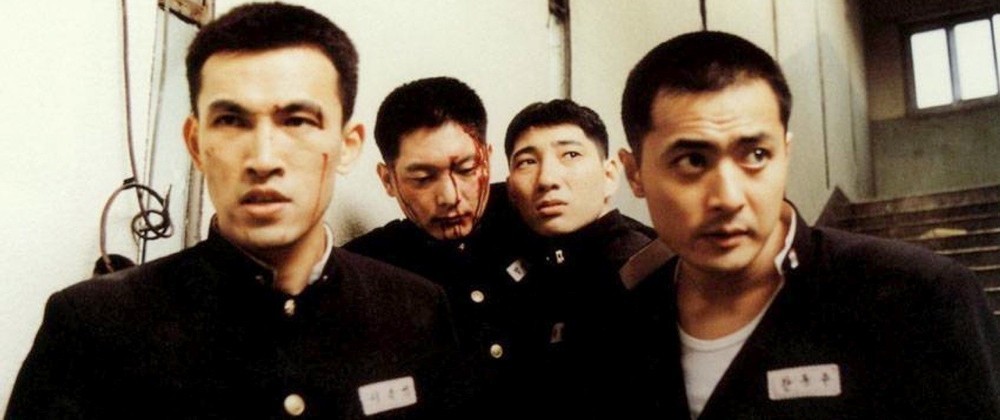 I was very fortunate to be invited to the 5th Puchon International Fantastic Film Festival, Pi-Fan 2001, enabling me to visit Korea for the very first time. I had become increasingly impressed by Korean film production over the years, and so, in July, last year, I was able to experience Korean cinemania, first hand. I was invited to participate in a panel on the films of the late, great, director of wu xia pian, King Hu, and write an article on his films for their catalogue. [King Hu]
My first, last, and remaining, overwhelmingly strong impression of Korea is hospitality. I hadn't been treated this well since I left the Caribbean in 1975, after living in St. Vincent, while teaching Math at a technical college for four years. On arrival at Inchon Airport, I was met by Pi-Fan volunteers, and along with two other guests, the amazing programmer, Tony Rayns and experimental film and music video director/producer, Michael Shamberg, I was driven to the Hotel Olympus, Paradise.* We were then rushed to the opening ceremony at Puchon Citizen's Hall, too late to get on stage with all the other guests, but, not too late to walk along the red carpet, accompanied by flashes from cameras of the local press corps!! Here I saw Pi-Fan jury member Mario Dorminsky, the president of Fantasporto in Portugal, whom I'd met before at Montreal's FantAsia, and together with Pi-Fan's president, Kim Hong-joon, and the dynamic programming duo of Ellen Kim and Cassy Yoo (who, between them, had invited me to the festival) we journeyed to a local, outdoor seafood restaurant. Here I experienced the only negative moment of my time spent in Korea, to date, where, the first plate to arrive held some creepy crawly things, which I thought were worms, but, very quickly learnt were, in fact, pieces of tentacles freshly cut from a live octopus. Despite our hosts' claims that this was indeed a Korean delicacy, I declined the offer. What I did eat for my first meal in Korea, raw or cooked, was delicious. From there, we attended a reception at City Hall, followed by a party at Jazz People bar, where we danced to a fun, retro-60s band till around 2:00am. Another jury member, Lloyd Kaufman, a disarmingly sophisticated gentleman, who is one of Troma Productions co-founders, invited me to join him in his car to go back to the hotel! (Every jury member had their own personal car and driver!)
The generous hospitality continued throughout: food and drink in the guest lounge at the festival headquarters was free or very inexpensive, a number of lunches and dinners were organized for the guests to meet local dignitaries, and all transportation and accommodation costs were looked after for the duration of the invitation. I opted to stay longer than the King Hu retrospective, but they found me a more convenient (and very affordable) place to stay and enjoy the rest of PiFan. Jazz People effectively became our "local" pub, and I really appreciated meeting so many guests and festival workers. By his own admission, Kim Hong-Joon hardly ever slept, because he worked such long hours to keep everything running smoothly, while Ellen and Cassy were formidable hosts, introducing films and visitors, translating to and from English and Korean, and never missing a single function. They are truly amazing role models for film festival people. And the support that the other festival workers and unpaid volunteers provided was astonishing. If we wanted to go to a bank to change money, someone would come with us. When some of us wanted to go DVD shopping at the electronics arcade in Yongsan—a suburb of Seoul, a 30 minute train ride away—a volunteer, Sun Ju-yoon came with us, translating and even bartering so we got the best possible deals. Needless to say, she helped make good food choices in the Yongsan restaurant we visited after shopping. I ate the summer bib-im-bap, with cold noodles instead of rice, and no egg. On a really hot day, it was perfect. Perhaps the kindest act was paid me when I realized that I had left some pills (I was taking daily) in my hotel room. The hotel was over 10 miles away from the festival offices, where I was now located, and, every festival worker had a trusty cell-phone, so one of them phoned another, working at the hotel, who went into my room, found the pills, got on a bus and brought them to me! I can't remember everyone's name who helped me out at Pi-Fan, but Nam Su-ki, the head of Guest Relations was exceptional, as was Eum Kyoung-Hee, who was always available in the guest lounge, and Nyoung Huh stood up for herself very well—all of the (predominantly young) staff had to withstand some incredible rudeness from a few of the guests, especially Su-ki.
Another remarkable aspect of my time spent at Pi-fan was the high degree of interest expressed in me, and my research. Over the 13 years I've spent at Concordia University as a Film Studies professor, I've only been interviewed once by the local media (outside the university) regarding my research—on Chinese silent film—despite the fact that, in this time, I've edited two film books, including one on Canadian cinema. And yet, in Puchon, I was interviewed by two Korean weekly film journals, Cine 21 and Cinebus! Of course, I should note that, apart from trade magazines (like Screen International published in the UK) there are no film weeklies, as such, in the English language at all, whereas, in Korea, there are numerous magazines devoted to cinema in all its aspects, including a monthly, Kino, which regularly runs to 200 pages in length. Both interviewing teams included a photographer, and Cine 21 group didn't need a translator, because their interviewer, Kim Harry, spoke perfect English! They elected to do an interview on King Hu with both myself and Stephen Teo, who, alongside Tony Rayns, is the world authority on the director. Ms Kim's questions were excellent, and, I would later learn that she had studied English and film at the University of East Anglia, in Norwich, England. Imagine, in Korea, film studies graduates can actually get jobs as journalists specializing in cinema! What a concept! No wonder Korea leads the world in film culture right now.
| | |
| --- | --- |
| The Pi-Fan Festival Daily Cine 21 (Cover film, Nabi [The Butterfly]) | Rist interviewed with Stephen Teo in Cine 21 no. 312, June 24, 2001 |
As for the films, Korean work was spread over a number of sections, "Puchon Choice" the main competition, "World Fantastic Film," the "Forbidden Zone," "Made in Korea" and "Korean Cinema Retrospective." There was also a "Family Section" and one for "Fantastic Short Films." I concentrated on seeing not just Korean films, but also other Asian films I thought I might not be able to see in Montreal. Amongst the latter were Fah Talai Jone (Tears of the Black Tiger) from Thailand, and Takashi Miike's Visitor Q, the most strikingly original new films I saw at the festival. I knew that I would miss the Miike film, simultaneously screening at Fantasia in Montreal, and, I had heard that Miramax had picked up Fah Talai Jone, and were going to release a cut version to North American audiences. Luckily I saw it when I did, because it still hasn't been released here at all.
Before I even arrived in Asia, I was able to see Indian Summer, Noh Hyo-jeong's first film as a director, on the Korea Airlines plane. It begins as a courtroom drama, but develops as a love story, between a lawyer and the woman he defends, who is charged with the murder of her abusive husband. Initially, she is convicted and then wins her appeal, only to be tried a third time. Interestingly, throughout her ordeal she doesn't talk, and, beneath the melodrama, Indian Summer works well as a feminist statement on women's silent domestic subjugation. This film, which was shown in the "Made in Korea" section, stretches the boundaries of "fantasy" and was included by programmers Zeong Chosin and Lim Jisoo for its "yearning for escape from reality." No such excuse for inclusion is needed for Beonjijeompereul Hada, also a debut feature for Kim Dae-saeung, a longtime assistant to Im Kwon-taek, which carries the unfortunate English title, Bungee Jumping of Their Own. This film is a commendable attempt at presenting a gay relationship to Korean audiences in a positive manner. The first half depicts a fairly traditional love story, set in the 1980s, which prematurely ends with the young woman not showing up for a bungee jumping trip to New Zealand—she is accidentally killed. A jump ahead 17 years finds the man, now a school teacher, who can't understand his feelings for one of his male students until he realizes that the young man must be the re-incarnation of his former love. The film ends on the same New Zealand gorge where it had begun—the first "love story" was shown in flashback—with the gay couple about to commit suicide; they are not attached to bungee cords. At the screening I attended, I was virtually the only male member of the audience, an indication that the film is perceived in Korea to be a "romance," and, perhaps showing that Korean women are more open to homosexuality than men. Its number 10 position on the Korean "domestic films" box office chart for 2001 might indicate a more general popularity, though. [See Darcy's Korean Film Page] Whereas the tragic ending should be interpreted as a condemnation of a society which doesn't tolerate homosexuality, I fear that the film could be interpreted in a radically opposite way: that the only way out of their "unnatural condition," wherein attraction to a member of the same sex can only be tolerated through re-incarnation, is through suicide.
The best film in the "Made in Korea" section, Chingu (Friend) was included as a "fantasy film" for its concern with "nostalgia for the past" (another dubious rationale). Remarkably, in 2001, Friend became the all-time Korean box-office champion, with 8,134,500 tickets sold in 15 weeks of release following its March 31 opening. I saw the film in Montreal during the World Film Festival where it was entered in competition, but, unfortunately it did not win the prize it deserved. I was pleasantly surprised to find that Friend continues the pattern set the previous year by J.S.A., where local audiences have chosen to watch a more sophisticated brand of entertainment than that provided these days by the Hollywood system. Not as profound, perhaps, as the 2000 blockbuster, Friend nevertheless takes a serious look at growing up male in late 20th century Pusan. I met the director, Kwak Kyung-taek, who was representing the film in Montreal along with one of the actors, Yoo Oh-sung and the female producer, Vicky Hyun. He spoke perfect English, and, when I learned that he had studied film at New York University I could understand part of the film's roots in 1970s gangster films directed by Coppola and Scorsese (when Hollywood also produced great work). It carries the Godfather series' sepia palette and the frenetic energy of Mean Streets, but Kwak's somewhat autobiographical tale of four friends—the studious narrator, Sang-taek, the happy-go-lucky Joong-ho, the natural leader and son of a gangster, Joon-suk (played by Yoo Oh-sung) and his wannabe, Dong-su, who aspires to escape his family legacy of undertaking—brings many original elements of its own. In having four central characters, it automatically challenges the audience's attention; in other words, the narrative is difficult to follow. The saga begins at a much younger age than Coppola's and shows the proximity between the one-upmanship of boyhood games and the clannish control of gangsters. It is easy to imagine how anyone could be dragged into crime if one goes to school with a gangster's son. Finally, although Friend has a great deal of viscerally affective violence (which probably dissuaded the jury from honouring it), not a single gunshot is fired: all of the combat is hand-to-hand, and blade-to-blade. The knife is the weapon of choice.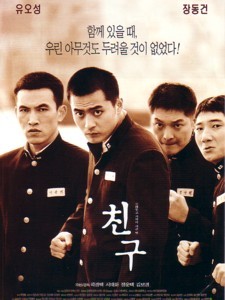 One Korean feature was included in the competition, the "Puchon Choice" section, Nabi (The Butterfly), which was shot digitally and shown at the festival in a 35mm transfer. Nabi's writer/director, Mun Seung-wook had studied at the Polish film school in Lodz, and that country's tradition of romantic-pessimism can be detected here. Without the budget to construct lavish, futuristic sets, Mun and his cinematographer, Kwon Hyuk-joon do well to suggest a world where a person can choose an "oblivion virus" to erase their unwanted memories. Anna is escorted into the "Butterfly" virus by a taxi driver, K, and she accidentally meets up with an old friend, Yuki, who is pregnant and suffering from lead poisoning. Anna is trying to forget her abortion, while Yuki is arrested, and is going to have an abortion forced upon her. One of the film's best scenes shows Yuki giving birth in the ocean. The film never strays too far from water, and a blue cast suffuses the work. There are some gaps in the narrative and too much reliance is placed on dialogue, but the acting is outstanding, especially by the two principal women, Kim Ho-jung and Kang hae-jung, who deservedly won the Best Actress prize. One of the highlights of the entire festival for me was the quality of the sound projection in Puchon's theatres, and Nabi's surround sound in Boksagol Cultural Center was a demonstration of how one can successfully create and project more complex and sophisticated sounds than images in contemporary digital formats.
One of the nice surprises of PiFan 2001 was that there was a Korean Cinema Retrospective of seven films from the 1960s, made by seven different directors. None of these films was considered to be the greatest work by any of the filmmakers, and, only one was presented with English sub-titles, Yoo Hyun-mok's Daughter's of Kim's Pharmacy (1963), which I had seen before. Nevertheless, Patrick Frater, of Screen International and myself decided to try watching an un-subtitled print of Kim Soo-yong's Eoneu Yeobae-u-ui Gobaeg (Confessions of an Actress, 1967), and, we weren't disappointed. We were greeted at the Sohyangkwan theatre by the series presenter, Cho Young-jung, and another dignitary, Shim Woo-sup, a comic film director of the 1960s, who was working as the Vice Chairman of the PiFan Organizing Committee. Once again, Korean hospitality was very evident, and Ms Cho volunteered to sit behind us and translate key elements of the film. But, after reading the synopsis, and hearing her give us additional information, we decided that we wouldn't need these interventions and enjoyed Confessions of an Actress, as is, together with some contemporaneous South Korean newsreels which preceded it, and which showed how much military life dominated the decade following the Korean War. Kim Soo-yong (or, Suyong), is best known for his somewhat brutal family melodramas, which make good use of the cinemascope frame and black and white film stock to render natural landscapes (and seascapes), e.g., Gaet Ma-ul (The Sea Village, 1965), and Sanbul (Fire in the Mountain, 1967). Confessions of an Actress was also made in scope, but in garish colour not black-and-white, entirely appropriate to its story of an aging film star looking back over his life. According to our "guide," Cho Young-joon, the director was not happy with the finished film, and, there are times when the acting rings false, although the baroque nature of the melodrama often fits a clear intent to expose the excesses of the film industry. There are some interesting, reflexive scenes of film shoots, inside the studio and on location which make this attitude explicit, including a death scene, where dummies are thrown over a cliff, and where fake blood appears on the faces of the young couple, the victims. Also, the character of the film director, here, was played by a Korean film director, Jeon Chang-keun, who even hands his megaphone over to the much younger Kim Soo-yong, the actual director of Confessions, at the end. As Cho Young-joon notes in the festival programme, one of the games Korean audiences of the time played in watching this film was to spot the stars and filmmakers, most of whose characters carried their own given names.
On the closing night of PiFan 2001, following the presentation of the awards, all of the guests in attendance were invited up on stage. Earlier that day, July 20, many of us had gone on a field trip to the island of Ganghwado—more great food and hospitality—and one of the places visited was a fort where, in 1871, the Koreans forcefully resisted the U.S. marines on a free trade mission. Yet again, there was a lot of camaraderie demonstrated between the hosts and the guests, carrying over to the very end of the festival, which for me was another late night, where some of us finally got to dance, and where I learned the popular Korean drinking call, "one shot, one shot." Boy, those young volunteers sure know how to drink…
*The transliteration of the Korean language has recently been changed and standardized, so that the pronunciation is as close to the sound of Korean (or, Corean) as possible. Inchon is now Incheon, and Puchon has changed to Bucheon. But Pi-Fan have retained the old spelling of the town in which the festival is located because they wanted to retain their acronym.