The Ox-Bow Incident (William A. Wellman, 1943)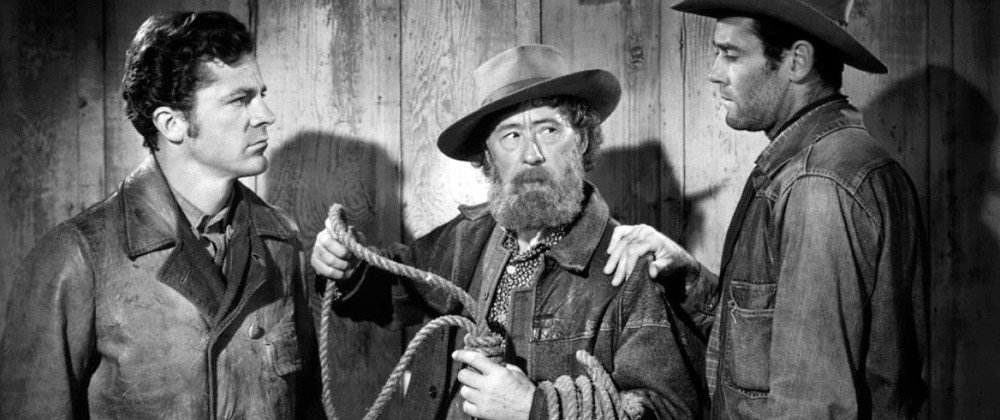 The Western, a unique American film genre, has certainly come a long way since its inception in the early days of cinema; take for example William S. Hart, the American silent film actor, whom, as a screenwriter, director and producer in the mid-to-late 1910s, made himself a Western star of the silent era by imbuing all of his characters with a sense of honor and integrity. Indeed, the Western evolved out of the first realistic movie narratives, some of them 'cowboy stories,' such as Edwin S. Porter's The Great Train Robbery (1903), which might be considered a 'crime story' and perhaps not yet a true Western; but through its cinematic paradigm the concept of continuity editing was used, once and for all, in establishing the definite model for the Hollywood filmmaking industry, a cinematic style which is still used today (Cook 20).
But the original idea of the Western is attributed to American cultural history and its literature, where the emergence of the Western fictional hero, the cowboy, created fertile grounds for the resurgence of the historical adventure novel. After the post-Civil war period, writers like Owen Wister, James Fenimore Cooper, Zane Grey, Max Brand and Bret Harte established a new American literature, one based on the melodramatic adventures of the Western hero. The idea of the West was an important symbol for Americans, representing the last frontier for individualism and freedom. The American West, depicted in Western literature as a 'nostalgia for the past', helped relieve the strain of industrialization felt by the shifting American culture during the Progressive Era (1890 to World War I); and so this notion of the American West helped, among other factors, shape the first cowboy movies. Richard W. Etulain states in his article, "Cultural Origins Of The Western", "Porter's movie emphasized some of the same elements as Wister's novels: chase and pursuit, the outdoors, and gunfights between heroes and villains … Porter's film (The Great Train Robbery) should be seen not so much as a Western, but as a blueprint for all Westerns" (Nachbar 24).
The Western film genre is nearly synonymous with American history and its literature, not necessarily accurate, historically speaking, but more as place of the mind, better still as a mindset in which moral views of the social group can be expressed. Thus, it becomes a vehicle for representing contemporary reality. Moreover, the Western genre has true universal appeal, capable of adapting its fundamental values to cross-cultural folklores. The ideological tension, between nature and culture, creates an enormous range of narrative possibilities, variations of the basic elements making up the genre's formal structure. In an article entitled "The Western: Ideology and Archetype", Jim Kitses states: "The Western thus was — and is— a complex variable, its peculiar alchemy allowing a wide range of intervention, choice and experiment by script-writer and director. History provides a source of epics, spectacle and action films…even anti-Westerns (Delmer Daves' Cowboy)" [a psychological Western made in 1958] (Nachbar 69).
Indeed, speaking of the notion of an 'anti-genre,' maybe one that is better described as a cross-genre; and yet as the critics have put it, The Ox-Bow Incident was another psychological anti-Western released in 1943. It was produced by Lamar Trotti who wrote the screenplay, an adaptation from the novel by Walter Van Tilburg Clark. The film was directed by William A. Wellman, and was photographed by Arthur Miller. The musical score was created by Cyril Mockridge. The art directors were Richard Day and James Basevi; the editor was Allen McNeil; the assistant director, Ad Schaumer; the set decorators, Thomas Little and Frank Hughes; and the sound was done by Alfred Bruzlin and Roger Heman.]] The Ox-Bow Incident was an important film for many reasons, one of them comes from its players; indeed, the cast consisted of Henry Fonda, playing Gil Carter; Dana Andrews in the part of Donald Martin; Mary Beth Hughes as Rose Mapen; Anthony Quinn in the role of the Mexican, Francesco Martinez; William Eythe as Gerald Tetley; and Henry Morgan playing Art Croft. Other members of the cast were Jane Darwell as Ma Grier; Matt Briggs as Judge Daniel Tyler; Harry Davenport as Davies; Frank Conroy as Major Tetley; Marc Lawrence as Farnley; Victor Kilian as Darby; Paul Hurst as Monty Smith; Chris-Pin Martin as Poncho; Ted North as Joyce; George Meeker as Mr. Swanson; Almira Sessions as Mrs. Swanson; Margaret Hamilton as Mrs. Larch; Dick Rich as Mapes; Francis Ford as Old Man; Stanley Andrews as Bartlett; Billy Benedict as Greene; Paul E. Burns as Winder; Leigh Whipper as Sparks; George Chandler as Jimmy Carnes; George Lloyd as Moore; Willard Robertson as the Sheriff; and Tom London as the Deputy.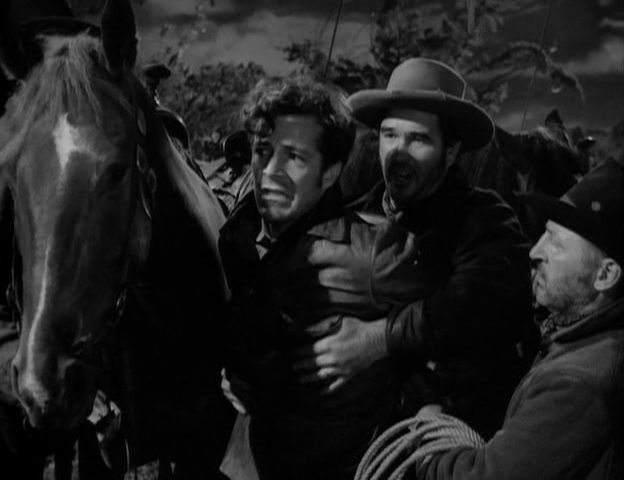 Dana Andrews
The Ox-Bow Incident was realized with the efforts of William Wellman and Henry Fonda, that is, both men forced the making of this film on the reluctant approval of Twentieth Century-Fox, which was headed at the time by Darryl F. Zanuck. The studios saw few conventional entertainment values of this type of somber Western, a disturbing story of an illegal lynching. Indeed, this movie did not do well at the box office. Moreover, The Ox-Bow Incident may be viewed as a distant cousin of the 'Film Noir,' and it may be described as a Greek tragedy in a Western setting, expressing an unconventional view of American lawlessness. Historically, The Ox-Bow Incident is a work of cinematic art and in 1943, it demonstrated a different form of moral integrity (Thomas 85).
William Wellman, known as "Wild Bill", bought the screen rights to The Ox-Bow Incident from Harold Hurley in 1940; indeed, he did so for the sum of $6,500. Soon after, Wellman contacted Walter Van Tilburg Clark, the novelist who wrote the story, and both men worked to sell the film project to the studios. At first, all executives were against doing the motion picture because America was going to be involved in a global war; and indeed, no one wanted to produce a morbidly depressing film that went counter to ideological American values, ideals such as national patriotism and individual freedom. The studio moguls believed that audiences needed fantasy and patriotic dramas with happy endings, and not an anti-Fascist parable with an unhappy, downbeat finale. But Wellman and Clark did not want to change the theme of the novel in order to sell it. Thus, bad timing and thematic truthfulness to the novel were the reasons why it took so long to convince the studios to make The Ox-Bow Incident. However, Hollywood had dealt with the lynching scenario in Fritz Lang's Fury (Paramount, 1936) and Mervyn LeRoy's They Won't Forget (Warner Bros., 1937). Moreover, Wellman knew very well about the potential of this superior Western novel, probably the best piece of Western literature ever written; so he pushed even harder to get it produced (Meyer 122).
As WWII began, "Wild Bill" Wellman, taking a different tack, contacted Darryl F. Zanuck, vice president in charge of production at Twentieth Century-Fox. Wellman and Zanuck were colleagues at the Warner Brothers Studios during the early 1930s where Wellman directed the Zanuck production of Public Enemy (1931), one of Wellman's finest films; and during these early sound years Zanuck demonstrated great managerial skills in giving new life to Warner Brothers, and soon he was going to be Wellman's ally for the wartime production of this strange Western tale; indeed in 1942, Wellman made a deal with Zanuck to make The Ox-Bow Incident, but with the stipulation that Wellman had to make any two other projects which Zanuck handed him (Meyer 122).
As mentioned earlier, Walter Van Tilburg Clark wrote The Ox-Bow Incident. He did so between the years of 1937 and 1938, when the aggression of the Nazi Third Reich had unbalanced the social order in Europe. So Clark decided to write a Western novel with parallels between the insane violence of the vigilantes and the brutality of the Nazis, with implications that unlawful executions, like the ones depicted in the 1885 Nevada story, could happen anywhere in the world and at any time. The Ox-Bow Incident is a story about those human forces which nurture mob violence when all the right conditions are set into place (Meyer 122).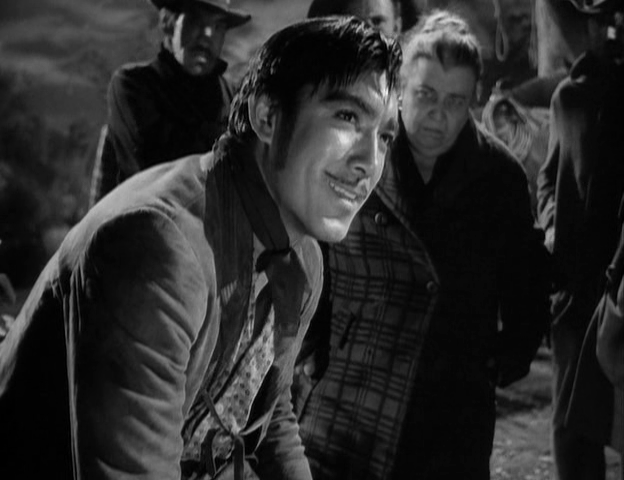 Anthony Quinn
So Wellman and Clark decided to let Lamar Trotti (one of Twentieth Century Fox's best screenwriter) author the script and produce this unique Western story. Wellman believed that 'film' can only achieve its highest order of excellence in the efforts made in 'fine writing.' Certainly, Lamar Trotti had scripted excellent movie stories, like In Old Chicago (Henry King, 1938), Young Mr. Lincoln (John Ford, 1939), and Drums Along the Mohawk (John Ford, 1939). Moreover, Trotti was of the same mind as Clark in that he wanted to make a statement relevant to a world in crisis. Thus, Trotti's screenplay followed the plot structure of The Ox-Bow Incident; and indeed, according to Trotti, he did so as closely as the production code would allow him, keeping Clark's characters intact but not as well developed (Meyer 122).
As the stories begins, we see two cowboys, Carter and Croft, ride into Bridger's Wells. Later, a local rancher named Kincaid is reported murdered by cattle thieves. But the sheriff is out of town on business, presumably at Kincaid's ranch. So the Mayor, Daniel Tetley, a former Confederate officer, organizes a vigilante group to hunt down the culprits. Soon, the posse crosses path with three strangers and they are holding cattle. These three individuals are a young white man, named Donald Martin, a brown-face Mexican, Juan Martinez, and a white whiskered raving old man, Alva Hardwick; and all three men claim that they purchased the animals from Kincaid, but there is no bill of sale. Immediately, the Mayor sets up a hanging court out in the darkened night of the wilderness, the Ox-Bow, and the alleged criminals are put on trial for rustling and murder. Gil Carter and Art Croft attempt to convince the kangaroo court to return to town and wait for the sheriff; but the sound of revenge outcries loudly over the two cowboys' words. And so, guilt by association gives in to a sentence which is immediate, that is, 'death.' Martin is given time to write a letter to his wife. Then they are executed, not as a group, but one by one. In the morning the sheriff returns to the township and tells the vigilantes the truth. The cattleman Kincaid is alive and did sell Martin the beef. Suddenly, all the town becomes grimly quiet. In the saloon, Carter reads Martin's letter. As the story ends, we see Carter and Croft ride out of Bridger's Wells to deliver the letter to Martin's widow; and moreover, the way that these last few scenes unfold bring to mind that they will never come back to this unforgettable affair again, implying a return to this particular town (Meyer 122).
Decidedly, Clark's foreboding pre-WWII story, The Ox-Bow Incident , is a truly grim moral tale of the complicity of the masses to do harm on a few innocent members of its citizenry; indeed, one may seriously reflect on what the Nazis did, with the support of the German people, to the Jews and other minorities during world war two. Set in 1885 Nevada, The Ox-Bow Incident is an indictment of mob violence and it shows the crude Western values of frontier life. Truly, Wellman's film is permeated with figures of decency and compassion; but Clark's novel denies the characters such permanent qualities because they fail to stop the lynching, either for lack of conscience [Mayor Daniel Tetley] or the inability to take action [Davies] (Meyer 122).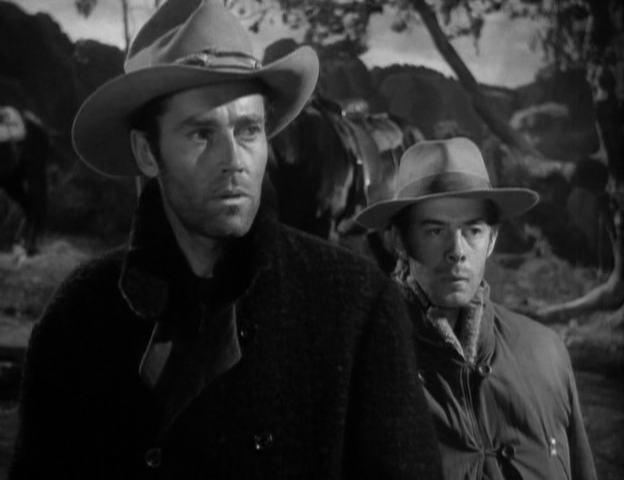 Henry Fonda and Harry Morgan
The Ox-Bow Incident explores the social forces behind men's violence during an illegal lynching, as it exposes their animalistic desire for shedding blood; and from a wider critical perspective and even more importantly maybe, its diegesis distorts the judicious reasoning of the townspeople of Bridger's Wells, where the idea of revenge becomes a sanguinary ritual, a hunting party, which tempers the inner anguish of a society not yet civilized. Indeed, The Ox-Bow Incident is the grimmest Western to be released in Hollywood during World War II; and it shows us in a cinematic story form, wherein traditional Western genre values are left aside, a much deeper and disturbing psychological evaluation of the human condition. How could this cinematic allusion to non-American values be made into a film, especially during World War II? (Westbroock 55).
The Ox-Bow Incident is a study into the causes and effects of social violence, as seen from the perspective of group aggression rooted in a non-democratic primitive behavior; truly, it gauges the state of health of the human condition. This classic film is unique in the history of cinema because it narrates modern themes within a Western setting, illustrating not necessarily ideological democratic values, but more archaic animalistic ones; that is, it shows us the impulsive drives of a not quite civilized society. Moreover, the movie also deconstructs the classical Western genre, a long standing and workable filmic structure with a successful and proven track record; indeed, it does so by eliminating certain traditional Western components while keeping others intact. Wellman's film rebuilds it anew, with non-traditional components, like a Hitchcockian tragedy, a Western film noir. The Ox-Bow Incident is the first "Anti-Western" because its structured values are almost opposite to those of the traditional Western, making it apparently "Anti-American" (Crain 240).
Another name given to the Anti-Western is "Oater," a term almost sounding like "Other," referring to modern themes embodied within another type of Hollywood Western, the psychological Western. At a superficial narrative level, one may describe The Ox-Bow Incident as the conflict between the apparently good citizen vigilantes and the allegedly bad criminal suspects; but at a greater depth of storytelling, Lamar Trotti's screenplay examines the positive and negative aspects of both social groups. Indeed, Trotti emphasizes to some degree of effectiveness, in novel-to-script adaptation, the process of character development and behavior motivation. But Trotti does not go far enough in doing so, as it was done in Walter Van Tilburg Clark's novel; for instance in the book, Major Tetley is a character with the need to lead and command, and to always be right in his actions; while the character of Ma Grier believes in the law of common understanding among Westerners, which is not a law at all, but to violate it meant 'death.'
The Ox-Bow Incident penetrates the overlying structure of the Western genre, as it discovers a deeper psychology of narrative representation. The movie takes the form of modern storytelling (post-WWII) wherein the mental aspects of character development are emphasized, as it uncovers personality flaws of its protagonists; and certainly, its characters are in mark contrast to conventional Western figures. The film's unconventional character development can be seen in Gerald Tetley, the weak-willed offspring of Major Tetley. Trotti's script sympathizes with the character of Gerald Tetley, whom is compelled to choose between 'right' and 'wrong,' within a story in which the notion of 'wrongness' is seemly replaced with a craving for social acceptance, in fact, a desire to please his father. Gerald Tetley's inner torment emerges out of a feeling for what he considers as 'right,' as well as a desire for 'love.' Traditional values of 'right' and 'wrong' are no longer moral imperatives as they disappear into filmic history, so to speak, fading away like the old Western genre itself, only to be replaced with the moral dilemmas of apathetic and flawed personalities. It seems that Gerald Tetley's belief in 'good' and 'evil' breaks down, being pushed aside by socially motivated forces and deeply rooted inner desires, all of which leave him weak-minded, faithless, and anxiety stricken. In essence, the character of Gerald Tetley has "fallen," that is, he has lost his soul (Meyer 122).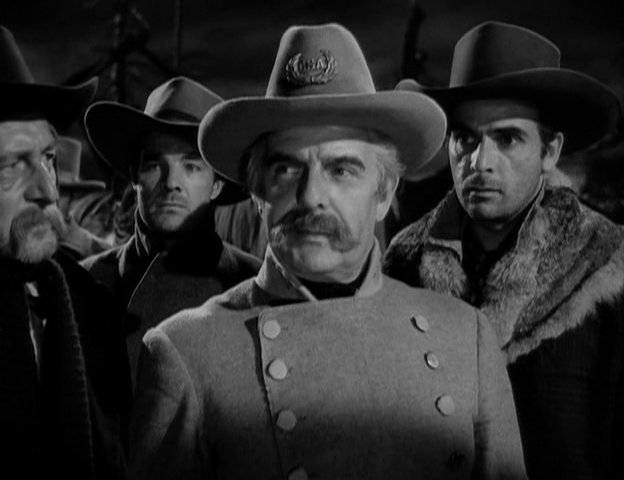 Matt Briggs
The "Oater Western" is very similar to 'Film Noir' of the 1940'a and 1950's, as it may be a precursor to this type of mental cinema; quoting William R. Meyer: "Such soul-searching took hold in many Westerns after World War II, just as the film noir introduced a deep perversion into the mentality of the average cinema urban criminal" (Meyer 125). William Wellman's The Ox-Bow Incident replaces the beaten path and horse riding chase scenes, the chair breaking saloon brawls, and the gun blazing shoot-outs, with another subtler form of violence, that is, the violence of the mind. This quiet inner aggression is seen in the calmness of the lynching, a gruesome scene wherein the subdued mannerism of its players is acted out in a nightmarish and macabre picnic funeral scenario. The film's cinematic strength comes from this violation of the traditional rules of engagement. The Western is itself violently attacked by the film's makers, Wellman and Trotti. The movie's ideological contradiction is very eerie, on the one hand, it is a truly unjustified taking of three lives; and on the other, it is a mistakenly justified but subdued hanging process (Meyer 122).
The film noir feel of The Ox-Bow Incident comes from the alternation between set decorations, a shifting from real outside shots to those of inside painted sets; thus, the film can distinguish itself from those traditional Westerns by creating an unlocalized and timeless moral tale from these nightmarish galleries. Indeed, the realistic scenes of Bridger's Wells fade into the 'Ox-Bow,' a make believe and claustrophobic world of dim studio skies with crooked dead trees, where a surrealistic temporal suspension gives way to the peaceful insanity of revenge, the murder of innocent men (Meyer 122).
What about Donald Martin's letter to his soon to be widowed wife? What significance does it have in the story? Why was the letter read at the end of the film, while it was not in Clark's novel? In the last scene inside the saloon, as Gil Carter reads Martin's final words, Wellman moves the camera for a close-up of Carter's hat, which is partially out of the frame and covering his eyes, leaving only his mouth to motion a Lincolnian address, and allowing Art Croft's remorseful face to be slightly imaged in the shot. The effect is very subtle and deliberate, and it is this shot that carries the moral of the story, not the content of the letter. By keeping an atmosphere of 'silent death' inside the saloon, Wellman carries the moral tone of the Western, without any redundancy; quoting W. R. Meyer: "Wellman keeps the tone of the Western as if it were a timid man acting out violent or heroic fantasies through the characters, then returning to his modest life" (Meyer 125).
The Ox-Bow Incident makes the statement that anyone can be accused of acts of criminality, if justice is measured out by socially driven impulsive forces. Character development is at the heart of this classic film, in which character overlap becomes dominant and individual performances are made to blend into each other. Henry Fonda as Gil Carter and Dana Andrews as Donald Martin are two faces of the same character (a similar comparison could be made between Art and Gil), even though their narrative positions within the plot are different. Both protagonists are non-violent in nature, and perplexed by the mob's madness; and even in their confusion, they undoubtedly know the difference between 'right' and 'wrong,' while the others do not want to know. In this fashion, both roles are interchangeable. Indeed, as we postulate the trope of two sides of the same coin, Donald Martin can be anyone of us (Meyer 122). And finally, as Carter and Croft leave town to deliver the letter to Martin's widow, the reasonable feeling we get from this film is one in which Carter could have written the letter himself; and thus, The Ox-Bow Incident condemns mob violence on words which belong to us all (Meyer 122).
The Ox-Bow Incident novel was published in 1940 and immediately the critics started to ask significant questions concerning its unique style, surrealistic setting, and inherent meaning. They recognized at once that this piece of literature was one of the best Western novels ever written. Till this day, the questions are left partially unanswered; questions like, why is The Ox-Bow Incident a superior Western tale, as compared to other cowboy stories? Why is it futile to compare it with the formula cowboy story? Why does the story begin and end with Gil Carter and Art Croft, non-central characters in the novel? What is the meaning of the gambling scene at the beginning of this tale? What sensibility can be drawn out of the character of Davies? Why is Gerald Tetley a disgusting personage in the mind of Art Croft, the story's narrator? Why is so much time spent getting the vigilantes started on their lynching hunt? Why is the lynching not stopped? How are the character distinctions compared to the brutal realism which dominates the tone of the novel? (Westbroock 39).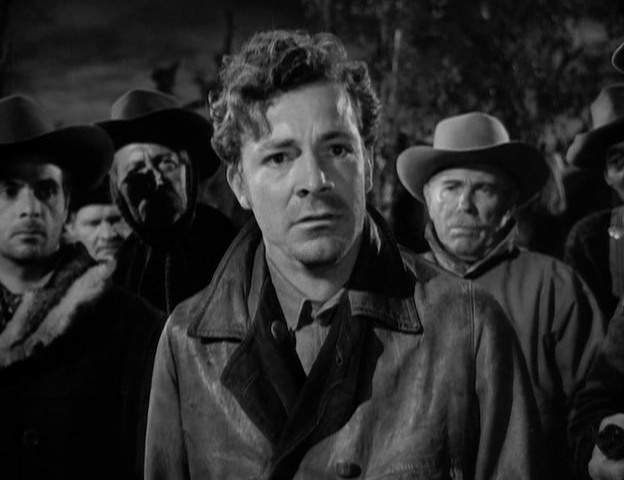 Dana Andrews
First of all, The Ox-Bow Incident is not a cowboy story and yet it is a Western in a significant way, for it develops a Western ideological contradiction within its main polemic discourse. Wellman's filmic text derives from Clark's novelistic treatment and it is so structured because in this state of unconscionable injustice, there exists the concept of 'Law' in Martin's letter; and as Gil reads it, we hear the following: "Law is a lot more than words you put on a book, or judges or lawyers or sheriffs you hire to carry it out. It's everything people have ever found out about justice and what's right and wrong. It's the very conscience of humanity. There can't be any such thing as civilization unless people have got a conscience, because if people touch God anywhere, where is it except through their conscience? And what is anybody's conscience except a little piece of the conscience of all men that ever lived?" (Gassner 558).
Secondly, even though Clark makes parallels between vigilantism and Nazism, his novel is inherently about something more fundamental to the human condition. The subject of Clark's novel cannot be the injustice of any 'lynch-law' because this would be a judgment on the legality and morality of lynching, not a work of art. Artistically speaking, the aesthetic subject that is dealt with inside the text of The Ox-Bow Incident must be something that is investigated, just as loyalty is investigated in Hemingway's A Farewell to Arms; quoting Max Westbroock: "The problem is subjected to esthetic study" (Westbroock 55).
Throughout his novel, Clark focuses the reader's attention on repressed emotions and internal meanings, on the unease of externalizing the internal, and on the problems of fragmented projections of the 'true self' (referring to the notion of a Jungian archetype). Clark's thematic emphasis is akin to loading an old worn out musket because, after pulling its trigger, we stand there waiting for it to fire, hoping it does not backfire. Similarly, all the pent-up and smoldering feelings of the townspeople explode into primitive ritualistic acts of aggression, irrationally expressed as physical violence, but more importantly as mental violence, the mind's violence. For instance, Gil Carter and Art Croft arrive in town with a lot of pent-up feelings after an extended stay on the winter range; and while in the saloon, Art and Gil realize that the ranchers of Bridger's Wells are all uptight about people who have been stealing their cattle. Then, at the poker table, as Gil is winning heavily, Art begins to get nervous about the loser of the card game, Jeff Farnley, who is not letting off any steam. But then, Clark's masterly storytelling relieves the tension by letting Farnley blow-off some of his frustrations (a fist fight with Gil), a key structural element in the thematic development; and thus, Farnley becomes the first symbolic leader of the vigilantes. Hence, a narrative pattern of "holding and releasing" is structuring Clark's novel. This pulsating pattern of "push-down and shove-out" continues with the other characters too, such as with the unconscionable Major Tetley, the actual leader of the lynch mob; and with Gerald Tetley, the sensitive, self-conscious son of the Mayor; and also with Davies, the outspoken conscience of the lynching mob. Clark's character development is concentrated on the protagonists' inner feelings and their projections into practical external action. Indeed, he investigates the malignancy that can occur within the minds of the individuals who make up the town's collective, especially when unconscious urges are misalign with conscious feelings. And when these mental distortions are integrated within the cooperative group, horror and death can and does occur. So it is that this set of ideas and notions defines the language and the events of Clark's novel; and thus, a system of values evolves out of it (Westbrook 39).
Decidedly, this formative value system is expressed in Art Croft's description of Kincaid, whom is assumed dead, that is, murdered, setting up the reason for revenge: "… there was something about him which made men cotton to him; nothing he did or said, but a gentle, permanent reality that was in him like his bones or his heart, that made him an everlasting part of things" (Westbroock 57). Kincaid represents "permanent reality" (the 'true self,' a question of universal identity), which is expressed in the ideas of 'bones' and 'heart,' and the 'everlasting parts of things.' These values are archetypal and belong to the unconscious, and not to the rational mind; and there lies the difficulty and the unease because like Davies, the analytical and rational mind cannot project its ideas into external action. Yet, the rational mind can sense the alliance or alignment with "archetypal reality," a collimation which can lead to ethical action; but it cannot will this sense of permanent reality into human activity. Thus, Davies finds himself incapable of acting in this system of values, and so he fails to stop the lynching. Truly, his 'failure or fault of character' may be the greatest of them all [amongst the others] (Westboock 39).
Finally, instead of a long conclusion, a quote from Mary Beth Crain's article, _The Ox-Bow Incident Revisited, sums up what has been said in this essay in a different way; that is, the feelings set forth in Clark's novel expressed as an existentialist version of Donald Martin's letter: "Davies was also the unwitting dupe of a false system of values. His collapse came as a result of his own guilt due to inaction, and his realization that the democratic ideal does not in truth exist. He upheld a mighty God, law, but law is only what men make of it, and since they made nothing of it in the case of the Ox-Bow incident, there was nothing to uphold" (Crain 245).
Bibliography
Aachen, George and John Howard Reid, editors. Popular Films of The Forties. Sydney, Australia: Rastar Press, 1988, pp. 159-161.
Bates, Barclay W. "Clark's Man For All Seasons: The Achievement of Wholeness in The Ox-Bow Incident". Western American Literature. Volume III, Number 1 (1968), pp. 37-49.
Bazin, Andre. What Is Cinema? Volume II. Berkeley and Los Angeles, California: University of California Press, 1971, pp. 140-157.
Bluestone, George. Novel into Films. Berkeley and Los Angeles, California: University of California Press, 1966, pp. 2-64 and 170-196.
Canham, Kingsley. The Hollywood Professionals Volume 1: Michael Curtiz, Raoul Walsh, and Henry Hathaway. London and New York: The Tantivy Press; A.S. Barnes & Company, 1973.
Clark, Walter Van Tilburg. The Ox-Bow Incident. New York: Random House, Inc., 1940.
Cook, David A. A History of Narrative Film. Third Edition. New York and London: W. W. Norton & Company, Inc., 1996, pp. 20-31.
Corrigan, Timothy. A Short Guide To Writing About Film, Third Edition. New York: Longman, 1998.
Crain, Mary Beth. "The Ox-Bow Incident Revisited". Film Literature Quarterly. Salisbury, Maryland: Salisbury State College Press, Summer 1976, Vol. 4, No. 3, pp. 240-248.
Crowther, Bosley. Vintage Films. New York and Toronto: G. P. Putnam's Sons; Longman Canada Limited, 1977, pp. 68-71.
Fenin, George N. and William K. Everson. The Western: from Silents to the Seventies. New York: Grossman Publishers, 1973, pp. 236-262.
Gassner, John and Dudley Nichols, editors. Best Film Plays 1943-44. New York and London: Garland Publishing, Inc., 1977, pp. 511-560.
Hardy, Phil. The Film Encyclopedia: The Western. New York: William Morrow and Company, Inc., 1983.
Kaplan, Ann E., Editor. Psychoanalysis & Cinema. London and New York: Routledge, 1990.
Laird, Charlton, Editor. Walter Van Tilburg Clark: Critiques. Reno Nevada: University of Nevada Press, 1983, pp. 53-104.
Meyer, William R. The Making of the Great Westerns. New Rochelle, New York: Arlington House Publishers, 1979, pp. 122-136.
Nachbar, Jack, Editor. Focus on the Western. Englewood Cliffs, New Jersey: Prentice-Hall, 1974, pp. 19-24 and 57-72.
O'Brien, Daniel. Clint Eastwood: Film Maker. London, England: B. T. Batsford Limited, 1996.
Schickel, Richard. The Men Who Made the Movies. New York: Atheneum, 1975, pp. 190-240.
Thomas, Tony. The Films of the Forties. Secaucus, New Jersey and Toronto: The Citadel Press; George J. McLeod Limited, pp. 85-87.
Thompson, Frank T. William A. Wellman: Filmmakers, No. 4. Metuchen, New Jersey and London: The Scarecrow Press, Inc., 1983, pp. 203-223.
Wear. Rev. of The Ox-Bow Incident. Twentieth Century Fox release of a Lamar Trotti production. Staring Henry Fonda. Featuring Dana Andrews, Jane Darwell, Paul Hurst. Directed by William A. Wellman. Screenplay by Lamar Trotti from a novel by Walter Van Tilburg Clark; camera, Arthur Miller; editor, Allen McNeil. New York City, Wednesday, May 12, 1943, p. 8, col. 3-4.
Westbroock, Max. Walter Van Tilburg Clark. New York: Twayne Publishers, Inc., 1969, pp. 39-67.
Zinmam, David. 50 Classic Motion Pictures: The Stuff That Dreams Are Made Of. New York: Crown Publishers, Inc., 1970, pp. 194-199.