Noir City 16, San Francisco, 26 January-4 February, 2018, Eddie Muller and the Film Noir Foundation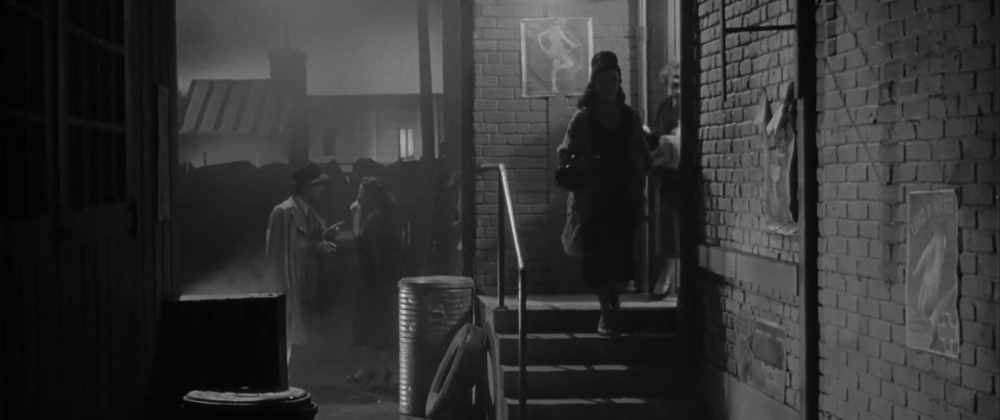 I first witnessed Eddie Muller, a self-proclaimed "Noircheaologist," who has been dubbed the "Czar of Noir" by novelist James Ellroy, when he delivered an excellent introduction to Joseph von Sternberg's Underworld (1927) as an important precursor to film noir at the San Francisco Silent Film Festival 11 July, 2009. I was aware that he was already running the Noir City film festival at the same 1,400-seat Castro Theater where the silent film festival is held, and in 2011, I had the pleasure of seeing him introduce Cry Danger (1951, dir., Robert Parrish) at the Montreal World Film Festival on August 21st. The festival had invited French film director and historian Bertrand Tavernier to introduce his choice of three lesser-known French and three lesser-known films noirs, and probably because he admired Muller so much he invited him to join the event.
The first film noir festival that Muller co-hosted with the American Cinematheque was at the Grauman Egyptian Theatre on Hollywood Boulevard in 1999. He had just written his first book on the subject, Dark City: The Lost World of Film Noir (1998). Being held in Hollywood, the festival organizers were able to invite numerous stars of noir over the first few years of the event, enabling Muller to interview many of them, and leading to the writing of his second noir book, Dark City Dames (2001), featuring four actresses who specialized in portraying femmes fatales, Marie Windsor (The Killing, 1956), Audrey Totter (Tension, 1949), Jane Greer (Out of the Past, 1947), Ann Savage (Detour, 1945), as well as Evelyn Keyes who played more positive roles in "B" pictures (The Prowler, 1951) and Colleen Gray, who could be either femme noire or femme blanche. Muller was a second-generation San Franciscan —his father was an immigrant from Dalmatia (Yugoslavia, and now Croatia) who changed his name to Eddie Muller. So, for the very first edition of the Noir City film festival to be held in his hometown, in January 2003, they showed only films set or shot there under the heading, "San Francisco Noir."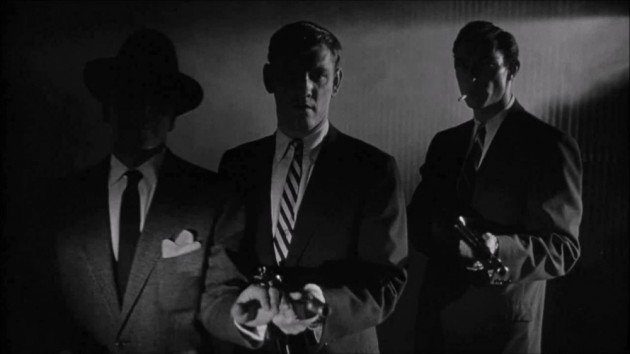 The Big Combo
The festival was so successful that it wasn't long before the Film Noir Foundation was formed by Muller in 2005, allowing for the making of 35mm prints of films from existing negatives and the funding of restoration projects. Their first major restoration (along with the Stanford Theatre Foundation and UCLA), to be released on DVD (in February 2011) was The Prowler, completed in 2009 and launched in a new 35mm print at the 11th Hollywood festival. The DVD included a number of extra features, including a voice-over commentary by Muller, who had been providing such useful contributions since the second Warner Bros. film noir box set was released in 2005, for Born to Kill (1947). He has now recorded material for more than 20 such DVD/Blu-ray extras, including interviews. No fewer than 11 have been recorded for 20th Century Fox, whose restorations Muller admires. Most recently he provided a commentary for the Arrow noir box presentation of The Big Combo (1955), in which he argues against the "auteur theory" claiming that the film is as much a work of the cinematographer John Alton, the leading actor/producer Cornell Wilde, and the writer Philip Yordan, as the director Joseph H. Lewis. Although Muller has unparalleled knowledge of the actors lives and performances in noir, he also has an excellent grasp of the making of the films that he comments on and he also has stylistic insights. For example, during his commentary for The Big Combo, he claims that Lewis wanted Alton to shoot almost every scene in a single long take (knowing that the great cinematographer would be capable of this), but that we can see how the star and producer, Wilde had presumably wanted more Close-Ups of himself and his off-screen wife, Jean Wallace inserted, and thus asked for re-shoots.
The Film Noir Foundation (FNF) is a rare, successful example of capitalism at work in the domain of film restoration. Until 2018, without any government funding, the FNF, with Muller as president had been able to fully fund the restoration of six films in addition to The Prowler, —Cry Danger, Try and Get Me! (1951), Too Late for Tears (1949), The Guilty (1947) Woman on the Run (1950) and the Argentine film, Los tallos amargos (Bitter Stems, 1956)— initiate and partially fund the restoration of two others, Repeat Performance (1947) and High Tide (1947), in conjunction with the Packard Humanities Institute, pay all the costs for the striking of new 35 mm prints of another 15 films (including four from Argentina) and foster the production of another seven 35mm film prints funded by film studios, that the FNF have screened at the numerous Noir City annual events which are now held across the United States in addition to Hollywood and SF (in Austin, Boston, Chicago, Denver, Detroit, Seattle and Washington D.C.) I was very fortunate to finally be able to travel to Noir City 16, SF, this January/February with my wife. We had visited the Chicago version in August 2016, hosted by two of the FNF board members, Foster Hirsch and Alan K. Rode, themselves both key film noir historians, but we really wanted to see Muller in action, especially because he has been doing such a great job of hosting "Noir Alley" almost every Sunday on Turner Classic Movies (TCM). TCM have long been supporters of the FNF. In June 2015, TCM showed both Woman on the Run and Too Late for Tears in the digital versions of the FNF restorations long before they were released on Blu-Ray disc by Flicker Alley in May 2016, and as soon as TCM's "31 Days of Oscar" blitz is finished in early March, the weekly, Muller-hosted "Noir Alley" will be expanded to twice a week, adding the more-appropriate Saturday midnight slot to the Sunday morning 10am EST sessions.
Near the end of Noir City 16, Eddie Muller announced that 400 passports for the entire festival had been sold (@ US$125 each), and that the payments received covered the entire cost of renting the Castro Theater for the duration of the festival. Thus, the extra proceeds collected for individual tickets —sometimes as many as 1,000 for the sold-out screenings—go straight into the coffers of the FNF. The foundation also receives donations from people all over the world, myself included, enabling them to publish a quarterly, digital Noir City magazine, initially called the Noir City Sentinel, regular newsletters, print annuals, and other books. In short, the FNF is an ideal example of a collection of cinephiles who make 35mm copies of films, show them, restore and preserve them —often rare examples of films that would otherwise be lost or irreparable. A key example is Woman on the Run, where the FNF made a digital copy of the only extant 35mm print before it was destroyed.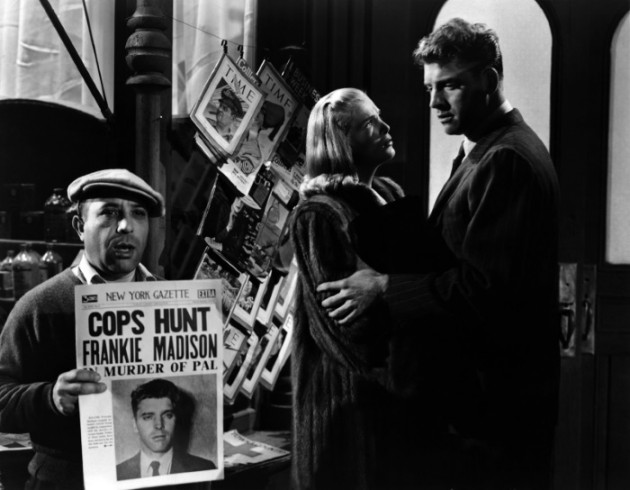 I Walk Alone
At Noir City 16, there were two world premieres, of a Paramount Pictures digital restoration of I Walk Alone (1948, dir. Byron Haskin) and of the latest FNF funded restoration of a San Francisco noir, The Man Who Cheated Himself (1950, 20th Century Fox, dir. Felix Feist) on 35mm. The latter, shown on a 35mm print (courtesy of the UCLA Film and Television Archive) took pride of place on the final Saturday, February 3rd, and, of course, the screening was sold-out. I was personally extremely happy with the structure of this year's festival. The screenings were chronological, from 1941 to 1953, with double bills —one "A" and one "B" pictur— from each year (except 1952) totaling 24 different film titles, of which 23 were projected on 35mm. Also, as a person who prides himself as being something of an expert on film noir, and someone who has taught courses on the subject a few times, and has seen well over 200 noirs from the "classic" period (1941 to 1958), I discovered that I had only ever seen 10 of these titles before in one form or another: film print, digital projection, TV broadcast, VHS tape, laser disc, DVD, etc.
On the opening Friday night, Muller was joined on stage by Victor Mature's daughter, Victoria, to talk about her father, the star of the opening film, I Wake Up Screaming (1941, 20th Century Fox, dir., H. Bruce Humberstone). She also gave an amazing rendition of the song, "Street Scene," composed by Alfred Newman for the 1931 film of the same name, directed by King Vidor. I Wake Up Screaming was the first of many films to reprise the theme, for which lyrics had been added much later. Unfortunately, another piece of music proves almost to be the downfall of the film, "Over the Rainbow," for which we assume the filmmakers had not secured the rights from MGM. Because it is associated so centrally with the Wizard of Oz, this melody provides an incessant key that does not fit with the noir mood, although by contrast, Edward Cronjager's amazing cinematography is perfect. I had never seen the 67-minute "B" film before, Among the Living (1941, Paramount, dir., Stuart Heisler), which is much closer to the horror genre than to noir, except for 18-year old Susan Hayward's performance as a young femme fatale who only thinks of herself, and Theodor Sparkhul's cinematography, especially in the night, lynch mob scene towards the end of the film. According to Muller, Jean Renoir was supposed to be the director of Among the Living, and the German-born Sparkhul had shot La chienne (1931) for him during a brief period in France, after he had been Ernst Lubitsch's principal visual collaborator in the late 1910s, and early 1920s in Germany. Perhaps Sparkhul's strong European background accounted for the strange mixture of Gothic, impressionist and expressionist stylings of Among the Living.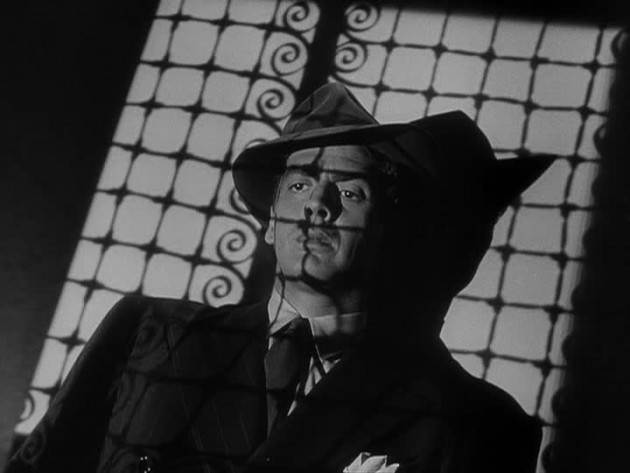 Victor Mature in I Wake up Screaming
There were two double-bills on the first Saturday. The 1942 matinée session featured the well-known, This Gun for Hire (Paramount, dir., Frank Tuttle), the first very popular pairing of Alan Ladd and Veronica Lake, along with a film I had never heard of, the 67-minute, Quiet Please, Murder (20th Century-Fox, dir., John Francis Larkin), starring George Sanders as the library murderer. Both films were introduced by Muller as being interesting early examples of U.S. films that included World War II in their narratives, with This Gun for Hire involving poison gas in an anti-Nazi plot, and with much of Quiet Please, Murder taking place inside the Los Angeles Public Library during an air raid drill enforcing a black-out (and with Nazi sympathizers). On this viewing of This Gun for Hire, I realized how Ladd's character of a violent killer-for-hire is made sympathetic from the very beginning, giving milk to a kitten, and slapping a maid for mistreating it. After his "hit" on a suspicious scientist he gives some money to a young afflicted girl (polio?), sitting on a staircase outside. Since it doesn't get recognized in any key texts on noir, with only a brief mention in a book, The Bad Guys, written by William K. Everson, Quiet Please, Murder, with a very fatale female character played by Gail Patrick, a clever, scheming villain played by Sanders, romance, murder, and amazing cinematography by Joseph McDonald —especially during the black-out where slivers of back and top lighting are just enough to see the figures and know who they are— surely qualify the film as a film noir.
As can be gleaned by the title of his first book, Muller is always searching for "lost" films noirs, and Quiet Please, Murder could certainly be included in the lost category. I would say this and the two B's concluding the Saturday and Monday night sessions, are for me the greatest rediscoveries of the festival. For 1943, Alfred Hitchcock's Shadow of a Doubt was followed by another film I was completely unaware of, William Cameron Menzies' 75 min. Address Unknown (1944, Columbia). Since David Bordwell had declared this to be "Menzies' most worthwhile solo feature" in a March, 2010 essay, I suppose I should have been on the lookout, since I have considered him to be one of the most important visual stylists in the whole history of American cinema. In any event, Address Unknown is an example of a coherent work of a single visual author in the Hollywood studio system, since Menzies was clearly responsible for the (uncredited) art direction, where extreme deep focus compositions complement the narrative. The great Rudolph Maté's cinematography clearly helped Menzies achieve his vision, but almost every shot composition reflects the director/art director's style.
(see http://www.davidbordwell.net/essays/menzies.php)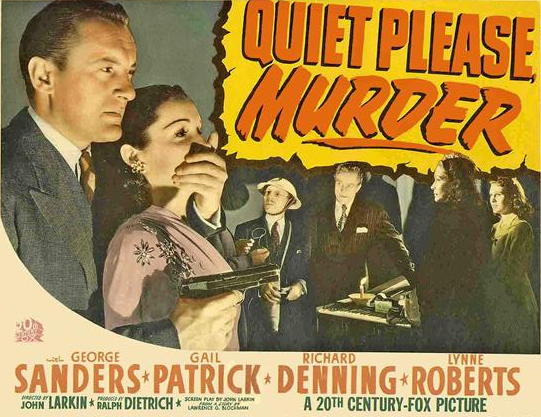 Quiet Please, Murder
Muller introduced Address Unknown as a remarkably sophisticated and brave approach to the rise of Nazism in Germany based on a novel written in 1938 by Kathrine Kressman Taylor. He credits producer Sam Wood for getting the film made. Two German immigrants, Martin Shulz (Paul Lucas) and Max Eisenstein (Morris Carnovsky) run an art gallery together in San Francisco. Shulz decides to return to Germany with most of his family to see how his homeland is progressing, and he becomes a Nazi sympathizer. Eisenstein is Jewish, and his daughter Griselle (K.T. Stevens) also moves to Munich to pursue her acting career, but is killed after her identity is revealed and when she reads excised lines in a religious play, "The Meek shall inherit the Earth." In the beginning, the characters are often viewed together in close proximity to the camera, but in Germany the distances between Shulz and the rest of his family become far greater, and the forced perspective of the low budget sets emphasize this gulf. His wife deserts him, and moves to Switzerland. Among the most striking deep focus shots is Griselle's perspective of a far distant doorway through which a Nazi officer emerges to chastise her. Also the décor of Shulz's German home becomes more "modern" and monumental (with echoes of Triumph of the Will) after he becomes sympathetic to the Nazis. When he refuses Griselle's entrance, a static shot of the inside of the front door from his perspective is accompanied by her off-screen cries and the sound of gunfire.
Nobody would make a claim for Address Unknown to be considered a film noir since none of the characters are involved in crime, per se (although of course, Nazism was THE crime of humanity). Also, the filmmakers' intentions are certainly not to entertain the audience. The film is "noir-tinged" though. It is deeply pessimistic at a time when its revelations should have been addressed more often in Hollywood films, while Menzies extended Weimar German "expressionist" style elements through his own deep focus ambitions. He wouldn't get to direct another film in the 1940s, but his contributions to Reign of Terror (aka The Black Book, dir. Anthony Mann, 1948) with cinematography by John Alton, helped turn a historical drama on the French Revolution into an intense and enjoyable film noir.
The Monday night "B" was another film I was not aware of, Jealousy (Republic, 1945), that Muller claims is "as close to an art film as ever emerged from Poverty Row —and, not surprisingly, the last film the experimentally inclined [Gustav] Machatý made in America." (program notes) The Prague-born Machatý is best known for directing the erotic film, Ekstase (1933) released in the U.S. as Ecstasy, which launched the international career of Hedwig Kiesler, who was filmed in the nude and who changed her name to Hedy Lamarr, and became a Hollywood star. Jealousy features two intersecting love triangles: cab driver Janet (Jane Randolph) is married to a Czechoslovakian writer Peter Urban (Nils Asther), who cannot get any of his work published in the U.S., and who is jealous of every man she comes in contact with. One of those is a customer, Dr. David Brent (John Loder) who falls in love with her, not realizing that his associate, Dr. Monica Anderson (Karen Morley) has been in love with him for years. Since Urban had already attempted to shoot himself —prevented from doing so by his wife— the police assume that he has committed suicide, but his best friend, Hugo (Hugo Kral), who is also Czech, suspects Janet of murder. The ambiguous identity of the killer is maintained through only showing hand-held point-of-view shots from the café where the two women meet, through a passageway, down a staircase, and into the Urbans house. (We know it is a woman through her shadow on the wall.) It is interesting that the two central female characters are American and potential femmes fatales, whereas all the men seem "foreign." Muller suggested after the screening that Peter's character was somewhat autobiographical, since Machatý struggled so much to further his career as a director in Hollywood. He returned to Europe after the war and became a film professor in Czechoslovakia. Muller also suggested that the depressive nature of the film, especially through Aster's performance could be attributed to the fact that the Danish-born actor was a closeted gay man, who had bouts of depression, himself. Jealousy is a remarkable rediscovery, especially given its extremely low budget. There is some obvious back-projection as was typical of the period, but otherwise, Henry Sharp's cinematography is excellent, and the film opens brilliantly with slanted-angled views of Hollywood superimposed over a Medium Close-Up of Janet driving her cab, complete with hat. Thus she is introduced as the action figure of the film (normally a male role) as a hard-working woman, supporting her lazy, ineffective husband, and she continues to be at the centre of the film's action, and the most sympathetic character. The screenplay (from a story by Dalton Trumbo) is fine as is most of the acting. The 35mm print came from the British Film Institute, suggesting that this film should also be on the FNF's list of films to be restored.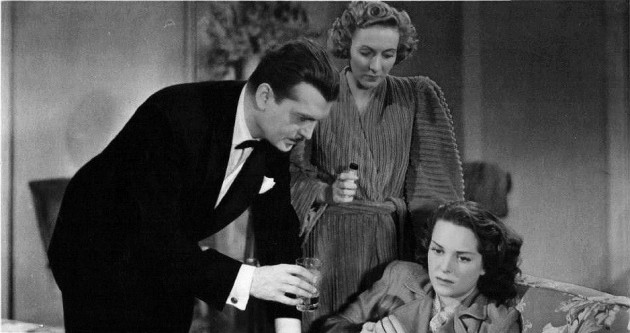 Jealousy
If I hadn't already seen the Julien Duvivier double bill of Destiny (Universal, 1944, dir. Reginald de Borg) and Flesh and Fantasy (Universal, 1943) at Chicago Noir City, 2016, I would have included these as major re-discoveries. It was good to hear Muller explain where and when Duvivier's original version of Destiny began and ended. It was planned to be the opening segment of the four-part Flesh and Fantasy, but the studio hired De Borg to shoot a new opening and closing, eliminating the dark conclusion, while adding a more noir-like, crime-laden, action packed introduction, and releasing it the following year as a "B" movie. Muller also hopes that the FNF can be involved in reconstructing Duvivier's original shorter version of "Destiny," complete with its original ending and then combining the finished work with the rest of Flesh and Fantasy.
The excitement of the festival built up to the premiere screening of the FNF restored 35mm print of The Man Who Cheated Himself on Saturday night, and along the way two other screenings really impressed me, Friday night's "A" picture, The Accused (Paramount, 1949, dir., William Dieterle), and the Saturday matinée "A", The Underworld Story (United Artists, 1950, dir., Cy Endfield). I had seen The Accused years ago, but this screening, of a restored 35mm print courtesy of the Library of Congress was made really enticing by Eddie Muller's introduction. He talked about how Loretta Young was a devout Catholic, and how industry people and audiences alike wondered why she would be interested in making a film of such a sordid story about a woman who was being raped, and who killed the perpetrator in self-defense. Muller explained that Young herself had been date-raped by none other than Clark Gable, an incident that caused her to become pregnant. Young gave birth to a daughter in secret and the mystery was never revealed until Young's autobiography was published posthumously. In the beginning, the film is completely subjective. We see Wilma Tuttle (Young) stagger around a car onto a highway, where she is rescued by a kindly truck driver. Some of the shots are hand-held. Her voice-over leads to her flashback account of the day: she is a college professor of psychology, adjudicating an exam, followed by a confrontational session with a very aggressive male student, with whom she reluctantly shares a meal, after which he offers to drive her home… Both the source novel, Be Still, My Love (1947), by June Truesdell, and the adapted screenplay by Ketti Frings were, unusually written by women, and in retrospect the film would appear to be an early work of feminism, not the least because of Young's involvement in the project. Tuttle stands trial for murder, and cleverly, the film doesn't conclude with her acquittal —this would be against the Hollywood Production Code— but the homicide detective on the case, played by Wendell Corey whispers that the "case is already lost."
The preserved 35mm print of The Underworld Story, was one of the 15 that had been funded by the FNF (mentioned above), and was struck by the UCLA Film and Television Archive. I had never seen this film, and it is most notable for the performance of noir regular, Dan Duryea. Here he plays a New York reporter, Mike Reese, who is fired for his revelation in a front-page story that an underworld figure is about to testify against another; the witness is killed, and Reese is disgraced. He moves to a small New England town in response to an advertisement looking for investment, leading to co-ownership of the local newspaper with Cathy Harris (Gale Storm) the daughter of the former owner, now deceased. Immediately there is a murder in the town of a prominent citizen and Reese jumps at the opportunity to start a bidding war for the rights to the news, horrifying Ms. Harris. By 1950, audiences expect Duryea to play the noir villain, but here, almost by accident, he becomes a hero. The film implicates a newspaper magnate, played by Herbert Marshall in corruption —initially saving his murderous son from the gallows— which is especially noteworthy because an African-American maid (unfortunately played by a white actress, Mary Anderson) is falsely accused. Such details can be attributed to the co-screenwriters, Endfield and Henry Blankfort, both of whom were soon blacklisted, along with one of the principal actors, Howard Da Silva.
The festival concluded on the second Sunday with two screenings of the great "A" picture, Fritz Lang's The Big Heat (Columbia, 1953), and three screenings of a popular "B", Wicked Woman (MGM Repertory, 1953, dir., Russell Rouse), starring the long-legged (5'10") blonde actress Beverly Michaels, who in almost every manipulative way is a femme fatale —except that she doesn't kill and doesn't cause anyone's death. To be sure, she creates havoc in a small western town, especially in the marriage of Matt Bannister (Richard Egan) and Dora (Evelyn Scott), but with the film being shot in daylight and indoors at night with high-key rather than low-key lighting (cin., Edward Fitzgerald), it doesn't look or feel like classic film noir either. Wicked Woman is extremely entertaining though and with Michaels' memorable performance along with the pathetic, yet manipulative and sleazy character played by Percy Helton, who lives next door and lusts after her, while being at least six inches shorter and twenty years older, it has become a canonized, late work of film noir.
Eddie Muller showed up for every single screening in the Castro Theatre at Noir City 16. Every evening before the second screening, he was accompanied by this year's "Miss Noir City," Anabelle Zakaluk, who dressed "noir" and differently every time, has a fine singing voice and provided some interesting, individual commentary of her own. It is hard to imagine a better film festival host than Eddie, who brilliantly introduced and wrapped up his carefully selected programs and always managed to be concise with his commentary. On the mezzanine, the bar was always open, one could buy books, DVDs/Blu-ray's, T-shirts and other paraphernalia throughout all of the sessions, and Eddie was invariably there to talk to the fans. It is not going to be easy for me to be able to attend this magnificent film festival again for a while in January/February, since I am still a university professor, and rarely get a sabbatical leave. But I am ready to put Noir City San Francisco up there with my two other favourite film festivals, the Nitrate Picture Show in Rochester, New York and the Giornate del Cinema Muto (silent film festival) in Pordenone, Italy. Congratulations to the Film Noir Foundation!