Telluride Film Festival Report 2021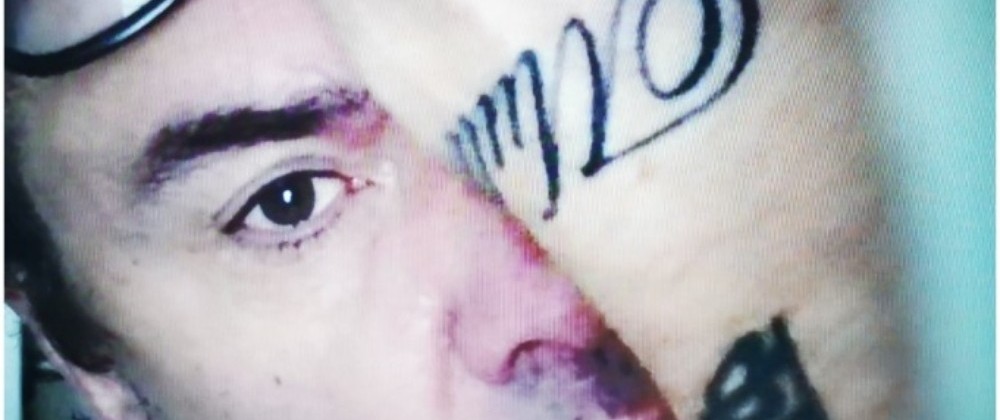 The Telluride Film Festival was, in many ways and by all accounts, a success this year. The films were varied: dazzling, sober, universal, spectacular, joyful, quiet and personal; people, many of whom had been reluctant for very good reasons, to sit in theaters, were very happy, even elated to be among their fellow cinephiles dreaming in the dark again. One of our friends who normally attends the TFF, declined this year. She was worried that an automobile accident in Kansas, might result in lack of medical attention in heartland ERs overrun with COVID patients who resisted getting the vaccine. Other friends and several directors, among them Andrea Arnold, and other important guests like Werner Herzog, were kept home by COVID-related problems or were not able to get visas. But we rolled though the secondary roads of Iowa, and Nebraska and climbed the Western Slope of the San Juan mountains completing our annual drive from Chicago without incident. The festival required everyone from individual ticket-holders to staff and sponsors to show proof of vaccination, to have negative COVID tests and wear masks so the festival took place—certain festivities were cancelled, more events were held outdoors— people were relieved and glad to be out.
As always, stylistic streams, cultural flows and thematic threads connect the wildly divergent collection of films screened at the festival. Diversity here is in time, space, form, and substance. The festival is international, in subject and subjectivities, it may not reflect the actual diversity of American society—yet— it's a work in progress, because film, the arts will always struggle to reflect and influence the world in which they are created or they become superfluous. I have managed to see as many films as possible, but so many are always left out. I usually choose the more difficult to screen, like a 1929 Russian silent or the Guest Director's picks, assuming that I can catch the bigger more popular productions in the theater or elsewhere.
STREAMS: EVERYDAY LIFE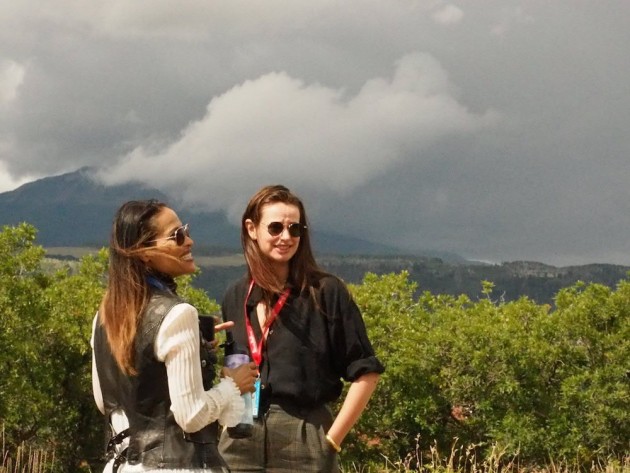 Rasheda Ali and Sarah Burns [To note: Muhammad Ali by Ken Burns, Sarah Burns and David McMahon was screening at the festival, and scheduled to play on PBS later in September]
Asghar Farhadi and Mia Hanson-Love although living in different cultures and interested in the interactions of different social classes, share a style of observational filmmaking that is distanced, reflective, slightly critical and at the same time benevolent toward their characters. While Hanson–Love's Bergman Island's main character dwells on an amour impossible, Farhadi's character has to navigate a more taxing set of complications, both filmmakers share an interest in the texture of everyday locations, the surfaces of reality, and a sense of place. These directors' styles are marked by a fluidity of camera movement, catching their characters in the physical and social contexts and a rhythm of editing that moves the narrative action. Things happen, events unfold, characters grow rounder and more complex, but there is little drama. Enigmas are the kind we encounter, savor and even drive us mad in our own lives. A Hero is Farhadi's latest tour of family life in Iran. We are privileged to watch the busyness and grace of family life, the giving of gifts and affection as well as its ever-present concerns. The story centers on Rahim (Amir Jadidi) a prisoner who is on leave to visit his family. Hassan's fiancé, a strikingly beautiful woman has found a purse full of gold coins which she wants to give to him so that he can pay off the debt that has sent him to prison. There are some remarkably unpleasant characters who seem to enjoy tormenting the gently resigned Rahim and a climate of suspicion and conspiracy; at the same time his sister and her family try to protect and support him and his son who stays with them. Rahim achieves momentary notoriety when he decided to return the stolen purse, but bitterness, envy, a sadistic employment official and a rumor of ambition on the part of the prison administration, generate complications that send Hassan back to prison. The film opens with a very high wide establishing shot of an archeological site. Rahim has to climb up scaffolding, turning and climbing to reach his brother-in-law.
Farhadi, like Hanson-Love gives us information about his characters in the most subtle forms. Rahim explains at some point that he was a calligrapher and sign painter until computers and copy machines which generate banners put him out of business. You could miss this detail because it is woven into the fabric of the story. I know little about the centrality of calligraphers in Islamic society, but I do know that calligraphy itself partakes of the sacred — the Koran was transmitted and written in Arabic script. Aside from the cultural significance, to me, the plight of a craftsman who has lost his métier is a profound tragedy. In Farhadi's film, a character study, this important detail, occurring in the midst of things, of everyday life, is so understated that you might not notice it. We also catch a glimpse of him painting a mural in the prison; this loss of his métier, his creativity explains everything about his diffidence, his rather, but not always sorrowful mien—his vindictive creditor decries his "hangdog" expression. At one point Rahim tries to explain the tangle of events to the prison officials and defends himself by saying he did not "calculate" any of the consequences of his selfless act, returning the gold coins, which sets the events and the engaging interactions of the various characters in motion.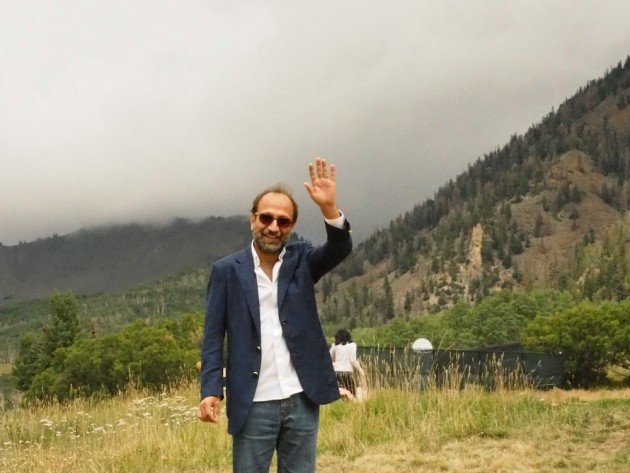 Asghar Farhadi
Both Farhadi and Hansen-Love use music sparingly, in some senses as a comment on the action rather than as emotional manipulation. There is one moment of diegetic music toward the end of A Hero: a man in a music store begins to play an instrument and it breaks the tension and sadness of the scene in a fine moment of synchronicity.
Mia Hanson-Love sets Bergman Island on Faro where Ingmar Bergman lived and set among other films, Cries and Whispers, Persona and Scenes from a Marriage. Chris (Viki Krieps) and her husband, both filmmakers, although the husband Tony (Tim Roth) is more celebrated, and Chris struggles with her role as wife, mother and writer, they settle into the house where Scenes from a Marriage was filmed. It has become a writer's retreat. Unsettling here is a better word than ironic to describe the relationship between Hanson-Love and Bergman, because in her work, while it certainly deals with the thresholds between reality and fiction, the kind of fraught drama Bergman savored is absent. While Tony scribbles away on his screenplay and goes on a tour of locations important to Bergman's films, Chris becomes restless and wanders the pastoral island on her bike. Later, as she is describing her screenplay to her husband, the film drifts from one fiction into another. Both stories are set on Faro, Chris' story might possibly be about the one that got away, Mia Wasikowska plays Amy on Faro for a wedding where she spends time with a former lover who is now otherwise engaged. Her feelings are much stronger than his, however the story dissolves and we are brought back to the frame where Tony and Chris' lives carry on.
I enjoyed Hansen-Love's view into the working of the mind of a woman writer and her filmic comments on the fluidity between fictional worlds. I like the space and silences in her style. She has a sly or is it wry feminine point of view: She comments in passing to her husband that she might like to have relationships with five men and have nine children as Bergman did. There are tensions and questions between men and woman, but they never evolve into drama or crisis; she savors ambivalence. It makes me wonder if men want to portray conquest (bang, bang, bang) and women are interested in the psychology of longing. Although the film considers the influence of Bergman, I associate Hansen-Love with Eric Romer's bourgeois lives, his care for the visible world and intimations about his characters inner lives.
Bergman's The Touch (1971) does not exactly fit within the category of everyday lives, but it certainly gives some perspective on the cultural distance from Hanson-Love's film and Bergman's. Bibi Anderson was unquestionably the object of the filmmaker's and audience's gaze. I could not get past the sexual politics, and was shocked by Karin's slavish fixation on a troubled unstable lover, David, played by Elliot Gould, who slapped and mistreated her in other ways. His behavior seems completely untenable and even solipsistic to us now. The subject of adultery, Karin is married to Andreas, a young Max von Sydow, (why is it so prevalent in film?) turns up again later in Gyllenhaal's The Lost Daughter. Hanson-Love was scheduled to introduce The Touch, but was stranded in France by COVID.
Kira Kovalenko, another master of the details of everyday reality, discloses the truths of her characters slowly so we begin to understand their situations bit by bit the way we might in life. But the pace of Unclenching the Fists is relentless and intense. The cinematographer's tight shots, quick cutting, murky nighttime landscapes resonate with the extreme physical and mental trauma of the main character, Ada, who suffers from wounds she received in a school bombing. A scene inside her boyfriend's truck where she is slammed back and forth against the walls while he does donuts in a dusty abandoned lot, sums up Ada's condition in this violent claustrophobic male world. Young men throw firecrackers against a wall, her brother is too affectionate and unpredictable. The region, bordered on three sides by Georgia has been shattered by wars since the breakup of the Soviet Union. When her intrusive and controlling father, the patriarch in a traditionally patriarchal world suffers a stroke, and her older brother who lives in a nearby city comes to help her, there is hope that Ada will get the medical attention she needs. We get only a glimpse of the setting, in some stony Caucasus mountains, Kovalenko focuses industrial buildings and references to work in the mines. South Ossetia appears as an extractive landscape, scarred like Ada, with no real nurturance or mercy for the people who inhabit it; the toll of war on women is especially destructive. Unclenching the Fists resonates with Beanpole (Kantemir Balagov 2019) whose subject is the extreme trauma inflicted on woman's lives by war. Unclenching the Fists won in the Un Certain Regard category at Cannes where Andrea Arnold was the head of the Jury this year.
Even though Sean Baker might like us to believe that we are getting a tour of the real world, the underground economy in which his characters dwell, his supersaturated colors and lurid situations, shift the film, Red Rocket, into spectacle rather than a more humanistic form. We move from the understated, to the hyperbolic. Essentially, the portrait of a porn star who comes back to his home town on the Gulf coast of Texas when he is out of luck, to exploit his former wife, neighbors, the local drug dealers and an ambitious and very sexually adventurous young girl whom he thinks he can use to get back in the business. Baker uses some non-actors; their performances are compelling, their looks seem authentic. In the end however, as much as we are charmed by his small town characters, they never became what E.M. Forester famously described as "round"; we don't feel the kind of empathy and even moral clarity about the relationships and environments that create the conditions of their lives. They remain other to us. One amusing touch: A television in his former wife's small house catches the fulminating of another abject, predatory and desperate creature of the media, Mikey Saber's double, our former president.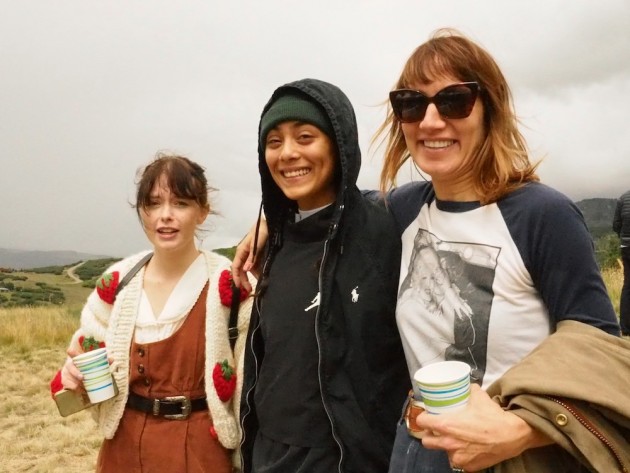 Actresses from Red Rocket: From Left: Susanna Son, Brittney Rodriguez, Bree Elrod
Cow, by Andrea Arnold, is a quietly radical film. Arnold follows the life of a cow, named Luma, as she gives birth to calves who are taken from her, as she plods along through the dim light in the barns to the milking machines and sometimes gets to rest outside in a pasture. It's not a documentary, there is no voice-over, we do overhear a few things that her farmers have to say about her, and of course she has a lot of to say herself. Arnold puts the viewer in the dairy barn with Luma and allows, even pushes us to ask questions. What do we actually know about cows? What can we learn by observing them? Why make a film about a cow? Why don't we know anything about this animal from whom we receive milk and meat? Aside from the, for me, gently eco-feminist viewpoint—women are oppressed, nature is oppressed, used, consumed while productive then discarded, in misogynist British slang women are "cows." Arnold wants us to consider her: "I just wanted to watch her reactions to her daily reality in all of its beauty and challenges and brutality. To look. To see. To see her."
Arnold continues: "We are nature. We are animals. The top of the food chain. But we are animals and have many animal instincts. Denying this, separating ourselves and disconnecting from this is starting to seem more and more at our peril. Our relationship with the millions of non-human lives we use is very much part of our existence. I made Cow to invite engagement with that" (Film Watch: A Publication of the 48th Annual Telluride Film Festival and Telluride Local Media 2021).
THREADS: ESSAYS
The Story of Looking, UK filmmaker and film historian Marc Cousins latest filmic essay showed in a small theater called the Backlot. Sonorous, subjective and inventive as ever, Cousins greets us from his bed in Edinburgh. He is about to have cataract surgery and his anxiety has compelled him to put together images from nature, art, cities, film clips among others to tell the story of his movement through visual world. Although the structure of his work is associative, finding affinities among images Cousins categorizes the kinds of looking we do during our lives. He gathers images from the blurred vision of babies to the focus on one's emerging self and changing body in the mirror during adolescence. Cousins has written a book on the subject of looking, for anyone not familiar with his essential work, fourteen and fifteen-hour films called Woman Make Film: A New Road Movie Through Cinema and the Story of Film, An Odyssey, are available as DVDs and as books.
Contemplation and discussion are valued along with consumption at the festival, so among the most valuable aspects of the Telluride festival are the outdoor Noonday Seminars and indoor Conversations. The Noonday Seminars, framed by a view of forested mountainsides, are conducted by scholar Annette Insdorf of Columbia University. This year she was honored with a Silver Medallion for her 40 years of melodious and articulate contributions to the festival. During that time she has moderated discussions among a dazzling array of actors and directors. Insdorf finds a theme through the various films at hand and comes up with a provocative and incisive topic for each seminar. This year her topics had to do with representations of families and familial relationships and the use of archival documents. Asghar Farhadi, Kenneth Branagh, Jane Campion, Maggie Gyllenhaal and Mike Mills were among some of the directors present. Benedict Cumberbatch was one of the actors. Insdorf has written books on Truffaut and Kieslowski and been awarded Chevalier dans l'ordre des arts et lettres by the French Ministry of Culture. These are only a few of her myriad attainments.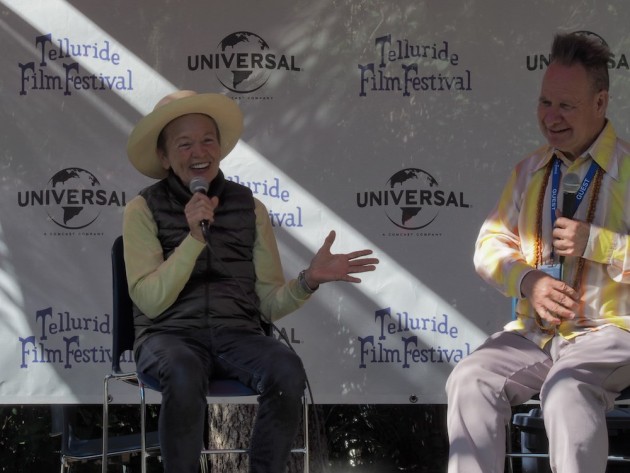 Laurie Anderson and Peter Sellars in the Park
Laurie Anderson returned this year. She was in Telluride with her film Heart of a Dog (2015), to accompany a film about the Velvet Underground (which alas, I was not able to catch) and her innovative Zoom production for the prestigious Charles Eliot Norton Lectures at Harvard. TS Eliot, e.e. cummings, Edwin Muir and Igor Stravinsky are only some who have shared this honor. When I was around 19 years old, it was the fashion to shame people for not partaking of Asian belief systems. Although I had already devoured much of D. T Suzuki, I developed a distrust of anyone espousing Eastern thought. Laurie Anderson, a devote of Eastern Religion and if I remember, the Egyptian Book of the Dead, so skillfully weaves her spirit and spirituality into compelling stories and insights that even I can learn from them. Her Zoom project Spending the War Without You played on a video screen in the Sheridan Opera House, built in 1913, now one of the film venues in Telluride. One of my favorite ideas was that you can make a sort of tree of all the people who inspired you and that they can help you. I have always known that one was supposed to partake of great literature and philosophy, not to mention, rock and roll, but I didn't conceive of my relationships with luminaries throughout time and space as connection to people who could help me. I felt a sense of surprise and joy, when I heard this, which is how I react to so many of her ideas. Anderson was in conversation with kindred spirit, director Peter Sellers, who has collaborated with composer John Adams on contemporary operas Dr. Atomic and Nixon in China. Early in his career, he astounded the opera world with innovative staging of traditional works. It must be said that Sellars stands out as he scoots around town wearing beads and sporting a rather strange haircut, but you know if you pulled him aside he would have something important to say. During their conversation Anderson and Sellars discussed hierarchical relationships in film: a master/ slave relationship between sound and image, and the idea that "film was invented by Fascists—you can't talk back to it, Hitler and Mussolini loved it." Anderson pointed out that "If you think technology can solve your problems, you don't understand technology and you don't understand your problems." In the end, anything Laurie Anderson says is without question illuminating simply because of the lyrical quality of her voice.
I am going to group these two very different documentaries under the heading "Essays." There is a difference in the position of the filmmaker, of course, between the essay film and the documentary, but most docs do present a proposition about their subject, so there is always some kind of rhetorical structure. I don't make lists or propose favorites, but I do think that Speer Goes to Hollywood was the most important film of the festival. I was indoctrinated into modernist architecture early on, I grew up in Chicago where architecture is almost as important as sport. I never heard of Albert Speer the Nazi's architect in that context, and even though I continue to worship Ludwig Mies van der Rohe, I think the omission is regrettable, not just because the history of architecture was riven from history in those days but because we need to know that buildings might not always be innocent. Early on in the film, we hear Speer say that all he wants is a "normal life, a private life." And we are appalled by the idea that someone responsible for so much destruction and extreme suffering could even imagine that he might deserve something normal. Israeli documentarist Vanessa Lapa (The Decent One about Himler head of the S.S. ) gained access to a set of tapes made by a young filmmaker Andrew Birkin in conversation with Speer. Birkin was given the task, by Paramount, of turning Albert Speer's book, Inside The Third Reich into a film. Lappa was approached by a Hollywood screen writer, Stanley Cohen after he saw The Decent One, who told her about Paramount's plan and the tapes Speer made with Birkin. She resisted the idea of investigating more Nazi atrocities but her sound designer Tomer Eliav finally convinced her to make the documentary. Speer, minister of armaments and war production was given only 20 years imprisonment at the Nuremberg trials. Lapa gives good evidence that was partly because he was valuable to the U.S. for his knowledge of chemical and biological warfare. Interestingly, the shift from war-time chemical R and D and production to agriculture has currently been an important subject for Vandana Shiva, the environmental activist.
Lapa's riveting archival material is dramatic and revealing; the pace of the film, her sense of urgency in finding out the truth, is resolute. Speer created a myth, a slippery persona in which he claimed he was only an architect and wasn't responsible for any deaths. The filmmaker examines Speer's post-war manipulations somehow convincing himself and others that he didn't know what was happening but Lapa is able to make the case that Speer did know about the millions of slave laborers who died while he was in charge of production for the Reich.. At one point he explains that he and Hitler's insiders saw war as "an adventure." She never uses the word sociopath in connection with his ambition or his denials of responsibility but it seems pertinent. Andrew Birkin, a protégé of Stanley Kubrick who declined the offer to direct the film consults with Carol Reed, for anyone who does not know, the director of that Speer did know about the millions of slave laborers who died in his The Third Man, which likewise concentrates on the hard moral questions of the Second World War. Reed clearly believes that Speer is culpable and we hear him warning Birkin against allowing his script to support Speer's deceptions. In the end, the appalling project was dropped. If cinema is " truth 24 frames per second" and the power of architecture to shape ideas can be used for dubious motives or if you believe that that we all share responsibility to search for the truths of history, then Speer Goes to Hollywood, is required viewing.
If Speer casts doubt on the profession of architecture, The Automat, by Lisa Hurwitz, celebrates a time, now lost, when there was grace and generosity in public space, specifically in the Horn and Hardart Automat restaurants in New York and Philadelphia. The first Automat opened in 1902 and the last closed in 1991. Along with a comprehensive archival history of the restaurants, where the food was sold a la carte in little drawers which opened initially, with a nickel, the social history is enlightening. I am old enough to have a very dim memory of eating in low cost restaurants, with china dishes and coffee cups in Chicago before the rise of fast food, but I did not realize how radical the change was and how it reflects the changes, especially the deterioration of public space, in our society. The automats, especially certain New York locations, were modestly elegant airy places where people could gather, immigrants especially, because they did not have to speak English to get their food, although all classes of people came and ate well-prepared, even nutritious food. Coffee and pie were important. The coffee came from a spigot shaped like a fish from a European fountain. Hard to imagine now that the common man and woman did not have to receive their brew from a plastic nozzle. The shift from somewhere to nowhere, as urban historians describe the suburbs, was certainly a part of the demise of democratic food culture. Nourishment and the rituals of eating were transformed into chowing down. Along with scores of archival photographs and interviews, New Yorker Mel Brooks composed and sang a song about the Automat, and Ruth Bader Ginzburg and Colin Powell, among others recalled its delights for Hurwitz.
All was not lost however, because democratizing the culture of food in America, although in private spaces, those suburban kitchens, was the great and successful project of Julia Child. Not only food, television, before Julia (we are on a first name basis) there were only talking heads on Public television. Food goddesses Alice Waters of Chez Panisse and importantly, a close friend of the founder of TFF, Tom Luddy and Davia Nelson (The Kitchen Sisters, Hidden Kitchens) were attending the new documentary, Julia, following Julia Child's accession to the mount Olympus of food. I am slipping into sarcasm because really, as much as I love Child, have followed some of her recipes word for word, this documentary is television fare. This comment might come from my own prejudice or frame of reference since I do watch all the cooking programs on PBS. One interesting aspect of food and social history I learned was that Child hoped that the home cook could get all of her ingredients from the grocery, as did my own mother, a superb cook. Waters, ushered in from the Italian slow food movement, farm-to-table, that is, fresh seasonal, locally produced food. (In France, there was a local food culture, in reality French cuisine was built on it.) I didn't hear the discussions, but I wonder if the farm-to-table mode gave birth to the current flourishing of community gardens, because the prices of organic vegetables at farmer's markets are out of reach for so many people. It's worth mentioning that the slow-food movement felt that we could change society, by changing food habits. I want to believe it. There is so much more to know here. (Julie Cohen, Betsy West)
FLOWS: RUSSIANS and Colonialism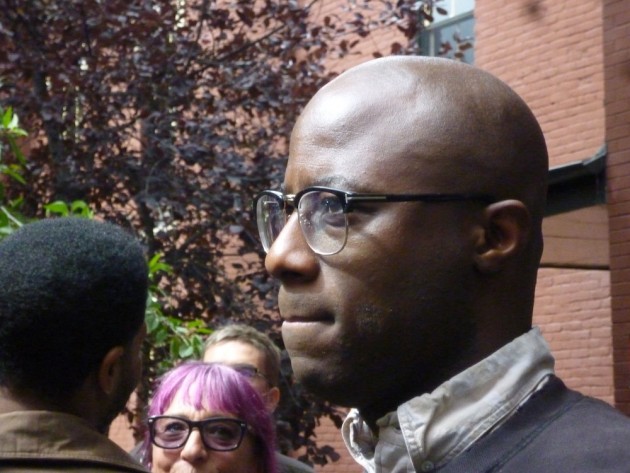 Barry Jenkins
Ever year Telluride invites a guest director. This year it was Barry Jenkins who before his Oscar-winning film, Moonlight, came up through the ranks in the student program, and fulfilled other roles attending the festival every year. Films at the festival are wildly diverse, in style, subject, time and place of origin. Possibly, more international than representative of diversity in American society, but we can take that up as we go along. I'll write more about Jenkins' picks (often the guest director picks are the most moving of the festival) but here I want to mention two Russian films. Russian Arc (Alexander Sokurov 2002) which I had never seen and wisely waited until I could see it in a theater was one of Jenkins' picks. He didn't say too much about it, except that he was interested in its representation of time. An unseen narrator wakes up outside the Hermitage, in Saint Petersburg somewhere during the 18th century. He is pushed inside by revelers and travels in one take through the then palace, built in the European mode by Catherine the Great. Along the way he runs onto people from other centuries, and teams up with a "European," who comments on the collections, on Russia and the West and his relationships to the aristocracy of the Russian Enlightenment. I wondered if the European might be Voltaire, but Voltaire never actually travelled to Russia, although he did have a close relationship on paper with Catherine the Great. It all ends in a great ball, seemingly thousands of people in 18th century gowns and brilliant red military uniforms, cascading down the grand stairwells and through the lavishly embellished Baroque corridors.
Jenkins' thinking might be much more complex than he let on, because another pick West Indies (1979) by French-Mauritanian director Med Hondo likewise treated history over time—the history of colonialism and slavery in the West Indies. Set on a wooden slave ship, were slave-trading "enlightened" 18th century French colonialists, who presided over the fate of colonies and slaves. When selective breeding produced over-population, West Indians were encouraged to go to France where they experienced another level of Racism. Barry Jenkins called it a hand grenade thrown into the predominately white and certainly privileged world of TFF, saying: "I hope you motherf**kers like it!" I also saw it as a mash-up of Brechtian theater and the Black Arts Movement that could only have been possible in the 70's. (Brecht was certainly not averse to throwing hand grenades.) An anti-Imperialist extravaganza, embracing as it were, the contradictions with remarkable choreography which was a fusion of West African dance and Ailey-Limon-style modern dance. The 35 MM print came from the Harvard Film Archive.
Claire Denis Chocolat (1988) is a look at relationships between French colonizers and the African servants who work for them. Denis herself lived in Africa, in Cameroon, where Chocolat is set, where her father was a civil servant. So like Isak Dinesen, Doris Lessing and Nadine Gordimer she had a story to tell about experiencing colonialism from an intimate feminine point of view. Barry Jenkins, it was one of his director's picks, noted Denis did not make films until she was in her 40s. Jenkins didn't say too much when he introduced the film, but he told Alice Gregory of the New Yorker: "I get the sense that she truly just doesn't give a shit, that it doesn't occur to her that she shouldn't be 'allowed' to handle this material. It's not a foreign world to her, in a way it might appear to be when you look at her and see a white Frenchwoman." He continued, "You watch 'Chocolat' and it's remarkable. This is a first movie by someone who has not one question about what her rights are as a storyteller."
Told in a flashback when a young woman goes back to Cameroon, the story rests on the relationship between France as a child and Protée, a young African man who takes care of the family. Gregory describes the film well: In almost every shot, Denis acknowledges the cultivated ignorance and cruel indifference of whiteness. Protée rarely speaks, and in one scene, in which he serves dinner, the camera cuts off his body at the neck. Denis has said, of Chocolat, "I think I had a desire to express a certain guilt I felt as a child raised in a colonial world," The New Yorker, May 38, 2018), The Fearless Cinema of Claire Denis. While Chocolat addresses colonialism in Cameroon, an attraction by France's mother to Protée precipitates his separation from the household. There was a vague resemblance to To Kill A Mockingbird in which children in the white supremacist South don't understand the codes of racism. William Dieterle made a film in 1937 with Errol Flynn, Another Dawn about a Colonial wife left alone, as the women in Chocolat is, who forms an attachment to a young officer, the key issue of race, of course, is absent here.
It occurs to me, that Jenkins who is now known for his films about the African American experience is looking to and showing films from the Third and world cinema. He also showed Garden a film about Palestinian male prostitutes living in Tel Aviv. I might have discussed the film under the heading family, because a close protective relationship between two of the boys is brotherly. Adi Barash, Ruthie Shatz (2003).
Returning to the Russians: Screening obscure, immaculately restored silent films in the opulent theaters of Telluride is one of the festival's finest cinematic pleasures. This year we saw a Russian film. We're going back to Saint Petersburg just as it becomes Leningrad, Fragment of Empire (1929). Fridrikh Ermler, began with some Dostoevskyian horrors of the Old Regime then followed a shell-shocked soldier to finding his new identity in the worker's paradise. I was completely captivated by close-ups of the Slavic faces held long enough to transmit emotion in a vivid acting style which has passed into time, the Soviet montage sequences and the melodramatic plot. There were rare glimpses of the worker's paradise: libraries, canteens, synchronized, polished and gleaming, spinning machines, marvels of industrialization and ownership of the means of production before, as Marc Cousin's so succinctly observed, "Stalin (Mao and Hoxha) ruined it for the rest of us." (Here Be Dragons 2013). The plot contained the usual reversals of fortune, kind acts rewarded and the image of a beloved which saves the main character. Accompanist Donald Sosin never fails to match the emotional tenor of the films, the music and sound and images wash, even flood over me and I always feel extremely grateful when I leave these films, because they are not available where I live.
I don't think I will ever get to the Pordenone silent film festival Le Giornate del cinema muto, but luckily some of the films that are shown there come to TFF. The Apaches of Athens, (1929) offering glimpses of the Plaka a neighborhood near the Acropolis where the poor lived, was a once-lost silent film from Greece by Dimitrios Gaziadis and introduced by TFF Board of Governors member and director Alexander Payne. Will the poor girl connect with the handsome policeman? Or will the rich girl he saves from a fall from a horse waylay him? Gaziadis worked with German directors Pabst, Lubitsch and Lang before he returned to Greece.
FAMILIES
Harried mothers of young children figured with very different outcomes in two films about the family. In Mike Mill's C'mon Johnny played by Joaquin Phoenix rescues his sister by taking her son Jesse on a trip with him as he works on a radio piece, interviewing children about the future. His mother is looking after his father, a noted musician suffering a breakdown. One remembers Jonah Who Will Be 25 in the Year 2000 by Alan Tanner. The child is lovely, he straightens out the man, there is love and frustration and people learn to talk about their feelings. I most enjoyed the antic scenes of Johnny and Jesse in the cities L.A., New York and New Orleans. The other harried mother is Leda in The Lost Daughter and she leaves her husband and children, as far as I could tell, seeing it only once, because she is ambitious and lands a career in comparative literature. There is also the possibility that she leaves them because the sex with Professor Hardy was very good. But I think it was more about a tight job market. We meet her on a Greek island before the flashbacks when she is much older alone, peevish and even aggressive in a twisted way. The film by Maggie Gyllenhaal is in English and scholar Leda, played by Olivia Coleman, is working on translations of Auden. We have to presume that in the novel by Elena Ferrante on which the film is based, they are translations into Italian. (Actually, I think I have heard that Auden himself could be rather unpleasant, certainly unkempt.) But this odd and vaguely confusing disconnect, she doesn't explain why someone speaking English, is working on translations of Auden, more or less describes the course of the film. The actors are marvelous, but the unfolding of the complicated plot doesn't make a lot of sense. We presume that the woman is alienated from her daughters and she feels remorse or something. In any case, she runs afoul of a Greek mafia family on the island and ends up getting stabbed with a hat pin. At one point I wanted to defend the main character on the grounds that many men leave their families for success in their work and we don't really judge them harshly but I'm not even sure it pertains.
In Flee, (Jonas Poher Rasmussen) a mixture of animation and raw footage, Amin narrates the harrowing story of his family's flight from Afghanistan to Rasmussen revealing the secrets of his past before he commits to a relationship. The family, his mother, two sisters and a younger brother, spent years hiding in an apartment in Russia while his older brother worked cleaning houses in Sweden trying to put together the money to get them out. They had to walk miles and miles in winter and watch while older weaker people suffered at the hands of brutal traffickers, they were almost drowned on a boat in the Baltic Sea when these unscrupulous traffickers took their money. Amin had to claim that his entire family was murdered in order to get asylum in Denmark. In the end, they were all separated but survived and reconnected. Amin not only found his gay identity¬ —afraid to disclose this to his brother and sister at a meeting, the brother takes him to a gay club, gives him some money and says "we always knew." I have seen many excellent films about refugees on the large overwhelming scale—_The Human Flow_ by Ai Wei (2017) is one of the best—but this is the first intimate story of one family's plight and endurance. I think that the animation made it possible for us to hear about the horrors of the story but not sink into darkness.
Celine Sciama has made a film, Petite Maman, about a little girl who, while staying with her parents to dismantle her grandmother's house after her death, goes off into the Autumn woods to find a hut that her mother built and played in as a child. She finds it, it's a glorious, mysterious thing—here we would call it a wikiup—and another little girl, who might be her mother as a child. Or perhaps the girls' play is imaginative, a way to combat the anxieties attendant on death, an operation and even some troubles with the parents. It brings to mind the problem of intent, am I misreading it, because I resist the supernatural, or did the filmmaker leave the story open to some divergent interpretations?
"The Hand of God" refers to a goal scored by Diego Maradona in a 1986 World Cup football game when he was playing for Argentina against England. Maradona should have received a yellow card for using his hand and the winning goal disallowed, but at a time before the video assistant referee technology he got away with it. After the match, Diego Maradona stated that the goal was scored "a little with his head, and a little with the hand of God." (Thanks to Jimmy Wales' crew who have clarified this for me.) The Hand of God is an autobiographical film by Paolo Sorrentino which takes place when he is a young man and Naples is awaiting the coming of Maradona, which will eventually, like a miracle, allow them to win against teams in the North. The film meanders through a weird vantage, as seen through the eyes of a young man, extended family, Neapolitan characters, a loving mother and father whose unexpected deaths release their sons into the world. Fabietto might have been with his parents who died by carbon monoxide poising in a cabin, except that he stayed behind for a soccer game. The action, the setting and the characters are all overseen by Sorrentino's swooping camera and pulled together with his elliptical editing. It's a visual world that is lush, with characters who manage to be absurd, even grotesque and retain their humanity at the same time. Sorrentino is nothing like Fellini, for one thing, he was never a Neorealist, and yet Fellini hovers in the background, like a grandfather or uncle. There is nothing outstanding about this film, like other films by the director which were more powerful, but I like to defend the right of a film like this to exist. I enjoyed it.
More on Maradona. I revere him the way one reveres say, Baryshnikov, both flew into the air with magical grace and magnificence. I wrote about Asif Kapadia's 2019 film about the phenomena and demise of Maradona in the Telluride Journal for that year.
I feel that there is a generation gap that interferes with my understanding of Marcel the Shell with Shoes On. Marcel is a shell with an eye, a mouth and shoes who lives in a house that has been left empty when the couple who lived there split up. Marcel's family and community hid in a dresser drawer during the couple's fights. The man emptied the drawer without looking into it into a suitcase when he fled leaving Marcel and his grandmother alone in the house. A renter comes and makes a documentary…
When I was about eight years old I read a series of books called the Borrowers by a British woman, Mary Norton, about a family that lived under the floorboards and borrowed things from the house to fit out their dwellings. So, I understand the fascination with tiny creatures improvising little houses. I know that the mixture of animation and photography is technically admirable. I also understand the sense of loss of both family and community that Marcel suffers. Is he a child of divorce? Is he the child within? Someone told me that it was normal for male creatures in animated stories to have girl's voices. It seems a little odd to me, but I suppose his gender fluidity is useful. The crowd seemed to love it, but I kept wondering how old one was supposed to be— what psychological, or emotional age—for the film to be appealing.
Despite careening around the town at full speed — there are nine theaters (the Palm, The Herzog, the Pierre, the Nugget, the Galaxy, the Masons, the Opera House, the Backlot, the Chuck Jones)—among the many films I missed were a set of films about music: Todd Haynes' film about The Velvet Underground; Songs for Drella about Warhol shot by Ed Lachman; Bernstein's Wall; El Gran Fellove, by Matt Dillon about a Cuban Musician; Hallelujah: Leonard Cohen, A Journey, A Song and Land of Gold a film following rehearsals of Sellars' and John Adams' opera: The Girls of the Golden West (Jon Else). I did manage to see Stay Prayed Up. D.L Anderson and Matt Dunning follow Lena Mae Perry and her gospel trio, the Branchettes through a recording session of stirring music at their church in rural North Carolina capturing lives completely dedicated to spirituality, community and music.
I have one thought about the huge subject diversity and inclusion. I have been to events around the country which note that their events take place on land stolen from the First People, in the San Juan mountains and Uncompahgre National Forests, that would be the Ute Indians.