Matthias et Maxime (Xavier Dolan, 2019)
"Sometimes you spend your life doing one thing and, in the end, it wasn't your thing," a somewhat listless Matthias (Gabriel D'Almeida Freitas) is told by a senior at his law firm a little way into Xavier Dolan's eighth feature, Matthias et Maxime. Matt has just been offered a promotion, and although the words are spoken in response to his visible hesitation in accepting it, they momentarily calm his distracted state and make him think. The earnestness with which he listens as the camera lingers on his face reveals that the doubts and questions they bring up are not purely related to his job. This is one of several moments in the film that suggest much more than what is immediately apparent, and shows the silences and disconnections of interior lives which provide a counterpoint to the high-spirited chatter and camaraderie evident in the gatherings of a group of long-time friends which run through the narrative.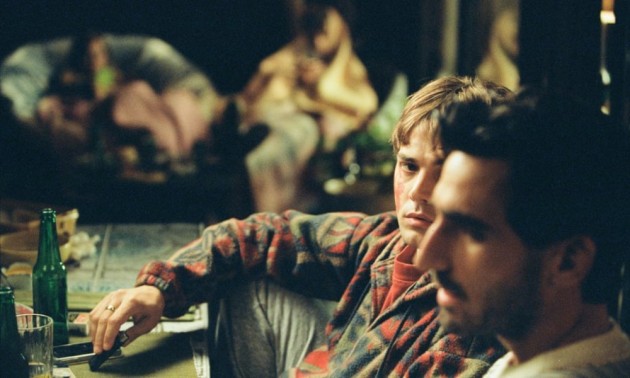 The scene occurs after Matt and his friends have returned from a lake house sojourn, a trip during which, as part of a student film the sister of one of the group is making, he kisses Maxime (Dolan). It is not their first time, as Max gently reminds Matt only to be quickly hushed by him. We don't see the kiss; it is viewed solely by the camera's eye which, positioned precisely where their mouths will meet, hides the kiss from the viewer, as if allowing the two a moment that belongs only to them. Even when the finished film is screened later for the others, we are not allowed a direct glimpse. What we see are blurry images caught by a mirror in a corner wall as they bounce off the television screen and the group of friends as they watch and react to the film. This unseen kiss, however, unlocks a secret world of suppressed emotions and longings that simmer and erupt throughout the film, sometimes through furtive glances and wishful daydreams and at other times through misdirected outbursts, making both its titular characters and the audience yearn for its acknowledgement. Moreover, its urgency is heightened by the countdown the film initiates as Max prepares to leave for Australia; his destination's literal and figurative distance from their immediate present, evidenced in a later scene in which Max's difficulty with English prompts a person to wonder how he will communicate in Australia, almost necessitating a resolution.
While less apparent in the scenes with their other friends, of which there are many and which constitute the film's most entertaining and energetic sequences, Matt and Max are set up as contrasts. Matt, a budding lawyer, is confident and outspoken, if occasionally controlling and dismissive, while the shy and more easy-going Max is a bartender whose impending move abroad is a desperate attempt to escape a difficult home situation and start afresh. Their dissimilarities, apparently largely due to their social class and family backgrounds, are embodied in their relationships with their mothers, which is a familiar Dolan preoccupation. Matt's mother cooks for Max and buys him presents in the days leading up to his departure, her generosity and affection determined to make up for the absence of both in his own home. Max's working-class background contrasts sharply with those of his more affluent friends who are free to pursue professional careers, making the giving of an expensive gift a delicate issue and causing Matt to defend Max's decision to take up a job at a bar in Australia to a friend studying at Cambridge University who finds it absurd. Max's own mother, played by regular collaborator Anne Dorval, is an abusive ex-addict whose infrequent offers to cook for him are only manipulative ploys to extract money, possibly to return to her old, self-destructive behaviour. With no father or sibling to share the responsibility, home for Max is an overwhelming, violent, and painful space.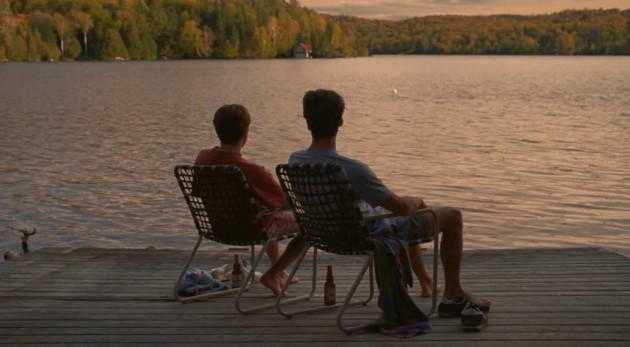 The first time we see him in his own home environment, Max is in a house filled with clutter and dirt. It is messy and dingy with little light and shows signs of defeat and neglect. It is up to him to clean, shop, cook, and look after his mother, as well as deal with her temper and demands. He is surrounded by objects which are almost exclusively in shades of red, pink, and brown. The scene is followed by one in which we see Matt in his everyday environment, a neat, sparse, clean and shiny office, surrounded by glass and dominated by blues and greys. Max and Matt are associated with these colours throughout. From a distinctive birthmark which covers one half of his face to the t-shirts and jackets he wears or even the blood that trickles down his forehead after a heated episode with his mother, Max is predominantly linked to the colour red. Matt, on the other hand, is almost always in blue, from his sharply-tailored suits to the jackets and t-shirts he wears at home and at parties. It is also Matt who is twice associated with water: the blue waterbed before the filming of the kiss and, more significantly, the lake in which, in the first blue light of daybreak, he has his almost cathartic swim. Interestingly, their colours are reversed in the scene where they kiss for the film. "It adds contrast," says its amateur filmmaker when Matt asks if he must wear the red shirt he has been given. It is as if in kissing for the film, what comes naturally to them is rendered strange by the camera and its imposition. The order is set right only much later in the film when Max and Matt, clothed in shades of red and blue respectively, find themselves for the first time uninhibitedly and passionately in each other's arms, this time with only Dolan's camera to witness the moment.
Matt is seemingly the more troubled of the two characters, and the film records his struggles to come to terms with his desires and identity, placing him in situations such as a charged encounter with brash Toronto lawyer McAfee (an effective turn from Beach Rats star Harris Dickinson), that brings him to a better understanding of himself. Max, on the other hand, despite the unsteadiness of his life, has a quiet surety about him, and the tender vulnerability of Dolan's performance does much to drive home the emotional weight of Matthias et Maxime. With its hazy, softly-lit interiors and twilight lakeside views, a mellowness envelopes the film, already almost entirely free of clear, bright lighting, that also speaks to its themes of irresolution and half silences. It is the rising and falling rhythms of Jean-Michel Blais' echoing soundtrack and Dolan's choice of a mix of lively and burning, searching pop songs that serve to fill the silences of the characters, offering the certainty they so desperately seek.