Tales of Mystery and Just Plain Imagination: The literary sources of Mario Bava's cinema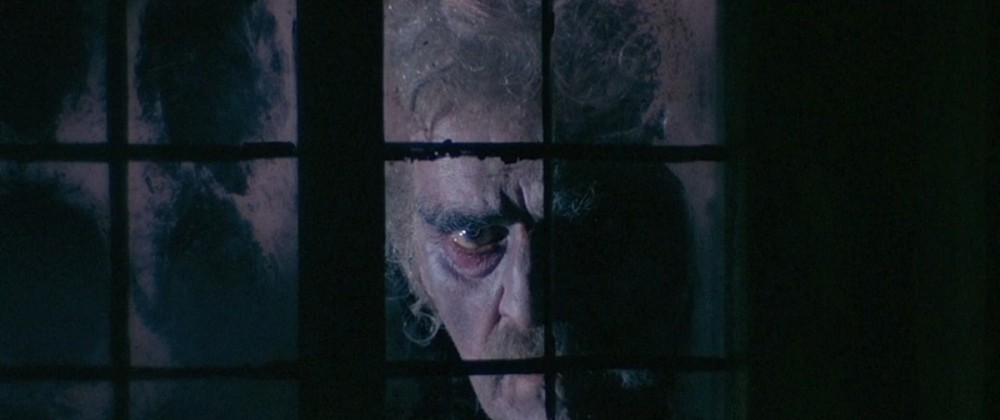 In April 1960 Italian bookshops saw the appearance of a thick volume published by the prestigious Feltrinelli, I vampiri tra noi (Vampires Among Us), an 800-page anthology curated by Ornella Volta and Valerio Riva which collected thirty-seven vampire stories by diverse authors, from Téophile Gauthier to Guy de Maupassant, from John Polidori to Prosper Mérimée, from Lautreámont to E.T.A. Hoffmann, from M.R. James to Edgar Allan Poe, including also contemporary writers such as Thomas Narcejac and Ray Bradbury. The tome—which opened with the confession penned by the real-life "Acid Bath Vampire," John Haigh—found fertile ground in the country: Terence Fisher's Dracula, released in Italy in late 1958, had been a box-office hit (over 600 million lire grossed) despite the venomous critical reactions it had elicited. "The regret for an era when cinema was able to give us such masterworks as Nosferatu is still alive, if we think about the laughable grossness of Dracula," wrote the renowned Nino Ghelli, blaming the film's "banal photographical tricks", its "vulgar sadistic suggestions," and its "bloodily stupid sequences." 1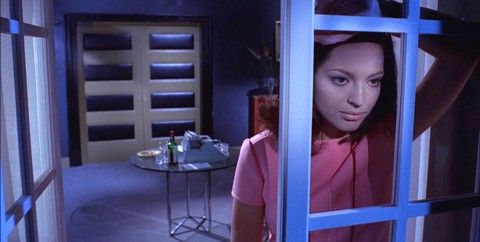 5 Dolls for an August Moon
Vampirism had become the fad of the day. In addition to anthologies presenting more or less prestigious foreign authors, soon newsstands were inhabited by horror paperbacks with such evocative titles as I Racconti di Dracula (Tales of Dracula), which collected material penned by Italian authors under English pseudonyms. There were even horror photonovels: Malìa. I fotoromanzi del brivido collected photo novel versions of horror films and stories assembled specifically, as with the "normal" photo novels, an extremely popular format in post-WW2 years.
But vampirism became almost immediately a target for parody: Sandra Mondaini, Raimondo Vianello and Gino Bramieri starred in the musical stage play Un juke box per Dracula (by Marcello Marchesi, Renzo Puntoni and Italo Terzoli) which aimed at such diverse satirical targets as the eponymous Count, Pasolini, pop/rock singers (the so-called "urlatori", screamers) and Vladimir Nabokov's novel Lolita. The first proper Italian vampire film to come out—Steno's Tempi duri per i vampiri, featuring Christopher Lee—was also a spoof. Just a month after the publication of I vampiri tra noi it would be the turn of Renato Polselli's L'amante del vampiro (aka The Vampire and the Ballerina, 1960) to hit the screens.
Besides its meritorious pioneering work and philological accuracy, I vampiri tra noi —graced with a preface by Roger Vadim, whose film adaptation of Sheridan Le Fanu's Carmilla, included in the anthology, would find theatrical distribution in Italy only in late 1960 as Il sangue e la rosa (aka Blood and Roses) —is of vital importance to the history of Italian cinema for at least a couple more reasons. Scrolling down the list of stories included in the volume, we find two Russian ones, namely Nikolai Gogol's The Vij and Aleksei Tolstoy's The Wurdalak (translated as La famiglia del Vurdalak), both transposed to the screen by Mario Bava, respectively with La maschera del demonio (1960) and as an episode of the omnibus I tre volti della paura (1963).
However, Bava was already familiar with The Vij, a story he used to tell his children as a macabre fairytale before they went to sleep 2 . "Naturally, the scriptwriters' brilliancy—mine included—made sure that absolutely nothing of Gogol's story remained in my film," 3 he would later quip, in a 1976 questionnaire interview marked by a noticeable sarcasm throughout. Bava's first outline of the project, a four-page synopsis dated September 1959, was actually much closer to the original tale than the finished film. Moreover, even though he is not credited among the scriptwriters in La maschera del demonio, Bava definitely collaborated in the shaping of the story, as he himself acknowledged in the above-mentioned questionnaire and as the ministerial papers at the State Archives confirm.
Born under the sign of a genre project with a prestigious literary source, Bava's career veered between high and lowbrow inspirations, often within the realm of the Fantastic. As his son Lamberto Bava recalled, "the producers wanted this type of film and kept asking him to make them. Then he began to get passionate and read almost everything he could lay his hands on that belonged to Fantastic literature, a genre which in Italy was very hard to find." 4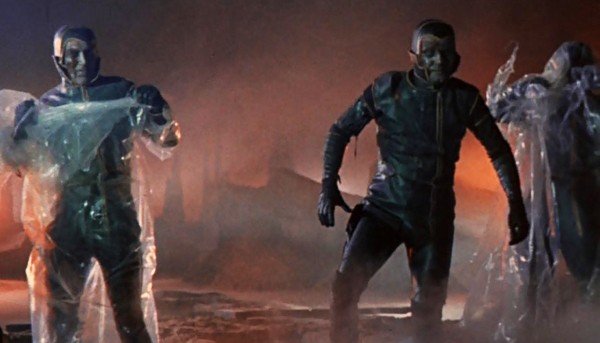 Planet of the Vampires
Italian Gothic was frequently characterized by its reliance on prestigious models—albeit sometimes only nominal or even forged 5 —and I tre volti della paura is no exception. An Italian/French co-production originally entitled La paura / La peur and to be shot in black-and-white, as per the production papers, it features a triptych of stories based, as the opening credits proudly claim, "on works by Maupassant, Tolstoy and Chekhov." Which is not quite the case, once we dig under the surface. The Wurdalak, a grim vampire tale derived from Tolstoy's novella (however, bear in mind that this was not Count Lev Nikolaevich Tostoy who wrote War and Peace, but his cousin Aleksei), was conceived as the pièce de résistance for the foreign markets given the presence of Boris Karloff as the vampire patriarch Gorka, and reprised a similar atmosphere as La maschera del demonio. Interestingly, Karloff came on board late in the preproduction process, after the economic intervention of A.I.P. and the decision to shoot in color: an early seven-week shooting schedule (with filming slated to commence on February 28, 1963) lists a rather different cast to the one we see in the film, with Mark Damon as the only American actor. The role of Gorka was initially to be played by Ennio Balbo, while the French Bernard Farber (misspelled "Bernard Faber") was cast as Pietro (played in the film by Massimo Righi).
Things get even more interesting with the other two segments. The Telephone was not inspired by any Guy de Maupassant story, but instead came from the work of a certain F. G. Snyder, whose name appears only on the film's publicity material for foreign audiences: it is likely that the elusive Mr. Snyder was just a fabrication on the part of Bava and his collaborators, Marcello Fondato, Ugo Guerra and Luciano Martino. As with The Wurdalak, production papers list a partly different cast: Stewart Granger's wife Caroline LeCerf (who had appeared in Totò di notte n. 1) and then Annamaria Pierangeli were initially considered for the role of Rosy, which eventually went to Michèle Mercier, while Valentina Cortese was tentatively cast as Mary and then replaced by Lydia Alfonsi. Curiously, the shooting plan features three more roles: a "Colonel" (to be played by Gianni Di Benedetto) and two cops, who don't appear in the episode. It is likely that, as with 6 donne per l'assassino, Bava cut part of the script to make the story (set entirely within the walls of Mary and Rosy's apartments) more effective.
The third (and best) segment, La goccia d'acqua, initially featured Alida Valli as Miss Chester, the nurse who has the very bad idea to steal a ring from a dead woman's finger, only to be frightened by the sight of the elderly lady's frightening appearance in her own apartment, announced by the nerve-wracking noise of a drop of water leaking from a faucet. In the film, Miss Chester has the face of French actress Jacqueline Pierreux, Jean-Piere Léaud's mother. Moreover, the horrific Miss Perkins was initially to be played by a real actress, Adriana Facchetti: instead, what we see in the film is actually a grotesque wax mannequin sculpted by Bava's father Eugenio, whose fixed, obtuse grin is both droll and spine-chilling at the same time. Once again, Bava's gambit would prove one of the film's highlights. The revenant's implacable advancing is achieved by placing the dummy on an off-screen dolly which allows it to advance toward the camera as if it was floating in the air. It was a similar trick to the one employed by Jean Cocteau in Beauty and the Beast (La Belle et la Bête, 1946), in the scene where Josette Day first visits the haunted castle and later re-used among others by William Castle in House on Haunted Hill and The Tingler (both 1959). But the way Bava plays on the theme of hallucination (as he will later do in Il rosso segno della follia, with the apparitions of Laura Betti's ghost) indeed recalls a famous story by Anton Chekhov, The Black Monk, which describes the apparition of the titular ghost to the protagonist, Kovrin, as follows: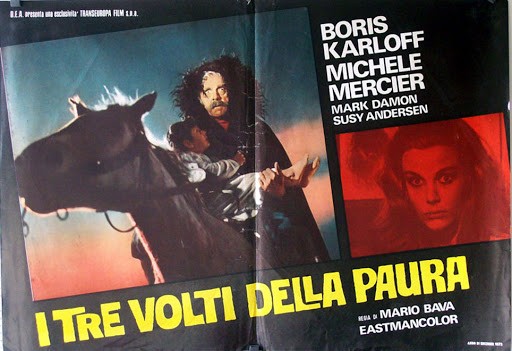 Tre Volti della Paura
A monk, dressed in black, with a grey head and black eyebrows, his arms crossed over his breasts, floated by him…. His bare feet did not touch the earth. After he had floated twenty feet beyond him, he looked round at Kovrin, and nodded to him with a friendly but sly smile. But what a pale, fearfully pale, thin face!
So, after all, there is a bit of Chekhov in I tre volti della paura. Still, despite what the credits say, the bulk of the story is nowhere to be found in any work by the great Russian writer. The inspiration comes from another popular horror anthology, Storie di fantasmi ("Ghost Stories"), published by Einaudi in 1960. Edited by the renowned novelists Carlo Fruttero and Franco Lucentini, it included plenty of illustrious names (H.P. Lovecraft, M.R. James, Arthur Machen, H.G. Wells) and in turn gave Elio Petri the idea to adapt George Oliver Onions' chilling story The Beckoning Fair One into what became Un tranquillo posto di campagna (1968).
However, among such prestigious company, a grim little short story titled Dalle tre alle tre e mezzo ("From three to half-past three") and signed "P. Kettridge" struck the scriptwriters' imagination. In fact, some details in Kettridge's story, namely the protagonist's squalid apartment and the leaky faucet, were retained verbatim in the film. But the most interesting element in all this is that, as with so many Italian filmmakers of the period hiding behind Anglo-Saxon pseudonyms, "P. Kettridge" was none other than Franco Lucentini himself. Similarly to what happened with contemporary pulp paperbacks, the anthology displayed a fake "original title" (Ghosts Don't Kill) and Lucentini was credited as the Italian translator. In the preface to the anthology, Carlo Fruttero wrote with sharp irony that Kettridge, alongside William Fryer Harvey and William Wymark Jacobs (included in the anthology with August Heat and The Monkey's Paw, respectively), seemed to "belong to the kind of writers who have only one story within themselves." 6
This humorous travesty is very much in tone with Bava's own sense of humor, which resulted in such extemporaneous jokes as signing some of his films with the aka "John Old" (in interviews, Bava often posed as an elderly man, even though he was only 65 when he died). A passionate reader, he could appreciate high literature and pulp fiction, and (as seen above) had a penchant for Russian authors. Lamberto Bava claimed having the idea for the title of Dèmoni (1985) when glimpsing Dostoyevsky's three-part novel Demons one day in his father's library, and the director's films often feature cultured references. In Ecologia del delitto, aka Reazione a catena (1971), a dialogue between Anna Maria Rosati and Chris Avram centers on the "Squonk," an imaginary creature of American folklore, first described by William T. Cox in his 1910 book Fearsome Creatures of the Lumberwoods, with a Few Desert and Mountain Beasts (never translated into Italian) and then by Jorge Luis Borges in the introduction to his Book of Imaginary Beings (1957), first published in Italy in 1962 (as Manuale di zoologia fantastica) and translated by none other than Franco Lucentini. Bava (or his collaborators) took the description of the Squonk verbatim from Borges' book.
Lisa e il diavolo (1973), Bava's most heartfelt project, teems with cultured references. According to Lamberto Bava, some lines of dialogue were lifted verbatim from Dostoevsky's The Demons; Leandro's (Telly Savalas) monologue, with its references to ancient history and Greek mythology, recalls Jean Ray's novel Malpertuis (first published in Italy in 1966 by the Milan-based Sugar 7 ) to which Lisa e il diavolo can be compared for the theme of the memory of an ancient status that rises in characters that are only apparently human. With thought-provoking intuition, Bava scholar Alberto Pezzotta even hypothesized an affinity between the film and Pierre Klossowski's experimental novel The Baphomet (1965, published in Italy the following year by Sugar), whose paradoxical, nonlinear story about the "eternal return" experimented by the souls of Templar knights devoted to a disturbing young idol (the titular Baphomet) has indeed similarities with the film's tangled plot. But, again, these cultured references or affinities rub shoulders with definitely lower sources of inspiration, namely a well-known episode of the TV series "The Twilight Zone," The After Hours_—a perfect testament to Bava's ability to blend high and lowbrow popular culture, surrealistic imagery and comic books. Another episode of Rod Serling's TV series, Third from the Sun, from a short story by Richard Matheson, provided the twist ending for _Terrore nello spazio (1965), in turn based on Renato Pestriniero's short story Una notte di 21 ore, first published in 1960 in Oltre il cielo. Missili & Razzi 8 , one of the many pulp magazines that came out in the mid-to-late 1950s to satisfy the public's demand for science fiction.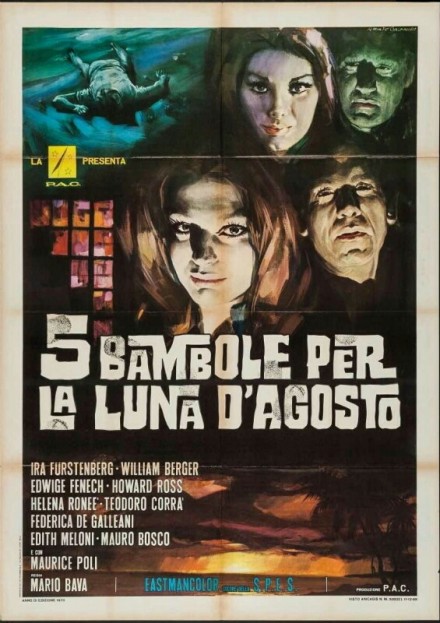 5 Dolls for an August Moon
A passionate reader of the Gialli Mondadori paperbacks, Bava particularly savored the short stories included in the last section, the "Rivista di Ellery Queen": one of these, Michael J. Carroll's L'uomo e il bambino (Man and Boy), provided the inspiration for one of his best works, the 1974 grim thriller Cani arrabbiati 9 . Similarly, Al 33 di via Orologio fa sempre freddo_—the first draft of what would eventually become _Shock (1977), the director's final feature film—, penned by Dardano Sacchetti and Francesco Barbieri, was loosely based on a crime novel by Hillary Waugh, L'ospite di notte, also published in the Gialli Mondadori series. But what is most striking in Shock is the mixture of the trivial and the poetic, everyday banality and unexpected Surrealist imagery. Terror is embodied in everyday life and the opening images, as the camera wanders through the garden, in the basement and around the empty house, recall the hyper-realistic precision of Anna Maria Ortese's ghost stories, such as La casa nel bosco or Sulla terrazza sterminata 10 . Ortese, one of Italy's leading personalities in 20th century Fantastic literature, imagined the insurgence of the unknown and the supernatural out of minimal cracks in everyday reality and distilled the uncanny from the trivial. So does Bava: one of the director's trademark themes, the inanimate which becomes animate, here is embodied from time to time by a ceramic ornament, a swing, a cutter, a wardrobe.
Wading through Bava's unfilmed projects, one can find other surprising items. Star Express, the film he was about to start filming when he passed away (shooting was slated to commence in May 1980), was, in Lamberto Bava's words, "a sort of outer space version of Agatha Christie's classic whodunit And Then There Were None," thus marking the director's second encounter with the Queen of Mystery after the ill-fated 5 bambole per la luna d'agosto (1970), a barely disguised rip-off of Christie's most famous novel.
Even more intriguing is Il vagabondo dello spazio, a sci-fi comedy filled with grotesque elements and liberally adapted from Philip José Farmer's novel (signed under the pseudonym "Kilgore Trout") Venus on the Half-Shell, published in Italy with the title Venere sulla conchiglia 11 in the unmistakable white-and-red sleeve of Mondadori's paperback series Urania, the sci-fi counterpart to their popular Gialli. The film was to be produced by Fulvio Lucisano and starring the popular comedian Paolo Villaggio. The nine-week shoot was scheduled for January/March 1979 but eventually the project fell apart, possibly for budgetary reasons. 12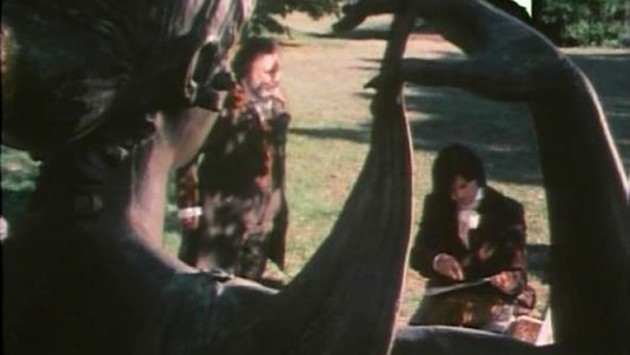 La Venere D'Ille
Bava's last completed work was centered on another Venus, and returned to the terrain of classic Gothic. The made-for-TV La Venere d'Ille, filmed in 1978 and co-directed with his son Lamberto, was aired only after Bava's death as part of the series _I giochi del diavolo, in May 1981. One of the most interesting things about it is the contribution of co-scriptwriter Cesare Garboli, a distinguished literary critic and a scholar of the works of such important and groundbreaking female writers as Elsa Morante and Natalia Ginzburg. Moreover, a few years earlier Garboli had penned the introduction for the rerelease of Nascita e morte della massaia, an exemplary Surrealist fable on the role of woman in patriarchal society, written by the "feminist avant la lettre" Paola Masino.
Through different ways, Garboli and Bava use Mérimée's tale for a discourse which finds its citizenship in cinematic and literary Gothic and which here becomes central: the status of women. In a period characterized by feminist struggles, Mérimée's misogynist fantasy becomes a symbol of retaliation in Bava's film. But the beauty of La Venere d'Ille is that, despite being a work for the small screen, it manages to convey this message without betraying Bava's exquisite, unique visual style, showing us once again not only his mastery of the medium but his capacity to give life to alluring, endlessly fascinating female figures.
Mario Bava was a man who disliked to go out at night, hated to travel and barely left Rome, even when it was for the short span of time of some location shooting abroad. But he could take you to 18th century Russia or to a faraway planet in the future, and have you make acquaintance with vampires and ghosts, faceless murders and aliens, and even the devil—a lollipop-sucking bald devil with a penchant for sarcasm, that is. And, with his best work, he managed to catch that longing for the unpredictable and the unknown which is the very essence of the Fantastic. Certainly, the fact of being such a passionate reader played no small role in that. But it wasn't enough. "Little by little I did my research," he commented. "But then I discovered that certain images come out by themselves, you have them inside yourself." 13
Notes