In the Shade of Volcanoes, Valpi (Richard Tuohy, Diana Barrie, 2019)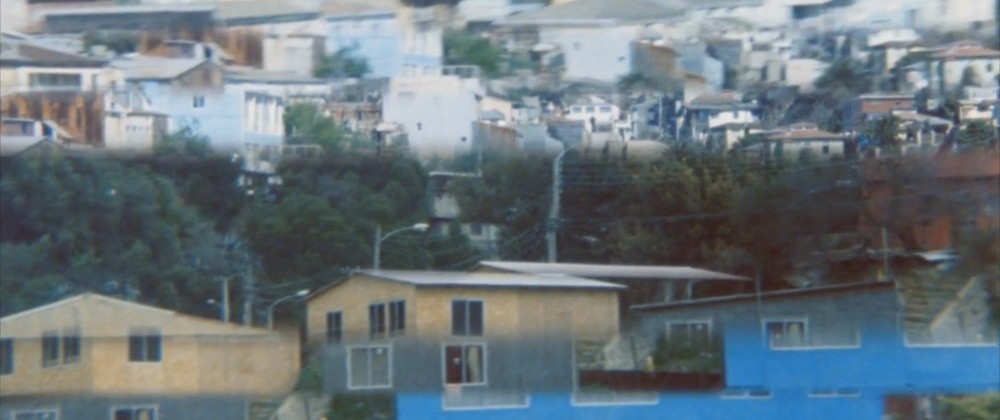 This text is presented as part of the CRITIQUES series, organized and presented by VISIONS, in collaboration with Hors champ and Offscreen.
Translated from the original French by Olga Montes
---
Was a fixed place needed for the image to be, at this point, pushed to question the influx from which it draws its movement? A place that certainly exists, but which, in any case, appeared to me through everything I did not know about it: Valparaíso, Chile. In the shade of volcanoes, nestled in hills.
To have been there, to have looked at it, to have traveled through its space, is less the flat attestation, less the duly fixed strip of memory, less an overall veduta, than a geographical pattern worked like a patch of weaving, which reminds me of a water that fills my screen from below, or a theater curtain that is drawn.
In fact, the water strings itself together: the walker's step leads to the appearance of a portal whose frontality seems to be there only to show that it can be broken, behind and over the legs, and whose central door drowns an image that escapes itself, inasmuch as it would have us believe that it could overlap itself.
In the shade of volcanoes, nestled in hills, spilling on my screen, Valparaíso mimics the tectonic folding that borders it, crushes it, tranquilizes it and opens it up to the sea. The mimesis becomes deaf and blind: it does not hear the ambient noise, it hardly reproduces an exact copy; it prefers to recharge its batteries in the ground, it draws a souk rhythm from it, it molds itself to the body of the plates, it adopts them, loves them, makes them its own, enthusiastically performs their flow.
In the confines of the optical printer, in the shade of volcanoes, nestled in hills, spilling over on my screen, exploring this other extreme frontier that touches it, Valparaíso finds its shape, invents an eruption, ties ribbons that come alongside one another, and, in this way, gives an answer to its rolling cars, to the quidam that sweeps its sidewalk, to the indolent dog that falls asleep on it.
From left to right, from bottom to top, its typography and its signposts say absolutely nothing but the merry-go-round by which it slightly mocks me, engulfing me in the crazy din of its demanding horns, its striking rhythm, its ironic rattles. At my fingertips, Valparaíso militates and laughs, hilarious, festive, joyfully deranged.
The more I look at it, the more it looks like what I do not know and therefore like itself, but at the same time, the more it dissolves, stubborn and disobedient; the more I look at it, the more it fragments like an old toy and the more ductile, viscous and disjointed it becomes. Valparaíso stretches out like soft sugar, fills my screen with disparate colors, erases my kitchen, overlays like big blocks of ice, twirls, turns, schemes, shines with all its fires, destroys, wrecks and blights the touristy image that smears it.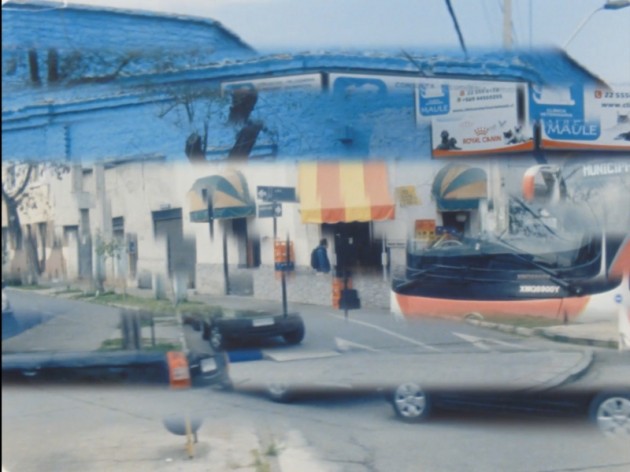 In the confines of the optical printer, in the shade of volcanoes, nestled in hills, spilling over on my screen, at my fingertips, Valparaíso now moves on to another stage of its exploration and plunges into itself. From the bursting of its parts, it manages to undulate and identify a center in the movement that it was brandishing like a sign, loud and clear, two minutes earlier. The parade becomes internalized, turns more intimately towards what pulses and propels it, and in this way unfolds a kinetics that suddenly becomes immanent, from the floors of the stone walls that pass like magnetic strips, like film, like what is reversed from the outside in.
But Valparaíso now begins to thwart its inner carousel and retreats ever more deeply as it climbs its sugar strata towards a vertical adequacy that always slips away. Its windows, its lettuce heads, its sheet metal walls put me back in a hollow, pointing at me, so to speak, as if I was now to blame. Valparaíso, in fact, seems to suggest that I am the one responsible for the turnstile it has become by being what I do not know and by which it now very ostentatiously accuses me of ignoring it, bellowing, "This is what happens to those who don't know me."
Valparaíso is rather swollen. How dare it accuse me of not knowing it? I who am interested in it, who pretends nothing, who peruses its Wikipedia page, who looks at the photographs taken by its visitors, who reads about the continental drift in order to conceive what the earth's crust is at the origin of the tectonic displacements that explain its mountains, who really tries to understand it, to open up to it, all decomposed and drunk as it is. How can it so blatantly and insolently belly laugh at my candid stance?
But that's not all – to the point of being laughable – Valparaíso summoned me, more and more raucously, to look at it with half a smoked glass at my fingertips, as if I had half a smoked glass at hand and as if I had the time, engrossed in my kitchen screen in my tasks, to lend myself to a scopic experience that seems so prosaically old! As unlikely as it may seem, Valparaíso seeks, as an exhibitionist, to show me that it can be three-dimensional with the help of almost nothing! That its movement from the ground, from the mountain, from the optical printer, from the screen, from the vertical strips, from the horizontal panoramas, moreover, moves towards me!
In the confines of the optical printer, in the shade of volcanoes, nestled in hills, spilling over on my screen, at my fingertips, lying in my eyes, threatening to spill into my kitchen, Valparaíso really overdoes it!
I think I love it.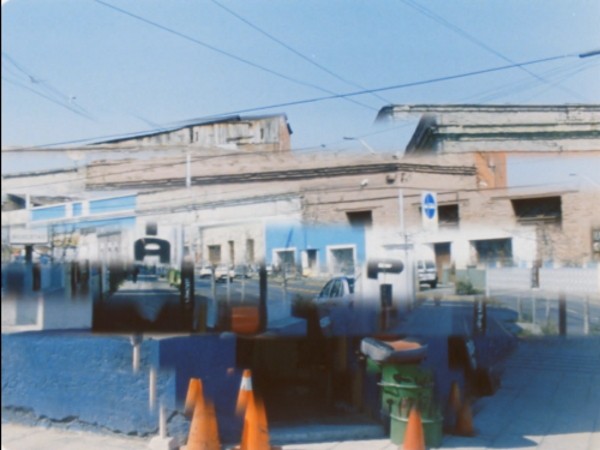 Time sensitive screening link at la lumière collective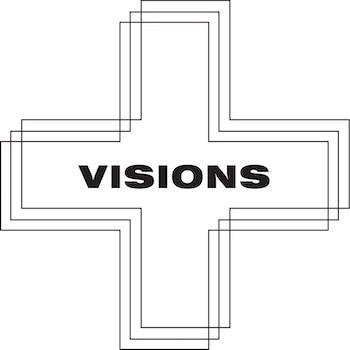 ---
VISIONS is a series of monthly screenings devoted to experimental documentary cinema and artists specializing in moving images. Curated by Benjamin R. Taylor in Montreal since 2014, VISIONS presents these films in various venues and in collaboration with local festivals such as the Cinémathèque québécoise, la lumière collective, être, Ex-Centris, RIDM, FNC, POP Montreal and Cinéma moderne. Filmmakers always attend screenings and we help them travel to/within Canada by organizing screenings, workshops and tours. Films are always presented in their original format. VISIONS also takes part in several international festivals and exhibitions and helps bring creators and the public together.
The online program CRITIQUES is a consequence of VISIONS' postponed programming activities. Starting from a selection of works initially programmed for the 2020 season, the idea is to bring them into direct conversation with a local writer who is asked to reflect, refract, retrace and reinterpret the work in question. The collected texts are first published in a special edition of Hors champ. Then, each week, a selected work is shown on the new virtual-pandemic-proof screening platform of the local microcinema la lumière collective, together with the text.
Each iteration invites a guest writer to establish a dialogue with the images in his or her own way, with the aim of renewing ideas, provoking conversations, establishing new discourses. At a time when online broadcasting is abundant and boundless, CRITIQUES offers something to read and think about. Something to take with you until we meet again.
Subscribe to our mailing list to receive updates on the project.
The CRITIQUES series is presented with the support of the Canada Council for the Arts, the Conseil des arts et lettres du Québec and the Conseil des arts de Montréal.