Alfred Hitchcock & Grace Kelly
Dial M For Murder, Rear Window, and To Catch a Thief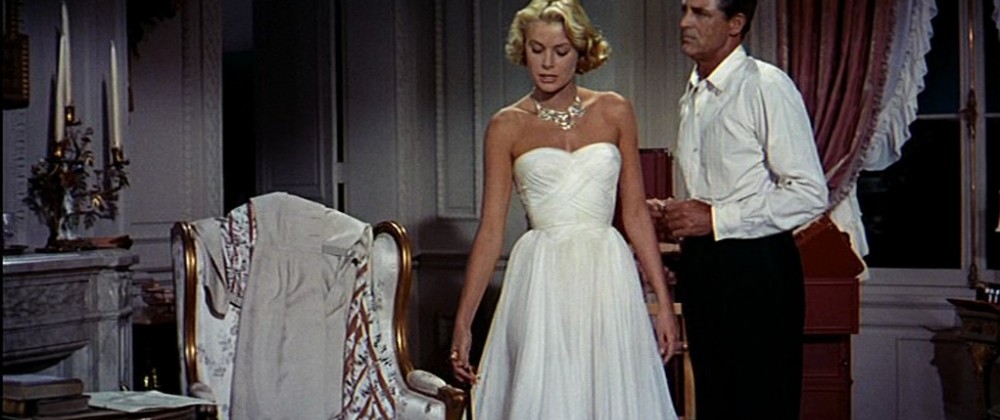 Mr Hitchcock often is reputed to hold actors in disdain. But he actually has a special way with them, and is able to get exactly what he wants in the way of a performance. His inimitable humour puts them at ease, while his enduring patience gives them any confidence they may need. Of course, sometimes he merely wears them down until he gets what he wants.
(Grace Kelly, A Comment, Spoto, 1979/1992: xiii)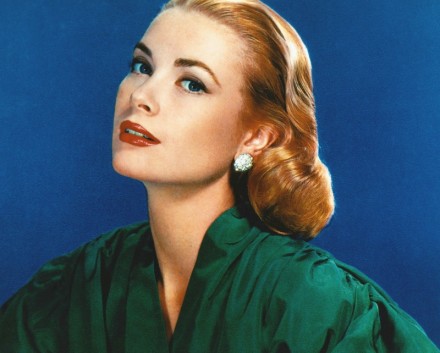 Fade in… (Before Hitchcock)
Much has been made of Alfred Hitchcock's penchant for blondes but no one embodied his ideal in quite the same way as Grace Kelly, who starred in three of his films at the peak of his American career. Molly Haskell classes Kelly as one of those "movie-movie stars in living Technicolor" (Haskell, 1973: 236). David Thomson has written, "Grace Kelly was enough to make Hollywood believe in itself" (1994: 394). Kelly's biography has been covered by many writers, most of whom are consumed with her extravagant love life and her extraordinary decision to abandon Hollywood at the age of twenty-six when she was at the height of her Academy-Award winning but short career – with a mere eleven films in the can. Her nouveau riche background in Philadelphia, born into an Irish-German family who made their money in construction, has formed the basis for much of the behavioral analysis that has dogged these books, with little concern for her performance or acting skills. Invariably, however, some of these have significant commentaries from Kelly, her close friends, colleagues and family members and are necessarily included here from time to time.
Kelly was a sickly child who was apparently ignored in favour of her more athletic and garrulous siblings and spent much of her early years play-acting with a doll collection which she kept into adulthood. Her mother, a former model and physical education teacher, described her as an adolescent: "In her teen years, she was nothing but a giggly somebody with a high nasal voice. She always has had trouble with her nose, and in her childhood winters she had been the victim of one long sustained cold in the head. That gave her the peculiar voice. Her enjoyment of food gave her a little extra weight. And, like her father, an athlete and entrepreneur, she was nearsighted, which made it necessary for her to wear glasses. All in all, she was nobody's Princess Charming in those days" (Spada, 1987: 31). It is true that her parents were unimpressed with her desire to enter the theatre, albeit she had been named for her father's sister who had died young and made her own entrée starring in a play written by his Pulitzer Prize-winning playwright brother George. Another uncle, Walter, had performed vaudeville. She attended the American Academy of Dramatic Arts in New York City having failed to gain admission to Bennington College, an application made at her parents' insistence. It appears that her uncle's reputation as a playwright proceeded her and when she was asked to audition it was from his 'The Torch Bearers'. The secretary of the Academy's board of trustees, Emil Diestel, noted that Kelly had "a 'good' personality; 'very good' stage presence; 'good' intelligence; 'expressive' dramatic instincts; and 'positive' imagination. The only negative remarks were reserved for Grace's speaking voice, described as 'nasal' and 'improperly placed.' But Diestel very much liked what he saw; 'Lovely child,' he concluded. 'Should develop well'" (Spada: 36).
The author Jane Ellen Wayne was enrolled on the same course a couple of years later and describes its training:
It has been said that the Academy was the best finishing school in America. As a former student, I can verify that. My own father did not recognize my voice on the telephone after two months of diction lessons. We were told from day one that before we set foot on stage, we had to learn to walk, talk, and breathe all over again. It was basic training for the theater and a rebirth for anyone who wanted a new start in life.… I continue to walk with my knees slightly bent, which gives the body balance and relaxes the legs. If I'm nervous before giving a speech, I go off by myself and rotate my head very, very slowly with my mouth open and my tongue hanging loose… Breathing from the diaphragm was a most important lesson. Touching the back of the upper and lower teeth with the tongue is excellent for good pronunciation. We were also taught the art of applying makeup, how to open the door and enter a room gracefully, how to sit down and get up again, how to walk up and down the stairs, how to get in and out of a car, how to put on a pair of gloves, and how to smoke a cigarette. (Wayne, 1991/2004: 51)
Wayne recalled how the Vice-President of the school corrected Colleen Dewhurst one day: "A lady is a woman who would do anything, but only as a lady would do it!" (Wayne: 52) She was trained in fencing, which would help her years later in both productions of The Swan; and improvisation exercises carried out in areas like the Bowery introduced her to worlds quite unfamiliar to the teenager. By the time Kelly had completed her first year at the Academy her manners and posture had changed and "there was no trace of her Philadelphia accent and she spoke in a lower and gentler tone of voice. When the Kelly brood made fun of her new manner of speaking, Grace retorted, 'I must talk that way for my work'" (Wayne: 54-5). Her fellow student Mark Miller recalled: "… Grace corrected her accent a little too much – she started sounding British" (Spada: 41). In fact she ended up placing a clothes peg on her nostrils to try to deflect the impression of permanent sinusitis. As biographer Robert Lacey puts it, "part Jane Austen, part Mary Poppins, Grace's voice breathed tutored and well-bred vulnerability" (Lacey, 1994: 63). She had to fight the open prejudices of other students who believed she was only there on the strength of her connections. "All she had was technique. She knew her craft, but as for the actor's temperament, innate talent, forget it" (Spada: 44). Kelly made her Broadway debut opposite Raymond Massey in The Father in late 1949. Raymond Massey denied she was cast for her height alone: "She got the part because she showed the most promise. All through the rehearsal period we were impressed with her earnestness, her professionalism, and her good manners. She was organized and dedicated… A rare kind of young person who had a hunger to learn and to improve herself" (Spada: 56). The critics were kind: "She has a naturalness that owes nothing to artifice. No airs, a simply charming freshness" (Mitterand, 2007: 285). She wouldn't return to the stage for some time even though she got the best notices of any of the cast. As she recalled, "I had to wait two years for another play. People were confused with my type, but they agreed on one thing – I was either too tall, too leggy, or too chinny" (Wayne: 64).
She spent those years modeling and appearing in live television and she would eventually have more than 60 shows in her repertoire, a pioneer of those tricky recordings, along with her great friend, the actress Rita Gam, with whom she would share cheap digs in low-rent areas of Hollywood whenever they were shooting films in California. She described her television work many years afterwards: "It was like working on the edge of a precipice! I'll never forget one time I was playing a scene in bed with all my clothes on under the covers so I'd be ready to run into the next scene dressed. But the camera didn't stop in time, and they didn't cut away – so there I was, on the screen getting out of bed with all my clothes on!" (Spada: 58). Some years later, marvelling at Kelly's sang froid when confronted with pages of dialogue on the set of To Catch a Thief, Cary Grant recalled her explanation: "Dozens of soaps" (Lacey: 106).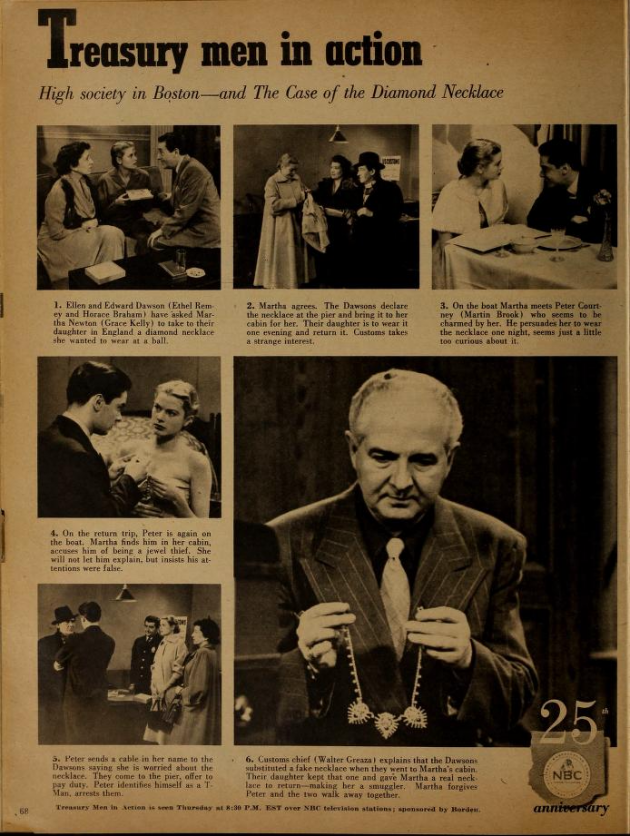 Kelly in an early TV crime series (Radio Television Mirror, 1951)
She appeared in Hallmark Hall of Fame, Kraft Playhouse, Lux Video Theater, Playhouse 90, Philco Playhouse, Robert Montgomery Presents, The Somerset Maugham Theater and Studio One, amongst others. One of her last television shows was a pilot for Cads, Scoundrels and Charming Ladies written by Michael Arlen in which she played a woman on holidays in Monte Carlo who falls in love and gets married (Leigh, 2007: 46).
After some disappointing meetings ("she's got no sex!" a Twentieth Century-Fox executive declared), Kelly got representation from MCA agent Edie Van Cleve and as a result she soon had a small role in Fourteen Hours (Hathaway, 1950) but was unimpressed by Hollywood. (However her brief appearance led a remarkably prescient teenage girl to start up a Grace Kelly fan club). She turned down an early offer of an MGM contract since it meant she would be stuck in small parts and she preferred the variety of roles available to her in theater. She knew that she had to work harder at her craft to ensure that her next onscreen appearance would be less wooden and embarrassing. She returned to New York and took classes with Sanford Meisner at the Neighborhood Playhouse. Many years later the guru was asked about Kelly's particular abilities and he answered pithily: "Grace had good emotion" (Lacey: 121). Director Ted Post worked with her on television and said "her beauty alone was spellbinding and would have won her great attention. But Grace was also very determined and worked hard. She listened to you and applied what you said. She learned" (Englund, 1984: 44).
After ten weeks in summer stock in 1951 she travelled to Hollywood once again, having met director Fred Zinnemann for the role of Amy Kane, the chaste sheriff's wife in High Noon (1951). He said of her in his autobiography: "She fitted the part admirably, perhaps because she was technically not quite ready for it, which made her rather tense and remote" (Zinnemann, 1992: 100). Scripted by Carl Foreman (soon to be blacklisted), the film was shot in the Sonoma Mountains, a location for many Westerns. It would be the first of many times that Kelly would be coupled with an actor decades her senior – Gary Cooper was twenty-eight years older than her. He coached her off-camera and she said admiringly of him, "Everything is so clear working with Gary Cooper… When I look into his face, I can see everything he's thinking. But when I look into my own face, I see absolutely nothing" (Wayne: 83). Her first words in the film are "I do," as she weds Cooper.
The film's sneak preview was very different from the final released cut: the earlier version featured a large number of close-ups of Kelly to the supposed detriment of the plot. The editor removed the vast majority of them at the behest of producer Stanley Kramer and inserted the ticking clock shots as well as incorporating the song commissioned for the film. It was transformed from a mediocre production into a classic film. Kelly's role was vastly reduced as a result of the aesthetic choices but she earned a place in screen history in just her second role. Cooper won the Academy Award. Zinnemann later declared Kelly "wooden … which fitted perfectly, and her lack of experience and sort of gauche behaviour was to me very touching. To see this prim Eastern in the wilds of the Burbank Columbia back lot – it worked very well" (Spada: 71). Kelly was not at all impressed with her performance. "I loved every minute of it, except when the wife was on the screen. I just wasn't in the same class with the rest. Oh, they were nice to me, and they told me I had done a fine job, but I knew better. I left Hollywood as fast as I could, and I told myself I wouldn't go back until I could carry my own weight in a picture" (Spada: 72). However John Ford subsequently cast her in Mogambo, a remake of Red Dust (Fleming, 1932) with a change of setting, in which she would take the part previously played by Mary Astor. The principal attraction for Kelly was the location work in Africa and the opportunity to work with Clark Gable. She was canny enough to realize her worth but it took her a long time to sign on the dotted line at MGM where she only earned $750 a week. When she finally agreed to do the film she remembered:
The studios are tenacious. When they want someone or something, they always get it in the end. I ended up signing a contract with MGM. I signed because they offered me the chance of shooting in Africa, but I signed it at the desk of the airport, when the engines of the plane were already turning. (www.imdb.com)
This may be a slight exaggeration, although it is true that she insisted on certain caveats as James Spada describes: "she would make just three pictures a year (in those days, even major stars might make four or five); she wanted one year off every three, and she wanted to be able to make her home in New York rather than having to live in Hollywood (as some actors had been constrained to do so that the studio might 'keep an eye on' them.)" (Spada: 73). Studio executive Dore Schary remembered, "We signed her to a long-term contract. John Ford enabled me to even the score with Darryl Zanuck. He got Monroe, we got Grace Kelly" (Ibid.) The studio's head of talent, Lucille Ryman Carroll said: "We certainly didn't object to her wanting to take time off for stage work, because our belief was that doing a Broadway show could only enhance the popularity and reputation of our actors, making them even more valuable commodities for us" (Spada: 74). However there remained a sticking point in Kelly's commodifying: "She told me that it was very important for her to choose her own roles…. I told her that we never allowed that, that we always chose roles for our contract players, and that those roles were designed to make them top-notch stars. She said to me, 'But I'm afraid that you might put me into something that doesn't suit me.' I told her, 'Don't worry about that, my dear, we can be trusted to put you in roles that will enhance your career" (Ibid.). That of course was a false promise which Kelly would contest many times throughout her contract. It seems she wasn't the hot property she later became as Carroll continues: "No one else seemed to want her, really, and the word on her performance in High Noon – some of our people had seen a rough cut – wasn't ecstatic. So I felt that I could get her for a good price, and I offered her seven hundred and fifty dollars a week to star – fifteen hundred was more common in those days. She accepted" (Ibid.). Despite elements of rigidity of her performance and the problems with her voice, Kelly wound up with an Academy Award nomination for Actress in a Supporting Role in Mogambo – much to her own surprise. Even the writer John Lee Mahin admitted it was a thankless role and John Ford's experience on the production was recorded as the beginning of the downturn in his career. However reviews for her performance were favourable as Newsweek said of her, "Grace Kelly makes one of the loveliest patricians to appear on the screen in a long time. Her particular quality is the suggestion that she is well born without being arrogant, cultivated without being stuffy, and highly charged emotionally without being blatant" (Quoted in Wayne, 2002, 2004: 296). Kelly didn't win an Academy Award on that occasion. It was just a matter of time.
As was the convention, MGM publicity played on Kelly's background and exaggerated the family's social standing (as well as ignoring her half-German origins, a tricky heritage in those post-war years) when constructing her biography. This was typical of the need to manipulate extra-filmic discourse for the furthering of an actress' career. Writing in 1957 following her move to Monaco, Thomas Harris reviewed all the materials pertaining to Kelly over a certain period and drew certain conclusions about MGM's strategy for her:
The entire body of magazine feature material on Grace Kelly is distinguished by a dearth of comment from the star herself as if it would be beneath her dignity to discuss topics which made Marilyn Monroe a household name Yet a careful balance was maintained lest the impression be conveyed that Miss Kelly was aloof from her fellows. Thus there was repeated emphasis on her making her way in the entertainment world 'on her own', spurning family connections. Her wealth, it was always noted, was the result of hard work and determination – qualities admired by Americans who could not tolerate inherited wealth. Terms like 'cool', 'lady', 'elegant', 'genteel', 'reserved', 'patrician', are as frequent in the features and reviews of her films as they are in her personal publicity. (Harris in Gledhill, 1991: 43)
Articles about Kelly were mainly placed in women's magazines like Mademoiselle, McCall's and Cosmopolitan. She was rarely quoted because she could not contain her disdain for the publicity process, a habit undoubtedly due to her uncle George's bad experiences at MGM decades earlier; she would never reveal her vital statistics; she never agreed to studio cheesecake shoots; and never appeared in a B-movie. MGM had reckoned against Kelly's determination to express a creative agency and her desire to manage her career to her best advantage. In fact their own publicity department's actions varied from baffled outright indifference to virtual sabotage, as Steven Englund has outlined (Englund: 84-88; 104-110). This was one of the reasons she decided to work with Hitchcock: to avoid conforming to the principal requirement of her seven-year contract which was to always play whichever role was assigned by the studio. She went on suspension more than once over the years, purely to stop being cast in films she felt were not right for her. It didn't impact on her income since her father had settled a certain amount of money on each of his four children when they turned twenty-one, albeit not as much as people suspected; so at one point when asked how her latest suspension would affect her, Kelly drily responded "I'll have to stop decorating my new apartment for the present" (Lacey: 196). She had been earning good money as a model and on television and didn't have to worry financially because she led a relatively frugal lifestyle. Friend Judith Balaban Quine (wife of Kelly's agent at MCA, Jay Kanter) has written of her "that Grace was deeply serious about her work, constantly looking for challenges so that she could grow as an actress" (JBQ, 1989: 39). When MGM objected to her taking what would become her Academy Award-winning role in The Country Girl (Seaton, 1954), she threatened to walk away from her contract permanently, as Quine relates: "MGM was rocked to its core. So was the rest of Hollywood as the story spread. The notion that a young actress with only a few films to her name, some unreleased, was thumbing her nose at Hollywood was unthinkable" (JBQ: 54). There were serious financial consequences for such behaviour: MGM's swimming star, Esther Williams, sacrificed a $3,000,000 pension for refusing to take a role that Dore Schary insisted she must (Wayne, 2002,2004: 383). In January 1954 columnist Bob Thomas declared of her, "1. She is blonde and beautiful. 2. She can act" (Quoted in Haugland, 2012: 27).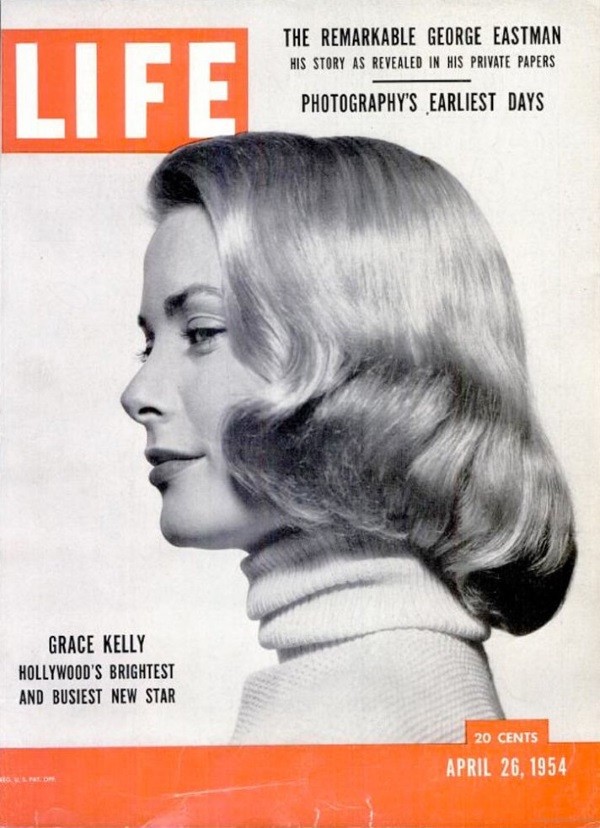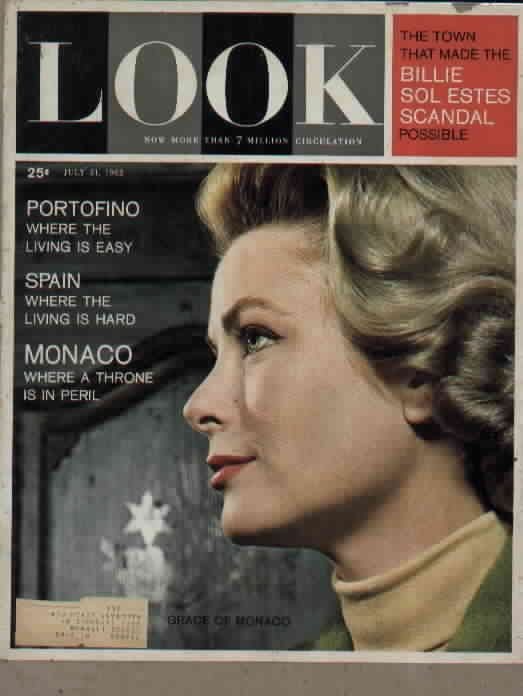 Asked to comment of his co-star, James Stewart would state:
She came out here to Hollywood from a happy home, where she'd been loved, kindly treated and well educated … [She went] to a good dramatic school. She took her work there seriously, and afterward worked in television, in summer stock and had a small part on the New York stage. By the time she reached here she was a skilled and competent actress. She wasn't found behind a counter in a drugstore or luncheonette or at a drive-in. She didn't have to be nice to this guy or that guy to get ahead. And no producer would have thought to tell her, 'I'll make you a star, but I'll have to pull your teeth out and put caps on them, and dye your hair, and give you a new name, and tell you where to stand and talk and how to spend your free time. (Englund: 83-84)
Extrapolating from Naremore (1987) we might break down the elements of performance as follows: image, expression, gesture, movement, voice, intensity. In Molly Haskell's assessment, Kelly and her exact contemporary Audrey Hepburn "were dead-center 'in', boyish and invulnerable, aristocratic and independent. They never swallowed their pride, exploited their sexuality, or made fools of themselves over men. Marilyn [Monroe] did, and she aroused our jealousy and contempt" (Haskell, 1973: 253).
What Haskell doesn't add, is that neither Kelly nor Hepburn ever played mothers, thereby avoiding the issue of eliciting indirect maternal suspicion or pity or the idea of premature ageing or responsible dullness that the role inevitably implies onscreen. They rarely did costume pictures and they represented a new kind of femininity in an era of voluptuaries. To begin with, Kelly refused to succumb to a studio makeover and did not permit a change to the line of her hair, her brows, her lips or agree to be subjected to the kind of heavy makeup that was forced by Paramount upon Audrey Hepburn (and which created her iconic image of thick brows, extended lipline and heavy eye makeup). Kelly simply did not go for the idea of the studio 'look.' She insisted upon looking as close to her natural self as possible in all films, with the exception of her hair, which was lightened to intensify its blondeness in the various colour films in which she appeared. She also wore wigs and hairpieces to bring life to her fine locks. Her ballerina's posture had inevitably been further improved by her years at the Academy and from modelling and she carried herself impeccably. Her 'look' was, like Hepburn's, boyish, with her flat chest and slim hips. It was the antithesis of the buxom blonde then in fashion. When Alfred Hitchcock saw her test for Taxi he located something more than her physical demeanour: he saw in her a potential for melancholy. Author Donald Spoto quotes the director's recollection: "You could see Grace's potential for restraint. I always tell actors not to use their face for nothing. Don't start scribbling on the paper until you have something to write" (Spoto, 2009: 87). It was then that he decided to hire her for Dial M for Murder.
The Murder Plot: Dial M for Murder (1954)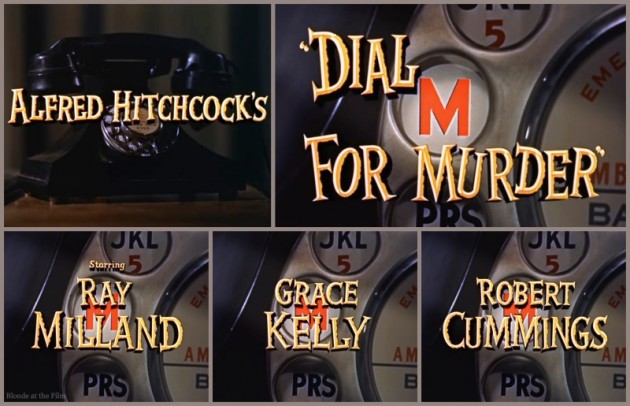 The project was originally a play written by Frederick Knott for the BBC which became a hit stage play in London and Broadway and it was brought to Hitchcock's attention by Cary Grant, who saw himself in the role of the wife-killer, which was what Hitchcock had always wanted him to play, after being thwarted by the demands of censorship in the necessarily botched ending of Suspicion (1941). However, Grant's agents asked for too much money from Warners so Hitchcock was forced to look elsewhere – and he decided upon Ray Milland, who had won an Academy Award some years earlier for The Lost Weekend (Wilder 1945).
MGM were making a tidy profit on hiring out Kelly to Hitchcock. Hitchcock was casting for the part prior to the release of Mogambo and according to author Jane Ellen Wayne, when he screened it, "was not impressed with Grace's performance because her voice was too shrill, but he took the time to view her screen test as an Irish immigrant girl for Taxi [she lost out to Irish actress Constance Smith]; the intrigued Hitchcock arranged to meet Grace. The interview was a repeat of the one she had had with Fred Zinnemann. "I could not think of anything to say to him … In a horrible way, it seemed funny to have my brain turn to stone" (Wayne: 133). Hitchcock thought she was correct however for the dualistic role of the uptight English wife who has a secret life. With Kelly, Hitchcock discovered a performer of a different order from his last few leading ladies. Her personal style, however affected (she was not Philadelphia Main Line despite MGM's attempts to persuade), her perfect features, her gracious behaviour and innate shyness suggesting a sexual allure that hinted at being rather more difficult to attain than that of the typical Hollywood blondes of the era, constituted an altogether different type of potential. In short, she was possessed of the dichotomy and rarefied class ("snob" as O.E. Klapp has it) which would become a particular purview of Hitchcock's cinema and would colour interpretation of his work to the present day. He would comment later of his decision, "Actors often make the mistake of giving too much of themselves at the start and winding down … Grace, as young as she was, had the ability to pace herself" (Ibid.). Author Patrick McGilligan says that "Kelly was the Hitchcock fantasy woman come to life – a dream blonde as ladylike as Madeleine Carroll, but as earthy and wanton as Ingrid Bergman. Kelly didn't mind Hitchcock's abruptness, or his despotism, which amused her" (McGilligan, 2003: 471).
Warners wanted to challenge the competition from television and imposed on Hitchcock their desire not merely for colour but for a production in 3-D, which greatly frustrated him and problematised his usual meticulous preparation which had been for a straightforward black and white film. He adapted immediately to the colour process, using his understanding of symbolism in a way that distinguished his work and paying particular attention to the way in which it could be utilized to express the arc of Kelly's character, in which she goes from confident adulteress in a marriage of convenience — her husband's — to a murder convict in a plot contrived to make him a rich man.
The marriage plot
Hitchcock had acquired the play and altered it not a jot. As he informed Peter Bogdanovich, "you buy a play for its construction. It's the construction that makes it a hit. If you change that you're ruining the very thing you bought. Just shoot the play"" (Speaking on Hitchcock and Dial M for Murder, 2003). He told François Truffaut: "… the basic quality of any play is precisely its confinement within the proscenium. …in Dial M For Murder, I did my best to avoid going outside. It happened only two or three times, when the inspector had to verify something, and then, very briefly. I even had the floor tiles made of real tiles so as to get the sound of the footsteps. In other words, what I did was to emphasize the theatrical aspect" (Truffaut, 1986: 212). Part of the appeal for Kelly no doubt lay in the fact that she would be participating in a filmed play, her sense of obligation to theatre still informing her choices.
Margot Mary Wendice (Kelly) looks like the well-heeled upper class English wife of a tennis pro in that opening shot over breakfast but in a mere two minutes of montage the conceit about her duplicitous personality is revealed: she is engaged in a steamy affair with an American novelist, newly returned to London. Hitchcock starts the opening sequence at a breakfast table where Kelly is dressed demurely in a beige dressing gown; she reads a notice about the arrival of her lover on the Queen Mary; the ship arrives in dock; in seconds she is costumed in a red dress, embracing him in the flat where hours earlier she breakfasted with her supposedly unsuspecting husband. They are in the classic London flat but the picture presented is quite different as a result of clever writing, editing and colour coding. It also played on Hitchcock's private perception of Kelly: he nicknamed her "the snow princess."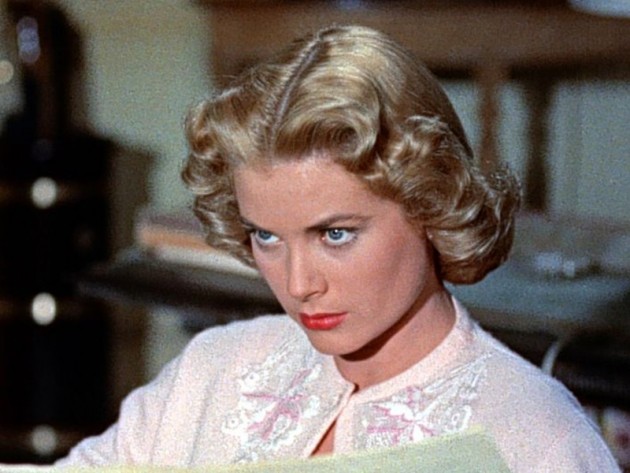 The Good Wife
Margot is not a murderer but she is of course guilty – of adultery, a sex crime. Therefore Kelly's character arc is to go from coy superficiality as the faux-innocent yet worried wife; to sensual lover with Mark (Robert Cummings), the hack mystery writer – providing "a good deal of self-reflexivity to proceedings" as Drew Casper has it; and then to be truly innocent of the murder in the flat, albeit the jury finds her to be a wanton woman, which plays in her husband's favour and sends her to the gallows. Ray Milland's is of course the best character in the film – and even Margot is finally lost in admiration for her evil spouse's uncanny plotting ability and accepts a cocktail from him when he is caught at the conclusion (Casper, 2007: 319). His plan was a cunning one, after all. This is consistent with the character interpreted by Kelly – true to the play but also to the psychology of an embattled wife in a loveless marriage advantageous to a murderously ambitious husband seeking his fortune. In her first scene with Mark she declares "Tony's changed," and paces the flat, moving around, sitting in different chairs, showing us how big the flat is (a practical consideration) and also how worried she is about her husband's behaviour and attitude. She explains the blackmail situation and her face expresses her distress. Her prolonged kiss with Mark is broken up (à la Notorious, 1946) by his questioning her about the letters which intensifies the exchange. When Tony returns her mood alters, she is photographed from behind and when we are shown her face again when she turns to camera she lightens up and plays hostess as the men chat, both knowing exactly the other's play, up to a point. She puts on her wrap to go out, a psychological cover for her fear of discovery and pointed index of the character's unraveling vulnerability (as well as being a practical and fashionable choice in evening wear).
Hitchcock immediately set about re-making the tricks that the Academy had inflicted upon Kelly's training. The first issue was her voice, always a problem because of the chronic sinus condition that had plagued her since childhood and made worse both by her training and the California smog. He encouraged her to lower it and it lost its somewhat grating quality in favour of a slightly more arch take on the upper-class English accent required of the role. "Once she had it down, it was no trick for a girl as clever as Grace to keep it there," he declared (Spoto, 2009: 88). Friend Judith Quine describes the effect of Kelly's delivery and delicious sense of humour as "like hearing the Queen of England doing Henny Youngman" (JBQ: 114).
While Hitchcock's attentions may have overwhelmed less steely characters, Kelly was a hard worker, wanted to learn the business, had a busy personal life and liked to keep the tone light, sharing her director's penchant for bawdy humour, cheeky impersonations, pranks and practical jokes. Quine writes, "Grace adored jokes. She liked clean jokes, dirty jokes, practical jokes, puns and even sick jokes, anything so long as it was really funny. She loved telling jokes with accents and jokes that required her to play several parts as the characters of the joke appeared. She delighted in others' ability to tell jokes well and do dialects accurately or amusingly" (JBQ: 39). Unlike her experience with John Ford, Hitchcock took time to work with her and she recalled, "With Hitch, it was different, he had endless patience with me" (Ibid.). He explained technical challenges, including the encumbrance of accommodating his style to the massive 3-D equipment and she dined regularly with him and his wife at their home. "It was, Grace told me," says Quine, "while working for Hitch that she had discovered what moviemaking was all about. She recognized that the theatre was the playwrights' medium because actors and directors were primarily beholden to serving the writer's words, but that the screen was the director's medium. No matter what elements were contained in the plot, dialogue or performances, the audience would see the film through the eye of its director" (JBQ: 55). Celeste Holm, her co-star in High Society (Walters, 1956) would say of Kelly: "She was less dependent on other people's responses than any actress I'd met in Hollywood. She had an extremely strong will, but also great politesse. She was keenly aware of whose footsteps she was following in, but finally she was even more aware of who she was …. She was George Kelly's niece, that's who. And she knew it. It gave her a kind of stern pride" (Englund: 121).
Despite the theatrical nature of the film, Hitchcock had planned the single set shoot with a precision that permitted an emphasis on its geometrical elements so that the actors moved through the shots cohesively. Kelly moved beautifully, courtesy of early ballet training, and fully appreciated the impression created by her torso and limbs and the way they occupied space. Kelly is also remarkably physical throughout, in what might otherwise be perceived as literally role-playing in a theatrical-style performance, albeit one cleverly constructed to play on her eroticism, something her previous directors had not realised. Her every gesture is minutely measured and paced for the low-level cameras designed to make the audience feel that they are behind a proscenium, watching from the stalls. This occasionally gives the impression of a somewhat stilted performance, Kelly's innate theatricality revealed at times with her hands and arms dangling a little. However the trajectory of the character from adulteress to vulnerable victim of the hangman, coupled with her seductiveness, enlivens these early screen errors and heralds a deeper layer of emotion.
Hitchcock and Kelly did have a number of combative moments, however, which proved a little embarrassing for her on set. Kelly told Donald Spoto, "we were blocking a scene and I was standing there, a little bewildered. Then I heard a voice calling me, 'Miss Kelly, what do you think you are doing?' I called back to him, 'I'm trying to figure out where Margot would glance, and where she would go at this moment.' And Hitch said, 'Well, Miss Kelly, if you had read your script properly, you would know that she is to look in this direction and go over here. Don't you ever read stage directions?' So I was called down on that" (Spoto, 2009: 88). However when she expressed the view that his choice of a red velvet dressing gown was unrealistic for the murder scene and suggested that if she were home alone she wouldn't put anything on over her nightgown, he agreed, and took her much more seriously from then onwards, particularly as it pertained to costuming. Hitchcock was acutely aware of the textural effect of fabric and had designed the scene so that light would fall in a particular way on the dressing gown that he had planned on her wearing as Kelly struggled beneath her murderer in the shadow of the distinctive table lamp (Hitchcock decorated the flat and chose the accessories himself). To alter this decision demonstrated his respect for Kelly's better judgement of the scene's potential for realism. In the end, the only item that wasn't bought off the rack for the production was the red lace gown, which she wears to welcome Mark to London. She had to constantly refuse the insistence of the film's makeup artist to heavily rouge her cheeks and was told it was to please Jack Warner's taste. She was not impressed, knowing from her modelling days precisely how to make the best photographic impression and keen to maintain a consistency in her preference for a no makeup- makeup appearance. Harry Ray, who would work with her on To Catch a Thief, said "Her skin was just gorgeous… All I had to do was add a little cheek rouge, a soft pink lipstick and mascara. It took me seven minutes flat. She was the first woman I ever worked with that I didn't have to put foundation on. I have never met anyone with skin as lovely as Grace's" (Englund: 99).
A remarkable number of scenes feature the back of Kelly's head – Hitchcock's love of blonde hair and hairstyles is to the fore here. When Kelly finally breaks down with Mark, she leans onto his arm, crying and displaying unkempt, wavy hair, her face hidden completely from view. The properties of her hair – its colour, changing shape, length and movement, adds to the film's texture and meaning. The actress worked with hairstylist Lenore Weaver in all her films with Hitchcock and it is used as a directly expressive element, in chignon, loose, curled, straightened – every style is used to further our understanding of her characters' situations. Spoto notes that this is not the only Hitchcock film to make a virtue out of hairstyles shot from behind, listing Rear Window and To Catch a Thief amongst others, and describing Kelly amongst "the most carefully calculated [of his] feminine personae … [who] tease the intelligence and the imagination before responding to emotion and desire. And with all of them, as with the prototypical Victorian, hair is an ultimate erotic fixation" (Spoto, 1983: 431).
The telephone scene, mid-film, lasts seven minutes. Hitchcock spent a week shooting it. Kelly recalled of the experience:
Every good dramatic coach and every good director would like you to think of the story as a whole, and not just your part in it. But Hitchcock was the first one to show me why, and then teach me how. In the telephone scene I used all the tricks to show horror that I had ever learned in school or in television and though I had done particularly well with my eyes. But all he used in that scene were my hands on the telephone. I was hurt, but he flattered me by telling me my hands were good actors, too. What he meant was that acting was more than a trick of waving your eyelashes, and that to be a success, you had to learn to act with your whole body. I worked so hard after that! (Kelly in Spada: 84)
She told biographer Donald Spoto of the experience:
Each of the shots had to be very carefully set up because Hitch wanted it to look as if the only light source was the blaze from the fireplace. That was especially complicated – everything had to be shot brighter because the lenses on the 3-D cameras tended to pick up colours oddly. So we had to stop, the lights had to be fixed, then we started again. Then Tony Dawson wrapped the scarf around my neck and we had to make it look as if he was really strangling me. Then I had to twist around on the desk – I remember the assistant director warning me that I had to fall on it just so, or I would have broken my back. (Spoto, 2009: 85).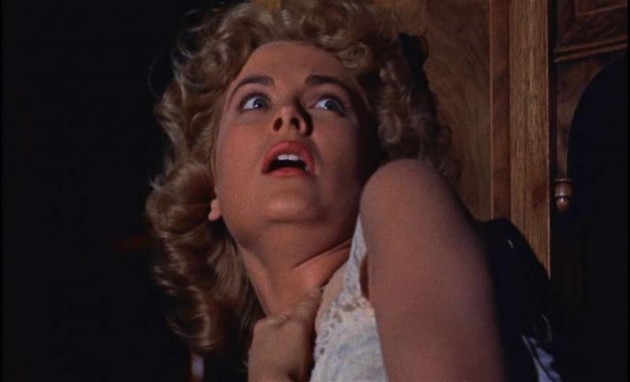 I Saw His Eyes
For the 3-D effect to work, Hitchcock chose a certain few implements to reach into the audience, the scissors being the most obvious for shock value. Ultimately, the film was barely released in the format but was a huge hit nonetheless. Hitchcock said to François Truffaut: "For the audience, looking at the images, it should be the same as reading the opening paragraphs of a novel or hearing the expositional dialogue of a stage play. You might say that a filmmaker can use a telephone booth in the same way a novelist uses a blank piece of paper" (Truffaut: 213). The choreography of the murder scene was clearly designed to insinuate sex with its shots of writhing legs, combative arms and prone bodies, screaming, gasping, and of course simulated entry, albeit with a fatal weapon. The above brief shot of Kelly is the only close-up of her in true physical danger in any of her work with the director. He maintains the low-angled camera throughout with the exception of two overhead shots during the planning of the murder with Lesgate whom Tony casts, theatrical-style and during the murder itself when 'Swann' grabs Margot's neck. We now understand the importance of the flat's dimensions, the arrangement of the furniture and why Margot's superior knowledge serves her survival.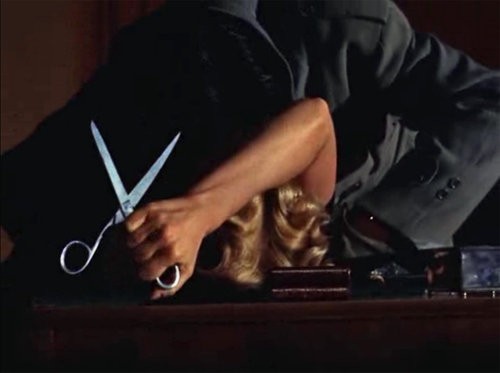 "The best way to do it is with scissors"
This scene gave Kelly the opportunity to use her entire body as an instrument, in which she utilized the full panoply of her dramatic training in terms of using the body as expression and united it with such a convincingly traumatic experience onscreen, open-mouthed in shock, moving her entire self at various angles, filling the screen with anguish and terror. She certainly accomplished more than "waving my eyelashes." It is a sequence of sublime savagery and arousal in which the point of view is re-oriented from a panning camera moving around Margot at the phone to Lesgate/Swann behind the curtain. As Spoto notes, it implicates the audience and "we emerge with him and the strangulation begins" (Spoto, 1979/1992: 212). Photographer Howell Conant would observe of her a few years later:
she had a dancer's awareness of her body; her every gesture, whether she was checking her makeup with the help of her sister, Peggy; or relaxing on the stern of a boat we happened upon on a quiet walk by the water, Grace's arms and legs were as expressive as her face. (Conant, GRACE, quoted in Leigh: 21)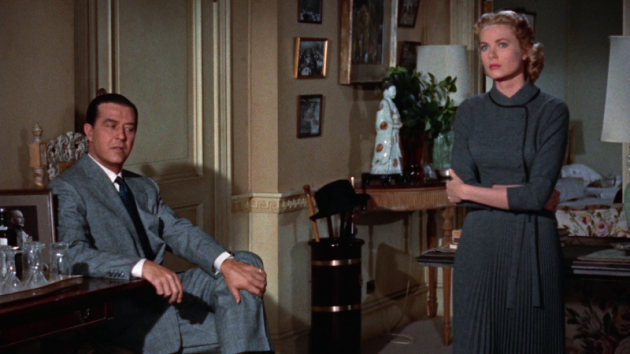 From fab to drab: the guilty marrieds
Kelly's engaging presence becomes graded by suffering which eventually gives way to total exhaustion. It is a truly complex performance, putting the occasional stridency of her under-directed showing in Mogambo in the shade. Commenting on the failure of Sixties films in general to engage audiences despite the removal of much of the censorship that had dogged filmmakers in previous decades, Molly Haskell says that earlier films paradoxically offered more to the viewer, citing "the sudden outbursts of Grace Kelly's snooty, repressed heroines in Hitchcock's films of the puritanical fifties… The star had power, which included the power of withholding – a power that, like sex itself, was her trump car in a country where men and women had never learned to like each other very much" (Haskell: 324-5).
This was merely a preview of coming attractions as far as Kelly was concerned. In her analysis of Hitchcock the author continues: "For Hitchcock… the blonde is reprehensible not because of what she does but because of what she withholds: love, sex, trust. She must be punished, her complacency shattered; and so he submits his heroines to excruciating ordeals, long trips through terror… The plot itself becomes a mechanism for destroying their icy self-possession, their emotional detachment" (Haskell: 349). But in Hitchcock's next films with Kelly, that trajectory does not occur. Spoto concludes that, "with Grace, he had found his muse, and he told everyone that she was the best leading lady he had since Ingrid Bergman, who had appeared in a trio of films for him…. Grace would equal that record" (Spoto, 2009: 86).
The courtroom scene does not exist in the stage play. It is portrayed here in medium shots of Kelly under different coloured lights, repeating the colour scheme of her costumes, and she is subjected to haranguing offscreen voices in a very unusual setup for Hitchcock's style. 1 The distancing effect of the artificial proscenium is discarded in favour of a series of emotive reactions which utterly alters the mood of the film. Kelly's conviction in the court case creates a new level of characterization and an altogether elevated level of subtle expression. The lighting serves to highlight her cheekbones and the burning intensity of her eyes which stare straight into the camera's relentless gaze. This intensity causes the viewer to re-calibrate the preceding plot elements and Kelly's performance, which is more affecting with each viewing. It is clear that she has conceived a totally coherent persona. Returning to the flat the day before her anticipated execution, Kelly's manner is changed: her restiveness now replaced with listlessness, her voice reedy and cracking and lacking in the colour that distinguished it earlier in the film. This development breaches the film's theatrical insularity and ensures the transition from cinematic effect to emotional affect. Hitchcock's decision to shoot as much as possible in chronological order aided Kelly enormously in defining her character's arc. She is now a broken woman, hardly conscious that she has been asked to return to the scene of the crime to help in the setting up of the framing device to uncover her husband's dastardly moneymaking murder plot. As Rohmer & Chabrol point out, "the husband never loses his composure, even when finally unmasked … the heroine herself gives way to this fascination: still perhaps in love with her husband, she is overwhelmed by the revelation of a foulness she was far from suspecting, but which nevertheless adds to his stature in her eyes… Grace Kelly though she is no less badly treated in Dial M For Murder than in the following two films, is in some way more tender and more touching here, has something that makes her the younger sister of Joan Fontaine" (R&C, 1957/1986: 121).
Key to the Plot
"The subtlety of Grace's sexuality —her elegant sexiness— appealed to me," Hitchcock said to Donald Spoto of his leading lady. "That may sound strange, but I think that Grace conveyed so much more sex than the average movie sexpot. With Grace, you had to find out – you had to discover it" (Spoto, 2009: 86-7). He underplayed the subtlety of the film's translation to the screen and his ingenious reconfiguring of the small set's space to evoke dread and joked, "I could have phoned that one in." The film concluded production at the end of September 1953. Upon the film's release, The New York Times film critic remarked of Kelly that she "does a nice job of acting the wife's bewilderment, terror and grief" (Wayne: 161). Before it had concluded production, Hitchcock was already planning his next film – with Kelly in the lead.
"All through the making of Dial M the only way for Hitch to preserve his sanity in the midst of 3-D chaos was by preparing for his next picture. He talked to me about it even before I knew I was going to be in it. He discussed the plans he was making – he was going to build the biggest indoor set in the history of movies, which was going to be an entire four-storey apartment building, with people in each unit, and he described them and what they would be doing. I could see him thinking – thinking all the time while we waited for that enormous 3-D camera to be pushed around. He didn't tell me that I was going to be one of the leading characters in the story. I was just an interested listener, and because I was under contract to MGM, I didn't even think about whether there was a role for me in it. Anyway, he was going to direct it at Paramount. At this point, I still didn't know if I was pleasing Hitch or not" (Spoto, 2009: 89-90). The film he was preparing was of course Rear Window.
The Marriage Plot: Rear Window (1954)
After pondering the decision for some weeks, Kelly was finally given one hour by Jay Kanter to decide between making On the Waterfront (Kazan, 1954) and Rear Window (1954). The Kazan film had been shooting for some time whereas the Hitchcock production wouldn't begin until December and she wouldn't be arriving late to an already comfortable cast. (Her replacement, Eva Marie Saint, would of course play another cool blonde for Hitchcock in North By Northwest, 1959). She decided to work again with Hitchcock, the director whom she trusted. For the first time Kelly would have an entire film built around her as the stylish independent career girl, Lisa Carol Fremont, a former model turned fashion buyer and a busy socialite who becomes an action heroine to seduce her temporarily disabled long-term news photographer boyfriend 'Jeff,' L.B. Jeffries (James Stewart) into marriage, in the biggest set ever created at Paramount Pictures by the end of 1953. Author Robert Lacey rationalizes her decision to opt for the return to Hitchcock as follows:
For all her frequently expressed ambitions to be a serious actress, Grace seldom took any risks. She knew her limitations. She never strayed away from the safely middlebrow, in the way that even a traditional star like Elizabeth Taylor went out on a limb to play Tennessee Williams or Shakespeare. Grace felt most at ease when portraying her own vision of herself. In High Noon, Mogambo , and Dial M For Murder , she had played women who contained striking elements of her own character, and now, in _Rear Window, Hitchcock was inviting her to play a glossy and tomboyish Barbizon girl. The character was called Lisa Fremont, but she was no one else but Grace Kelly. (Lacey: 146)
That is a harsh assessment, given the facts. The Cornell Woolrich short story was transformed by radio writer John Michael Hayes (after an initial treatment by Joshua Logan) whom Hitchcock had enjoined upon hearing his radio works, particularly his translation of Sam Spade stories and the Suspense series with which the director had an involvement. It marked a departure for Hitchcock —it was the first time he worked with a sole scriptwriter and Hayes' intelligent and canny interpretation and additions to the source material enhanced the director's reputation. The script would boast "unremitting irony" in its tone, as Rohmer & Chabrol state (R&C: 124). The character of Lisa was one of many additions to the original story which both expanded and deepened the concepts to which it alluded. Hitchcock had already decided that Kelly should be the leading actress and asked Hayes to spend a week and a half in her company in order to imbue the character with her personal traits. She was not aware at this time that he planned the role for her. The result was a screen character that combined Kelly with Hayes' wife, Mel Lawrence, a former model, as he said, "I knew some of the patois of that business" (McGilligan, 2003: 481). He told director Laurent Bouzereau, "I saw her [Grace Kelly] naturally uninhibited at home and I gave her the kind of dialogue and things that I hoped would make it easy for her to let this creative energy out. Grace Kelly's performance in Rear Window was a reflection of two things: of her natural temperament and her natural style and what I borrowed from my wife on whom I based the Grace Kelly character. My wife has been a professional model and I knew the world and the jargon and everything else. Then I added my own humour. As a matter of fact there were some things in the film my wife on seeing the preview turned to me and said, Now where do you suppose that came from?! It was fun to write for Grace Kelly" (Screenwriter John Michael Hayes on Rear Window , 2000). And crucially, in the film which would make her a proper star, she speaks in an American accent for the first time.
Hayes said of Kelly, "I couldn't get over the difference between her personal animation and, if I may say so, her sexuality. There was an alive, vital girl underneath that demure quiet façade. She had an inner life aching to be expressed" (Wayne: 158-9). The screenplay that he wrote would permit Kelly to display an adaptability and range beyond the constructed nature of her previous image. "I discovered that she was full of good humour, she was bright, she was snappy, she had all the characteristics of being able to be an actress but in Dial M For Murder I thought she was rather stiff and cool. But she knew the business and she acted like a student learning her craft and Hitchcock alluded to that … I gave her a lot of sprightly life and enjoyed doing it and she enjoyed playing it." (Screenwriter John Michael Hayes on Rear Window , 2000). The irony of course lies in the fact that the gap between Kelly's image and off-screen persona was now narrowed to virtual invisibility by skilful writing and exploitation of Kelly's authentic character and the world in which she operated in real life. It collapsed the public perception of her, the studio's publicity materials and her real self.
Jeff spends five minutes complaining to insurance nurse Stella (Thelma Ritter) how perfect Lisa is: "She's just not the girl for me." "She's too perfect, she's too talented, she's too beautiful, she's too sophisticated, she's too everything but what I want." Stella asks him, "Is what you want something you can discuss?" He responds, "She belongs to that rarefied atmosphere of Park Avenue and expensive restaurants … cocktail parties…" Stella parries: "People with sense belong wherever they're put." Jeff: "Can you imagine her traveling around the world with a camera bum who never has more than a week's salary in the bank? If only she was ordinary!" Stella asks, "Are you ever gonna get married?" Jeff: "When I do it's going to be to someone who thinks of life not just as a new dress and a lobster dinner and the latest scandal. I need a woman who's willing to go anywhere and do anything and love it. So the honest thing for me to do is call the whole thing off and find somebody else." Stella's rebuttal is plain: "Yeah I can hear you now, Get out of my life you perfectly wonderful woman, you're too good for me." The joke, of course, is on him, if, as James Naremore claims, "the actor's face is usually taken as the ultimate guarantee of reality" (Naremore, 1988: 96). Lisa is given a great build-up, with the endorsement of a woman we trust.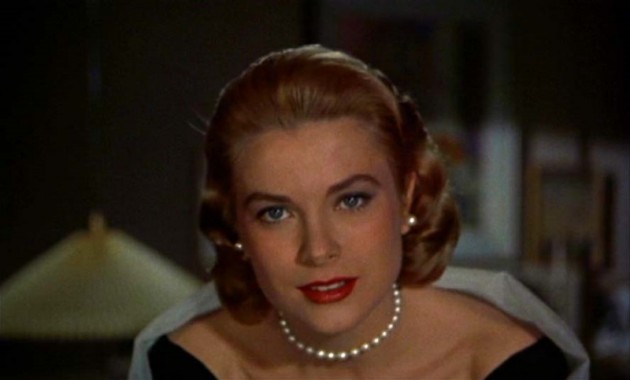 Prelude to a kiss (first shot)
In a film which gives everyone a great entrance through the apartment door, as in a stageplay, Kelly is gifted an all-time great moment in cinema. Assistant director Herbert Coleman describes it as "the most beautiful shot of a woman I have ever seen in my life." It is the moment when, as author Neil Sinyard puts it, "in a reversal of convention, a sleeping hero is awakened by a kiss from a Fairy Princess" (Sinyard, 2013) The double-printed image is startling and enhances the impression of Kelly's lithe slink across the screen and into a soft focus sequence in which she and Stewart engage in the doubles entendres in which Hayes specialized. It was essential to express in costume the conflict that existed between the news photographer stuck with a broken leg with his lovelorn girlfriend, society and career woman, Lisa – Carol – Freemont ("reading from top to bottom," as Kelly declares to him). Head remarked that "Hitch wanted Grace to look like a piece of Dresden china … something slightly untouchable. Her suits were impeccably tailored. Her accessories looked as though they couldn't be worn by anyone else but her. She was perfect and carried it off as no other actress could" (Wayne: 158). Head described the exigencies of the task for the production to Donald Spoto: "There was a reason for every color, every style, and he was absolutely certain about everything he settled on. For one scene, he saw her in pale green, for another in white chiffon, for another in gold. He was really putting a dream together" (Spoto, 1983: 372). Judith Quine relates what Kelly said to her: "Every small detail of a single piece of wardrobe becomes another thread in the developmental texture of my character" (JBQ: 55). In Rear Window , those decorative indices were also signifiers of class, as Janet Staiger claims (Staiger, 1992: 81-95). And she of course arrives to Jeff's with the latest dress from Paris, a lobster dinner from 21 and the latest scandal.
INT. JEFF'S APARTMENT – SUNSET – CLOSEUP
The two big profiles filling the screen. The girl kisses Jeff firmly, but not passionately. Then her head moves back an inch or two. She speaks.
LISA (softly)
How's your leg?
JEFF
Mmmm – hurts a little.
LISA
And your stomach?
JEFF
Empty as a football.
LISA
And your love life?
JEFF
Not too active.
LISA
Anything else bothering you?
JEFF
Uh-huh. Who are you?
As Stella Bruzzi points out in her analysis of the scene's construction, "Hitchcock initially goes to great lengths to establish our identification with Jeff's point of view, repeating twice the soft-focus, slow-motion shot of Lisa stooping to kiss Jeff's lips. The spectator's position, however, is soon declared to be at odds with Jeff's, and the problem is the iconic status of the dress. Paradoxically, despite Lisa's emphasis on beauty, this opening scene is the low point of their relationship. As the vulnerable, deflated Lisa serves the lobster dinner, tentatively enquiring of Jeff what he thinks of it, he wearily replies, 'Lisa – it's perfect. It's always perfect.' She is perfect to a fault. She is too beautiful" (Bruzzi, 1997: 18). The film's language is thus codified by costume, colour, accessories and the concept of looking and artifice, with every point of their relationship mirrored in the goings-on across the courtyard – an exercise in symmetry, as Hitchcock regaled Truffaut: "On one side of the yard you have the Stewart-Kelly couple, with him immobilized by his leg in a cast, while she can move about freely. And on the other side there is a sick woman who's confined to her bed, while the husband comes and goes" (Truffaut: 216). And as Robin Wood concludes, "what happens in the Thorwald apartment represents, in an extreme and hideous form, the fulfillment of Jeffries' wish to be rid of Lisa. Because of its extremeness, he reacts against it with horror, and his overcoming of Thorwald (the victory is equivocal) corresponds to the casting out (also, therefore, equivocal) of this desire" (Wood, 1989: 104).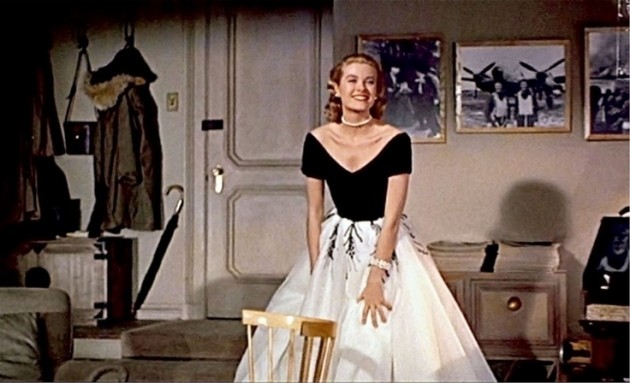 "a dame with class, turning on a light with each name"
The film's language lent Kelly several expressive objects with which to amplify her character as well as occupying her with a deal of showy 'business,' which suited a theatre-trained actress accustomed to using technique and craft to enhance aspects of the role, permitting her to conceal and reveal; giving her a handbag that alludes to Mrs Thorwald's; a nightcase that promises sex when she opens it and displays a sheer peignoir; a green suit that psychologically links her with Miss Lonelyhearts (and was "an exaggerated version of the neat, formal daywear the actress favoured at the height of her cinematic popularity," Haugland: 8); colours whose cool accents peel away to a warmer and more engaged character, fit for action and therefore 'real' life, at least from Jeff's perspective. And of course the wedding ring signal to Jeff from Thorwald's apartment carries the weight of the entire narrative. Her emotional vocabulary is vast. As she has to remind Jeff, if there's one thing she knows how to do, it's to dress for the occasion. Ironically it gives her a greater insight into the alleged murder than he is capable of achieving with mere idle curiosity about his neighbours' private lives. Thus the emphasis shifts to "the art and spectacle of her clothes" (Bruzzi: 18). "All clothes mean something," states Deborah Nadoolman Landis. "In a film the costume designer and the director know that everything that an actor wears as a character will be giving clues to the audience and it's the director's choice what to reveal and to keep hidden" (Speaking on Glamour, 2011). The process of feminine identification is here dependent on an excess of glamour – high end couture which becomes an end in itself, the latest style from Paris commanding an independent discourse utterly separate from the masculine murder mystery narrative which is pregnant with moral questions (Spoto, 1979/1992: 221). Robin Wood claims, "_Rear Window_ is Hitchcock's most uncompromising attempt to imprison us, not only within a limited space, but within a single consciousness" (Wood, 1989: 103). However, Spoto notes: "If we attend Grace Kelly's acting toward the end of this sequence with the lobster dinner and observe how Hitchcock photographed her, we see irrefutable proof of where his personal sympathies are and where ours are meant to be" (Ibid.).
Lisa Carol Fremont literally occupies a world of her own. The pattern of Hitchcock's work is to orient the viewer to the male point of view but in this instance he strongly imbues the narrative system with a discordance which has an interesting series of outcomes, including a critique of his supposed protagonist which concludes by punishing him. Lisa insinuates herself into the parallel narrative – via feminine guile. Sarah Street correctly adduces that "the major role performed by costume concerns gender relations, particularly the central conflict between Lisa and Jeff" (Street in Belton, 2000: 93). Lisa's clothes are literally reflected in the occupants of the apartments Jeff watches – her nightgown is matched by the distinctly blonde Mrs Thorwald's invalid attire; her cool mint-green suit an echo of Miss Lonelyheart's vivid green eveningwear (re-invented as a trope in Vertigo and The Birds); her faux striptease a reminder of Miss Torso; her attempts at lovemaking getting an objective correlative in the closed blinds camouflaging the honeymooners. Each time she and Jeff have a misunderstanding Jeff's attention wanders to their window, their relationship providing him with a reference for the difficulties he believes he is experiencing within his own. Ultimately of course, it is Lisa's knowledge about women and their attachment to their wedding rings which solves the mystery. This is definitely female territory.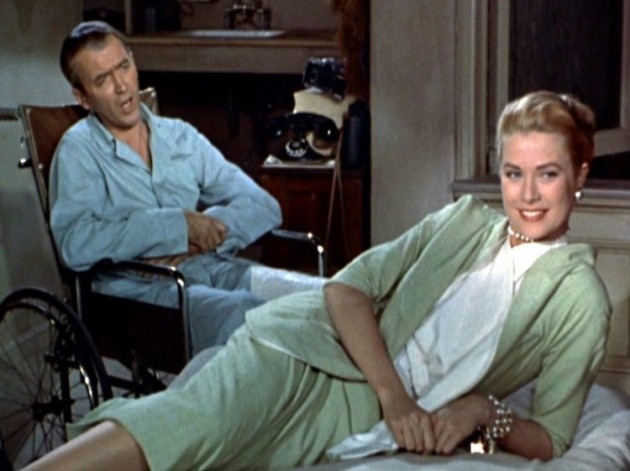 "Lisa it's perfect. It's always perfect."
Consideration of acting style requires analysis of movement through space. Costume designer Edith Head pinpointed the difference between Kelly and the other stars of the day, aside from her flat-chestedness: her posture. She declared: "Tall women tend to slump … but Grace, who is five-feet-seven, stands erect. Her peers show up for work in jeans, but she always wears white gloves and carries a hankie" (Wayne: 6-7) She glides, she poses, she slinks, she lies back like a cat, she leans into Jeff seductively, she withdraws suggestively, she draws back, she focuses her attention, she leaves when it is timely, she folds herself into him and out of her clothes. Laura May Jacobs accounts for her physique onscreen: "Her walk became something unique: regal above the waist, shoulders back and head high, and a floating quality below, akin to a geisha's glide, or a swan's" (Jacobs, 2010: 142). Kelly never displayed mannerisms or tics and was uniquely conscious of the illusion she created. Judith Quine describes Kelly's private capacity to be "lusciously provocative on one night and decidedly frumpy the next" with an unfortunate propensity for sensible flat shoes (JBQ: 39). While Head had been working with Hitchcock on the designs throughout pre-production (and those of Sabrina, next door), Kelly contributed closely to the final decisions. As Head recalled, "she knew how to wear clothes… Grace was delightful to work with because she was very well educated and we could talk about anything together …Grace had a very cool, reserved demeanour, which tended to put off people who didn't know her. Actually, she was quite shy" (Spoto, 2009: 94). She was in fact so short-sighted that unless people stood within six feet of her she had no way of recognizing them without wearing spectacles, which tended to make them think of her as icy and regal. Head also stated of Kelly however: "Annoy her and she boils … There's a lot of solid jaw under that quiet face of hers" (Englund, 1984: 83). Hitchcock instructed Hayes precisely how to draw it out of the performer. Head commented, "She is the total professional in whatever she does … I have never worked with anybody who had a more intelligent grasp of what we were doing" (Haugland: 8).
Kelly's range is fully exploited in terms not just of emotionality but of her excellent understanding of the importance of integrating expression with movement, switching on and off lights and lamps (always a source of enlightenment for Hitchcock), raising and lowering the bamboo blinds to the silent film of other people's lives across the yard, unveiling her headgear, stripping off her garments suggestively, teasing, opening the nightcase, disappearing into the bedroom, swirling a brandy balloon, grinning and bearing the disappointment of Jeff's lack of interest while he attempts to control everything else he sees. Lisa runs out of Jeff's apartment and climbs the ladder across the courtyard in a yellow and white shirtwaister with practical flared skirt which allows her to move freely, simultaneously initiating a progression in the male investigation narrative of which Jeff is incapable and influencing Fifties fashion in so doing (This would be known as the 'College Girl Look, which Kristina Haugland describes as "a classic style that, commentators noted at the time, had a long history but had received little attention until the famous actress gave it prominence. This style was also known as the 'American Look,' since the simple, uncluttered clothes and good grooming it promoted were said to fit perfectly the casual, unaffected way of life that was typical in the United States" (Haugland: 29). She is now a part of the film he has reeling in his head and he can properly appreciate her –from the distance of the director's chair, a position that endangers her at the end of his phallic lens (Dana Brand in Freedman and Millington, 1999: 131). Kelly's self-awareness as pleasurable object no doubt nourishes the narrative, as Naremore acknowledges: "Her long embraces of Stewart in this film, modeled after the extended love scene in Notorious, established her as the most erotically adept of Hitchcock's leading ladies – less radiant than Ingrid Bergman, less gorgeously voluptuous than Kim Novak, but far more aggressive at displaying her amatory skills" (Naremore: 246).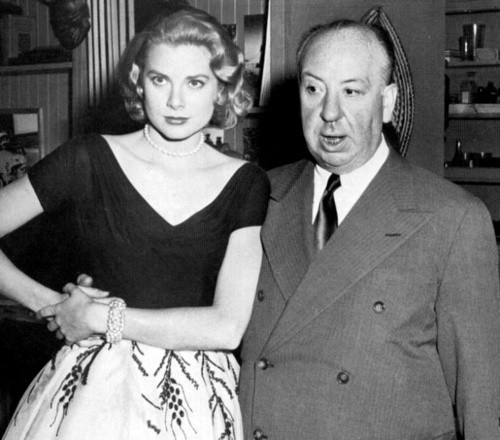 On set
As Louisa Levene remarks:
If you take Kelly's scenes frame by frame, there isn't a moment that isn't picture-perfect. This is no more than you'd expect from a girl who worked her way through drama school as a model, but Kelly's secret is the dancer's grace with which she links the poses. As she takes possession of Stewart's couch she arranges her limbs with the studied insouciance of a pet cat, automatically crossing her legs high on the thigh so that the slim, nylon calves lie parallel in two silky lines, drawing the eye to the shadows beneath the hemline, a masterclass in allure. (Levene, 2010: unpaginated)
The specificity of the lines, coupled with the particular demands of the location, enabled Kelly to be modulated in her movement but without telegraphing her intent. On occasion, Hitchcock changed his shot organization when she responded in an unexpected way to the script. Crew members were astonished at this unprecedented accommodating of his leading actress. Simply put, he trusted her implicitly. The script permits Kelly to draw on different modes to convey the deep disappointment Lisa feels at constantly being rejected by the one man she desires. Her subjectivity is complicated but then heightened in the need to become an action hero and therefore deserving of Jeff's attentions. This arises not only because of her deep conviction in the veracity of his story but also due to her brand of 'feminine intuition' which impresses him – but it aggravates his old flying companion from the war, Detective Tom Doyle. Jeff and Lisa are united in the face of him, their common enemy, Lisa glaring accusingly at him.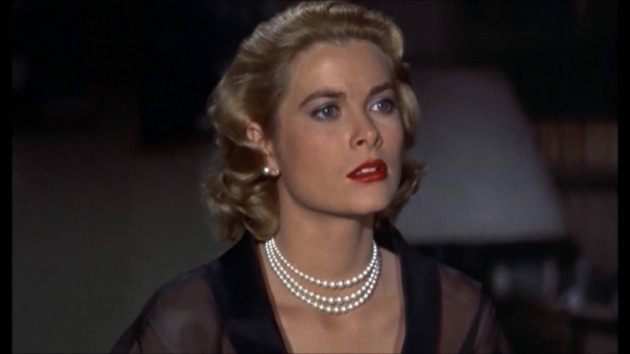 The Female Gaze
She and Stella (Hayes''unifying character') convey the underlying acceptance of violence implied in the experience of womanhood, their grisly talk making Jeff shudder once their undertaking to find the remains of the late Mrs Thorwald gets underway. As Wood puts it, they are among Hitchcock's women who knew much better (Wood: 358). The paradox of Jeff's occupation – he observes and photographs action, he doesn't partake – is exemplified in his thoroughgoing misunderstanding of the woman who loves him, whose life is full, social and active, and who ingeniously actuates his unfulfilled desire for physical daring and puts herself in real danger in so doing. Neither is willing to compromise their lifestyle, but she now embarks on a new adventure, the kind he has never truly experienced. "I'm going to make this a week you'll never forget," she declares to Jeff, with seven days left to run of L.B. Jeffries in a cast. She is girlish and light-hearted, oblivious to his annoyance. He compares her with Miss Torso and her dejected response comes from the pit of her stomach, "You can see my apartment from here all the way to 63rd Street? … She's not in love with him, or any of them." Jeff asks how she knows. Lisa: "You said it resembled my apartment didn't you?" The ebb and flow and up and down of the tone and delivery are sing-song and sad as she tries to persuade him of what he already knows – she is deeply in love with him. She argues persuasively and gently and concedes, "I'm not the girl I thought I was" and veils her bowed head. He wants the status quo, she wants a future, but agrees to come back tomorrow night. The lachrymose situation is echoed in the night's rainstorm while Jeff sleeps with only a scream telling us of the murder that he thinks he has just missed. The mood of the film is always in tune with Lisa's feelings, reflected in the action across the courtyard, the various phases of womanhood played out by other characters who interest Jeff far more than the woman he has in front of him.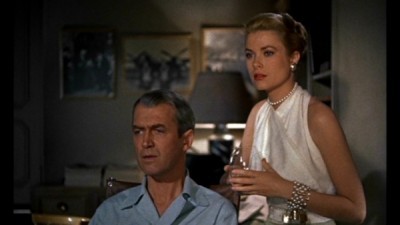 INT. JEFF'S APARTMENT – NIGHT – MEDIUM SHOT
Jeff lowers the glasses. His look is sober. Lisa stands behind him, one hand on the back of the wheelchair. She, too, is serious. The CAMERA MOVES IN until Lisa's head fills the screen. She says, slowly:
LISA
Let's start from the beginning again, Jeff. Tell me everything you saw.-and what you think it means.
Hitchcock breaks up the film's two prolonged kisses in characteristic fashion – the first with an exchange of doubles entendres; the second boasts more snappy dialogue which permits Kelly to use her female style once again, opening her surprisingly roomy nightcase with its gown and slippers: "I'll trade my feminine intuition for a bed for the night" and as the music strikes up, Jeff says, "I'll go along with that." Their catty exchange leads Jeff to say that the private eye saved by his Girl Friday "never ends up marrying her, does he" and Hitchcock cuts to a medium close up of Lisa, at a different angle to before, her eyes lowered. But she doesn't allow it to upset her. "Weird," she states levelly, looking camera left but not at Jeff. She goes into the kitchen to prepare dinner and we hear her humming, inspired by the composer across the yard, whose creativity she envies. The screenplay and the construction of Lisa's character enabled Kelly to apply her vocal range to service a variety of dramatic uses: she deploys her voice to enable a range and register for her character which alters and deepens according to the progression of tension and her own belief that Anna Thorwald has been murdered. Meanwhile, the monomaniacal Stewart watches his neighbours' lives go out of control and his own lovely Lisa's life is endangered by his obsession. It is utterly mesmerizing cinema and as Naremore claims, this is a 'performance text,' with extremes of acting at its centre (Naremore: 242).
In another instance of Kelly's refusal to conform, she wouldn't be photographed smoking. Hitchcock had to cut away from her lighting a cigarette to one lit in her hand. When the tables are finally turned on Jeff at the end and he is the one being watched by the unknowing victims of his voyeurism, it is Lisa who has the upper hand, dressed down and ready – for marriage. He is captured by his own lightbulb flashes of ingenuity in this panorama of Greenwich Village life. Kelly rejected a large number of assignments proposed by MGM including Quentin Durward of which she said, "all I'd do would be to wear thirty-five different costumes, look pretty and frightened" (Spada: 110). Rear Window would prove to be what Drew Casper describes as "Hitch's most explicit link between film spectatorship and voyeurism and most self-reflexive display of the art of directing" (Casper: 319). It became the year's fifth-highest grosser and its clever staging, intricate writing and the specificity of Kelly's own choices fully united the paradox of her intriguing authentic persona with her performance for the first time. Once again, Jeff is asleep, punished for his nearsightedness with a second broken leg, while Lisa activates a world in which they can live together as she puts away Beyond the High Himalayas in exchange for Harpers' Bazaar. Fittingly, the last word we hear on the soundtrack is 'Lisa,' the title of the song which has been created throughout the film's dramatic arc, objectifying the film's real subject and the repository of all our emotions, the ultimate dreamgirl, this lushly erotic Nancy Drew. This was a great performance in the greatest Hitchcock film of all, which Rohmer & Chabrol describe as follows:
We are at the intersecting point of all the material and moral dominants of Hitchcockian mythology, at the heart of a problem whose elegant solution has yet to be found. (R&C: 124)
We then proceed from the flowers of romance to the flowers of rhetoric.
Imitation of Life: To Catch a Thief (1955)
Filmed in the summer of 1954 while Rear Window was being released in the United States, the adaptation of the David Dodge novel had been on Hitchcock's mind for some time. He hired John Michael Hayes once again and sent him on a trip to the South of France to do primary research in the film's location. Hayes told Donald Spoto that "the work was a pleasure for most of the time. What made us a good team was that he had such brilliant technique and knowledge of the visual, and ego and conviction; and I think I was able to bring him a warmth of characterization" (Spoto, 1983: 374) As Patrick McGilligan describes, it was a very different working relationship than had been the case on Rear Window , which Hayes had written on his own. "Hitchcock and Hayes held almost daily script conferences through the late winter and early spring of 1954. Frequently these meetings were at Hitchcock's house, where the director relaxed in a sweater, or an open shirt with no tie. Their lunch was prepared and served by the director's German cook." This served as inspiration for the comically morbid scene in which Robie's housekeeper Germaine serves quiche lorraine to H.H. Hughson, the insurance man (Hitchcock regular John Williams) and the host admiringly reveals his cook's talent for strangling Germans ("seventy-three!") (McGilligan, 2003: 491). Hayes brought warmth and humanity to his collaborator's essentially gallows humour and this production would be the epitome of their differing approaches, with budgetary and production problems exacerbating underlying stresses in the relationship.
As usual MGM were playing hard to get but agreed to loan Kelly out to Hitchcock at Paramount in exchange for getting William Holden, a very hot property at the time. Cary Grant commented of Kelly that he had seen her in her first screen roles and "I recognized her even then as a brilliant actress. She had control, and she was obviously listening to the person she was doing the scene with. That isn't always the case. So I said to Hitch, 'I agree with you – I've had my eye on her too'" (Spada: 125). He continued: "Grace acted the way Johnny Weissmuller swam, or Fred Astaire danced. She made it look so easy. Some people said Grace was just being herself. Well, that's the toughest thing to do if you're an actor, because if you're yourself, the audience feels as though that person is living and breathing, just being natural, not 'acting' – and that's the hardest thing in the world to do" (Spada: 126-7). He said admiringly of her, "She owns a controlling interest in her own mind" (Englund: 83) Even within the Hollywood studio system of which Grant was a part for so many years, there were differences and permutations according to both studio contracts and production practices which necessitated different registers and types of performance, despite our impression of typecasting and caricature. Grant was indicating his understanding that Kelly was cast from a different mould. To hire Grant, Hitchcock had to delay his own payday in order that Grant's share of the profits be paid up first.
Much lighter in tone and filmed mostly on location, the brazen and mischievously charming To Catch a Thief was adapted from the novel by David Dodge, set immediately after the conclusion of World War 2. Renewing his collaboration with John Michael Hayes, the scriptwriting process was not a happy affair for this outwardly breezy VistaVision production which would be the lightest and most sheerly enjoyable of any of Hitchcock's films. Francie Stevens (Kelly) and John Robie (Grant) are probably the most gorgeous couple of the era (if you discount Taylor and Clift in A Place in the Sun) in this exercise in love, guilt, roleplay and artifice. When they are first introduced, he is playing at being a timber magnate from Oregon supposedly interested in acquiring a retirement property locally, that is, in the south of France. With its doubles entendres and suggestive roleplaying, Hitchcock's casting of Kelly was proof again, after Dial M For Murder , as author Robert Lacey has it, "that a lady could help him get away with things he would not dare attempt with a hussy" (Lacey: 178). As Jeanine Basinger rightly asserts, Kelly was another 'class actress' whom Hollywood fed the audience, yet who could "go beyond mere ladylike performances" and also slip easily into the comic mode, especially here, when she 'vamps' to Grant offering him a breast or leg from her chicken basket following a car chase by the police (Basinger, 2007: 370).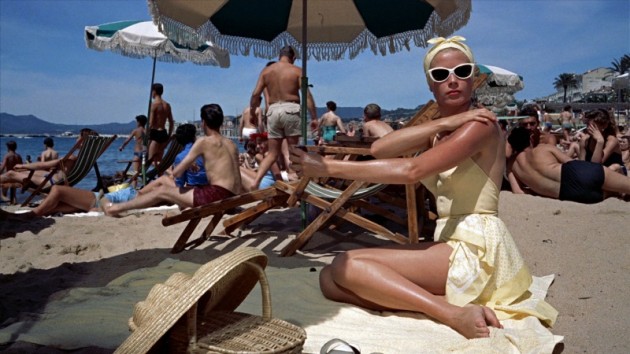 Faithful to Dodge's yellow polka-dot swimsuit
Grant plays a man confused about his identity, in a new riff on the ambiguous personae he had previously inhabited for Hitchcock in both Suspicion (1941) and Notorious. John Robie 'The Cat' has retired from his pre-war occupation as a legendary jewel thief but must affect to resume it in order to capture his imitator ("copycat") who is now a murderer implicating him in a death. He becomes Conrad Burns, a lumber millionaire from Oregon for the purposes of impressing Jessie Stevens, the wealthiest woman on the list from Lloyds' who is accompanied on the Riviera by her beautiful daughter. As Eric G. Wilson suggests, "his duplicity suggests a complex need to deceive" (Wilson, 2010: unpaginated). However, Frances ("call me Francie") is also a dualistic character, as she explains to Burns/Robie: "Palaces are for royalty. We're just common people with a bank account." Steven Englund analyses the effect: "Grace as actress attains the particular fire-and-ice vision of herself that Hitchcock had been developing and striving toward in three films. Where Lisa Fremont was seductive, Frances Stevens is a seductress. She has all of Lisa Fremont's sophistication (and more), but with an additional, splendid gift for high banter and amorous innuendo" (Englund: 100). As James Stewart once remarked, Kelly had a touch of larceny in her eye. When we first see her, clad in icy blue, she is motionless and breathtaking, like a goddess, perfect in both profiles.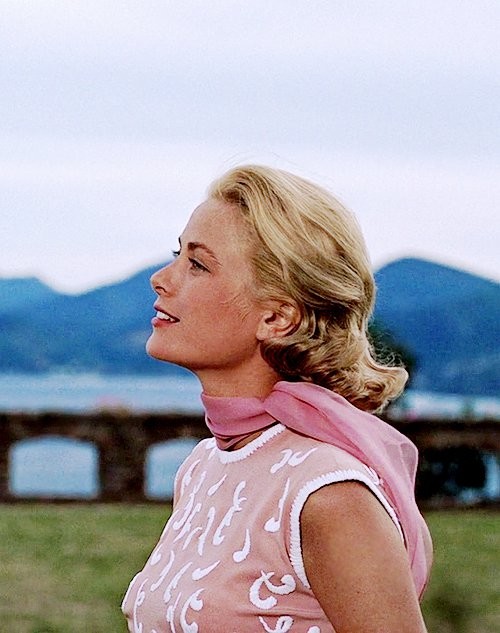 Goddess in Profile
And of course the game-playing takes place at the Carlton Hotel in Cannes, a favoured holiday destination of the Hitchcock family and home of the famous international film festival. Spoto correctly analyses its theme as "the classic Freudian notion of sex as larcenous … the ice-cool blonde who tempts and traps. She whispers alluringly of her jewels, and the double entendre … is not exactly subtle… For Francie … an unacknowledged possessiveness counterbalances the larceny of which the love object was or is guilty"(Spoto, 1979/1992: 228; 229). The casting led to some interesting visual plays on the theme of imitation, some from the character structure, some from the costuming and similarity between the actors and actresses. Brigitte Auber, who plays Danielle, is a visual contrast to Francie Stevens, if her mirror image morally; and her (literal) copycat role in the film is signaled by her red and white fisherman's jersey, while Robie wears a black and white one. Danielle's dialogue with Robie in the Maquis Mouse, a nice wordplay on the story's narrative mode and of course the Resistance backstory, refers to nouns and adjectives; later when her meeting with Robie on the hotel float at the beach club is interrupted by Francie, the badinage stretches to "conjugating some irregular verbs." (Hayes' triadic approach to dialogue is completed with the kicker later on at the villa gardens when Francie tells Burns/Robie that all that separates herself and her mother is a few years and grammar). Robie likens Hughson from Lloyds to a thief, with the sole difference being that "every time an ashtray is missing from a hotel they don't come looking for you. Every time a diamond bracelet disappears in France, they shout, John Robie, the cat! You don't have to spend every day of your life proving your honesty but I do."
Hitchcock's technique in the film was to always shoot in reference to the principal characters' essential duplicity. He explained in relation to Kelly:
I deliberately photographed Grace Kelly ice-cold and I kept cutting to her profile, looking classical, beautiful and very distant. And then, when Cary Grant accompanies her to the door of her hotel room, what does she do? She thrusts her lips right up to his mouth. (Quoted in Spada: 127-8)
Kelly is clad in blue, the film's dominant colour, and about which the entire narrative is composed, as is fitting for the sun-drenched seaside location, connecting her character with the imperatives of the story's form, the illustrations that adorn the travel shops, the horizon, the icy cool of all the of the characters until everything really matters and they are awakened from their dream-like slumbers and the film's ultimate rooftop chase serves to yield the truth of everyone's motives. In short, Kelly is clearly designated an elemental role, as significant as that of the sea, or the sky. To prove this, Hayes has Francie last season's women's waterski champion at Sarasota, Florida, as she pronounces to Robie, deep in conversation with the duplicitous Danielle. In his offhand dismissal of the film, the only reference Hitchcock made to Truffaut was his attempt to rid the Technicolor blue for the night scenes. However Truffaut made the point to him, "this is the picture that aroused the press's interest in your concept of movie heroines. You stated several times that Grace Kelly especially appealed to you because her sex appeal is 'indirect'." And Hitchcock's response:
Sex on the screen should be suspenseful, I feel. If sex is too blatant or obvious, there's no suspense. You know why I favor sophisticated blondes in my films? We're after the drawing-room type, the real ladies, who become whores once they're in the bedroom. Poor Marilyn Monroe had sex written all over her face and Brigitte Bardot isn't very subtle either… these actresses generally make bad films. Do you know why? Because without the element of surprise the scenes become meaningless. There's no possibility to discover sex. (Truffaut: 224)
Introduced at a dinner by Hughson, who has been sent to investigate his clients' losses, Francie is unimpressed by 'Mr Burns' and embarrassed by her own mother, another of Hayes' 'Stella' characters, Jessie (Jessie Royce Landis), a variation on the typical Hitchcock trope of parental humiliation. As Drew Casper points out, "all Hitchcock people are plagued with parent problems" (Casper: 320). Accompanying her to her bedroom, Robie is frankly shocked by her sudden personality change as she grasps him in an erotic embrace and full-mouthed kiss, in the film's most beautiful shot of Kelly, who then walks a practised backward retreat into her room. Hayes based it on a presumably false anecdote relayed him by Hitchcock about Kelly kissing him in a New York hotel. (McGilligan: 492). It is another instance of deception and appearance, a constant in this triptych of Kelly's work with her director. And as the film proceeds the colour of her costumes warms up as her interest increases in uncovering the identity of this fascinating older man who appears to have no interest in return.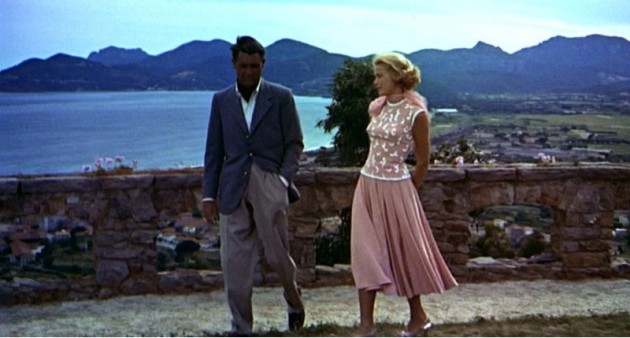 Cool fashion
The following morning departing for the beach, Kelly is clad in an avant garde outfit superficially reminiscent of the monochrome costume fresh off the airplane from Paris she wears at the beginning of Rear Window , in which she had played a retired model. She is then framed here like a catwalk model prowling a pre-determined path: first meeting Burns'/Robie's stupefied gaze at her amazing headgear as she emerges from the elevator, hand poised on her hip; then drawing admiring glances from onlookers as she proceeds down the lobby with the camera tracking backwards; and then adopting an haute couture pose as Robie collects a threatening anonymous letter from the concierge informing him that he has used up eight of his nine lives. It's a wonderfully intertextual moment as well as another point of visual splendour in which we are invited to gaze at her beauty just like Cary Grant and the other awed passers-by. Edith Head had been given the unusual pleasure of going on location and accompanied Kelly to Paris to stock up on accessories for the film. She declared when they entered Hermès in Paris, it was "like two girls in an ice-cream shop" (Quoted in Haugland: 21).
Once again, Hitchcock was using the language of costume to express aspects of his leading lady's character and Edith Head explained the difficulty in creating a dress for the fireworks scene:
There had to be enough fabric showing in the tight shot so that the audience knew Grace had clothes on… This may sound simple, but it wasn't. The gown had to have simple lines so that it did not detract from the necklace, yet it had to emanate an haute couture quality that matched the expensive jewels. (Wayne: 204).
Nobody wore white like Kelly. But what is fascinating about this scene is how she moves in the frame – her arms alone are worthy of study as she occupies centre screen, in pre-coital argument with Grant before disappearing into the shadow so that all eyes fall upon her necklace.
FRANCIE
If you really want to see fireworks, it's better with the lights out.
She snaps out the light. Then she crosses and comes down behind the sofa. Robie turns again, his eyes following her. As she walks, she says:
FRANCIE
I have a feeling that tonight you're going to see one of the Riviera's most fascinating sights.
She comes into the foreground, pauses in front of a table lamp, bending over it slightly: the jewels around her neck catch the light and seem quite prominent. She turns her head and looks across at Robie.
FRANCIE
I was talking about the fireworks.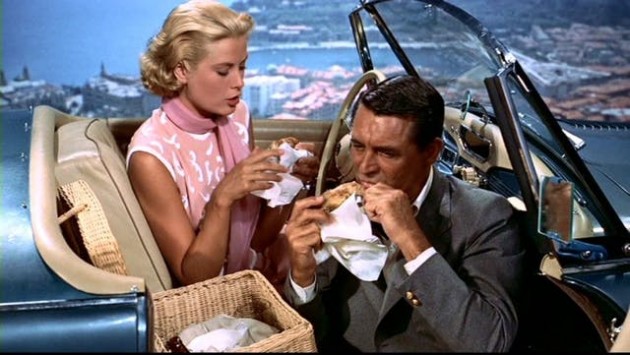 Leg or Breast?
Grace never complained about anything," Cary Grant said of her in 1956 when speaking about the experience on the shoot and Kelly's thoroughgoing professional demeanour. "We had a scene where I had to grab her arms hard while she was fighting me and push her against a wall. We went through that scene eight or nine times, but Hitchcock still wanted it again. Grace went back alone behind the door where the scene started, and just by chance I happened to catch a glimpse of her massaging her wrists and grimacing in pain. But a moment later she came out and did the scene again – she never complained to me or to Hitch about how much her arms were hurting. She isn't one of those girls who waste time by being angry if a dress didn't fit, well it just didn't fit, and that was that, with no hysterics. So of course they got the dress fixed for her faster than they would have for a girl who was screaming about it. No wonder she was popular with the wardrobe people, even if she didn't go around slapping them on the back" (Spada: 127) He confessed to being 'in awe' of Kelly, who was accompanied by her acting coach Elsie Foulstone and was extremely well-prepared for each scene. The narrative is constructed around several chase sequences, broken up by character moments which reveal everyone's motives, piece by piece in series of highly suggestive conversations.

Conant/Hitchcock
ROBIE
I can already hear your next line.
FRANCIE
The cat has a new kitten.
Technically, Hitchcock enjoyed the challenge of the physical difficulties on location as Patrick McGilligan describes, "shooting both close-ups and rear projection plates on location and then back at Paramount shooting alternative close-ups against the plates. The final blend of reality and artifice was left to postproduction" (McGilligan: 495). The VistaVision format presented issues for the director with close-ups frequently favoured in beautiful but blurred locations which could not survive the widescreen process. However it is a joyous holiday film, with extraordinary helicopter shots which make the destination worth swooning over as much as the cast. Herbert Coleman, who supervised the second unit's aerial photography after the principal unit returned to the Paramount lot, described the director's films for the studio as "beautiful people, beautiful scenery, a love story and suspense" (McGilligan: 496). On occasion in the film, particularly in the outdoor location shots where lighting could not so easily be controlled, Kelly's only physical flaw, aside from her thin hair, her strong jawline, could not be hidden even within the spectacularly perfect symmetry of her bone structure.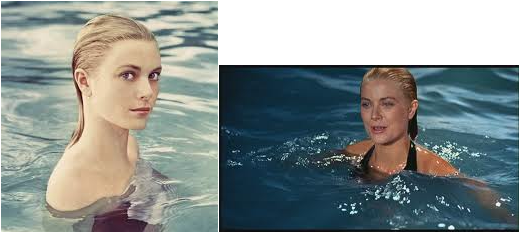 Conant/Hitchcock
Her friend, the model Carolyn (Scott) Reybold, had years earlier advised her to stop camouflaging it with pageboy hairstyles and to make a virtue of it instead, tying her hair back and creating an even greater illusion of perfection, with her small nose never casting an awkward shadow for camera angles (Jacobs, 2010: 142). Howell Conant discovered that problem when taking those famous stills in Jamaica some months after Thief wrapped, in Spring 1955: "You just had to be a little selective about the angles. Six inches this way, that way, up or down – that's all I needed to move to get the jaw right." As Robert Lacey describes, "Conant had accomplished the still-life equivalent of Alfred Hitchcock" (Lacey: 204, 203).
The script never really was completed. As McGilligan points out, "there were endless alterations dictated by the budget, location, censorship, and the actors" (McGilligan: 493). This inevitably led to several continuity errors which nonetheless do not impede enjoyment. The big chase scene at the Nice flower festival was lost due to budget considerations; other scenes were delayed by rain; the Bertani character essayed by Charles Vanel (who appeared in Clouzot's Les Diaboliques, 1955) had to be completely dubbed due to his utter inability to speak English comprehensibly even with phonetic aid and the help of Elsie Foulstone coaching him from the sidelines; the plot line with Danielle's father Foussard was never really concluded – nobody knew (or really cared) who murdered him; and Grant's contract demanded that shooting stop at 6PM which infuriated his director. The film re-located to Hollywood on the 4th of July 1954.
For the masquerade gala, the Bal de Biarritz, which provides a suitably spectacular backdrop to the conclusion of a film in which performative choices have been dictated by the constant adapting of character to duplicitous personae, imitation, copycatting and disguise, Head was to design a sensational outfit, "a balloon-skirted, strapless, gold lamé ballgown and golden wig crowned with matching doves" (Wayne: 206). Hitchcock had instructed the designer to make Kelly look like a princess.
The connective tissue that links Kelly's performance choices with the film's style and technique is intrinsic in the dialogue and tone. It remains the one Hitchcock film in which the verbal witticisms dominate the action and therefore that in which expressive character is more important than any McGuffin or superficial thriller element. Suspense is implied in the characters' decisions and their duplicitous lifestyles, rooted in their origins and the backstory of the Maquis activity in the war – nobody in this film is what they seem, and everyone has their complementary opposite or doppelganger. Kelly gets to display real emotion at the gates of the cemetery when she confesses to Robie that she loves him: she is clearly tearful and hasn't slept, there are bags under her eyes, her face is swollen and her former chirpiness and humour have completely vanished. Her glaze has been cracked. She grips John's arm, an appropriate gesture of emotion and tearful longing following a narrative line in which fingers, fingertips, arms, hands gloved and otherwise, are fetishized grabbing jewels, dropping wine bottles, stabbing a cigarette out in an egg yolk, driving a convertible, strangling Germans. Despite the film's outwardly simplistic appearance of blended genres, Kelly reveals an adaptability and mutability of emotion not evident at first glance in the story's construction. This scene concludes the film's emotional throughline and she achieves a totally dramatic logic, deepening the effect of the dénouement. Spoto describes Kelly as being "gently poised between stylish elegance and a kind of cool, poignant isolation" (Spoto, 1979/1992: 226).
Despite her stunning appearance, Kelly was very unhappy with the masquerade ball scene and declared she wished she'd been permitted to shoot those scenes over, put off by Hitchcock's famous joke, "Grace, there's hills in them thar gold!" when she appeared in the infamous ballgown. The film's conclusion erupts with the marriage plot that is at the heart of the trilogy of films Hitchcock made with Kelly. This was Hitchcock's preferred ending, not Hayes' (McGilligan: 500). The coherent persona that has evolved throughout the narrative is now clear. Ultimately, Francie Stevens is looking for a suitable husband – and in the final scene it is she who is revealed as the film's real cat – with John Robie the mouse trapped in the role of husband, encased in her arms. Nobody and nothing is as it has appeared. "I didn't want to wind up with a completely happy ending," Hitchcock told Truffaut. "That's why I put in that scene by the tree, when Cary Grant agrees to marry Grace Kelly. It turns out that the mother-in-law will come and live with them, so the final note is pretty grim" (Truffaut: 226). Robie might as well have been imprisoned by the gendarmerie for all those burglaries that he never committed.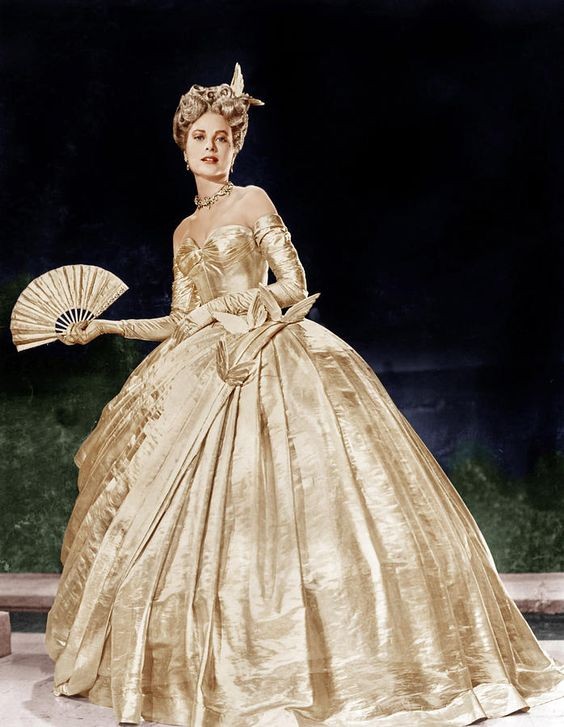 "Grace, there's hills in them thar gold"
Steven DeRosa is perhaps the sole commentator to properly appreciate the intricate layers of character, extraordinary wit, charm and verbal construction by Hayes (albeit he does not acknowledge the uncredited contributions by Alec Coppel, who would go on to work on the screenplay of Vertigo as well as Alfred Hitchcock Presents and The Alfred Hitchcock Hour). Hitchcock may have dismissed it as corn but it is far from that as DeRosa explains: "The markers of a John Michael Hayes screenplay are much in evidence. The isolated protagonist who rejoins a larger community; the down-to-earth mother figure; and the literate descriptive passages, clever dialogue, and double entendres are all woven into the colourful fabric of To Catch a Thief and combined with the usual attention to detail found in a Hitchcock shooting script. Present are the director's characteristic concerns – fear of intimacy, betrayal of trust, and transfer of guilt – bolstered by a skillful display of recurring visual and verbal motifs. The central motifs are images of and references to hands and water, costumes and role-playing, and games and gambling" (DeRosa, 2001: 236).
Afterwards, Cary Grant commented that things could have turned out very differently for all their careers when he mentioned that he, Kelly and Hitchcock had mooted the possibility of making a number of Thin Man-type films together in their own production company. It was not to be. Grant was probably too expensive; Kelly had other plans; and Hitchcock had in any case a half-decade's worth of films left to produce after setting out a scheme of projects for himself years earlier, although it is clear that he spent the rest of his career either trying to find the new Grace Kelly or moulding someone in precisely her image when he couldn't get her back. He told a reporter in April 1955, "She'll be different in every movie she makes. Not because of makeup or clothes but because she plays a character from the inside out. There's no one like her in Hollywood" (Haugland: 17).
She had developed into a fine comic actress with a talent for exploring emotional depths under his tutelage and the loss was deeply felt. If, as Foster Hirsch, baldly claims, "in both her pre-and post-Hitchcock movies, Kelly was a variable actress whose work ranged from bland to Brechtian," it can truly be stated that in collaborating with him "Hitchcock democratizes his star" (Hirsch, 1991: 51). Yet the coolly observant Alec Guinness would remark of his experience in making The Swan with her, "This girl is remarkable —- but I wonder what she is doing? What she was doing was first class but I suspected it was accidental. After two 'takes,' I realized, with astonishment, that she achieved exactly the same delicate touches each time we played the scene, that she not only knew exactly what she was doing, but precisely what she was going to do next. Then I understood the envy some Hollywood stars have of her —the girl is an artist, and recognizably one in a city brimful of talent" (from BLESSINGS IN DISGUISE, quoted in Leigh: 113).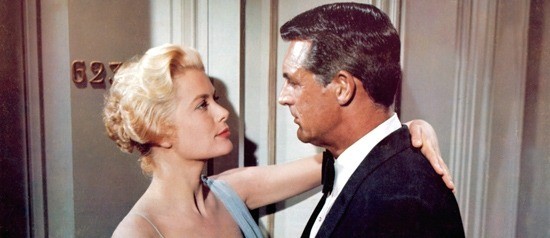 "Mother will love it!" Another marriage plot
The Los Angeles Times review of Thief described Grant and Kelly as "ideal in the romantic leads"; The Daily Telegraph critic reported that "the mood throughout is one of cynical humor, with witty dialogue and amorous overtones …. Grant and Kelly dominate the film with easy charm"; and Bosley Crowther recorded for The New York Times , "Miss Kelly is cool and exquisite and superior" (Wayne: 207-8). That film concluded their entrancing collaboration. Molly Haskell's analysis focuses on the imitation of life that a retrospective glance affords: "Kelly's cool, which protects her in most cases, served as a pique to Alfred Hitchcock, whose films with her … are as much critiques as displays of effortless star radiance. In To Catch a Thief , she is (somewhat autobiographically?) the daughter of a nouveau riche millionairess … and her rough edges have been polished off too successfully by finishing school. She is spoiled (though fearful underneath that men want her only for her money); she plays with feelings perversely (she is tantalized by the idea of Grant as a cat burglar – until she thinks he has robbed her mother; unlike her mother she has no instinctive trust of intuitions by which to sense his honesty). In Rear Window , she is more committed to their relationship than is Jimmy Stewart, but there is not much in her chic vacuous personality to commit. Like all the heroines Hitchcock wants to shake from real, or imagined, complacency, she is exposed to mortal danger. In both films, she passes the test – for she does have physical courage – with flying colors, but there is a dangling question mark, as the film ends, as to whether she really has changed, or only gotten what she wanted" (Haskell: 268-9). After filming was completed on To Catch a Thief , Hitchcock commented of Kelly, "so far she has only played leading women. She has yet to play the character about whom a film is built. That will be her big test" (Spada: 97-8). He appeared not to have realized that he had already helped her accomplish that with Rear Window .
David Thomson describes the nature of the Hitchcock/Kelly relationship. "Like so many in the audience, Hitch adored Kelly – in Dial M For Murder , Rear Window , and To Catch a Thief , her puree of comedy, class and sex suited him perfectly, and it was delivered with a cool, glassy style that he cherished" (Thomson, 2009: 13). She would of course win an Academy Award, but not with Hitchcock. MGM put her on suspension for refusing to participate in Tribute to a Bad Man with Spencer Tracy. When she was nominated for an Academy Award for Best Actress in Paramount's The Country Girl (Seaton, 1954) the studio immediately tried to save face by announcing that she would be appearing for them in The Barretts of Wimpole Street (Wayne, 2002, 2004: 302). In 1955 she won the Oscar playing against type in that drab domestic drama adapted from the Clifford Odets play. 2 Kelly was of course a complex performer, capable of wonderful range beyond the constructed nature of her image which was more immediately obvious to the audience than to critics at the time. Until the spring of 1955. She wore a dress designed especially for her by Edith Head for the occasion of the Academy Awards. She described her return with the statuette to the Bel Air Hotel that night as "the loneliest moment of my life."
Kelly would achieve an unprecedented status when she agreed to have Howell Conant accompany her on holidays in the West Indies in early 1955 and then disseminated the famously personal images in the pages of Colliers in the summer, after she had won the Oscar. This was a truly autonomous act at the time and Conant became the preferred photographer to the House of Grimaldi when she married into Monegasque royalty. At the beginning of 1954 Life magazine had gambled and predicted that this would be the 'Year of Grace'. By year's end, she was in four films on release; she was the MGM's most valuable star; and she topped the year's Best Dressed Lists despite her penchant for off the rack attire and thrift. The proprietors of movie theatres were giving her equal billing with Hitchcock and Stewart, unprompted. Judith Quine remembers, "by the time she returned from Europe after making To Catch a Thief , Grace had become the movie star version of the ideal Fifties woman – and she knew it…. Grace, both in The Country Girl and under Hitchcock's guidance in his movies, became the film and then real-life representation of our desires" (JBQ: 55; 56). The expressive dialectic between Kelly and her audience was now clear: she was everything they wanted to be. In December 1955 Kelly was named as the woman of the year in entertainment by the Associated Press and MGM still didn't know what to do with the most co-operative actress Hitchcock said he had ever directed.
Six months after To Catch a Thief and following her fabled meeting with Prince Rainier of Monaco at the Cannes Film Festival, Kelly would take further screen roles that originated on the stage. First, that of a princess in The Swan (Vidor,1956), an adaptation of a Molnar play favoured by her uncle George, who was still a huge influence in her life. She had already played it at Bucks County Playhouse and on television. It would be her only time to achieve single top billing. Jessie Royce Landis would play her mother once again (and she would play Cary Grant's mother for Hitchcock in North by Northwest, 1959). Then, Kelly would give her final performance in High Society (Walters, 1956) a musical remake of The Philadelphia Story (Cukor, 1940), the Barry adaptation, which would even give her a huge chart hit with the Cole Porter duet 'True Love,' Bing Crosby's final success. She wore her real-life engagement ring in the role which she had played for her graduation performance at the Academy of Dramatic Arts. She had another four and one half years left to run in her MGM contract and exchanged the biographical role of The Swan and High Society costumier, MGM's Helen Rose, taken instead by Lauren Bacall in Designing Woman (Minnelli, 1957) for the studio's exclusive rights to her wedding ceremony. She made it clear in an interview with Maurice Zolotow that she would still work. "Why there isn't anything to do in Monaco, you know! It's such a little country. Of course I'm going to continue with my work. Right now, I'm reading a dozen different scripts, trying to choose among them. I'm never going to give up acting" (Quoted in Taraborrelli, 2003: 141). Unknown to herself, she was (unintentionally) retiring from Hollywood at the age of twenty-six. Her trousseau was created by Helen Rose (whom she had just avoided playing). She made her final Hollywood appearance presenting the Academy Award for Best Actor to Ernest Borgnine the following year.
When the announcement was made that Kelly was marrying Prince Rainier, he commented, "I am very happy that Grace has found herself such a good part" (Lacey: 245). He reportedly sent his wife Alma to Kelly's bridal shower in New York with the gift of – a shower cap. Kelly hooted with laughter, delighted as usual with her favourite director's sense of humour and taste for pranks. Author John Calendo claims:
After Grace Kelly deserted him (as he surely saw it) for marriage to a minor princeling (Hitchcock was notorious for unhealthy infatuations with his leading ladies), the great director decided he wanted nothing more to do with stars if he could help it. Stars came with built-in associations, the baggage of past roles. They were vibrant personas that connected with audiences. Hitchcock, however, was picking up something new in the air. He wanted something radical: stars who didn't connect, stars who conveyed a modern isolation.The director now pointedly chose actresses who had a tendency to appear wooden and uninflected on the screen — limited actresses whose hollow resonances helped define his particular kind of morally vague blonde: soulless, blank-eyed (think of Janet Leigh driving in Psycho), they were embodiments of modern anomie, of existential emptiness. (Calendo, 2008: unpaginated)
Author Steven Englund summarises the impact Hitchcock had on Kelly:
His immense contribution to Grace's development lay in his intuitive understanding of Grace's psychology. Whether consciously or unconsciously, the English director was aware of Grace's subliminal fear of self-revelation and self-betrayal, fear that led to her constricting her emotions before the unblinking gaze of the motion picture camera. Grace's contemporary, Audrey Hepburn was fortunate in that she naturally, instinctively, cottoned to the camera. In Grace, however, something deep inside her was terrified by the intimacy and penetration of the camera. She had a performer's desire, to be sure, but her instinct was theatrical – to entertain across a space through the mediation of intelligence and interpretation, with the techniques of voice, inflection, movement, general appearance, etc. and all the other devices of stage acting. (Englund: 120)
MGM never knew what they had in their famously mutable and shrewd star until it was far too late. It is said (somewhat surprisingly) that the studio originally acquired Cat On a Hot Tin Roof (Brooks, 1958) for Kelly but she had retired to her Prince's European principality by the time of production and Maggie the Cat would be the role that finally gave her fellow indentured MGM servant Elizabeth Taylor a touch of screen greatness; Taylor also benefited from Kelly's decision not to take the role of Leslie Benedict in Giant (Stevens, 1956) (Lambert, 2004: 272). There are undoubtedly other great roles that went to other performers once Kelly had made the decision to abandon the silver screen for marriage in Monaco at that absurdly young age. That wedding, one of the media events of the century, would constitute the midpoint in the movie of her life. It was an MGM production which Hitchcock did not attend. (He allegedly gifted her with a leash for her French poodle, with a message supposedly from one of his own pet pooches.) Kelly was given a star on the Hollywood Walk of Fame in 1960; while Premiere magazine would eventually number her 12 on the list of greatest movie stars of all time. All of this, after just eleven screen performances. The retirement of his muse crushed Hitchcock. "He would have used Grace in the next ten pictures," John Michael Hayes stated. "I would say that all the actresses he cast subsequently were attempts to retrieve the image and feeling that Hitch carried around so reverentially about Grace" (Englund: 75).
There is no doubt that Kelly's retirement was a grievous loss to cinema but also, and in a short time, to her own sense of self. As Patrick McGilligan reports, she was experiencing personal difficulties (described as 'melancholia') about her decision as early as 1959. Her life had not turned out as expected and observers commented on the apparent change in her personality. Hitchcock never found another blonde properly of her stature but it was hardly for want of trying. "I feel the same way directing Vera [Miles] that I did with Grace," he said when making The Wrong Man (1956), "she has a style, an intelligence and an understanding" (Rebello, 2013: 63). Miles proved to be no Kelly, however, and disappointed him by becoming pregnant when he was building the dual role in Vertigo around her, leading him to cast Kim Novak. When the director transgressed his own rules in using television techniques to create a horror film with Psycho (1960), he killed off another blonde, Janet Leigh, after forty minutes, and changed film history in so doing. David Thomson writes of Hitchcock and Kelly: "It wasn't his fault that she'd found a prince in the South of France, and clearly he lived with the dream of reclaiming her. But that was coupled with a raw, antagonistic urge – to be naughty, to challenge Hollywood on nearly every standard he could find" (Thomson, 2009: 13) Hitchcock's trilogy of work with Kelly forms a marital triptych and a gloss on the performativity of cinematic staging about which textual discussion of much of his other career could be said to centre. One is left to ponder Kelly's much-anticipated return in Marnie (1964), a much more dangerous take on the character type established by Francie Stevens, had it not been for the legend of the appalled reaction of Monaco's citizenry to the news that their princess was to play a sexually repressed neurotic kleptomaniac at a time when the principality was in deep political and financial trouble with France. (At one point, the project was known as I Married a Frigid Female Thief). Kelly was to be paid $732,000 plus a percentage of the profits (Glatt, 1998: 69).
After the announcement had been made on March 18, 1962 that Kelly was returning to work with Hitchcock for the shoot, scheduled from August through November 1962, there was not just a supposed public outcry in Monaco. There was a tax war with France erupting which necessitated the family remaining in the principality for six months (Moral, 2013). This scenario would become the basis of the film Grace of Monaco (Dahan, 2014). Added to which, executives at MGM were displeased about the prospect, pointing out that Kelly still had all that time left to run on her contract at the studio and corresponding with Hitchcock on the thorny matter. As with much of Kelly's life, the entire truth was also sadder and more prosaic than matters of contracts and state, as Spoto and others have revealed. Kelly had not known that she was pregnant when she initially agreed to the leading role and she miscarried in June 1962, contacting Hitchcock and making a public statement a week later. Her letter to him dated 18 June reads: "Dear Hitch, it was heartbreaking for me to have to leave the picture. I was so excited about doing it and particularly about working with you again … When we meet I would like to explain to you myself all of the reasons which is difficult to do by letter or through a third party… It is unfortunate that it had to happen this way and I am deeply sorry. Thank you dear Hitch for being so understanding and helpful I hate disappointing you….I also hate the fact that there are probably other 'cattle' who could play the part equally well. Despite that I hope to remain one of your sacred cows" (Reproduced in Mitterand, 2007: 109). Hitchcock responded, "Yes it was sad, wasn't it. I was looking forward so much to the fun and pleasure of our doing a picture again. Without a doubt, I think you made, not only the best decision, but the only one. After all, it was 'only a movie'" (Miterrand: 108).
Kelly felt that she had no alternative but to withdraw from the project as originally scheduled and remained in a state of deep depression for several days. Interviewed for Playboy magazine a few
years later, she said, presumably through gritted teeth, "One has to choose in life." Hitchcock, meanwhile, was embroiled in serious post-production complications on The Birds which contributed to the delays with developing the script for Marnie and he didn't even shoot the film's first scenes until November 1963 with Tippi Hedren cast in the lead Kelly so coveted (Spoto, 2009: 200-203). Kelly never took another feature role again, although it was not her choice. In the Seventies, she desperately wanted to work on The Turning Point (Ross, 1977). She was offered whichever of the two leading parts she preferred. Her husband declared that it was not to be. She presumably gratified a part of her desire to be re-involved in the film business by accepting a place on the board of Twentieth Century-Fox which afforded her regular trips to California from 1976 onwards. It marked twenty years since her unintended retirement from a town she may have loathed but whose work she loved, even if her protests against her studio's diktats helped put the final nail in the classical system. Aside from narrating a couple of documentaries, she would never return to the big screen.
Kelly underestimated the power of her screen appearances as she made clear in an interview with Pierre Salinger for American television in July 1982, her last recorded appearance: I don't feel as though I achieved enough in my career to stand out more than many other people. I was very lucky in my career and I loved it, and – but I don't think I was accomplished enough as an actor to be remembered for that, particularly (Englund: 463).
As Spoto avers, Hitchcock not only discovered Kelly's fabled 'elegant sexiness,' he also discovered "the vulnerability and the strain of melancholy that existed alongside the passion in Grace Kelly's image, as it did in her own authentic character" (Spoto, 2009: 87). Legendarily nearsighted, and a poor driver, she would receive fatal head injuries in a horrific car crash, careening towards the same Corniche above Monte-Carlo that she had so memorably driven for Hitchcock twenty-eight years earlier, possibly enduring a stroke or even a victim of what would remain a mysterious accident, spinning off the road and into legend. It was perhaps a fitting conclusion to an extraordinary career of international superstardom that had been achieved at warp speed. The life of Grace Kelly was filled with deceptively simple fiction; it was not just in the eye of the beholder. Fade out.
Bibliography
Books
Auiler, Dan (2001)._ Hitchcock's Notebooks: An Authorized and Illustrated Look Inside the Creative Mind of Alfred Hitchcock._ London: HarperCollins.
Balio, Tino (1976, 1985). The American Film Industry (Revised). Madison: University of Wisconsin Press.
Basinger, Jeanine (1993). A Woman's View: How Hollywood Spoke to Women 1930-1960. London: Chatto & Windus.
________ (2007). The Star Machine. New York: Vintage Books.
Belton, John (ed.) (2000). Alfred Hitchcock's Rear Window. Cambridge: Cambridge University Press.
Bordwell, David (1987). Narration in the Fiction Film. London: Routledge.
Bruzzi, Stella (1997). Undressing Cinema: Clothing and Identity in the Movies: Clothes, Identities, Films. London: Routledge.
Casper, Drew (2007). Postwar Hollywood 1946-1962. Malden, Oxford: Blackwell Publishing.
Cook, Pam (1990). The Cinema Book. London: BFI.
DeRosa, Steven (2001). Writing With Hitchcock: The Collaboration of Alfred Hitchcock and John Michael Hayes. London: Faber & Faber.
Dodge, David (1952/2010). To Catch a Thief. London: Penguin.
Englund, Steven (1984). Princess Grace. London: Sphere Books. [Originally published as Grace of Monaco: An Interpretive Biography. New York: Doubleday.]
Freedman, Jonathan and Richard Millington (eds.)(1999). Hitchcock's America. New York: Oxford University Press.
Glatt, John (1998). The Ruling House of Monaco: The Story of the Tragic Grimaldi Dynasty. London: Judy Piatkus.
Gledhill, Christine (ed.) (1991). Stardom: Industry of Desire. London: Routledge.
Haskell, Molly (1973/1987). From Reverence to Rape: The Treatment of Women in the Movies (2nd ed.). Chicago: University of Chicago Press.
Hirsch, Foster (1991). Acting Hollywood Style: With Photographs from the Kobal Collection. New York: Harry N. Abrams/AFI Press.
Klapp, Orrin E. (1962). Heroes, Villains and Fools: The Changing American Character. Englewood Cliffs, New Jersey: Prentice Hall.
Lacey, Robert (1994). Grace. London: Sidgwick & Jackson.
Lambert, Gavin (ed.) (2004). The Ivan Moffat File: Life Among the Beautiful and Damned in London, Paris, New York, and Hollywood. New York: Pantheon.
Leigh, Wendy (2007). True Grace: The Life and Times of an American Princess. London: JR Books.
McGilligan, Patrick (2003). Alfred Hitchcock: A Life in Darkness and Light. London: John Wiley and Sons.
Mitterand, Frédéric (2007). The Grace Kelly Years: Princess of Monaco. Turin/Monte Carlo: Skira Editore/Grimaldi Forum Monaco.
Moral, Tony Lee (2013). Hitchcock and the Making of Marnie (The Scarecrow Filmmakers Series). Revised Edition. New York: Scarecrow Press.
Naremore, James (1988). Acting in the Cinema. Berkeley and Los Angeles: University of California Press.
Nichols, Bill (ed.) (1985). Movies and Methods Volume II. Berkeley and Los Angeles: University of California Press.
Quine, Judith Balaban (1989). The Bridesmaids: Grace Kelly, Princess of Monaco & Six Intimate Friends. London: Weidenfeld & Nicolson. [Cited as 'JBQ' in the text]
Rebello, Stephen (1990/2013). Alfred Hitchcock & The Making of Psycho. London: Marion Boyars.
Rohmer, Eric and Claude Chabrol (1957/1986). Hitchcock: The First Forty-Four Films. New York: Frederick Ungar.
Schary, Dore (1981). Heyday. New York: Berkley Publishing Group.
Spada, James (1987). Grace: The Secret Lives of a Princess. New York: Dolphin; reprinted as Grace Kelly by Paperview UK Ltd in association with The Irish Independent.
Spoto, Donald (1983). Alfred Hitchcock: The Dark Side of Genius. New York: Ballantine Books.
________ (1979/1992). The Art of Alfred Hitchcock: Fifty Years of His Motion Pictures (Revised edition). New York: Doubleday.
________ (2009). High Society: Grace Kelly and Hollywood. London: Arrow.
Staiger, Janet (1992). Interpreting Films: Studies in the Historical Reception of American Cinema. Princeton University Press.
Sterritt, David (1993). The Films of Alfred Hitchcock (Cambridge Film Classics). Cambridge: Cambridge University Press.
Thomson, David (1985). Suspects. London: Picador.
________ (1994). A Biographical Dictionary of Film. London: Andre Deutsch.
________ (2009). The Moment of Psycho: How Alfred Hitchcock Taught America to Love Murder. New York: Basic Books.
Truffaut, François (1986). Hitchcock: A Definitive Study of Alfred Hitchcock. New York: Simon & Schuster.
Wayne, Jane Ellen (1991/2004). Grace Kelly: Her Life and Loves. London: Robson Books.
Wood, Robin (1989). Hitchcock's Films Revisited. London: Faber & Faber.
Zinnemann, Fred (1992). An Autobiography. London: Bloomsbury.
Journals, Articles & Essays
Calendo, John (2008), 'Alfred Hitchcock at the Drag Ball: When Being Blonde and Soulless is Not Enough,' Bright Lights Film Journal, Issue 62, November 2008. Accessed 24 October 2013.
Chion, Michel, 'Alfred Hitchcock's Rear Window : The Fourth Side,' in Belton, 2000: 110-117.
Doane, Mary Ann (1980), 'The Voice in the Cinema: The Articulation of Body and Space,' in Nichols, 1985: 565-575.
Harris, Thomas. 'The Building of Popular Images: Grace Kelly and Marilyn Monroe,' in Gledhill, 1991: 41-45.
Jacobs, Laura May (2010), 'Grace Kelly's Forever Look,' Vanity Fair, May 2010: 136-148.
Lane, Anthony (2010), 'Hollywood Royalty: Two Sides of Grace Kelly,' The New Yorker. Retrieved 27 May 2014.
Levene, Louisa (2010), 'Grace Kelly: A Masterclass in Allure,' Daily Telegraph 09 April 2010. www.telegraph.co.uk. Retrieved 24 October 2013.
Mulvey, Laura, 'Visual Pleasure and Narrative Cinema,' Screen, Autumn 1975, republished in Nichols, 1985: 303-314.
Street, Sarah, 'The Dresses Had Told Me: Fashion and Femininity in Rear Window ,' in Belton, 2000: 91-109.
Wilson, Eric G. (2010), 'Cary Grant: Prince of Denmark,' Bright Lights Film Journal, Issue 68, May 2010. Retrieved 24 October 2013.
Online sources
www.classiqme/style-in-filmgrace-kelly-in-dial-m-for-murder
Magill's Survey of Cinema, '_To Catch a Thief_ ,' hitchcock.tv/essays/thiefessay.html. Accessed 24 October 2013.
Neil Sinyard (2013) 'Grace Kelly in Rear Window ,' 07 February 2013, Accessed 24 October 2013.
Filmography
The Bridges at Toko-Ri (1954) d. Mark Robson
The Country Girl (1953) d. George Seaton
Dial M For Murder (1953) d. Alfred Hitchcock
Fourteen Hours (1951) d. Henry Hathaway
Green Fire (1954) d. Andrew Marton
High Noon (1952) d. Fred Zinnemann
High Society (1956) d. Charles Walters
Hitchcock (2012) d. Sacha Gervasi
Mogambo (1953) d. John Ford
Rear Window (1954) d. Alfred Hitchcock
The Swan (1956) d. Charles Vidor
To Catch a Thief (1955) d. Alfred Hitchcock
Television
Discovering Grace Kelly (2013) d. Lyndy Saville
Glamour (2011) d. Galeshka Marvioff
Grace Kelly (1983) d. Anthony Page
MGM: When the Lion Roars (1992)
Other
Hitchcock and Dial M For Murder (2004) Warner Bros.
Rear Window Ethics: Remembering and Restoring a Hitchcock Classic (2000) Universal Studios
Screenwriter John Michael Hayes on Rear Window (2000) Universal Studios Home Video
The Making of To Catch a Thief (2002) Paramount Pictures
Writing and Casting To Catch a Thief (2002) Paramount Pictures
Copyright
Images property of Warner Brothers, Paramount Pictures, Life, Howell Conant,
Notes
Hitchcock would allegedly be fazed by the success of Henri-Georges Clouzot's Hitchcockesque Les Diaboliques (1955), as memorialized in the film Hitchcock (Gervasi, 2012). He of course hired Charles Vanel in To Catch a Thief to play Bertani. Vanel had appeared in Clouzot's earlier The Wages of Fear (1953). This sequence in Dial M or Murder_… would appear in turn to have influenced aspects of Clouzot's own famously unfinished _Inferno (1964) starring Romy Schneider. ↩
As Jeanine Basinger points out on the subject of female stars dressing down for awards: "The woman's film genre sometimes tried to prove it was telling an honest story about a real woman by the simple expedient of having the leading lady remove her makeup and thus deglamorize herself. It was an old joke in Hollywood that if a movie star wanted an Oscar, she should take off her false eyelashes and pull out her shoulder pads. Certainly Olivia De Havilland in The Snake Pit (1948), Grace Kelly in The Country Girl (1954) and Jane Wyman in Johnny Belinda (1948) were all trying to prove that true, with Kelly and Wyman succeeding. A serious performance by an actress molded by the Hollywood glamour school was defined by having her wear no lipstick. A first-rate star appearing on the screen without makeup, elaborate hairdo, or wardrobe was defined as realistic acting, as if putting on flat shoes and a frumpy dress somehow constituted a performance of deep intensity and daring. There's also an insult to the viewing audience implied. To be like the women in the audience, 'real' women on-screen made themselves unattractive. At the same time, these real women in the audience were being told that fashion and glamour were everything in a woman, and that they had a God-given responsibility to make themselves attractive" (Basinger, 1993: 140). ↩