The Role of Women in Early Film Culture: Nell Shipman and Back To God's Country (David Hartford, 1919)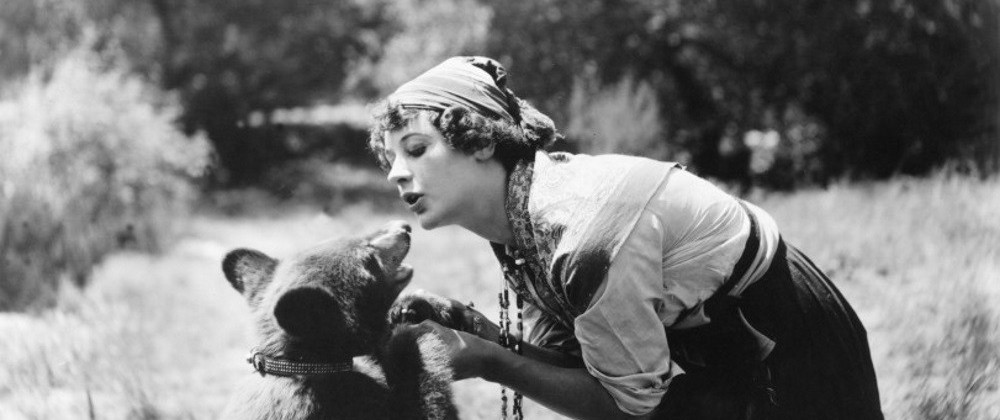 What is the film aesthetic, production and promotional history of Back To God's Country, a silent motion picture produced by the Curwood-Carver Production Company and released in the fall of 1919? What kind of scholarly approach should be taken in describing Back To God's Country film history? Such questions, and many like them, always precede any serious discussion of a cinematic narrative. The present author will search for a direction to an argument which will be salient enough to capture the audience's attention, for at least a short period of time, leading the reader to reflect on his or her own socio-cultural position with respect to the film's message.
My essay will look at the film Back To God's Country and the role of women in early film culture. My argument will incorporate formal contrast, narrative opposition, and ideological contradiction; indeed, it will contrast the different roles and attitudes taken by men and women in film culture. Moreover, it will specifically describe the rise of a woman's career within the motion picture industry and oppose her apparent success with the story of a woman of nature, a lover of animals who becomes for all practical purposes an object of the male gaze. And finally, it will contradict the idea of the time that women were passive 'others,' not equal to men, by demonstrating their capacity to resist the relentless violent attacks on their persona and their right to exist freely and equally in society.
To discuss the role of women in Canada's film culture, and even in Hollywood's film culture, over a period of about a hundred years, is to discuss absence, gaps, discontinuities, and distortion. The images of women in feature films are distorted by a male dominated industry, and at times, inflated through men's visual obsessions. The trend in any film culture over the last century has been to display the images of women as adjuncts to images of men. The visual ideas of women have been represented as symbols of 'otherness', reflecting the male dominated world of filmmaking, a world of male narcissism and power. Although women have made great contributions to the world of film throughout its history, such efforts have been obscured and belittled —the visions and voices of the women of cinema have been suppressed. This historical fact is unfortunate because there were great women film pioneers such as Alice Guy who made the first edited fiction film, La Fee Aux Choux (1896); Esther Shub who created the art of compilation film, as seen in The Fall Of The Romanov Dynasty (1927); Lotte Reiniger who made a feature length film a decade before Disney, as seen in The Adventures Of Prince Ahmed (1926); and finally there was Nell Shipman, girl wonder from Canada, also a scriptwriter and a star actress who performed as the principal protagonist in one of Canada's earliest major feature length film, Back To God's Country, released on October 27th, 1919 (Feldman 58). 1
In the early days of cinema, many young women embarked on acting careers to become Hollywood starlets. Some of the actresses who succeeded at this grand and noble endeavor sometime showed remarkable versatility behind the cameras, and many of them became writers, directors, and producers. Nell Shipman was one of these talented women. She was born Helen Barham in 1892, Victoria, British Columbia. At the young age of thirteen, she left home to attend acting school. In 1907, she performed in the Jesse Lasky play The Pianophiends. In 1909, she was the leading lady in the Charles Taylor play The Girl From Alaska. In 1910, she got the leading role in The Barrier, a play produced by the famous Canadian producer and theatrical entrepreneur Ernest Shipman, whom she married in 1911. Thereafter, Nell and Ernest moved to Pasadena, California, in an attempt to wedge their way into the film business. In 1912, Nell Shipman won a script writing contest sponsored by the Tally Theater in Los Angeles, and her winning script, Outwitted Billy, was produced by Selig Polyscope in 1913. In 1914, she scripted the first film produced in Australia, Shepherd Of The Southern Cross. In 1915, she accepted the leading role in a film, produced by the Vitagraph studios, playing a character from a script adapted from James Oliver Curwood's novel God's Country And The Woman. The picture, her first film for a major film company, was an outstanding success, and resulted in movie contracts with Vitagraph, Fox, and Lasky for 1916-17, a period in which she completed thirteen films. All of Nell Shipman's film experience to this point set the stage for one of Canada's earliest feature length film, Back To God's Country (Smith 35).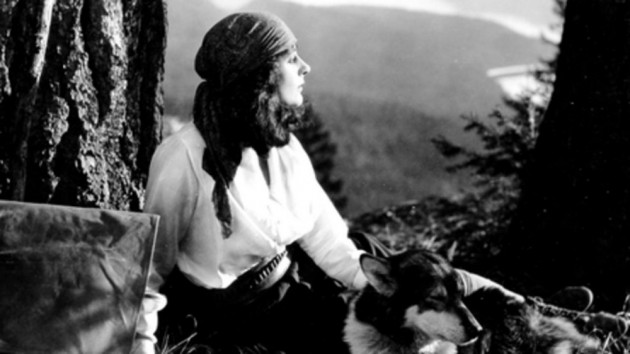 Back To God's Country is one of Canada's oldest feature length films, a six-reel silent movie originally produced as a motion picture before the story was published in book form in 1920. It should be noted here that this fictional narrative dates back to 1911; indeed, it was done as a short story which appeared initially in the international fashion magazine, named Cosmopolitan. This story was taken from Curwood's short story, Wapi, The Walrus, and released on September 28th, 1919. The film was directed by David M. Hartford, produced by James Curwood through the Curwood-Carver Production Company, and starred Nell Shipman [1892 – 1970] in the leading role. The famous American writer James Oliver Curwood [1878 – 1927], whom specialized in wilderness adventures, was a prolific short story writer. His fiction of the period was indelibly associated with tales of the Canadian Northwest, stories of the Royal Mounted Canadian Police, some true and some not. However, Curwood was a romanticist and his sentimentalism was affixed to the period in which he lived, and thus interest in his literary work faded with time. For example, his literary work also included a strain of racism, as well as, gender discrimination, which prevailed at the time. Moreover, many of the films which were based on his adventure stories had nothing to do with his intricate plots other than being set in the Canadian wilderness. Although more than one hundred and fifty-six films have cited Curwood as their source, most of them can only be considered as B-movies. As a result, his novels never elevated themselves above the average, and the films based on them remained in relative obscurity (Hitt 211).
Even though Curwood received small praise from the literary critics who thought his characters unbelievable, plots melodramatic, and writing style tired; no author has equaled his popularity with the public as a writer about the Great Canadian Northwest. Hollywood noticed his writing and saw the financial potential of bringing his wilderness adventures of the North to the screen. In 1913, Vitagraph and Selig started production on a series of Curwood-based films; and in 1914-15, more than fifty-six films were released with his authorship.
In 1919, Curwood was involved in the great Canadian film masterpiece, Back To God's Country, a story portraying life as the struggle between good and evil and set in a lawless, wilderness environment. This film is not just great because it is one of the first Canadian feature films, or because of its depiction of the life and times of people out in the wilderness of the Canadian Northwest regions; for this applauded movie, and the story it tells, contains intricate subplots in the form of stories within a story, all of which address the subjects of violence, sex, race, gender and ethnicity. It also contains national anxieties about cultural continentalism which effaces the barrier separating American and Canadian national identities.
Back To God's Country came about due to the efforts of many theatrical and film professionals. The cast consisted of Nell Shipman as the principal protagonist Dolores LeBeau; Wapi, the Great Dane — the killer dog; Wheeler Oakman who played Peter Burke; Wellington Playter who performed the part of the evil Captain Rydell; Ralph Laidlow as Dolores' father, Baptiste LeBeau; and Charles Arling in the part of Blake, the trading post master. Part of the narrative is set in the northern regions of Canada where Dolores and Baptiste live. In the story's background (i.e. what the French call l'histoire), Dolores grew up among the beast of the forests and made pets of them; she meets a government worker named Peter in the forest, and they fall in love. After the killing of her father, a death caused by the renegade vessel captain, Rydell, who had journeyed inland to hide from the Canadian Mounted Police, Dolores marries Peter, and after some time, they set sail for the far North on his government job of studying the native Eskimo people. Unknowingly to them, Rydell, the outlaw sea captain, is the master of the ship; after seriously wounding her husband, Rydell tries to rape Dolores, but his assault is repulsed by her tenacity to resist. Moreover, the villain was not alone in his enterprise, but had a partner in the sub-arctic region, named Blake, who had an abnormally huge and savage dog, a game fighter who fought other dogs for profit; as part of his training, Blake would beat the dog with chains and clubs, incessantly doing so without piety to keep it full of rage, and to instill in it a violent savagery against any creature that would pose a threat to its survival — this giant beast was Wapi, the Killer Dog.
As the story unfolds, the young wife begs Blake for a dog team she can use to transport her injured husband to a doctor some one hundred and fifty miles away at Fort Confidence. Blake refuses. However, by an act of fate and Dolores' love for animals, and like an ethereal remedy capable of calming any savage beast, Dolores wins over the Great Dane by intervening during one of Blake's savage beatings. Later, Dolores convinces Blake to give her two dog teams, one for herself and one for her husband; Dolores suspects treachery on Blake's part, who was in a conspiracy with Rydell in a plan to murder Peter during the journey across the ice to Fort Confidence. So with gun in hand and after shooting Blake in the shoulder, Dolores escapes the outpost with one of the dog sleds. But the villains reorganize and in a mad chase pursue her across the wilderness. Again, by some unknown fate, the Great Dane breaks loose from his chains and tracks Dolores down, to be with her in this hour of need. Not too long into the chase, the evil pursuers catch up with Dolores and her husband, at which point she loses her revolver and is left defenseless. With Wapi by her side and the villains only a few hundred yards away, she kneels down and turns to the immense dog, and by some magical power of nature, maybe even supernatural, a human mind connects to an animal mind. Dolores makes Wapi realize that it has to fight a 'death battle' with the ones who had beaten him with savage cruelty for all those years. In the end, the Great Dog defeats the evil ones by nearly killing all the dogs of the chase team. Dolores arrives at civilization and saves the life of her sick husband (Rainey 170).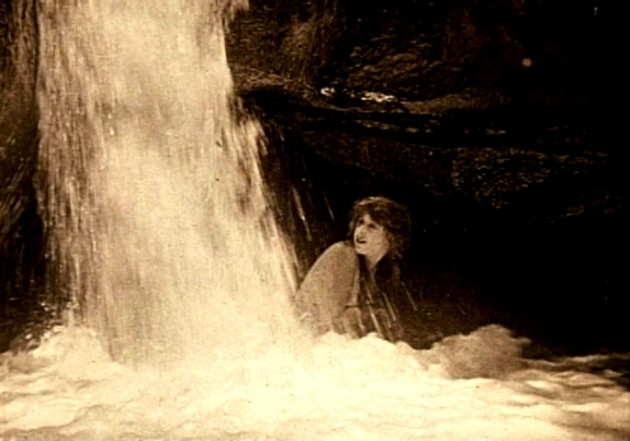 Back To God's Country was filmed in four separate locations, and put together and edited in Hollywood, California. The film crew began shooting in March of 1919. The winter scenes were shot on location in northern Alberta along Lesser Slave Lake, a remote region situated about two hundred miles north of Edmonton. The scenes on the sailing ship were shot in the San Francisco Bay area, while the wilderness scenes were filmed in the Kern River domain in California. The remainder of the film was shot in the Robert Brunton Studios in Hollywood. The picture was completed in three months and released by First National in September of 1919. The movie cost almost $70,000 to make, which was a large amount of capital investment for the time. Yet, the film made a tremendous profit for the Calgary investors, Canadian Photoplays Limited, receiving a three hundred percent return on their initial investment. The movie was shown all over the world, North America, England, Australia, Japan and continental Europe, and was received by the public with tremendous accolades, making it Canada's most successful feature film, grossing a half million dollars in its first year of exhibition. Back To God's Country was the only motion picture feature made under the Shipman-Curwood contract; for Curwood was displeased with Nell's script adaptation of his story because she made herself the hero, instead of the dog. Other factors contributed to the animosity between Curwood and Shipman; for instance, Nell wrote into the script a nude scene, which she performed at the Kern river location, a scene that was not at all part of Curwood's original story. As a result, the Curwood-Shipman contract dissolved before its termination date; and subsequently, both of them opened up separate film production companies (Shipman 70).
Indeed, it is not at all surprising that Nell Shipman had no liking for James Curwood; for one thing, he portrayed himself as a macho big game hunter, while Nell was a lover of animals. Curwood was the grand epitome of the male dominated film culture and his vehement disapproval of Nell's script, which enlarged the heroine's role and downplayed that of the dog, showed his prejudice and gender discrimination toward Nell, demonstrating again that the professional images of women in feature films have been deliberately obscured and underrated, and at times, suppressed altogether, by the male dominant film industry. And truly, even with an incredibly auspicious career, surpassing those of many successful men, Shipman was not immune to the innate prejudice and gender discrimination which pervaded throughout all segments of the entertainment industry. Thus, it is possible to make the connection between social prejudice, that is, a bigotry towards women, and the form and content of Back To God's Country. This film offers evidence to the fact that it represents a cultural construction of Canada, the Nation, as a white homogeneous social entity that discriminates against racial and sexual otherness. This movie can be seen as Nell Shipman's resistance to Curwood's Americanization of Canada, and much less as a wilderness adventure or an animal picture genre.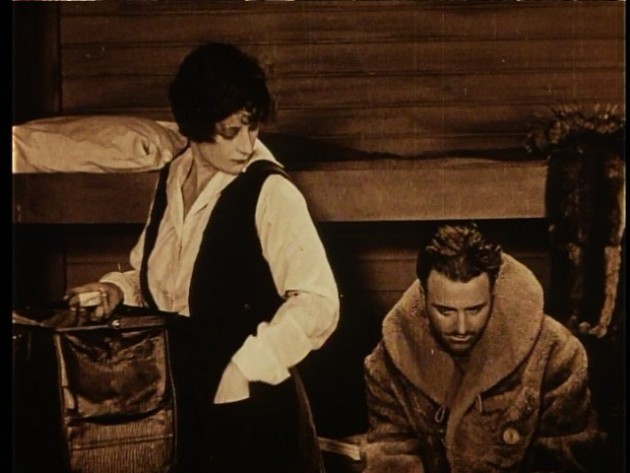 Back To God's Country is encrypted with signs and symbols, all of which point to disturbing social-cultural consequences that result from the historical build-up of a white male dominated national culture, a culture exemplified by the film industry. Moreover, archetypes and icons grow out from the film's sub-plots, and these images and forms can be read through the filters of a framework made out of sex, gender, race and ethnicity. The numerous social-cultural conflicts in Back To God's Country begin with the fact that it is an American-Canadian production, an immediate dichotomy which unfortunately occurs at a national level between the American writer, James Curwood, and the Canadian promoter-producer, Ernest Shipman, Nell's husband. This immediacy of discord is reflected in Nell's scripted scenario, when she gave herself center stage, raising the human drama over the narrative structure of Curwood's story and his animal characters. Nell's film aesthetic clashed with Curwood's literary vision, as well as their individual personalities. Nell viewed herself as a Canadian female in harmony with nature, while Curwood publicized himself in photographs with his foot on the head of a slain grizzly bear. Hence, the icon of the hunted is affiliated with Canada, and that of the hunter with the United States. Moreover, Nell's dislike for Curwood was inflamed by his desire for her hair, confusing Nell with the character of Dolores LeBeau, as she points out in her book: "He said things about my glorious brown hair, literally quotes from paragraphs of hirsute description in his own volumes. He said he but wanted to touch my hair, to remember its shining ripples" (Shipman 73). Curwood was a male chauvinist with an idolatrous vision that transformed the image of Nell from an autonomous subject to an object of desire, the 'female otherness.' It becomes apparent in the making of this film that the white male is the standard of identification between audience and screen, making gender, racial and ethnic differences inferior. Curwood dehumanizes the women in his book, especially the Inuit women, whom are sold to white male traders as sex slaves. This kind of literary prejudice, with its implied violence, is an expression of Curwood's inner anxieties and fears. Like a bad dream, the story depicts the white Anglo-Celtic male who is haunted by the apparent intrusion of 'otherness.' The same argument applies to the film rendition of Back To God's Country, as seen in the manipulation of the camera by the director, David M. Hartford. All through the film, the cinematic eye denies these 'others,' that is, it deliberately prevents them the opportunities to form as subjects. Indeed, these so-called 'others' are subjected to humiliation, abuse and violence; for instance, the film's construction of race and gender diminishes the female Inuit's 'otherness' to the level of a whore. The Inuit woman, a symbolic barrier standing in the way of nation-building and of a white male dominated Canada, must be eradicated because she is a threat to the psyche of the white male and his dream to dominate the world. Similarly, Nell's character role of Dolores is envisioned as a whore under the male eye, as seen in the scene of the ship, which is iced up in the bay near Blake's trading post, when Rydell forces Dolores onto a bed and plies her with drink. Indeed, the film's structure reflects the staging desire with woman at the center of a cinematic machine, which is supported by the industry's financial fantasy and male voyeuristic exhibition; for instance, the nude scene in Back To God's Country was exploited in its advertising campaign, including a nude drawing of Dolores with the words "Is the Nude Rude?". However, the film's narrative structure did allow signs of resistance on the part of Dolores' character. After her husband was seriously injured by Rydell, Dolores becomes self-reliant, acting on her own, and takes the initiative to save herself and her husband from the evil grip of savage and lustful men (Gittings 101).
In conclusion, this essay has argued that the role of women in our film culture has haunted the male dominated motion picture industry from its very onset, or at least once full length narratives become the movie industry's standard. Many women have contributed to the growth of cinema during the last hundred years or more; but somehow, their influence on the industry has always been subject to attack and eradication by their male counterpart. One such women was Nell Shipman who reached her highest artistic vision in the 1919 film, Back To God's Country. Indeed, she was recognized as a superstar by a large segment of the world population. However, Nell Shipman still had to suffer the indignation of being seen as the 'other,' an object of spectacle in exchange for the fancy of men.
Bibliography
Curwood, James O. Back To God's Country. New York: Mckinlay, Stone & Mackenzie, 1920.
Dagrada, Elena. International Bibliography on Early Cinema. Montreal, Quebec: Domitor, An International Association to Promote the Study of Early Cinema, 1995, pp. 15-23 and 96-97.
Feldman, Seth and Joyce Nelson, editors. Canadian Film Reader: Before the Guerillieres. Toronto, Ontario and London England: Peter Martin Associates Limited, 1977, pp. 58-67.
Gittings, Christopher. "Alterity and Nation: Screening Race, Sex, Gender and Ethnicity in Back To God's Country." Canadian Journal of Film Studies, Fall 1996, Vol. 5, No. 2, pp. 101-112.
Hartford, David M., director; Dal Clawson and Joseph M. Walker, photographers; Cyril Gardner, editor; Lindsay Cooper, musical score. Back To God's Country. With Nell Shipman as the Principal Player. A Curwood-Carver Production Copyright 1919 (Originally Produced as a Motion Picture in 1919 and Restored in 1985 at the National Archives of Canada); Boise, Idaho: Idaho Film Collection, Hemingway Western Studies Center, Boise State University, 1996.
Hitt, Jim. The American West from Fiction (1823 – 1976) into Film (1909 – 1986). Jefferson, North Carolina and London: McFarland & Company, Inc., 1990, pp. 169-211.
Lacasse, Germain. "Cultural Amnesia and the Birth of Film in Canada." Cinema Canada, June 1984, No. 108, pp. 6-7.
Rainey, Buck. The Reel Cowboy: Essays on the Myth in Movies and Literature. Jefferson, North Carolina: McFarland & Company, Inc., 1996, pp. 170-219.
Shipman, Nell. The Silent Screen and My Talking Heart: An Autobiography by Nell Shipman. Boise, Idaho: Boise State University, 1987, pp. 70-162.
Smith, Judith. "Nell Shipman: Girl Wonder From God's Country". Cinema Canada, Nov-Dec 1978, Number 51, pp. 35-38.
Walker, Joseph. The Light of Her Face. Hollywood: ASC Press, 1984.
Walker, Joseph. "Danger in God's Country: Filming in the Frozen North in 1919." American Cinematographer: The International Journal of Film and Video Production Techniques, May 1985, Vol. 66, No. 5, pp. 34-42.
Notes
Flicker Alley has just produced a wonderful collection that showcases the wealth of early women directors, in the compilation "Early Women Filmmakers: An International Anthology: http://www.flickeralley.com/list-of-films-in-early-women-filmmakers-an-international-anthology/. ↩