The Goddess, French Cinema: Catherine Deneuve's film diaries, Close Up and Personal
Glances back at French film history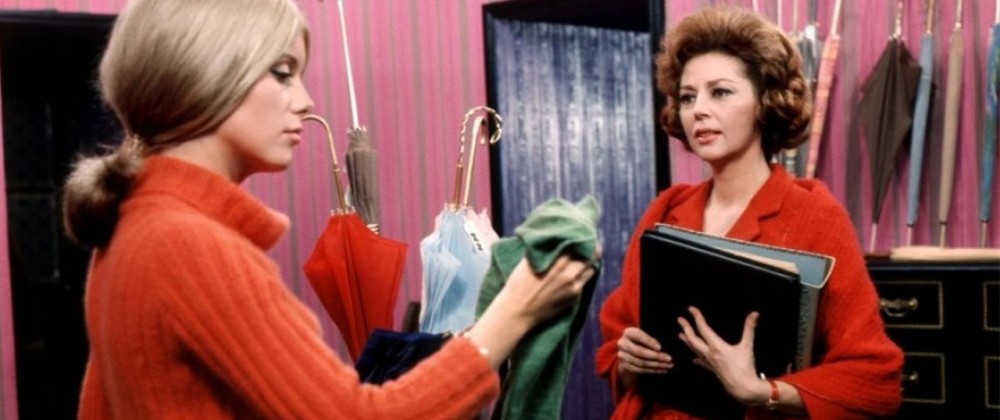 Close Up and Personal: The Private Diaries of Catherine Deneuve
Translated by Polly McLean
(First published by Editions Stock, 2005)
Pegasus Books, New York, 2007
198 pages
ISBN 978-1-933648-36-1
The Cinema of France
Edited by Phil Powrie
Wallflower Press, London and New York, 2006
283 pages
ISBN 1-904764-47-9 (cloth)
ISBN 1-904764-46-0 (paper)
"The printed word has the weight of absolute truth. And this weight of truth endures longer than one could ever imagine."
—Catherine Deneuve, Interview with Pascal Bonitzer
We have art because life is not good enough; and we have heroes and icons because neither we nor most of the people we know are good enough. Catherine Deneuve has been featured in some of the greatest films, the best popular art, made in the last fifty years; and she, as a beauty, an actress, and a person, is a legend. She is the goddess who does not demand tribute—it is freely given. The book Close Up and Personal: The Private Diaries of Catherine Deneuve contains her notes on the making of several films and her participation in the Cannes Festival, as well as an interview with her conducted by Pascal Bonitzer, a filmography, and photographs, with an index of the book's subjects. The book Close Up and Personal, of which I received an advance reading copy (subject to changes), details the making of several films in the year of their making Dancer in the Dark (made in 1999; released in 2000), and East-West (1998), Night Wind (1998), Indochine (1991), Tristana (1969) and The April Fools (1968); and Deneuve has been featured in those films as well as The Twilight Girls (1956), The Door Slams (1960), Ladies Man (1960), The Umbrellas of Cherbourg (1963), The Creatures (1965), Repulsion (1965), Belle de Jour (1966), The Young Girls of Rochefort (1966), Mississippi Mermaid (1968), Once Upon a Time (1970), Hustle (1974), Second Chance (1976), The Last Metro (1980), The Hunger (1982), Scene of the Crime (1985), My Favorite Season (1992), Place Vendome (1997), 8 Women (2001) and many more. I remember seeing The Last Metro at the Carnegie Hall cinema; and seeing The Hunger (I think at an eighth avenue cinema in midtown Manhattan), both during my early years in New York; and years later, my favorite Deneuve performance would not be in Belle de Jour, which I liked and found mildly shocking, but in one of the films she made with Andre Téchiné (she has said that she herself finds the Téchiné films so engaging they are hard to leave after a day of filming). Deneuve is a favorite film presence; and her published diaries reveal her as a charming writer.
Her presence, cool and sensual, intelligent and sensitive, with a beauty that grows more elemental, and more fine, with time, gives her an incomparable presence among living actresses. The youthful love story and modern opera The Umbrellas of Cherbourg (1963), directed by Jacques Demy with music by Michel Legrand, a film as composed as its music, featured Deneuve in her youth as Genevieve: and the film "has stood the test of time as beautifully as Deneuve and seems likely to enchant future generations as fully as it has audiences over the past four decades," wrote Kevin Thomas in the April 23, 2004 Los Angeles Times. In Luis Bunuel's Belle de Jour (1966)—I cannot forget the scene of Deneuve in the pale gown being blithely pummeled by muddy filth (who can?)—a film Renata Adler called a "really beautiful movie," and "a kind of fantasy cryptogram, with countless clues," after Adler admitted to reservations regarding Bunuel's "particular combination of religion, decay, and morbid eroticism" (New York Times, April 11, 1968), it is Deneuve who is at the center of a strange, modern (erotic) comedy. Some of Catherine Deneuve's work decades later ranks among her strongest, as in the Andre Téchiné films. Deneuve has spoken of how rare it is for mature actors to get to play brother and sister, which is what Daniel Auteuil as a doctor and she as a lawyer do in Téchiné's My Favorite Season, made in 1992 (it reached America later): "the movie's biggest revelation is Deneuve—a fashion plate specializing in surfaces who's allowed her responses to be sharpened into blades," wrote Jonathan Rosenbaum in his June 1996 Chicago Reader review. She has been open to taking small or smaller roles in films; and January 2000's Sight and Sound (Keith Reader) called her queenly and raffish as Odette in Raul Ruiz's wonderful film Time Regained (1998); and in Francois Ozon's 8 Women (made in 2001, appearing in the United States a year later), Deneuve was one of a great cast of French actresses, including Fanny Ardant, Emmanuelle Beart, and Isabelle Huppert, in what Time magazine's Richard Corliss called a "chic display of star quality to the eighth power" (October 25, 2002).
Catherine Deneuve helps to make up for a world that is not balanced or beautiful enough, pleasing or profound enough, a world in which we are not brilliant or kind enough, perceptive or joyous enough. In Close Up and Personal: The Private Diaries of Catherine Deneuve, we have a view of some of the work behind the art, beyond the images, the work that made possible our pleasure. The book's candor is evident on the first page of text, when she describes not feeling well—("very sore throat, feverish"; page 3) and going to Copenhagen in May 1999 to meet with film director Lars von Trier (born Lars Trier) in preparation for the film Dancer in the Dark, in which Deneuve will play Kathy, a coworker of a character played by the singer Bjork, who had been hesitant to commit to the production. Deneuve finds Lars von Trier's motivation difficult to discern; and Deneuve participates in a scheduled script-reading with the singer Bjork ("who arrives wrapped up like an Eskimo, in striped tights and clogs, a bit wild and shy, but fairly relaxed with this informal read-through"; page 3, a description that only slightly but accurately—"wild and shy"—anticipates the trouble to come with a musician who could be, and be with sincerity and invention, but had trouble acting). Then, there are the related music scene rehearsals, costume fittings, screen tests—the world of filmmaking—in Lars von Trier's studio, a place of chaos and order (well-written plans, but a disordered atmosphere). A star's ambivalence about presentation is revealed in Deneuve's succinct sentences: "The prospect of not having to be 'well turned out' is quite appealing. But the tailoring, fabric and colours are of poor quality" (page 4). The idiosyncrasy of artists is not long in coming: "Dinner with Lars and the producer at a restaurant. He doesn't stay for the whole meal, too long; until recently, he was physically unable to be in a restaurant" (what a wonderful description—so direct, there's no need for her to use the word crazy); and "Another time we have dinner with Bjork. We drink wine, she's cheerful, shy, available. I watch Lars. She's made him wait a long time, and occasionally I feel resentment building in him. I think that basically everything will be very professional because Lars knows what he wants, everyone will follow his lead, which must be a burden for him sometimes. This is a big production for these guys, probably the first" (4). Deneuve mentions a scene with a moving train and one hundred cameras. "Lars films everywhere and everything" and "He goes so far as to say that the script has no importance" (5). For someone who is not known as a writer Deneuve conveys enough details to be informative and interesting; and, of course, the Dancer in the Dark project became notoriously difficult, as various publications reported, and as Deneuve's diary pages increasingly portray. It says something good that one can feel the importance of creativity and the seduction of glamour and the madness of it all in her words.
Catherine Deneuve is someone who picks flowers for her room, wonders if the director will have enough wide shots, is humble about her mastery of dance movements comparative to professional dancers, astute enough to think the music Bjork has composed for the film is "amazing" (7), and open enough to find Trier's improvisational process "exciting" (8). It is not long before Bjork has called Trier a coward and a tyrant (10) and demands final cut of the filmed musical performances, interrupting production (10, 11): and, the next day, after Bjork turns up late and without explanation or apology Deneuve says, "I've lost my desire to understand, it's gone. I know it'll never be like before, which is so unfortunate because it had seemed to me that the atmosphere, and general goodwill, and bonding around Lars were extraordinary" (12, 13). Of course, during one of their last meetings before the end of production, Bjork tells Deneuve how hard everything was for her, the pressures she felt.
Director Regis Wargnier's film East-West, starring Sandrine Bonnaire and Oleg Menchikov and Serguei Bodrov Jr, and made in 1998 and released in 1999, with Laurent Dailland as cinematographer: Deneuve's account begins with a missed flight, no guilt, and a hotel that reminds her of The Last Metro; and she remarks on the director's discipline and the tenseness of the set (she attributes that to his military background). (The film is, apparently, set in Russia but filmed in Eastern Europe, in Sofia; and Deneuve kept diaries, this one and the others, to allow herself company in foreign locations.) Deneuve's incidental comments about the cities and places she visits are appreciative and consequently easily charming. Filming for East-West is, at one point, on theater (dressing room) sets so realistic they inspire her real-world nervousness, her stage fright (22, 23). She has pondered whether her resistance to learning lines is laziness, or something else—her wanting to maintain freshness (she thinks the latter; 23). The self, like life, is never simple, no matter how much one wishes it otherwise—we are always trying to figure things out, even ourselves. The simplest acts, and the simplest language, become encrusted with associations, meanings, possibilities. Deneuve discusses the transition she is making in her career, taking more supporting parts: "It's not really my film. I'm only filming for three weeks. Don't quite realize this until I eventually get to shoot with Sandrine, the heroine. Not so easy. Better when I don't have to confront the situation directly. I'm not used to not being central, even for a short time. Although I have done several cameos this year: Carax, Garrel, and soon Ruiz. I need to work less—and more" (25, 26). Yet, her participation in the period film allows her insight: "The heavy costume binds me, affects my bearing. The corset makes me light-headed; the body is bound, and the brain as well. So many things you can't do wearing a corset, so much freedom shackled! It's a prison for the body, but also for the mind. The abolition of the corset was revolutionary!" (26).
"If you think right, you'll be right" Deneuve is told by the film director Philippe Garrel of Night Wind, made in 1998 and released in 1999 (31), on a film shoot she finds "bare and static; and on screen I find a certain intensity in these static shots" (32). (Garrel meant that if she thought as her character she would give, inevitably, the appropriate performance.) Her work in Vietnam for Indochine, with director Regis Wargnier, would be much more involving, a four-month schedule in a strange, seductive country, focused on an interesting story. Deneuve ("I'm glad I brought my hundred-watt bulbs for evening reading"; 38) writes the longest diary entries on the making of Indochine, filmed in 1991 and shown to the general public the next year. She notes how carefully made much of what she sees in the country and on the film set is ("the small-scale craftsmanship evokes both fragility and strength, just like the people!"; 39). The filming is demanding and rewarding, and begins with a farewell scene. ("Hard to imagine anything more difficult—apart from the challenges of working in natural settings that can't be altered—than having to start with our farewell scene!"; 39.) The Vietnamese production team has its sly ways too: the lunch budget for the locals is not properly used, but in light of the larger project that is a small matter. "I know that I'm liked and admired; I can sense it, but in a warm way—everyone seems to feel they're working on an important film, not that that guarantees anything, but what a pleasure to immerse oneself in real scenes, properly directed and produced" (41, 42). Life intrudes when the director's brother dies; it is a devastating death, though expected. Deneuve is supportive to him, Regis Wargnier, on a shoot that will have personal and professional stresses (the funders and insurers become concerned with how things are going). "I'm not visiting this film: I'm living in it," she declares (60); and she suggests a scene to the director, involving filming among the rubber trees of a plantation, in which her character will help to embody French greed (66). (She notes that off set she relaxes to the music of Marvin Gaye; 64.) Deneuve finds the film subtle, writerly, an accomplishment.
The photographs in the book, lacking numbered pagination, come in two sections: the first section, after page 56, features Catherine Deneuve with her mother and sisters and father, suggesting not simply the importance of family but that she saw herself as a girl among girls; and most of these photos show her in girlhood and early womanhood, attractive, and not yet blonde. The second section of photos, after page 120 following the April Fools notes, features the blonde Deneuve alone, looking sophisticated, also in a make-up chair and on the street, with film colleagues and associates, and there are reproductions of her diaries and also letters received from the film directors Francois Truffaut and Trier. Of course, all those photographs suggest the life in which her work is done.
Deneuve's Cannes Festival (1994) report: Clint Eastwood is president of the Cannes film festival jury, and she is vice-president, and the other jurists are mostly writers and directors ("we're a cosmopolitan group of people," she notes; 83). Her responses to the films screened are brief and perceptive, the words of a seasoned film artist; and despite whatever pleasures are on offer, it is also an exhausting process, with day and evening screenings, leaving her with aches (head, throat, eyes); and concerns over how the selection process is being conveyed to the press. Deneuve writes that Three Colours: Red is "visually stunning, serious, a bit slow, Jean-Louis Trintignant is superb. Very moving" (84); and Nanni Moretti's Dear Diary is "absolutely enchanting, serious, funny, very simple, rigorous and completely original. Although I did think that it wasn't really a movie, yet not quite a documentary either; no, it's a personal, intimate film. Totally unique" (86).
Following the film festival report is a return to two of Deneuve's much earlier films, Tristana and The April Fools. Tristana (1969) was the second production Catherine Deneuve did with Luis Bunuel. Deneuve, who found the Belle de Jour shoot difficult (there wasn't much communication with Bunuel), subsequently found Bunuel warm, relaxed, orderly on the Tristana project. She is aware of how he indirectly approaches emotion, how he interprets classic figures and scenes with imagination, how he shifts his interpretation during the filming process. "Spare us the psychology," Bunuel tells her as a point of direction (95). Yet, Bunuel includes in his film some of his own memories or perceptions in surprising ways (such as using a forge he saw fifty years before). "I'm often stunned by how direct he is—he doesn't hide his feelings" she writes (97). "When a shot goes badly, I feel like a useless object" (98). "He knows exactly what he's risking, and does it anyway" (103).
The April Fools (filmed 1968; released 1969) was made in America, and allowed her to visit the United States, which she is not immediately fond of. She mentions seeing a Greenwich Village band singing of peace and "refusing to acknowledge their own racism" (110); and she notices "snobs" at a St. Regis hotel party (111)—there is nothing like a view of Americans as seen by Europeans. Deneuve glimpses Warren Beatty ("he's so smooth"—Warren, you devil you; 111). (She misses her sister, whose death was an important and recent loss.) Deneuve finds America "dehumanized" but likes the self-mockery of some of its citizens (117). She talks about returning to Paris and visiting Jane Fonda, who has just given birth to Vanessa, Fonda's daughter with film director Roger Vadim, with whom Deneuve also has a child, Christian: "Same clinic, same room, same birth, same baby, same father. Makes me want to cry…We chat a little about education, although all that is only theory: you don't shape children or impose your ideas on them, you just love them" (119). On October 22, 1968, Deneuve celebrates her birthday, her twenty-fifth, with family and bursts into tears—her sister was 25 when she died.
Interview with Pascal Bonitzer, 2004: Catherine Deneuve extends her honest observations in the interview with Pascal Bonitzer. Filmmaking has its own discipline and requirements but she thinks that theater work is more demanding—due to the rigor of learning lines and the risk before an audience. She does not think that most of the journalists interviewing her have wanted really to know about her work, about its content or details; and finds that her diaries are truer to her voice than their reports. Deneuve started keeping the diaries out of loneliness, as a way of keeping herself company while traveling. She had been stressed by the peculiar pressures of coming to America, for one of her early films—and the expectations not of her talent but for her beauty. Deneuve talks about feeling exposed—physically exposed—in Belle de Jour; about issues that only another actress would understand (possibly having to do with the line between being a woman and an actress, how exploitation can be masked by artistic expression; 128,129).
The film Indochine was important to her; and she makes remarks to Pascal Bonitzer on that, and on the people of Vietnam, "those tiny individuals making up a great people" that she met while making the film (134). She is very thoughtful about the films she chooses, whether they are large or small. In considering supporting roles, "the criteria must be whether the film would remain the same without that character" (136). She says Night Wind is about "what makes you accept people even when they're different from you" (139). She admires Manoel de Oliveira, who directed her in The Convent (1994) and I Go Home (2000), an elder filmmaker who is described as "in spirit one of the youngest, well not quite the youngest, but he's very young in spirit, really, with an unbelievable amount of energy" (145). In an age in which biological youth is often more prized than ability, experience, or wisdom, that is an admirable affirmation from Deneuve, a film lover with eclectic taste in cinema, an actress and woman of both lightness and depth, who admits she doesn't see very many people but "Friendship is important to me. Extremely important. Besides, all my real friends have been friends for a long time" (147). Catherine Deneuve is a priceless gem in the crown of French cinema.
*************
The Cinema of France is a collection of concise, perceptive, and thoughtful essays on twenty-four significant French films, from Abel Gance's Napoleon (1927), to Hate (1995) and Will it Snow for Christmas? (1996), and An Andalusian Dog also known as Un Chien Andalou (1929), and The Crime of Monsieur Lange (1936), The Rules of the Game (1939), Children of Paradise (1945), Monsieur Hulot's Holiday (1953), Rififi (1955), The Four Hundred Blows (or, 400 Blows, 1959), Breathless (1960), Last Year in Marienbad (1961), Cleo from 5 to 7 (1962), The Godson (1967), The Mother and the Whore (1973), Going Places (1974), Diva (1981), Shoah (1985), Three Men and a Cradle (1985), Jean de Florette (1986), Nikita (1990), The Lovers of Pont-Neuf (1981), The Visitors (1993), and Queen Margot (1994). It is fascinating that the newer films—the ones that are known best, and have been usually more recently enjoyed—are the ones that a film viewer might have a doubt about: their reception has not yet been invested with the solemnity of scripture. Yet, the anthology The Cinema of France leaves no doubt that these are, in their different ways, important and representative films. The book contains a preface acknowledging the difficulty of its film choices, and the present and future transnational nature of filmmaking, written by Michel Marie, and an introduction by Phil Powrie, an introduction that asserts the necessity of French film as a counterweight to more commercial, industrial filmmaking, and notes the different ways of looking at French film—through its actors, by genres, or with regard to movements. Following the twenty-four essays on the films, there is an eight-page filmography, a fourteen page bibliography, as well as contributor notes and an index, making the book a good resource, one that makes clear why French film is loved and respected.
It is easy to understand the lasting influence of Abel Gance's Napoleon (1927), originally intended as part of a six-segment project, and restored in 1981 and again in 2000 with the participation of Kevin Brownlow; the film is an imaginative interpretation of Napoleon's biography; it is an interpretation offering explanation and narrative with the logic of childhood inspiration, heroic endeavor, and national symbolism (one example: an eagle is a childhood possession and a symbol of empire), according to the essay by Maureen Turim in The Cinema of France, an essay that remarks on the film's innovative camerawork—innovative in its movement, perspective, and use of montage. Martin O'Shaughnessy's commentary on Jean Renoir's The Rules of the Game (1939), and that film's influences—the master/servant stories of Beaumarchais, the fickle lovers of Marivaux, the tragic-comedies of Musset—and on Rules' own critique of western history and modernity, and its reception and placement in film history, with differing accounts of what may have affected its early reception (aesthetics? politics? lack of stars?), are thoroughly specified in a somewhat dry and academic, though still interesting and useful, manner. (It could be hardly more intelligent, but O'Shaughnessy's article is not in the spirit of the often amusing film.)
Jean-Luc Godard's 1960 debut feature, Breathless, filmed in twenty-one days in 1959 and brought to the public the next year, was anticipated by the style of Godard's writing, his film criticism—allusive and dense—and the film, focused on a would-be criminal, pays tribute to Hollywood crime pictures, featuring a character who seems to be attempting to live out an adopted role, according to writer Douglas Morrey, who sees the film's energy and irreverence—Godard's jump cuts and quick editing and idiosyncratic presentation of certain characters—as a cinematic challenge, and interprets Godard's concern with death and also language as being aspects of consciousness and theme that give the film a weight of seriousness, a seriousness that would become more prominent in Godard's other films—and in those of his peers.
Relationship (did we or didn't we?), memory, imagination, articulation, setting, style, austerity of tone, and the myriad ways of interpretation, may be the usual angles for understanding a film such as Alain Resnais's 1961 film Last Year in Marienbad, but a much lighter, more raucous sensibility is presented in, and required for, Bertrand Blier's 1974 Going Places, the subject of Pierre Sorlin's piece in The Cinema of France. Les Valseuses, the French title of Going Places, is a slang term for testicles; and the farcical film directed by Blier, in which sex is a subject, stars the young Gerard Depardieu, Patrick Dewaere, and Miou-Miou (Sylvette Hery), in a story in which two carefree but rough men steal a car, and use then return it, at which point its owner shoots one in the crotch. The men, on the run with the owner's female associate, and cavalier about sex with strange women, attempt to give that associate, a frigid woman, an orgasm, and also have a sexual experience with each other. (Another of the women they have sex with shoots herself in the crotch.) The film does not embody the refined sensibility one associates with much French cinema; it contains shocks of energy, fact, and mockery.
Jean-Jacques Beinex's 1981 Diva would offer, as well, a unique sensibility and style, one that referred to high culture and low, as its story shows the intersection of different worlds—through the confusion of tape recordings, the world of an opera diva and low-level street crime are intertwined—with shifts in scenery, story, and mood. A postman, played by Frederic Andrei, illicitly records an opera diva played by Wilhelmenia Fernandez, and is given, unknowingly, a tape by a doomed prostitute: and each tape is desired by others for different purposes. (The postman having a prostitute wear the diva's stolen robe as part of a sexual experience produces his own questionable reconciliation of those different worlds.) The colorful, high-energy film contains crime intrigue—hostile deals and chases and violence. The film, like Going Places, offers transgression not as catharsis or ritual but as fun; and its focus on aesthetic style was a defining trait of a new decade. Its story's economic concerns mirrored the state of capitalism. Gender and the objectification of women's voices and bodies, music and culture and their commercial exploitation, and criminality and the threat of violence as coercion and punishment—they are all there in the film. Will Higbee notes that the fact of race in the film has not been discussed enough, though the diva is African-American, and the postman's new female friend is Vietnamese, but thinks, for instance, that the diva receives visual respect, something that is important in a film and a culture in which the look is of fundamental value. (I wish the commentary on Diva contained firmer moral and political senses, and was a little less at one with the film's sensibility: but films such as Going Places and Diva assume history rather than try to define it and its viewers are placed in a similar position. However, I do recall that I liked Diva very much—for the reasons Higbee notes, for its energy and style, for its assumptions.)
The two-part, nine-and-a-half –hour Shoah (1985), a film about the Jewish holocaust, directed by Claude Lanzmann, took more than a decade to make, and focuses on interviews with Nazis and their victims; and, Mathieu Kassovitz's La Haine or Hate (1995), a black-and-white film about young and poor French citizens (though Jewish, black, and North African), citizens of the outlying areas called banlieue, and those citizens' precarious relation to French society and law, are two films of conscience, films that can be seen as making explicit what may have been implicit in a film such as Renoir's The Rules of the Game: the way power works and what happens to those who do not have it or refuse to play by its rules. French cinema has much to say, still: and it offers the words of individuals in Shoah, and the actions of young angry drifters subject to social forces more formidable than themselves in Hate, acts that signify. French cinema continues to offer both a fearless beauty and a seductive rigor.