The Women Who Ran Hollywood?
Book Review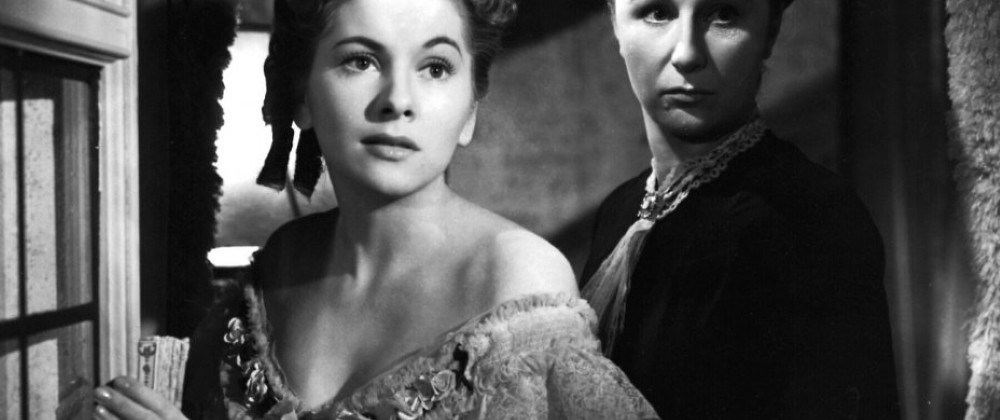 Nobody's Girl Friday: The Women Who Ran Hollywood
By J.E. Smyth
New York, Oxford University, 2018. ISBN 9780190840822. 304 pp. $29.95. Cloth
Your first reaction to the subtitle of J.E. Smyth's new book is that it is nonsense, since women have never run anything in Hollywood. Especially in the years from the early thirties to the mid-fifties she is writing about. Every knows (because Cari Beauchamp told us so in her brilliant book Without Lying Down: Frances Marion and the Powerful Women of Early Hollywood) that there were powerful women in the silent film era. As Smyth points out, the standard view of what happened in the thirties is that as the studios became more dominant, the men were in charge and the women were not.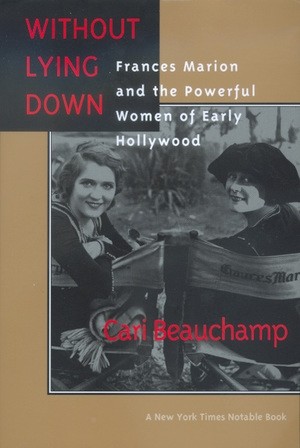 Even after you read the book, you may still think that women did not run Hollywood in that period. Smyth is not making the point that women had impressive titles and big salaries. But she is going to open your mind to the ways women, a whole lot of them, contributed to Hollywood in their work and their collaborations. If you read the book carefully, you will never again believe that women did not have an importance influence in Hollywood in the times she is writing about. And since.
In my review of Smyth's book Fred Zinnemann and the Cinema of Resistance in Offscreen that you can read here, I gave you a little background on her and why I think she is one of the best young film historians around. She is very much an archive rat (a term that ticks her off whenever I use it) and that is true with her work in the new book. For example, to get an idea of how and how many women were employed at the major studios, she found the studio phone directories of the period. She also found clippings that show how much gossip columnists Hedda Hopper and Louella Parsons helped promote women and praise their work. And you just thought they were interested in the private lives of the stars.
Smyth looks at people in different kinds of work in the industry: actresses, screenwriters, film editors and costume designers. In each section she often focuses on one particular worker while mentioning the others. The first chapter "The Fourth Warner Brother" is about, who else, Bette Davis. Smyth not only gives us a summary of Davis's acting career, but her job as the first woman president of the Motion Picture Academy, and her creation of the Hollywood Canteen, where servicemen during the war could meet and dance with real movie stars.
The second chapter gives you some material probably not as familiar to you as Bette Davis's career. Here Smyth is writing about the women who worked in the studio in other jobs. She starts the chapter with an account of the 1938 novel by "Jane Allen" I Lost My Girlish Laughter. You may have heard or even read such Hollywood novels as The Last Tycoon (1940) and What Makes Sammy Run (1941) but probably not Allen's novel. It's about a young girl who goes to work for a big-shot producer. Allen was in real life Sylvia Schulman who had worked for David O. Selznick. You do the math.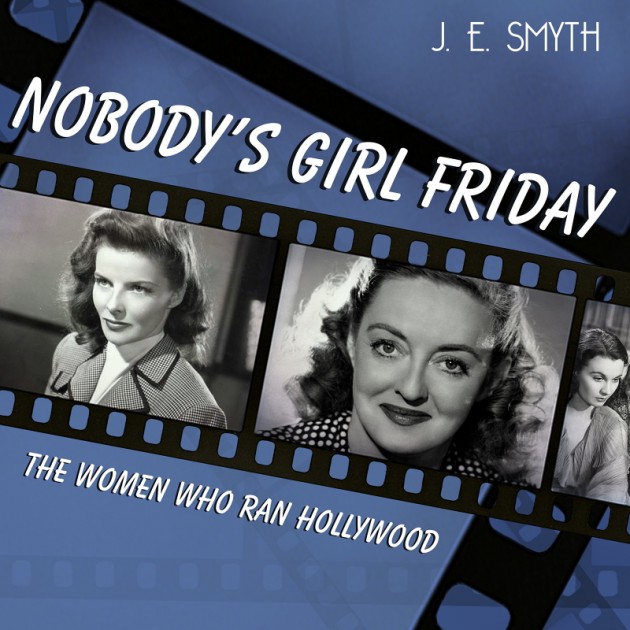 Ida Koverman was officially on the books at MGM as an executive secretary to the head of the studio Louis B. Mayer. She pops up in other books that suggest her power at the studio, such as Scott Eyeman's 2005 biography of Mayer The Lion of Hollywood, but Eyeman's book is one of those 500-plus page doorstop biographies that have shown up with the arrival of the computer age. Eyeman and his researchers collected piles of research and dump it into the book.
Smyth, on the other hand, examines the material she finds and thinks about it. Eyeman throws in a list of the conservative political organizations Koverman was involved with, but Smyth thinks what that means, getting into it in more depth. Eyeman has more words, but Smyth has more insights. Smyth has a sharp eye for the details beyond the obvious.
Chapter three is about women producers, a traditionally powerful position in Hollywood. Smyth points out that the forties, especially the late forties, were good times for women as producers. She also demolishes the myth about some women producers, particularly Joan Harrison. Harrison started as an assistant to Alfred Hitchcock, then began to co-write on his scripts, but she was often thought of as just Hitchcock's former secretary, or worse, his "protégé." In 1940 she received two Academy Award nominations for writing, one for Rebecca and one for Foreign Correspondent, one of the few writers to ever get two nominations in the same year. Smyth reports that her co-writer on Correspondent, Charles Bennett, said that she was only a secretary and contributed nothing to the script. Unfortunately the footnote for that paragraph does not indicate where Bennett said this. For the record, it is in Pat McGilligan's first Backstory (1986), page 36, and the full quote is even worse than Smyth's brief paraphrase.
Lest you think that was just one writer complaining about sharing a credit with another, in an essay on Hitchcock by Bennett, included in his son John's collection of his father's writing, Hitchcock's Partner in Suspense, Charles Bennett says that he could have worked for the television series Alfred Hitchcock Presents in the fifties, but decided not to, "This was partly because the producer, Joan Harrison, had been our secretary so long. I couldn't bear the thought of working under my own secretary." (Bennett, 72).
Smyth's first book was Reconstructing American Historical Cinema From Cimarron to Citizen Kane, and what drew my attention when I first read it was that in looking at American historical films, she realized that the historical elements in the films came not from the directors, but from the writers. In Cimarron (1931) she discovered that the writer, Howard Estabrook, had used mountains of research and there was no evidence that the director, Wesley Ruggles, had any interest in it. In 1940 Ruggles directed another western Arizona, not written by Estabrook, that had none of the historical detail of Cimarron. So it is no surprise that one of Smyth's longest and best chapters is about a screenwriter, Mary McCall Jr.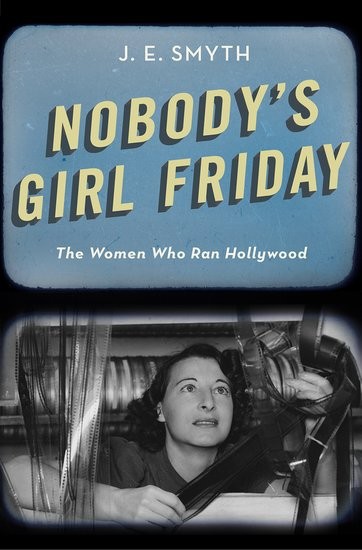 You may not have heard, or heard much about, McCall. Her best known credit is for Craig's Wife (1936), an adaptation of the George Kelly play. Craig's wife is a woman who married for money and loves her house more than her husband. She insists everything should be perfect. McCall's script is very much for a filmed play, but under the direction of Dorothy Arzner, it is a tough, unsentimental look at marriage, not the sort of thing Hollywood did at the time. Arzner insisted McCall continue on while the film was being shot and they worked closely, a collaboration that gave them more control over the film.
McCall did not become a producer like Joan Harrison, but was extremely active in the drive to establish the Screen Writers Guild, the forerunner of the Writers Guild of America. From 1935, shortly after she arrived in Hollywood, McCall was a member of the SWG board. From 1942 to 1944 she served two terms as the president of the guild, just after the studios agreed, reluctantly and with a nudge from the federal government, to deal with the guild. She worked through the HUAC investigations of the guild (and Hollywood in general) to protect the guild and its writers. In 1951-52 McCall was elected for a third term as president of guild.
The late Nancy Lynn Schwartz, the author of The Hollywood Writers Wars (1982), mentions McCall, but is rather condescending to her. Schwartz is often inaccurate about details, as she was when she calls McCall one of the "conservative board members." (Schwartz, 187) Smyth is a lot more nuanced in her view of McCall. (This may be a generational thing. Schwartz was writing in the time when the general view of the period was that the Hollywood Ten were heroes. Smyth is considerable younger and a lot more open in her thinking.)
Ironically, in view of Schwartz's view of her, McCall was pushed out of power in the guild after her last term as president by those more sympathetic to the blacklistees than she was. The studios also dropped her, and she moved into writing for television. And that was a time when writing for television considered second or third rate, unlike today.
What may have been McCall's best screenwriting came with a series of B-picture comedies she wrote for MGM in the forties. The main character was Maisie, who was always trying to get either a man or a job. The first film in the series, Maisie (1939), finds her as a showgirl who ends up getting a job as a maid at the ranch in Wyoming and it was a much bigger hit than the studio thought it would be. It was followed by sequels Congo Maisie (1940), Gold Rush Maisie (1940), and Maisie Gets Her Man (1942), among others. I have never seen any of the Maisie films but after reading about them and McCall, I will look out for them the next time they show up on Turner Classic Movies, which run some every year. There may be a doctoral dissertation on women in the media on them in our lifetime.
Smyth has a chapter on costume designers, which tells us what we might have already expected, that Edith Head was something like a credit hog (a personality trait not uncommon in Hollywood). Having started with Bette Davis, Smyth ends with a chapter on Katharine Hepburn. Well, sure, start with one star with a strong independent streak and end with another. That's not exactly Smyth's point. After reading about Davis and the women who come after her in the book, Hepburn comes across as more narcissistic than them. She was not as involved with the Hollywood community as Davis, McCall, and the others and Smyth does not see that as a positive thing. Like Beauchamp in Without Lying Down, Smyth admires the community spirit of Hollywood and the women in it.
Three chapters before the end of the book, Smyth has a chapter on women film editors, of which there were a bunch in the thirties. She focuses primarily on Barbara McLean, who was Darryl F. Zanuck's leading film cutter and the unofficial head of the editing department at 20th Century-Fox. At the time of her death in 1996, there was no other film editor, male or female, who had more Academy Award nominations than McLean. She won once, for Wilson (1944) Zanuck's epic biographical film of President Woodrow Wilson.
Full, and I mean full, disclosure time. In 1970-71, I had a Staff Research Associateship at the American Film Institute. What I did in that year was do a research study into Darryl F. Zanuck's time as the head of production at 20th Century-Fox. This followed on the oral history I did of Fox screenwriter Nunnally Johnson in 1968-69 as a graduate student at UCLA. At the AFI I did oral history interviews with writer-director Philip Dunne, cinematographer Charles G. Clarke, director Henry King's long-time assistant director Robert D. Webb, and Barbara McLean.
I had not picked Bobbie, her nickname at Fox, to interview because she was a woman, but because she was the best editor at Fox and cut most of Zanuck's personal productions. She was a nice person, but I was not completely satisfied with the outcome of the interview. At several times in the course of the interview I could see her hesitate about saying something I had asked about. You cannot tell that from the transcript of the interview, and I don't think you can tell by listening to the tape. Because I was "in the room where it happens," as Aaron Burr sings in Hamilton, I could see in her eyes that several times she was thinking about saying something and deciding not to. It was rather frustrating, especially after the men I interviewed, who tended not to shut up. The transcript of the McLean interview was the second shortest of the five after Clarke's, and the least satisfying for me.
The interview with Bobbie, however, has had more of an afterlife than the others. In Ally Acker's 1991 book Reel Women: Pioneers of the Cinema 1896 to the present, Acker has used some of the material from the oral history in the section of McLean. Bobbie died in 1996 and when I saw the funeral notice in the Los Angeles Times I called by old friend Myrna Oliver, who wrote obituaries for the Times and encouraged her to write about Bobbie, using material I had from the interview. That was noticed by the New York Times and one of their people called me to get information about Bobbie for their obit. I will let you read Smyth's account of the question he asked, which was the only thing the Times was interested in. Smyth writes that I was "outraged," (Smyth [2018], 178) which was true, but I gave the Times man a very chilly reply.
The New York Times obituary was a little more feminist than I would have thought, given the Times guy's question, and the obit helped the editors of Notable American Women: A Biographical Dictionary: Completing the Twentieth Century put her on their suggested list of subjects. I was already writing an entry for them on Anita Loos, and I pushed them to do Bobbie as well. They agreed and I wrote the entry (Ware, 435-6). This is how history is created.
I promised you full disclosures and here is another one. When I read Smyth's first book, I was so impressed that she focused on the influence of writers on historical films that I contacted her and we have been corresponding for twelve years. We have only met in person three times, since she lives in England and does not get to the Los Angeles archives as often as she likes. I do know that the J in J.E. stands for Jennifer.
When she told me she was working on what became Nobody's Girl Friday I naturally (it's my character) ran off a copy of the oral history and sent it to her. She was dazzled by it and in the Preface calls it "certainly the best example of the genre I've ever read." As I mentioned, I don't think it is as good as it should have been. So how are we to sort out our differences? Partly I could see there was a lot Bobbie was not telling me. Partly what I was looking for in the interview was how the studio worked and how Bobbie worked with Zanuck and the directors. But I think Jennifer picked up on something I did not. She was looking at how it fit in with what she was writing about in her book. I have mentioned several times her ability to find insights and nuances that other film historians have missed. The nuances she could see in what Bobbie said or how she said it gave Jennifer connections to the other women in their book. When you read what Bobbie said in the context of the rest of the book, it becomes more illuminating.
Many film historians assume creating film history is just collecting as many facts as you can find and dumping them all into a book. The great film historians know how to sort, examine, and evaluate the material they find. They give us a perspective on film history that a pile of facts does not. J.E. Smyth does it right in this book.
Bibliography
Acker, Ally, Reel Women: Pioneers of the Cinema 1896 to the Present (1991). New York: Continuum.
Bennett, John ed., Hitchcock's Partner in Suspense: The Life of Screenwriter Charles Bennett (2014). Lexington, Ky: University Press of Kentucky.
Eyeman, Scott, The Lion of Hollywood: The Life and Legend of Louis B. Mayer (2005). New York: Simon & Schuster.
McGilligan, Pat, Backstory: Interviews with Screenwriters of Hollywood's Golden Age (1986). Berkeley: University of California Press.
Schwartz, Nancy Lynn, The Hollywood Writers Wars (1982). New York: Knopf.
Smyth, J.E., Reconstructing American Historical Cinema: From Cimarron to Citizen Kane ( 2006). Lexington, Ky: University Press of Kentucky.
______ Edna Ferber's Hollywood: American Fictions of Gender, Race, and History (2010). Austin, TX: University of Texas Press.
______ Fred Zinnemann and the Cinema of Resistance (2014). Jackson, MS: University Press of Mississippi.
______ Nobody's Girl Friday: The Women Who Ran Hollywood (2018). New York, NY: Oxford University Press.
Ware, Susan, Notable American Women: A Biographical Dictionary: Completing the Twentieth Century (2004). The Belknap Press of Harvard University Press; Cambridge,
MA.
Stempel, Tom, An Oral History of Barbara McLean (1970-71). Unpublished. Louis B. Mayer Library. American Film Institute: Los Angeles, CA.