An Act of Love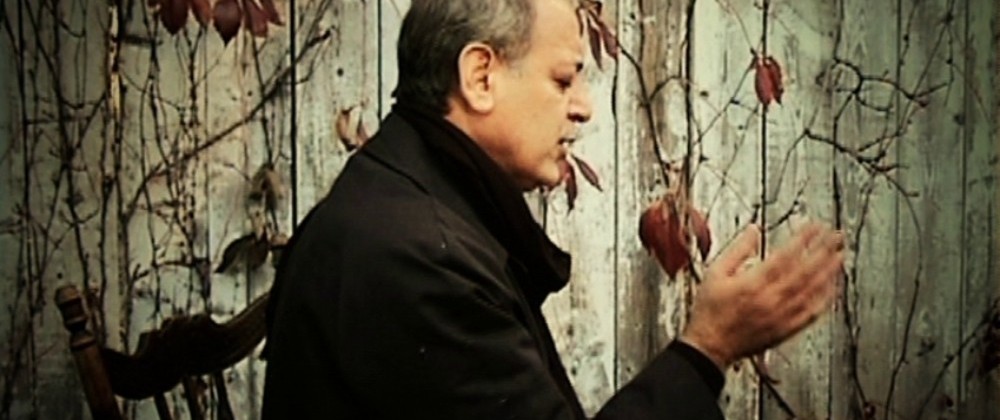 In 2015 I went to meet Shahin before leaving Canada for China. I wanted to interview him about his work ethic. He had not long come back from Iran where he was finishing Shahrazad's Tale. He said he was exhausted. He showed me some rushes telling me how he loves long films and refuses to make feature documentaries to sit into a 90-minute slot; he was almost ruthless about this. We laughed. I spoke about my love for his short film Amnesia and how it touched me on a profound level as it was a sort of universal ode to refugees. Later walking home in the snow, reflecting, I realised Shahin was the first filmmaker I met on my journey here in Montreal and leaving Montreal, the last.
For Shahin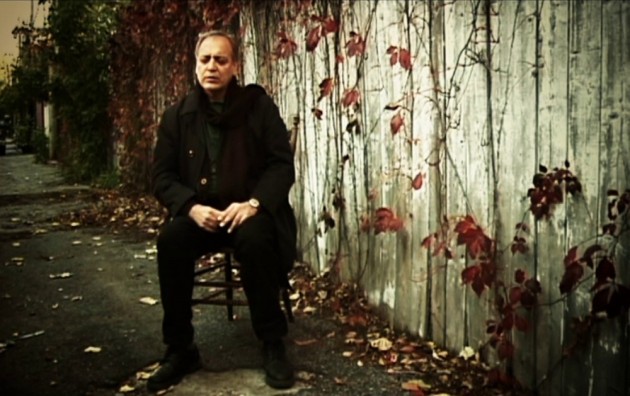 Arriving at Concordia's film school in 2004, my first teacher was Mary Ellen Davies. To inspire us, in an early production class she showed some short films made with the Bolex camera, as our first assignment had to be made on film. The only one I remember is, Amnesia by Shahin, a Concordia graduate, it spellbound me. His work was my introduction to film school, to narrative storytelling, and to this new visual language —film. Like meeting that first love, it touched a huge cord in my soul, and it still does. The subjects: Sharam Golchin, an alley, a chair, a wall, almost leafless branches, a window and fluttering snow.
I have viewed Shahin's other work with deep admiration, always stirred; however, this first cut was the deepest.
Backdrop 2002
I had not long been in Montreal and was working with the Iranian community in a medical clinic on the Boulevard St. Laurent. We all knew Sharam G., an enigmatic character who'd turn up impromptu at Doctor Hejazi's surgery and hold court and talk about his life as an actor in the time of the Shah, pulling dreams scribbled on pieces of paper from his pocket along with polaroid photographs. He also spoke about a film he was making with a filmmaker, Shahin, (whom I did not know yet). Two years later, on a warm day in September 2004, 4th floor, film school, I was sitting next to two friends, Tao Gu and Glauco Bermudez, who would also go on to make beautiful poetry with their cameras. I understood with more depth the man who'd sit on the steps in front of Clinique Medicale Avicenne, Rachel Ouest, smoking his eternal cigarettes, and was curious about the director, Shahin, who gave us an unforgettable location for this performance, transforming a Montreal ruelle into a landscape of nothing – هیچی- Hichi, as they say in Farsi. Since then, I have never seen a ruelle in the same way.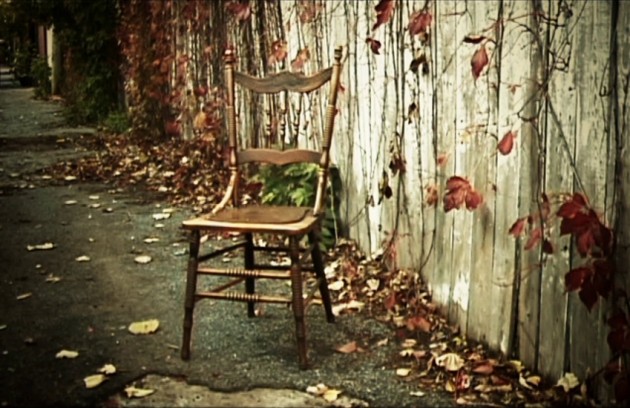 I wanted to meet Shahin and ask him many questions, yet he had already left Concordia, and it would be a few years until I did meet him, and not in a film festival but on a street in Amsterdam where, like me and my daughter, he was killing time, waiting for the plane back to Montreal.
The following are thoughts and reflections.
Amnesia represents a no-man's land, a place between worlds, unidentifiable, where memories are fused, sparse and poetic, a mantra I have heard in different forms from the mouths of many Iranian refugees, (my husband was a political refugee who later died in Montreal). An authentic and sullen song, a ritualistic ode of a shattered life, a song on the edge, where the only way out of the suffering is to die.
When I watched it again today, to feel the effect and refresh my senses, I see the beauty shining through as Shahin pulls back a curtain onto his friend, actor, and compatriot, who tells his despairing autobiographical tale in snippets, while the camera lingers stubbornly, anchoring him in his displacement.
A paintbrush stroke on rough pressed paper.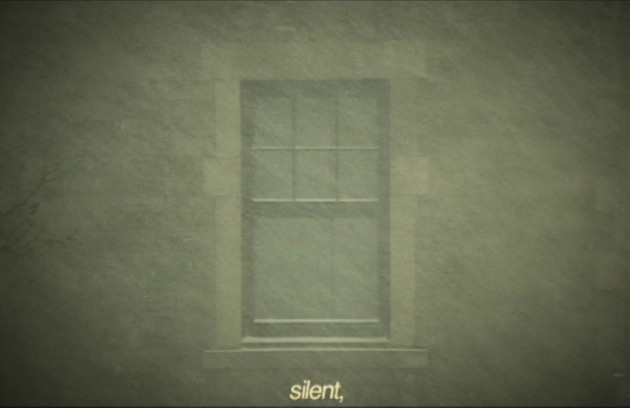 This opening scene takes almost one and a half minutes, the credits merge into the performance, then onto a portrait of 'the chair', against a wall hung with autumn leaves. Hushed backdrop sounds,
"so where did you put that gun? Where?" are the first words we hear. We then see the man who 'stitches night into day,' with a cigarette burnt almost to the filter.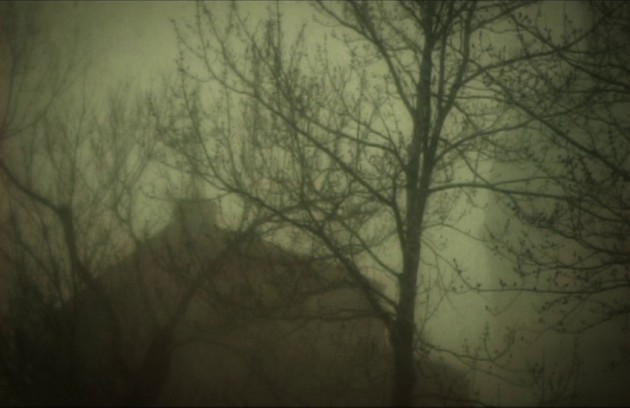 Sharam performs, however, and the performance becomes suddenly real, it is no longer an act, is it? He is S. G. from the Boulevard, gently tortured. Shahin's direction captures the controlled pain which cannot escape this alley, it is locked in forever. He dares keep the camera there on that pain. "Don't take my ants away from me, let me live the story of my ants. Every night I sleep with their story." The man drops the cigarette butt on the floor.
I forget there is a cameraman, a Nagra tape recording system, a boom. I only know that a gun cannot be found and the man who is maybe Sharam from the Boulevard will hang himself. As he cannot find a rope, he finds a towel and stands on the old chair. At this point in his monologue, the leaves shiver more than before. He cannot die. "He swings from side to side," he tells us, "but in the very moment between life and death, one thing made him angry."
Pause . . .
He turns to the camera:
"Amnesia . . . Why did you forget your own story?"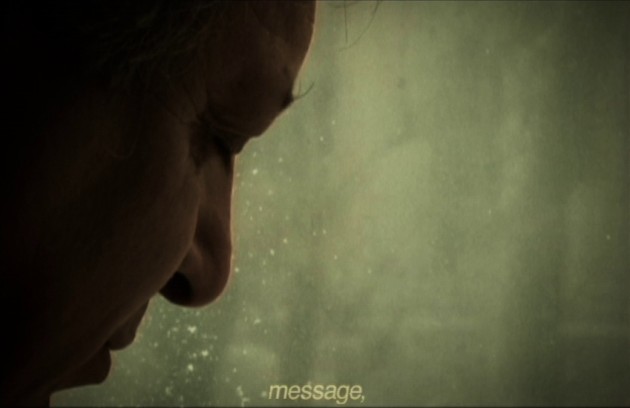 The screen goes black, a sharp soundscape brings us into a new space, a second story where he might live or he might die, or maybe stay in his half-world, half-space. He utters one word over and over, "Shine, shine, shine, shine." He addresses Shahin through a phone in a soft, far-off haunting voice, then family and friends, asking them to call him, contact him. He wants his daughter, his mother, his mountains of Iran, the breathtaking Damavand, an extinct volcano. Slowly, over and over, repeating names, calling to them, while the snow begins falling relentlessly, finishing with a view of a snow-encrusted window which echoes his lament, wanting his old haunts in Tehran, Shoosh Square, Ferdowsi Square. Finally, the camera slides to his eyes as he gives an address, 24 Esfand Square. Did he live there? Where is this place? A softening catharsis of his conflict.
To black again.
It is truly sad.
I cry.
I finally understand the symbiotic relationship between director and subject, Shahin and Sharam, two artists. I call this work
an act of love.
Thank you Shahin
Jeanne Pope
Oct 29
2021