Shahin Parhami and Amin in Moscow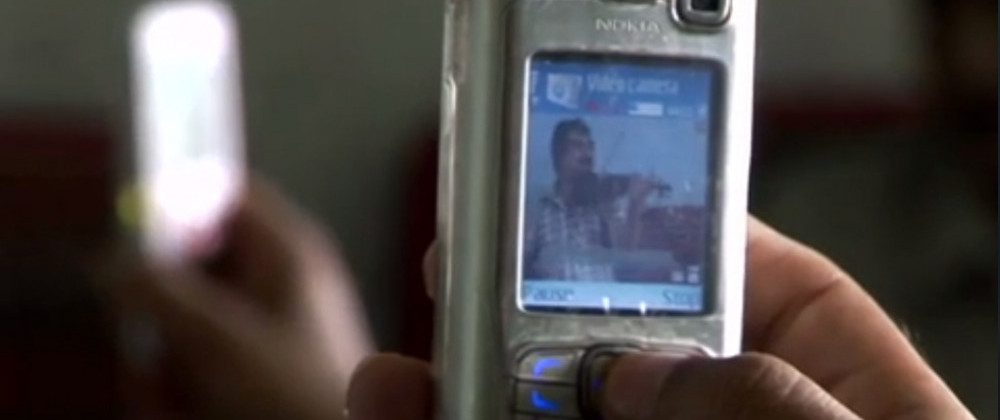 In June 2011, Shahin Parhami's documentary Amin played at the Moscow International Film Festival, and he spent two weeks speaking at screenings and walking around the city. Amin has been probably the most widely traveled among other Parhami's films. It had its world premiere at the Pusan International Film Festival, and went on to Yamagata, Taiwan, and many others. But Moscow screenings are special to me not just because we got to spend time together. (Shahin stayed at my parents' place in Moscow, and my mother still talks about the Iranian dish he graciously made them for breakfast.) To me, Amin's Moscow success exemplifies how Shahin Parhami's films remained uncompromisingly experimental, yet reached diverse audiences across national traditions and cinephilic affinities.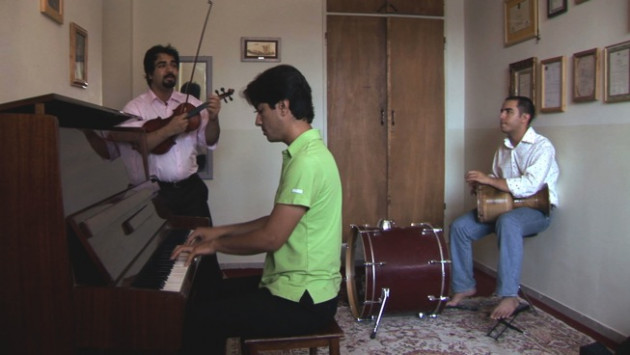 Amin, released in 2011, tells a story of a young Iranian musician and scholar determined to preserve an ancient, disappearing musical tradition of the Qashqai minority in Iran. Like his other documentaries, Shakhrazaad and Marcel, it focuses on one central character. Parhami met Amin Aghaie, a Shiraz-born Qashqai musician, through friends in 2001 but started filming him eight years later, when Amin was attending the Pyotr Tchaikovsky National Music Academy, a venerable Conservatory in Kiev, Ukraine. At Moscow, Amin was screened as part of the "Russian Trace" program, ostensibly because Amin's teacher at the Conservatory was Russian, and more broadly because his story bridged Slavic and Iranian appreciation of music heritage.
Amin exemplifies Parhami's filmmaking style. He usually filmed as a technical crew of one, with minimum equipment. Amin's minimalism and international range recalls the method of another self-reliant itinerant filmmaker, Chris Marker. Parhami commandeered his documentary subjects to become actors in his films, using his considerable social skills. He often included fictional segments in his documentaries. One such humorous sequence early in Amin shows a goat herder receiving a cellphone call in the mountains. This scene recalls a recurring sequence in Abbas Kiarostami's The Wind Will Carry Us (1999) where a man runs up the hill in a remote village to get cell reception. But if Kiarostami uses the scene to show the clash between modernity and tradition in Iran, Parhami portrays inevitable coexistence of the two without judgment.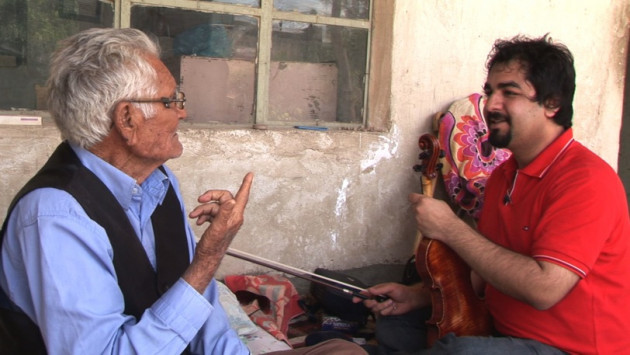 All Parhami's documentaries aim to convey a sense history, however elusive. They include grainy archival footage along his carefully framed colorful shots of contemporary life in Iran, Ukraine, or Canada. In his subsequent film, Shahrzaad's Tale (2015), Parhami would use black-and-white TV segments of the Iranian actress's sensual dancing to show the wide range of roles available to women in Iran before the 1979 Revolution. His last film, Marcel (2021), unfolds in black-and-white chiaroscuro scenes where dark shadows convey the difficulty of understanding the past of a Holocaust survivor. In Amin, historical color footage of traditional dress and practices visualizes Qashqai cultural heritage, otherwise present in the film primarily through sound.
Amin shows most clearly the importance of sound, and a musical quality of Parhami's filmmaking. Sound is so present because the film follows Amin who is recording urban street performers and rural venerated Qashqai masters. More than that, Amin, a 2-hour-long film, keeps the viewer's attention through changes in narrative pace. A Dziga Vertov-style fast montage presents Shiraz views seen from a car in motion. Unhurried long takes recount Amin's meeting with a Qashqai music elder, Ustad Kiyani, shortly before Kiyani's passing. Parhami's camera also registers awkward details such as cockroaches in the Ukrainian dormitory, or a scarf falling off Amin's mothers' head as she recounts his childhood successes. A static shot lingers on Amin and his Ukrainian girlfriend (now wife), Galyna, posed, silent and still, on the right side of the screen. The film unfolds like a musical composition, from allegro to adagio.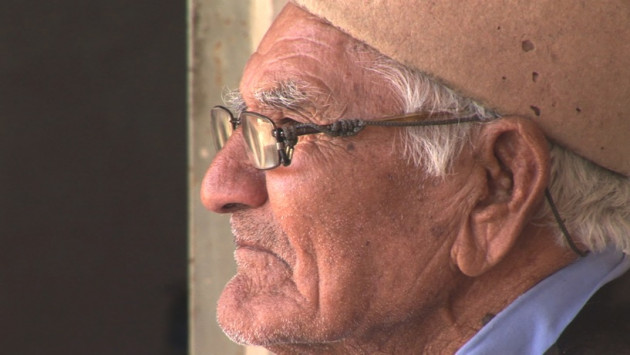 Moscow festival audiences for Amin included Iranian diplomats and expats in Moscow, as well as local spectators, including both Russians and Ukrainians. Amin won over all of them, including the locals. Yet the film is quite frank about the hardships and contradictions of Amin's life in the crammed Kyiv Conservatory dorms. Even the panoramic shots of Kiev buildings are grey and uninviting in comparison with views of Shiraz. But again, Parhami avoids judgment. The camera is patient when Amin's teacher, in Russian, praises his musicological and ethnographic preservation project, sincerely, to be sure, but from a Western, orientalist perspective. She speaks of it as an artifacts to be put in a museum rather than a living tradition. At the same time, Amin's relationship with Galyna suggests a possibility of at least potential ties between the post-Soviet classical musical tradition and diverse traditions of music in Iran. Perhaps sensing this hope, several Moscovites came up to Parhami after the screening, to thank him for a beautiful, revealing tale.
To me, Shahin Parhami proved that it is possible to maintain an independent cinematic voice with minimal resources and in the face of commercial and political pressure. Like Amin, who sold his violins to fund his musicological education and research, Parhami had to cobble funds together to make his films, relying on Canadian federal and provincial grants and International funders such as Pusan International Film Festival. He also supported himself by teaching filmmaking. He got enough support to make his films, yet little help from the Canadian film officials to distribute them. One hopes that now his works will find a wider audience, both in Canada and internationally. As his Moscow screenings show, his potential audience extends far beyond Canada and Iran.