No one to be Missed
On Location with Zhang Yimou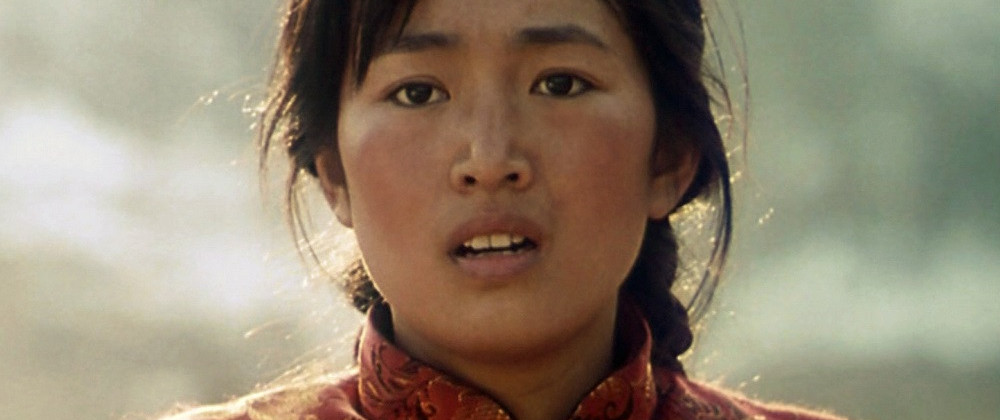 Photo: Head photo & thumbnail sourced from Sony Pictures DVD
Time: Summer 1998 Location: Zhang Jiakou, a small town north of Beijing, China
In May 1998, ten days after Zhang Yimou's new movie started rolling, a Santana [type of Volkswagon sold in China) took me and my curiosity to Zhang Jiakou, a small city about four hours drive from Beijing to interview this famous director. The movie they are shooting is called No one to be Missed , and I myself do not want to miss this opportunity.
Getting an interviewing with Zhang Yimou is difficult. Even in my hometown Beijing, I felt he was harder to reach than he was in Montreal last winter. Zhang Yimou is constantly hounded by the paparazzi, so it is not surprising that reporters must contact his producer first, Hu Xiaofeng. Then be put on a long waiting list along with other interview seekers from across the world. And finally wait for a vacancy in the crew's van, which only runs once a week to the filming location, Zhang Jiakou —which literally means: the village of Zhang's family— a remote city about four hours drive north of Beijing. As well as interviewing Zhang, I had the chance to talk to Cao Jiuping, his long-time art director, and Zhang Yimou's cinematographer and one-time classmate Hou Yong Interview Hou Yong : Zhang Yimou's Cinematographer .
At the point of arrival, I noticed that some of his crewmembers were wearing the T-shirt with the words "Zhang Yimou's crew", and stamped with a list of his works, from Red Sorghum , to Yigedoubunengshao , ( No one to be Missed ), to the Italian opera Turandot [directed by Yimou], and even his then forthcoming film My father and my mother .
It was arranged for me to settle down with them in one of the best hotels in Zhang Jiakou. Just after I unpacked my suitcase, a little girl hopped in front of me, and asked: "Are you here with us, sister?" She looked at me curiously and naively. Producer Hu Xiaofeng introduces her: "This is Wei Minzhi, the main actress." I later learn that Wei, an ordinary country schoolgirl, was discovered by the director out of thousands of local rivals. Apart from her, the ten other starring children are all first-time actors chosen from over 10,000 participants. I perceive the thirteen-year-old Wei to be still a child mentally and physically.
"We want her to look authentic and simple. The girl's simple disposition fits the character in the movie". The producer explained further, "during the filming, we tried our best to keep her the way she is. She is not allowed to watch TV, because we believe television would make her know too much of the outside world. And the worst scenario would be that some not-so-healthy information might make her mature quickly. We do not want this happen. So, we hired a schoolteacher, to accompany her and advance her studies. In the movie, she is a teacher for the whole school, and she has to manage students who are older than her".
During the lunch hour, Zhang Yimou showed up in the canteen, in red T-shirt and black jeans. Zhang had nothing special for his meal: minced meat, sliced potatoes, steamed bun, and egg soup. It is my first time encountering the legendary Zhang Yimou in such ordinary circumstances. I was surprised to see how he kept such a simple lifestyle, while his extraordinary productions have swept through so many international festivals: Red Sorghum , The Story of Qiu Ju , To Live , and many other master pieces of Chinese cinema. And Zhang never complained about the harsh conditions of the locations.
No one to be Missed deals with the dropout problem in China's rural areas. The story focuses on the 13-year-old substitute teacher, Wei Minzhi, and her tremendous efforts to keep her pupils in school to receive an education. Her efforts include searching for a student who has gone missing in a city so she can keep the film's titular promise to her students: "No one to be Missed."
On the first night the scene took place at an old fashioned TV station about forty minutes drive from our hotel. In the story Wei Minzhi comes here to seek help after discovering that her student Zhang Huike is missing. Two local anchorwoman of the station broadcast her announcement. Zhang Yimou, directing the filming from the monitor outside of the room looks serious and concentrated. At times he utters "Kaishi" (action) or "ting" (stop), his voice low but firm and powerful. During the break, I ask him a question: why did the topic of children seize his heart this time? He replies, "It is about how a kid succeeded in doing something all by herself. It is a touching story. This movie is one of the most challenging projects I have ever taken. But it is the most rewarding one for sure". His assistant adds that what brings more strength to the production is that this story describes the countryside children's extraordinary endeavor in pursuing knowledge. As a result the movie will raise the issue of education for kids in impoverished regions for the whole society. As a side note, at the end of the filming the crew donated a brand-new school to the village-Shuiquan Elementary School.
From Red Sorghum 's ballad approach to his realistic pinnacle The story of Qiu Ju , critics say that Zhang Yimou changed the way the world visualizes China, and helped to alter the course of Chinese cinema. In his earlier movies Zhang Yimou experimented with trying out different styles. Red Sorghum is known for a folk-ballad approach; while The story of Qiu Ju stands out as the first "social-realist film of its kind in the Chinese cinema". The crew for this new film, like The story of Qiu Ju , is using a realistic documentary style; but, as Zhang explains, in many ways it is also very different. It is the first of Zhang's movie to adopt an entire cast of non-professional performers.
I talked with Zhang Yimou during a break in filming.
1. On the style of his new movie
CW: How did you define the realistic style of this movie? How did you come to use such inexperienced young actors and actresses?
ZY: The "realistic style" of the movie was decided when we discussed the script. The crew was trying to find out which style was the best. We put our ideas together, and reached an agreement to use this "animated documentary" approach to present the story. However, it is a feature fiction film, not a documentary. Even the documentaries, I think, have a certain percentage of subjective content. When an incident happens, unless you were there at the spot, and documented the whole process with your camera, I would not say the movie would be a pure documentary with an objective approach. It is like an interview. We are here to talk about the past. The information is on the feedback of an incident in the past. We are presenting our own subjective point of view.
Using non-professional actors is another distinctive feature of this film. I decided on this is because I felt that, professional or not, the actors are doing something that never happened in their lives. The drama was made up, it only happens in the story. Even though I used actors sharing similar life experiences with the characters, they are not doing the action exactly the same as they did in their own past. What they can do is to imitate, or recast certain plots that are similar to the past. The schoolteachers, headmasters, and boss of a television station, even the doorman, are people who play those roles in life. Some of them have been doing the same job for twenty years.
CW: How did you manage the balance of making a fiction film in a realistic documentary style?
ZY: Fiction film is really different from documentary in this aspect. It is less objective, because the director expresses a subjective point of view with the movie. I would like the movie to look like a documentary, look real. "Real" refers to a realistic style. While making a fiction film, we are using the documentary style to reflect the reality. What is a fiction film? I think it is a process of emulating, reflecting what has happened in reality.
Using "realistic style" does not mean that we have to change and make a documentary film. It remains fiction. When I make movies, it is subjective, my own interpretation of the novel, my way of organizing the movie scenes. The director's reflection is not objective, because we are expressing our own point of view, and from the angle of what interests us.
CW: I noticed that you have always paid special attention to the spectacular effects of the pictures, such as that in Red Sorghum . As a director, previously a cinematographer, how did you manipulate the narration of the visual aspects of this film?
ZY: It is true that I was a cinematographer, so for me, the narration of the spectacular is powerful and important. I always pay special attention to the expression of the pictures. It has always been my style. In this new movie, we are trying to transmit a realistic message to the audience through the picture. Similar to the way of filming in The Story of Qiu Ju (1992), we placed our camera in a hidden place to handle the scenes. The camera responds to the natural scenes, people come in and out, not knowing that they are being "observed" by the eyes of the camera. On the other hand, I always pay attention to the quality of the pictures. Aesthetically, I found what comes out with this method is remarkably beautiful. It is beautiful even though it is imperfect. It is something we could never copy or create in reality. The most important thing is that to achieve the effect of an organized frame, we are likely to adjust the elements within, it just becomes a habit. We could never reach such a high state of naturalness, being so real and true. It adds credit to our movie. When the film was nearly finished, the crewmembers and I all felt that this would be a good film, and the audience will love it. I am quite sure about this.
2. About popular culture and the West
CW: How do you interpret pop culture in mass media?
ZY: I think being popular is a tool instead of a purpose. One has to use a tool to express what he wants to express. Movies from the West, sometimes, are using this as a purpose, for a high market value. Their movies are made to be trendy, so that they could attract a great number of people. And in turn, they will make money that way. This is a universal feature in the industry. But for me I do not feel that it is enough if you just want to make something so that it will be popular. I have to express what I want to say. I probably would refuse to make such a film. To cast a movie, I have to find myself, to express what I want to say. Being popular, for me, is a process to make more and more people accept your ideas. For the movies I make, I try my best to make them popular, to make the audience accept it naturally. This is important. But I do not mean the other extreme, to only express what you want to say and neglect the public. This could end up as something just cherished by the artist. I think we are part of the mass, not higher than other people. I do not think possessing the quality of being popular is something lose face over. It is a style. It would work for the movies if and only if I am able to express what I want to say, and use popularity as a tool.
CW: Your movies have won a lot of international awards. Is this just a coincidence? How would you comment on the Western judges?
ZY: It is hard to generate an answer with a few words. I do not speak English, so I do not think I am eligible to judge. Each person has his or her own point of view. However, if a jury likes a movie, this does not always mean that it is a good movie. It only reflects the view of the jury members. On the other hand, China is a developing country. The juries probably are curious about something they have never seen, something authentic, something that is hard to find in their society. The different living condition of each country defines how we see them and how they see us.
CW: I made a comparison between your Red Sorghum and Chen Kaige's Farewell My Concubine and found an emphasis on symbolism and cultural content. Is it true that you are paying special attention to the symbolic content of the movies, and intentionally convey such messages through your films?
ZY: It is true. As I said, a work should be unique in idea. I think many Hollywood movies reflect a simple world outlook. Instead of putting emphasis on the breakthrough of the content, the symbolic aspect, they stress other entertainment elements to attract an audience, such as sensational approach and a high technological skill. They carry a high price tag, and sometimes are very well done, with love scenes and action. But in terms of artistic value, the symbolic meaning of the movies, some of them, not all, are kept plain. They may just draw lines of moral value, such as struggles between good and evil, something we are educated about once and for all in high school. I think movies should have more than just these, they should touch more varieties of the society, different aspects of life, and reflect people. They are more for development, more to explore. Of course this is only my personal view, each person may have their own view.