World Film Festival #41
Still Not Dead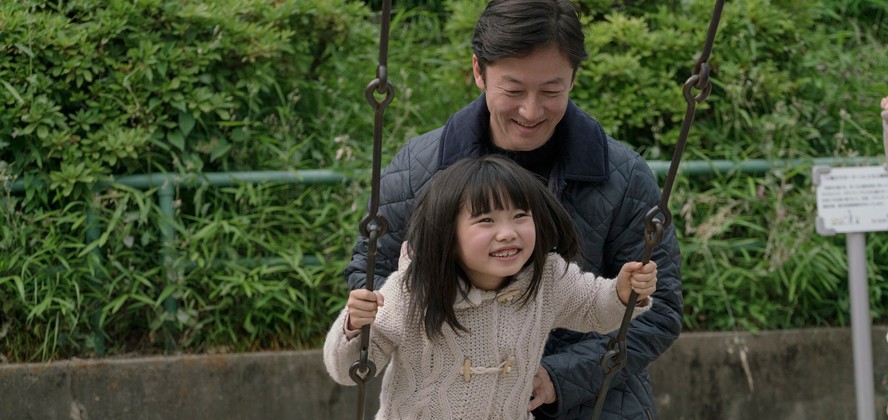 Feature Image from Dear Etranger
As noted on Offscreen last year, the 40th edition of Montreal's World Film Festival (WFF/FFM) was an unmitigated, chaotic disaster with filmmakers, including students being stranded without accommodation or even scheduled screenings of their films. Many of us thought that there would not be a 41st edition, when only three days before opening night (Thursday, August 24), the competition line-up appeared online. On the Tuesday, we learned that the debts accrued by the Cinema Imperial (headquarters of the FFM) had been cleared by the Québecor corporation in order for the festival to continue. La Presse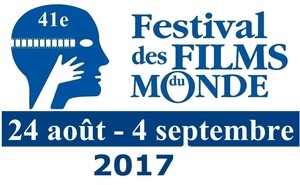 For the first time in decades there were no screening passes on sale, so that the majority of devoted cinephiles, who even last year came in their numbers to watch films, did not appear. This year's edition has indeed been "virtual," with jury members – who are they? – watching competition films online. The hope, of course, is that finally, next year, M. Serge Losique will become a kind of "honorary" president and pass the torch onto someone else. Knowing that he deliberately installed himself as chef/head for life, this eventuality has always seemed unlikely, but Québecor's chef, Pierre Karl Péladeau is a tough cookie and a financial honcho, who might make demands after bailing out Losique.
There is a reason for saving the FFM, and that is for its competitions, including the main one, which is still, after all these years, the only Class "A" film festival competition recognized by FIAPF (Fédération Internationale des Associations de Producteurs de Films) in North America, and one of only 15 in the world. I have attended every single edition of the festival, including the first twelve when I didn't live in Montreal, and I used to come here to watch the best new films from around the world that had premiered at Berlin, Cannes and elsewhere. As a "festival of festivals" it was arguably better that Toronto, but everyone except Losique now recognizes that since 2005, when the FFM got a new lease on life following SODEC and Telefilm Canada's attempt to mount a rival film festival in the city failed, miserably, the Toronto International Film Festival (TIFF) has increasingly dominated, even in showing the best films from Québec. Surprisingly perhaps, given the ever-decreasing amount of programming involved, there were still some interesting and accomplished films to be seen at this year's edition.
One of the few countries where people and organizations still support Losique (and the FFM) is China, and many of us suspected that last year's festival was only able to continue through Chinese financing. Since one of my main areas of interest is Chinese cinema, and since more than 15 Chinese-language films were showing this year, I decided to watch a number of them. Initially, four Chinese-language films were included in the main competition —two from the People's Republic (PRC), one from Hong Kong and one from Taiwan— three in the First Films competition— two from the PRC and one from the United Kingdom— while another nine films were included in the "Chinese Film Festival." (There were ten, but one didn't show up.) Of all the major film festivals, Montreal's is the one that most closely aligns itself with the Chinese government. Consequently, when a PRC film does not have the "Dragon Seal" title card of official approval, as was the case this year with the main competition entrant, Unaware Control, it becomes an illegal film, and thus can only be projected at a "special [unofficial] screening."
Two aspects of the 11 Chinese-language films that I was able to see that struck me as being prominent are landscape and sexuality, and Unaware Control has both. Unusual in being more formally poetic than narrative, this first feature film, directed by a woman, Xu Xiaoyan, has an extremely sparse storyline —a young woman, Su tends to her physically handicapped husband, Mo at a remote artist's colony in the mountains and falls for a much younger painter (Ho), who is pampered by his beautiful female models. In the end after Su gradually poisons her husband, he revengefully attempts to kill both lovers. It is as if the director, Xu, wanted to represent the senses of taste and smell— Su innovatively prepares elaborate menus initially to cure Moas well as exaggerated sounds and images in an ultimately visceral mix of all the senses, becoming sensual. Perhaps the heightened, but not graphic sexuality of Unaware Control led to its denial of the Dragon Seal, although the censors may dislike female-centric revenge fantasy plots. Unfortunately the film's prospects for distribution outside China are slim, given its sketchy character development and the understanding that some of Su's interactions with erotic sculptures could induce unwanted laughter in Western audiences. I am partial to films like this one where stylistic and formal play are more central than story, and I was impressed by the empty and beautiful time-lapse mountain landscapes that are intercut with the up-close and personal antics of the three main characters, distancing us from them and, perhaps recalling the ancient past of Chinese culture.
The Hidden Sword
The Chinese film that drew the most attention, and one that was accompanied by many production personnel in Montreal was The Hidden Sword written and directed by the man who is arguably the finest practitioner of traditional martial arts in cinema today, Xu Haofeng. Xu has also written martial arts novels, one of which was adapted into a successful film at the Chinese box office, Monk Comes Down the Mountain (2015), directed by Palme d'Or winner Chen Kaige, and two of which he adapted into his own films. Indeed he writes all of his own screenplays and has lectured at the Beijing Film Academy. Sword is his fourth film as a director, and one of the best attended events at this year's festival was a master class that he gave during which he stressed how he is not interested in fantasy and wants to show the combat techniques of martial artists as realistically as possible, illustrating his strategies with clips from all four of his films. Sword is an historical epic (1933 to 1949) that makes great use of landscape and on the "realist" fighting side shows people dressing their sword-inflicted woundsnot everyone dies, at least not immediately. Characterization is closer to Eisensteinian "typage" than to Hollywood, which is good because the people are defined as much by their actions as their words, especially the laconic central male character. Like Unaware, this film is also sexualized in a very unusual way, where the women show their martial skills in preludes to bedroom action. Predictably, The Hidden Sword won the "Best Artistic Contribution" award, but it deserved to receive a more prestigious accolade, e.g., "Best Director."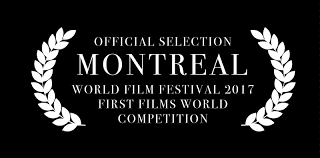 Another main competition film was Footprints, a low budget first feature from Hong Kong, directed by Wong Wai. Perhaps inspired by Hou Hsiao-hsien's Three Times (2005), where the same actors played the leading male and female characters over three time periods, Footprints is divided into four stories set twenty years apart (1952, 1972, 1992, 2012), where a young woman, A Fang struggles to be independent, especially in sexual matters. In 1952, she is severely punished for having an extra-marital affair, and commits suicide. Then, very surprisingly to me, she is a happy Red Guard in love and lust in 1972. In 1992, she is the sexual aggressor and snares a pool bar owner to the strains of Serge Gainsbourg/Jane Birkin's raunchy hit song "Je t'aime .. . moi non plus" (1969), while the last segment consists of only two shots: a divorce judge/and then, the couple; she signs the divorce papers and leaves, while the husband is left distraught. A strongly feminist work until "2012," Footprints is best remembered for its art direction. Brilliantly, the same interior sets are employed in the first two parts, decorated very differently, and while the spaces can seem oppressive, throughout, a sense of liberation is achieved through sexuality, until "2012", that is. David Huang's Upstream, a TV feature movie from Taiwan is the third Chinese-language film that stayed in the main competition (after Unaware Control was thrown out), and it is a credible low budget attempt at a political thriller genre film, pitting residents of a poisoned industrial area against the powers that be, where the fat owner of the business causing the pollution is the villain who tries to manipulate the mayoral election. Interestingly, my Taiwanese friend Ruey Wei How pointed out to me that the villain always speaks Mandarin (connecting him to the mainland and the old Kuomintang ruling government) while the protagonists always speak Taiwanese dialect amongst themselves. As usual, we no longer get the most critically acclaimed films at the FFM, and this year the same two from Taiwan will be showing at both Toronto (TIFF) and Vancouver (VIFF) festivals, A Fish Out of Water, directed by Lai Kwo-An and The Great Buddha+, directed by Huang Hsin-yao, the big winner at this years Taipei Film Awards. But, Upstream is not an insignificant work.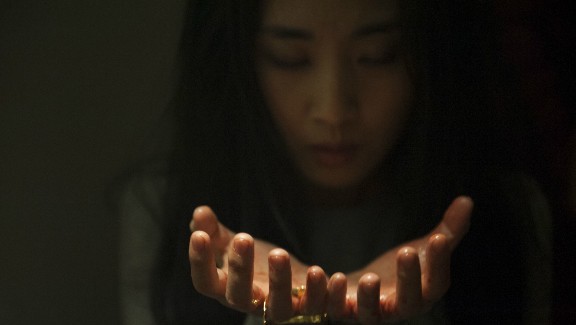 Susu
All of the three Chinese-language works in the First Film World Competition were of interest. A British film, Susu directed by Chinese-born Yixi Sun, is mostly in English, but through featuring two Chinese actresses in its cast, contains some Chinese dialogue. It is a work of the "fantastic," and may have been better suited to have its premiere in Montreal's FanTasia film festival. In any event, it is ground breaking in positioning English men, who lust after young Chinese women as the villains. Kill the Shadow directed by Sun Liang is an experimental narrative film that I needed to see more than once in order to fully understand. (But, I wasn't able to.) Shifting from black and white to colour and from reality to dreamscapes, it is very difficult to determine the consistency of such a stylistic strategy, but in any event it is a strongly subjective representation of a worker, Zhang Jin, who after losing his job when the factory closes imagines himself as a killer —or does he actually kill? The desolate, post industrial landscape that surrounds him most of the time —northern Shanxi or Shaanxi provinces, perhaps?— is very effective. The other mainland Chinese film in this section, The Soul of Himalaya, directed by Zeng Yunhui, was for me the most impressive of the three, and it should have won a prize. Zeng spent about six years working on his project in the southeast of Tibet, bordering the Indian state of Arunachal Pradesh, which focused on the Bokar (or Bogaer) speaking people of the Lhoba ethnic minority. Based on the historical situation where the Bokar were almost wiped out by disease, Zeng concentrated on the travels on one tribesman who went on a long journey searching for a medicinal antidote. Unlike most film projects approved by the Chinese authorities that deal with ethnic minorities, The Soul of Himalaya was filmed in Tibetan languages not Chinese putonghua. Zeng had to work with translators, and he also shot and edited most of the film himself. Needless to say, The Soul is a beautiful landscape film. It is geographically coherent, moving over snow and ice-capped mountains to a forested oasis, where the "fountain of life" is discovered, and back again. Often the principal actor is completely alone in the landscape, and one wonders how Zeng was able to capture his images with such limited resources.
Of the "Chinese Film Festival" sidebar, perhaps the less said the better. I was surprised to find that there were awards given in this section, and I wonder about how the jury was constituted. No mention was made of it, and I suspect that decisions could have been settled on by some of the many Chinese guests. I was unimpressed by the wintry landscape film, The Blood Hound/Xue lang quan, shown on a terrible copy (via vimeo perhaps?), which won the second prize, and I walked out of The Amber, a ridiculous melodrama on coal mining, and sexual favors, which inexplicably won the first prize!! These were the two worst films I encountered this year. All of the screenings were held in the Cinéma du Parc, and most were sparsely attended. The other two Chinese films that I saw were OK. The top prize winner at the Moscow International Film Festival this year, Crested Ibis/Yuang Shang, directed by Qiao Liang was mostly rendered in black and white images in order to reflect the polluted nature of contemporary northwest China, but gives two sides to the environmental protection issue, with some of the characters who have become rich through neglect being sympathetically drawn. There is more dialogue than is necessary, I feel, but the medium-long shot, long take nature of much of the exposition is interesting and Crested Ibis is always good-looking. A Loner/Da xue dong zhi, directed by Xing Xiao (aka Ning Jing) is very slow moving as is befitting a film about old age. A woman has lost her husband and during the time frame of the film, she also loses her pet, while she waits for her daughter to arrive for Chinese New Year. She is indeed a very lonely person, and the film's quotidian narrative is reminiscent of Vittorio de Sica's Umberto D. (1952), except stylistically: Xing having filmed in very long takes with almost imperceptible camera movements.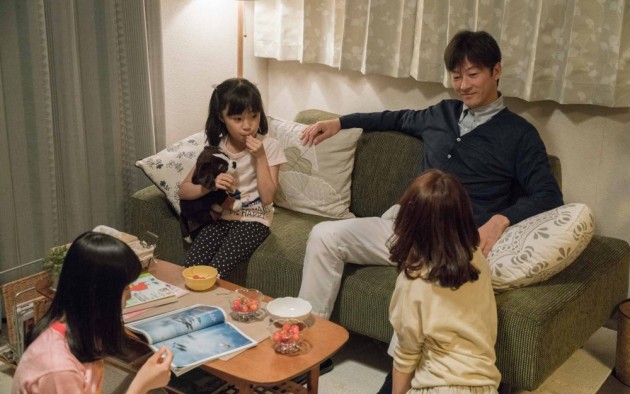 Dear Etranger
I also saw a few non-Chinese language films, including the Japanese competition film, Dear Etranger, directed by Mishima Yukiko, which won the jury's second prize (Grand Prix du Jury). Unusually, the FFM has showcased films directed by Japanese women in the past, and although Dear Etranger —he title reflecting the bilingual nature of the festival— as a very conventional narrative and style, its subject matter —relations between divorced parents and their step-children— is somewhat innovative for Japanese cinema —and the treatment is sensitive. The deserved winner of the First Films competition's Gold Zenit, top prize was Chul Heo's The Return, the only Korean film in the festival. Set entirely outdoors, with the exception of a shot inside a temple, The Return brings disparate people together at an outdoor patio restaurant. We gradually learn how they are inter-related, and the film questions the concept of "family," while connecting people to the environment. Like many of the films on show at this and other editions of the WFF/FFM, The Return deserves to be seen more widely.
As usual, the presentations of the prizes were not especially elegant or well organized, although the ceremony in the Cinéma Impérial was quite well attended, partly because the tickets were free this year. Very few jury members were on hand, perhaps because some didn't even attend the festival, which for them was truly "virtual": they could access the films via vimeo. At the end of the award ceremony, M. Losique gave the dates not only for next year's WFF/FFM but for the 43rd edition in 2019, as well. This announcement drew laughter from some members of the audience, but it is clear that he intends to fulfill his mandate to be the sole director of the festival until he dies!