30th Leeds International Film Festival, November 3-17, 2016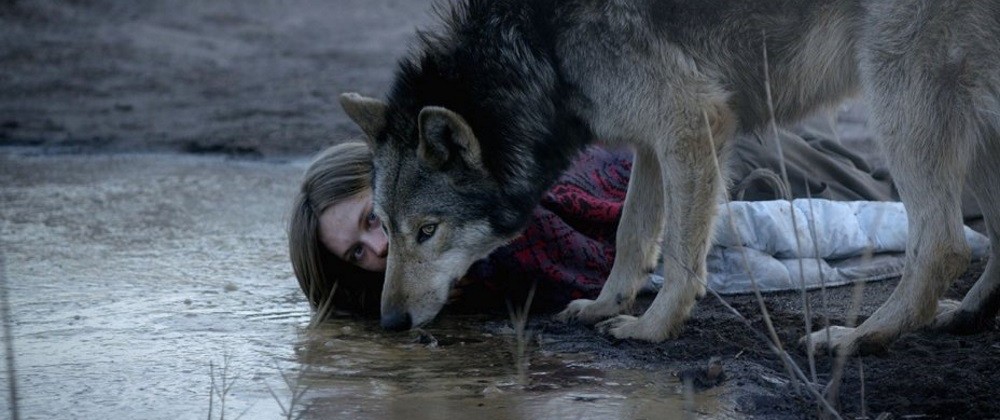 Now that the Bradford Film Festival is no more, I took the opportunity to revisit nearby Leeds, where I attended the film festival regularly in its early days. This can only be a snapshot of the event. Having five main venues makes the logistics of planning a day's viewing difficult, particularly as a key venue, the Hyde Park Picture House, is a mile from the city centre. Visiting this backstreet cinema, which recently celebrated its centenary, has become almost a pilgrimage. It serves as a reminder of what going to the pictures used to be like before the days of the multiplex.
The festival has five strands: the Official Selection of new films, Cinema Verso (documentaries), Short Film City, Retrospectives and Fanomenon, which is devoted to cult and fantasy films and is popular with students. I shall focus on some of the Official Selection titles that are unlikely to get a wide release.
There is a temptation to generalise about national preoccupations and characteristics from a few films. Festival offerings are not typical and it would be interesting to explore how they are received on home territory and whether the funding of productions from eastern Europe and Africa by film-conscious countries such as France acts as a filter on what reaches the screen. Putting such caveats aside, some heroic chain-smoking is going on in Asia and eastern Europe if these films are any guide, while the low prices and ready availability of digital equipment mean that even modestly budgeted films look impressive. If the festival has no all-embracing theme, several films explore the clash between traditional values and modernity without coming to facile conclusions.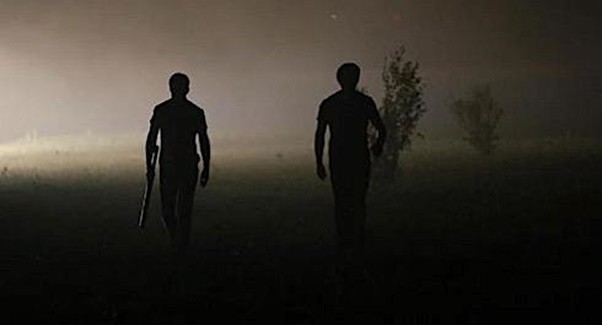 Dogs
Four first features were my highlights of the festival. Dogs (Bogdan Mirică, Romania/France, 2016) is a sign of the strength of Romanian film culture in the face of Americanisation. The mood recalls Once Upon a Time in Anatolia with its featureless plains, night scenes of moving headlights, under-resourced police and general air of menace. The opening shot of a severed foot rising to the surface of a lake is a portent. Roman (Dragos Bucur) visits the border country property inherited from local racketeer Uncle Elecu. Roman wants to sell it, but Elecu's rival and successor Samir (Vlad Ivanov) warns him not to. There are mysterious goings-on at night associated with Samir's illegal activities on the land. The foot, complete with shoe, belonged to Roman's legal associate in selling the house, who took the unwise step of challenging the intruders.
Mirică never lets the tension sag. The nearest the film comes to a moment of repose is when the local police chief Hogas (Gheorghe Visu) gently prises the foot from its shoe with the aid of a kitchen fork. Roman is drawn into a murky criminal world. Uncle Elecu's dog, ironically named Police, guards the stockade in which its late master's house is situated, so Roman's first task is to make friends with the animal. Its barks provide a constant accompaniment to the action, so silence does not augur well. Roman soon discovers that he should have stayed in the urban world he knows.
Morality and law count for little in the border country, but Hogas is the most interesting character. He is dying of cancer, his police station looks destined to be replaced by a mobile unit and he knows that Samir cannot be stopped by legal means. The final encounter between the two men is reminiscent of the shoot-out in many a Western, but there is a lot of killing along the way.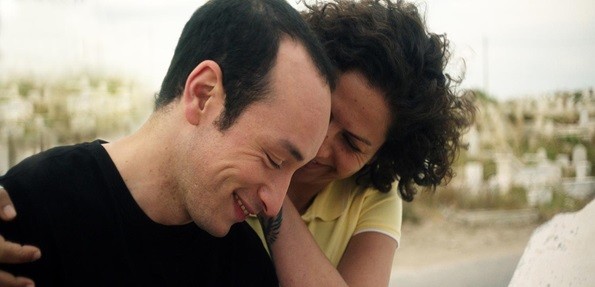 Hedi
Hedi (Mohamed Ben Attia, Tunisia/Belgium/France, 2016) is all the more impressive for coming from a country (Tunisia) with no established film culture and a director making his debut at the age of 40. The Dardenne brothers are co-producers, which gives an indication of the film's pedigree. Hedi (Majd Mastoura) is a car salesman. He is sent to the resort town of Mahdia and pressured by his employer to sell fleet cars to companies that display no interest in buying them. The job bores him and he spends his days on the beach. His widowed mother Baya (Sabah Bouzouita) has arranged his marriage to Khedija (Omnia Ben Ghali), who comes from a richer family. The prospective bride and her family take a traditional view of matrimony, which means no sexual contact before marriage and the wife not working outside the home. The couple are to live in an upstairs flat in Baya's house, for she is determined to keep Hedi close now that her elder son has gone to France. In Mahdia, Hedi encounters the free-spirited Rim (Rym Ben Messaoud). At 30 she is five years older than Hedi and a dancer who entertains tourists in hotels. The couple begin a passionate affair and when Rim announces that she is being transferred to a hotel in France, Hedi resolves to go with her.
Hedi is presented as a contained individual whose sole means of expression until he meets Rim is his art. She is the only one to be interested in his ambition to become a graphic artist, which increases her allure. Ben Attia takes a risk in creating a lead character who reacts to rather than initiates change, but this makes Hedi's affair all the more cathartic, unexpected and liberating.
Breaking away from home is difficult for many young people — Billy Liar dramatised the same problem — but here it is complicated by cultural and religious traditions, making Hedi's dilemma resemble that of Laura in Brief Encounter. The shortage of tourists in the wake of the terrorist attacks makes Rim's work precarious. As the oldest of the dancers she is already conscious of the limitations of her career. Ben Attia has gone on record as saying that there is a subtext Tunisians will understand: 'My country is hungover. It's no longer gagged, but in the throes of deep social, religious and economic crisis' (Aftab 2016). This sentiment could apply to many societies today. Hedi is a thoughtful and involving work that Tunisians should have the opportunity to see.
Winning praise at its Berlin Film Festival screening, Old Stone (Johnny Ma, China/Canada, 2016) looks destined to be an ultra-violent action feature as a driver tails a motorcycle through a neon-lit Chinese townscape, yet the driver turns out to have a social conscience and the film is rooted in a Kafkaesque reality worthy of Ken Loach. When Lao Shi (Chen Gang) is jolted by a drunken passenger and knocks a motorcyclist off his bike, he takes the injured man to hospital. The doctor says that his prompt action saved the man's life, but Lao Shi is left paying the hospital fees and being berated by the police, his boss and the insurance company for not following the proper procedure and waiting for an ambulance. His wife wants to expand the baby-sitting service she runs from home and is annoyed that he is spending their money on a stranger. When the victim falls into a coma and the bills spiral, the hapless Lao Shi resorts to desperate measures leading to a horrific climax.
Old Stone
The story is based on a true event, when a girl in Guangdong province was run over three times because nobody wanted to become entangled in bureaucracy and face the potential costs involved in reporting the accident. Cheaper to let the victim die. This is an indictment of the Chinese legal system, while the cash-oriented medical system resembles that of America in its priorities. China might be a communist country, but the values depicted here are capitalist, with any sense of community being absent. Societal comment is woven into an involving personal story. Ma is a Canadian resident, so he can view his home country with a degree of objectivity.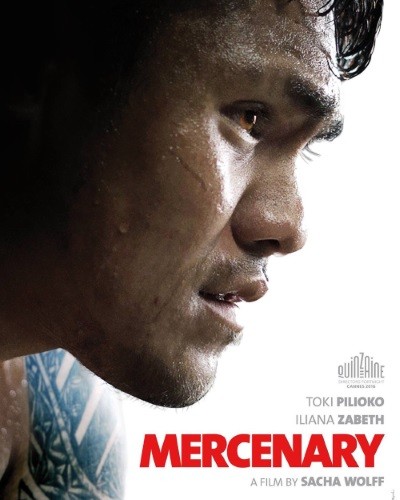 From France comes the fourth of my first feature recommendations. Mercenary (Sacha Wolff, 2016) is the tale of Soane (Toki Pilioko), a Wallisian from New Caledonia, who is spotted by a rugby talent scout and invited to play for a French club. Soane defies his abusive father to go to France, but once there he is turned down by the club for not being heavy enough. Soane is penniless in a foreign country, but he is resourceful. He signs for a lesser club and supplements his income with a job as a bouncer. The trouble is that the man who loaned him money for his journey demands payment. Like Lao Shi in Old Stone, Soane has to abandon his principles to survive. This is an affecting portrait of being stranded between two worlds. You don't have to like rugby to enjoy it.
Three established film-makers have produced features that are below their best. Harmonium (Kôji Fukada, Japan/France, 2016) is a modest but unusual film. Toshio (Kanji Furutachi) runs a small engineering business. Into his workshop comes Yasaka (Tadanobu Asano), newly released from eleven years in prison for murder. They are old friends and after an initial hesitation Toshio gives Yasaka a job and lets him stay in the family home. This is how Yasaka comes to give Toshio's daughter Hotaru (Momoni Shinokawa) harmonium lessons. Toshio's wife Akié (Mariko Tsutsui) is grateful and draws closer to the visitor. Then an incident occurs to shatter the family's happiness.
This is an affecting study of family breakdown and the secrets that we all harbour. In today's climate we might suspect paedophilia when Yasaka befriends Hotaru, but that would be too obvious. The film received the jury prize in the Un Certain Regard strand at Cannes. My qualm is that the nature of the incident is left unresolved, only its outcome being apparent. This leaves a vacuum at the heart of the film, while the sudden appearance of Yasaka's son seems contrived.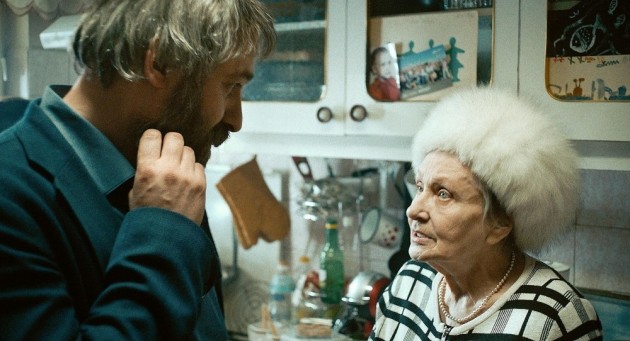 Sieranevada
After the success of The Death of Mr Lazarescu, I was looking forward to Sieranevada (Cristi Puiu, Romania/France/Bosnia Herzegovina, 2016). Families come together to celebrate or mourn and this has always been fertile dramatic territory. Here Emil has died and his family are remembering him with a meal. It is not a good omen when Lary (Mimu Branescu) bickers with his wife on the way to his late father's flat. There is black humour as in an echo of Buñuel the family are continually prevented from tackling the food arrayed across the table and resort to copious quantities of alcohol. Eating cannot begin until the priest has given his blessing and he is late. Then the philandering Uncle Tony (Sorin Medeleni) arrives, causing renewed rows. A younger member of the family brings a friend who is an addict. An aunt bemoans the loss of Ceauşescu and the ending of communism, while another brother supports conspiracy theories. There is plenty for the family to argue about. The vérité style of photography is needed in the cramped flat and gives an improvised feel to the proceedings. My reservations are the length — at nearly three hours the family outstays its welcome — and the unvarying tone. There are too many rows and no sense of resolution.
Fukushima, Mon Amour (Doris Dörrie, Germany, 2016) follows the exploits of Marie (Rosalie Thomass), who joins Clowns4Help to entertain the elderly refugees from the tsunami. One task she accepts unwillingly is to drive the elderly Satomi (Kaori Momoi) to her wrecked home in the exclusion zone around the reactor. The trouble is that Satomi insists on staying there. Marie decides that she is unsuited to being an entertainer and goes to live with the old woman in the semi-derelict house. Interest resides in the odd couple relationship between the young German and the cantankerous old woman, who claims to be the last geisha. The film was shot in the exclusion zone months after the disaster. This might have added a frisson to filming, but it fails to reach the screen. Dörrie claims parallels with the refugee crisis in Europe (Spindler 2016), but these seem tangential. The ghostly episodes when Satomi's past catches up with her are effectively integrated into the story, the weakness being the clichéd view of the Japanese woman and the naive European. Nor is it clear why Marie should abandon her concerns about radioactivity to accompany a woman with whom she has nothing in common.
Four new features proved disappointing. Unusually, Mimosas (Oliver Laxe, Spain/Morocco/France/Quatar, 2016) is shot in Super 16. It won Laxe the critics' week prize at Cannes. A caravan escorts an ageing sheikh to his home city of Sijilmasa. He dies on the journey, which continues over the Atlas mountains to deliver his body to his people. The route proves challenging and many of the party drop out. The caravan is led by a guide, Shakib (Shakib Ben Omar), who sounds authoritative, despite his lack of knowledge — a similar figure appears in Kelly Reichardt's Meek's Cutoff. This timeless story is interwoven with a modern expedition across the desert in taxis, with Shakib being hired to inspire the others. The fractured narrative may make sense to those versed in the intricacies of Sufi texts, but otherwise it is likely to remain tantalisingly obscure.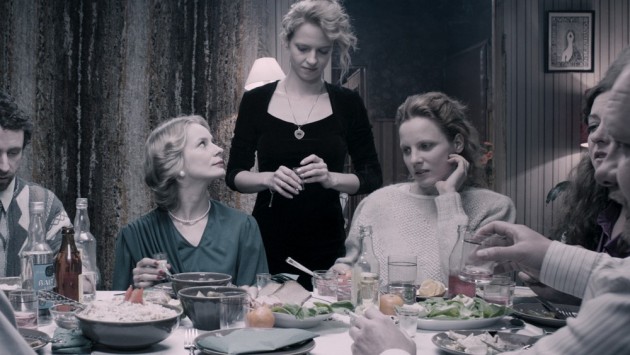 United States of Love
United States of Love (Tamasz Wasilewski, Poland/Sweden, 2016) is a glum piece that belies its title. The cinematography is almost bleached of colour, which suits the mood. Set in 1990, there is no sign that for these women the fall of communism brings any sense of liberation. The four stories are linked by a school. A married woman whose daughter is a pupil has an affair with a priest; the principal whose lover is a widower discovers that he wants to end the affair rather than marry her; a sacked teacher tries to attract the principal's sister, a former beauty queen living in the same block of flats, while the sister is plied with wine and raped by a photographer as she poses for glamour photographs. The stories have moments of drama and tenderness, but for me the approach is too low key and the stories too similar. If we are being told something about Poland today, it is not encouraging.
Suntan (Argyris Papadimitropoulos, Greece/Germany, 2016) was a prizewinner at the Edinburgh Film Festival. Dr Kostis (Makis Papadimitriou) is moving towards middle age, single, overweight and with a career which is going nowhere. He takes the post of doctor on the Greek holiday island of Antiparos, where he treats feisty tourist Anna (Elli Tringou) for a minor injury while her friends look on. She invites him to join them and the doctor is flattered, becoming besotted by her. Anna and her friends tolerate him while he buys them drinks, but inevitably they tire of his company. Suntan holds the attention until this point, but the doctor's response is implausible and film loses credibility. A pity.
Wild (Nicolette Krebitz, Germany, 2016) is a tale of obsession that is likely to produce polarised responses. Ania (Lilith Strangenberg) has a routine office job and lives alone in her grandfather's flat as he is dying in hospital. One day she sees a wolf and with considerable effort she traps it and takes it home. She builds up a relationship with the animal, shedding her humanity until she lives like a wolf. It is possible to interpret this film in many ways: as a study of the fragility of human values, a celebration of lupine values, a feminist tract (she rejects her boss's advances in favour of the freedom of her instincts), an anti-feminist tract (the wolf as surrogate male lover), et al. Once again I find a lack of veracity in the character's responses, which detracts from the work's psychological truth. This is film-making for no particular purpose.
The festival's retrospective strand ranges from silent films to Under the Skin (Jonathan Glazer, 2013). It provides an opportunity to make discoveries, see films known by only repute and revisit works deserving of a second viewing. Among the silents I caught Laurel and Hardy's Battle of the Century (1927), the second reel of which was only found last year in a 16mm print. A two-minute section from the end of the first reel is still missing, replaced in this version with stills. We shall probably never know what we have missed, for the chances of finding the missing material before it decomposes is decreasing. Similarly, Buster Keaton's His Wife's Relations (1922) contains recently discovered material. Was the film inspired by his own marriage, which took place a year earlier? It was screened with Exit Smiling (Sam Taylor, 1926), Bea Lillie's only silent film. Festivals provide the rare opportunity to see such material on the big screen and with live music, in this case from Jonathan Best.
Woman of the Dunes (Hiroshi Teshigahara, Japan, 1964), the story of an entomologist who is imprisoned in sand dunes with an outcast widow, is justly famed. Given that this is art-house material, a metaphysical reading is inevitable, for taken at face value the story makes little sense and outstays its welcome.
The retrospective strand included several films from Bent Hamer. Like Roy Andersson he takes a quizzical look at human behaviour. Kitchen Stories (Norway/Sweden, 2003) is based on a true story of observers sent to record how Norwegian men living on their own move around their kitchens. The observers are instructed not to speak to their subjects, but this proves difficult. A deliciously subversive film in a style that seems peculiar to Scandinavia.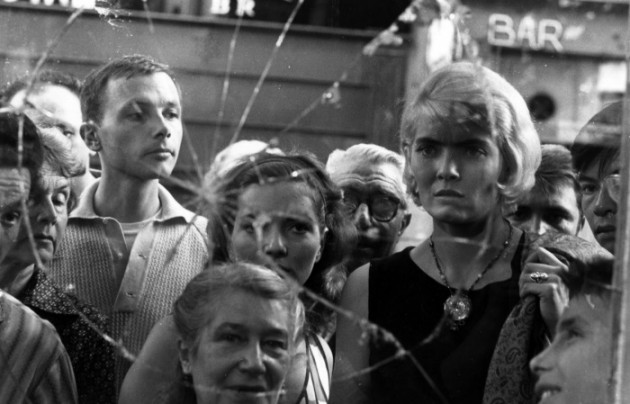 Cléo from 5 to 7
My favourite among the retrospectives was Cléo from 5 to 7 (Agnes Varda, France/Italy, 1962) Varda's work has been eclipsed by that of the male nouvelle vague directors and is little seen today. Cléo (Corinne Marchand) is a pop singer who is awaiting the results of medical tests to determine whether she has cancer. The film follows her over two hours before she goes to the hospital. Initially her responses seem melodramatic, but soon we sense her fear and unease. She has a Tarot reading: the reader does not tell her that the cards mean death. At a milliners she seems to forget her cares, but she chooses a black hat with a veil, which is hardly appropriate for a summer's day. In a café she selects her own song on the jukebox; nobody recognises her, but a woman complains about the noise. Cléo receives her lover at her flat, but the couple seem to have passed the stage of love. More empathic is the relationship she strikes up with a soldier, who accompanies her to the hospital. The incidents mean little in themselves, but they are imbued with an awareness that city life will continue without her. The photography captures the brightness and bustle of Paris streets that she may not see again. Varda's male counterparts have trouble emulating this emotional charge. Only the ending is a disappointment.
I have reservations about the documentary strand. Sheffield is not far away and has a festival devoted to documentaries. Is this sufficient? And do documentaries need a big screen and a live audience, or are they equally suited to television? One I caught was The Islands and the Whales (Mike Day, UK/Denmark/USA, 2016), which explores the dilemma of the Faroe Islanders who have traditionally relied on whales and seabirds as a significant part of their diet. Today the seabird population is dwindling and the whale meat contaminated with mercury. Should the islanders abandon their traditional ways? The older people seem content to carry on. The film touches on the efforts of a group of protesters including Pamela Anderson. Their sanctimonious approach made me want to go shopping for whale meat, though does editing skew the audience's sympathies during the public meeting? This is an ever-present risk with documentaries.
A film festival is always a lucky dip and the Leeds festival proved no exception. There was not much humour among the Official Selection offerings, but this might reflect the inclination of the selectors rather than the state of world cinema today. I was left pondering how to judge a film. The maker needs intellectual control in shaping the material and technical expertise in using the medium, but ultimately there must be a passion for film-making that elicits a comparable response in the viewer. Not all the films I saw communicate this.
Bibliography
Aftab, Kaleem, 'Mohammed Ben Attia's Hedi exposes the wider social, religious and economic problems of Tunisia,' The National, 20 February 2016. Link. Accessed 22 November 2016.
Spindler, Wolfgang, 'Greetings from Fukoshima: award-winning drama about broken dreams and broken lives,' Euronews, 15 February 2016. Link. Accessed 21 November 2016.