Solitude, Sizzle, and Uncertainty at the Toronto International Film Festival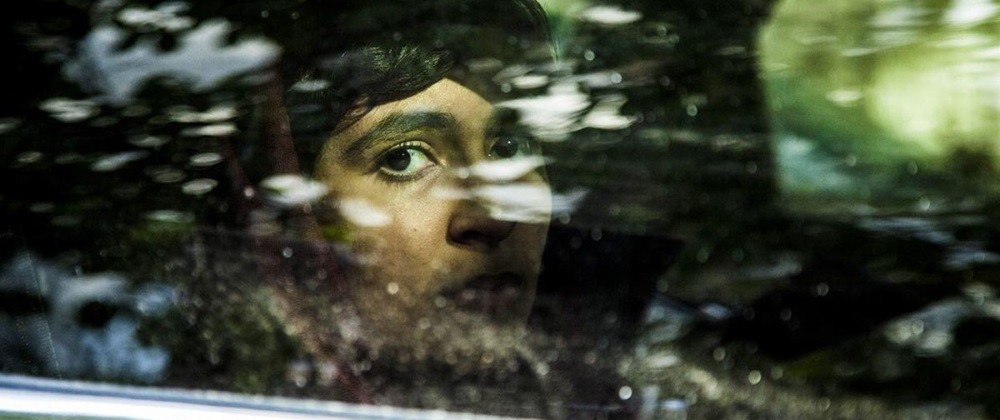 One of the best films to premiere at this fall's Toronto International Film Festival was an intoxicating rush from start to finish. Thousands of festival patrons saw it during the 11-day event. The reaction to its speed and spectacle was often hushed reverence, at least from the perspective of this critic. However, the piece of art I'm discussing wasn't a feature-length title or even an acclaimed short. It was a 30-second advertisement for TIFF – not the festival, but the cultural institution – that played during an onslaught of mandatory corporate marketing before every public screening.
Set to an accelerating patter of drums, which guided the spot's quick, kinetic editing scheme and reminded me of the background score from the 2014 Oscar-winner Birdman, the commercial used those beats to ricochet through a fiesta of dazzling images: celebrities arriving on red carpets, confetti-filled parties at the TIFF Bell Lightbox cinema (and company headquarters), the careful labor of preparing a 35mm film reel for public presentation. The final shot, of a sold-out audience being treated in the dark to bright flashes from a giant screen, was both tantalizing and brief.
That brevity worked as a useful metaphor: as much as TIFF would like to boast about its stature as a cultural enterprise, sold-out showings at the five-screen TIFF Bell Lightbox are rare. Outside of the 11-day festival, the busiest screenings are often for one-night-only engagements – of a 35mm display of a classic like The Umbrellas of Cherbourg, or of 2001: A Space Odyssey presented in a spectacular 70mm format. Walking into the Lightbox just a week after the end of the heralded festival, for a regular screening of Eliza Hittman's Beach Rats, I only noticed the emptiness in the lobby. The spacious auditorium upstairs was filled to about 5 per cent capacity. The film looked and sounded pristine, but those hoping for the communal vibes from the staccato-edited advertisement were likely disappointed.
Toronto may be home to the biggest film festival in the world, but without the array of world premieres it used to promote and a still-overwhelming number of options for local audiences to pick (even though two programmes were trimmed from the 2016 iteration), its reputation in the industry today is up for fervent debate. There was no shortage of terrific titles showing at the festival, but much of the discussion during TIFF's final weekend surrounded two heavily critical articles. In Variety, journalist Ramin Setoodeh lamented that TIFF was mostly a way for audiences to taste delicious leftovers from the rest of the 2017 festival circuit, with only a couple of brand-new treats receiving the distribution deals that could get the trades salivating.
The harshest takedown, however, was a blistering and comprehensive feature from The Globe and Mail, a 6,000-word exploration of "TIFF's internal struggle" by Barry Hertz and Molly Hayes. The feature mentioned some of the public quibbling about the festival: escalating prices (around $30 for an adult ticket to a non-gala screening), security slowdowns (including one that led to a screening of The Shape of Water starting before many in the audience could find their seats), a lack of scintillating world premieres (the new high-profile offerings from Québecois darlings Denis Villeneuve and Xavier Dolan did not receive the red-carpet treatment). Most of Hertz and Hayes' piece details the tensions arising within the institution rather than the festival, aided by their access to dozens of past and current TIFF employees, as well as deliberations about the future of the organization, especially now that CEO Piers Handling has announced he has one more festival to go before retirement. Meanwhile, audiences are clearly losing interest in the Lightbox's programs and public screenings. A startling article from the Toronto Star this August revealed that attendance at the Lightbox dropped 27 per cent from year to year, which should send shivers up the spine of any frequent art-house attendee.
All of this industry chatter could seem at odds with the breadth of very good titles available for public spectatorship at TIFF. But, it is hard to blame Toronto cinephiles for not forking over hundreds of dollars for tickets this year. Chatting with fellow arts lovers in the city shortly after the festival, I wasn't all that surprised to discover that virtually none of them had paid attention to their local film fête. The celebration's growing exclusivity remains at odds with the cultural event's alleged claim to be for the people. None of the several public showings I attended were full, and many of the lines to enter the 1,500-seat Elgin Theatre was shorter than the waits for press-and-industry screenings in the bustling lobby of the Scotiabank Theatre.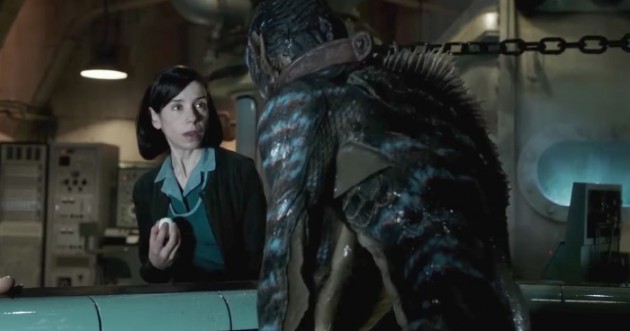 The Shape of Water
Oh, Canada!
Without the lustre of the highly anticipated offerings from Dolan (the English-language The Death and Life of John F. Donovan) and Villeneuve (Blade Runner 2049), casual moviegoers were likely to attend the Toronto film festival and avoid contact with any homegrown content. TIFF has long been a platform for local storytellers, although it is disheartening to realize how the exponential growth of the festival has minimized the attention given to vital voices from our national landscape. Meanwhile, much of this year's press attention for Canadian content went to offerings one can find on their television this fall: Mary Harron and Sarah Polley's adaptation of Margaret Atwood's Alias Grace, airing on the CBC, and the Tragically Hip doc Long Time Running, which will be on CTV this November.
Nevertheless, many of TIFF's best offerings emanated from Canada, even if they didn't quite earn the deserved attention. It makes sense why Never Steady, Never Still didn't stand out from the 256-film programme: it's a dimly lit character study about loss and illness set in rural B.C. from a first-time director, Kathleen Hepburn. It is also a striking and assured drama, with such evocative, realized character beats that the slackened pacing isn't much of a bother. The drama focuses on a mother and her son, even if they rarely appear onscreen together. Judy (Shirley Henderson) is coping with Parkinson's disease in the wake of her husband's death. Judy's son Jamie (Théodore Pellerin) decides to help her financially and takes a job in the oil fields of chilly northern Alberta. The frosty wilderness is as harsh and bruising as the characters' temperament, while the emptiness of the rural landscape an apt mirror for their solitude. Judy struggles to do menial tasks like grocery shopping, and her fragility creates piercing suspense in every scene. Jamie, who resorts to drugs to either complement or forget about his boredom, is rash and unpredictable. At the same time, Jamie has a soft, tender side that he doesn't show amidst the competition and homophobia at his workplace. But Never Steady, Never Still doesn't feel wholeheartedly miserable: the compassion of its creator and the dignity of the main performances kept me enthralled.
Another new arrival within the national film scene is Iranian-Canadian director Sadaf Foroughi, who walked away with a prize from the FIPRESCI jury of film critics for her searing narrative début, Ava. Set in Tehran, the drama received some attention during TIFF when the Canadian embassy in Turkey barred two of the young actors from the film – including 17-year-old Mahour Jabbari, who plays Ava – entry into Canada to attend the world premiere. Foroughi knows precisely where to place the camera to maximize our engagement with the title character, a well-behaved high-school student with dreams of pursuing music and a crush on the young pianist who studies with her. Jabbari's spirited performance is revelatory, aided by a stationary camera that does all it can to circumscribe the character. When the teenager begins reacting to her over-protective parents and social mores, one almost expects the screen to burst due to the tension. The pacing accelerates when Ava's mother (Bahar Noohian) suspects that her daughter may be sexually active and takes her to a gynecologist – a decision that quickly ripples through the close-knit community and leads to some blistering arguments. The confrontations, tough and thoughtfully written by Foroughi, show the strain between generations, as authority figures expect immediate obedience and young women feel compelled to challenge the status quo.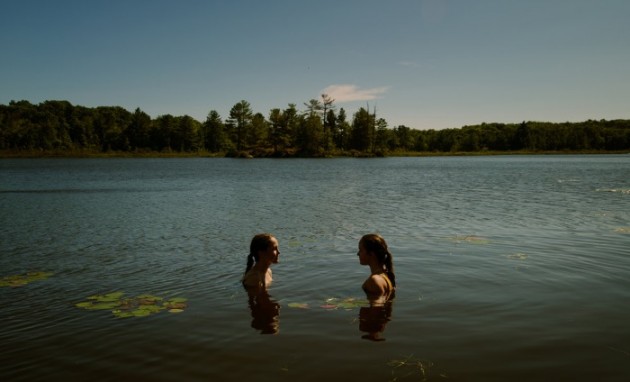 Porcupine Lake
The tricky relationship between a mother and her adolescent daughter also showed up in Porcupine Lake, the new drama from Canadian indie treasure Ingrid Veninger. It starts with 13-year-old Bea (Charlotte Salisbury) and mom Ally (Delphine Roussel) driving down an empty road near Georgian Bay, Ontario. The early scenes struck a nerve easily with me, in their specificity of cottage country – the mustiness of a seldom-used bedroom, the community of locals chatting it up at a breakfast diner, the anticipation that occurs when dusk falls upon a lake. At the same time, I wish the rest of the film had been as particular and convincing. The film follows Bea as the shy city girl sparks a friendship with a local teen, the chatty and assertive Kate (Lucinda Armstrong Hall). Salisbury and Hall share a lovely chemistry, and the most engaging sections of Porcupine Lake thrive on their nervous angst and energy. The tender camaraderie leads to some laughs – at one point, Kate remarks that Bea isn't as sexually adventurous because she is from Toronto, a reading that garnered some delight at the TIFF press screening – and some romantic underpinnings. However, Salisbury's expression is often too vacant: you keep wondering what the more gregarious Kate sees in her introverted new best friend. While this is a safer narrative for Veninger, its charms and comfy intimacies probably resonated with Toronto crowds also familiar with summers away from town.
Solitude was a state of being for many of the characters within this impressive Canadian line-up. That rang true for what was likely the best Canadian entry at TIFF. The newest documentary from Quebecois master Denis Côté, Ta peau si lisse (A Skin So Soft), may have been hindered from making a bigger impression due to its placement in the more sparsely attended Wavelengths series, which is typically reserved for more avant-garde fare. However, the film's subject – the daily lives of six Canadian bodybuilders – made for endlessly fascinating observation. As indicated by the silent, black-and-white "body films" of muscular poses that played during the closing credits, Côté's doc both revealed and deconstructed the spectacle around the male body. None of the men are introduced by name; we are left to differentiate them through their rituals and proportions of rippled flesh. The one constant among them – their calmness and quiet amidst this individual pursuit to achieve a perfect form – stands at odds with the bravado one associates with testosterone-fueled competition.
The hardness of the men's physicality, which they are comfortable to flaunt for Côté's crew, belies the gust of quiet that blows throughout much of the doc. Most of the volume from the film comes from orchestrated spectacle, such as wrestling matches; otherwise, this is a low-key, almost limp affair. The richness of Ta peau si lisse comes from moments of unexpected poignancy. In one scene, set at a family dinner, one of the bodybuilders turns his back on the kitchen table and leans over the stove to munch on a different meal. He stands and stuffs his face, hunched over his plate with an almost-tortured conviction. Meanwhile, it is unexpectedly humourous and moving to observe these prime specimens, often half-nude, gazing at other bodies, comparing their friend or foe's sculpted magnificence with their own. The doc becomes an unlikely document of camaraderie in its final scenes, when the bodybuilder subjects join together for a trip in the countryside. Here, the paragons of physical perfection start to achieve a bond or community, as well as a sense of playfulness that seems purposefully missing from the rest of the film.
Lowering the Platform
In 2015, TIFF launched a new programme that had the potential to elevate the standing of a cultural event that had become too closely associated with being a prognosticator for the Oscar race and not enough with bringing attention to exciting, burgeoning filmmakers. "Platform," named after a Jia Zhang-ke classic, could have been a terrific sidebar series (akin to the "Un Certain Regarde" programme that runs alongside the main competition at Cannes) for discerning cinephiles seeking curated art-house fare. It was supposed to, in a way, predict the arrival of the next generation of great directors, with the winner from the 12-title series be decided by three auteurs (including, in the first year, Zhang-ke). In 2015 and 2016, some distinctive voices (Gabriel Mascaro, William Oldroyd, Bertrand Bonello) found berths in the programme. At the same time, you could feel "Platform" expanding its stage to include directors already wielding a massive art-house pedigree (Pablo Larrain, Ben Wheatley, Kiyoshi Kurosawa). Last year, the hottest title from "Platform" even turned out to be a Best Picture winner: Barry Jenkins' Moonlight.
In the wake of Moonlight's appeal and awards season success, Platform's goal to help vault interesting, relatively unknown artists to recognition felt both confirmed and somewhat compromised. At the same time, how can a festival organize a programme to build awareness about rising global auteurs if certain names have already reached a domain of admiration or recognition? The 2017 Platform slate – one that, for the first time, had an exact split between works from men and women directors – did not make a good case for the auteur-oriented sidebar. There remained a clear disparity between the already-noteworthy directors included – including Veep creator Armando Iannucci and British director Clio Barnard, the latter of whom had her last film play theatrically at the TIFF Bell Lightbox – and some flashy débuts from the likes of near-unknowns like Joan Chemla and Xavier Legrand.
It didn't help that very few of the 12 films (including 10 world premieres) received widespread critical acclaim. Armed with press accreditation, I was hoping to see most, if not all, of the curated slate; due to negative critical reaction, I ended up skipping about half. The only film I can heartily recommend within the programme was Kamila Andini's The Seen and Unseen. The spare, strange, dreamy drama from Indonesia examines the life of 10-year-old Tantri (Ni Kadek Thaly Titi Kasih), whose twin brother Tantra is rushed into a hospital room in the opening scene. From there, the film rarely leaves her perspective, drifting between her numbed state in the present at the hospital and old memories of playing in the fields of unruly, tall grass. It also shifts between a stark, imposing reality and luminescent dreams where young, pint-sized sprites hang around and dance.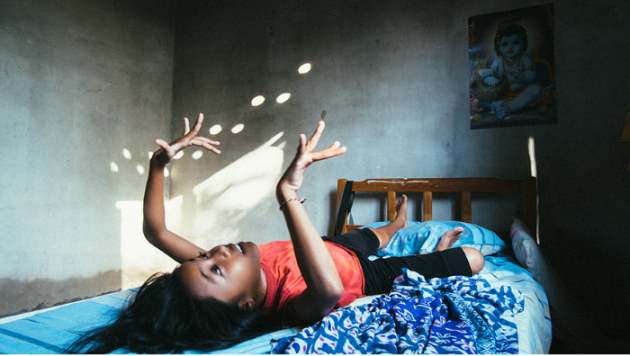 The Seen and Unseen
An easy descriptor for the still, meditative film – one that should eschew simple categorization – would be "an Apichatpong Weerasethakul film with children." If there are any young moviegoers with an attention span to appreciate the languid rhythms of slow cinema, they would be hypnotized and perhaps even distressed by the swerves into folklore and fantasy. Nevertheless, for adults willing to submit to the film's placid flow between dreams and reality, whimsy and weight, there is much to treasure: the gorgeous, almost overwhelming shots of a full moon reflecting on fields of crops; the figures in a fantastical story Tantra tells in the hospital room finding life-sized representation outside that building's walls. Andini is eager to roam through Tantri's imagination without always confirming which moments adhere to myth and which to reality. The result is a drama that keeps you under its spell, aided by the trance-like music and cinematography.
Little from the other Platform titles I saw was as refreshing or distinctive. I enjoyed The Death of Stalin, Iannucci's hyped political satire. But aside from the brilliant staging of a few comic set-pieces, one recognizes just how much more furiously his jokes fly when left to the constraints of half-hour television. Still, there are some enjoyably strange touches; for instance, none from the wickedly talented ensemble – including Steve Buscemi, Jeffrey Tambor, Michael Palin, Jason Isaacs and Simon Russell Beale – attempt a Russian accent. They portray a variety of real-life schemers hoping to wrest power after the demise of the titular Soviet leader. The stakes intrigue, yet little elevates the film above an average episode of Veep, which contains roughly the same amount of clumsy conniving and political maneuvering. Meanwhile, Mike White's portrait of mid-life crisis, Brad's Status, is a modest success that never quite convinced me it deserved a berth in Platform. Ben Stiller is perfectly cast as malcontented 47-year-old Brad, who travels to Boston with his teenage son (an underused Austin Abrams) to scout universities. (Montreal residents will have little trouble recognizing that McGill University stands in for Harvard.) In a screenplay packed to the brim with voice-over, we instantly learn how Brad is rankled by the prestige and success that met his own college buddies from decades past (played by the likes of Michael Sheen and Jermaine Clement). Stiller, who has broadcasted his anxieties in the films of Noah Baumbach, is just as marvelously myopic here. Yet despite the film's modern feel – who cannot relate to a protagonist constantly bothered by the social media posts of his circle? – the comedy (like White's recent Beatriz at Dinner) ends with a shrug.
Two dramas that felt more at home within Platform, and also benefitted from more widespread critical support, were Xavier Legrand's Custody and Warwick Thornton's Sweet Country – the former an award-winner at Venice, the latter the eventual winner of the Platform prize. I was divided on both films, which both faltered (to some extent) due to some screenplay problems. Custody begins and ends with extended, 15-minute sequences that outshine the rest of the drama. The opening is a long, talky discussion between a divorced couple, Miriam (Léa Drucker) and Antoine (Denis Ménochet), their lawyers and a judge. The father wants more time with his 11-year-old son, Julien (Thomas Gioria), although Miriam submits into evidence a letter from the boy, citing how scared he is of his father. As the boy states, "I'm glad they're divorcing," hinting at the personal stakes of this feature début. However, once these family dynamics are efficiently introduced, there are few revelations: Legrand's screenplay fails to deepen our initial perception of the characters in the hearing. It turns out that Antoine is just as cruel and unrelenting as Julien's letter suggests: the scenes between the father and son are fraught with suspense but little surprise.
As for Sweet Country, the whole endeavor felt like a multi-faceted novel with a wealth of characters condensed into a narrative that does not give each one proper due. The western is set in the Australian Outback, circa the 1920s, in a town with a giant saloon and no church. Amidst the townspeople are man of faith Fred, (Sam Neill), abusive veteran Harry (Ewen Leslie), and a decent Aboriginal man, Sam Kelly (Hamilton Morris). Sam tends to Fred's land with his family, but in a showdown with the gnarling veteran Harry, the servant shoots back in self-defense and then flees town with his wife. Instead of using this inciting incident to deepen our understanding of a native character as he encounters other types of unforgiving climate, Thornton's drama broadens its perspective to various side characters, such as a boozy sheriff, a boy with white and Aboriginal heritage, and a noble, by-the-book judge. (The few women who make an impression within this milieu are often reduced to objects of lust or affection, and receive precious little dialogue.) It is not easy to find fault with the gripping performances or Thornton's use of space and subjective point-of-view: in the second half, as the characters encounter the rough rural surroundings, the story flits between sudden violence and woozy absurdity. Thornton has a better grasp on Sweet Country's atmosphere, full of lingering dread and palpable darkness, than on the cluttered storytelling.
The Oscar Race Starts Here
An exorbitant amount of the press coverage surrounding the Toronto film festival revolves around its position as a yardstick for predicting awards season. In the previous ten years, only one eventual Best Picture winner (Birdman) did not screen at the festival. One harbinger for the extensively prolonged period of campaigning is the TIFF People's Choice Award (in recent years, sponsored by the inelegant-sounding brewery Grolsch): the winner of this prize has landed a Best Picture nomination for five straight years. Last September, the hottest ticket of the festival was Damien Chazelle's La La Land, which won the Grolsch-sponsored prize to barely any surprise. Watching the Twitter reaction to TIFF last year, I recalled the ecstatic praise to the musical's early screenings and then watched the hype dissipate in some critical circles as the festival continued. It was somewhat amusing to see this tug-of-war in opinion happen again, on an exponentially larger scale, when La La Land came out in cinemas, when the arguments around its quality singlehandedly revived the pop culture thinkpiece.
With those memories close at hand, I expected the People's Choice Award to go, handily, to The Shape of Water. It felt inevitable: not only was the romance-monster movie hybrid already accumulating plaudits (such as the top prize at the Venice film festival) but its creator, Guillermo Del Toro, now calls Toronto home, and filmed scenes from his latest in the Elgin Theatre, a venue for many of TIFF's public screenings. (As further proof of the synergetic relationship between the director and the city, a museum retrospective of Del Toro's just opened at the Art Gallery of Ontario, a brisk walk away from the TIFF headquarters.) However, The Shape of Water did not take home the award, or even finish in one of the runner-up slots. I wonder if the more appeased reaction to the film at its first press screening washed over on audiences, too. That's not to say the Cold War-set romance, with a uniformly strong ensemble and an appealing misfit underdog narrative, isn't a viable Oscar player. (It should, at the very least, pick up production design and make-up honours.) But one cannot help but feel like Del Toro's directorial flourishes were muted when set against a screenplay awash with perfunctory story developments. Its central love story, between mute janitor Elisa (Sally Hawkins, outstanding as usual) and an amphibious creature (Doug Jones) who is held in captivity at the laboratory where Elisa works, too often felt nudged to the side to make way for other plots. One of those narrative thrusts involves a nasty colonel (Michael Shannon) who hopes to use the creature as a weapon against the Soviets. Another involves Elisa's neighbour (Richard Jenkins), a closeted ad man who ends up helping his friend mount an escape plan for her scaly object of desire. The film's emotionally lush sequences involving Elisa and the creature, including a glitzy musical interruption, are ultimately too brief.
The audience's choice, at the end of the festival, was something of a surprise: Martin McDonagh's Three Billboards Outside Ebbing, Missouri. If this dark comedy ends up impacting the awards race in any way, I hope it's to give Frances McDormand a legitimate shot at her second Best Actress trophy. She is sublime in the role of Mildred Hayes, an embittered mother who decides to pressure her town's inept police force, which has failed to make any arrests in the case of her daughter's murder. (Her plan to rouse attention is to paint messages on three vacant billboards on the outskirts of town that are critical of the sheriff, played here by Woody Harrelson.) As headlines about police brutality and incompetence remain omnipresent in the United States and Canada, the barbed comedy has the sociocultural relevance to ignite discussion into awards season. Among the title's most gloriously un-PC moments is when Mildred lashes out at a local priest in her kitchen with a monologue that is all but certain to be McDormand's splashy Oscar clip this March. This savagely funny sequence prompted my packed press screening to break onto into applause. However, Three Billboards is more uneven in its second half, where its brazen, take-no-prisoners attitude clashes with some saccharine moments. Abrupt shifts in tone help to tilt the film's unapologetically retribution-laded sensibility off balance, and McDonagh's decision to spring for an ambiguous, if hopeful close, smells of a screenwriter unwilling to push his audience to pitch-black places. Meanwhile, McDonagh's glee for lowbrow jokes – a collection of inspired and uninspired bits aimed at dumb blondes, profane racists, and the vertically challenged – too often seem like low-hanging fruit. This was not the only TIFF selection to use "retard" as an insult gratuitously.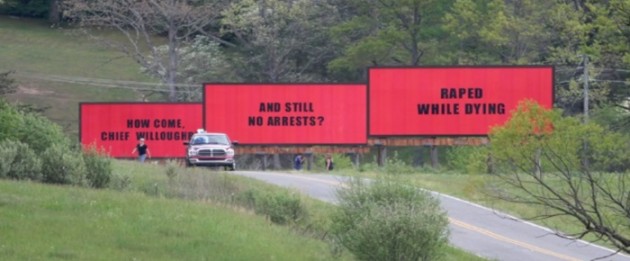 Three Billboards
Beyond the queasy laughs from Three Billboards, TIFF helped to propel hype around two comedies from hot American distributor A24 (released through Elevation Pictures in Canada) that could throw a wrench into the Oscar race. It fills me with enormous relief to report that The Disaster Artist, which chronicles the making of the "so bad it's good" midnight movie phenomenon The Room, is exuberantly funny. Much of the awards attention should go to James Franco's gonzo portrayal of the enigmatic Tommy Wiseau, The Room's writer-producer-director-financier-star. It is hard to appreciate Franco's efforts in the film's trailers, as catching non-sequitur glimpses of the actor's fuzzy impersonation of Wiseau doesn't do it proper justice. In the film, Franco (also the director) introduces us to the vampiric personality in a long, circular take that lets us soak in his leather outfit, staggered walk, and haphazard voice before we see Wiseau's pale, lined face.
The baffling behind-the-scenes stories one expects from the Room production don't arrive until the film's second half, but The Disaster Artist is not just fan service for cult movie devotees. There is an earned dramatic arc here, as we follow the twisty friendship between Wiseau and fellow wannabe actor Greg Sestero (who penned the source material and is played by Dave Franco). However, at 98 minutes, the film is even shorter than the misbegotten melodrama at its centre: Room fans could groan for deleted scenes that reveal more of the beleaguered production. Meanwhile, some short-changed dramatic arcs are also unfortunate: this is a comedy that reveals Wiseau's on-set misogyny, yet doesn't allow a qualified ensemble of women – Ari Greynor, Megan Mullally, Sharon Stone, Jacki Weaver, Alison Brie – the chance to do much. Still, there is something tickled about giving many of the funniest actors working today the chance to replicate an unintentional comedy classic with such care and skill. You rarely get the feeling that The Disaster Artist is mocking its subjects, but rather embracing the lunacy.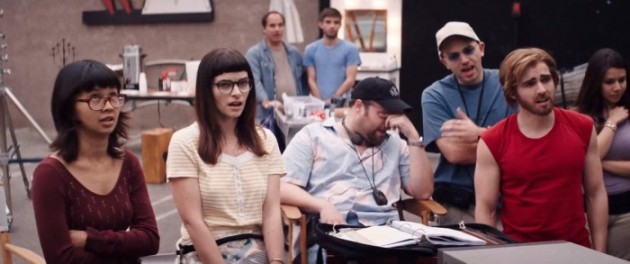 The Disaster Artist
Meanwhile, another bewitching comedy – and one that exited TIFF with nary a word of critical drubbing – is Lady Bird, the solo directorial effort from indie darling Greta Gerwig that also boasts one of the year's most accomplished screenplays (also by Gerwig). The well-trod territory of the high-school coming-of-age genre prepared me for a modest feature, but my expectations were soon thwarted. The preternaturally talented Saoirse Ronan is exceptional as Christine "Lady Bird" MacPherson, a stubborn and sporadically witty teenager who yearns to escape the dreariness of Sacramento, a town that she calls "the Midwest of California." Her will to flee the coop and attend college in New York is complicated due to her languishing GPA and a father (Tracy Letts) who recently lost his job. Gerwig is a natural storyteller, keeping many periphery characters and plot threads alive without disrupting the flow: she captures adolescent ennui with the same perception that has made her own onscreen counterparts (like the protagonist of Frances Ha) so authentically realized. Lady Bird glides through the memories of senior year – bantering with mom, falling in love, getting drunk with friends, doing the school play, losing her virginity – without ignoring the small yet significant ways that these experiences deepen the protagonist, making Christine both distinctive and relatable. As far as the original screenplay race goes, I'd say Gerwig is an early front-runner.
The adapted screenplay category, meanwhile, could champion a film that has been building overwhelming critical acclaim since its début at Sundance, Luca Guadagnino's spectacular Call Me By Your Name. A ravishing pleasure of sun-dappled visuals and melancholic piano chords, the film focuses on the blooming friendship and romance of two young men during a sweltering summer in Northern Italy, circa 1983. Elio (Timothée Chalamet) is the skinny and intelligent son of an American professor (Michael Stuhlbarg) lounging at the family's estate, hoping to waste the season reading, transcribing music, and having the occasional dalliance with cute girls. However, he is instantly attracted to the 24-year-old sleeping in the room next to his, handsome and confident grad student Oliver (Armie Hammer), who is staying at the estate to work with the professor. The performances are extraordinarily attuned, and much of the drama's fun is observing the unconventional ways Elio and Oliver try to court each other through discretionary touches and sly double entendres.
This is the first truly superb film from Guadagnino, whose previous film (2016's A Bigger Splash) was lush but not as emotionally affecting. Adapted by James Ivory from an André Aciman book, the film delights in tuning to the various ways, from clothes and jewelry to postures and slang, that the two young men begin to emulate each other. Chalamet is destined for a long and fruitful career – he also appears in Lady Bird as Christine's sullen bad-boy crush –and it is fascinating to watch the bottled up teenager find the right words or ways to express his feelings to Oliver. As the sexual tension grows, director of photography Sayombhu Mukdeeprom adds turquoise hazes and blurry textures to the image to reflect the characters' melting desires. When Call Me By Your Name played to nearly 100 local critics the week before the festival, one could even hear sniffling coming from various corners of the room around the time of the denouement. Some of that emotional reaction was due to a shattering monologue from Stuhlbarg's perceptive father, which could give the film an edge in the supporting actor category.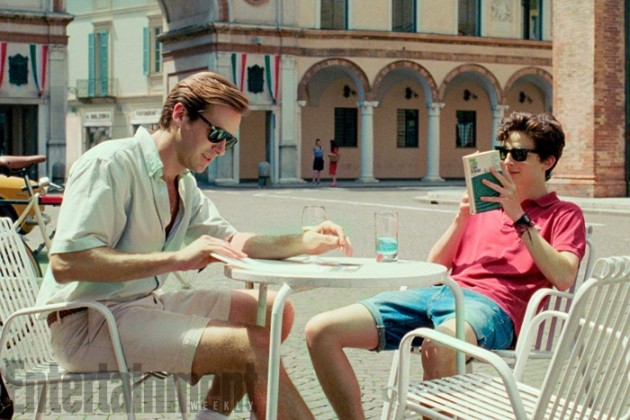 Call Me By Your Name
A Few Lingering Oddities
It is almost impossible for any publication to cover the scope of the entire Toronto film festival properly: there are so many movies, so many engaging talks and conferences, so many lines to stand in, and so little time to balance the hectic pace of cinema-hopping with measured and contemplative arts criticism. Some very good dramas awed me momentarily, although I've since forgotten a good deal of what made them work so splendidly on a first viewing, while others continue to linger boldly in my mind despite an initially mixed or even scathing reaction.
For instance, I commiserated over one festival curiosity: Louis C.K.'s I Love You, Daddy, which was filmed in June, edited in July, and had its world premiere announced, unexpectedly, in August. Unfurled at TIFF 10 days into September, the dark comedy was greeted with praise and perplexity. The story is, at the very least, accentuated with awkwardness. C.K., rather miscast in the lead, plays Glen Topher, a TV showrunner and producer who lives in a lofty New York apartment with his spoiled 17-year-old daughter, China (Chloë Grace Moretz). Glen is overworked as he tries to prepare a new television series, and is dismayed that China is expressing no interest in going to college or striving for her own career. The situation becomes more strained when Glen's personal idol, debonair director Leslie Goodwin (John Malkovich), starts hitting it off with China.
The queasiness of the May-December romance to which Glen reacts is remarkably layered. Leslie is rumoured to have molested children – a character detail that should unnervingly remind audiences of the allegations toward Woody Allen, a filmmaker that C.K. adores. Meanwhile, I Love You, Daddy was shot on black-and-white 35mm film, and contains splendid views of the New York cityscapes set to jazz music: this is a comedy not just about a Woody Allen type, but one that uses conventions of that figure's film language. Complicating my instant reaction to such an off-putting premise are the whispers that C.K. has himself indulged in lewd behaviour. (Also complicated: the gap between the film's retro signifiers to metropolitan Tinseltown classics of the 1930s and the casual rhythms of the film's profane, often sexually charged dialogue.) I Love You, Daddy is spectacularly cringe-worthy and audacious, rich with homages and contemporary ennui, but I was frequently bothered with the marginalized and ineffectual female characters. I've seen critics argue that viewing the story through Glen's eyes bares the misconceptions of its creator – and a scene where C.K.'s flustered one-percenter even recognizes that he is "mansplaining" feminism to his daughter is evident of this. At the same time, I would have much rather seen the action unfold from a screenplay co-written by Pamela Adlon, who steals each of her scenes as an ex-girlfriend of C.K.'s indecisive protagonist. The debate should keep raging well beyond the comedy's November release.
There should also be a good deal of spirited discussion around High Fantasy – that is, if the subversive body-swapping comedy from South Africa manages to build from its festival buzz and find an audience. Clocking in at only 74 minutes, Jenna Bass's film follows four young adults as they embark on a road trip to a farm in the Northern Cape Province. The farm belongs to Lexi (Francesca Varrie Michel), also the lone white girl in the group. The conversations between the foursome, which includes activist Xoli (Qondiswa James), arrogant goof Thami (Nala Khumalo) and the more easygoing Tatiana (Liza Scholtz), stretches around topics like black identity and the tainted history of apartheid. The four woke characters, refreshingly open about voicing their left-wing ideologies, are thrown for a loop when they wake up one morning to realize they all have swapped bodies – a supernatural occurrence that forces them to think more about their gender, race, politics, and other preoccupations. Even with the slender running time, High Fantasy is exuberantly funny and thoughtful. Alongside Bass, the four actors photographed the film with an iPhone, matching the characters' need to broadcast their opinions: this is one of the only "found footage" films in recorded memory to feel naturally suited to this verité approach. The young stars also participated as co-screenwriters, ensuring the changes of personalities among the characters are nuanced rather than merely imitative.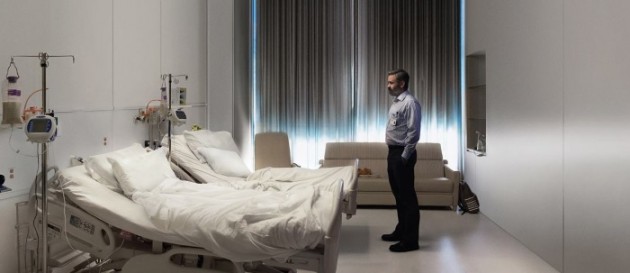 The Killing of a Sacred Deer
Another film to rely on the illogic of the supernatural was The Killing of a Sacred Deer, an icy and agonizing entry from The Lobster director Yorgos Lanthimos. Audiences acclimated to (and whom already approve) the deliberately stilted dialogue and unflinching body horror from the Greek director's oeuvre should get excited. Starting with eerie classical strings and a slow zoom out from an open-heart surgery – as foreboding an opening as one can imagine – the black comedy soon centers on Steven Murphy (Colin Farrell), an accomplished surgeon who befriends Martin (Barry Keoghan), a teenager whose father died on Steven's operating table. The situation turns more awkward and sordid when Martin arrives at Steven's house, charming daughter Kim (Raffey Cassidy) and wife Anna (Nicole Kidman). Martin's incursion here soon leads to a succession of odd occurrences no reviewer should spoil – and I would add that one should watch the film's theatrical trailer at your own risk. However, given the chilly audience reception that greeted Darren Aronofsky's comparably off-kilter Mother! (also a TIFF premiere), I shudder to think how patrons foreign to Lanthimos' uncompromising weirdness and masterful sense of unease will react to this release. Like the setting in Aronofsky's film, the pristine, almost unnatural state of neatness of places like the hospital where Steven works and the comfy bourgeois house where he resides is unsettling: there will soon be blood, pain, and hurt flooding through these spaces. Accordingly, Lanthimos works with the precision and technical mastery of a surgeon, albeit one with a particularly nasty sense of humour and righteous justice.
Feature Image from Ava.