Remembering William K. Everson (1929–1996)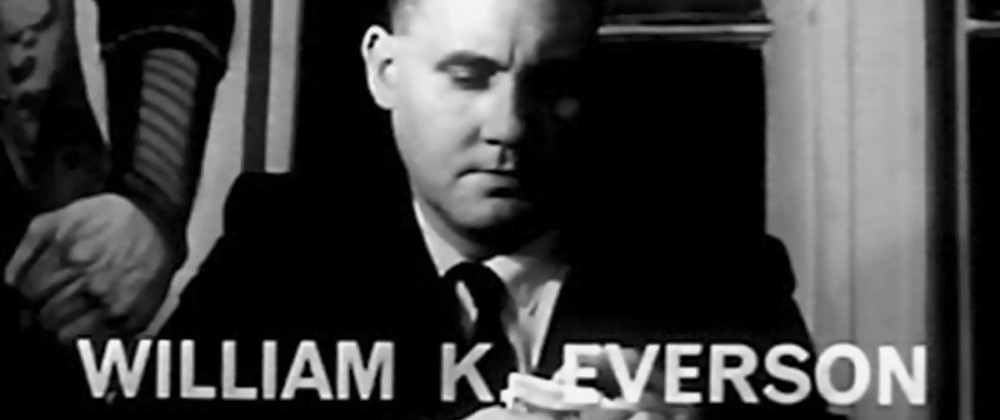 William K. Everson (1929–1996)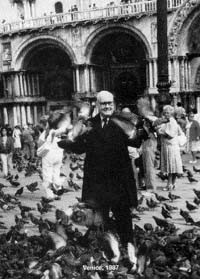 W.K. Everson in Venice
With the possible exception of Georges Sadoul, Bill Everson knew more about film history than anyone who ever lived. Before I travelled to New York City in September 1977 to enter the MA programme in Cinema Studies at NYU, my first film mentor and teacher at Concordia University, John Locke recommended that I register for classes with Bill Everson along with luminaries Annette Michelson, Jay Leyda and young turk Noel Carroll. But, I really didn't know who he was, until 1978, when I was assigned to project a class for him as part of my assistantship workload. Not only was I projecting films I hadn't seen, but films I'd never even heard of. At the end of the school year in 1979, after projecting his "History of American Film" course—silent films in the Fall term, films of the 30s and 40s in the Winter—I was converted. For me, the revelation of the silent era was that there were "rivals of D.W. Griffith," directing feature films in 1914 and 1915, such as Maurice Tourneur (The Wishing Ring) and Raoul Walsh (Regeneration). For his class on film noir, I found myself projecting Robert Siodmak's Criss Cross (which I was unaware of) and Anthony Mann/John Alton's Raw Deal, which wasn't even highlighted in Andrew Sarris's filmography for Mann in The American Cinema: Directors and Directions, 1929–1968, a book that, until I had met Bill, I had always considered to be a kind of "bible" on the subject. Needless to say, these are now the films–together with Jacques Tourneur's Out of the Past, again, introduced to me by William K.–that exemplify the American film noir. Looking back on that 1978–79 year at NYU, I would have to say that Bill Everson's "History of American Film" course was arguably the greatest of all university film courses. I began to borrow films from his extraordinary collection and watch them in the study centre at NYU. I was also invited to be among his inner circle audience for Saturday night screenings in his upper-West side apartment and sit in his balcony on Friday nights at the New School. I learned a great deal from all of my teachers, but my most profound, "real" film education came from screening and watching films from the William K. Everson collection, and listening to him talk. I quickly learnt to ply Bill with questions. Before class we would meet in a nearby cafe. He would always eat the same bland food (a poached egg and toast) and I would pick his brains. He had a truly incredible memory, and was like a "god" to film buffs. But, I was amazed at the depth of his understanding of all kinds of aspects of film history. He could talk at length about the visual styles of cinematographers, and art directors as well as (under appreciated) film directors. When he taught a course on Art Direction he would cut segments from his own prints of, say, films that Anton Grot designed at Warner Brothers, in the early-1930s, and edit them into a single "Anton Grot" reel. There is no better way to appreciate an individual's stylistic contributions to film.
When I left New York City to teach in the "wilds" of London, Ontario in 1981, I stayed in close touch with Bill, and would return often on weekends, and ritually attend his film evenings. We also brought him up to Canada for screenings and lectures at the University of Western Ontario, and we reciprocated with annual student visits to New York City during "slack" week in February. Invariably, Bill would keep showing films for us in his apartment until 3 or 4 in the morning. I don't think I have ever met anyone as generous in spirit as Bill. I would never have been able to write my PhD thesis on John Ford's early films, if he hadn't leant me his 16mm prints for extended periods of time. And then, in March 1986, after Bill had tried to persuade me to go for a number of years before, I drove overnight from London, Ont. to Syracuse, NY with some students (including stalwarts Ian Elliot, Eric Dinsmore and Teresa Taresevich) to attend Cinefest 6. Bill wrote the (humorous) programme notes, and did the lion's share of the programming for this little gathering of collectors and cinephiles. I have returned diligently every year since to this wonderful event, the "best weekend" any film lover could spend, in my estimation. After moving to Montreal in 1989, it didn't take long to gather a group from here to become similarly entranced by Cinefest's charms, and at number 12 , in 1992, eleven of us met on the last (Saturday) night of the festival to cast our votes in the 1st annual William (K) Awards. Frank Borzage's Lucky Star won as Best Film with 40 pts (and 6 first place votes). Two other silent films, including Barbed Wire which I had seen at Cinefest 6, were the runners up.
Cinefest 16, in 1996 was Bill's last, and a very sad occasion it was. By then, we all knew he was dying, and I managed to visit him in his W79th St apartment one more time, when, in terrible pain—right till the end, he refused morphine—he retained his great sense of humor, asking me to please not ask him any questions. There was a tremendous turnout for his memorial tribute at NYU, and the outpouring of love and respect continued at Cinefest 17 in March 1997, where we "remembered our friend and mentor." Remarkably, Cinefest supporters such as Bill's widow, Karen, his oldest friends Alex and Dick Gordon, Leonard Maltin, Chris Horak, Paulo Cherchi Usai, David Shepard and others rallied to maintain a sophistication in Cinefest's wonderful mixture of high and low programming following Bill's death. But, the sadness continues. Longtime Cinefest friend, legendary collector and comic persona, Herb Graff, independent preservationist Ted Larson, and, now, the man who made Cinefest possible, Phil Serling, have also died. Things have never quite been the same since Bill left us, but, now, we might have to say goodbye altogether to our wonderful gatherings in March. The leader of the Syracuse Cinephile Society, Phil, an amazing film collector himself, was the person who brought the films and people together every year. Although he was a very down-to-earth kind of a guy, Phil had the good sense to consult with professional film historians and archivists, and managed, just like William K., to cater to the interests of all the "boys and girls from Syracuse" and their guests, alike.
************************
The Following was Written On June 8 1993 on the Occasion of Everson's Honorary Doctorate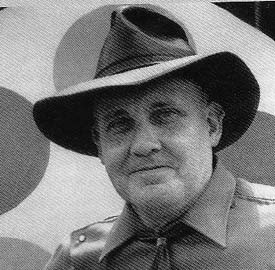 William K. Everson visited us twice at Concordia University: in 1990, to present "Hollywood Before the Code," a hugely successful series which filled a 700 seat theatre for almost every screening, and in 1993, when showed us "Lost and Found: Rare Films" from his collection, and when he received an honorary doctorate. The following is the original text of the speech I wrote for this occasion (which was subsequently edited, slightly):
"Mr. Chancellor, I have the honour to present to you William K. Everson, one of the world's most distinguished film historians. Mr. Everson has dedicated his entire life to understanding, preserving, teaching and showcasing films.
Legend has it that at the age of three or four he changed the order of his given names, Keith William, because he was so impressed by William K. Howard's direction of Transatlantic. Growing up in the London suburb of Hayes, England, he was buying movie magazines before he could even read them. By the age of twelve, he was already subscribing to various trade papers, and at thirteen he applied for a job as a film company publicity man. Thinking he was sixteen, Renown Pictures hired him. In 1950, at the age of 21, he emigrated to the United states, whereupon he began work for an independent film distributor in New York City, and soon moved to Allied Artists as foreign publicity director. Throughout these formative years Everson regularly wrote about film (often for Films in Review) and watched more films than would seem humanly possible—averaging 1,000 films a year; that's three films screened per day!! Settling down somewhat, in 1958 he began his academic career by teaching at Manhattan's School of the Visual Arts, and in 1972 he was hired by New York University's department of Cinema Studies, where he has been working as a full-time professor ever since.
It is extremely unlikely that anyone working in the field of film scholarship is kept as busy as professor Everson. He has written over fifteen books, including the definitive American Silent Film and The Hollywood Western. For over twenty years he has been running regular film series (as courses) at The New School in Manhattan. He presents films regularly at the Pacific Film Archive in Berkeley, California, and at Harvard University's Carpenter Center. He has lectured at the American Film Institute Theater, the British National Film Theatre and at many other cinémathèques, universities and cinemas. He visits Europe three or more times a year to present archival screenings in Britain, Switzerland, Belgium, Luxembourg and Italy. During February 1990, and again, over the last few days, he was our guest in presenting films at the Conservatoire d'art cinématographique de Montréal. For a number of years he was a director of both the Telluride and Sante Fe Film Festivals and is currently a member of the Library of Congress' National Film Registry committee and an archival and film history consultant to the American Film Institute. He is also a principal participant/adviser to Cinefest, the annual convention of film collectors and historians in Syracuse, New York, and many other, similar gatherings.
Almost all significant, recent books and audio-visual works in English, on American film history of the Classical Hollywood period include some acknowledgement to William K. Everson. Most recently his name appeared prominently in the credits of the television documentary, D.W. Griffith: Father of Film. He is the custodian of the largest private film collection in the world—10,000 titles—and has done sterling work in film preservation. On a number of occasions, his own print of a film has been revealed to be the definitive version. He has seen just about every worthwhile extant film made before 1960, and most importantly, he REMEMBERS them. He has an extraordinary memory and is able to recall film plots and cast lists as befitting his super-"buff" status. But, he also has a profound understanding of film's social history and the stylistic attributes of not only directors but also studios, art directors and cinematographers. Indeed, without William K. Everson's championing of numerous lesser-known figures such as directors William A. Seiter, Robert Florey, Herbert Brenon, and John Collins, art directors Ben Carré and Anton Grot, and cinematographers John Alton, Rudolph Maté and Alvyn Wykoff, our understanding of American film history would be truly impoverished.
If any further justification were needed for Concordia University honoring William K. Everson, it could be stated that he is a great friend and mentor to our Cinema Department, having been "professor" to five of the six current full-time Film Studies faculty (myself included) when they were graduate students at NYU. Many of our students have also met him in Syracuse or New York City, and he stands out for all of us working and learning in the field of film studies as a model film historian: incredibly dynamic, supremely knowledgeable, and a great teacher whose generosity with his time (and his film collection) have benefited us immeasurably.
"Mr. Chancellor, it is a great privilege and a real honour for me to ask, on behalf of the Senate and by the authority of the Board of Governors, that you confer the degree of Doctor of Laws, honoris causa upon William K. Everson."