An Interview with Leonard Maltin
Leonard Maltin at Syracuse Cinefest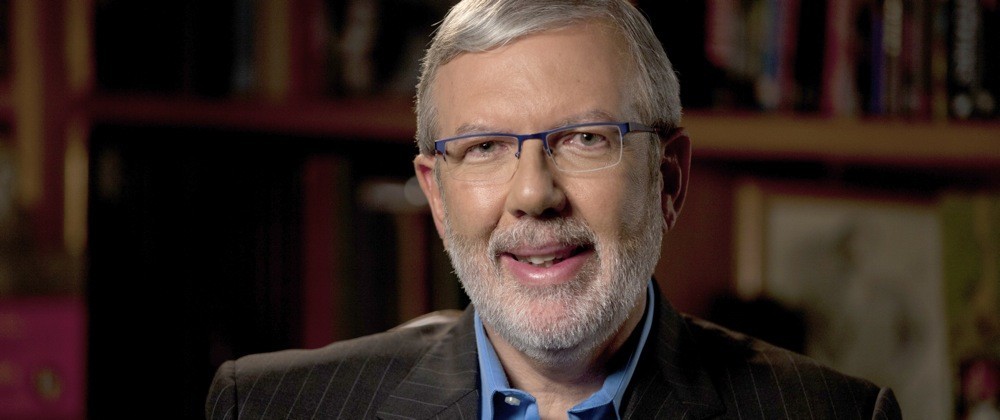 Interview Conducted in Syracuse, March 2001
Maybe we can just begin with a general question, what Syracuse means to you?
To my eternal regret I missed the very first one, although I had been here for the Cinecon which Phil had hosted twice I think. I had a great time and then a bunch of my friends went to Cinefest and said how fabulous it was so the only one I had missed from Cinefest 2 on was the year my wife was pregnant, and I did not want to leave her.
What year did the auction begin?
Well the original auctioneer was my dear friend Herb Graff and when I heard was unable to do it anymore I inherited it and it is fun to do. It is hard work.
Had you ever thought of becoming a stand-up comic, because you are pretty quick out there? Is any of that rehearsed?
Oh no, who would rehearse that.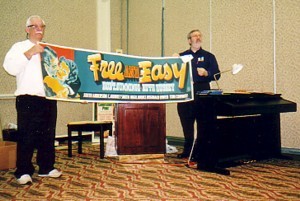 The Comedy Team of Lafe McKee Jr. and Leonard Maltin!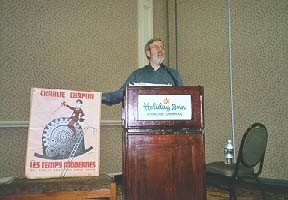 The Popular Auction
I notice you have a Hardy pin and I am a huge comedy fan, the Clark and McClollough, I had seen some of them but I actually liked their short quite a bit but I think I was one of the few people laughing.
I like it too, but it is going to be lonely.
Since you have written several books on comedy I thought to ask why you think it is that comedy teams died in the 1950's?
Well they were really an outgrowth of vaudeville and a vaudeville tradition that spilled over into radio too and is an act. I think the very nature of a team but almost implies an act and when that type of movie faded away the teams faded with them. I mean there are no variety shows on television any more. I think that is why. There are people that work together but I would not call for example Jack Lemmon and Walter Matthau comedy team. Some people even questioned my putting Cheech and Chong in my book but they worked outside of the movie arena first which is why they really worked when they came to movies.
It is almost like the buddy movies have become the new comedy teams. I guess Richard Pryor and Gene Wilder had a potential in that early '70s to become a great comedy team.
Yes.
Yes I think that is true too, because stand-up comedy which is the arena for comedians today is a very individualistic. Did you see the our Gang film in Spanish?
No I had not and it was fascinating, absolutely fascinating. So was the Charlie Chase. It was particularly interesting because you are dealing with kids and hearing Edgar Kennedy speaking in Spanish is one of the high points of the weekend.
Yes that was funny, he was the same flustered self in Spanish.
Think about how tough it is for anyone to act in another language and still perform up to your capability.
Yes it seems easier for the kids, because adults become much more self-conscious speaking in another language.
Well they were doing just exclamations and short things.
To shift gears completely in terms of year T V movie book. When did that begin?
I was signed to do it in 1968 and the edition cannot in 1969, the Cro-Magnon era. That was long before home video even before premium cable channels. It was at a time when every local TV station show movies incessantly, the morning movie the mid afternoon movie, the late afternoon moving the late show the late late late show. Local television certainly in New York city, where I grew up it was like a virtual daily history of motion pictures, I mean butchered of course.
It has not missed a year since then right?
It only became an annual in the mid-80s.
Do you fear that a outgrow its small paperback format?
It has all ready outgrown the small paperback format. When I started doing it I never saw it has an encyclopedia, I never saw it as a major reference work, that was never my publisher's goal or mime. It was supposed to be a finger tip reference, easy reference to basic facts. The fact that it has become in many people's eyes and an encyclopedia is a nice compliment, because we worked very hard to make it as if to thorough as we can, but it also speaks to the fact that no one did a real encyclopedia. I always saw it as a stepping stone to a real encyclopedia but no one really ever did it. Now in the on-line world be have gotten closer but there still is not the attention to detail, a factual detail that is necessary.
Do you know IMDb, the international movie data base?
Yes the international movie data base is very good, I am on it they license my book.
And you were on Cinemania as well.
Yes which does not exist anymore alas. That was really nice. IMDB is a great reference, but it has its limitations. It is handy.
Your movie review book has created an industry, there is about 8 or 9 competitors now.
Yes that is true.
Do you keep track of them.
No and not because I do not care but lack of time.
Do you Syracuse Cinefest to come up with titles for a new edition?
No not really because much of what is shown here is not available in circulation, and the goal of the book has always been to be a guide to films that you can watch at home. Originally it was on a conventional commercial TV and cable television and then we had home video, so something like Gigolo, which we saw last night, it is an archival type film which will not become available nor is Hindle Wakes. An interesting movie, but it is not going in the book because no one else will be able to see it unless they go to the BFI.
So it is just films, and newer films just released.
Yes but occasionally we add older stuff too because of a station like T C M ( Turner Classic movies). For instance we are just putting into the new edition this fall of the William Wellman film So Big from 1932 because Turner unscrambled the rights problem for that film which has been unseen, possibly since its first release, and it is now available again. So it is a major title, with Barbara Stanwyck, so it is going out.
Do you ever go back and re-evaluate or readjust your ratings?
Sure, I do. I do not set out because we have enough work on our hands just keeping track of the new films and amendments we have to make because of remakes, the emergence of bit players into well-known players and all that type of thing. But if I happen or one of my editors happens to see a film again, then we will change it if we feel we need to.
Have you ever thought of doing a compendium piece, a volume which would let us say deal with only non English-language films?
No. People make many suggestions about other kinds of companion volumes, but to the truth is life is too short and I cannot do it. I do not want to sound like I am whining or complaining, because of the book has been very good to me and I am addicted to it by now but it is a lot of work. I cannot take on more than that. I want to do this one as well as I can.
I am sure yours is the one that sells the most. Are you familiar with the Video Hound?
Yes, but they cover other things that are on video besides film, like television shows, compilations, and things like that.
I know comedy is one of your favorites, but your other book which no one really talks about and which is very good is your book on cinematography. And Dover Publication did such a nice job with it.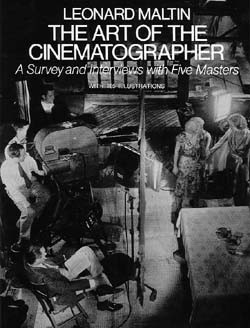 Oh thank you. The highest compliment I ever had was a couple of working cinematographers telling me that was one of the first books they read on the subject and it got them interested in the field. Who could be paid a higher compliment than that. It was a great experience to me because I started it as a clean slate not knowing anything about the field. And meeting with those veteran cameraman was a wonderful learning process for me, so that was very exciting.
The art of cinematography has changed so much since then.
Yes now it is a whole new world.
I guess in a sense you pioneered with a few books, like animation book also.
I was very lucky, timing in life is everything. When I came on the scene and got my foot in the door with publishers and being able to write a I got to write books on subjects that no one else had written about and that was a really a privilege, and something I did not take lightly then and did not take lightly now. I was able to do primary research in many cases. I was able to cover new ground, the short subject book I did, the book comedy teams. It was really neat to get to do that.
Yes when I teach comedy I refer to your sound comedy short book so much, I mean no one has done that type of research.
Actually I am writing a special now for Turner Classic movies on shorts. Peter Jones is producing and I am writing.
What is a subject exactly?
Mostly sound, I'll do a little history of the silent to define the short subject, but the bulk of it will be on the sound era.
Well I'll look forward to that.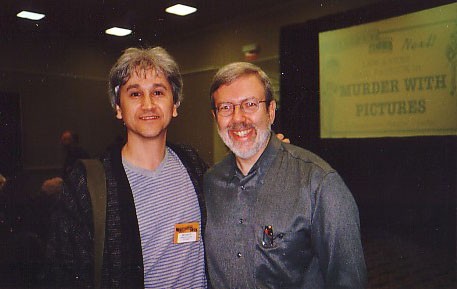 Author with Leonard Maltin