Calgary International Film Festival: Wild and Unconditional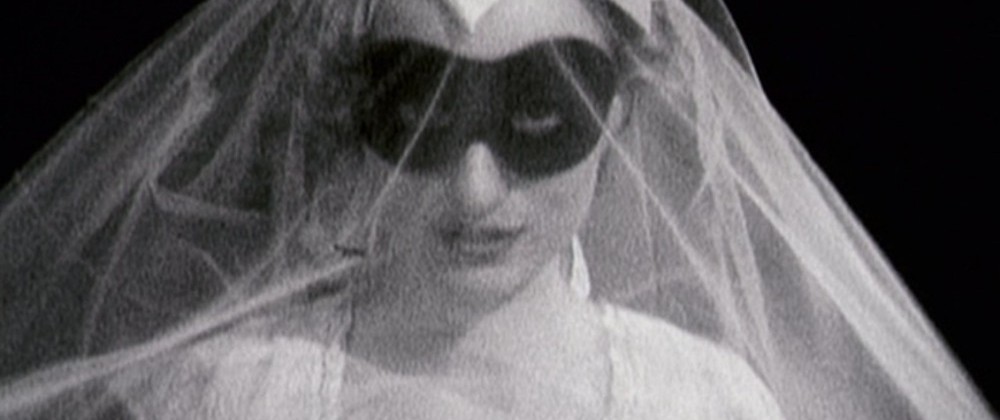 In September 2007, Calgary hosted its 8th international film festival. The Calgary Festival lasts just ten days and screened over 300 films. The Seattle International Film Festival (SIFF), the one in my home town, lasts for just over three weeks, and also screens over 300 films, most with multiple screenings. Seattle is teeming with film. Its international festival is in its 34th year; it has a film school, plenty of art houses, and its own successful home grown directors, writers, and actors. Calgary's festival hosted a wealth of contemporary films that did not make SIFF's roster. While this essay focuses on only a handful of films, it attempts to illuminate some of the gems that made the cross-country trek from Seattle worthwhile, perhaps even a necessity.
The Cool School (M. Neville, 2007)
This tribute to the half-dozen men who started the Los Angeles art scene from scratch does exactly what art should do–wake you up (even if only momentarily) to what it is like to really see. The now defunct Ferus Art Gallery ("ferus" is the Latin word for "wild") was founded on a spring day in 1957. Walter Hopps and artist Ed Keinholz wrote a contract on a hot-dog wrapper which said "We will be partners in art for five years" (Tomkins 42). Hopps had been studying to go to medical school, but he never made it. He became an art curator instead, discovering and promoting Los Angeles' local artists. At the time that Hopps was trying to start a gallery, there was no modern art scene in Los Angeles. Just a few years before Ferus opened, the Los Angeles County Museum was forced to take down works by Magritte and Picasso because the city council considered those artists to be communists (Tomkins 38). Along with his exceptional mathematic and science aptitude, Hopps, it turns out, had an artist's sensibility. He was inclusive and open to new artists. In 1962, Ferus was the first gallery to give a show of Andy Warhol's Pop art. It consisted entirely of Warhol's paintings of Campbell's-soup cans.
The film focuses on artists such as Dennis Hopper, Dean Stockholm, and Robert Irwin, many of whom in the 1950's saw themselves as noble paupers living in Venice Beach. But Hopps, who died in 2005, is the central presence, the one who lends a certain alchemy to it all. One writer has said that Hopps had the visual equivalent of a musician's perfect pitch (Tomkins 34). Fanatically devoted to the proper display of an artist's work, Hopps once said: "You put any two objects near each other and they start a discussion–its either an interesting one or it's trouble" (Tomkins 57). If you get near this film, your discussion with it will certainly be an interesting one.
Brand Upon the Brain! (G. Maddin, 2006)
"What is an attempted suicide without a wedding?" asks the narrator (Isabella Rossellini) of Guy Maddin's film Brand Upon the Brain! ?? Indeed. ??Brand Upon the Brain! is not so much a movie to be reviewed as a dream to be analyzed. It is by and large a silent movie, with an occasional character who speaks or sings. (The recent screening in Seattle, where the movie was shot, had live musical accompaniment.) It is part Eraserhead (D. Lynch, 1978) except Eraserhead had a (fairly) recognizable narrative, and part Leech Woman (E. Dein, 1960), a film in which a woman keeps her youth by killing men to get the fluid from their pineal glands. The images in the frame flicker as if the characters were temporarily illuminated by lightning. The film is very busy, but the content is nearly instantly forgotten. At the outset, the main character, also named Guy Maddin, is asea in a small row boat. He is rowing back to the place where he grew up, a light house, where he lived with his sister and mother. (I'll let you work out the imagery.) His mother ran an orphanage, and his father was an inventor, always working in his lab. Guy examines some of the darker experiences of his childhood.
Mr. Maddin's film seems to try to invoke as many known narratives as its twelve-chapter, fairy tale structure can hold. There is William Golding's Lord of the Flies, where the children of the orphanage are on the verge of going "savage." One character is even named "Savage Tom." There is Neddie, a small and vulnerable boy, a prime target for Savage Tom, and there is the boy Guy Maddin himself. Medea is on hand in the guise of Maddin's mother, killing her young on stage. Guy's father, the mad scientist, invents the "aerophone," a device which little Guy carries with him, even to the beach, where his mother calls him. She uses it to call him to dinner which Guy invariably characterizes as "grim." The aerophone is a large and clunky. It is clear that we all carry a version of this very device ourselves, listening to our mothers (or whomever) in our heads. The film proceeds like a string of hastily written, if not improvised series of events. Characters are invented; they disguise their sex; they are resurrected—and then . . ., and then . . ., and then, until we reach the end. By the time we reach that point, it no longer matters whether the characters are real, live, dead, or even whether Guy Maddin has reached shore. The movie fades like the dream that we can only glimpse in snatches and then is gone.
Normal (C. Bessai, 2007)
In the claustrophobic logic of this well-crafted film, the actions of one character reverberate among the others to tragic effect, like a human Newton's Cradle. The film begins as the characters start to pick up the pieces of their lives. Walt (Callum Keith Rennie) teaches writing in Vancouver, B.C., and he is married to an art dealer. He instructs his class that the sources of character are circumstances and environment. He is unable to write because he is shut down with the guilt over a 16-year-old basketball star he killed two years before while driving drunk. The driver of the other vehicle, Jordie (Kevin Zegers) had stolen the car. The boy that Walt killed was Jordie's passenger. Jordie went to jail for theft, and we begin when he is released and returns home to his father and young step-mother.
Even when he is not doing anything, it seems that Rennie should bear the label, "contents under pressure." His character, Walt, prefers any world and any relationship where he doesn't have to address the horrible fact that he, through carelessness, has taken someone's life. He tries to get help to face it, but by coincidence that only happens in fiction, the counselor he chooses is the father of the boy who was driving the stolen car. After an abbreviated session, the therapist recuses himself, and Walt stops there without looking any further for help. Meanwhile, Walt must take care of his adult autistic younger brother Dennis (played by Tygh Runyan) who was his passenger on the night of the accident. Already suffering from autism, the trauma of the accident has intensified his attendant agoraphobia. He is afraid to answer the phone, and will only speak to callers by speaker phone, standing at least five feet away from the telephone. When we meet the brother, he has encountered a thorny problem. A woman is interested in him and keeps calling. His approach to the phone lends some comic effect. He seems to register the mature woman's voice that leaves a message on the answering machine as a vague, disembodied threat, but his curiosity won't allow him to ignore it.
Bessai's movies, at least the recent ones, (Unnatural & Accidental, 2006 and Emile, 2003) seem to be shot in the cool fall, just before a descent into a dark winter. Normal is no exception. The light is bright, but the mood is melancholy and has the feel of an oncoming chill. Rennie also played the murderous mechanic in Unnatural & Accidental, Bessai's film about ten Native American (or First Nation) women who were found dead in Vancouver's east side in the 1980's, each with an inordinate amount of alcohol in their blood streams. He was convincing as the controlling, violent alcoholic father in Falling Angels (S. Smith, 2003). As Walt, Rennie explores further what happens in the fallout of a tragic collision, a theme also developed in Lucid (S. Garrity, 2005) and in which Rennie was a supporting actor.
The characters in Normal, even in the presence of others, seem stark and alone against the background. This is certainly true for Carrie-Anne Moss who plays the mother of the dead boy. Her grief for her lost son is mythical and timeless, as if the accident happened just yesterday. Bessai, who is also the director of photography, shows her as an angry, grieving goddess, but her husband and surviving young son have nearly reached their limits of tolerance. As the logic of the film dictates, Walt and the mother of the dead boy meet. When they do, the potential energy of unprocessed grief finds kinetic expression.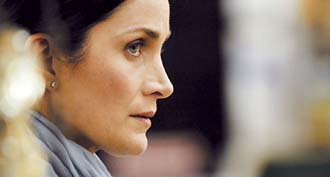 Carrie-Ann Moss
We Are Together (P. Taylor, 2006)
The protagonists of Paul Taylor's documentary are South African children whose parents have died of AIDS and who now live at an orphanage called "Agape," Greek for "unconditional love." There are millions of African children who have lost their parents to AIDS. The focus here is on one family, though all of the children form a kind of family of their own. These children are closer than many people who live together their entire lives. The camera follows the charismatic Slindile, a twelve-year-old who uses singing to remember her mother. Though Sindile has an older sister, she lives at the orphanage, and her sister still lives in the house where their parents lived and takes care of her younger siblings. When the hospital can do nothing more for her older brother, who is now dying from AIDS, he returns home to the older sister to die. Though AIDS is all around them, only twice in the documentary does anyone identify the disease by name. The speaker will almost invariably describe the stricken person as only being very sick or tired.
The voices of children singing is at the heart of this film. Their voices are clear. Slindile, clearly the most charismatic voice, sings sweetly, and even the youngest at age 7 sings like a rare bird. The documentary is underserved by the Hollywood-like melodramatic arc where first the children endeavor to record a CD and have hopes to travel to the UK to perform to raise money to save the orphanage. That falls through, but in the end they travel to New York and perform with Paul Simon and Alicia Keys. Even though the film makers take the risk of wrapping their story too neatly, the film is deeply affecting.
Becky Sharp (R. Mamoulian, 1935)
This 1935 film is based upon William Thackeray's novel, Vanity Fair, published in 1848. In 1935, the film was the first feature to be made in the three-strip Technicolor process. Film productionists had previously only used a two-strip method, where light, through filtering, was broken down into red and green components. In the three-strip method, light was initially broken down into magenta and green, and the magenta was further broken down into red and blue. This allowed for a fuller expression of the color spectrum. Though the film was shot in the three-strip method, for many years only two-color re-issue prints were available. These prints, among other things, de-emphasized the color blue. Led by the efforts of Martin Scorcese, this restored print has been created making use of the three-color method in which it was originally shot.
Becky Sharp followed four silent film adaptations of Mr. Makepeace's novel (Vanity Fair) and one talkie (years of the earlier versions were: 1911, 1915, 1922, 1923, and 1932). The plot remains the same. A British social climber, Becky Sharp, circa 1815, wants to be someone by marrying into money. The most notable traits about Becky are her wit, irreverence, and utter indifference to what others think of her social climbing. She is scheming every moment she is awake. In this restored version, the reds, blues, and yellows of Becky's dresses and the British soldier's uniforms pop off the screen. The narrative, however, is flat, just like the camera angles. The arc of Becky's character . . . well . . . there is no arc; it's more like a sine wave. She succeeds in getting a "rich man," then it turns out that he has no money, then she figures out a way to cleverly beg, borrow, or steal money, then the man finds out and is deeply disappointed, but by that time, she has found another man to pursue.
Shortly after Becky is married, Napoleon begins a campaign to gain control over several European states. British and Prussian soldiers joint forces in Belgium to fend off Napoleon's army. Becky's husband is among them and off to Belgium she goes. In the mean time, she has seduced the husband of the woman who once took her in, but she sloughs him off as soon as she spots a new prospect. As they dance and sing, because as one soldier put it, they need not do anything until the Prussians arrive, Napoleon's army advances toward some little town called Waterloo, and chaos ensues. By dawn, the men have taken up their arms and left. From a balcony, Becky muses that many of the men's lives will be lost, but then she notices that she's really hungry for breakfast.
When Becky's husband falls into a gambling debt at his gentleman's club, as she is wont to do, she seeks to borrow the money from the new count she has met. This, after she has tried to borrow the money from the father of the children for whom she was a governess. He agrees to give her the money under conditions that she cannot accept. He, too, by the way, is in love with her. Her husband finds out about her scheming and leaves her. Becky is out of sorts and is forced to live within her means. This would be the bottom of the sine wave. But, as luck would have it, she is rescued by a gentle and naive brother and sister. Just for kicks, Becky later bilks a church-going husband and wife out of 200 pounds, when she only needs twelve. The reasons to see this film are more academic than anything else. If you do see it, you will note just how far film technology has changed, but the narrative plot devices of storytelling after 160 years, not so much.
Fresh Air (A. Kocsis, A. Roberti, 2006)
When the sky is blue, the world seems wide open and endless. The directors of this first feature have taken out the color blue. The world that is left is small, hollow, and, it turns out, inescapable. This is the world in which Viola Biro and her teenage daughter Angela live in a tiny apartment in Budapest. Viola is a bathroom attendant. She cleans the toilets and dispenses toilet paper all day. Each evening when she comes home from work, Angela rushes to open all the windows and doors to clear out the smell that Viola brings home. Viola immediately bathes and scrubs herself furiously, just as she scrubs the toilets. Viola and Angela do not speak. They communicate by leaving notes for each other. When Angela sees her mother in public, she runs. They do only one thing together, watch television.
When we first see Viola, she is at a social event for single middle-aged men and women who come to meet and dance. It is a somber affair. When the music starts, the dancers start moving as if they are corpses set upright. Their dance is one of resignation and duty. Viola, who never even cracks a smile, is seen by her desperate partner as the light of the evening.
Angela wants desperately to escape Budapest and be a fashion designer. She tries to hitchhike to Rome and just makes it across the Italian border. Thinking she is on her way, she gets a ride from an Italian couple with their young child. To her surprise, they think she wants to go back to Budapest, and that is where they take her.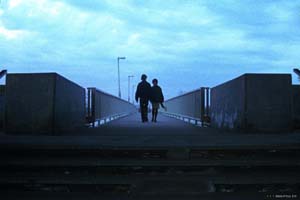 In this film at least, Budapest is a bleak, dank and colorless place, with the exception of the colors red and green. Nearly everything associated with the mother is red. The red fake flower that is animated by light in her tiny suffocating work space between the men's and women's restrooms. Her working coat, her house coat, the color of the pen in which she outlines the personal ads to which she responds, the color of the telephone she uses. Viola is wedded to green. Her design, the one she expects to win the competition with, is entirely in green. Though Viola scours the personal ads, neither the mother nor the daughter seems to have much use for men. Viola goes to meet a potential date, but from the dark she sees him standing there earnestly waiting with a red carnation. Viola is having none of it. Undetected, she turns and walks away. Emil, a budding scientist, waits for Angela every day outside the school door. She rarely shows.
Angela's dream of leaving is fleeting. It is heartbreaking to understand as circumstances cause her to take over her mother's job that she has run right into the very life she was running from. With a tissue covering her nose and mouth, she puts on her mother's work jacket and tacks her design onto the wall as if it was some distant, unreachable movie star from a magazine. She removes the tissue from her face and settles into the confined red space.
The Stone Angel (K. Skogland, 2007)
Ellen Burstyn portrays the deeply flawed Hagar Shipley, the narrator and protagonist of the film adaptation of Margaret Laurence's novel, The Stone Angel. Margaret Laurence portrays Hagar's life as a complex woven tapestry the end of which we fully understand the great difficulty in letting it go. The way the director of this new film tells it, however, life is being a slave to your sex drive, which leads to a series of tragic events, and then you die—but not before you witness the death of your brother, sons, husband, and father. Hagar is a stubborn Ophelia. All the men in her life have abandoned and disappointed her deeply. Though she has a great will to survive, she is trapped and wastes her entire youth defying her father by staying with a man who is useless.
Only Hagar's own death is genuinely affecting. The other deaths seem like inevitable deeds to get to the next plot point. In the end, it doesn't seem to matter to Hagar that she never went into teaching or lived any of her life as she wanted. She remembers only her romantic passions, and even they died long before her husband did. She had nothing else. It is not the end of a long, complexly-lived life of which we mourn. It is loss of the potential of such a life that leaves us with the most sadness.
The Calgary International Film Festival has created its own cool school. In eight short years, it has created from scratch its own film scene that reminds us of how original and stunning this visual medium can be.
Bibliography
Tomkins, Calvin. "A Touch of the Now." The New Yorker. July 29, 1991, 33 – 57.