Unknown Soldier: The Films of Marcello Aliprandi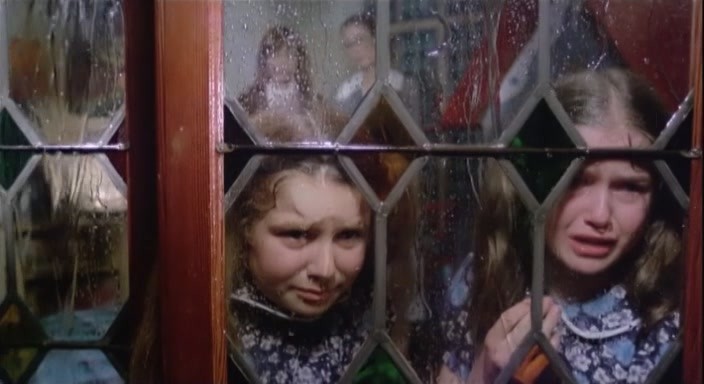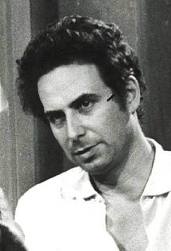 With a body of work consisting of only seven feature films, all of them only marginally successful or poorly distributed, Marcello Aliprandi (1934-1997) is an often overlooked filmmaker, even by Italian cinema scholars. He certainly was not a genre director, which nowadays doesn't make his name as palatable as that of, say, Aristide Massaccesi. On the other hand, his films were often too weird and artistically compromised to make him a critically respected auteur, even though Aliprandi's past as a theatre director and as Visconti's assistant made him a rather respected figure. Aliprandi definitely didn't have the gift of timing. His films came out in the wrong moment and thus were misappreciated or misunderstood. With the exception of the dreadful Senza buccia (1979), all were personal and technically competent works, and often dealt with the Fantastic, even though in original and idiosyncratic ways.
Born in Rome on January 2nd, 1934, in mid the mid-Fifties Aliprandi left Economic studies and enrolled in the Arts Academy "Silvio D'Amico," to study as a director. After graduation, he started working in the theater with Luchino Visconti, who then wanted him as his assistant while shooting Il gattopardo. For most of the Sixties Aliprandi worked on stage, directing dramas and operas: he finally made his feature film debut in 1970 with La ragazza di latta (originally Mellonta Tauta, a title inspired by an Edgar Allan Poe short story), a weird surreal sci-fi fable with blunt political overtones which was Sydne Rome's first film. It's the story, set in a not-so-distant future, of Osvaldo (Roberto Antonelli), a young executive of a huge corporation ("Smack-O-Mat") who keeps an anticonformist behaviour, refusing to dress and act like all his other colleagues. He falls in love with a beautiful girl (Rome) who seems to be different from all other women, including Osvaldo's wife: the girl is actually a robot built by Smack-O-Mat, in order to win Osvaldo's personality and make him a conformist like all others. Since this is a post-1968 dystopia, Power and Consumeurism win.
Heavily influenced by Herbert Marcuse's book One Dimensional Man, La ragazza di latta somehow recalls Corrado Farina's …Hanno cambiato faccia with its vision of Capitalism as a mind-numbing Big Brother, while the image of an android woman as a means to win workers' willpower brings to mind the character of Maria in Fritz Lang's Metropolis. Despite several awkward moments and an excessively deliberate pacing, there's a weird fable-like quality to the film, as if it was a perverted version of a Hoffmann tale. Aliprandi imagines a future where people grow long whiskers and drive the same car models (whereas Osvaldo goes to work on skates) and La ragazza di latta benefits from outstanding locations and set pieces by art director Fernando Imbert (the film was shot in Ravenna, where Antonioni had filmed Deserto rosso), while the character of a director/magician played by Umberto D'Orsi pays homage to Federico Fellini.
La ragazza di latta received mixed reviews and flopped at the box office. Respected critics such as Tullio Kezich praised its "originality and clarity" while others thought the film was too heavy on symbolism. Even though he kept working as a scriptwriter (such as on L'arma l'ora il movente, an odd giallo directed in 1972 by Francesco Mazzei), it took four years before Aliprandi got behind the camera again, this time with an apparently very different project, which nonetheless featured similar political overtones. Corruzione al palazzo di giustizia (1974) was an adaptation of Ugo Betti's stage play, with a contemporary setting.
Betti's drama, written in 1944 but brought to stage only in 1949, was a gloomy meditation on power and justice, with a decidedly Kafka-esque atmosphere. "The Palace is the mine and the well, it is the nest of malcontent and whispers. One starts spreading a slander, another one follows, and the day after there are ten, twenty more and… it's like a cancer that spreads and devours" the protagonist says in the opening scene of Betti's drama. Aliprandi's version is obviously rooted in the paranoid atmosphere of the period, whereas Betti's meditation was set in an abstract foreign city. The story focuses on the fight for power between two judges (Franco Nero and Gabriele Ferzetti) to take the place of the Presiding Judge Vanini (Fernando Rey). The latter is hiding a secret dossier on shady, corrupt Engineer Goja (Martin Balsam) who's got as many hidden secrets as politicians on his paylist. After an attempt at a perquisition at Goja's secret archive has gone wrong, a ministry inspector (Umberto Orsini) pops up at the Tribunal to make an inquiry.
Aliprandi tries to shape the movie like some kind of a thriller, as all characters suspect and spy on each other, while Pino Donaggio's score openly mocks Morricone's. Aliprandi's attempt at making something closer to Elio Petri and Francesco Rosi's political allegories based on Leonardo Sciascia's novels is shown by the odd surreal image – such as an ermine robe coming down on a rail in a laundry, or the scene where Vanini wakes up in his villa only to find his main door has been walled during the night in his sleep. But the director is not always able to keep all these elements in focus: Aliprandi even throws in a gratuitous, demented sequence where Vanini's wife (Mara Danaud) is assaulted by a grotesque pair of thugs who strip her nude and torment her (which gained the film its US title Smiling Maniacs, in a desperate attempt to make it look like a crime-cop thriller).
Corruzione al palazzo di giustizia was to be Aliprandi's biggest box office result: not exactly a hit, but with almost 700 million liras, it was a solid commercial success, thanks to its name cast and its proximity to the then in vogue crime genre. Yet, at the same time, this prevented the film from gaining the credibility it aimed at among most critics.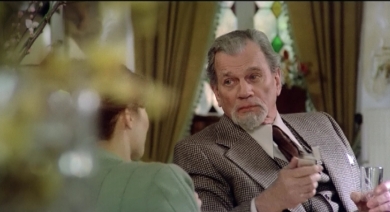 Un sussurro nel buio (A Whisper in the Dark, 1976), written by Nicolò Rienzi and Maria Teresa Carrelli, was another weird affair. An unsettling ghost story featuring a rich, spoilt kid whose imaginary brother seems to be less a product of the boys' imagination than a real malevolent presence, the film benefitted from luscious cinematography and an exquisite setting in a Venetian villa, plus a first-rate cast -John Phillip Law, Nathalie Delon and Joseph Cotten as a creepy "professor" who likes to drink ice cold vodka in the bathtub. Curiously, Un sussurro nel buio had also much in common with the so called 'lacrima-movie' subgenre, by overturning the problematic parents/son relationships seen in flicks such as Bianchi cavalli d'agosto (1975) into a tale of child dictatorship and a portrayal of a dysfunctional bourgeois family. But Aliprandi also expertly deals with the supernatural angle. If the scenes in Venice recall Nicolas Roeg's magnificent Don't Look Now (1973), the director showed to be at ease at building an eerie atmosphere out of minimal details. The scene where Cotten is almost knocked unconscious by a swing which starts rocking on its own is worthy of Bava, and actually recalls a similar moment in Shock, while another one has a ball suddenly stopping during a football (soccer) game as if it was held by an unseen hand.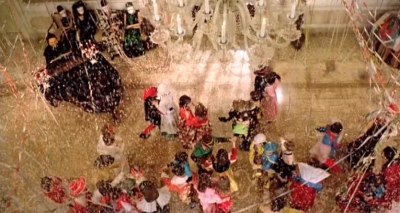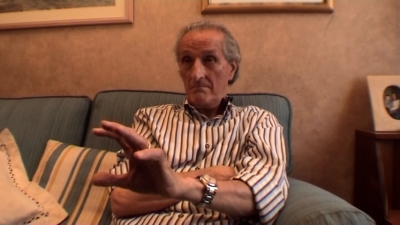 Un sussurro nel buio got fair to good reviews: Tullio Kezich praised the bizarre, Henry James-like atmosphere and Aliprandi's interest for the Fantastic, but noted that the director "exceeds in extravaganzas (including a masked ball that even recalls Tiepolo's paintings) where it would have taken discipline of choice." [1] Unfortunately it sank at the box office, grossing a poor 160 million liras. Not enough of a horror film for genre fans, an indefinite mess for the others. The director's next two works were TV movies, Quasi davvero and L'amante fedele, both shot in 1978.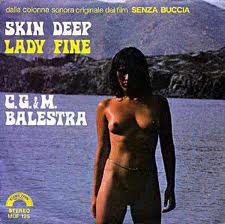 Aliprandi's fourth feature, the Italian-Spanish co-production Senza buccia (1979), is an aberration in his filmography and looks like it was made out of desperation. Based on a script by Ugo Liberatore, it's about a quartet of obnoxious teens – including 16-year old Daniele (Juan Carlos Naya), the narrator – who spend their holidays in a villa at the Aeolian islands. They meet a Norwegian nudist couple (whose female half is a breathtakingly stunning Ilona Staller, who spends the rest of the film wearing only her smile) and decide to throw away their clothes too. The film focuses on Giuliano's (Maurizio Interlandi) crush for Staller, much to the chagrin of his girlfriend Barbara (the ravishing Lilli Carati). The arrival of 32-years old Adriana (Olga Karlatos) makes things even more complicated for Daniele, who's desperately trying to lose his virginity. Even though it features a mind-numbing amount of full frontal nudity (both male and female), Senza buccia tries hard to pass as a generational comedy, and fails miserably. Acting and dialogue are atrocious (especially Naya's), and so is Pino Donaggio's score: the film's only raison d'être – besides the admittedly outstanding sight of Staller, Carati and Karlatos in the nude – seems to be the tourist footage of Aeolian sea and islands. Box office grossings were rather poor, and for once deservedly so.
In the Eighties Aliprandi, as many other directors, worked mainly on television, with interesting results. He brought to the small screen several adaptations of short stories and stage plays, including Massimo Bontempelli's creepy La mano indemoniata (The Possessed Hand, 1980, starring Gabriele Ferzetti, Cochi Ponzoni and Veronica Lario, the latter soon to become the lover and then second wife of Silvio Berlusconi) and Tennessee Williams' The Glass Menagerie (1983). In 1981, during a trip in the US, he became friends with Bob Fosse and directed the prestigious choreographer-turned-director (starring as himself) in a three part TV movie Hello Hollywood, Qui Broadway! (1981).
Aliprandi's next film was his most controversial to date. Based on a novel by Max Savigny and Maurice Serral, the Italian/Spanish/Mexican coproduction Morte in Vaticano (1982) is a fantasy-political thriller which tells the story of a plot to kill the Pope. Even though the third act takes place in 1986, the story openly refers to the obscure death of Pope John Paul I (Albino Luciani) in 1978, just 33 days after his election. Terence Stamp is first billed as cardinal Andreani, who after being elected Pope makes a lot of enemies by spreading a message of love, equality and fraternity which goes back to Christ's original words and rejects the Church's privileges. Obviously his words are met with horror by the Church and politicians alike. "No Pope ever said such things… ever!" a priest says while listening to the Pope's message to the crowd in St. Peter's square, and another one replies: "Not a Pope… but how about a Marxist?"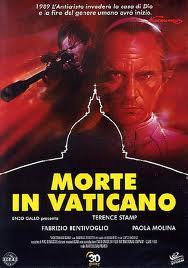 Morte in Vaticano starts with a young man on a spiritual journey to India and Nepal. Bruno Martello (Fabrizio Bentivoglio, soon to become one of Italy's most popular actors) sees an Indian Fakir being dug from the hole where he has been buried alive for a long time, and then visits a monastery on a remote Himalayan peak. He's in a deep spiritual crisis. During a long flashback which takes up the film's first half, Aliprandi shows Martello's days as a young theologist and his friendship with Andreani (then a respected cardinal and Bruno's theology teacher), who is deeply touched by Martello's essay on Judas, whom Martello thinks is "the most pathetic and misunderstood of all the characters in the New Testament." Ironically, as we will see, Martello will become Andreani's own Judas. Andreani persuades Bruno to go to Salamanca and teach theology there, but the young priest's radical theories soon make him an unwanted presence and he's sent back to Rome. There, a scandal involving Nina (Paula Molina), a terrorist whom he hides in his own house, has Bruno leave the country to India. Several years later, after returning from his journey, Martello becomes one of the Pope's closest secretaries, yet his ideas on the Church have changed radically and he has become a fervent integralist. Meanwhile a plot to kill the Pope is gradually taking form in the Vatican: a killer (Antonio Marsina) is hired to execute an ambush à-la-JFK, but it's the fanatic Bruno who eventually murders Andreani, by poisoning him. The Vatican covers the scandal, announcing that the Pope has died of a heart attack.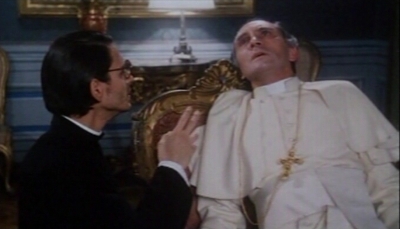 Morte in Vaticano is a technically accomplished work. Aliprandi had a decent budget to work with, a fine cast, including Gabriele Ferzetti and José Luis López Vázquez as Cardinals, expert d.o.p. Alejandro Ulloa and a Pino Donaggio score. Unfortunately it is also a deeply unbalanced work. It looks as if Aliprandi and four his co-scriptwriters wanted to put too much in the film (or to keep too many elements from the original novel), and as a result several characters and plot elements are just hinted at and left half-baked. The story could have easily done without Bruno's liaison with Nina (which provides the obligatory lovemaking scene), while Martello's spiritual journey culminates in an awkward drug-induced psychedelic trip which looks like a poor man's Jodorowsky. The scenes featuring Marsina (who played a similar role in Tonino Valerii's Vai gorilla) and his men provide ample opportunity for slow-motion deaths and exploding blood squirts, while the ending – which depicts the ritual following the Pope's death, as the body is composed in his ceremony clothes – is as downbeat as it is chilling. Even though the film has a weird fascination in its rather absurd mix of theology (in Salamanca, Martello does a lesson on the controversial Pierre Teilhard De Chardin), Eastern mysticism and paranoia thriller, it's obvious that Morte in Vaticano tries to be too many things at once whereas it should have been just a genre film, plain and simple.
Morte in Vaticano tanked at the box office and Aliprandi returned to television, where he worked for the rest of the decade. In 1984 he directed I ragazzi della valle misteriosa (The Boys of Mystery Valley), a fantasy-adventure series in 10 episodes starring Kim Rossi Stuart, and in 1988 a three-part tv movie, Quando ancora non c'erano i Beatles (When the Beatles did not exist yet) starring Anita Ekberg as an elderly countess, a former soubrette, who hosts a group of young people in her villa by the sea in the winter of 1962.
After forming his own production company "Movietone of Italy" together with his friend and jazz musician Lino Patruno, Aliprandi finally returned to the big screen with the intriguing Prova di memoria (a.k.a. Crimson Dawn, 1992). Franco Nero stars as Paul Herzog, a writer who returns to Prague fifteen years after the death of his lover Annelise (Karin Giegerich). Through an intriguing series of flashbacks, Aliprandi suggests there's something mysterious about Paul's past and Annelise's death (apparently she committed suicide when Paul was forced to leave the country). When Herzog notices a painting portaying none other than Annelise, he becomes convinced that she may still be alive. Aliprandi's script pays homage to Lang's The Woman in the Window and Hitchcock's Vertigo, and plays expertly with the classic "doppelganger" theme. But Prova di memoria is not the typical by-the-numbers film noir, as Aliprandi throws in unexpected suggestions and atmosphere. When Paul visits a cemetery and gets locked inside a chapel, it seems the film is going to take a turn towards Gothic, while Herzog's subsequent encounters with a gravedigger (the great Venantino Venantini) and a gay painter (Ivano Marescotti) look like excerpts from an early Argento film. Then someone unknown starts dispatching all those who know too much. Had Aliprandi followed this simple yet effective scheme, Prova di memoria would have been an effective late giallo, but the director clearly aims for more: Herzog keeps a diary where he takes notes for his new script, mixing facts and fiction, so that at certain points we keep wondering whether what we are watching is really happening or is a product of the writer's imagination.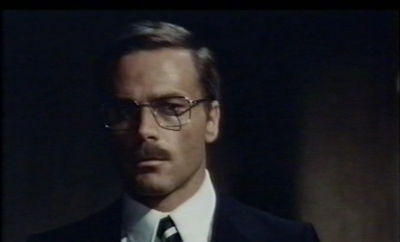 With a competent score by Lino Patruno (who has a brief role as an art gallery owner) and an unexpected cameo by The Beyond's Catriona MacColl, Prova di memoria was a competent stab at genre, but it came out unnoticed in Italy, despite being coproduced by RAI-TV. With Italian cinema's deep crisis, it became more and more difficult for Aliprandi to make more films.
His seventh feature film Soldato ignoto (Unknown Soldier, 1994) was filmed near San Marino with a minimal budget. The cast features a number of Italian actors (including Angelo Orlando, who was in Fellini's La voce della luna and in Massimo Troisi's Pensavo fosse amore invece era un calesse) plus veteran Spanish character actor Aldo Sambrell and the ubiquitous Martin Balsam. Once again, it's a film which deals with the fantastic genre, this time with an openly metaphysical approach. Nine soldiers end up in a deserted villa in Northern Italy, in winter 1943. Soon they realize they are all dead and that the villa is a sort of antechamber to the afterlife. An angelic chaplain (Balsam) arrives to lead them, but it turns out that only eight souls were expected, and one of the soldiers has to go back to life.
The image of afterlife as a Palladian villa surrounded by fog is a powerful one, even though Aliprandi's film has much in common with Giuseppe Tornatore's Una pura formalità (1994). Soldato ignoto's pacifist theme is rather awkwardly handled, though, as much of the film consists of long dialogue scenes between the soldiers, who reflect on their previous life and on the horrors of war. Budget was obviously too tight to allow for a more complex storyline, but the script's stage origin (Aliprandi took inspiration from Jack Alldridge's stage play "All This Is Ended") becomes soon apparent. What's more, characterizations do not deviate from the usual stereotypes: the world-weary veteran, the young rookie who's just become a father, the ambitious officer and so on. Thus, when the soldiers must toss up who will survive (by picking up cards), it's quite obvious who will be the chosen one, despite Aliprandi trying to make it a surprise ending.
Soldato ignoto was barely released. It first showed up at 1994's MIFED in Milan, with Aliprandi credited as "Daniel Ford" in press sheets; next year it was shown at the Gramado Film Festival in Brazil, where it won a prize for Best Actor (Orlando), then it practically disappeared from sight. Soldato ignoto was to be Aliprandi's final film. He died on August 26, 1997, at 63.
Endnotes
1 Tullio Kezich, Il nuovissimo Millefilm, Mondadori, Milano 1983, p. 382.