UCLA's "Heroic Grace: the Chinese Martial Arts Film"
The Shaw Brothers at FanTasia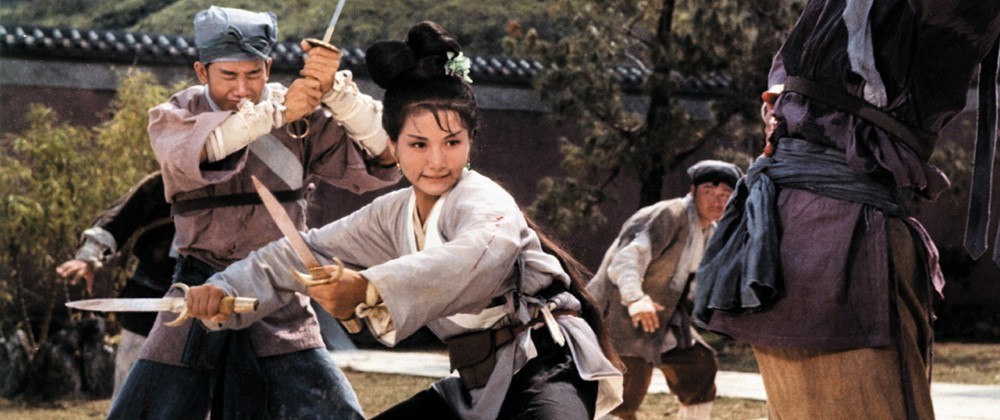 Travelling to various film festivals has great side-effects (apart from watching films, that is): catching up with friends and meeting new people, for example. In September 2002, at the Toronto International Film Festival, I was very pleased to meet Cheng-Sim Lim, the Head of Programming at the UCLA Film and Television Archive, who told me she was curating a series of films celebrating the history of Chinese Martial Arts on film! Gradually, I learned of the exciting contents of the retrospective and that there was going to be a travelling, Shaw Brothers component to it. We already knew that Celestial Pictures had acquired the rights to the long lost Shaw's library of films for Hong Kong, Taiwan and other Asian territories, and December was slated for the first batch of DVD and VCD releases of restored versions of prints. In October I was extremely fortunate to be present in Vancouver at the 1st North American screening of one of these restorations, with programmer Tony Rayns in attendance to introduce the male star, Yue Hua, and the film, King Hu's Come Drink With Me (1966). As it happens, this is the one Shaw's title out of all the 750 due to be restored that I was most anxious to see in glorious Shawscope and colour, having been tortured with a horribly purple print provided by the old company, in disarray, for the King Hu retrospective mounted by the Hong Kong International Film Festival (HKIFF) in April 1998. Elsewhere, on a number of occasions, I have argued that Come Drink With Me is perhaps the most significant Hong Kong genre film ever made, raising the bar of swordplay choreography and its cinematic expression for years to come. (See, for example, the long version of my Fantasia Festival catalogue copy).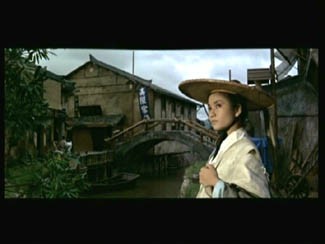 Come Drink With Me
The screening did not disappoint, and Come Drink With Me was among the first eight titles to appear on Celestial video on December 5, 2002, graced with interview extras featuring its charming, knowledgeable, and still-radiant star, Zheng Pei-pei. Come Drink With Me is showing twice at FanTasia: in the Concordia University Hall Building Theatre, 1455 de Maisonneuve West, 17:00 on Saturday July 26, and 15:30 on Sunday, July 27. The building is one block east of the Guy Metro exit. If you live in Montreal, then, whatever you do, don't miss this film!
Naturally, Cheng-sim Lim included this film as one of the eighteen titles in her "Heroic Grace" series, ranging across a time span of over 50 years, from a 1929 Shanghai-made silent film, Red Heroine, to Lau Kar-leung's Return to the 36th Chamber, released in 1980. We can learn from the magnificent catalogue, which can be read on-line, that this series was a labour of love for Ms Lim. It took five years to put together, and, without the synergy of Celestial Pictures' concurrent restoration programme, it would not have been possible. One could argue that there are components missing—understandably, given their accessibility, there are no Bruce Lee or Jackie Chan movies—and one could quibble that a certain title by a director could have been substituted for another. But, there is no doubt that the retrospective is long overdue, and it is hard to imagine a better overview of wu xia pian. Consistently, over the last 25 years, the HKIFF and in more recent years, the Hong Kong Film Archive have put together excellent retrospectives (and special subject catalogues), but even they have struggled mightily to project adequate prints of martial arts films (see above). So, "Heroic Grace" is arguably the best series ever devoted to the subject of Martial Arts films, and the catalogue, with articles by sifus David Bordwell, Stephen Teo, Cheng-Sim Lim and others is surely the best written anthology in English on the subject. 1
I was very willing, but totally unable to travel to Los Angeles to see the films that were not in the travelling package, but I had seen some of them on other occasions, including the two Cathay titles, Escorts Over Tiger Hills (1969) and From the Highway (1970) and two films I've written about previously, King Hu's Dragon Gate Inn (Taiwan, 1968), and the first installment of The Story of Wong Fei-Hung, starring Kwan Tak-hing (1949) which had screened in "100 Years of Electric Shadows" at the HKIFF in 1997 (see my review in Screen Machine, No. 4 (1998), p.71, and festival coverage.
I had also seen enough to know that the popular "butterfly and duck" action adventure films made in Shanghai in the late 1920s invariably foregrounded nüxias (lady knight errants) over male action heroes. Only a handful of the more than 200 martial arts film made in China between 1927 and 1931 have survived, and, although it is possible that some unrecognized "masterpieces" may have been lost, it is reasonable to assert that the cinematic representation was not up to the standard set by the best Japanese chambara swordplay films of the era, with their incredibly dynamic action, editing and camera movement. 2 However, the magical powers of cinematic trickery were more often utilized in the Chinese genre films. Typically, split-level interior and high-wall exterior sets would be built to allow warriors to jump down on their foes, and reverse motion would be employed to provide the illusion of super-human jumping upwards (whereas the performers actually jump down). Other "special effects" that were used include stop-motion to allow people to disappear (of their own free will or caused to do so by a magical superior, often in a puff of smoke), and painting or scratching on the film stock to create animated effects including lines of force or energy (chi) emitting from a character's magic palms (hands). Also, the superimposition or matting of an actor suspended on wires against a black background over- or into a shot of the sky, enabled knight errants to "fly." We can notice the development of "classic" swordplay situations—for example the encirclement of the knight errant by the enemy who attack singly and in groups—but, in general, the level of martial skills on display is not high in the silent films and the action appears to be very dated. Exceptionally, some of the female performers, including Youlian's two biggest stars, Fan Xiaoping (the "red heroine") and Xu Qinfang had training in martial arts and/or were dancers. 3
A pattern for the dominance of female stars over male in the Chinese film firmament began in this era, was carried through the 1930s "golden age" of Shanghai cinema by Hu Die, Ruan Lingyu, Li Lili, Wang Renmei, and others, later in the 1940s by the likes of Zhou Xuan and Bai Yang, and into the 1950s and 1960s Mandarin Hong Kong cinema of MP&GI (Cathay), with Ge Lan (Grace Chan), Jeanette Lin Cui, Lucilla You Min, Linda Lin Dai, … Indeed, it is unlikely that there has ever been another cinema so dominated by female stars as the Chinese-language cinema, until the emergence of (Jimmy) Wang-yu, that is.
The key film in the transition to the machismo of kung fu would now appear to be Golden Swallow (Shaw Brothers, 1967) directed by the most macho of directors, Zhang Che. Ostensibly a sequel to Come Drink With Me, featuring the "Golden Swallow" character, played by Zheng Pei-pei, Zhang Che's film shifts the emphasis to focus on one of Swallow's two lovers, a tormented swordsman, Silver Roc (or Little Roc), played by Wang Yu. Stephen Teo and local Montreal Shaw Brothers aficionado, King-Wei Chu both champion Golden Swallow as the greatest Hong Kong wu xia pian film of the era. 4 At present, having just seen it for the first time on screen, in Toronto, in a newly remastered 35mm, Shawscope print "taken from an original, unrestored negative," I confess that, whereas I would admit that it might be the director's most personal work and a film which contains a really interesting mixture of action genre elements and "classical" Chinese landscape (and calligraphy) shots, I definitely do not share this opinion. It is unlikely that any film made before Golden Swallow has a higher body count, at least in terms of victims attributed to a single killer. Typically, in the fight scenes, Silver Roc/Wang Yu is viewed frontally, with the camera tracking back with him as he slaughters his foes. They line up across the widescreen frame, two, three or four at a time, with their backs to the camera, and he fells them with one sweeping pass of his sword across their necks or stomachs. Cleverly, such staging conceals the fakery—no-one is actually cut—and, with so much going on in front of the lens, any analysis of Wang Yu's skills is delimited. In fact, although the actor was an accomplished Karate practitioner, his performance here dates considerably, appearing stilted and forced, albeit justified by the extreme masochism and anger imbedded in Silver Roc's character. Indeed, to my eyes, Zheng Pei-pei's swordplay moves appear to be more authentic, even though, allegedly her time spent making the film was made miserable by the director's disinterest in her. Silver Roc is jealous of Han Tao (Luo Lie) who nurses Golden Swallow back to full fitness at the beginning of the film, and, strangely shows his love for her by killing in her name. Roc has a collection of her daggers and at each location of gangland executions (he only kills bad guys), he leaves one of them to implicate her. Even more strangely, Roc believes that by setting Swallow up, she will come to him, if she loves him.
Three other Zhang Che films are included in the "Heroic Grace" series, Blood Brothers (1973), one of his most misogynist works, the brilliant Vengeance! (1970) starring David Jiang (Chiang) and Di Long (Ti Lung), and the seminal One Armed Swordsman (1967) with Wang Yu in his first starring role. I have yet to see One Armed Swordsman, but it is the second of four Shaw Brothers retrospective films which will show at this year's FanTasia Festival: in the Hall Bldg. at 17:20 on Friday, August 1, and accross the street in the Salle J.A. De Sève, in the Webster Library Building, at 21:30 on Sunday, August 3. Arguably, it is Zhang's most important film, but, personally I'm sorry that Vengeance! isn't showing. Set in the underworld (jiang hu) of a generic Chinese city at the beginning of the 20th century, Vengeance!, with daggers replacing swords (and moving the wu xia genre closer to kung fu) could be the definitive "heroic bloodshed" film with its dynamically filmed and edited action scenes reaching a new level of "realism." Slow motion flashbacks linking Chinese opera performance with underworld violence add a stylized, poetic edge to the piece, not unlike the contemporaneous work of Sam Peckinpah (whom Zhang admired). In all of this, one must not ignore the input of the martial arts director/choreographer, a relatively new role in the Hong Kong film industry. King Hu claimed he knew nothing of martial arts and therefore relied heavily on a specialist, Han Yingjie. Han stayed with Hu through The Valiant Ones (1974), but Hu's films are so original in their combination of shot composition, character and camera movement, and editing that one can readily discern his personal style apart from the action choreography. I'm not so sure that such is the case with Zhang Che who employed Liu Jialiang (Lau Kar-leong) as a martial arts director, in tandem with Tang Jia (Tong Kai), on almost all of his key films, although, interestingly, one of the few credited to a different collaborator (Yuan Xiangren), not Lau Kar-leung, is Vengeance!. In any event, Lau was the first of the martial arts directors to forge himself a successful career as a film director. (More recently, Ching Siu-tung and Yuen Woo-ping have made the same transition.)
Ultimately it might not be easy to definitively separate out the visual styles of Zhang Che and Lau Kar-leung, but after seeing a good Shawscope print (during the HKIFF in April, 2002) of Eight Diagram Pole Fighter, which Lau had directed right at the end of the kung fu cycle in 1984, I'm tempted to think that he may well have been the true master of the form. Certainly, it is hard to imagine how better use could have been made of the widescreen frame, with every imaginable move included of the pole slashing through it. Unfortunately, this film was not included in "Heroic Grace," but three of the most significant films that Lau directed were shown in Los Angeles, one of which, Executions From Shaolin (1977) seems to have gone missing. This is really unfortunate because Cheng-Sim Lim had included this rare work for its "playfully recasting martial arts in terms of sexuality" and chose to open the series with it. Lau's best known film, The 36th Chamber of Shaolin (aka "Master Killer" 1978) which had been readily available, dubbed in English, on panned and scanned VHS videotape, and more recently, also, in a letterboxed, dubbed version on DVD, is part of the travelling package and will be shown at FanTasia: at 19:30 in the De Sève Theatre on Friday, July 18, and at 15:00 on Saturday, July 19, in the Hall Bldg. The 1980 sequel, Return to the 36th Chamber will not be shown in Montreal, but is due to be released on region 3, DVD/VCD in August.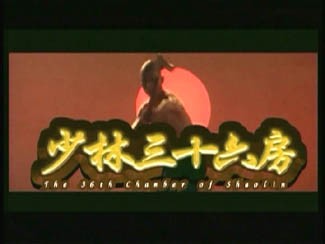 Whereas Hu, Zhang and Lau all have their supporters, championing their status as great wu xia pian directors, another film director is being somewhat "rediscovered" through the Celestial restoration programme, Chu Yuan (Chor Yuen). By the end of February 2003, no fewer than six of his films had been released on disc by Celestial, [and only four of Zhang Che's, The Heroic Ones (1970), Anonymous Heroes (1971), Blood Brothers and Heroes 2(1973)]. One of Chu's films was a comedy, a 1973 remake of the 1963 The House of 72 Tenants, and three of them were from the same year, 1976, Killer Clans, Magic Blade and Clans of Intrigue. The first of these is included in the Heroic Grace package, and in translating a novel by the contemporary Taiwanese wu xia writer, Gu Long, Chu shows his propensity here for depicting treachery and betrayal. His films lean much more on the side of the "fantastic" tradition than Zhang's, and he seems to favour shooting through screens, doorways, windows and past other obstructions even more than Zhang. Perhaps, this tendency compliments Chu's interest in sexuality, knowing that through suggestion and hiding sexual acts from view, one can project a stronger emotional charge. In any event his skill at depicting both swordplay and human sexuality had resulted in one of the most remarkable films in the history of Hong Kong cinema, Intimate Confessions of a Chinese Courtesan (1972).
Dreading some soft-core porn, early version of Sex And Zen, I certainly had trepidations about seeing this film at a Jackman Hall, sold-out screening in Toronto. But I was surprised both by the great visual splendour of the work and the degree to which it functions as a pre-feminist text (and doesn't overly exploit the female body). A young virgin is kidnapped and forced to work in a brothel. But, unlike her fellow victims she fights against her exploitation, and the madam admires her feistiness and falls for her. Some of the richest and oldest patrons of the brothel bid for the courtesan's favours and at the moment where each of the four is about to rape her, the film frame freezes. The film audience is thus poised to savour the revenge she seeks on her rapists, without sharing her sexual exploitation. The denouement is positively apocalyptic … Along with Come Drink With Me, Intimate Confessions of a Chinese Courtesan is THE film to see at FanTasia this year. Don't miss it. It is showing in the De Sève Theatre at 21:15 on Friday, July 18 and in the Hall Bldg. Auditorium at 17:00 on Sunday, July 20.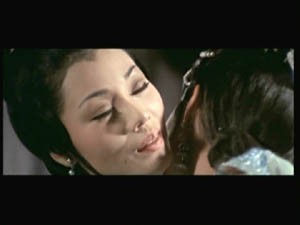 Intimate Confessions of a Chinese Courtesan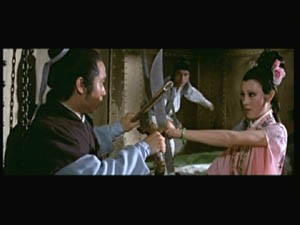 Notes