Samira Makhmalbaf's latest film, Two-Legged Horse
Causes stir at world premiere in Toronto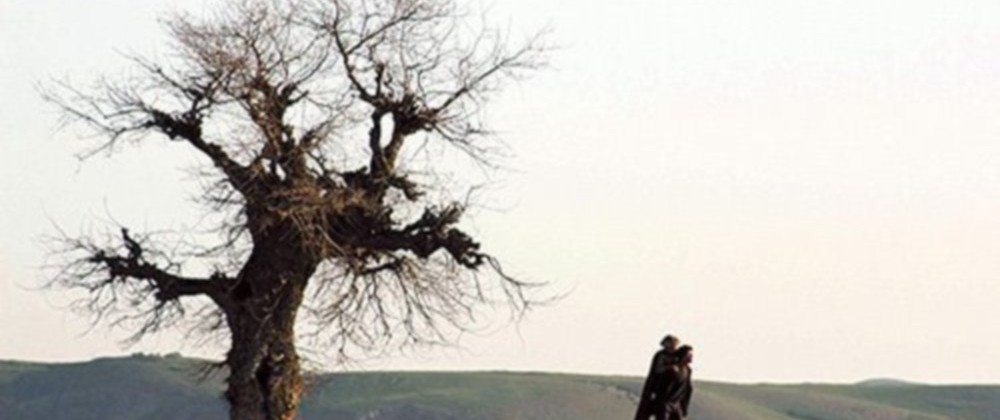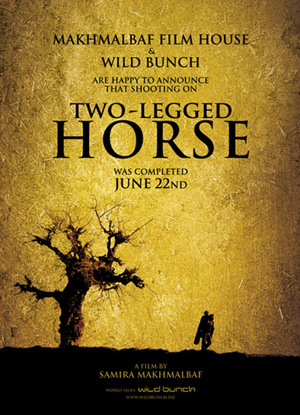 Written and edited by her famous father, Two-Legged Horse (2008) is Samira Makhmalbaf's most difficult film since The Apple (1998) and certainly her most difficult film to date. Audience reactions at the world premiere at this year's TIFF (Toronto International Film Festival) were passionate to say the least, and the film will potentially continue to stir much controversy as it gains wider distribution, due to its difficult, uncompromising look at the dynamics of power struggle and victimization. In an interview [1] published on the Makhmalbaf Film House website, the director says that after first reading the script she had a violent reaction, and started pacing around the house yelling that she didn't want to make this film. But the script kept haunting her, and she finally felt compelled to make it, even saying "maybe I came to cinema to make this film." [2] She felt that "It was bitter and hopeless but more real than reality." [3] Father Mohsen did not want to make it himself, and credits living under the oppressive Iranian government as the inspiration. Though it is not the first film that the family works on in Afghanistan, Two-Legged Horse strives to transcend its geographical context much more than previous films.
The shoot was a difficult one. Production had to be stopped for some time because of a bombing directed specifically at the film crew, wounding six people and eventually killing one person after a two month hospitalization. A horse was also killed. Shot in Afghanistan because she could not get permission to shoot in her native Iran (apparently not because of the subject matter, but because of the problems the regime has with her father), the film approaches the limit of the unbearable in its depiction of a difficult subject matter. A father sets out to hire, for 1$ a day, a boy to act as a porter and caregiver for his disabled son while he goes to India to get medical treatment for his disabled daughter. He finds a poor boy called Mirvais who resides in an abandoned sewage pipe, among dozens of other children who also would have wanted the job. Mirvais starts carrying the younger disabled boy, whom he calls 'master', on his back, and the latter immediately starts calling him his donkey or his horse and treating him as such.
Their relationship quickly degenerates, and despite a few hopeful moments that seem to indicate the beginning of a friendship (a shared bath, fun times dancing) the level of abuse and humiliation that the older boy endures keeps escalating. The little boy beats Mirvais with a stick, races him with donkeys and horses, and is verbally abusive. He also rents Mirvais out to other boys who want to ride him. One boy adorns him with a saddle and straps rough cords in his mouth, as if to emulate a harness. Another boy says he will pay more if his feet sound like those of a real horse, so horseshoes are nailed onto his boots, and as each nail is hammered in Mirvais lets out a chilling scream. This was the point at which several people left the movie theatre at the world premiere screening of the film in Toronto during this year's TIFF. More supremely humiliating moments follow —as well as many other walk-outs at the immense sold out number two Scotia Bank theatre. The 'master' enters Mirvais in a violent cock fight-like wrestling match at school. He then eventually ties him up in a stable with cows, feeding him hay (an image that no doubt evokes Dariush Mehrjui's 1969 landmark feature The Cow, albeit with a much more disturbing and darker tone –who could have thought that possible?). The film ends with an unsettling scene of the boy's face disappearing under a horse's mask that was purchased expressly for him. This is not yet another poetic Iranian film featuring children. In fact Makhmalbaf said: "I wanted to write on the movie theatre door that if you are here to watch a soft and poetic film don't waste your time. But if you have come –as Herbert Marquise [sic] put it– to hear the painful cries of one dimensional humans or to listen to the painful cries of a society that under the pressure of power is retreating from being human to becoming an animal, then you are welcome." [4]
Samira Makhmalbaf was present at the TIFF for a Q & A after this premiere screening. The first man in the audience who spoke got up from the back of the theatre and yelled out that he had never seen such a stupid, insulting and sadistic film and that it completely destroyed Afghan culture. A few people seemed to agree as they clapped after this comment. Samira Makhmalbaf's response, in a shaky voice, seemingly holding back tears, was to thank him for sharing his opinion, but to underscore that the film was not about Afghanistan (and she later mentioned again that she wanted to make the film in Iran but did not get permission), but about human relationships everywhere, that she wanted to explore how far people will go for survival by trying to show violence and domination between humans; and that we should ask ourselves how often we have been someone else's horse. What ensued is more, and louder, clapping. In fact, the recent conflicts that Afghanistan has had to face are barely alluded to in the film. There is of course much poverty and the mention of people who have lost their limbs or lives to landmines, but there is no mention of the Taliban or of the American presence.
Much like her father, Makhmalbaf seems to be fond of quoting great thinkers to support the ideas in her films. She quoted Nietzsche's ideas about the fragility of civilization to further stress how humans can move closely to animal behaviour during difficult living conditions; how under pressure and oppression humans regress to animal-like behaviour (and for Samira this includes personal and intimate relationships between spouses or friends). What ensues from such conditions is exploitation, abuse, violence, and submission to such behaviours, which is enacted by the children. She insisted that the violence depicted in the film was not the type of violence for enjoyment and entertainment like that of a Hollywood film, but one to criticize. In the previously mentioned interview, she says that she hopes that this kind of violence will disgust the viewer and that someone who exhibits this type of violent behaviour would relinquish it after watching the film.
Though most of the other comments at the Q & A were positive and acknowledged the importance of the film, they were often accompanied by a profound discomfort and a partial lack of understanding about what this film was actually about. One woman worried about the psychological well being of the children involved. Another person asked Makhmalbaf if she saw the situation as hopeless, to which she replied that sometimes she did and sometimes she didn't, that she was just trying to change things a little in the world. One thing that came through is her belief in the power of cinema to change reality. In response to the question "Why do you make films?" her answer was: "I want to reduce human pain through my films. There are things in the world that are harsh. I want to change the world according to my own share. I believe many of these pains are due to the mindset of mankind. We are what we think. Cinema can change thoughts. That is why I am in cinema…" [5]
The dynamics of victimization are illustrated in a way that can be shocking in its brutal honesty, showing how individuals can become complicit in their own oppression if they believe they cannot escape their situation. This is demonstrated by the numerous scenes in which the young disabled boy has Mirvais pick the rocks that he knows will eventually be thrown back at him. Mirvais desperately wants to keep his job, so he plays along. Makhmalbaf has mentioned that this dynamic is an allegory for the functioning of oppressive states in the East. One of the metaphors of the relationship between the two boys is about power vs. powerlessness as it relates to nations. She sees it as a three-part process where first there is a mutual fear in which "Power is afraid of being overthrown by revolution and nation is afraid of torture and imprisonment." This is followed by "gradual absorption –power and nation gradually absorb each other and their behaviour becomes alike. For example, what power applies in its censorship laws the nation internalizes it in its culture." Third, a form of eroticism or enjoyment where the sadistic-masochistic relationship kicks in and "Gradually, nation enjoys giving rides and power enjoys riding. Gradually, suffering becomes a habit and then a pleasure and I call it the mutual eroticism between power and nation." [6] This of course can be seen as a commentary on how some nations living under totalitarian states have evolved and remained oppressed, but it can also be applied more broadly to the dynamics of victimization as experienced in any context, and thus in this light the ideas presented in this film certainly surpass their geographical context.
The quest for power is illustrated to an impressively insightful depth through the character of the pretty young beggar girl whom both boys covet. The 'horse boy' falls in love with her first, but the young 'master' is extremely jealous of these feelings. To further deepen his control over Mirvais, he starts giving money to the beggar girl and eventually gains control over her, because as Makhmalbaf says "He who gains power desires to own your thoughts and even your dreams." [7] So the legless boy not only gains mastery over Mirvais' body, but also over his dreams. We see how Mirvais also loses the power and freedom of owning his feelings, thoughts and dreams. All these various layers of enslavement show how low abuser and abused can sink in this power game. Through this relationship with the girl, Makhmalbaf also tackles the taboo topic of prostitution, because the young boy emulates the behaviour of an old man (an uncle? family friend?) who uses the boy's home to have some privacy with several different women. The women remain under their burqas when they are shown on screen, but the close up shots of their feet, showing different pairs of eccentric shoes each time, seems to allude that it is a different woman he is seeing each time. The young boy eventually starts paying the young girl to do the same with her, going inside the house with her to be alone.
Because of the current state of things, it is possible that many may not see past the Afghan context and that this might indeed thwart the understanding of what the film is trying to do. Will it succeed in transcending the local circumstances to deliver its universally applicable insights? The image of Afghanistan has certainly become powerfully charged in the last decade. It can be difficult to view it outside of its contemporary political situation, but perhaps it could be a constructive endeavour to expand the possibilities of what can be created in that space, and if it is viewed as a place that can deliver a universal message, perhaps it is just one step further in no longer seeing it as such a separate and far away place. If it is considered from the angle that Samira Makhmalbaf intended –transcending the Afghan situation– it is quite possible that Two-Legged Horse has the potential to be remembered for many years to come and stand out as an important milestone in the prolific production of the Makhmalbaf Film House.
Endnotes
1 Interview with Samira Makhmalbaf on the film Two-Legged Horse. Makhmalbaf Film House
2 Bartlett, Elisabeth. Samira Makhmalbaf and father Mohsen Speak about Continuation of "Two-Legged Horse."
3 Interview with Samira Makhmalbaf on the film Two-Legged Horse. Makhmalbaf Film House
4 Interview with Samira Makhmalbaf on the film Two-Legged Horse. Makhmalbaf Film House
5 Ibid.
6 Ibid.
7 Ibid.