To All The Boys I've Loved Before (2018)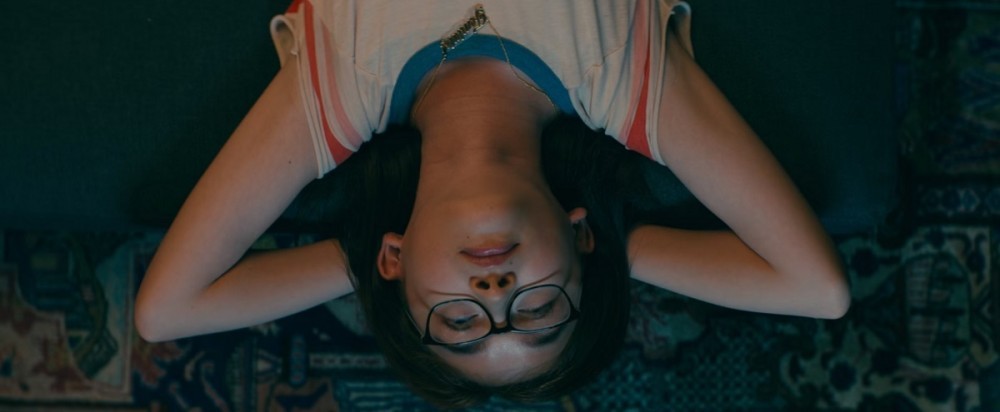 Coming-of-age movies have always had a special place in the cinematic canon, often as guilty pleasures. In the last ten to twenty years, those surpassing that status and joining the ranks of cult classics can be counted on one hand – 10 Things I Hate About You (1999), Mean Girls (2004), Superbad (2007) and Easy A (2010). Sixteen Candles (1984), The Breakfast Club (1985) and Pretty in Pink (1986) (all written by John Hughes) remain to this day benchmarks of the classic coming-of-age movie. Enter To All The Boys I've Loved Before (2018), a new member to the genre, distributed by Netflix exclusively on its streaming platform. It earned critical acclaim for a good reason: the film's impressive handling of the genre tropes warrants its position among the pantheon of teen-movie hits, perhaps even next to the all-time greats such as Mean Girls and The Breakfast Club.
Directed by Susan Johnson (director and producer of 2016's Carrie Pilby), To All The Boys I've Loved Before was written for the screen by Sofia Alvarez and is based on the novel of the same title by Jenny Han. Starring Lana Condor as the protagonist Lara Jean, the movie centres on every teenage girl's worst nightmare – her crush learning her true feelings. Lara Jean however, has not one crush, but five, causing unimaginable havoc and anxiety to her tender teenage soul.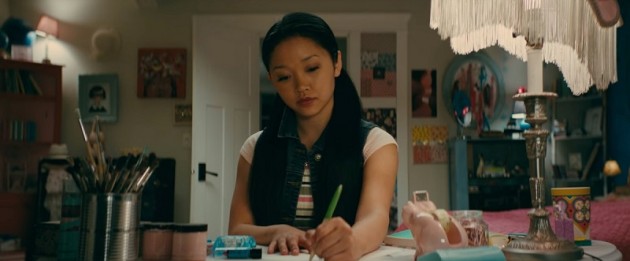 Early on in the film, it is revealed that these love letters were never meant to be mailed in the first place – Lara Jean explains that she wrote them to "understand [her] feelings" at the time that her crush felt the most intense. This sets the tone for the film: the main protagonist is very much in control of her feelings and decisions. So when she strikes a deal with one of her crushes – Peter Kavinsky (Noah Centineo) – to pretend they are dating in order to make his ex-girlfriend Gen (Emilija Baranac) jealous, it is no surprise that Lara Jean comes up with a contract and rules that are to be followed through. While kissing is strictly prohibited, in an adorable homage to Sixteen Candles, she will allow him to put his hand in the back pocket of her jeans while they walk through the school cafeteria.
To All The Boys has been praised for staying faithful to the source material and promoting diversity by casting Vietnamese-American Lana Condor in the lead role of Korean-American Lara Jean. Condor gives her character emotional maturity while remaining a loveable teenager who enjoys reading romantic novels and prefers romance to happen in her head than to engage with it in real life. While she still occasionally resorts to daydreaming, her day-to-day life doesn't center around boys – on a Saturday night she would rather stay in and watch Golden Girls reruns with her little sister than go out. Even in her fashion choices, Lara Jean dresses to please herself – we never see her basing her choices on what Peter or any other guys might think. One can make the argument that Lara's dreamy and creative spirit shines through her clothes. Like most introverts, this is how she presents it to the world while keeping her private life private.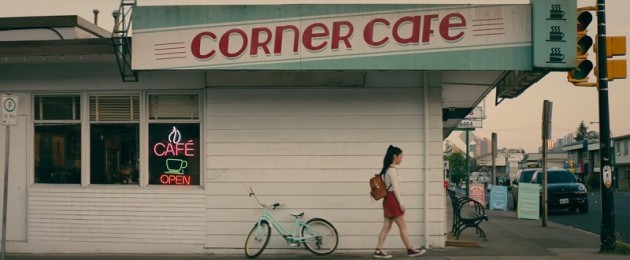 The movie also challenges the teenage movie tropes such as the jock (Peter Kavinsky), the overly-protective dad (played by John Corbett) and the mean girl (Gen). In many coming-of-age films, jocks are often too handsome, not great at communicating, and two-dimensional. While Peter's looks may be swoon-inducing, he doesn't act like a typical jock. He is honest with Lara from the start and their relationship, even though romantically it is "fake" at first, can be best described as… healthy. There are no hidden agendas and the two of them communicate openly, even drafting their agreement together. Gradually, they open up about their family situations (Lara's mom is deceased and Peter's dad left them). Fans have coined the term "soft jock" or "soft boy" to describe Peter's character – someone who challenges traditional masculine roles and isn't afraid to talk about his feelings, while remaining a well-rounded individual.
Similarly, the usually over-protective dad is not necessarily domineering in To All The Boys. Perhaps as a nod to 10 Things I Hate About You, Dr. Covey is a gynaecologist and a single dad. Unlike the trope he is based on, however, he is extremely gentle with his daughters and encourages them to go out and have experiences of their own. This includes giving Lara Jean a bag of condoms – in 10 Things, Bianca and Kat's dad made Bianca wear a pregnancy suit before going to her prom, to warn her of the dangers of contact with boys.
If there is one trope that is comparatively faithful to its generic formula, it is the mean girl. In the film, the mean girl is more or less irrelevant. Gen is mostly a plot device to test the relationship between Lara Jean and Peter. Like all mean girls, she is incredibly insecure, and does very spiteful things like leak a video of an intimate moment between her classmates to the entire school. She doesn't redeem herself either, but surprisingly her ill-intentioned intervention doesn't take away from the enjoyment of the movie.
Beyond the great acting, chemistry and character development, To All The Boys also looks and sounds great. The camera moves fluidly and quickly, never focusing on one thing for longer than necessary. Like Lara Jean's emotions, it makes quick jumps but it never feels jittery and the image is always perfectly contained. There are a lot of portrait-like close-ups reminiscent of Wes Anderson's symmetrical aesthetics. The colour palette is rich, but dominated by one colour on particular: turquoise is present in nearly every shot, especially when Lara Jean is at the center of it. It is used in the film to evoke the image of water surrounding an island. Lara Jean is an island onto herself. In the beginning of the movie she seems to be surrounded by the palette everywhere until it gradually dissipates towards the end when the colour appears in smaller objects but isn't bleeding through the frame. Shades of it are predominant and it seems to be the colour most associated with Lara Jean and her emotional world.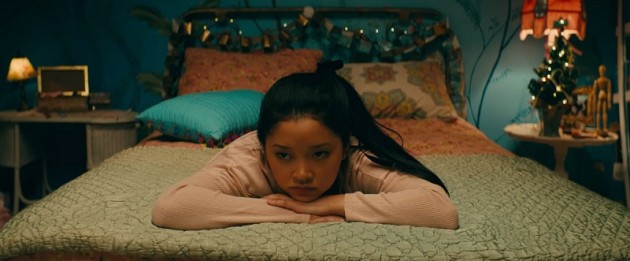 The music is catchy and nostalgic, full of modern classics that boast that 1980s sound like "Wild Nothing" by Chinatown and "You're Not Good Enough" by Blood Orange. Their addition to the movie deserves recognition. Don't be surprised if you catch yourself swooning to "Lovers" by Anna of the North when our two protagonists are in the hot tub.
Compared to most good teenage movies which expose the grim and overly-exaggerated hierarchy at the heart of the high school experience, To All The Boys is decidedly a more sanitized and PG-13 depiction. But is that a bad thing? Or is it this sweetness that makes the film irresistible? The highest praise I could give this movie is that it is unapologetic about its depiction of innocent teenage love. The characters are well-rounded and the writing is convincing. In 2018, we seem to be particularly nostalgic for an earlier time but we are also ready to step it up and make movies that represent current conversations. The best example of this is when Peter asks Lara Jean how she can watch Sixteen Candles even though it boasts one of the most well-known examples of racist stereotypes in movies with the character of Long Duk Dong. In this way, the movie acknowledges the flaws of the classics that preceded it. "She's watching because of Jake Ryan, of course!" her little sister says laughing, emphasizing that Hollywood needs to learn from its mistakes but that doesn't have to mean completely stripping the work of John Hughes of value, for example. But it's time to start making films about teenagers in which they can actually recognize themselves as multi-faceted individuals and not caricatures based on tropes and stereotypes. To All The Boys is a step in that direction.