The Performatist, The Hand That Writes, Writes Me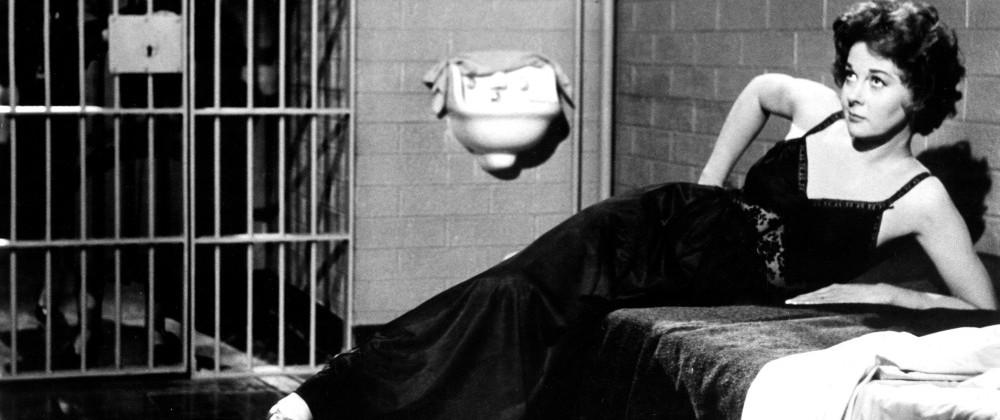 These inklings you are about to read may not be true, not even false, but they are certainly real, for they touch the heart of every artist who may one day, like myself, scream out for all the world to hear: "I want to live," a feeling that is real, honest, and sincere, for it is also very revealing. It's reminiscent of a line of script, in which the protagonist, Barbara Graham (Susan Hayward) cries out these same words, just before she is put to death in the gas chamber, in the 1958 dramatic movie, I Want to Live!.
This highly fictionalized but true story is a film noir that was produced by Walter Wanger and directed by Robert Wise. It is one of my favorite films because it hits a nerve inside me, for I've always felt that it was myself who died on that day, June 3rd, 1955. Yet, we are speaking about a movie depicting a real life event. How true or false the experience is, well, that's another story. But even so, what's fiction one day may be reality the next (just look at science fiction).
Returning to the Graham story, the film tells the story of the life of Barbara Graham, a prostitute, drug addict, and convicted perjurer. It depicts in chillingly accurate detail what it is like to be on death row, more so, what it is for a woman to be knocking on death's door in this forcibly violent manner. It was all cinematically reconstructed from bits and pieces taken from her "in-jail" handwritten materials, including articles written by the Pulitzer Prize-winning journalist, Ed Montgomery.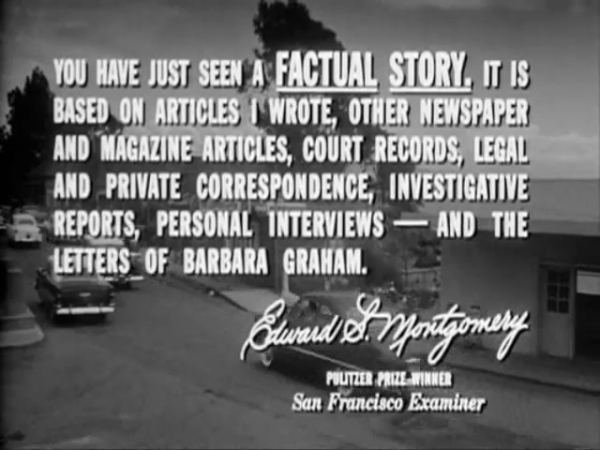 Even fictionalized as it is, the production team still wanted to give it that real life touch, and it hit the mark wonderfully. The movie was nominated for six Oscar Awards at the 1959 academy awards, Best Director (Robert Wise), Best Adapted Screenplay (Don Mankiewicz and Nelson Gidding), Best Sound Recording (Gordon E. Sawyer, Samuel Goldwyn Studio Sound Department), Best Black & White Cinematography (Lionel Lindon), Best Editing (William Hornbeck), and Best Actress (Susan Hayward), which it won. The nomination of particular interest to me as a writer, is Best Adapted Screenplay, in this case the newspaper articles and letters written by Graham.
In brief, nicknamed "Bloody Babs" by the press, Graham was the third woman in California history to die by gas. Graham was the product of a broken home. Right off the bat, the female rebel, Barbara Graham, became the cause as well as the effect, a modern symbol of the abject in woman, that to be erased from the face of the earth, by a "See No Evil," "Hear No Evil," "Speak No Evil" society, which eventually killed her for those very facts. Barbara was cursed at birth, with an unmarried, teenage mother, Barbara Elaine Wood who later, after bearing an illegitimate child, was sent to reform school. Brought up mostly by strangers and distant relatives, young Barbara found herself in the milieu of a highly dysfunctional family, which she was to repeat herself. The pathetic home life between Graham, her deadbeat husband and their crying baby reflected the dysfunction of the American society at the lower echelons, as it always has within the division between the rich and the poor, with one parent or the other incapable of feeling any compassion, granting forgiveness, and most of all, showing mercy to the meek. Graham's death, the killing of a woman through a form of suffocation, is tantamount to strangulation by a rope laid out by society itself.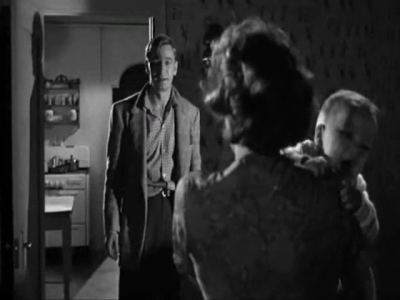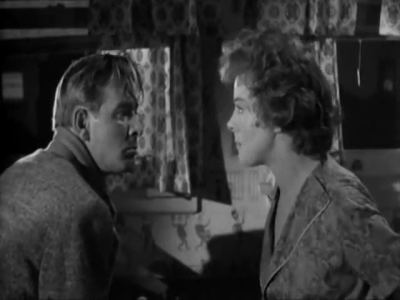 Barbara grew up to teen hood much faster than any kid should, the result of which was a poor education, a lack of ethical behavior and spiritual morality –a mirror of her own society. Needing money to live, she began to work by luring men into fixed card games. Eventually, the authorities threw her into the Ventura State School for Girls, the very same reform school that her mother had been in several years earlier.
They released the supposedly rehabilitated and reformed young adolescent in 1939, still sixteen years of age. She attempts to go straight but marries the "wrong man," and has a child. Unprepared to bring up a child –being practically a child herself– it is double jeopardy for Barbara. Her life immediately falls apart. Barbara returns to her former professions and gets involved in a murder. She claims her innocence, but is convicted and executed. End of story…or is it?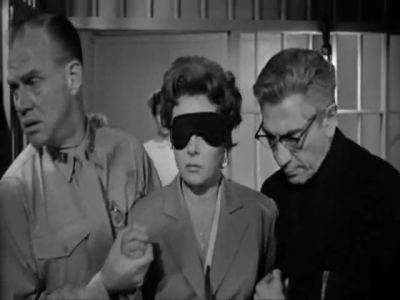 Did Barbara Graham have a death wish? Did Barbara realize early on in her life that she stood no chance as a lone female agent, either as a person playing the money game, or as a person wanting to be herself, and not some dupe housewife belonging to a bad, dishonest man? Was living in a man's world Barbara Graham's fatalistic destiny? And finally, would it be possible to reason that, having gained such cognitive awareness and lived them, she was destined, driven, or conditioned to act like a masochistic man, to be a man in a woman's body? If this speculation is true, then perhaps deep down within, Barbara Graham, the symbolic woman, wanted to die. And, more importantly for my purposes, this logical inference conjures up a whole other story, that is, about the rights of the living. Yes indeed, the rights of the Living who live in a world that is bent on dying, with the constant threat of nuclear war representing nothing less than the annihilation of the planet (remembering that the film was released during the peak of the Cold War).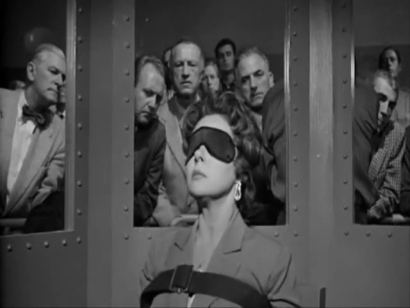 These difficult subjects are hard to write about, for they change moment to moment. You wonder sometimes if it's worth the trouble, for it's rather futile at times to guess at what's going on behind closed doors, either at the Pentagon, White House, or next door. It is frightening to think that our own leaders would betray us, and not have our (and the planet's) best interests at heart. We can only hope and pray that somewhere there is not a surreal death wish for us all.
But history has shown us, especially since the turn into a new millennium, that very unscrupulous people are at the wheel. They are running the big show for their own economic gains, hegemonic controls, and sadistic pleasures. Take for instance, the betting against their own investors by the group of Wall-Street cronies at Goldman Sachs. Ironically, the US-government fines them several million dollars, but they swindled their trusting customers of billions —the profit taking was engorging and enormous. What does it all tell us about our world?
"I want to live," doesn't compute.
(George Maynard, Termite Cat Productions, written April 16, 2012)