The Loss and Recovery of Identity: Appearance and Reality, Friendship and Betrayal in Asghar Farhadi's film About Elly
Most societies are conservative to one extent or another, which is to say they have laws and customs, ethics and expectations that shape behavior and relationships among its citizens and members in public and private. Laws and customs establish and maintain principles and priorities; but they can be in conflict with the fundamental personal impulses or even developing social hopes of particular groups in society. Some societies resist change more than others—and the nature and force of the resistance determines how conservative a society is; and often religious societies, like tribal societies, or societies organized around hereditary wealth, are among the most conservative. Societies that affirm citizen rights, democracy, and opportunity may be more liberal, more likely to change: liberal societies are organized around personal freedom and political rights as well as regulatory or restrictive laws, and they respect logic, science, and progress as well as proven traditions. Societies that resist change can encourage a great deal of deception and hypocrisy—as citizens may feel that they cannot be direct and honest about their real concerns and goals. In Asghar Farhadi's film About Elly (2009), concepts of honor, personal and public, are challenged by various intimate hopes; and the preferences of one young woman—an attractive, intelligent, and kind person—are ignored by people who claim to care about her, leading to tragedy.
About Elly, is a lovely film, full of color and pleasure and thought, a film of friendship and frolic but it has an evolving form and significant force; and although it takes place in a nation that appears in many grim reports, the life we see is easy to relate to: a group of old friends, college friends, spend a weekend in a beach house together, talking and singing and dancing and speculating about romance, disagreeing with spouses, and trying to guide children. The weekend takes a turn when a new acquaintance, Elly, a teacher of one of the children, a young woman invited to meet one of the male friends, disappears. The film becomes a mystery of more than one kind: Who is Elly, why is she there, and why and how does she disappear? What can her disappearance signify for others? Asghar Farhadi's motion picture About Elly allows us to see how adults, while having responsibility for children, can be like children, dreamy and excited, ready for a lark, ready to leave their duties to someone else. Facts, even the truth, can be inconvenient, and denied for the benefit of a preferred possibility. Nature, the land and sea, has its own truth, and its beauty can seduce an observer into forgetting its danger. The danger to be found in the wild may be forgotten, but it is as hard to elude as the rules and punishments of society. Yet, friendship and love can be a great and genuine joy, something lasting and redemptive. In About Elly, friendship and love are tested partly by the weight, by the assumptions and expectations, that is put on them. How much can friendship and love take on in a society that limits human liberty, and that has very precise ideas of honor and shame? When does convenient lying become detrimental? What must be lost before truth can be found? Why, how, and when does a suspicious society begin to respect the mind and spirit of a solitary person?
Asghar Farhadi, an Iranian filmmaker and a citizen of the world, finds mystery and meaning in ordinary life. I do not know what he thinks about the long history of his birth country, of Cyrus the Great or the Sassanians or Shah Pahlavi, or of Persian fresco paintings or chess or poets such as Rudaki, Firdausi, Saadi, Hafiz, Rumi, and Jami. Farhadi has spoken well of the work of Iranian filmmakers Bahram Beyzai (Bashu, the little Stranger, 1986) and Dariush Mehrjui (The Cow, 1969). Asghar Farhadi, with Abbas Kiarostami, Mohsen Makhmalbaf, and Jafar Panahi, has become one of the leading filmmakers in Iran and significant world cinema: one watches their work and feels much more human—more alive and aware. Asghar Farhadi, born in Isfahan, made short films before college: Farhadi attended the University of Tehran and then Tarbiat Modares University, from which he received a master's degree, having studied dramatic literature and directing. (Farhadi, whose heritage includes drama devoted to martyrs as well as satires, admired playwrights Arthur Miller and Harold Pinter.) Asghar Farhadi wrote for radio and directed television and then made feature films; and his work, informed by complexity and empathy, and inflected with allegory, democratic liberalism, and emotion, includes Dancing in the Dust (2003); Beautiful City (2004); Fireworks Wednesday (2006); A Separation (2011); The Past (2013); The Salesman (2016); and Everybody Knows (2018), the last a film of glamour, romance, and intrigue set in Spain and starring Penelope Cruz and Javier Bardem. Farhadi's films contemplate modernity and tradition through personal stories with social reverberations. His international breakthrough came with A Separation, which won an American film industry academy award (Oscar) and a Golden Bear prize for best film at the famed and prestigious international film festival in Berlin.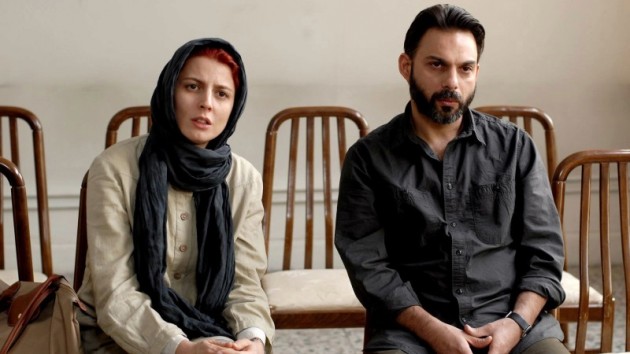 The film A Separation (2011), focused on a wife, Simin (Leila Hatami) who wants to move out of Iran for the future of her eleven-years old daughter Termeh (Sarina Farhadi, the director's daughter), while her husband Nader (Peyman Moaadi) is determined to stay to take care of his ailing father, was important for Asghar Farhadi and for Iranian cinema. Farhadi replaced stereotypes with a serious vision. Nader (Moaadi), who bathes his father and tutors his daughter, and fuels his arguments with logic, sense, and pragmatism is a complicated figure in A Separation (self-possessed, he seems equally himself whether reasonable or raging). In the photoplay, although Simin and Nader love each other, Simin insist on a better life, and, with a short-term exit visa, she has the opportunity, but after her husband Nader's refusal to leave, Simin seeks a legal separation and she moves in with her parents before going abroad. Nader hires a helper for his father, a religious woman, Razieh (Sareh Bayat), who is worried about her troubled, debt-ridden husband, Hodjat (Shahab Hosseini), who has difficulty finding work—and they have a daughter too, Somayeh (Kimia Hosseini). Hodjat, frustrated in his desire to work, prosper, and protect his family, is observed but not seen: the symptoms of his circumstances are taken for signs of his personality; and while he seems a natural loser, there is likely blame to be found in circumstances created by others, in society's injustice, and in the ignorance or inertia of his parents, and in the lack of nourishments and networks that lead to preparation, participation, and prosperity. Hodjat's condition, which torments him, becomes part of his family's fate. Nader harshly reprimands the hired woman, Razieh, for leaving his father alone to resolve an issue for her own family, and after Razieh has a miscarriage, Nader is implicated, which becomes a legal matter. The film explores personal actions and moral responsibilities; and, as with About Elly, the story in A Separation makes plain the importance of privacy, of secrets: Nader does not disclose he knew the woman, Razieh, was pregnant; and the woman does not say that she, while on the street, had an accident that may have injured her. Honor is paramount, but distrust makes it hard to determine the truth. The Iranian filmmaker Asghar Farhadi offers a cinema of questions to Iran and the world, a cinema that refreshes the rigor and vitality of mind and spirit.
Nations with ancient roots, such as China, Egypt, Ethiopia, Iraq, Japan, Mexico, and Iran (Persia) are fascinating for the changes they have seen and for the heritages in culture and politics that remain. When I was younger, I was someone with literary interests working as a clerk in a design organization dedicated to the aesthetics and ethics of the building professions, and there I met a beautiful, intelligent, and talented Iranian man, and after I read a journal article on Arab literature I gave him a copy—and I learned then some of the differences between the Persian people and its language Farsi, an Indo-European tongue, and that of the Arabs. Persia, a southwestern Asian nation, and an important factor in the world's middle east, first peopled by Persians from Parsua near Lake Urmia and the Medes, has a unique mystique, observable in architecture, calligraphy, illuminated manuscripts, and fine objects such as painting and pottery—and in the elegance of its people. Cyrus the Great, more than five centuries before the birth of Christ, conquered Lydia and Babylonia, beginning the Persian empire, which would be led by Darius and Xerxes after Cyrus, before Persia itself was conquered by Alexander the Great. King Ardashir, about 226 years after the death of Christ, established a new Persian dynasty, the Sassanians, dominating the Punjab and Armenia. Wars—including with Rome—would diminish and expand Persian territory. Religion and conflict over religion are part of the history, including Zoroastrianism, Christianity, and Islam—Islam came with Arab invasion (more evidence that disruption is as influential as continuity in constructing a nation's culture and history); and Persians embraced Islam's Shia sect, whereas many of the Arabs are Sunni, sects with divergent lines of descent and authority. Persia would be conquered by Turks and Mongols too; and Russia and Britain interfered in Persian territory and trade (as the United States of America would in its governance). However, in a region steeped in tradition, with industries based on tobacco, cotton, salmon, sturgeon, and trout, a relished modernity—knowledge, technology, possibilities—came with Reza Pahlavi.
Persia became known to the world as Iran—which means Aryan (referring to noblemen, and to an ancient Indo-European people and language; apparently, the word was used as name by the country's citizens since the time of the Sassanians). In the twentieth century, Reza Pahlavi, a military man and minister of war, then prime minister, before election as shah (king of kings) by the country's national assembly, its legislative branch, implemented modernization in industry, transportation, education, and communications, while granting liberties to women and controlling the power of religious institutions. Shah Pahlavi, elected to the peacock throne, had significant Nazi sympathies, admiring the German economy, utilizing German expertise in his own country, and developing trade relations; and, with Germany's loss at the end of the second world war, the shah lost power and was exiled; but his son Mohammed Reza Pahlavi was put on the throne with the help of foreign governments. The young shah's oil minister, the old and ailing aristocrat Mohammed Mossadegh, was popular: Mossadegh had been a lawyer educated in Paris and Switzerland, a governor-general of Iran's Fars province, and served as minister of finance and then foreign affairs, before being elected to the majlis (national assembly); and he was a leader of a nationalist coalition inclined to take control of the exploitive Anglo-Iranian Oil company, claiming it for the nation, with the profits going to Iran (Persia) rather than foreigners. Mohammed Mossadegh was elected prime minister, and he, although known as a secular democrat, was a rival of the shah for power, and wanted to control the army; and the shah, with the support of Winston Churchill and Dwight Eisenhower, tried to get rid of Mossadegh, but the plot failed—and Mossadegh's supporters rebelled—and the shah fled to Rome—but the British and Americans organized a coup, arresting Mossadegh and returning the shah to the throne. Shah Pahlavi exerted autocratic power, abolishing political parties and torturing prisoners, while attempting to fight poverty and extend women's rights, inspiring opposition among different groups. He also bought arms from America and sold oil to Israel.
Persian society had become cosmopolitan, but with the shift to a more conservative society, cinema was seen as something dangerous in its inclination to sensuality, distraction, falsity, and corruption. The late twentieth-century Islamic revolution in Iran (Persia) brought constraints. Iran's culture ministry supervises the country's film production with a regulatory code that includes restrictions on portrayals of institutions, and the presentation of women, and even on the affirmation of solitude. However, the execution of the code is variable, depending on the sensibilities of ministers and clerks. Asghar Farhadi's filmography does not seem made in the shadow of repression, as his commitment to a plenitude of personalities and perspectives, to multiplying points of view, creates a sense of freedom in his work. The people in Asghar Farhadi's films may be constrained by their culture, or their conscience, but they appear alert and modern. Farhadi tries to bring understanding to diverse characters, including those who are compromised or transgressive, allowing the audience the freedom of evaluation rather than imposing the director's judgment.
In Asghar Farhadi's motion picture The Salesman (2016), a work about art and life and society, about marriage, trust, and ethical violations, as well as the relation of fact to speculation, the couple Emad and Rana are actors involved in a theatrical production of Arthur Miller's Death of a Salesman, a play exploring family and business, including the ambition, charisma, and hard work required for success, and the fact of failure (the humility and idiosyncrasy of creative collaboration are suggested by the theatrical project; and while remaining tragic, the play's specifications of casual dress and nudity incite the hilarious hypocrisy of a restrictive society). Crisis enters the lives of Emad (Shahab Hosseini) and Rana (Taraneh Alidoosti) when, in their new apartment, Rana expects Emad's arrival and leaves the door open and another man walks through and Rana is harassed while in the shower, leaving Rana frightened and Emad concerned and angry. (For his performance as Emad, Shahab Hosseini received the best actor prize at Cannes. Whereas Taraneh Alidoosti, who plays Rana, was the title character in About Elly, Shahab Hosseini was Ahmad in About Elly and Hodjat in A Separation, very different characters with distinct looks.) Asghar Farhadi's films suggest an organic precision—form that looks natural; and in The Salesman, as in About Elly, a state of normality and stability becomes abnormality and instability. Who are these people, what are their values, what has happened, and what will they do? The normality of the characters is a source of their dignity. The couple—creative, loving, and understanding—in The Salesman, Rana and Emad, have been disturbed by a stranger, someone Emad tracks down: a foolish and weak man of ordinary corruption, someone who had known the apartment's previous woman tenant, an impulsive man whom Rana fears but pities and whom Emad shames.
Asghar Farhadi, born in Isfahan and educated in Tehran, has learned from Alfred Hitchcock, Elia Kazan, and Billy Wilder and other artists, and become a master of his own terrain, able to convey drama and comedy with appropriate absurdity and suspense. Farhadi, who received the best director prize in Berlin—at the 59th annual Berlin International Film Festival in 2009—for About Elly (2009), begins the motion picture with darkness, and a sliver of light—from inside a box, a box for tolls or mail. Adults scream like children as they poke their heads outside a moving car's windows, liberated from their responsible life in Tehran for a weekend in the country. The greenery of the landscape is welcoming, the lush trees their own reward. The group stops for a rest room break near a lake—and some of the assembled friends speak in whispers about the new woman among them: Elly (Taraneh Alidoosti), a school teacher to the daughter of Sepideh and Amir; Elly, who has been invited by the well-intentioned but willful Sepideh (Golshifteh Farahani), to meet their friend Ahmad (Shahab Hosseini). Elly, while willing to meet Ahmad, has told Sepideh that she does not want to get married or begin a new relationship, admonitions Sepideh ignores for the possibility of love between such fine friends. For their retreat among their little group, the men are dressed casually, mostly in the kinds of short-sleeve shirts and jeans westerners would recognize, while the women are garbed in long dark dresses, their heads wrapped in scarves. Someone takes out a silver samovar for tea, and there is intimacy and humor as the group relaxes.
The friends arrive at a country retreat, expecting to get a villa in the woods but it is not available for the whole weekend, so they take an old beach house near the Caspian sea. Sepideh made the arrangements, hoping for the availability—rather than confirming the availability—of the villa in the woods, one they had taken before. Sepideh lies to the property manager about having newlyweds as guests, not the first or last of her pretty lies; but amid the surrounding land and the sea there is a sense of vibrant beauty, as there is among the friends. They are attractive, comfortable, and intelligent people. The beach house is big, a light green house with dark green shutters, but its interior is dirty with little furniture, and the friends discuss whether to stay; and they do. Elly (Taraneh Alidoosti) sweeps up broken glass and a young man, Ahmad (Shahab Hosseini), insists on trying to get the pile of glass through a stuck window but it falls onto the ground (good intentions alone do not lead always to efficient or useful action). Meanwhile, some of the others plan for sleeping: segregation by gender, women in the bedrooms, and men in the living room; but one man says that he does not want to sleep apart from his wife.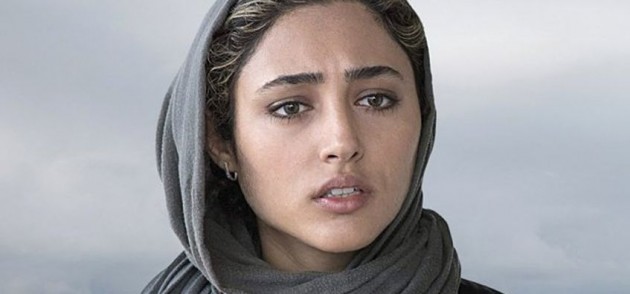 Elly (Taraneh Alidoosti)
There is a sense of fun—spontaneous dancing, clapping, and chanting. However, Elly has something on her mind—she's a little withdrawn. Elly checks her phone. (A little boy, Arash, nears the water but is reprimanded by his father, Peyman, the husband of Shohreh, played by actor Peyman Moaadi, who is Nader in A Separation.) Ahmad, a handsome but boyish man, and an engineer who lived in Europe, is encouraged to seek Elly after she has withdrawn—Ahmad and Elly go into town together (she to make a call, he to pick up supplies), and the two talk while getting there. Elly mentions her mother's stress; and he talks about his time in Germany, his broken marriage. The two are beautiful together, in looks and casual understanding: they have a natural rapport, and with opportunity do not require being pushed together. Yet, when they return to the others, they are congratulated by the property manager, who had been told they are newlyweds; and they are teased by Ahmad's friends, as if it were true. The friends eat; with a blanket on the floor, and plates and food on top of it, they eat. This is a private life in Iran, away from public responsibilities, rules, and rhetoric; and it seems lovely.
"She's warm and calm," Sepideh's husband Amir (Mani Haghighi) says of Elly. "Nice and shy" say a couple of the women. The friends play charades, and Elly mimes "the mother of Hutch the Honeybee," recognized by others. A little boy mimes "a child's father." The next day, there is a volleyball game among the men. Some of the friends intend to go shopping. Elly had planned to stay for only one night (her mother will worry if she is away), although Sepideh insists Elly stay for the whole weekend, wanting Elly to fulfill hopes for a romance with Ahmad; yet, Elly plans to leave. While the men play volleyball, and some of the women (Shohreh and Sepideh) go shopping, Elly is asked to keep track of three children playing on opposite sides of the beach; and Elly flies a kite with two little girls, Morvarid and Anita, before noticing the little boy, Arash, in the water. A little girl, in anguish, calls her father about Arash being in the water; and the men run to the beach, anxious, worried. The men look out to the water and swim out to find and rescue Arash; and once he is found, they perform resuscitation, before anyone realizes Elly is missing.
The men rush around, looking for Elly. Sepideh and Arash's mother Shohreh return from shopping, and Sepideh goes into the water, looking for Elly. Equipped divers look for Elly and do not find her. The divers say that the sea is heavy, muddy. "You have to wait until the sea is calmer," one says to the friends' distress. Sepideh distraught, weeps; but when asked for Elly's full name and personal details, Sepideh does not know. (Sepideh has thought of Elly only as her child's teacher and a potential mate for Ahmad, ignoring or not interested in other facts.) The policeman finds it strange that the group has brought a guest from Tehran while knowing little about her. When one of the women cannot find Elly's travel bag, some hope that Elly left as she spoke of doing; but Sepideh hid the bag so Elly, her child's teacher, and a proposed match for Ahmad, but presumably a free person, would stay. "God damn you, Sepideh," says her husband Amir (Sepideh is not there then; only the other men are there, feeling a shared anguish for the new acquaintance). Nightfall—the friends park their cars at the shoreline, with the lights on, facing the water; and walk the beach, looking, looking.
In the morning, Sepideh (Golshifteh Farahani) wakes her husband Amir (Mani Haghighi), who criticizes her for her willfulness, and for trying to be responsible for others' lives: "Who are you to Ahmad, his mother, his sister?" Amir (Mani Haghighi) criticizes Ahmad for depending on Sepideh too. (The children, Morvarid, Anita, and Arash, are questioned again.) The friends wonder if they offended Elly with their teasing, if she did choose to leave. Peyman (Peyman Moaadi) and Shohreh (Merila Zarei), husband and wife, argue, as do Amir and Sepideh; some of which suggests old tensions. Ahmad and a friend, Manu, go to call Elly's mother, who does not acknowledge Elly has been away (the mother thinks the caller is someone Elly wants to keep at a distance). Amir notes that Elly's portable phone, a cell, was in Sepideh's bag, found by someone looking for painkillers, although Sepideh had denied knowing where it was—and Amir is very angry at Sepideh's complications and deceptions. (Shohreh defends Sepideh against Amir's raised hand.) Ahmad calls a phone number on Elly's portable phone, that of a male acquaintance who claims to be Elly's brother, to whom Ahmad tells part of the story about Elly (Ahmad lies too, giving of false description of Elly's state). Elly does not have a brother, Sepideh tells Ahmad: the man Ahmad spoke to is Elly's fiancé, an engagement Elly was trying to end. "What on earth have you done, Sepideh?" asks Ahmad, dismayed by the convolutions, and that Sepideh was setting him up with an engaged woman. The man who was to benefit from Sepideh's calculations, her lies, sees how that maneuvering embraced dishonesty and dishonor. Where does lying commence or conclude? Lying denies truth, and introduces false possibilities into conversation and community—and people respond to falsity as if they were facts. Where does lying commence or conclude?
The man, the fiancé claiming to be a brother, Alireza (Saber Abar, sometimes spelled Abbar), arrives; and Ahmad, who had driven to town with Sepideh, goes to warn the others of Alireza's coming, while Sepideh speaks to the hurt, confused man. The friends in the beach house are willing to pretend Alireza is the brother—and they ask the children to lie about the intention of bringing Ahmad (Shahab Hosseini) and Elly (Taraneh Alidoosti) together. What kind of people ask children to tell lies, and lies they do not understand? The elaborate lying lets Alireza (Saber Abar) know that some significant truth is being withheld from him. Why was Elly with these people? The friends discuss whether to tell Alireza what they know. Sepideh (Golshifteh Farahani) is the one who must not tell the truth—to protect the others, who did not know Elly was engaged (a betrayal of that engagement would suggest shared dishonor); Sepideh must say she did not know Elly was engaged (leaving Elly the lone dishonorable one). A modern society with old-fashioned values can be treacherous to negotiate: when is it appropriate to be liberal, when is it necessary to observe conservative rules? Personal shame can be as lethal as a guilty sentence in a law court. If Elly betrayed her fiancé, she is dishonorable. If the friends encouraged her betrayal, they are dishonorable. Who is Elly, what kind of person, and where is she? A woman's drowned body is found. Is it Elly? Alireza, who—among the assembled group—knew Elly best, Alireza, the man to whom Elly was engaged and wanted to leave, is asked to identify the body. Elly has been a woman engaged to a man with whom she wanted to break; invited to be with a group of friends she did not know, encouraged to begin a romance she declared herself not ready for. Elly's own concerns were ignored by Alireza, ignored by Sepideh; and that ignorance was itself a loss, that ignorance led to a false position, in which Elly was presented as an available and willing romantic partner—and in that situation, Elly was lost: Elly disappeared, in body as well as mind and spirit. Her true identity, and the real facts of her life, were revealed too late: Elly became fully present to others in her final absence.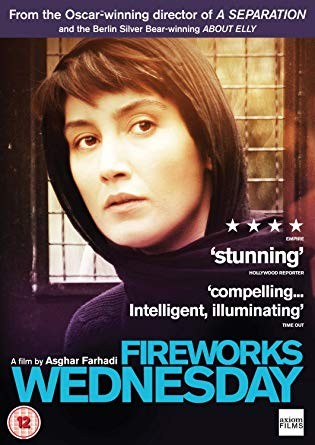 Identity, its repression, disguise, and loss remain significant themes in much of culture around the world: beyond the recognized categories of nationality and caste and class, race, gender, sexuality, and religion are differences of mind, spirit, and personal interest that receive disapproval or disregard. I think of what I was like when I was younger, half-liberated, half-repressed, and interested in a panoply of topics that surprised others (I recall telling a friend I thought anti-intellectualism was as important a bias as any); and I think of the colleague, the young manager, who instructed me in some of the differences between the Farsi language and Arabic, the Semitic language of Arabia, a region mapped with borders marked by western powers. He and I liked each other—and we might have become friends but we did not, and that is one of many missed connections in my life, in almost any life. (I was mystified then, and as a boy, as to how some lives become drift, despair, destitution; and such a natural winner as he was—smart, capable, optimistic, active, qualities likely nurtured by family love and wealth—suggests what may be lacking and throws into relief ignorance, inertia, and insecurity, as well as vain delusion, resentment, and excuses. Time teaches that the world, with its many compartments, contains a multitude of irreconcilable examples and experiences, connected but antagonistic; and there are many paths—brilliant, dumb, diligent, lazy, good, evil—to personal defeat.) What films, like literature and other arts, can do is help us to know something of the people who remain strangers—something of the culture out of which they come. What art, such as film and literature, usually cannot do is to resolve the fundamental problems of living.
About Elly presents a story of solitude and community, of family, friendship, love, and loss, of deception and truth that takes place in a particular country, in a particular time. One can imagine that someone may look at it in the future and say, "That was when we couldn't do this; that was when we couldn't admit that." However, while some of its particulars may change, certain factors are likely to remain important. Who does not want to have free time with friends, to feel as joyous as children? Who is not delighted by the prospect of romance, one's own or that of someone else that one likes? Who does not want to allow oneself the freedom to break a rule—of custom, of law—thinking that it can do little harm? Many people want those liberties and pleasures—but not everyone does; and the solitary person's inclinations and ideas are worthy of respect. Asghar Farhadi's films About Elly (2009) and Dancing in the Dust (2003), Beautiful City (2004), Fireworks Wednesday (2006), A Separation (2011), The Past (2013), and The Salesman (2016), objects of complexity and empathy, a cinema of questions, are works of deep engagement, about life and death, tradition and modernity, and personal and social experience. Artists and intellectuals, such as Farhadi and Abbas Kiarostami and Rakhshan Bani-Etemad, Bahram Beyzai, Mohsen Makhmalbaf, Dariush Mehrjui, Tahmineh Milani, and Jafar Panahi, create works that go beyond the gossip, pettiness, and spite of too much social discourse: they create objects of beauty, thought, reference and resonance, offering methods of contemplation. Artists and intellectuals, most of whom remain obscure, create works for themselves, and for particular individuals, communities, and critics, and hope for general public interest: artists want recognition and rewards—they want to know that what they have done registers with others. Asghar Farhadi has received deserved recognition.
This article was submitted in October 2018