Interview with Vincent Chui
Hong Kong Independent Filmmaker and Artistic Director of Ying E Chi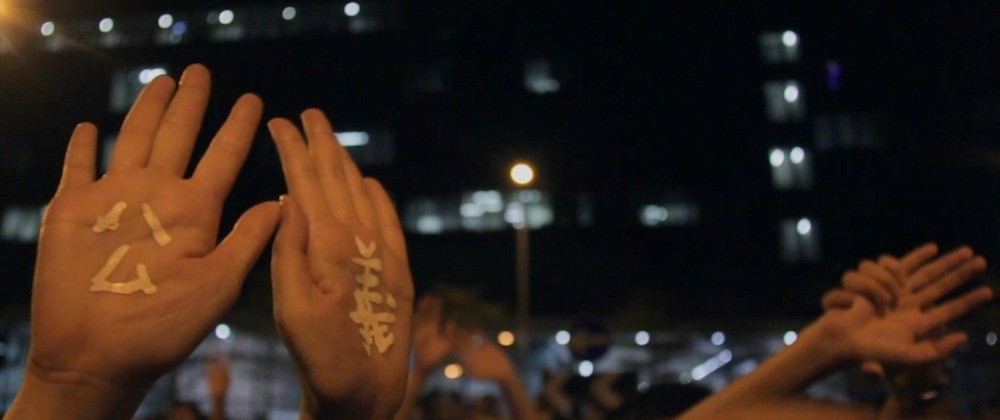 As the Hong Kong film industry started its gradual decline from the mid-1990s onwards, various attempts were made to reinvigorate it. This resulted in a decade of artistic experimentation that brought the world some of the best films by Wong Kar-wai, Johnnie To, and others, while also providing a launching pad for a talented new crop of genre film directors, such as Soi Cheang, Dante Lam, Wilson Yip, and Pang Ho-cheung. The same period also saw the growth of indie cinema, especially as the Hong Kong government increased financial support for local filmmakers. An important player in the indie landscape has been Ying E Chi, established by a group of filmmakers in 1997 to promote and distribute independent cinema. Ying E Chi hosts workshops, distributes films through various channels, and has, since 2008, organized the annual Hong Kong Independent Film Festival (HKIndieFF). In recent years, it has distributed several noted independent documentaries about Hong Kong's activism and social movements, including Yellowing (Chan Tze-woon, 2016), Lost in the Fumes (Nora Lam, 2017) and Last Exit to Kai Tak (Matthew Torne, 2018). As Hong Kong's commercial theatres have become increasingly reluctant to show films that might upset the authorities in Beijing, Ying E Chi has played an important role in bringing these films to Hongkongers, who have shown a considerable appetite for them.
Following a year of protests that regularly made global headlines, the passage of national security legislation in June 2020 and the intensifying suppression of dissent in Hong Kong have created uncertainty about the future of Hong Kong independent cinema, especially for films that deal with topics considered undesirable by Beijing. To get a sense of the prospects of local indie filmmaking under these new circumstances, Offscreen sat down with Vincent Chui, the Artistic Director of Ying E Chi. Chui studied filmmaking in Los Angeles in the 1980s and entered the Hong Kong television and film industry at the end of that decade. He directed his first short film in 1995, and co-directed the documentary As Time Goes By with celebrated director Ann Hui in 1997. Since then, he has become an independent filmmaker with several films to his name, including Leaving in Sorrow (2001), 3 Narrow Gates (2009) and Fig (2014). One of the founders of Ying E Chi, he became its Artistic Director in 2010, taking a leading role in the organization's activities.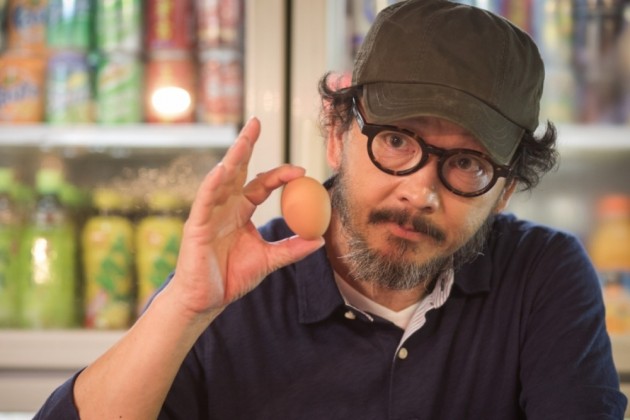 Ten Years (2015)
Vincent Chui (VC): Let me tell you something funny first. Every time we schedule a screening of a film that isn't a final cut yet, we have to resubmit the film for censorship. Recently, we resubmitted Inside the Red Brick Wall (2020), a documentary on the police siege of Hong Kong Polytechnic University (PolyU) in November 2019. It used to be classified as Category IIB [not suitable for young persons and children] before the National Security Law, but now we got Category III [for persons aged 18 and above only]. So it still passed, despite the National Security Law! I don't know if it's just a coincidence or . . . Perhaps they just want to signal the film is not suitable for young people. (laughs).
Offscreen (OS): That's interesting!
VC: Anyway, we will submit the film again when we have the final version, to get a permanent rating. It's okay, actually, I'm fine with Cat III. But it's kind of funny, you know?
OS: It is. Well, let's talk a bit about Ying E Chi as an organization. I understand that you distribute films, you organize the HKIndieFF, and you organize other screenings as well as workshops. Does Ying E Chi also produce or finance films?
VC: Not really. Yellowing was a very special case. In 2015, following the Umbrella Movement 1 we conducted a workshop. We had directors from Taiwan, mainland China and Hong Kong come over to work with several young people who had shot a lot of footage during the Movement, but didn't know how to handle it. Scholar and documentary film producer Cheung Tit-leung, who passed away earlier this year, contributed a lot to that project. I believe we had about 15-20 participants. In the end, only Yellowing was able to finish, but the response to that film was very positive.
OS: I believe it won an award at the Golden Horse festival? 2
VC: No, but it was nominated there. It did win an award at the Yamagata International Documentary Film Festival. Aside from Yellowing, I helped Nora Lam to get some money to pay for the post-production of Lost in the Fumes.
OS: Yes, you are listed as a producer for that film as well.
VC: If I work as a producer, I usually do so in a personal capacity rather than through Ying E Chi.
OS: So, how does Ying E Chi operate? I believe you have been the main person behind it for most of its history, although I know other people have been involved as well.
VC: Yes, Pang Ho-cheung, Patrick Kong, Adam Wong . . . A lot of people who are now working in the mainstream film industry were once on the board of Ying E Chi.
OS: Are you the one who coordinates everything, or is it the board that runs everything collectively?
VC: In the beginning, I was just one of the board members. Simon Chung and I were the only full-time staff members, because we couldn't afford to hire anyone else. We were paid a minimum wage at that time! But then, about ten years ago, part of our funding was cut by the Hong Kong Arts Development Council (ADC). We used to get two types of grants, an administrative grant that supports our daily operations and a project grant that supports the film festival and other activities. The one that was cut that year was our administrative grant. This put us in an odd situation. As I didn't have money to hire people, I took up the Artistic Director role at the time to keep things running and tried very hard to find other funding sources. Actually, even now I am the one who gets paid the least! Everyone works from home at the moment, but normally we have three full-time staff, while I work part-time. In practice, I make most of the decisions, but I do have to report to the board. The board is currently composed of five people: Simon Chung, Jessie Tsang, Nose Chan, Rita Hui, and Lo Chun-yip.
OS: Looking through the old programme booklets of the HKIndieFF, I found there was an interesting change. At the beginning, it seemed you were showing a lot of independent short fiction films, but around 2011 the festival started to focus more on documentary films. That's the year the festival did an Ogawa Shinsuke retrospective. What exactly led to this change?
VC: To put it simply, the Hong Kong film industry has changed. If you shoot a fiction film and you stay away from sensitive topics, then it's not so difficult to arrange for a movie to be shown in cinemas. It doesn't need our help. The Ogawa Shinsuke retrospective came about because of the local anti-high speed railway protests in 2009 and 2010. Ogawa's documentaries about the struggles of farmers and student protesters to prevent the construction of Narita International Airport in the 1960s and 1970s seemed very relevant to the situation in Hong Kong. It was interesting, just when our funding was cut, we did this retrospective that really attracted a lot of attention. Lost in the Fumes also received a lot of attention recently, but back then even the mainstream media and the film industry took notice. People from the industry would come ask for tickets to watch the films, and Japanese reporters came to report on the retrospective. While we don't approach our distribution activities as a business, it is quite natural that an organization will pursue a path that has proven successful in the past. So from that year onwards we increasingly started showing documentaries. Compared to documentaries, fiction films don't need our support that much. We still support some, but the public might not pay too much attention to it. For example, we distributed A Woman is a Woman (Maisy Goosy, 2018), a film about transgender issues. If the film were done in the style of Tracey (Lee Chun-sek, 2018), then it could perhaps get a commercial release, but the reason we ended up handling it is because perhaps it is less entertaining, or it doesn't meet the requirements of the industry in some way.
OS: Starting with the movement against the high-speed railway, there have over the last ten years often been connections between the HKIndieFF and particular social and political events. It seems you have been very in tune with the atmosphere of the times. How would you compare the HKIndieFF's programming with the Hong Kong International Documentary Film Festival [HKIDF, formerly known as the Chinese Documentary Festival]? It seems there is some overlap between the HKIndieFF and the HKIDF's programming focus.
VC: If you pay attention to it, there are some films that they won't touch, perhaps because of their funding or because of the Board they have to answer to. Even if they show these films, they won't highlight the same issues we do. Still, there are some things that we collaborate on. Compared to Ying E Chi, I would say they are less focused on distribution. Instead they do more workshops and emphasize production.
OS: Yes, I suppose they are also more focused on Chinese-language filmmaking, whereas I think you have been more international. I was also wondering about the most recent edition of the HKIndieFF, organized in January. You had a very clear protest focus this time, which made sense given the whole environment last year. Did it cause you any trouble with the authorities? And how has the audience response been?
VC: We didn't get any pressure from the authorities. At least we didn't receive any threat, or anything explicit. I think the most important recent change in Hong Kong is that, after the release of Ten Years (2015), political films cannot be shown commercially anymore. In this way, things are already more restricted than before. We did have some suspicious people show up at our screenings in the past. Even back when we were showing Lost in the Fumes, some people would come ask me some questions or take some photos and then later on these would appear in the Ta Kung Pao or the Wen Wei Po, the two Beijing-controlled newspapers. Certainly, the authorities are paying attention to us. But the regular Hong Kong government institutions, such as the Arts Development Council, they are quite hands-off. Although the environment in Hong Kong is already pretty bad, if no one directly intervenes and you follow the old rules, then they still need to give you support, no matter whether these rules are good or bad. The Film Development Fund did however directly tell us that it would be very difficult to get subsidies to take Lost in the Fumes to an overseas festival. Using the Ten Years case as an example, they said four of its five short films were fine, but one of them, Self-Immolator by Chow Kwun-wai, was not, because it touched on the topic of Hong Kong independence. That's clearly the authorities' most sensitive point. They also stressed that this was not censorship, it's just that we cannot get the subsidy. Perhaps you have also heard about what happened with the district council recently? The council approved funding for a screening by us, but then the Home Affairs Department still rejected it. It's the same thing, the government doesn't want to financially support certain films, but they don't outright ban them. In any case, as commercial theatres already don't dare to show political films, there is a big source of funding that cannot be accessed. Given all that, they don't feel the need to deal with us directly, at least not now. As to the reaction of the audience, in fact, it is very straightforward. They won't support you just because you deal with this or that topic. However, you may more easily attract an initial audience because of the topic. If that audience then thinks it is a good film, they will tell others and your next screenings will be full. There are also some films that may not receive any reaction after three or four screenings.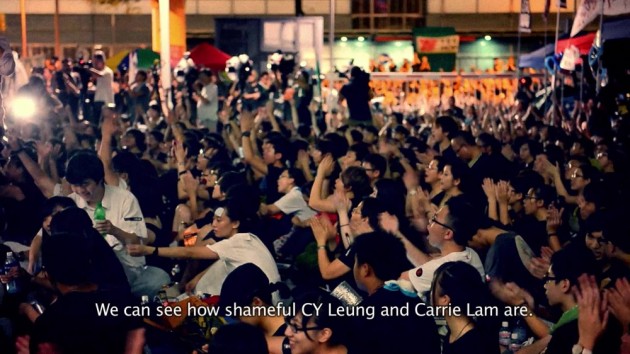 Lessons in Dissent (2012)
OS: You mentioned the practice of informal censorship by commercial theaters. Was the release of Ten Years the very first time this happened, or was something like this actually happening earlier on, but people didn't notice?
VC: Do you remember the film Lessons in Dissent (2012), by Matthew Torne?
OS: Oh, the one about Joshua Wong? 3
VC: Yes, that film was about the anti-national education protests, it was made nearly a decade ago. It could be screened in commercial theatres at the time, but a friend who worked in a theatre told me that, even though screenings still drew audiences, their boss said "Enough." So even at that time this was already happening. The case of Ten Years was just more obvious. Normally, when five screenings at a theatre are completely sold out, more screenings would be added and other theatres would also start screening the film. But with Ten Years, this didn't happen. It screened for a while in one theatre, and then moved to another one, and so on. Perhaps the big bosses didn't directly intervene, so the managers could let the film screen until the boss told them to stop. This helped to spread word of mouth about the film. Actually, many people who work in the cinemas are "yellow" (pro-democracy) and they come to watch our films, but they are unable to help us. As the reaction to Ten Years was so enthusiastic, the situation at commercial theatres has changed. Perhaps it's not a bad thing. It is similar to the general situation of Hong Kong. If we continued following the old rules of the game, if we didn't protest last year or in 2014, we'd now be having fake elections. Things would perhaps appear more normal, but that wouldn't mean that those red lines we have now with the National Security Law wouldn't exist. I think Ten Years just pushed these things to the surface, for all to see. It is similar to what localist political groups do – reveal some hidden things that we need to face together.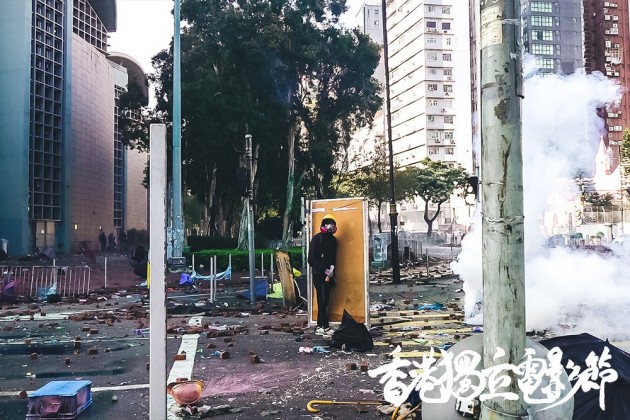 Inside the Red Brick Wall (2019)
OS: I attended a screening of Inside the Red Brick Wall and Taking Back the Legislature (about the occupation of the Hong Kong Legislative Council on July 1st, 2019) at the HKIndieFF, which was a unique experience. The audience reaction was really strong, especially during Inside the Red Brick Wall. You have this scene where the protesters and police are taunting one another via loudspeakers, and some people in the audience went along and started throwing insults to the police on the screen.
VC: (Laughs) So you were there during the very first screenings in January? It is getting a bit calmer now.
OS: I was indeed wondering whether this is something that often happens. I've rarely seen such a strong audience reaction to a film. The only thing I can compare it to is the reaction of some audiences to horror films at specialized horror festivals. It made me think that this type of film has somehow become very powerful in the Hong Kong context, compared to the role it played before. The medium has also become much more interactive.
VC: I think cinema has always fundamentally been like that. The response to a film can really be very different depending on who is watching or when one is watching it. For example, when Lost in the Fumes was released, Edward Leung, the localist, pro-Hong Kong independence activist and politician who was the subject of the film, hadn't returned to Hong Kong yet. The political atmosphere was quite heated at the time, and those who didn't like him would be very critical of the film. By the time he came back, we had been screening the film for almost half a year, and we were still screening it when he was sentenced to six years in prison. After his sentencing, when people watched the film, they suddenly all seemed touched, even though it was the same film! Inside the Red Brick Wall might turn out to be similar, especially now that the National Security Law has been introduced and the September Legislative Council election has been postponed for a year. Perhaps now that everyone is feeling quite gloomy, the audience will not be as excited as in January. Or it might make people think more about what we can do at the present time. I think that Inside the Red Brick Wall and Taking Back the Legislature are important, because they can remind us of our unity and the sacrifice of our brothers last year. Actually, those events were so intense, it's not that we can forget about them, but being busy with daily life, it's easy to forget those emotions. I must say, when I watch those two films, I always wonder why Hong Kong until now can't manage to hold a general strike. The films can also give people who were not at the very front of the events an idea of what actually happened at that time.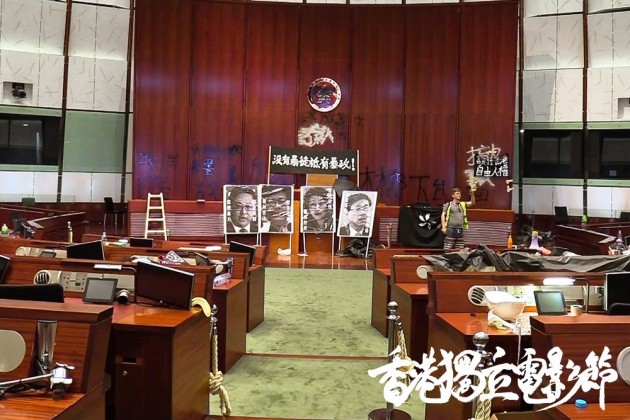 Taking back the Legislature (2019)
OS: Ying E Chi and the HKIndieFF have the tradition of holding very long discussions after a screening. Do people talk more about the politics that surround the film or is there a lot of discussion about the film itself, such as particular stylistic choices?
VC: Both. Audiences like to ask "How did the filmmakers deal with their own emotions?" That kind of question.
OS: More abstractly, how do you yourself view the role of these independent documentaries in Hong Kong's public sphere today? Are the screenings of these films an opportunity to think about the past and the future, and to discuss social issues?
VC: I think movies have their influence on society, but not in a very straightforward way. It's not just the independent documentaries we have been talking about. You can take all kinds of messages from almost any movie. Movies can make you reflect on your life, give you inspiration, or make you treasure certain things. But of course, a lot of things in this world can have that effect, not just cinema. And, in the end, after you leave the theatre, the world is still the same. You might think that you shouldn't obsess about so many things after watching a certain movie, but then when you see a person you hate on Facebook, you still curse him or her immediately as usual! So, I would say that film can give you another perspective on things, but it won't cause an immediate and substantial effect on your behavior. If films did have that power, it would be horrible.
OS: In one of the HKIndieFF programmes, you wrote in a foreword that going to watch an independent film now has almost become like a protest in itself. I guess you meant that, because it has become so difficult to get films shown, attending a film screening is almost like an act of resistance. In this regard, it is interesting that Lost in the Fumes was shown many times during the protests. A screening of the film became like a protest event in itself.
VC: (Laughs) We didn't organize that.
OS: I guessed so! But how do you view this practice?
VC: I won't try to guess what motivates those organizers. As for us, we are just an organization that has to answer for what we do to a board and its directors. It's not that I am afraid or overly careful, but our purpose is simply to support this type of filmmaking. I don't want to be directly involved in political activities. As a distributor of these films, I won't object if someone wants to screen it. At the moment, things are still fine. But if the oppression in Hong Kong increases and some films are banned, then I think film screenings really can become a kind of protest. In such a situation, shooting a film and screening it are both forms of resistance. Why does Ying E Chi still try to first screen its films in the Hong Kong Arts Centre and other "proper" cinemas? Firstly, I think it's better to screen the film in an environment where one can be completely absorbed by it. Secondly, I don't want the audience to get used to this situation of non-theatrical screenings. Also, if your film is being screened in theatres, the industry still has to take note of your existence.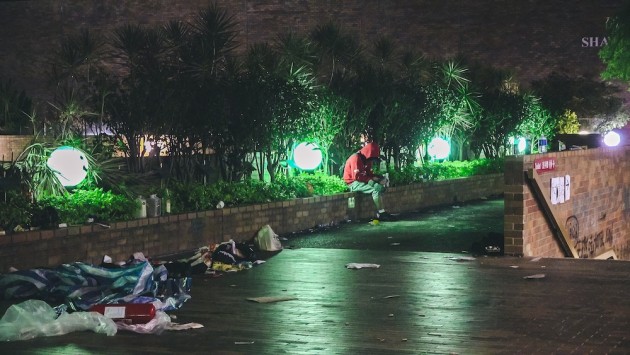 Inside the Red Brick Wall (2019)
OS: The filmmakers of Taking Back the Legislature and Inside the Red Brick Wall are anonymous. They are just collectively credited as "Hong Kong documentary filmmakers". I guess you cannot tell me too much about this, but I was wondering about the production process of these films. What struck me was how fast these films were made, especially Inside the Red Brick Wall, which deals with events that happened less than two months before the film was released.
VC: I can only tell you what the filmmakers said during the Q&A sessions. I believe initially they mainly shot the occupation of the Legislative Council on July 1st last year. They also collected footage on many other key dates of the protest movement, such as August 31st and October 1st. As July 1st happened early on, the film on the events of that date was ready first. Originally, they were thinking of adding footage of other key dates into that film, but while they were working on that the incidents at the Chinese University of Hong Kong and Polytechnic University (PolyU) happened. They were really shaken by the events at PolyU, so they decided to put the other stuff aside and focus on PolyU. I think this decision was really admirable. Many audiences afterwards asked how they could handle their emotions while working on the film that became Inside the Red Brick Wall. It certainly was tough on them, but they just wanted to let more people know what really happened at PolyU. On the one hand they really wanted to complete the film, but on the other they were worried about the audience reaction to it. That's why initially they didn't join for the Q&A sessions. Fortunately, the audience reaction encouraged them to come out, and now they continue joining for the Q&A, albeit anonymously. I think Inside the Red Brick Wall and Taking Back the Legislature can let us better understand the thinking of the people at the frontline. One can still disagree with them, but at least the foundation of the discussion has changed. You might remember that when those events were unfolding, there were endless discussions on Facebook about the right course of action.
OS: Yes, I think this is especially true for Inside the Red Brick Wall. For the events on July 1st, you could follow quite well what was going on from live streams. But during the PolyU siege, there was no live stream from inside the university, because reporters were not allowed in. Inside the Red Brick Wall is a really valuable record of what was going on inside at that time. By the way, the screening I attended was advertised as 45 minutes for each film but it seemed to be longer?
VC: Yes, because the filmmakers keep amending the films! Even now, they are still preparing a final cut. Hopefully, we can release the complete version when the cinemas open again. Inside the Red Brick Wall alone will be 90 minutes.
OS: I was also wondering about interest in these two films. My impression is that the films haven't been able to screen a lot because of COVID-19, but there seems to be quite a lot of interest in them locally. How about internationally? Will they be going to film festivals?
VC: Yes, but we are still waiting. Many film festivals are being cancelled these days. Hopefully, the films will be shown in Taiwan soon.
OS: A general observation I had watching a number of Hong Kong social movement/political documentaries over the last two years is that they seem to share a similar documentary aesthetic. They are mostly "observational" documentaries, very open kinds of texts, that don't force you into taking one particular view. They just try to show a pretty comprehensive picture, not hiding the divisions between different groups and leaving a lot of the interpretation to the viewers. Lost in the Fumes is a good example. In some ways, you can say it presents a very positive image of Edward Leung, but at the same time the film leaves space for other, more critical interpretations. Do you think Hong Kong filmmakers share similar ideas of what documentaries should be like? Are there particular traditions of documentary filmmaking that have influenced them?
VC: I guess Taiwan and other countries have more traditional, commercial documentaries, partly because they have more chances for their films to be shown on television or elsewhere. The drawback for them is that this creates more limitations, in terms of length etc. Because there are fewer commercial channels for documentaries to be shown in Hong Kong, we don't have these limitations and filmmakers can do more what they like to do. The only alternative is to do contract work for local TV stations. These stations don't really produce documentaries; instead their productions are more like longer news reports. I think that's why independent documentaries are the way they are in Hong Kong. Also, when filmmakers shoot a protest and it gets super intense, they don't want to make the film too experimental. They're just not in the mood for that. The new film of Chan Tze-woon, the director of Yellowing, is mixing in some drama elements and he is trying something different, but most directors just want to record what is going on. Doing this well is actually not that easy, especially if you try to turn it into a longer film.
OS: Hong Kong media have recently interviewed you a lot about the future of independent filmmaking in Hong Kong now that the National Security Law has been introduced. There were a few issues that weren't addressed in those interviews. One is the news that a controversial pro-Beijing figure has been appointed to the Hong Kong Arts Centre's Board of Governors.
VC: Yes, he is appointed directly by Chief Executive Carrie Lam. Actually, for a long time already pro-establishment people dominate governing bodies in various sectors in Hong Kong. However, appointing this figure at this particular moment is still worrying. Might it mean the government wants to keep a closer watch on us? The situation of Hong Kong has been changing very rapidly, so anything might happen in the future. Right now, film censorship is still okay, but who knows what may happen if even the Legislative Council election can be postponed for one year. Probably we are not very high on their list of priorities though! Since people can't watch our films in commercial theatres, their influence is limited anyway. If they want to take some more direct action, they also need to take into account that it might have some counterproductive effects. Instead, they might just make it difficult for us to survive by withholding funding, as they have already been doing. In addition, the Film Development Fund is now also providing lots of subsidies to our sector. New directors can get up to eight million Hong Kong dollars 4 for a first feature and they are teamed up with veteran filmmakers such as Ann Hui and Johnnie To, who serve as producers. Those are not bad initiatives. Indeed, they are probably good for the industry. By doing this, the government is developing the industry, but it also helps them to exclude certain people and certain things they don't like. It can be compared to the situation in China. About ten years ago, there were still a lot of underground directors in China. Since the film industry was booming, the government permitted these people to make films, and as long as they avoided certain red lines they could give their creativity free reign. But now, almost no one is willing to do underground production. In these ten years, something has been destroyed or made extremely marginal, but no one has noticed. This is actually more dangerous than what we worry about now, because it's less obvious.
OS: Since funding might be cut, could crowdfunding offer a way out? I saw that there are currently several films in production about the recent protests, like the one by Chan Tze-woon and another one named City of Tears. Both ran very successful crowdfunding campaigns.
VC: I don't think that we can rely on crowdfunding forever. I also see that people are under quite a bit of pressure after receiving crowdfunding. We're living in strange times, so audiences want to support you. But film is a work of art after all, it's quite personal, and with crowdfunding it becomes more important to take the audience's view into account. It remains an option of course. But too many things need money with Hong Kong being in the current situation, so it's not an option for everyone.
OS: Yes, now you can even directly sponsor activists like Nathan Law, Joshua Wong, [and] Benny Tai. It seems there are a lot of people who need help.
VC: Yes, they need support more desperately than a film project.
Dr. Van Den Troost and Offscreen would like to acknowledge the help from Janet Lau and Tinky Wong with the transcription and translation of this interview.
Notes