The Cineclub/Film Society 30th Anniversary Screening
On Saturday, December 10 the longest running independent Film Society in Montreal, The Cineclub/Film Society, celebrated its 30th anniversary of providing Montrealers with a pure cinema experience. Since 1992 Cineclub, owned and operated by Phil Spurrell, has been regularly hosting movie nights that try to appropriate a golden era moviegoing experience. Something that I personally have been missing since the Syracuse Cinefest event stopped its operation in 2015. Since Spurrell has an increasingly growing personal collection of 16mm and 35mm feature and short films which he houses in a proper film storage facility in Ville Emard area of Montreal (birth place of the great Mario Lemieux!).
The event took place at the long-time home of the Cineclub, the Concordia University De Seve Theatre. Spurrell began the night with a brief history of the Cineclub, switching seamlessly from French to English as he reminisced about the many locations his Cineclub has called home since 1992. Luckily he has found a steady home at Concordia. Along with the bi-weekly screenings at the De Seve, Spurrell hosts one or two special benefit screenings at different Churches in Montreal, usually showcasing silent classics double bills with live music. Past shows have included Cabinet of Dr. Caligari (1919) and Nosferatu (1922), Wings (1927), Thief of Bagdad (1924), Metropolis (1927), Ben-Hur (1926) and Sunrise (1927).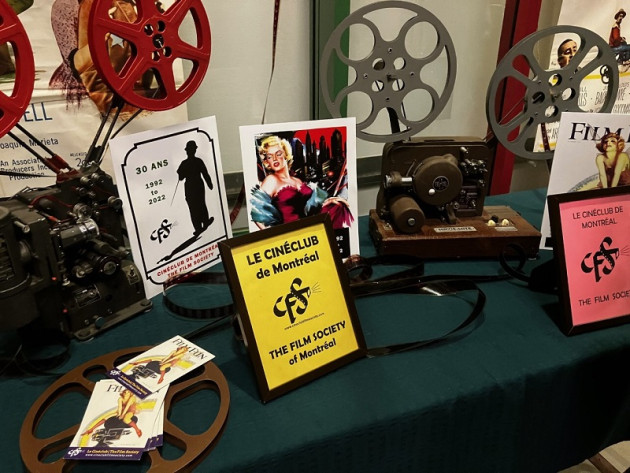 A regular Cineclub evening includes one or two shorts, trailers, a main feature, sometimes with a guest to introduce the film, and then an entr'acte where people can wander around the foyer to look at the Spurrell's collection of vintage film projectors and purchase coffee, tea and dessert goodies (many of them home made!). This time around the home made brownies were a hot item and my son managed to get the last one! And to celebrate the occasion Spurrell gave out cinema themed door prizes during the break. Prizes included empty film reels, previous show posters featuring original art, and free tickets to upcoming shows.
For this 30th anniversary the identity of the feature was kept a surprise right up until the curtain raised. I had pretty much guessed the title from the clues Spurrell provided –a well-paced, color, 1950s film noir– and my gut feeling was right: Hitchcock's 1958 mad love classic, Vertigo. Even though I would disagree that Vertigo is either a film noir or fast-paced, but I digress!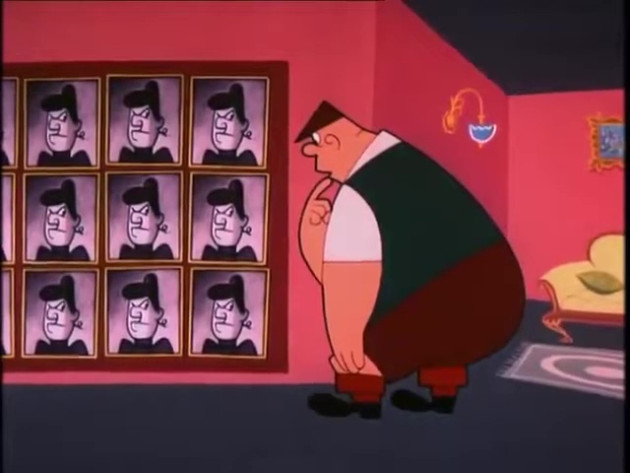 The way the night played out is also a good indicator of what makes these nights special: you never really know what you are going to get. The night started out with a trailer for the Cineclub, followed by an appropriate 1957 Noveltoon IB Technicolor cartoon made the same year as the feature, which is also IB Technicolor, L'Amour the Merrier. The cartoon is a very funny tale about a professional French matchmaker whose plan to marry his spinster sister with a dim-witted garbage collector named Hector hits a snag. After he gets Hector's mother to sign a marriage contract he points to a wall of photos and tells Hector he can choose a bride from any of the photos. Of course all the photos are of his sister! But the maybe not so dim-witted Hector points to a photo of a beautiful princess on the other side of the room! The characters all speak with a ludicrous French accent as one silly mishap follows another as the Matchmaker conspires to match Hector with the Princess.
Next was the main attraction, Vertigo, a film which 'dropped' from No. 1 to No. 2 in the latest decennial BFI Sight & Sound poll of the Greatest Films of all-time. Once the film started I knew we were in for a nice treat, as the print looked really nice, with true colors and a clean look. I had seen Vertigo more times than I can remember, but the last time might have been the 1996 re-release, so I was happy to sink into my seat and (again) watch detective Scotty Ferguson's slow descent into mad, obsessive love. James Stewart's performance as Ferguson is one of the most damning depictions of the controlling male gaze, enforcing his patriarchal control over Judy as he tries to remake her into a fantasy female. In fact I have always thought this performance along with John Wayne's performance as Ethan Edwards in The Searchers from 1956, are two of the most damning portrayals of male psychosis in Hollywood: obsessive, paranoid, maybe psychotic. Ferguson is literally trying to bring the 'dead' Madeline back to life, building her back up piece by piece –first the hair color, then the hairstyle, then the dress, then the walk– like Dr. Frankenstein creating his 'monster'. Watching it this time around I was struck by how casually Ferguson starts his affair with Madeline, who as far as he knows is married to Gavin Elster, a former university pal who hired him to 'stalk' his "wife" (not of course for the reasons he stated). What did audiences of the time think about the usually good guy James Stewart sleeping with a married woman? I wonder if this may be the reason why the husband, Gavin Elster, ended up discarding his mistress Judy, once he discovered that Judy had fallen in love with Scotty, while in guise as Elster's wife? Poor Scotty is completely emasculated by a judge's passive aggressive talk down in a court hearing that clears him of any wrong doing in Madeline's 'accidental' death, but convicts him in a court of morality. Ferguson is traumatized and spends time convalescing. Visits from Midge (a wonderfully neurotic performance by Barbara Del Geddes) and Mozart as art therapy are not enough to get Ferguson out of his funk. Time is the healing agent. He returns back to what he hopes is a normal life, but Ferguson's life is about to implode when he spots a woman with brown hair dressed modestly walking down the street looking strikingly like Madeline. What follows is a descent into Scotty mania and the set-up to one of the greatest plot twists in cinema history (although the screening did throw us a curve ball, but I'll leave the details out so only people at the screening will know exactly what I mean).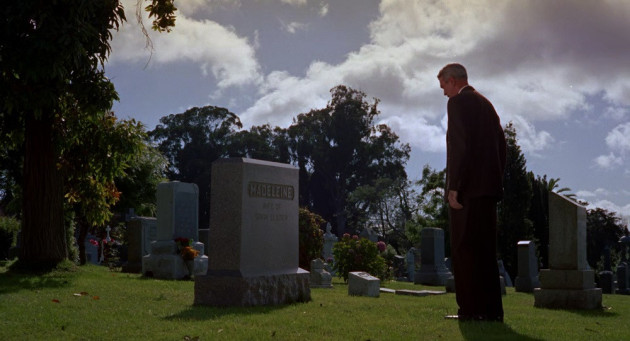 James Stewart's performance here is staggeringly good. He blesses us with a series of torturous facial expressions as he 'deconstructs' Judy and remolds her in the image of a woman who never existed. And the irony of course is that Judy actually IS that woman, but Ferguson can only love the idea of that woman. And when he discovers that Judy IS actually that woman, he wants to destroy her (again). Ferguson visits Judy at her hotel room and invites her for dinner. She agrees and he leaves. This is the moment of the big reveal, which Hitchcock delivers in a very unusual way. The camera frames Scotty at the door. As he leaves the camera tracks to the left to frame the back of Judy's head in close-up. She slowly turns and stares directly into the camera with a horribly pained expression. Who is she looking at? The image dissolves to a subjective memory flashback that plays out the primal scene from the perspective of the perpetrators, Gavin Elster and Judy, at the top of the bell tower.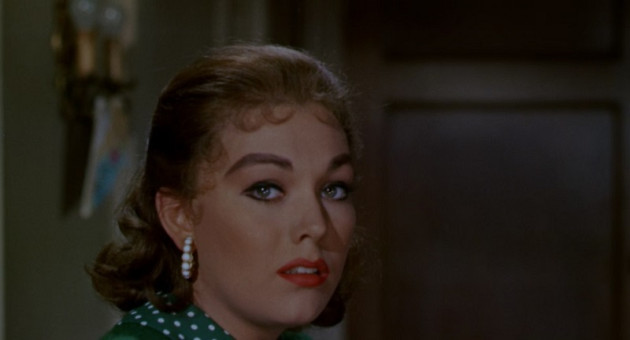 With respect to classical cinema, the ending of Vertigo is far more radical than the ending of Psycho, on par with the open ending of The Birds. Scotty manages to overcome his fear of heights and arrives at the top with Judy, wearing the Carolotta broach as the only vestige of Madeline. But he is condemned by Hitchcock, the arch moralist, to repeat his trauma. Scotty resists Judy's love but not her embrace. At that moment Judy is startled by a figure in the dark, and falls back (again?) to her death. Not by chance the figure walking out of the dark is a nun. For whom the bell tolls indeed. The camera cranes away leaving Scotty standing at the precipice, looking down into the abyss. The ending mirrors the opening scene, where Scotty is left hanging over the side of the roof clinging to a flimsy, bent siding. The images fades to black and to Scotty sitting safely in Midge's apartment. How the heck did he get down from there? Hitchcock leaves Scotty alone and shattered at the end, but with more questions than answers. Will Scotty get accused for Judy's death? And what about Gavin Elster, the surrogate "Macguffin" of the piece. Will he be arrested for his crime, or allowed to go "Scot" free? And what of poor Midge? Will she eventually get her man Ferguson?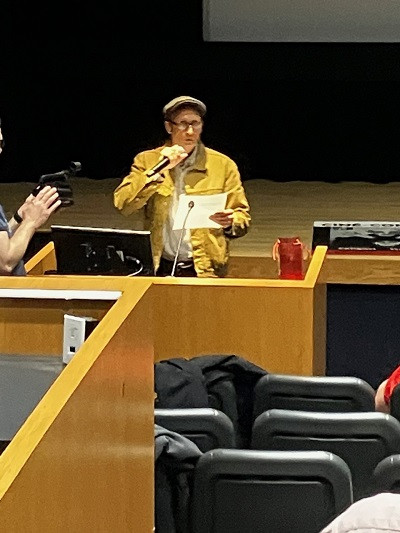 Phil at the podium
Thankfully, Phil Spurrell does not leave his audience hanging. He takes to the podium to thank his faithful and energetically announces his Christmas special, which will be back after a two year Pandemic-imposed hiatus, with a free screening of It's a Wonderful Life and a collection of Christmas themed shorts. Happy Holidays to all!
PS: Since this was written the Film Society screened a 35mm copy of REAR WINDOW to a sold out audience (Phil had to turn away about 40 sad souls!). Film is not Dead!