In Search of Complexity: America, India, and Pakistan in Mira Nair's The Namesake and The Reluctant Fundamentalist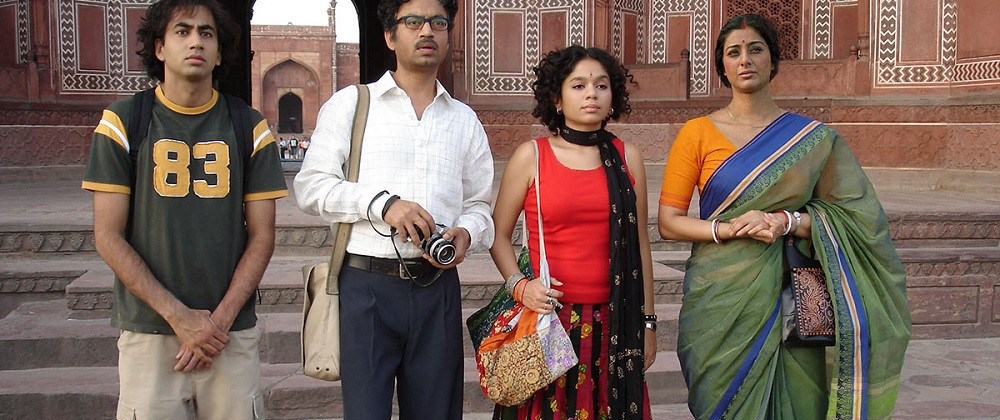 The Namesake by Mira Nair (2006)
The Reluctant Fundamentalist by Mira Nair (2012)
Is it possible to rise above the supposed fundamentals of property, profit, and politics to embrace complexity? India possesses one of the world's oldest and most complex cultures, and it, a nation with twenty-three official languages and one of the world's largest economies, has been a land of conflicts and controversies; and the partition of Pakistan from India in the mid-twentieth century has been haunting—what was supposed to solve the problem of religious contentions between Hindus and Muslims merely made it more concrete. Asia, like Africa, can seem to be in at least two historical eras at once, the modern and the ancient: the technologies are new but many of the rituals and rages are old. Yet, people live—they are born, educated, work, marry, bring forth children—and worry and laugh and fight and dance and starve and play. Artists and intellectuals can depict and dissect such matters, but rarely can resolve them. Mira Nair, a filmmaker born in Eastern India, a convent attendee and student at Delhi University and Harvard, the daughter of a civil servant father and social worker mother, may be an exception—she creates works of beauty and truth that offer the kind of insights that might be healing. Mira Nair has made documentaries for theatres and television, television serials and film shorts, and a range of impressive theatrical dramas: Salaam Bombay! (1988); Mississippi Masala (1991); The Perez Family (1995); Kama Sutra: A Tale of Love (1996); Monsoon Wedding (2001); Vanity Fair (2004); The Namesake (2006); Amelia (2009); The Reluctant Fundamentalist (2012); and Queen of Katwe (2016). Nair is that old-fashioned thing, a storyteller; and her films have wonderful appeal.
The Namesake. Mira Nair's film The Namesake, based on a 2003 novel by Jhumpa Lahiri, begins in the 1970s, and follows a young man and his family for decades, encompassing a professional adventure and an arranged marriage and what the young man, Ashoke Ganguli, shares with his son, whom he names Gogol, after the Russian writer Nikolai Gogol. The 2003 novel was written by a cosmopolitan woman, a London born author of (Indian) West Bengali parents, Jhumpa Lahiri, who has made homes in America and Italy. She knows what one gains—and gives up—when one moves. Jhumpa Lahiri's father was a librarian, her mother a school teacher, and their daughter Jhumpa, (inevitably?) a creative writer, literary translator, and college professor, has been a bridge between worlds: a graduate of Barnard College, with several master's degrees from Boston University and a doctorate in Renaissance Studies, she has written short stories, novels, and memoir, connecting cultures. Jhumpa Lahiri appreciates art and food but claims not to take her work too seriously. She won a Pulitzer Prize for her 1999 book Interpreter of Maladies, a collection of stories. The Namesake is a work, both felt and observed, exploring India and America, personal relations and public cultural claims, and the tensions between tradition and change. The leading book critic of the New York Times, Michiko Kakutani, called Lahiri's novel The Namesake quietly dazzling; and Kakutani declared, "It is a novel about two generations of the Ganguli family, and at the same time it is a novel about exile and its discontents, a novel that is as affecting in its Chekhovian exploration of fathers and sons, parents and children, as it is resonant in its exploration of what is acquired and lost by immigrants and their children in pursuit of the American Dream" (September 2, 2003).
In the book, an engineering student, Ashoke Ganguli, becomes an academic, marries, and has children, giving his son the name of a writer whose book (Nikolai Gogol's The Overcoat) Ashoke, when young, saw immediately upon realizing he had survived a terrifying train wreck. The author Lahiri thought her book was, ultimately, about personal inheritance: "In the process of writing the book, I realized that it was important and inevitable for him to accept his name, to realize that there is never a way to shed what is given to you by your parents. The book isn't so much about names per se. It's more about what we inherit from our parents—certain ideas, certain values, certain genes—the whole complex set of things that everyone gets from their parents and the way that, no matter how much we create our own lives and choose what we want out of life, it's very difficult to escape our origins" (BookPage magazine, interviewer Alden Mudge, September 2003).
One critic complained of the jagged pacing of The Namesake, another thought the novel a bit bland. In London, novelist Julie Myerson reviewing the book for The Guardian said, "This is certainly a novel that explores the concepts of cultural identity, of rootlessness, of tradition and familial expectation—as well as the way that names subtly (and not so subtly) alter our perceptions of ourselves—but it's very much to its credit that it never succumbs to the clichés those themes so often entail. Instead, Lahiri turns it into something both larger and simpler: the story of a man and his family, of his life and hopes, loves and sorrows" (January 16, 2004). What a wonderful text for a film! And, it is a good film: Mira Nair's film of Jhumpa Lahiri's book The Namesake is intimate and intelligent, a beautiful, felt portrait of a family, community, and of two countries, featuring an arranged marriage that becomes a love story at its center, the arranged marriage of Ashoke (Irrfan Khan) and Ashima (Tabu). The film, which presents portraits of Calcutta/Kolkata and New York (and seems to set its events in a later period than the novel), was inspired partly by the grief of the filmmaker for her late mother-in-law due to medical malpractice. It is uniquely enjoyable: without denying the difficulties of being young, of aging, of illness, of love, it feels entertaining and enriching.
Ashoke Ganguli (Irrfan Khan) travels on a train and meets a loquacious man. "Pack a pillow and a blanket and see the world," advises the older man, Mr. Ghosh, with whom the young Ashoke, while reading the Russian writer Gogol, shares a compartment with on a train to visit his grandfather, who himself told Ashoke that books allow you to visit new places. There is a train wreck, and Ashoke recuperates at home, his leg in a cast. In another life, a young woman, Ashima (Tabu), sings, and returns home—walking past a 1977 protest march in Calcutta (one poster reads "Down with Fascism"). Ashima arrives to find visitors, a prospective suitor and his family (she tries on the man's shoes near the front door). The families are meeting to introduce a son of one to the daughter of the other, with each family saying something about the character and skills of its child—and, surprisingly, asking real questions of whether the young woman is likely to be happy away from her own family and country. The wedding ceremony for Ashoke and Ashima—the colors of red and gold and white—is traditional, with red being associated with fertility and prosperity; and the married couple are given a big family farewell at the airport, before their flight to America, where the groom lives in a railroad apartment.
In America, the young woman, Ashima, wakes up, alone, cold, wraps herself; and soon her husband Ashoke returns with some groceries, and describes to her some of what's there—water you can drink from the tap, gas always on. Ashoke, outside, walking away, waves goodbye to her as she stands near the window. She goes out with a cart of clothes to the laundromat (she sees a homeless man taking off his clothes to wash them). Ashima, through washing, shrinks her husband's clothes, about which he complains and she is hurt. He, after making up with her, explains the train system, which trains to take. Through sharing a daily life, a genuine rapport grows between them. She comforts him when the noise of a train gives him a nightmare. "Nair tenderly handles their first days of warily walking and talking around each other, and tentatively making love. It goes easier than it might have, because this is a marriage that was arranged between the right two people, and their respect and regard (and eventually deep love) only grow," wrote critic Roger Ebert in the Chicago Sun-Times (December 6, 2007).
There are bridges throughout the film, real structures but also symbols: and one can be glimpsed in the hospital when Ashima gives birth to their first child, a boy. Ashoke (Irrfan Khan) and Ashima (Tabu) are not quick to name the baby, as they are waiting for an elder female relative to perform that honor. The father, after the doctor presses him, suggests Gogol. Meanwhile, Ashima worries about raising a child in a country without her family near—but they stay, and soon a second child, a daughter, is born. When they have friends over to their suburban home—the surrounding houses look safe, and possibly sterile (different from what one has seen or imagined of India: bustling, colorful, dusty, pungent)—Ashoke talks with their acquaintances about how badly his colleagues dress. The baby daughter has a naming ceremony—she is named Sonali, but called Sonia—at which she, Sonia, is presented with different objects among which to choose, suggesting a guide to her future, but she seems inclined equally to everything (and she does become a contented child and young woman).
Gogol (the boy actor Soham Chatterjee), starting school, wants to be known as Gogol, not Nikhil, which was to be his proper name. His mother, Ashima, is taken aback by the ability of children to make such decisions. Ashima is shaken when her brother calls Ashoke with the news that her own father has suffered a fatal attack—her brother trusted Ashoke to tell her. Ashima screams and cries. Ashima, Ashoke, and their children return to India for the funeral. Time passes—and when Gogol is in high school, he is teased about his name. When the teacher discusses the Russian writer Nikolai Gogol, describing his difficult temperament and life, Gogol is dismayed that he would be named after such a man. Gogol graduates from school, and celebrates by smoking marijuana with his friends. Another family Bengali American family visits his—and introduces Gogol to their shy, bookish daughter, Moushumi.
Gogol (Kal Penn), while listening to loud rock (Pearl Jam), is given a graduation present, a book, Collected Tales of Nikolai Gogol, by his father Ashoke, who says the writer spent much of his life outside his native land: "We all came out of Gogol's Overcoat" Ashoke says, a line often attributed to Dostoevsky. Kal Penn, or Kalpen Suresh Modi, who appeared in American Desi (2001) and Harold and Kumar Go to White Castle (2003), is a New Jersey native, born to Indian Gujarati parents (his father an engineer, his mother a perfume evaluator); and he graduated from UCLA (film and sociology), and subsequently worked for the Obama administration, and wrote the 2021 memoir You Can't Be Serious. Kalpen Suresh Modi (Kal Penn) sought out the part of Gogol, and he inhabits it: his facial expressions that are amusing: confused, exasperated, impatient—and as he grows older and makes and learns from his mistakes, he grows sorrowful but wiser.
Gogol (Penn) and his sister Sonia (Sahira Nair), with their parents, visit India and their Bengali family there. The young people, Gogol and Sonia, get their feet measured and drawn for the making of shoes; and Gogol looks out the window, seeing a street singer, and Gogol is interested enough to want to go out for a run—his grandmother sends a servant after him for his safety. When Ashoke and Ashima walk together, he asks why she said yes to his marriage proposal and she says that he was the best of the men presented to her. Yet, when the family visits the Taj Mahal, Ashima says that she always wanted to visit it with Ashoke. The whole family is awed by the beauty of the place; and their return to the American states seems dreary—and they find their mailbox vandalized (the suburbs are not entirely safe for everyone).
Gogol starts using Nikhil as his name, as he prepares to study architecture at Yale and he becomes involved with a rich American girl (these developments happen quickly: moments stand for years). Nikhil seems accepted by the family of the rich blonde girl, Maxine (Jacinda Barrett), although awkward questions are asked by the family's associates. Maxine seems to embody belonging—place, privilege, power. Meanwhile, Gogol's mother Ashima works in a library, and drives, having some independence; and his father Ashoke plans to go to Cleveland for work. Ashima asks Gogol to come home to drive his father to the airport, and at first Nikhil resists but decides to visit with his girlfriend Maxine on their way to her family's Oyster Bay retreat. Maxine is confident, and sometimes careless about cultural difference (calling elders by first names, touching people in public).
Ashoke explains the choice of Gogol as a name for his son, recalling Ashoke's 1974 trip, reading a book by the writer Nikolai Gogol, and talking with fellow passenger Mr. Ghosh who recommended travel, before there was a terrible train accident, two trains hitting. The camera shows Ashoke grasping The Collected Tales and Plays of Nikolai Gogol when he is discovered alive, amid the dead and the injured. "Every day since then has been a gift, Gogol," the father tells his son.
Ashoke (Irrfan Khan) and Ashima (Tabu) talk together at the kitchen table—he is worried about leaving her alone. She thinks they will be fine, despite missing each other. Ashoke arrives at his new and clean, quiet apartment in Cleveland. Ashima is making her own greeting cards when Ashoke calls her from the hospital, where he has gone because of what he calls a stomach ache—and he tries to reassure her. (The handmade greeting cards, like the handmade shoes, suggest what kind of culture these people have inherited and continue.) Ashima, later, calls the hospital, and is told Ashoke had a massive heart attack and could not be revived: he is dead. She cries. She walks through the house, then goes out for air. Gogol goes to Cleveland to claim his father's body, and he visits his father's apartment, where Gogol tries on his father's shoes. Gogol shaves his head as part of a ritual of mourning. He participates in a community memorial in the United States, and again in India—when Maxine attends the American event, she says she wants to go to India but he finds that inappropriate and they separate.
Gogol meets the grown-up shy, bookish daughter of his parents' acquaintances—she is smart, sophisticated, sexy. She, Moushumi (Zuleikha Robinson), has lived in Paris, then returned to New York. Gogol is very attracted to Moushumi, and they begin an affair—and get married, but she wants to keep her own name. Moushumi tells her friends about his name change, from Gogol to Nikhil—which he is upset about, thinking it private. Gogol and Moushumi live in a fancy one-room apartment, but are not happy together. She has turned down an offer to teach at the Sorbonne. She recalls an old friend, Pierre.
Meanwhile, Ashima is trying to determine how she will spend her life without Ashoke: she and a friend talk, and Ashima is encouraged to think about when she has been happy—and to follow her bliss. Ashima considers going back to India. "I want to be free," she says, to the applause of Gogol's wife Moushumi, who recalls that Ashima's name means "without borders, limitless." Gogol's wife is having an affair with Pierre, her old friend. She admits to Gogol that she was afraid she was turning into her mother, stuck; and that it has not been enough that she and Gogol are both Bengali—something beyond inherited culture and family expectations must connect them. (Shared interests, desire, love—a united passion and purpose?)
Family, community, nations—world. "The actors are all well-cast, thoughtful and sometimes funny. Tabu was apparently not Nair's first choice, but after watching her in the role it's hard to imagine anyone else—she's heartbreakingly good. If anything, it is her story that is the key to the film," noted reviewer Paula Nechak in the Seattle Post-Intelligencer (March 15, 2007). The film, with a screenplay by Sooni Taraporevala, shot by Frederick Elmes, and edited by Allyson C. Johnson, is an attempt at the kind of immigrant story that many live but much fewer know about. Another writer, Shubhra Gupta, in The Indian Express, surmised, "Nair's film talks to us all, because this is a journey we all undertake, as we go past childhood and adolescent markers, hoping that at the end of it all, we will have grown up. Irrfan and Tabu, back together again after [2004 crime drama] Maqbool, prove that screen marriages can feel as real as the ones we live through: the former, terrific in his near pitch perfect Bengali persona, Tabu not so much; she falters with her accent. Kal Penn fits right in (flashes of what he is capable of were visible in his earlier movies, especially the uproarious Harold and Kumar Go to White Castle), because you suspect that Gogol's dilemmas must have been his" (November 1, 2007).
The holiday party at Ashima's house is the end of an era: she will sell the house and live for half of the year in India. Gogol goes to the holiday party in his childhood home, alone, and remembers his father Ashoke, and when Gogol tells his mother about his wife's affair, he tells his mother that he has a sudden feeling of freedom. Ashima says goodbye to family and friends and goes to India, where she takes up singing again. Family: each member's story is part of another.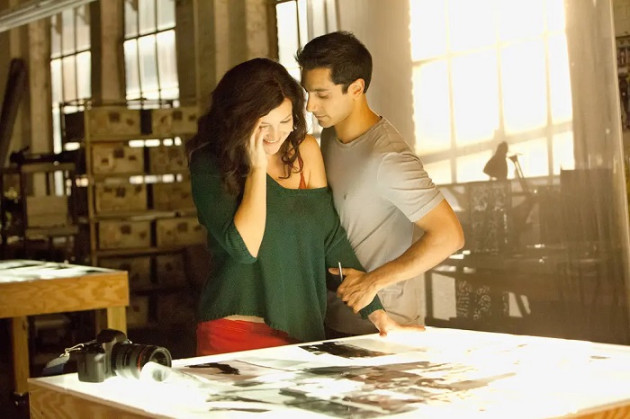 The Reluctant Fundamentalist. Inspired by a beautiful, thoughtful and haunting book by Mohsin Hamid, Mira Nair's film The Reluctant Fundamentalist is a marvel, something I wish I had seen years before I did—and one I wish more people would see. The film begins with a map of the world, a crescent and star, followed by this vibrant film's title (cinematographer Declan Quinn does gorgeously vital work). What is a fundamentalist? A person who recognizes and responds to basic elements, who believes in strict adherence to laws and principles. Pakistan, a country of high mountains, salt mines, and a deep-sea port, is both a center of business and a nuclear power; and while the nation and the United States have significant business and trade relations, and the United States provides humanitarian aid, diplomatic ties have been strained by the country's conservative (Muslim) religious sympathies, which sometimes has meant tolerance for extremists. That is an interesting subject for investigation. In The Reluctant Fundamentalist, the film's story commences with the abduction of a white male in Lahore, Pakistan: a unique couple (two colleagues?) leave a theatre, an Asian woman, a white man, and he is soon abducted. Here, we have culture and violence: an intercultural friendship has been disrupted; an international political conflict has been invoked. There is the rough search of the office of a native scholar for evidence of suspicious activity.
A package is delivered by a child to the American embassy in Pakistan (children are used by political actors for their presumed innocence and possible disposability). A solitary man, a news reporter who is also a U.S. intelligence agent, Bobby Lincoln (Isaac Liev Schreiber), is on a rooftop. He calls Alissa, the wife of the abducted man, with news: the intelligence officers have footage of the abducted man, a professor, who claims his innocence of subversive activity. His captors want incarcerated Muslims freed. Officers have photos, notes, news articles: what they call evidence, the material they are trying to put together to form an understanding. (There are a multitude of ways of interpreting evidence, and the bias of an interpreter can affect judgement.) Bobby (Liev Schreiber), the intelligence officer, goes to a tea house to meet Changez Khan (Riz Ahmed), a Pakistani professor of criticality and dissent, a man who worked as a financial analyst in America, is a suspect. Bobby has wanted to meet Changez, a respected figure, for a while, to interview him; and in the Pak Tea House, where they sit together, there are some of the professor's admiring students, some of whom are armed.
Changez is observant; he sees Bobby and hopes that Bobby can see him. Changez asks Bobby to listen to the whole story, not just arresting or interesting details, bits and pieces, saying that appearances can be deceiving, and that he loves America. Changez describes his life, his family, featuring a father who is a poet (and a sister Chan is a television actress), and his family's dwindling money as new money arrived in their neighborhood. The whole story is one we rarely get, and do not always have the patience to pay attention to, but that is what both filmmaker Mira Nair and the originating writer Mohsin Hamid give us a chance to contemplate. In The Reluctant Fundamentalist, published in hardcover by Harcourt in 2007 and in paperback by HarperPerennial in 2008, Mohsin Hamid's prose is elegant, methodical. Hamid, a graduate of Princeton (he studied public affairs—but was a student of Toni Morrison) as well as of Harvard Law, captures the linguistic and social manners of a well-reared, well-educated man who has experienced life and resolved various contradictions for himself. The narrator, Changez, begins in the tea house to tell the story of his life, of his education and career, to a westerner (an unnamed American—he could be anyone, any authority; he could be the reader). Changez knows of the great civilization of the Indus River people, and how they have fallen on hard times in this modern age. He recalls his love for New York and for Erica, who wants to be a novelist (her father gives a negative account of Pakistan's economy and notes that he had a Pakistani employee who did not drink alcohol). Yet, Changez, despite his affection for the city, did feel a certain pleasure at news of the September 11, 2001 World Trade Center attack in New York; and when he returns to the city, he can smell the burning wreckage.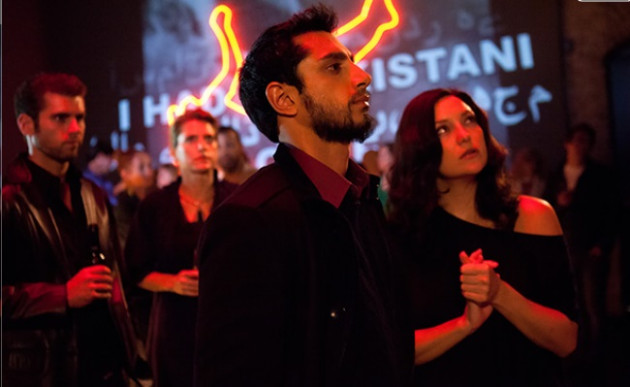 In Mohsin Hamid's novel, Changez is good at his New York corporate analysis job, good at the assessments involved with the work—he sees the business as being quantifiable, about material productivity, about knowable matters; but, after the 9/11 attack the backlash against Muslims in New York leads to surveillance, insults, and assaults. Changez is angered by the invasion of Afghanistan by a flag-waving, bomb-throwing America, the advanced technology set against primitive defenses. His personal relations are complicated: his girlfriend Erica seems diminished, disturbed by lasting grief over a man she loved who died (her mother tells Changez that Erica needs a friend, not a lover—but he persists). Erica is a figure of fragility and privilege (her personality and her woundedness may be preserved by her privilege). Is it possible to be happy with an unhappy person? Other people's pain often frustrates our hopes. Changez thinks that both America and Erica are engaged, enthralled, by nostalgia.
The tone of the narrative is intimate, smart, and ironic. Changez has impressed his boss Jim at several points; and when Changez visits Jim's loft for dinner, Changez observes his art (including male nudes); and Jim notes that Changez has seemed distracted at work, and wonders if he has been concerned about his family in Pakistan. Yet, Changez is ranked number one of the new hires at the time of his performance review. When he travels to Lahore, Pakistan, Changez realizes his perspective has changed: he has become entitled, unsympathetic, and he resolves to exorcise that—and he returns to New York with a beard, which his anger inclines him to keep. He tries to reach Erica, but she is in a clinic; and when he does see her, she is gaunt. The observant Jim still has faith in Changez's abilities, and gives him a new assignment in Chile, assessing a publishing house (the editorial director assesses Changez: says he seems lost). Where does Changez belong? Changez neglects his work, but sends money to his family for plumbing repairs. He had resented American foreign policy—Vietnam, Korea, the Middle East—and now, with public harassment on American streets, and international tensions between America and Pakistan, the political begins to seem personal, and the personal political. Changez, back in America, is fired by Jim, who wishes he had done that a month sooner. Changez is haunted by Erica, as she had been haunted by her dead lover Chris. Yet, Changez has to go back to Pakistan, and he wants to make a difference: he, aware of the intricacies of economics and politics, wants an awareness of complexities, and a Pakistan that is independent of America, but says he does not advocate violence, and that is what he tries to convey to his students.
Mira Nair was a good choice to adapt such a probing and provocative work—one that suggests the nature of life and society in different nations, and how public matters become of essential personal concern. The Reluctant Fundamentalist, like The Namesake, is a memorable film—and I suspect it will remain so. Nair's oeuvre is one that should be considered: Salaam Bombay! (1988), about personal conflict and responsibility, beginning with the destruction of one young brother's property by another, is respected for its portrait of poverty, its grit and grace; Mississippi Masala (1991), featuring Sarita Choudhury as an Indian girl from Uganda who falls in love with a carpet cleaner played by Denzel Washington in Mississippi, has an improvisational spirit while exploring romance and social conflict; The Perez Family (1995), in which exile from Cuba leads to two people's accidental meeting and mating, with the remarked dissonance of irregular casting amid Nair's colorful palette; Kama Sutra: A Tale of Love (1996), a story of love, sex, and different forms of power set in the 16th century, and featuring Indira Varma, Sarita Choudhury, and Naveen Andrews (although I liked it, it was oddly controversial: one person's eroticism is another's boredom?); Monsoon Wedding (2001), a populous and pulsating wedding comedy with tragic aspects, suggesting the profound richness of the world; Vanity Fair (2004), a vivid (surprisingly multicultural) adaptation of William Makepeace Thackeray's 1848 novel, with Reese Witherspoon as the initially poor social-climber Becky Sharp, and Jonathan Rhys Meyers as her rich boy husband George Osborne who loses money, and Gabriel Byrne as the predatory savior Marquess of Steyne; The Namesake (2006), a family odyssey; Amelia (2009), a biographical film about record-breaking air pilot Amelia Earhart, starring Hilary Swank, with an impressive cast—Christopher Eccleston, Richard Gere, Ewan McGregor, Mia Wasikowska, and Chery Jones; The Reluctant Fundamentalist (2012), a poignant and piercing story of love and politics; and Queen of Katwe (2016), which tells the true life tale of an unexpected chess champion—a winner at the World Chess Olympiads, and Woman Candidate Master—Phiona Mutesi (Madina Nalwanga), the daughter of a market maize seller, Nakku Harriet (Lupita Nyong'o), in the Katwe neighborhood in Kampala, Uganda. Mira Nair's films are sometimes about ordinary people, but these are not the people most popular films present—and while her films are not easy to forget, her success has not inspired the reverence it might.
Mira Nair's film of The Reluctant Fundamentalist moves quickly, detailing Changez's story, his evolution. "God bless America—God bless its level playing fields. God bless winning," says Changez (Riz Ahmed), recounting his move, his Princeton days. He recalls his interview with a businessman, Jim Cross (Kiefer Sutherland), of the firm Underwood, Samson, and telling the interviewer that he, Changez, is going to win, and he—attractive, brilliant, confident—is hired. Upon starting the job, new hires are given a test, a hypothetical situation about inventive (futuristic) transport; and Changez passes the test, questioning its basic assumptions. Changez begins to acclimate: he hangs out with business associates in a park, and he jokes, evoking and mocking stereotypes about Muslims—which they find a little unsettling. One of them, Wainwright (Nelsan Ellis), is friendly toward Changez, who soon meets a woman photographer, Erica, to whom he is attracted.
The film—written by William Wheeler, with production design by Michael Carlin and photographed by Declan Quinn, and edited by Shimit Amin—moves back and forth, from Pakistan to Changez's memories of America, recounted to Bobby, the journalist and intelligence agent. Sameer, Changez's Pakistani college assistant, is a cordial, helpful young man, a peacemaker in the social scene, in the tea house. (Being a person of peace does not ensure that one will be treated peaceably.) Changez has and encourages a conscientious, independent perspective, and he says that suspicion of his own teaching, of his politics, is affecting his family, and his family is being harassed. He questions why he should be a person of interest, and wonders how he could become uninteresting.
Changez (Riz Ahmed) recalls the society party where he met again the woman photographer, Erica (Kate Hudson), a niece of Underwood, one of the leaders of the business firm that employed him as a young college graduate; and the two young people go to a club. Erica (Hudson) has had a longtime boyfriend, with whom she was very much in love, someone who died, and she is still grieving. Changez sees Erica's photographic work. They talk intimately; and he says he does not recognize his own voice anymore (it sounds tinny and fake, rootless), but she says it sounds real to her. Yet, despite their genuine attraction and intimacy, she is hesitant about sex (Pretend I'm him, says Changez, and she does).
Changez (Ahmed) goes with his boss Jim Cross (Sutherland) and colleague Wainwright (Ellis) to the Philippines; and, Changez wants to make the examined production line more efficient, so the fixers can be eliminated. His suggestion is accepted; and he is seen to have a gift for this kind of analysis and problem-solving. However, the World Trade Center attack soon occurs. Changez says to reporter/intelligence officer Bobby (Gogol) that he felt awe at the audacity of the attack. Bobby says that Changez's teaching a course on violent revolution suggests that he is sympathetic to that course of action. Changez says that he appreciates "arrogance brought low." Changez's office and family home are searched; and he calls Bobby a spook, a spy. (Their meeting is observed by other intelligence officers from a distance. Martin Donovan plays a supervising investigator, Cooper, the boss of Bobby.)
The two men, Changez (Ahmed) and Bobby (Schreiber) go up to the tea café roof for a more private talk. Changez asks whether the intelligence service recruited Bobby, or if Bobby volunteered. Bobby says that he felt America had to be in Asia, in the Middle East, after the September 11, 2001 World Trade Center attack, and the failure of Islamic reform. Changez recalls that attack, how he had been stopped at the airport upon returning to New York from his business trip (he is stripped, searched). However, it is Wainwright (Nelsan Ellis), an African-American, who suggests that following 9/11, there should have been a police action, not declaration of war—a search for criminals, not the naming of an enemy nation. There is confusion and ignorance: Sikhs, who are not Muslim, are attacked (what is foreign, whether or not it is to blame, is attacked).
Sometimes the personal and the political move on contrary paths, and sometimes they intersect. There is love. Changez (Ahmed), who is paid well at his firm, is able to support his family: Changez, from a distance, helps to organize, his sister's wedding, in Pakistan. Changez can imagine making a commitment to Erica (Hudson). However, Erica cries after Changez brings up having children, as she remembers Chris, who died in a car crash when she drove after drinking. Changez goes to his sister's elaborate wedding—which he helped pay for with work his poet father does not respect or even understand.
Changez (Riz Ahmed) begins to compare and contrast America and Asia. After the World Trade Center attack and the changing cultural atmosphere, Changez recalls how his life narrowed in New York, and that his beard discomforted some people, yet he was promoted to associate. He's picked up by police for interrogation; and his photographer girlfriend, Erica, exploits him for her visual arts work (he is surprised to see that he was used, and how he was used, in an art exhibit). He goes on another business trip: to Turkey. (The novel specified Chile, but Turkey further places the story in the Muslim world.) Changez (Ahmed) and Jim (Kiefer Sutherland) visit a publisher to analyze how to stop its financial losses; and the publisher gives Changez a book with his father's creative writing in it. Changez, observing what is around him, sees the beauty of the Muslim world in Turkey. Changez cannot—and does not—fire the Turkish publisher (suddenly principle comes before profit); and, subsequently, Changez leaves his job (he is escorted out of the building by security guards); and with no job, no visa, he has to vacate the United States in two weeks.
"The Reluctant Fundamentalist is enjoyable as a melodrama, thanks to the compelling emotional fodder of identity crisis and its setting within pre/post 9/11 New York. The perpetually relevant context acknowledges how American film and filmgoers still harbor a need to understand the trauma of the recent past and the new world it created. Both New York and Lahore are shot with an appealing vibrancy, and set to a propulsive score that blends Pakistani and Western music with atonal electronic flourishes. It all looks and sounds very bright," wrote Meredith Slifkin, April 25, 2013, online for the magazine Film Comment, yet—while commending Riz Ahmed's central performance—finding the motion picture, heavy with implication, politically evasive, unresolved. One might argue that such reservations affirm the film's seriousness, its recognition of genuine ambiguities and complexities.
"Nair is extremely careful not to demonize the American or the Pakistani but rather to suggest how much they have in common, had politics not put them on opposite sides of the table sipping tea, but inches away from a loaded gun," noted The Hollywood Reporter's reviewer Deborah Young (August 29, 2012), following a Venice screening. Young thought Riz Ahmed magnetic and Liev Schreiber convincing. However, writing for the World Socialist Web Site, Fred Mazelis, after many sympathetic comments on the craft of the Nair film, and its' refusal of political simplification, said, "What is missing, however, from The Reluctant Fundamentalist, as well as many of her earlier films, is any examination of the broader social context in which the various tensions play out. In this latest film, for instance, there is virtually nothing said or glimpsed of life in America beyond the towers of midtown Manhattan, with their sometimes spectacular views of Central Park. In Pakistan the angry students at Lahore University form simply a backdrop, sitting somewhat menacingly in the café while [Changez] Khan speaks with [Bobby] Lincoln" (May 20, 2013). I found that complaint surprising, as I thought the story of Changez exemplified the possibilities of a cosmopolitan experience in both America and Pakistan: the cosmopolis brings together people of differing cultures and classes from around the world, creating new opportunities. Changez encounters the worlds of academia, art, business, and politics.
Returning to Pakistan, Changez (Ahmed) lectures, teaches: he asks his students if there is a Pakistani dream, as there is an American dream? Meeting with Bobby in the tea house, in which more and more students—activists?—gather, Changez recalls his own transformation. Intelligence boss Cooper (Martin Donovan), sensing a threat in the gathering crowd, authorizes his men to go into the tea house to get Changez (for brutal interrogation) and to secure Bobby. Changez—whose very name suggests changes—has come to an understanding: both the capitalists and the religious fanatics speak of fundamentals, simple descriptions of reality; and they do not see the full humanity of others, making decisions, irrespective of consequences. Changez wants to convey that revelation. Where does thought end, and action begin (must they be separated)? There is a violent confrontation outside the tea house; and Sameer, Changez's peaceful assistant, is shot accidentally (a death both fateful and unnecessary); and Changez speaks at a memorial for him. There are people who bridge experiences and cultures in their own personalities and lives; and Changez and Gogol, like Jhumpa Lahiri and Mohsin Hamid, like Mira Nair, may be very much like them.