A Modest Meditation on Mexican Modernism: Alonso Ruizpalacios's Güeros and Alejandro González Iñárritu's The Revenant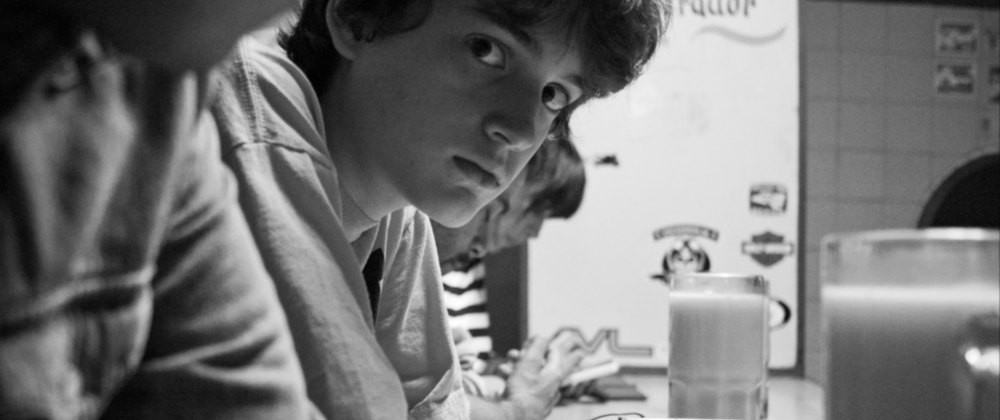 "The more control one tries to exert on art, the less controllable it becomes. For the artistic spirit is always about freedom: total freedom." —Ilan Stavans,
Thirteen Ways of Looking at Latino Art
"For there is a boundary to looking / And the world that is looked at so deeply / wants to flourish in love."
—Rainer Maria Rilke, "Turning-Point," Ahead of All Parting
Mexico has its own significant writers—Juana Ines de la Cruz and Rosario Castellanos, Carlos Fuentes, Enrique Krauze, Octavio Paz, and Alfonso Reyes, to name a few that immediately come to mind. It was, then, a little surprising, and very pleasing, to hear one of my favorite poets, Rainer Maria Rilke, the transcendent European poet (Austrian? Czech? German?), be discussed in a refreshing black-and-white fiction film about family, student life, and politics in Mexico, Güeros (2014), a very intelligent and funny photoplay by Alonso Ruizpalacios. One of the lead characters is afraid of tigers and a girlfriend recalls another large cat, the one in Rilke's poem "The Panther," which describes a caged animal whose perception has been damaged by constant views of the bars that hold him—the panther's awareness and energy have been circumscribed, thoroughly tamed. Of course, the poem, with its caged panther, creates a symbol for the lack of freedom of men and women too. Certainly Mexican writers, thinkers, and artists, have had reason to consider and comment on imprisonment—whether of conformity or custom, ritual or routine, power or poverty—but the poem, by implication of awareness, affirms something questing and seeking in the far-ranging spirit that the film's young Mexican characters share with Rilke.
Mexico's people are inheritors of ancient cultures—Olmec, Maya, Zapotec, Totanac, Teotihuacan, Toltec, and Aztec—and have had a long association with Spain, but Mexico is often thought of as a provincial country. It is a strange designation for a country that asserted its native rights, inspired by the liberal thinking that was sweeping much of the western world, and won its independence from Spain in 1821, and which has continued to create work of beauty and use. In the early twentieth century, Mexican visual artists, painters and sculptors, such as Dr. Atl, Manuel Álvarez Bravo, María Izquierdo, Frida Kahlo, Carlos Mérida, Roberto Montenegro, José Clemente Orozco, Diego Rivera, David Alfaro Siqueiros, and Rufino Tamayo would create excitement in the international art world. The legends of Diego Rivera and Frida Kahlo remain potent—the plump, sensual Rivera, with his awareness of history and the struggles of the laboring classes that infused his public art, and Kahlo, with her wild imagination and tragic self-consciousness that created visions remaining as vibrant as ever. Of course, for many, the motion picture industry would seem to surpass what the individual painter or sculptor could do—and that is the tradition that Güeros assumes, with its references to Luis Bunuel and Jean-Luc Godard, Federico Fellini, Bob Dylan, Jacques Derrida, Jim Jarmusch—and Monte Hellman's Two-Lane Black Top, Richard Sarafian's Vanishing Point, Wim Wenders' Paris, Texas, and Mexican films such as Los Caifanes and Y Tu Mama Tambien.
Filmmaker Alonso Ruizpalacios is a writer, director, and actor who was born in Mexico City and studied at the Royal Academy of Dramatic Art in London, and his Güeros (2014) is a black-and-white film of contemporary Mexico, of family and friendship, politics and art, a glimpse of a particular period in a culture's history—and a road movie, featuring adventures had while driving. In Güeros, a scripted film with some improvised scenes, Tomás (Sebastián Aguirre) gets in trouble in his Veracruz neighborhood, performing a boyish prank that suggests other people are not entirely real to him and can be hurt by him—and his mother sends him to Mexico City to stay with his older, college-student brother Federico (Tenoch Huerta), who has a roommate and good friend, Santos (Leonardo Ortizgris), and a young woman Federico is infatuated with, Ana (Ilse Salas), an idealist activist who is also an attentive and practical person. Güeros is a motion picture that follows a personal quest, giving an account of a rambling journey—with travel through the known and obscure parts of a city, the privileged and the poor areas; and, although it is a film inspired by a 1999 university student strike, when students balked at the prospect of paying for what had been a free university, the motion picture is very much focused on the amusements and feelings of a few individuals. The film director has said that the strike, which lasted about a year, was important for his generation, but that he felt ambivalent about it when it was happening. Güeros is a work of stillness and speed, emotion and enlightenment, seriousness and sensuality; and the film blends then, 1999, and today, the second decade of the twenty-first century.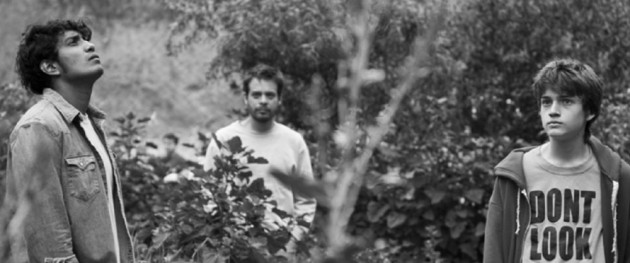 Güeros
Güeros seems an embodiment of the past and present and a promise for the future. Can any one work of art or artist represent a country or even a culture? After the death of the great writer Octavio Paz, a brilliant and cosmopolitan poet and essayist of significant imagination, Mexico's reigning president Ernesto Zedillo called Octavio Paz a "universal Mexican" (The New York Times, April 21, 1998). The truly distinguished writer Octavio Paz (1914 – 1998), born in Mexico City to a family committed to history, law, and journalism, became a world traveler as well as the author of an examination of Mexico called The Labyrinth of Solitude (1950), and of poetry collections, such as Selected Poems (1963), Configurations (1971), Eagle or Sun? (1976), A Draft of Shadows (1980), A Tree Within (1988) and A Tale of Two Gardens: Poems from India, 1952-1995 (1997), his work often translated from Spanish into English by Eliot Weinberger; and Paz, the 1990 winner of a Nobel Prize for literature, did work as an editor and a diplomat too. I admired his intellect and the range of his work but loved his poetry's delicacy. Octavio Paz, a philosophical man who experimented with genre, wrote of history, politics, religion, and social practices, and spoke of alienation and repression and the masks that Mexicans wore—and Paz named diversity as key to humanity. Is even Octavio Paz a representative Mexican? Can any one artist, any writer or musician or filmmaker, or work of art be an embodiment of a whole culture? Is that a myth of singularity, or simplicity? Certainly, Luis Bunuel gave evidence for the importance of Mexico in international cinema. Luis Bunuel (1900 – 1983), a filmmaker who was born in Spain and died in Mexico City, was the creator of Belle de jour (1967) and Tristana (1970) and The Discreet Charm of the Bourgeoisie, or Le Charme Discret de la Bourgeoisie (1972) and That Obscure Object of Desire, or Cet Obscur Objet du Désir (1977), much of which were filmed in France, sometimes as international collaborations; and while Bunuel had made the revelatory surrealist films Un Chien Andalou, or An Andalusian Dog (1929) and L'Age D'or or The Golden Age (1930) in France, and Las Hurdes or Land Without Bread (1932) in Spain, the list of Bunuel's Mexican films is long and impressive, featuring Gran Casino (1946), El Gran Calavera or The Great Carouser (1949), Los Olvidados, or The Young and the Damned (1950), The Devil and the Flesh, or Susana/Demonio y Carne (1950), The Brute or El Bruto (1952), Wuthering Heights, or Abismos de Pasión (1954), The Criminal Life of Archibaldo Cruz, or Ensayo de un Crimen (1955), Nazarín (1958), The Exterminating Angel or El Angel Exterminador (1962), and Simon of the Desert, or Simón del Desierto (1965). "Bunuel—like Ingmar Berman, Federico Fellini and Michelangelo Antonioni—is one of the film directors whose views of the human condition must now be granted considerable importance," wrote Saul Bellow in "At the Movies: Bunuel's Unsparing Vision" in 1962, published in There Is Simply Too Much to Think About (Viking, 2015; page 136). Saul Bellow described the work of Luis Bunuel as ambitious, intellectual, radical, surreal, tough, brisk, beautiful, horrifying, vigorous, truthful, and passionate, declaring that Bunuel's films ask the question, "What is good in human life?"—and yet that the director is more concerned with the nature of reality than with virtue (page 140). Is even Bunuel definitive?
Can Mexico with its complex ancient—Olmec, Toltec, Aztec—heritage, its Spanish influences, its highlands and mountain ranges and low coastal plains, its rich natural resources (minerals, fuels, forests), its cactus and mesquite, its architecture and art, its formidable Catholic Church, its war with Spain for independence, and its war over Texas and California with the United States, and its revolution against its own dictatorial government, its heroes (Emiliano Zapata, Pancho Villa), its mariachi music and folk ballads, its traditions and its modernity—be encapsulated in one man or one thing? "Hispanics might come in different shapes, but they share an essence," asserted cultural critic and literary scholar Ilan Stavans in Thirteen Ways of Looking at Latino Art, a published discourse in which two Latino-American intellectuals, (Mexican) Ilan Stavans and (Cuban) Jorge J.E. Gracia, talk about visual art, culture, philosophy, and politics, a work of amusement, color, delectation, history, insight, and wit (Duke University Press, 2014; page 33). "It is very inspiring to talk about countries, nations, societies, and civilizations as having essences. It creates a sense of security and identity. But I do not see that this talk is justified empirically," responded philosopher Jorge J.E. Gracia, going on to say, "The Mexican government has tried for more than a century to forge a Mexican people out of the disparate elements that constitute the so-called Mexican population, but in spite of this the result is anything but homogeneous" (page 33).
Of course, if we cannot define Mexico by those who seem its most accomplished citizens, its best, it would not be fair to define the country by its worst. (A recent American presidential candidate—a renegade businessman, a vulgarian—denigrated Mexican immigrants. Someone should have screened for him some of the works of the Mexican canon—and Mexican-American photoplays such as Diego Luna's 2014 film Cesar Chavez, focused on the Arizona-born labor leader and civil rights activist of Mexican descent and starring Michael Pena, or Sergio Arau's 2004 comic film A Day without A Mexican, which imagines the sudden disappearance of Hispanics in California.) Mexico has a long history with and in film—Mexican citizens were able to see motion pictures beginning in 1896 at the Lumiere Cinematograph in Mexico City. However, the strength of prejudice and presumption is proved by the fact that when a Mexican film is very popular, and taken seriously, it is discussed as if it were the first impressive work, or the only one, though it is one more in a rather long line of remarkable works, including but not limited to: El Automovil Gris or The Gray Motor Car (1919), Alia en el Rancho Grande or Over on the Rancho Grande (1936), Flor Silvestre, or Wild Flower (1943), Enamorada, or Woman in Love (1946), La Perla, or The Pearl (1947), Los Olvidados, or The Young and the Damned (1950), Raices or Roots (1953), Macario (1960), The Exterminating Angel (1962), Los Caifanes (1966), El Topo (1970), El Castillo de la Pureza, or The Castle of Purity (1973), Danzon (1991), Like Water for Chocolate (1992), Amores Perros, or Love's A Bitch (2000), Y Tu Mama Tambien (2001), Crime of Father Amaro (2002), Temporada de Patos, or Duck Season (2004), Silent Light (2007), La Jaula de Oro or Golden Dream (2013), Mai Morire or Never Die (2013), and Club Sandwich (2014). (Andrea Nobel's 2005 book Mexican National Cinema, like Joanne Hershfield and David Maciel's 1999 book Mexico's Cinema, offers history and appreciation.) Surprise at the quality of Mexican film is not really something that should occur in the age of Alfonso Cuarón and Alejandro González Iñárritu and Gael Garcia Bernal, Salma Hayek, Diego Luna, and Guillermo del Toro.
Güeros, which was written by its director Alonso Ruizpalacios with Gibran Portela, and photographed by Damian Garcia, seemed to please Mexican film critics for its characters and its cinematography; and it received the Ariel award for Best Picture in Mexico in 2015—and had won the Best First Feature Film award at the Berlin International Film Festival the preceding year. The smartness of the characters in Güeros —not an austere intelligence, but a believable comprehension mixed with foolishness, sensuality, and wit—makes the notion of the primitive Mexican laughable. The Boston Globe's film reviewer Peter Keough wrote that "Güeros is brutal, ironic, madcap, and grim. Shot by Damian Garcia in black-and-white with the pristine spontaneity of Godard's cinematographer Raoul Coutard, it is Bande à part (1964) meets Los Olvidados (1950)," also comparing the film favorably with those of the director's more established Mexican elders (September 18, 2015). Whereas industry publications, such as The Hollywood Reporter and Variety, seemed restrained in their initial assessments, critics with a special appreciation for art films were thrilled. "With its sudden cuts, its fleet, ground-level camera work, its abrupt changes in tone, its blend of earnestness and insouciance, Güeros is an unabashed hommage not only to the Nouvelle Vague but also to a more general international new wave-ism," wrote A. O. Scott, months earlier, in the New York Times (May 19, 2015). Güeros is a little gem of world cinema.
Water-filled balloons are the first sight we see in Güeros —they are in the pail of a mischievous boy, as he lurks on a Veracruz rooftop with a friend. Meanwhile in an apartment an anguished woman hurriedly dresses as her baby cries—she packs a bag and puts the baby in a stroller and leaves the apartment, and then we see her face: she has a black eye, and, likely, is escaping an abusive man. The mischievous boy, Tomas (Sebastián Aguirre), on the roof drops the water balloon from the rooftop onto the woman and the baby in the stroller; and his young friend, Beto, runs away. One can imagine what the desperate woman must have been thinking: what else could go wrong? The scene demonstrates the intersection of two different realities.
The boy runs to the beach to escape censure, but his mother finds him, Tomas (Sebastián Aguirre), and tells Tomas that she can no longer handle him and that he will have to go live with his older brother Federico in the city—Mexico City, a place of art and power and squalor and wealth; the city with the Constitution Plaza, the National Palace and its Diego Rivera murals, the Island of Lost Dolls, the Aztec Templo Mayor, the Spanish conquistadors' Metropolitan Cathedral, the Santa Muerte (Our Lady of Death) altars, the textile miles and handicraft workshops, the colorful lucha libre (wrestling) fights, and the punky El Chopo street sales. Founded in 1325 as a village settlement by the Aztecs, it is an old but modern city; however, the Mexico City of Tomas and his brother Federico is quotidian, a city of residents rather than tourists. After Tomas takes a bus south then a taxi to the apartment complex where his brother Federico (Tenoch Huerta) lives with his roommate Santos (Leonardo Ortizgris), Tomas, first, finds that the building elevator is not working, then Tomas walks up the stairs with his baggage and guitar, stepping into the dark apartment of two men who are adrift, not going to class due to a student strike, and doing little more than watching television—Federico and Santos seem to be watching Big Brother, a reality television show of strangers living together. "We are on strike from the strike," says Federico, Tomas's older brother, a college student and poet. Federico—whom Tomas calls Fede and whom Santos calls Sombra (the word sombra means shade or shadow)—tries to master a card trick, without success, while Santos spikes his own coffee with something stronger. They talk about having a continental breakfast and speculate, critically, about which continent the term refers—it seems one more way of suggesting that they are other. Federico pays attention to a radio program hosted by a young woman friend, Ana, a Tropical Literature student who is participating in the student strike, while Tomas listens on headphones to a favorite musician, a local legend.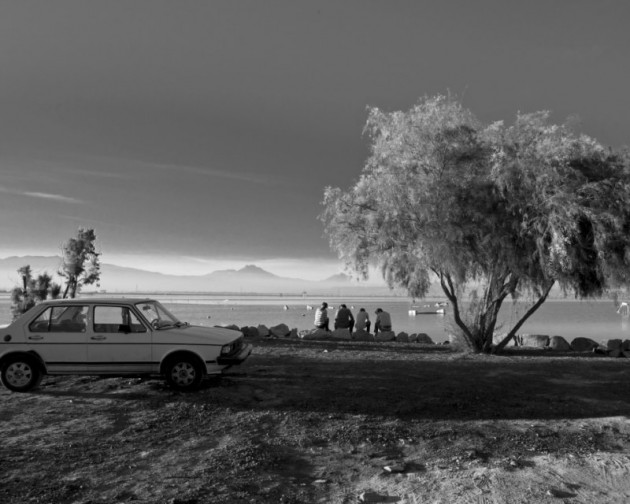 Güeros
Federico and Santos have a friendly relationship with a sweet, mentally challenged girl next door—she, Aurora, allows them to use a cord to siphon her family's electricity, although her parents disapprove. The neighbors return and retrieve the electrical cord—and the apartment goes dark again. Federico has panic attacks—and he calls Aurora, the little girl next door, telling her that his fear, the tiger, is there, and Federico asks Aurora to tell the tiger to go away. It is a surprising strangeness—not the kind of relationship one expects between a man and a girl. The film's recurring objects of consideration are Federico's panic attacks, talk of breakfast, class and social status, the inconvenience of the student strike, and the fate of the musician whom Tomas listens to, as did his father and brother before him. Güeros is named for a term used to designate wealthy people, who are usually identified as being blond and light-skinned.
Tomas wants to visit the legendary musician, Epigmenio Cruz (Alfonso Charpener), when Tomas learns Cruz is in a hospital, and the brothers argue about that—Federico says he wants to work on his thesis. Their arguing is fierce but not hateful—and quickly forgotten. Yet, after the neighbors are angry about another theft of electricity and chase Federico and Santos, hitting Federico (Santos rescues Sombra), the three young men, Tomas, Federico, and Santos, begin their trek in search of the musician. Federico has a panic attack in the car—and imagines a rain of small, soft feathers. Santos drives them all west to the hospital, where they learn the musician has been discharged, but a nurse gives Federico the wallet of Epigmenio Cruz. (Tomas takes a photograph of the bed the musician used when he was there.) Santos as driver gets lost and they ask directions from some street boys, one of whom gets in the car, demanding that they buy him beer—and drink with him. It is funny to see that the street boy is smaller than both Federico and Santos, and that although they are, after all, two men together, they are afraid of the street boy. Maybe Federico and Santos fear the abduction and murder that we all have heard so much about in regular news reports.
Federico, Santos, and Tomas visit the college campus, after running, then driving, away from the street boy. It is amusing that, on their way onto the campus, they give a ride to an activist—an actual activist of the real world 1999 strike—who offers a critique of the film we are watching: the activist, who is not a student and admits he has an expansive definition of revolution, says that he thinks the screenplay of the film is bad: a chase movie in which guys get beaten up and disaffected men, Federico and Santos, are presented as heroes. Inside the college, a friend of Federico says that Tomas looks undercooked—pale; words that convey the culture's racial consciousness. The colorism seems rooted in historical distinctions made among Mexico's population, between native people (Aztec, Mayan) and Spanish (white) immigrants. "Comedy has 'carte blanche' to deal with any subject. There have been people that have told me the film is racist, and I react like 'What?' It's absurd. Just because the film talks about racism doesn't mean it's a racist film," Alonso Ruizpalacios told IndieWire's Carlos Aguilar (May 21, 2015).
How much politics can art sustain? What kind of political criticism is appropriate for art? The French literary and cultural theorist Roland Barthes considered such questions—and Roland Barthes said that most of the art (film) criticism of the left (or "the Left") was no different from bourgeois criticism. "Since the banner of the Left gathers both revolutionaries and liberals, the call for freedom remains always an ambiguous theme and it isn't here that we should hope to find a unified left, unless we propose to cheat. No question that such unity can only be grasped in the deepest zones of consciousness, within a theme that is very general," wrote Roland Barthes in "On Left-Wing Criticism," first published in Positif 36, November 1960, and republished in the study Roland Barthes' Cinema, edited by Philip Watts, featuring texts by Barthes, from Oxford University Press in 2016 (page 125). Humanity should be seen as ambiguous, mobile, and changing, thought Barthes, declaring that fixed definitions and descriptions of human nature should be critiqued. Criticism should, Barthes thought, examine what is presented in art as being reasons for living, for acting, and identify whether—in art—the human condition is determined by nature, society, or self. Roland Barthes, who affirmed material freedom and political responsibility, recognized presumptions made about fact and fantasy in art, and about what seemed serious form; and, Barthes wrote, "Let's dare to demand everything of a work of art…" (page 126).
In Güeros, Federico's friend Ana, the literature student and activist, makes a speech about spirit, and acknowledges a proposal for the striking students to take over television stations, and the increasing factionalism in the student movement. Ana may want education, and the politics of education, to be priority. At the assembly, Ana's boyfriend Furia, argues for a broader perspective that allows different castes and causes to come together, making comments that could be taken as a rebuke; and Ana is heckled by the crowd in crude, sexual ways. Federico defends her. (The director, Alonso Ruizpalacios, has said that the left has difficulty in uniting—and his film demonstrates that.) While Ana and Federico talk—their rapport is loving, honest, funny—Santos and Tomas talk. Santos is a biology student interested in forest conservation and he and Tomas visit a college plant lab—and Santos is sad to see the plants neglected during the strike. The moment is simple, suggesting something about one man's particular passion. It would be interesting to hear, see, and know how what the students are learning in school is affecting their thinking, their politics: which ideas found in literature, philosophy, history, and science are inspiring them?
When Ana hears the music of the figure that Tomas and Federico admire, Epigmenio Cruz, a figure the film has invented (the film's characters hear Epigmenio Cruz's music with great interest—we, the film audience, cannot hear it), Ana decides that she too wants to meet the musician, but before they do, they go to a film party to which she has been invited—and the four find themselves falling or being thrown into a square pool of water (it is like something about of a 1960s European film; and the director, Ruizpalacios, has said that he admires and likes the playfulness of Truffaut—as well as the work of Fellini, Jarmusch, Wenders, and Monte Hellman and Richard Sarafian). One senses that Tomas belongs in the city—Tomas has the same inclination toward imaginative freedom, and pranks, as the people he finds there. The young travelers have trouble starting the car at one point—and Tomas and Santos push, while Federico allows Ana to go on sleeping on his lap. They arrive at the zoo, where the fabled musician has a connection—and, after Ana blindfolds Federico with her fingers and walks him to a tiger cage, the two talk about Rilke. It was Ana who introduced Federico to the poet's work. (I, too, found Rainer Maria Rilke while in college—then introduced him to different friends and acquaintances. Rilke remains a poet I revere—I like and admire many poets: Elizabeth Alexander, W.H. Auden, Yehuda Amichai, Anna Akhmatova, Wendell Berry, Gwendolyn Brooks, Jared Carter, Rosario Castellanos, Constantine Cavafy, Jayne Cortez, Countee Cullen, Roque Dalton, Emily Dickinson, Zbigniew Herbert, June Jordan, John Koethe, Denise Levertov, Federico Garcia Lorca, Audre Lorde, Robert Lowell, Pier Paolo Pasolini, Octavio Paz, Carl Phillips, Minnie Bruce Pratt, Adrienne Rich, Will Shakespeare, Walt Whitman, and C.K. Williams—but Rilke has a very, very special place in my affections.) Rilke is a bridge for the young, for the sensitive—he is innocent and knowing, faithful and questioning. Rilke opens doors to revelations—and Ana asks Federico why he did not pursue her when she was available. Federico and Ana, with Santos and Tomas, then meet the zoo's cleaning woman, who knows the musician Epigmenio Cruz: Isabel, when she was young, had been on the jacket of one of Cruz's recordings—and the woman for which he forfeited a professional relationship and probable mainstream success. Isabel has taken care of Epigmenio Cruz, a drinker—whom she says spoils everything. Isabel has drawings the musician did on restaurant placemats—the restaurant address is one more clue for finding the musician.
The Rilke poem discussed by Federico and Ana is about being caged—and, of course, there are different kinds of cages: poverty is one kind of cage, obscurity is another, and addiction still another. The cage distorts vision. The Rilke poem, both fundamental and profound, is the kind that reverberates. Rilke wrote beautifully about the inner life of individuals and the intimate life of lovers and friends as well as about the intricacies of the natural world. He described solitude as a vast territory. Rainer Maria Rilke (1875 – 1926), was born in Prague and died in Switzerland, and he was both cosmopolitan and spiritual—transcendence was his natural state. A student of German literature, he lived in Munich, and traveled to Russia and France as well as Austria, Egypt, Italy, Spain, Sweden, and Tunisia. Rilke was aware of the loneliness and the luxury of cities, of their pleasures, their profundity, and their poverty. He loved Russia. He loved Paris. He loved Lou Andreas-Salomé—and Clara Westhoff. He admired the rigor of Rodin—and the boldness of Baudelaire. Rilke wrote and published poetry in The Book of Images (1902) and The Book of Hours (1905); and he wrote the experimental prose work Notebooks of Malte Laurids Brigge (1910); and, later, he wrote some of the most elegant and philosophical poetry ever conceived in his Duino Elegies (1923). Rilke's Letters to A Young Poet would be published in 1929 and republished to the appreciation of writers everywhere. Rilke wrote on art —Auguste Rodin (1903) and Letters on Cezanne (1952). Ahead of All Parting: The Selected Poetry and Prose of Rainer Maria Rilke (1995) contains the writer's work, translated by the gifted Stephen Mitchell, and published by The Modern Library. Rainer Maria Rilke wrote of freedom and imprisonment, of life and death, childhood and maturity, celebration and grief—he wrote of the soul and its transformations. Rilke makes sense in Berlin and London and Paris and New York and New Orleans and Mexico City.
Tomas, Federico, Santos, and Ana go east in search of the musician Epigmenio Cruz; and a boy on a bridge drops a brick onto the car's front window, punching a hole in it, scaring them. Federico and Santos chase the boy down—the boy does not, cannot, explain why he did it. He looks cheerily malicious. The seekers finally find the musician in his favorite haunt—and they get to speak their reverence, how the music expressed understanding, confirmed both individuality and fellowship, but the declaration means more for them than for the musician, Epigmenio Cruz: Cruz does not appreciate their heartfelt admiration (of course there is a point at which a neglected man or artist turns away from the world, returning the world's indifference: having lived without the world's love, he knows he can—and does); and, consequently, the visit with Cruz is not, and cannot be, the most significant part of their trip. (Federico, or Sombra, answers Ana's earlier question about why he did not ask her for a date before she became involved with Furia; but when Federico answers, we do not hear his answer—and the two kiss: the silence is mystery, privacy, respect for individuality, even as their kiss is erotic.) The journey is its own reason, its own justification: an adventure, an expression of a belief in music, in revelation, in friendship and love, with pleasure as accident and natural right.
Alonso Ruizpalacios spoke of the milestones in the film, its patterns, with the writer Sarah Salovaara of Filmmaker magazine (May 1, 2014): "It's true there are cycles in the film—the whole story is bookended by two similar events involving objects falling from the sky—first the water balloon, which sends Tomás to Mexico City to stay with his brother Sombra—and then the brick that's dropped from the bridge and lands on the car's windshield, which leads them to accidentally find the bar where Epigmenio whiles away his final days." Alonso Ruizpalacios went on to discuss the film's own gestation: "However, I think it is also a story of breaking cycles: during the writing process me and Gibrán [Portela], my cowriter, came to a similar standstill as the one in which the characters start off—one of stasis and anguish—from where it seemed we would never escape procrastination and beer, never finish the film. In fact, that same state was the actual starting point for the film—the need to grow up and out of the warm oozy hole of a carefree teenage life and into…I guess adulthood. And, as always in coming-of-age stories, we realized—for ourselves and for our characters—that the only way out was through."
Motion pictures—celluloid film, digital video recordings—are about subjects (character, story, plot, theme) but also about their own creation, their own structure: objects and subjects take on new colors and shades when handled by a singular sensibility—in the creation or selection of expressive image and sound, in rhythm and pacing, in the length of scenes (akin to the length of a lyric). Films are like poems in their condensation of experience, language, and time, in their intensity, in how particulars are charged with suggestion and meaning—becoming sign and symbol. Art, whether film or literature or music, calls to the individual spirit, and has the capacity to unify the audience, the citizenry, by touching a common though complicated humanity. With its attractive characters and its variety of angles and pacing and shifts in location and scene, the motion picture Güeros maintains attention, glinting here and there on facts and issues of wealth and poverty, violence, education, art, old age, and addiction. "I don't kid myself that this witty, delicate and often magical movie is likely to find a wide audience. But you don't have to understand its points of reference in Mexican history and culture or speak Spanish or possess a dense mental thesaurus of art cinema in order to connect with it. If you have been young and felt disconnected from your surroundings, yet also felt the yearning for some ineffable meaning that lies behind it all but keeps slipping away, that's plenty," wrote Andrew O'Hehir in the online magazine Salon (May 21, 2015). (O'Hehir notes, also, that the film allows different cultural references to be shown, including technology that was not existent or popular in the period in which the story is set, suggesting the film exists in its own time.) "The story pops and swerves; the images are by turns comical, banal and ravishing; and the result is a briskly shaken cocktail made of equal parts provocation and comfort. You come away with a buzz that is invigorating and pleasantly familiar," wrote film critic A.O. Scott of Güeros in the New York Times (May 19, 2015). Writing about the well-received Güeros for the online Latin film publication Mediatico, Olivia Cosentino noted the motion picture's relation to other films "whose narratives center upon youthful protagonists. The list is endless, but I make the obligatory mention of the critically acclaimed Y tu mamá también (Alfonso Cuarón, 2001), central to the Mexican film industry's critical revival, as well as Mil nubes de paz cercan el cielo, amor, jamás acabarás de ser amor (Julián Hernández, 2003), Temporada de patos (Fernando Eimbcke, 2004), Lake Tahoe (Fernando Embicke, 2008) and Voy a explotar (Gerardo Naranjo, 2009), all of which share either aesthetic and/or thematic similarities to Güeros." Olivia Cosentino commended the film for its intelligence, and, also, noted the marginality of parents in the story, and the film's intimate views of faces and comprehensive presentation of environments—and how its technique dramatized experience.
"Writer-director Alonso Ruizpalacios's Güeros won five of Mexico's Ariel Awards on Wednesday night, including best picture, director and first work," announced writer John Hecht, noting the granting of Mexico's most prestigious film industry award (the ceremony was held in the Palace of Fine Arts in Mexico City), in an article Hecht published in the Hollywood Reporter (May 27, 2015). The film also won an Ariel award for cinematography and was tied for the award for sound with Las Oscuras Primaveras. In its freedom, in its portrayal of Mexican individuality self-awareness, art, and politics, it is an affirmation of Mexican modernity—and in a quite different way, so is Mexican film director Alejandro González Iñárritu's more celebrated film The Revenant, which appears to be an American Western—and is a demonstration of creative mastery, of cultural assertion: Alejandro González Iñárritu, who moved with his family to Los Angeles after his father was kidnapped and mother robbed, is, by default if not intention, claiming the genre and all it represents for his own, claiming the land and its peoples—American, French, Native American—for his own. "It's technically not a Western. It takes place before the West exists, after Lewis and Clark but before the gold and the oil. And because that moment plants the seed for today, it felt very relevant to me," Iñárritu told Film Comment's David Fear (January/February 2016), explaining that he, Iñárritu, was drawn to the economic exploitation perceptible in the story—the groups of poor men hired by companies to do a difficult job for little money. "I never saw it as a Western. The themes and questions I wanted to explore were ones that I don't associate with the Western. I know what John Ford and Sam Peckinpah have done with the genre, and I've seen a lot of the great American Westerns. I didn't have a problem when I was younger with thinking that the Western's ideal of revenge as a goal—as something that would be accomplished and then order is restored, everyone lives happily ever after—was okay. As an adult, I definitely have a problem with that now," he said, identifying the work of Kurosawa, Tarkovsky, and Herzog as preferable references.
Born in Mexico City, Alejandro González Iñárritu, a reader of existentialist literature and a lover of rock music, a radio disc jockey, a marketer, and a sailor, is a founder of the ad-making Zeta Films and was a producer for Mexican television before creating significant cinema. His early film work was informed by a documentary sense of reality, but Iñárritu has changed: "How we perceive reality has much more to do with dreams and memory. We interpret life through illusions, thoughts, memories, prejudices. And that's what I'm much more interested in now," Iñárritu told the Wall Street Journal Magazine's Andrew Goldman (December 2015). Alejandro González Iñárritu's filmography has distinct and impressive shadows: Amores Perros (2000), 21 Grams (2003), Babel (2006), the idiosyncratically spelled Biutiful (2010), and the surreal Birdman (2014). The Revenant is a gorgeous film, based on a novel inspired by a true life tale written by lawyer and government bureaucrat Michael Punke and featuring an ideal wilderness, representing the American landscape and filmed in Montana, Canada, and Argentina—a wilderness full of beauty and danger. The photoplay is a tale of a father and a son; and of a man seeking vengeance on the colleague who betrayed him. The father Glass (Leonardo DiCaprio) and his son Hawk (Forrest Goodluck) are out hunting in the watery woods, walking through glistening water; and a gunshot annoys Fitzgerald (Tom Hardy), who is, with Glass and Hawk part of a party of about forty-five men. The camp is soon disrupted by the return of a naked man, a fellow hunter and trapper, and then an onslaught of Native Americans, the Indians, who attack: the Native Americans, the Arikara, are looking for an abducted girl and intent on stealing pelts that can be traded to the French for horses and more. During the chaotic violence of the attack, Glass (DiCaprio) tells his fellow fur hunters and trappers to leave the furs and get to the boat, and Fitzgerald (Hardy) says to grab the pelts—they are men with opposite senses of value. Glass may value human life, but Fitzgerald does not see the value of life without the money the furs represent. Values are in competition in times of stress and times of stability: ethical values, intellectual values, artistic and spiritual and cultural, political, technical, utilitarian, and financial values—and, frequently, money being a medium of exchange, financial values dominate all.
Leonardo DiCaprio is Glass, and Tom Hardy is Fitzgerald—and DiCaprio here is a decent but forceful man who will resort to violence, though that is not his preference. As an actor the young Leonardo DiCaprio was a unique presence—light, androgynous, intelligent, open; and it has been hard or some of us (okay, me) to accept his masculine maturity. DiCaprio now can project ruthless, tough qualities as well as he could sensitivity. His filmography includes This Boy's Life (1993) and What's Eating Gilbert Grape (1993)—he played Robert DeNiro's stepson in the first and Johnny Depp's mentally challenged brother in the second, rather auspicious early work. DiCaprio was Jim Carroll in The Basketball Diaries (1995) and Meryl Streep's son Hank in Marvin's Room (1996) and Jack Dawson in the record-breaking Titanic (1997), a film that changed DiCaprio's career and life. Leonardo DiCaprio became forever famous, forever sought. After The Man in the Iron Mask (1998) and The Beach (2000) he was in Catch Me If You Can (2002)—DiCaprio played Christopher Walken's son in that last film (I am inclined to see family resemblances—artistic family resemblances—among DeNiro, Depp, Streep, and Walken). DiCaprio has worked with Martin Scorsese several times, including for Gangs of New York (2002) and The Wolf of Wall Street (2013) and DiCaprio showed a parodic wit in Wolf, a story of finance world decadence. DiCaprio has done intimate drama, such as Revolutionary Road (2008), which reunited him with Titanic's Kate Winslet, and also science fiction, such as Christopher Nolan's Inception (2010). Leonardo DiCaprio is probably free as an actor to do whatever he wants.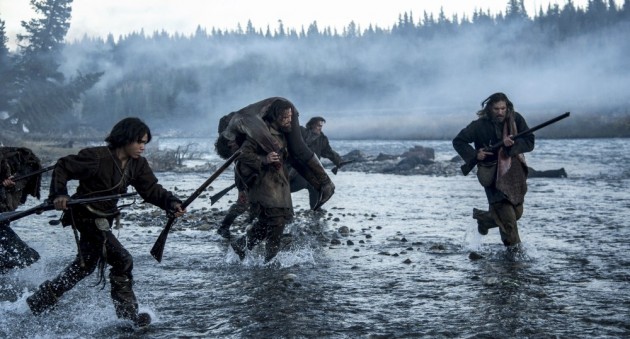 The Revenant
Tom Hardy is newer on the scene—and has drawn critical acclaim. Tom Hardy is so strongly sensual and sensitive, so fleshly, so here, that it is difficult to believe that Hardy is not the character he is playing—except that Hardy has played so many different characters with each seeming true. He seems to have a shrewd but secretive intelligence, a mystery, while being expressive. Tom Hardy appeared in Black Hawk Down (2001) and Star Trek: Nemesis (2002) and Layer Cake (2004) and Marie Antoinette (2006), but it was probably 2010's Inception that gave many of us a strong impression, although in Tinker Tailor Soldier Spy (2011) Hardy played an intelligence agent who falls in love with a strategic woman contact, and thus endangers the woman—and his character's confusion, sensuality, and pain really came through to me (the man was obviously making a mistake but was beyond self-correction). Hardy was a strong, mostly silent bootlegger in John Hillcoat's Lawless (2012), working with a terrific cast that included Jessica Chastain, Jason Clarke, Guy Pearce, and Shia LaBeouf. Hardy is a calm, intelligent man overwhelmed by the craziness and pain of others (and his own momentary weakness) in Steven Knight's film Locke (2013). Tom Hardy's performances are so dynamic and funny and true—whether in Mad Max: Fury Road (2014) or Legend (2015)—and in Legend Hardy plays two twin but very different criminal brothers—that Hardy inspires love as well as admiration. In The Revenant, Hardy's Fitzgerald is an amoral and coarse man whose poor and brutal life has made him what he is (having been scalped by Indians, Fitzgerald fears their attack—he knows what they can do).
Yet, in the chaos of battle, the practical Fitzgerald (Hardy) does something he does not have to do: a young man, Jim Bridger (Will Poulter), is saved by Fitzgerald when a Native American (Arikara) fighter attempts to drown Bridger. Glass, Hawk, Fitzgerald and the other men flee on a boat, but disagree about whether to continue on the water or on land—Glass thinks land is safer, Fitzgerald water. Fitzgerald blames Glass for not anticipating the Indian attack (and is suspicious of Glass for having a half-Indian son, a Pawnee son Glass tries to protect by insisting on his silence, on his invisibility). Glass and Hawk (Forrest Goodluck) do not look alike, a fact that makes their tie more—rather than less—significant: one understands that a lot of important things cannot be seen readily by others and must be insisted on by individuals. Hawk (Goodluck) wants to be seen and heard. ("The hearts of Indian boys are tight-stretched drums. / The hearts of Indian girls are beautiful sad songs," wrote John Smelcer, a Native American of the Ahtna community in Alaska, a free verse couplet from Smelcer's poem "The Incomplete & Unauthorized Definition of American Indian Literature," in John Smelcer's book Indian Giver, published by Leapfrog Press, 2016; page 29.) When out scouting, Glass comes upon a mother bear and her cubs—and Glass is charged by the mother bear, a vicious, frightening, and absurd attack, a brief and brutal three-part struggle: Glass is terribly wounded by the bear's cutting claws—one man, Bridger, one of the first to reach the bleeding Glass, throws up when he sees Glass. Hawk goes to hit Fitzgerald when the man complains about his father Glass's firing a gun at the bear in self-defense (Fitzgerald fears gunshot will draw Arikara attention and attack). Fitzgerald thinks that the captain and his men should shoot Glass and put him out of his misery—and Captain Henry (Domhnall Gleeson) considers that but decides to pay a couple of men to stay with Glass until he dies. Fitzgerald is one of the men who stays—and he does that for the money. "Money or not, I'll stay," says Bridger (Will Poulter).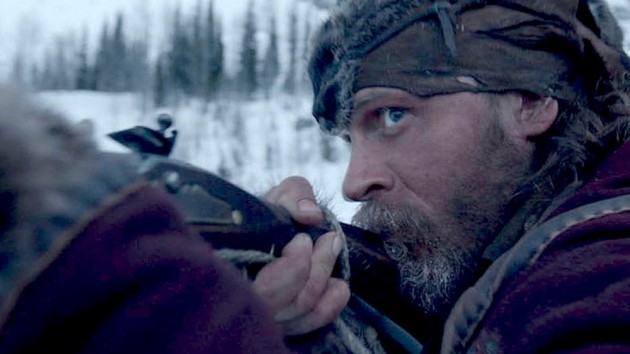 The Revenant
Glass (DiCaprio) is on a stretcher, attended by his son Hawk (Goodluck) and Bridger (Poulter) and the cynical, fearful, self-centered Fitzgerald (Hardy), a brute who begins digging Glass's grave before Glass is dead—and Fitzgerald speaks of taking his earnings and going to Texas. Fitzgerald talks to Glass, encouraging him to die—and when Fitzgerald's smothering of Glass is interrupted by Hawk, Fitzgerald stabs Hawk, hides the body, then frightens Jim into abandoning the weak and wounded Glass, who crawls out of the grave Fitzgerald dragged him into, first seeking his dead son, then vengeance. Is it possible to transcend pain and rage? (There is a transition from Glass's breath in the cold air to high clouds above to Fitzgerald's pipe smoke. The film is full of brief little studies—of rushing water, of tall trees, of horses, of a snail, of snowy landscapes, of death and destruction, photographed by cinematographer Emmanuel Lubezki. One thinks of Rilke: "Only our eyes are turned / backward, and surround plant, animal, child / like traps, as they emerge into their freedom," Rilke wrote in "The Eight Elegy," of the Duino Elegies published in Ahead of All Parting; page 377.) Glass survives his wounds, the cold, and hostile Natives in his desire to reach the fort, where Fitzgerald has found refuge and reward. Glass is helped by a solitary Native man, a Pawnee, who has known grief too—the man shares food and tends Glass's wounds. The man tells Glass that vengeance is the province of the creator. Regrettably, the Pawnee man is hanged by French traders, who put a sign around the savior's neck signifying that he is a savage—although in the Pawnee's generosity to Glass we see that he has been civil, kind, intelligent.
The wilderness is yet stronger than civilization in the world of Glass and Fitzgerald. It is, in many ways, a lawless time. Is that western world of Native Americans (Indians) and Americans of European descent, and the French, very different from ours in the struggle for survival, the fear of death, the hope for prosperity, and the desire for compassion? Knowledge of diverse countries and cultures in a complex world—a world of international interactions, past, present, and future—is a necessity. How much of the responsibility for our ignorance of other people must society bear? How much of the responsibility is ours as individuals? Often the first thing we learn of others is how they differ from us—facts that disturb. (What defines us as human? Our appearance, habits, beliefs? Or a more basic inclination to think and feel?) The world is full of differences. Frequently, the news reported by media is enraging, frightening. However it is important to recall that news by definition is what is new, sudden, strange, or shocking. What is news is what is exceptional—leaving us with the responsibility to identify what is not exceptional, what is ordinary. What are the ordinary lives of other people like? What are the rituals and rules that make their daily lives possible? What is precious to them? Where is their health, their knowledge, their love, pleasure and serenity to be found?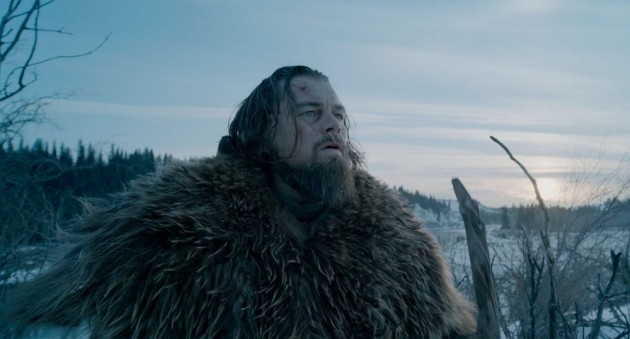 The Revenant
The French traders saw the Pawnee man as a savage—but Glass did not, nor does the film spectator. We have seen the Native American man's actions—at least in relation to Glass. We can judge by more than appearance or prejudice. Can we not? What else has the Pawnee man been and done? Or Glass? (Earlier in the story, after the Arikara attack, someone asked Glass if it is true he had killed an officer—and Glass answered that he killed a man who was trying to kill his son.) The film gives us different experiences to observe, to weigh. Poetry may be unifying, bringing together disparate elements—but so is film, a fact observed by the philosopher Maurice Merleau-Ponty, who thought films had the capacity to bring together—and demonstrate the unity of—mind and body, and mind and world, and their influences on each other. Maurice Merleau-Ponty (1908 – 1961), the author of The Phenomenology of Perception (1945), Humanism and Terror (1947), In Praise of Philosophy (1953), and Signs (1960), commented on cinema, and on how elemental are both perception and interpretation to the film-viewing experience. Merleau-Ponty drew attention to what has been called the Kuleshov effect, after the early twentieth-century Russian filmmaker Lev Kuleshov, who demonstrated the effect of combining images, of creating context, for the generation of meaning—by presenting the face of Ivan Mosjoukin (whose last name is sometimes spelled ending with an e), with first one than another visual antecedent, changing how viewers saw that face (apparently Kuleshov worked with Vsevolod Pudovkin, who discussed the experiment with others). Merleau-Ponty wrote, "Let us say right off that a film is not a sum total of images but a temporal gestalt. This is the moment to recall Pudovkin's famous experiment which clearly shows the melodic unity of films. One day Pudovkin took a close-up of Mosjoukin with a completely impassive expression and projected it after showing: first, a bowl of soup, then, a young woman lying dead in her coffin, and, last, a child playing with a teddy-bear. The first thing noticed was that Mosjoukin seemed to be looking at the bowl, the young woman, and the child, and next one noted that he was looking pensively at the dish, that he wore an expression of sorrow when looking at the woman, and that he had a glowing smile for the child. The audience was amazed at his variety of expression although the same shot had actually been used all three times and was, if anything, remarkably inexpressive. The meaning of a shot therefore depends on what precedes it in the movie, and this succession of scenes creates a new reality which is not merely the sum of its parts" ("The Film and the New Psychology," Sense and Non-Sense, Northwestern University Press, 1964; page 54). Merleau-Ponty suggests film is ambiguous, an art that allows for association, ellipsis, and even evasion—both the suggestion of meaning and the subversion of meaning.
When Glass looks up at the Pawnee man who helped him and sees him hanging from a tree, a sign around his neck remarking on savagery, we know we are seeing the evidence of savagery—but do not believe it is that of the Pawnee. Glass, on his way back to the fort, steals a horse from the French traders and frees the Native girl, an Arikara woman, they had abducted and raped. There is an exchange of gunfire. Others will attack the French too. One of the French men survive, and returns to the fort shortly before Glass, carrying a tin water bottle that was left by Jim Bridger with Glass—a sign to Fitzgerald that Glass is alive and coming near. Fitzgerald steals money and runs away—and the captain and Glass go out into the snow, tracking Fitzgerald. Why is it only Captain Henry and Glass who go after Fitzgerald? That is the way things are done in mythology, featuring solitary heroes, showing bravery, chancing death—and Alejandro González Iñárritu, a Mexican writer and director, after writer Michael Punke, has created an American myth in The Revenant —which is to say, the appeal of American popular culture being what it is, Iñárritu has created a myth in film for the world. The Revenant is a violent film—but not an immoral one: it has offense, hurt, judgment, punishment, grief, mercy, and doubt. Act and consequence create and convey moral sense.
Alejandro González Iñárritu told writer Andrew Goldman, "My question during the film is: What happens after revenge? If revenge is just a natural emotion, what happens when it's successfully consummated? Will it leave you empty no matter how good the revenge?" (The Wall Street Journal Magazine, December 2015). The Revenant, like Güeros, is a film worth seeing—and thinking about. Whereas the rambling, exploratory activity of the characters in Güeros is an expression of personal freedom, the compulsion for revenge in The Revenant to assuage the loss of life, and a wound to self, the zeal to punish, may feel powerful and look exhilarating, but it is an embodiment of a lack of control—a lack of control of reality and of self, a loss of freedom—and an attempt to restore control. How can one transcend pain and rage? Possibly, possibly, by cultivating character, integrity, and purpose; and recognizing the limits of mind and spirit of those who do harm—and what creates and sustains those limits; and accepting the facts of grievance and hurt, without exaggerating one's emotions, without ennobling or sacralizing pain or rage; and seeking insight, knowledge, joy, serenity, and value. After the death of his son Hawk, Glass has his memory of him. In The Revenant, Glass's memories and dreams are of love and family, danger and death, longing and grief—a speaking woman and a small child, a burning village and a gun-toting officer, an abandoned church and ghosts. Glass recalls his woman, his Pawnee wife, telling him that when you see branches shake and tremble in the wind you think of fragility, but if you look at the tree's sturdy trunk then you see the tree's strength and stability. Glass remembers, then, his strengths—not just his losses, his wounds. She returns to him more than once, a source of wisdom. We can accept our own defeat and destruction before they have occurred, imagining our separation from the beloved before we have parted, not out of cowardice or weakness but for the blossoming of our serenity and strength—that was what the Rilke advised. The perceptive and penetrating Rainer Maria Rilke ended his poem "Turning-Point"— translated by Stephen Mitchell and published on page 129 in Modern Library's 1995 edition of Rilke's Ahead of All Parting —by advising, "Work of the eyes is done, now / go and do the heart-work / on all the images imprisoned within you; for you / overpowered them: but even now you don't know them. / Learn, inner man, to look on your inner woman, / the one attained from a thousand / natures, the merely attained but / not yet beloved form."
(Article submitted August 2016)