The Pleasures of Contemplation: Solitude
Robin Schlaht's First Dramatic Feature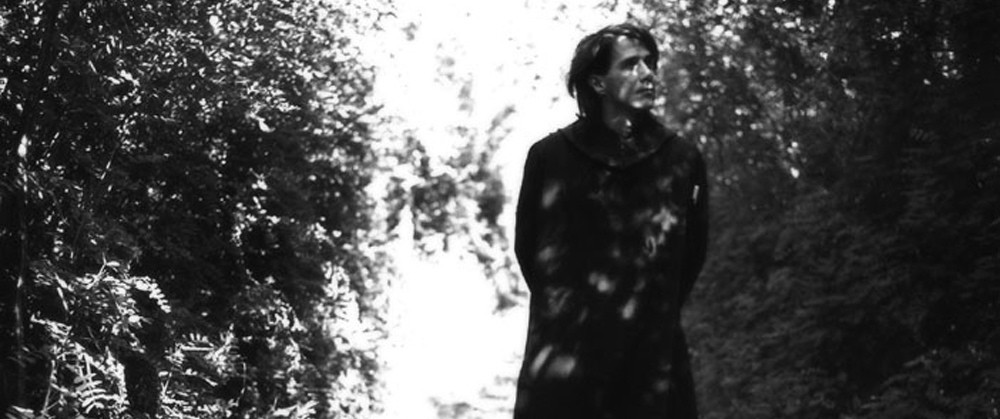 Robin Schlaht's first dramatic feature Solitude opens with a detail shot of Giotto's fresco Meeting at the Golden Gate. From the background of the painting, we are shown a woman concealing part of her face with a black robe. Four other figures look on, their facial expressions enigmatic and ultimately impenetrable. If their aspect reveals a subtle joy, the source of that joy remains elusive. In examining this image, we encounter several of the film's thematic concerns and formal strategies: the fragmented, ambiguous backstories and paradoxical motivations of the lead characters, the idea of emotional detachment, the motif of observation and the folly of trying to understand the heart of another. At its heart, Solitude is about personal journeys, about everyday lives filled with small victories and moments of what Henry David Thoreau called "quiet desperation".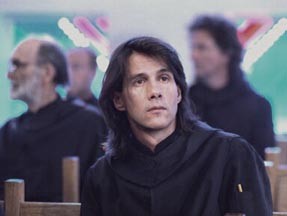 Lothaire Bluteau as Brother Bernard, photo by Robin Schlaht
Based on a short story by Regina writer Connie Gault, the film explores the transitory connections that develop one summer between two female retreatants and a monk at a rural monastery. Linda (Wendy Anderson) is an urbane but emotionally guarded woman in her mid-thirties who seems to be unwilling or unable to invest emotionally in her relationships. Her stay at the abbey is complicated by her encounter with Michele (Vanessa Martinez), a 19 year old with a vivid imagination. For a time, the two women fall into a comfortable mentor-protégé relationship. Michele's restless search for an identity leads her through a series of misguided infatuations and eventually culminates in her assumption of the guise of a nun. She wants to think like a nun, act like a nun and have nun-like fantasies. On an intuitive level, Michele seems to understand the dangers and rewards inherent in taking emotional risks. Her gradual movement towards a more peaceful state is witnessed and encouraged (initially from afar) by Brother Bernard (Lothaire Bluteau), a timid young monk who is having his own crisis of faith. In keeping with the Benedictine imperative – that the value of life is in engagement, in facilitating positive change in another – Brother Bernard struggles to put aside his doubts and find some practical use for his philosophical deliberations.
Solitude is a film without an inciting incident (unless one considers the arrival of Michele at the abbey, an event which occurs before the film begins). The film's structure is episodic, consisting of highly resonant privileged moments spelled by intervals of quiet reflection. Schlaht believes that these negative spaces – moments of uneasy stasis, hesitation or indecision – ultimately define his characters. The most compelling application of this concept is found in the character of Michele. Without the advantage of interior monologue – Brother Bernard regularly gives us his view of the world – Michele is most dependent upon a subdued yet charged environment which speaks eloquently for her in a language drawn from the rhythms, sounds and images of monastic life and the natural world.
Like an inquisitive Alice, she inhabits a universe where eccentric graphology students can analyze your character based upon someone else's handwriting, where a brown rabbit can lead one down the sylvan path to salvation. As a self-proclaimed novice, she engages in several incongruous (almost Buñuelian) behaviours, from buying nail-polish to stealing a miniature key-chain version of her new mentor, the Virgin Mary. Schlaht juxtaposes Michele's "nun scenes" with scenes involving her darker counterpart Brother Bernard: "You can't fight your way to God", he laments. "I find myself praying to believe. How sad is that? How ridiculous." The cross which Michele wears so lightly, without conviction, can be seen hanging on the wall of his study. Here humour and pathos exist side by side, striking the same ironic chord.
Michele's exploratory impulse eventually lead her to the bar in a nearby town, where she revives her infatuation with a local storekeeper. They exchange glances. Michele misinterprets his intent. She fixes her hair in the mirror – according to Schlaht "a place of introspection, transition and potential" for Michele – and exits. Outside, she happens upon the storekeeper again, this time in his pick-up truck. In an awkward, bold and ultimately inappropriate response to his friendly hello, she climbs in on the passenger side. Moments later, another woman from the bar (in retrospect Geraldine, his wife) approaches the truck. The storekeeper tells her that they're giving Michele a ride back to the abbey, and Michele's fantasy world crumbles.
With a confluence of elemental images (e.g. glass, water), Solitude speaks eloquently of dark metaphysical forests, personal boundaries and the invisible barriers that divide us. We observe Michele's face as she sits between the storekeeper and his wife in the front seat of the truck. It's raining. We watch through the windshield as Michele engages in small talk with Geraldine, the bursts of dialogue separated by long uncomfortable silences. In a constant rhythm, the wiper blades persist in a vain attempt to push away the relentless waves of acute humiliation. As they arrive at the abbey, Michele escapes the truck, leaving her key-chain statue (her new identity, her illusions) behind on the front seat. The scene is followed by Brother Daniel (Michele's other imaginary beau) playing a somber melody on the organ. As in Yasujiro Ozu's silent codas, these transitional sequences draw meaning and weight from the scenes that precede and follow them, speaking volumes for the characters which inhabit them.
The film's penultimate scene consists of another remarkable long take. In the forest, Michele breaks down beneath the weight of her solitary struggle. As the shot progresses, we come to understand that these are tears of redemption, that we are witnessing a deeply transformative moment. The forest ambience is, at last, broken by an off-screen voice: "I've come looking for you". Brother Bernard hesitates and then steps forward into frame. The two figures embrace. In a film dominated by tableau framings, Schlaht saves one of his few close-ups for a moment when two emotionally isolated characters finally make contact. He elects to shoot Michele's epiphany in shallow focus as a means of 'isolating the character from the outside world and directing our attention towards her internal emotional process.' The scene becomes almost impressionistic, its use of tonal gradients and iridescent light conveying her fragile emotional state. Michele's inner journey creates profound changes in both herself and Brother Bernard. The dissonance which she has injected into the status quo has grown into spiritual transcendence.
By design, Solitude is the antithesis of the tightly constructed narrative. The characters' backstories are fragmentary, the exposition gradual and ambiguous. Schlaht derives his strategy from the film's location: "It was partly due to the nature of being on retreat at the abbey. The asking of questions is not encouraged. Very few questions are asked in Solitude and even fewer are answered. The characters are so involved in the process of observing and interpreting or misinterpreting ..that it seemed appropriate to invite the audience into that same process. Not knowing keeps one engaged."
The character of Linda is the embodiment of this "strategy of doubt". At one point she is asked what she is doing at the abbey. For the first time in the film, Linda (a consummate chameleon) is caught unprepared. She hesitates, then responds: "I don't know". Throughout the film we have brief glimpses into Linda's home life (via phone calls), but the question is never fully answered. For all the pain of Michele's journey, Linda inhabits an even darker place. Soon after Michele's experience in the bar, the two women have a unexplained falling out and Linda decides to leave the abbey. In her rear-view mirror, she sees Michele emerge from the forest, waving frantically. But Linda continues to drive, pretending not to see her. She rolls up the window and shuts the world out, her last hope for meaningful change rapidly receding behind her.
Schlaht describes Linda's final gesture as a "casual, everyday act of betrayal." In Gault's short story, Michele has the chance to apologize. In the film she does not. Schlaht discusses the implications of his decision to go with a less resolved ending: "I feel it suggests something about Linda – perhaps that she is bitter about her disappointing stay at the abbey and about her own inability to break free of the life to which she is confined in the city. It also suggests that the attention she had lavished on Michele was not entirely altruistic, that Linda had wanted to try on a role as well, that of mentor. I wanted Michele's hiding in the woods to have a concrete impact on her relationship with Linda. In the final analysis, we absolve Michele. We sense that she has changed and entered a new phase in her life – one in which she will be more courageous, more aware of the consequences of her actions, and more comfortable with herself".
For Schlaht, the movie screen is a contemplative and cognitive space, a philosophy that's grounded in his background as a documentary filmmaker. Films such as Sons and Daughters (1994) and Moscow Summer (1996) are deeply affecting social documents that resonate with an intrinsic respect for his subject, the exquisite b/w imagery (often shot in slow motion) inviting the viewer to consider the importance of the gestures and inflections of everyday life. His move from documentary to narrative fiction is marked by a less formalized approach to the same humanistic values and concerns. The episodic structure remains, as do the meditative non-verbal sequences. And the film has its formal constructs, such as Brother Bernard's recurring interior monologue or the intertitles (consistently drawn from the dialogue in the subsequent scene). However, Solitude ultimately achieves a transcendence for its characters by other means, primarily through, as Andrei Tarkovsky writes, "a poetry born of pure observation…that does not signify or symbolize life, but embodies it."
Click here for interview with Robin Schlaht.