Masterpieces of Silent Japanese Cinema
History captured by digital technology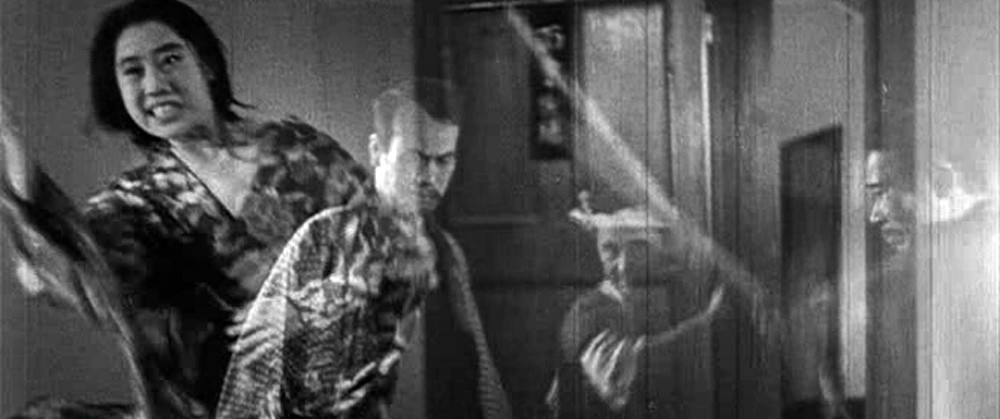 Although there is a fear among film purists where digital revolution is concerned, those of us who study film are more often inclined to acknowledge the benefits of digital technology. For such reasons as the recent DVD-Rom entitled Masterpieces of Silent Japanese Cinema. It is sadly ironic that the very medium which may spell the end of celluloid has made it possible to research and have access to a body of films otherwise available only to those able to attend the Japanese archive collection which houses the majority of the films excerpted: Matsuda Film Productions (named after the famous benshi and pioneer in the field of film preservation, Matsuda Shunsui). Editorially supervised by long-time film historian/critic Sato Tadao, the DVD-ROM is, in his words, "packed with data on over 12,000 titles and allows you to view story synopses, commentaries and still photos from 1,000 films; profiles of 560 staff and cast members; and precious clips of famous scenes from 45 silent films presented by benshi narrators."
Once easily installed (hardware requirements are Windows 95 or higher, 200mhz or higher, 300MB hard drive space), you are faced with a three icon menu of Theatre, Library, and Research Center. The Research icon links to a box which enables you to search for film titles or people through either key word, complete listing, or a multiple search form. The Library icon expands to three other linked icons: Interviews, Profile, and Reference. People interviewed are Akiyama Yoshikata (projectionist from 1912-1970), Silent Film researcher Larry Greenberg, Film Critic Sato Tadao, benshi Sawato Midori, actor Matsuo Fumindo, and film director Yoshimura Kozaburo. Each of the interviews are further broken down into subject heading. All the interviews, safe Greenberg, who speaks in English, speak in Japanese with their words translated into English text. Intersecting across all sections of the DVD-ROM is the importance of the benshi in Japanese silent cinema. For those uninitiated, a benshi was a performer-narrator who would stand stage right to the screen and accompany the film with narrative exposition, commentary, and personal interjection (such as character voice intonations). Their function was not only to explain the on-screen events, but sometimes interpret or dynamize them. The benshi was an important component of silent Japanese cinema, in some cases achieving more popularity than the on-screen actors. In the interview contemporary 'neo-benshi' (my term) Sawato Midori makes the interesting observation that tragedy was the easiest type of film to work, and gag-filled comedies the hardest (proving once again the famous adage, that nothing kills a joke like trying to explain it). Larry Greenberg speaks exclusively about the importance of the benshi and his experiences touring The Water Magician with a benshi in many countries around the world. And how a benshi-accompanied film with English subtitles played exceedingly well to even non-Japanese speaking audiences. It is estimated that there were several thousand benshi working in Japan. The popularity and strength of benshi union is one of several interlinked reasons (expense of re-equipping theatres being another) for why the silent era lasted considerably longer in Japan than in other national cinema (silent films were still being made as late as 1935 in Japan).
The Reference section of the Library consists of a series of short essays on a variety of topics ("The Arrival of Cinema in Japan," "The History of Silent Film in Japan," "On the Benshi," "Inside the Motion Picture Hall," etc.). While the Profile section contains 560 mini-profiles on important figures in Japanese Silent Cinema. The piece de la resistance of this DVD-Rom is in the Theatre section, which houses the 45 film clips. A majority of the clips have benshi accompaniment that is translated into subtitles, a gesture which gives one a good indication of the benshi's appeal and value to early Japanese cinema culture. Although I was unable to understand the language, the voice changes for specific characters and emotional variation according to situation came through clearly.
The clips run about 2-3 minutes each and, although they vary in quality according to original source material, are for the most part more than acceptable. The clips are supplemented with additional material which can be accessed on the start-up menu of each clip. The additional material includes story (plot synopsis), commentary, photographs, and excerpted text from the commentary that can be copied into a word processing format. This menu includes an option which allows you to return to the clip.
In his interview Sato Tadao makes an interesting point regarding the extended period of silent cinema. He claims that the 4-5 years that Japanese cinema fell behind the US and other nations in the shift to sound allowed them to further the art of the moving camera. Not only is this point borne out by the film clips, but to me personally by professor Peter Rist, who saw many of these films at a Japanese silent film retrospective at this year's Pordenone Silent Film festival). Most of the clips featuring extensive camera movement were from period films (jidai-geki). For example the clip from Kutsukake-no-Tokijiro (1929 dir. Tsuji Kichiro) is full of short, quick pans and a 360 degree movement around two samurai about to engage in battle. Or during a one versus many sword battle in Moon Silver Jirokichi (1930 dir. Goto Taizan), with the camera mimicking the movements and energy of the fight with quick, short, choppy left-right panning movements. Short, quick camera movements energize the fight scenes in Chuji's Travel Diary (1927 dir. Ito Daikuse) and Karama Tengu (1928 dir. Yamaguchi Teppei). For non-period films there is The Missing Ball (1930 dir. Sawada Junsuke), where a panning camera is used to follow a girl's high school race.
An opposite stylistic approach can be found in Matsunosuke no Chushingura (1910, 1913, 1917? dir. Makino Shozu), estimated as the oldest extant version of the Chushingura story (47 Ronin). The clip demonstrates director Makino Shozu's 'naive' theatrical framing, with only one cut in a scene of two minutes. But within the context of many other far more kinetic clips (quick camera movements and fast cutting) this sticks out for its simplicity and dramatically mounting tension. While the ronin surround Lord Kira, the camera remains static in long shot capturing the wintry landscape, with gently falling snow in front of a background combination of constructed set and painted backdrop.
Among the clips are a handful of animated films, the best being The Tale of Chibisuke the Midget. In the excerpt Chibisuke, a female midget (bonze), is attacked by a mountain demon. She cleverly uses a stamp to make multiple copies of herself that form an army that chases away the demon.
Two of the standout clips came from I Have Sinned Sakubei (1930, dir. Sasaki Kojiro) and Bloody Town. The former is a sensitively directed and acted scene (with actor Masao Inoue as Sakubei) which depicts an poor old man being socially stigmatized by a middle class couple. Bloody Town (1938, dir. Yashiro Takeshi), the latest silent film, features some incredible live action stunt sequencing (with no special effects). Actor Hayafusa Hideto, who plays a reporter, specialized in action scenes and was known as "the "birdman" star of the Showa era. In the clip we can see why. He is in hot pursuit of a car driven by a gang which has kidnapped a scientist and his daughter. To track the car down he jumps from rooftop to rooftop, hand glides on a high wire from a building to a suspended bridge, a la Spiderman, and then latches onto the front bumper of the moving car from a supine position and rescues the doctor and daughter from the gang. I nominate Hayafusa Hideto as the original Jackie Chan.
As Sato Tadao notes, the silent Japanses period represents some of the best films by directors such as Ozu Yasujiro, Goshe Heinosuke, and Ito Diasuke. With this new DVD-ROM fans and scholars of Japanese cinema can peruse for both pleasure and enlightenment a magnificent single source wealth of historical research.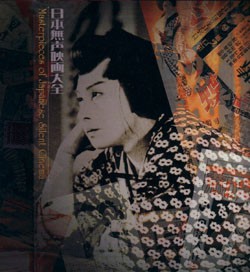 List of 45 Films Featured with Clips
The Master Sword Araki Mataemon (1935) Nishina Kumahiko
The Dancing Girl of Izu (1933) Gosho Heinosuke
Idaten Kazuemon (1933) Goto Taizan
The Tale of Chibisuke the Midget (1935) Seo Mitsuyo
Why is Seawater Salty? (1935) Murata Yasuji (animation)
Detective Umon's Diary, Story No. 6 (1930) Nishina Kumahiko
Jirochiki the Rat (1931) Ito Diasuke
I Have Sinned, Sakubei (1930) Sasaki Kojiro
The Downfall of Osen (1935) Kenji Mizoguchi
Orochi (1925) Futakawa Buntaro
Kimura Nagato-no-Kami (1928) Ishiyama Minoru
Vanity is Hell (1925) Uchida Tomu
Kutsukake-no-Tokijiro (1929) Tsuji Kichiro
Karama Tengu (1928)Yamaguchi Teppei
The Best Patriot (1932) Itami Mansaku
Kodakara Sodo (Kid Commotion) (1935) Saito Torajiro
Sakamoto Ryuma (1928) Edasama Yoshiro
Spell of the Sand Painting, pt. 2 (1927) Kanamori Bansho
Bloody Town (1938) Yashiro Takeshi
Mito Komon 2 (1928)Ikeda Tomiyasu
I Graduated, But (1928) Ozu Yasujiro
Genta: The Long Sword (1932) Yamanaka Sadao
The Water Magician (1933) Kenji Mizoguchi
Scattered Flowers (1938) Nakajima Hozo
Chuji's Travel Diary (1927) Ito Daikuse
Chushingura (1910) Makino Shozu
Tsukigata Hanpieta (1925) Kinugasa Teinosuke
Passing Fancy (1933) Ozu Yasujiro
Tokyo March (1929) Kenji Mizoguchi
Tokyo Chorus (19310) Ozu Yasujiro
Nakayama Shichiri (1930) Namiki Kyotaro
The Wild Fox Sanji (1930) Koishi Eiichi
Private Norakuro (1933) Murata Yasuji
The Idle Vassal (1930) Furumi Takuji
Two Quiet People (1922) Daido Gengo
The Benten Kid (1928) Kinugasa Teinosuke
Namiko (1922) Ikeda Yoshinobu
Magistrate Tattoo (1933) Fuyishima Taizo
Banba no Chutaro's Long Lost Mother (1931) Inagaki Hiroshi
The Missing Ball (1930) Sawada Junsuke
Moon Silver Jirokichi (1930) Goto Taizan
The Blacksmith of the Forest (1929) Shimizu Hiroshi
Yaji and Kita: Cat Fuss (1937) Yoshimura Misao
Yaji and Kita: Yasuda's Rescue (1927) Ikeda Yomiyasu
Samurai Town 2 (1929) Makino Masahiro