Screwballs
Teen Comedy Canadian Style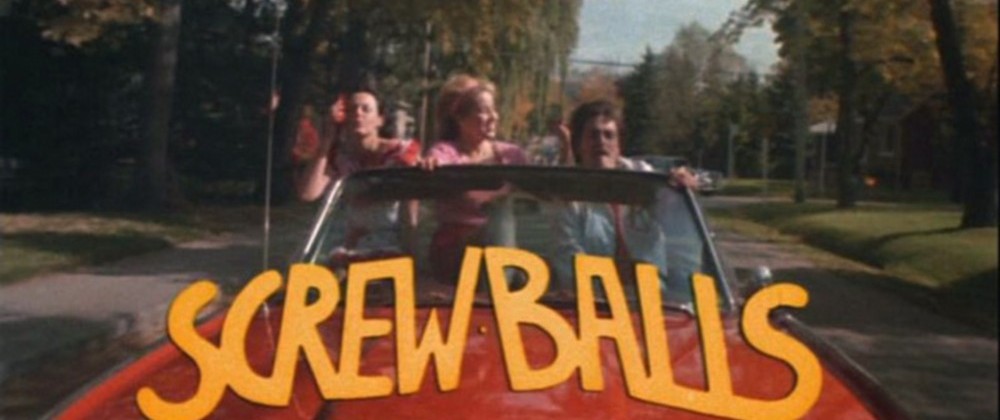 As Canuxploitation expert Paul Corupe notes, Screwballs (Rafal Zielinski, 1983) was the first Canadian film to follow-up the teen comedy success of Bob Clark's Porky's (1980), which is still the highest grossing (eh, maybe even grossest) domestic release Canadian film ever. Unlike Porky's, Screwballs (like that other Canuxploitatin classic My Bloody Valentine) doesn't try too hard to hide its 'Canadianness' (as Corupe reveals, the drive-in scene in Screwballs is set at Pickering, Ontario's Te-Pee Indoor Outdoor Drive-In, which closed in 1997
("Screwballs".)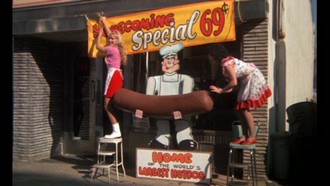 Other important films in this comedy subgenre (high school teen sex comedy) are Animal House (1978, John Landis), Meatballs (1979, Ivan Reitman), Fast Times at Ridgemont High (1982, Amy Heckerling), and American Pie (1999, Paul and Chris Weitz). Screwballs clocks in at 79 minutes but a 79 minutes without fat (plot, character development, etc.) whatsoever and reduces the formula to its bare-bone essence: horny caricatured teenagers (boys and girls) thinking about and doing nothing at all except sex. Everything from character names (Melvin Jerkovski, Miss Anna Tomical, Purity Busch, Bootsie Goodhead, Miss Boudoir, etc.), locations (the high school Taft & Adams' acronym is T.A., short for tits and ass of course), company names (Good Head's Plumbing and Heating), to art direction (opening scene of two waitresses pretending to fornicate with the restaurant's huge hot dog advertisement) revolves around sex. It is a world imagined by horny teenagers. There is no narrative to speak of, but a series of sex set-pieces where the gang of male friends come up with schemes to try and sneak a peek of their female classmates. Peter Keleghan as Rick Mckay steals the show with his (largely successful) attempts to impersonate school faculty to exploit the titillation potential (filling in as the school doctor during women's breast exam day, and the home economics teacher (in an hilarious drag performance). More than half of the gags revolve around sex or sexual arousal: masturbation, erections, phallic symbols, penises jokes, etc.. Even Mickey Rourke's famous popcorn/penis joke from Diner is given a teen comedy revamp by Jerkovski during the drive-in scene. As is the case with many teen comedies, the principal actors are non-celebrities. The only actor to have followed Screwballs with a solid career is Rick Mckay, who plays cardigan-wearing school stud Peter Keleghan. Keleghan has developed into a wonderful comic actor, excelling as the slow-witted weather man Jim Walcott in Ken Finkleman's hilarious news show satire, "The Newsroom" (1996-97).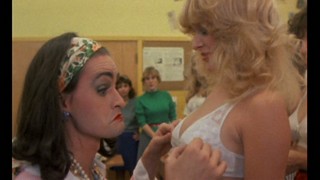 Peter Keleghan in drag
What gives the film a decidedly Canadian ethics is the lack of the cruelty you usually find in these teen comedies. The friends may be from different classes and backgrounds, some are conventionally better looking than others, yet they accept each other without disdain or ridicule. Everyone is accepted for who they are, which is efficiently established by name, look or clothing. The differences are muted by their common pursuit of sex. The group includes lady's man Peter (Mckay), preppy, blond-haired Brent Van Dusen III (Kent Deuters), who carries a tennis racket wherever he goes (which reminded me of Julian's perennial glass of Rum and coke in "The Trailer Park Boys"), science nerd Howie Bates (Alan Devau), who uses his science skills to concoct 'cheap thrills' schemes, like his mirror device to look under girl's skirts as they walk down stairs ), and chubby Melvin Jerkovski (Jason Warren) who, as his name would suggest, is a serial masturbator. What also makes the film progressive, of its kind, is that most of the girls are just as randy as the boys, and are more than willing to take the initiative. The only exception is the school Goddess and self-professed virgin, Purity Busch (Linda Speciale), who occupies the mind of all the boys and spends her nights wrapped around her surrogate sex-mate, masturbating with her oversized blue teddy bear! Busch's prudishness casts her as the school castrator in the eye's of the boys, exemplified in the diner scene where the sight of one waitress swallowing a sausage whole excites the boys, but their excitement is curtailed by the accompanying sight of the Purity slicing her breakfast sausage in half.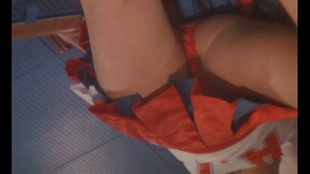 Howie's science skills put to extracurricular use
Caricatures are played so broadly that the film is as much a parody of itself, as a straight teen comedy (even granting that caricature is an inherent element of the teen comedy). For example, the sexy French teacher, Miss Boudoir's accent and elocution alone is a turn-on for the male students. The biology teacher is of course, far more interested in male anatomy than frog specimens. And the apparently rigid Principal Stuckoff (Donnie Bowes) is just as charmed by Purity Busch as the boys. The repressed, homely Librarian makes more noise 'hushing' the students than they ever could. That the film is able to be self-mocking and genuine at the same time is a credit to director Zielinski.
Director Zielinski adds to the film's contemporary appeal by employing a range of clever cinematic touches to generate the humour, such as Benny Hill-style fast motion during the strip bowling scene, reflexivity (a young boy asks her mother at the drive-in if the film is 3-D after a girl's bra hits their car hood, and she replies, "Yes….dirt, dirt, dirt"), associative editing (a potentially violent incident cuts to a close-up of ketchup being splattered onto a hot dog bun), and inventive crosscutting during the climactic drive-in scene between the on-screen coliseum fight and a fight at the drive-in. While the film is set in the 1950s, and makes some mild attempts at verisimilitude with the cars, costumes and casual references to 'the Commies', the film playing at the drive-in theatre is the American Roman-Peplum from 1974 The Arena (star Pam Grier is featured in most of the excerpts); and a scene which has a group of bikini clad female students slumbering toward Howie references post-60s zombie films. I would also add the possibility of a surprising (in a teen comedy) bit of intertextuality in the scene where the boys catch the schools' Principal Stuckoff at a nude dancers bar enjoying the company of the strippers. They blackmail him by taking a photo of him in an incriminating pose with a stripper. The nude bar scene may be a reference/homage to Blue Angel, where the morally righteous Professor Rath (Emil Jannings) is caught red handed by his students in the company of stripper Lola Lola (Marlene Dietrich).
Night of the Living co-eds!
Severin Films has treated this little oddity with the care and devotion one normally accords important major films (bless their hearts!). The film was shot on 35mm but the 16 × 9 anamorphic (1.66) DVD transfer is from an excellent 16mm internegative which does a good job of representing the film's colorful mise en scene (though some softness is evident). As director Rafal Zielinski explains on one of the many DVD extras, his aesthetic design for the film was to incorporate a comic book feel to the film (he cites The Archies) by emphasizing strong primary colors, bold framing, and blocking shots with action in depth (he reveals how much of this was explained to him by co-producer Roger Corman as 'rules' to increase the film's production values). Zielinski also provides an informative commentary track, and other extras include Cast and Crew Interviews (director Zielinski, co-writer/actor Linda Shayne and co-writer Jim Wynorski, star Kent Deuters (Brent), and SPFX artist Gerald Lukaniuk), a throw away featurette entitled "Mr Skin talks sex comedies of the 80s," Deleted Scenes, an interview with Paul Corupe, and a Theatrical Trailer. Once again, Severin Films goes above the call of duty with this welcome DVD release.