Porn-O-Rama
From the Inside Out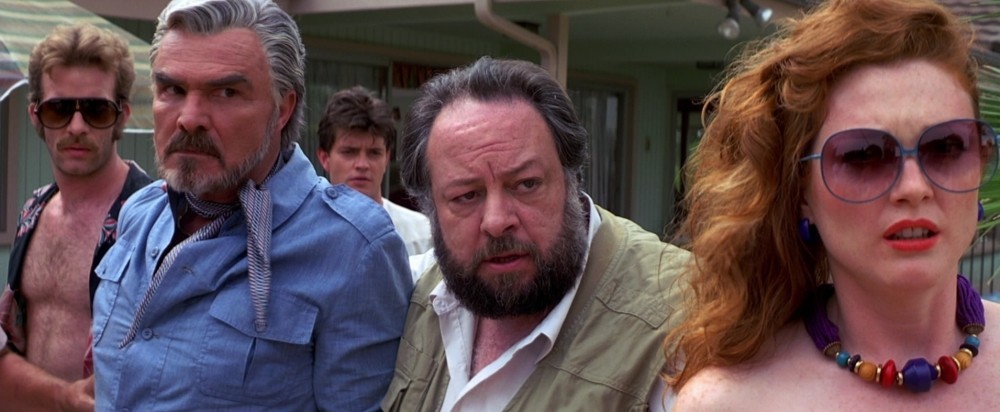 Beware. We are about to delve into murky waters with our review of Private Screening's (an offshoot of Severin DVD) Porno-O-Rama DVD. The DVD package collects 5 half-hour segments of a documentary shot and edited by Paul Norman (not to be confused with the 70's and 80's porn actor), who was one of the leading porn film directors in the mid-90's to the mid '00's. The objective of this documentary is to show that life within the porn industry is not all that bad, and that it is as self-regulated and controlled as any legitimate business.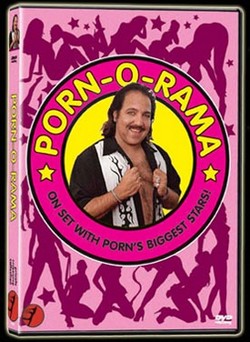 There is an inherent problem with a documentary that purports to show the porn industry "as it is" as seen from Norman's POV because, being a porn director himself, we can not be certain that these stories are not staged for the benefit of a mainstream audience in order to appease the public's bad image of the porn industry; the objectivity of the whole project is up for question. The text on the back of the DVD cover promises an unparalleled look behind the scenes of a porn shoot. Segments range from: How do you scout locations for an adult film (video)? How do actors prepare for a sex scene? What are the long term goals of some of the actors profiled? And, of course, the inevitable question asked of all porn stars: "What does your family think about your chosen profession?"
Each segment begins with an introduction by the quintessential porn Icon, Ron Jeremy and starlet Alexis Devell explaining what the upcoming half-hour has in store for the viewer. Part one of the first segment has Ron and Alexis asking various performers if they enjoy anal sex onscreen, as well at home, or whether it is something which is reserved only for their private life. Other nuggets of valued information pertain to the illegality of golden showers in US videos, with Ron interjecting, "do you do it at home?" followed by details of preferred body parts for the 'golden shower'. There is a good bit with the "master blaster" Peter North (our Canadian superstar of XXX), going over how he likes to perform with the girls of his profession (North's on-screen interview is in fact very rare, as he is known to shirk them at most opportunities).
Part two of the first segment looks at the preparation actors go through before filming their sex scenes, which includes a disturbing anecdote of a starlet telling Jeremy that she had performed an anal scene with an actor who was drunk on set, which ended up rupturing her and making her bleed; we are shown the scene in question (in a toned down "R" version), but this is where the issue of the veracity of the documentary comes in: was the scene staged simply to illustrate that this occasionally happens on set? The segment continues with North, who describes how some kids had peeked over a fence and witnessed him receiving oral sex on an outdoor location shoot, which required breaking and moving the set to an undisclosed location. These stories touch on issues of why this is perhaps not as controlled as the "industry" would like us to believe. Paul Norman (the documentarist who also happens to be directing the adult video North is telling us about) explains the reason for the change in location, as well as his annoyance with male stars with premature ejaculation issues; the lines between reality and fiction begin to blur.
The late John Dough –quite a few of the performers interviewed in this video have actually passed on, sadly not an issue that is discussed here– relates that he is comfortable using condoms on set, and that if the women require it for a shoot, it should be their choice.
Part one of segment two deals with the issue of how informed the parents of these performers are with regards to the work their children are doing. Another now deceased male porn star, Cal Jammer, says that his parents know of his work, and are approving, so long as he takes the necessary precautions. Actress Samantha Strong, who has been in the "business" on and off for a number of years, tells us that her parents (who are separated) do not mind her choice of work, and that her mother asks her for money all the time (according to an interview Strong gives in a later segment, she stops performing when in a real relationship, which is how one can tell if she has a boyfriend or not). Jeremy asks another star by the name of Marcello whether or not he is bothered when his girlfriend (porn star also) has sex with other men on shoots, and he responds by saying that "you have to learn to separate work from your private life"; all the while we see his girlfriend in the background being serviced by another male porn star on an exterior shoot. Even if some of these interviews were rehearsed, they still reveal some of the real person behind the porn actor, and some seem disturbed by the path they have chosen in their lives; Tom Byron (who has been doing this since the mid 80's) is a good example of a male star who seems to be in complete denial of the implications of his career move, and the effects it can have on his familial and personal relationships.
These interpersonal and ethical concerns are examples of the issues this documentary really should have concentrated on, because they are the ones that the mainstream audience, for which this video has been made, would like to learn more about. Perhaps realizing that his documentary was taking more of a critical look behind the scenes than he had planned for, Paul Norman decided to minimize these aspects of the story; however this is just speculation based on the contained evidence.
Those of you expecting some hardcore footage because it was shot by an "insider" will be disappointed, as the targeted audience is obviously more mainstream; you do get a lot of nudity, as clothes do not seem to be a required prop on porn sets, and you get lots of shots of women wiping off the obvious evidence, underscoring that there are no special visual effects or CG effects in these videos! The aim of the shows (and interest to its audience) probably appeared limited even to its director Paul Norman because there is an annoying editing style that's immediately recognizable from mainstream shows such as Entertainment Tonight, with quick cuts and sound bites that are repeated ad infinitum from show to show over the five episodes; all these little segments amount to a lot of wasted screen time.
The image quality of the DVD leaves a lot to be desired, but I think the reason for that is simply because modern technology has spoiled us with the current crop of DVD mastering and Blu-ray clarity. The image looks like a worn out VHS tape with plenty of oxidized speckles (a relic of the old videotape formats) and washed out color.
Anyone –and I'm sure there are plenty of you out there– who has seen a handful of porn film at some point in their lives might enjoy watching this for the sheer insanity of that type of lifestyle, but I cannot recommend it as a 'good' documentary since it appears to me all Norman is trying to do is sell the porn lifestyle as an OK career option. This video simply ends up being another failed attempt at showing what life within the porn "industry" is like, among many others such as the documentary The Annabel Chong Story (click here to read my interview with Annabel Chong), and the fictional Boogie Nights, although the latter IS a good film for what it wants to say. Unfortunately, the porn industry seems to be too much of a galvanizing issue for it to be treated objectively in a documentary.
Filmmakers who try their hand at doing such work can not help filtering it through their own political agendas which distills the voices of the people whom these documentaries purport to represent. These people (it would appear) seem to want to communicate to an outside world without being shunned as pariahs of society, so when will they be given an honest chance to do so? The unbiased Porn documentary has yet to be made; perhaps it is just a pipe dream!