An Interview with David Gregory
Co-Founder of Severin Films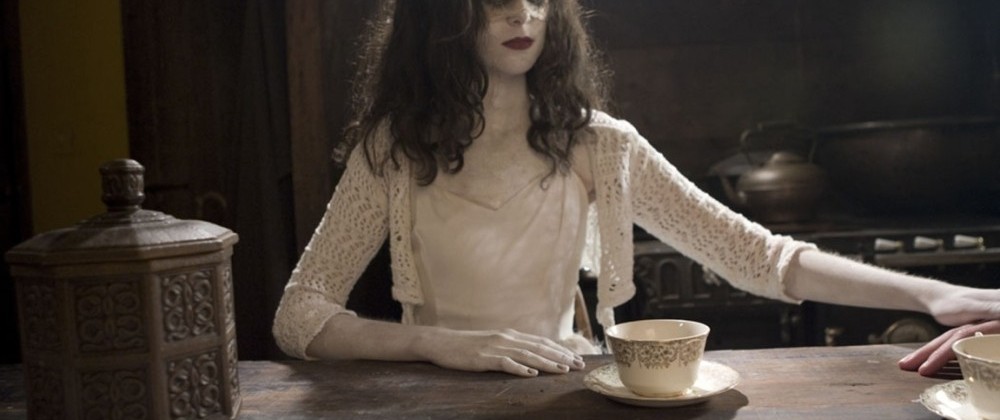 Offscreen: I know you have been involved in DVD production for many years, noticing your name on a lot of DVDs over the years. Can you give our readers a brief summary of your background and how you came to DVD production/distribution? Where did you work before you started Severin Films?
David Gregory: I started a business in the UK with my friend and business partner Carl Daft called Blue Underground in 1997. We released films like DERANGED, DEATHDREAM, KILLING OF AMERICA and VIGILANTE on VHS under the Exploited label. It was tough because censorship was so expensive and strict over there it was hard to turn a profit on a film. I was always into filmmaking and an opportunity arose to do a documentary on TEXAS CHAIN SAW MASSACRE –I met Gunnar Hansen at a film fair and he said he was still in touch with quite a few of the key personnel from the film and as my sister was living in Texas it meant that for next to nothing I could shoot a bunch of interviews on a camcorder borrowed from a friend. That doc became THE SHOCKING TRUTH which we first released on the Exploited label and did quite well (later it appeared on all sorts of TCM special editions around the world) and it also brought me to the attention of Bill Lustig who was producing all of Anchor Bay's DVDs at the time. He hired me to do a doc on THE WICKER MAN and it was while I was out in LA editing it that he asked me to make a bunch more for them, including HEATHERS, FRANCES, MANIAC, EMMANUELLE, THE STEPFORD WIVES, etc. Then Bill formed Blue Underground (he liked the name and we had no objections to making our little UK company seem like a bigger entity) in the US firstly as a featurette production company then eventually as distribution label. I worked with him at Blue Underground until 2006 wherein my duties expanded considerably beyond featurette production to pretty much every aspect of DVD production and restoration.
Offscreen: When (and) how did Severin films come together? How many people are there behind Severin Films?
David Gregory: Me, the aforementioned Carl Daft and John Cregan (who had been working at BU with me as an editor and had done the sound editing on THE MANSON FAMILY on which me and Carl had come on as producers) formed Severin in 2007. Bill was starting to slow down in his acquisitions at BU but there were plenty of movies still out there in need of a DVD release and not necessarily the type of stuff that the other similar labels were pursuing. So that was the time for us to make a go of it. We aggressively acquired a bunch of titles like GWENDOLINE, FELICITY, the Jess Franco "Golden" films, ONCE UPON A GIRL and built a pretty decent catalogue quite quickly. Just recently Evan Husney joined the Severin team. He came from Troma having recently produced the impressive special editions of THE LAST HORROR FILM and COMBAT SHOCK.
Offscreen: When DVD technology started film fans were excited about the possibility of the supplementary features accompanying films to really provide intelligent and informative material. Alas, most DVD companies have diluted this to EPKs and glossy or superficial 'making of features'. Luckily some companies, like Criterion, Blue Underground (the defunct No Shame Films), Synapse Films, and yourselves, have lived up to this promise. Are there any people or companies specializing in DVD documentaries whose work you admire; or perhaps were influenced by?
David Gregory: I think when I saw and loved DOCUMENT OF THE DEAD back in the 80s I really wanted there to be more documentaries on exploitation filmmakers and filmmaking. When THE INCREDIBLY STRANGE FILM SHOW aired on channel 4 in the UK, that was when it was confirmed for me that the outsider filmmakers make great documentary subjects. It had episodes on John Waters, Russ Meyer, Ray Dennis Steckler, Doris Wishman, Herschell Gordon Lewis, etc. I loved that show. So even on our early Exploited VHS releases we had short interviews with the likes of Alan Ormsby and Harry Novak and Jim Van Bebber just because we wanted to hear from the makers of these marginalized films. Nowadays of course there is more first person documentary material available on Jess Franco and Enzo Castellari than there is on Bunuel or Fellini. But there has also been quite a lot of very poor featurette content on some cult releases. Poorly produced, lit, edited and worst of all making the interview subjects just so dull. When it's professionally put together and the content is presented in an interesting way then I'm still into watching that stuff but all too often it is not. I like the stuff Michael Felsher does under his Red Shirt banner. Bigger movies suffer even more from uninteresting featurettes. Often as you say they are the production EPKs which tell you absolutely nothing. But even retrospective featurettes sometimes seem to be made by people who have no interest in the film, the one on FIRE WALK WITH ME being the absolute nadir. Again there are obviously exceptions. In recent years companies big and small have been cutting their extras production budgets down to next to nothing so this obviously affects the quality too. We've still produced some stuff for other companies over the last couple of years including Criterion, Second Sight, Anchor Bay, Dark Sky Films, etc.
Offscreen: How important is it to Severin Films that the releases are accompanied by solid support material? Are increased sales directly related to the amount of supplementary features?
David Gregory: Well part of the problem in justifying the expense of solid featurettes is that it's impossible to tell if they have a dramatic effect on sales. As a consumer myself I always look for what featurettes will be on a given disc. Am very excited for the upcoming William Castle box set which has a ton of special features and also Jeffrey Schwarz's Spine Tingler doc. Being as we're in the extras game we try to at least get one solid featurette onto every release. We still love giving that filmmaker context to all that we do. In cases where it is warranted we'll go all out like on INGLORIOUS BASTARDS, SCREWBALLS and HARDWARE. In other cases it's hard to find anyone connected with the film still alive who's willing to talk and even if they're willing to talk, do they have anything to say? The Black Emanuelle films were a problem because of course Joe D'Amato is dead and Laura Gemser has retired from public life. But we managed to get a couple of archive D'Amato interviews and one or two other bits and pieces.
Offscreen: I'm always surprised when I listen to a commentary track and hear the filmmaker or actor or crewperson admit that they hadn't seen the film in "X" amount of years (and it often shows with indifferent or generalized commentary). From your experience in making DVD special features, is this the exception or the rule? Do you ever try to encourage the person to review the film in question before recording the commentary track?
David Gregory: More often than not the filmmakers are giving their time for free to do this stuff so they actually want to talk about the film and so have a pretty clear memory of it. When they don't we offer to send a copy ahead of time. It's not as easy as it may seem to sit and talk about a movie you made over twenty years ago though and so that's why I believe a moderator is essential to prompt during the dead spots, even if it starts becoming a more general interview towards the end of the track as he/she runs completely dry on material which is scene specific. The key is to just fill the track and be as scene specific as possible. It's always nice to get a second or third production person in there too so it's more of a friendly discussion.
Offscreen: How long does it normally take to produce a DVD, including the transfer, authoring, filming of the featurettes, etc.?
David Gregory: Depends on what elements are available, where they are (if they're in France for example always add several months onto the estimated delivery date), what condition they're in, etc.
Offscreen: One of the best documentaries I've seen in recent years was one that you directed, Spaghetti West, which you did for IFC I believe. Everyone always talks about Sergio Leone, with reason, he was a genius, but it was wonderful to finally get some exposure on the 'other' great 'Sergio's: Corbucci, Martino, and Sollima. You are also credited as writer for that. How much time did you spend researching that film, and what did your research entail? Are there any interesting anecdotes that grew out of making this documentary? Have you worked on anything else similar to this in scope?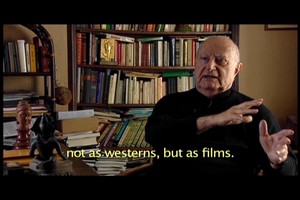 Sergio Sollima
David Gregory: My research entailed reading books, articles and watching a bunch of movies. And beyond that finding out who is still around to tell the story of that time in the Italian industry. One interesting story on that show was when we interviewed Tonino Valeri (director of MY NAME IS NOBODY). He was the only one who didn't speak very highly of Sergio Leone. In fact he went into some detail about this, probably in an effort to solidify his often in question authorship of MNIN. But once the interview was done he refused to sign his release form so we couldn't use him in the show. My biggest regret on that was that we were unable to clear Morricone's music from the Leone westerns. We had Alessandro "The Whistler" Alessandroni performing "For A Few Dollars More" and "The Good, The Bad and The Ugly" in the original cut. It was quite a big project for me in that it was done for TV with a decent budget and had all the legalities and restrictions which came with that. Other documentaries of a grander scale I've done include Ban The Sadist Videos Parts 1 and 2 which tell the story of the video nasties scandal in 80s Britain and are probably my favorites. Also The Joe Spinell Story was quite a big one. The Godfathers of Mondo too. My recent BARAKA doc was relatively epic. We're producing a fascinating piece right now directed by Evan Husney and Bobby Hacker on a new film we're bringing out called BIRDEMIC, which should change the game a bit too.
Offscreen: Just a comment. I think your documentary may have influenced another, an upcoming documentary titled: Eurocrime! The Italian Cop and Gangster Films That Ruled the '70s (by Mike Malloy)
David Gregory: Maybe but obviously I wasn't the first to do this stuff nor do I have a patent on the form. If it's interesting I'll watch it. Mark Hartley who has shot a couple of things for us in Australia did the recent NOT QUITE HOLLYWOOD doc which I understand really raises the bar. Looking forward to seeing that.
Offscreen: Many of Severin Films features interview Italian personnel. Does your budget actually allow for travel to Italy? Who does the Italian language side of the features (do you speak Italian)? Or do you usually engage someone from Italy to conduct the interviews?
David Gregory: I've been fortunate enough to travel to Italy numerous times over the last nine years to shoot the interviews, and many other countries in Europe. If the subject speaks English I'll conduct the interview. If not one of our coordinators in Rome will ask my questions. If I'm traveling there we try to coordinate as many interviews from as many films as we have in the pipeline to shoot in a few days. In some cases we've shot interviews for films we don't own yet but have our eye on as a future title just to maximize our time there. Also when I travel over there I can meet with sales agents, check film elements and such. There have been several occasions too where our coordinator has done the shooting in our absence if it doesn't make sense to make the trip.
Offscreen: I think there is a legal and financial reason as to why many featurettes are under a certain length, 20 minutes or so, perhaps to avoid some legal matter concerning rights. At least for North American or United States, since this does not seem to apply for DVDs from other regions. Can you explain that?
David Gregory: I haven't heard anything about featurettes having to be a certain length for legal reasons. For me the length needs to be dictated by the material. Of course not having to slot into a TV hour gives you a lot of freedom to include whatever you want. But honestly I hate featurettes which include the most dry, mundane material where the interviewee clearly has nothing to say on a given subject. There are plenty of solid, short featurettes out there.
Offscreen: I really laud your company for going out of its way to bring to the digital world such esoteric films (Screwballs, The Sinful Dwarf, In the Folds of the Flesh to name a few). How do you go about deciding on which films to release? Do you first come up with a title and then see whether the rights are available/affordable, or do you go the other way? Is there any one film which you were dying to buy but could not for financial or other reasons?
David Gregory: Anything we like can potentially be a Severin title. BLOODY MOON was a favorite of mine since seeing it before it was banned in England when I was about 9. Always wanted to get that one out there. FELICITY made a big impression on John too so we tracked down the director and licensed that. Nowadays we have to be a bit more picky because there simply aren't as many people buying odd eurocult titles any more. Gone are the days when we can roll the dice on a film like IN THE FOLDS OF THE FLESH.
Offscreen: So how do you juggle personal interest with marketability? In other words, have you ever released a film purely because of your love or attachment to the film, and suffered financially with the release?
David Gregory: There's always some marketability in a title we pick up but again we do have to be more careful these days. But you never know for sure. I mean we picked up HAIRDRESSER'S HUSBAND not just because I love the film but because as far as French films go, it had a pretty huge release back in the 90s and was really popular both critically and commercially. But it didn't do shit on DVD despite the fact that we had a beautiful transfer, some great extras, and it received great reviews. The same could be said for THE PSYCHIC. We thought a never-before-released Fulci giallo would be of interest to the eurocult buying public. Not so. It was outsold by the likes of THE EROTICIST, SISTER OF URSULA, BEAST IN SPACE and DEVIL HUNTER.
Offscreen: Which have been some of your better selling DVDs?
David Gregory: GWENDOLINE, INGLORIOUS BASTARDS and FELICITY are the top three I believe.
Offscreen: The actual process of procuring the rights to a film, searching for the best print source, etc., must be different from film to film, but is there a standard procedure that eventually takes shape?
David Gregory: It varies. In some cases a pristine master already exists. But more often only a film element, the negative or an interpositive, exists so we have to do a new transfer. And in some cases even that doesn't exist so we have to try and track down a decent print and if we can't find one, which is currently the case with HOUSE ON STRAW HILL (we had the negative but it had deteriorated so badly over the years by being in damp conditions it is unusable), then we can't release the title. We do a transfer, then tape to tape color correction, then digital clean up. The sound is restored concurrently. And the extras go into production as soon as we have a signed deal…or before as I mentioned earlier.
Offscreen: Likewise, I imagine there must be a myriad ways of marketing a DVD release. For example, the release of Inglorious Bastards was no doubt tied in as much as possible to the Tarantino film. Given the different parameters of marketing a DVD (online exposure such as blogs, company website, fan forums, DVD reviews, in-store exposure, exposure at film festivals, etc.), which have you found to be the most cost-effective and successful?
David Gregory: Getting review copies out there is the most cost effective and gets the best exposure. We've taken out ads on some of the movie websites but they're really expensive and again it's hard to tell what effect they have on sales. We usually take banner ads on DVD Verdict and AVManiacs.net.
Offscreen: I know that you have recently directed your first feature film, Plague Town. Have you always wanted to direct or is it something that came as a result of your working on DVDs?
David Gregory: Yes making dramatic film is where my passion has always been. I made PLAGUE TOWN for Dark Sky Films and had a blast making it and am very proud of it. Trying to put together another couple of projects now but frankly it's not an easy way to make money so the DVD business has to continue while me and John (who just finished his first feature DEVOLVED) try and work on our films. Luckily Carl has no such desire to be a director so the company has survived so far.
Offscreen: Are there any Severin Films titles that you are particularly proud of in terms of the quality and quantity of product? And the same question for something you worked on prior to Severin.
David Gregory: THE INGLORIOUS BASTARDS three disc came out beautifully I thought. Everything from the transfer, to Enzo's commentary to Federico's great featurettes and of course the coup of having QT sit down and shoot the shit with Enzo was superb. The upcoming HARDWARE double disc is going to be amazing too. So many special features and picture and sound that will blow you away. Prior to Severin I was particularly happy with the Mondo Cane Box, The Alan Clarke Box and BAD BOY BUBBY. Also DEATHDREAM as it took me forever to track down the rights and it's just a phenomenal film that deserved a wider audience. I don't think it was the right financial choice to put Mondo and Clarke out as boxes because they were simply too high priced for movies that people generally weren't familiar with. Particularly the Clarke box because you could argue that someone may take a $20 risk on a Gary Oldman, Tim Roth or Ray Winstone hooligan movie they hadn't seen, but not $100. They were beautiful sets though and really something we were all proud of. You could say the same for the Black Emanuelle Boxes we did on Severin. Those titles would have made way more money if we'd released them individually first. Lovely though they are, they sold pretty poorly.
Offscreen: I know you have jumped into the HD arena with some Blu-Ray releases so I am curious to hear your views on HD. Firstly, what are the factors at play in your decision to release a film on Blu-Ray, instead of just regular DVD? And, secondly, it seems to me, in comparison to the switch from VHS to DVD, that the dissemination of Blu-Ray has been much slower. Most stores I go to here in Montreal still carry mainly DVD. Is this true from your 'insider' perspective, or do you see it as a normal transition period? Was the incorporation of Blu-Ray a major financial investment (in terms of technology, infrastructure, etc.)?
David Gregory: Consumers are certainly not picking up the format as quickly as the industry had hoped. We will only put bigger titles on Bluray at this point. The costs of producing a Bluray disc have come down but they're still considerably more than DVD. And sell less.
Offscreen: From your 'insider' perspective, how do you see the future of HD and commercial home viewing? Do you think downloading will be the next big thing? Or will store-bought merchandise (packaging) always have its place?
David Gregory: There are very few brick and mortar stores which will stock our product. It's mainly online now. I'd like to think that people will always want the physical product on their shelves but that's not the way music's gone so we'll see.
Offscreen: I'm very excited to hear that you are putting out Hardware. I've met Richard Stanley a few times and have interviewed him, a fascinating character. Did you get to work with him on the DVD? If so, what was it like?
David Gregory: Yes, fascinating individual and a great filmmaker. He's been very helpful with providing us with materials for the release, his short films, scrapbooks of stills, storyboards, droid sketches, etc. He also did commentary and an epic sit down interview so he's been totally on-side. Of course one of the producers on the disc is Norm Hill who produced the Dust Devil set a couple of years back so Stanley fans should know they're in good hands.
Offscreen: Any future titles apart from Hardware that you are excited about?
David Gregory: HANNA D is the sleaziest young girl gets hooked on heroin and becomes a hooker in Amsterdam love story you'll ever see. And ART OF LOVE is the final part in Borowczyk's unofficial "immoral women" trilogy. Another beautiful erotic study from the great man. Then there's BIRDEMIC.
Offscreen: Thanks so much David for taking the time to do this.
---
Along with the four DVD/films reviewed in this issue, here is a sampling of other Severin DVDs mentioned or discussed in the interview, just to whet your appetite:
The Sinful Dwarf (1974, Vidal Raski, Denmark/USA)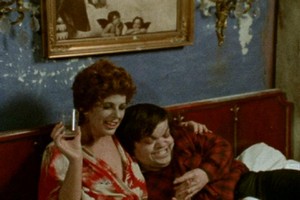 This is not exactly what I had imagined. Expecting something along the lines of 'dwarfexploitation', instead The Sinful Dwarf is a fairly raunchy, seedy (in the good 1970s grind house sense) Fassbinder-esque story of an ex-showgirl and her adult dwarf son that run a boarding house that covers for a white slavery prostitution ring. Olaf the dwarf (played by Danish actor Torben Bille) kidnaps the women, who are then kept nude, chained, drugged and imprisoned in a room to function as sex slaves. And there is plenty of sex on hand, most of it non-consensual as the sex slaves are kept perennially stoned, making most of the sex appear as rapes. The film opens with a twisted fairy tale scene where Olaf lures a young woman dressed in all-white into his home and then smashes her in the head with his cane while she is caressing his animated toy poodle. This establishes an odd parallel between Olaf and his stuffed, battery operated toy animals that is taken to symbolic levels in the film's violent conclusion. A film which oozes Post-War decadence in its setting, locations, art direction; the mother, Mary (Ann Sparrow), who speaks with a slight German accent, lives in the past a la Norma Desmond. Watching it brought to mind Peter's Walker House of Whipchord, made a year later (an influence?), and the far crasser and unappealing Bloodsucking Freaks (Joel M. Reed, 1976). Interesting soundtrack that blends heightened natural sounds, Jethro Tull-like rock music, and ambient experimental music and sounds.
Severin's relatively damage free transfer is remarkable for a film of this vintage, perfectly rendering the earthy, muted interiors, and properly presented in a full-frame aspect ratio. Special features include the theatrical trailer and two radio spots, plus a short feature entitled "The Severin Controversy" which must be seen to be believed (or not believed is more apt). If we take it at face value, we are to believe that two seasoned horror fans became so emotionally and psychologically scarred by this film that they want to prevent the film's release on DVD. If these two guys are not staged, I'll eat my shots! The featurette can be viewed on the Severin Film website, under the April 30, 2008 'news' entry.
Inglorious Bastards (Enzo Castellari, 1978, Italy)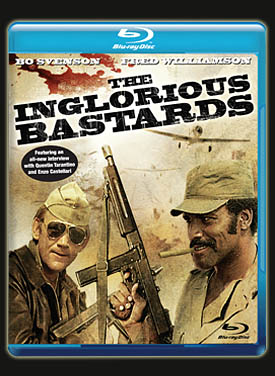 One of the most intoxicatingly fun DVD releases of 2009. No one would mistake this for a great film, nor Castellari as a director in the class of Bava, Argento, or Fulci (though he came damn close with his best film, Keoma), but this inspiration for Tarantino's recent big splash, Inglourious Basterds, demonstrates Castellari as a craftsman of the highest order. Tarantino does borrow enough from the earlier film to warrant the title match (World War 2 setting, a gang of misfits stationed in enemy territory who become caught up in an outlandish scheme against the Germans; the use of multi-languages, long action-less dialogue-heavy scenes), but Castellari's film is the orthodox genre companion to Tarantino's revisionist take. Castellari's film also has debts, largely to Sam Peckinpah's The Wild Bunch (especially in his use of slow motion in the fight choreography). Severin has pulled out all the stops with this one. The film comes in two choices, a 3-disc regular DVD and a single Blu-Ray, and both are brimming with worthwhile extras. Both versions share the same extras, with the following differences: the 3-disc set includes a soundtrack featuring 20 minutes of score, while the Blu-Ray has "Enzo's 70th Birthday Celebration in L.A." One of the extras highlights is the one-on-one between Tarantino and Castellari. Tarantino's manic demeanor can be tiring at times, but his infectiousness is hard to resist. It is obvious that this was filmed before Tarantino's film was finished, because it becomes apparent in some of the things Castellari says and asks that he truly believed Tarantino was actually remaking his film! It would be interesting to get Castellari's opinion on the Tarantino film after he sees it.
In the Folds of the Flesh (Sergio Bergonzelli, 1970, Italy)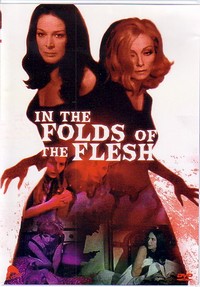 This is the film which brought Severin Films to my attention, as it was a title I had long craved to see, and the good folk at Severin Films made it happen. Sergio Bergonzelli's In the Folds of the Flesh (1970) is one of the oddest of an already odd breed, the giallo (which is saying a lot). Flesh serves up a four course meal of pop art splendour, lurid sexuality, multiple murders and an appropriately convoluted narrative which will have you getting out your pen and paper to keep things straight. As is common in the giallo, the narrative is non-linear, and features a key primal scene which contains the necessary clues to help the viewer unravel the plot. In this case it is a scene where the three principal characters of the film, a mother, a daughter, and a son, are involved in the death by decapitation of a man. What makes the structure unusual is that it introduces the theme of relativity, a la Rashomon, by offering a different interpretation of the events from the relative position of each family member present at the scene. Far more jarring than these primal scenes, are the flashbacks to the Nazi concentration camps, which make Flesh one of the few Italian horror or gialli that contains a Nazi subplot (Pupi Avati's Zeder and Francesco Barilli's Pensione Paura being two others). Like most gialli, the fun is not necessarily in figuring things out, but sitting back and letting the fashionable style win you over. For a Severin release, the extras are light (only a theatrical trailer), but the presentation comes in a near-pristine 1.85 anamorphic transfer, and for such a rare title, that is plenty. Click here for my earlier, in-depth analysis of this film.
Bloody Moon (Jesus Franco, 1981, Germany)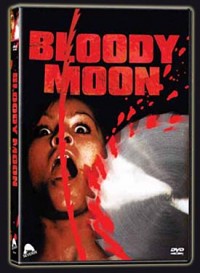 Bloody Moon represents prolific Jesus Franco's only foray into the then popular stalker cycle; however, Franco was never one to do things in an orthodox way, so what you end up with is a bizarre mix of stalker imagery (body count, point of view shots, attractive victims, etc.) with surreal, sexually perverse touches. The film has a bit of everything; some awkward comic relief (a student faking sex in her bedroom with her friends listening outside the door); plenty of gratuitous female skin; extreme violence, including a central showcase where a woman is tied to a chunk of stone and inched toward a large circular saw, while a little boy looks on helplessly rushing to try and save her; and a convoluted plot that you'll give up on by the end. Although the film perfectly fits the teen slasher mold, the plot revelation of monetary gain as the motive for murder has more in common with the giallo than the stalker film. Severin's anamorphic, 16 ×9 release is by far the best version available of the film on home video. The Severin release is also completely uncut, which accounts for some variance in print source for some of the violent scenes. The main extra is an entertaining interview with Jesus Franco, who speaks in a heavily accented, but passable English. Franco gives a good sense of the film's limitations, the lies he was fed during pre-production in terms of personnel, like being promised Pink Floyd for the music, a great DP, etc. He speaks highly of Juan Ramón Molina the special effects man, who was young at the time and went on to be one of the best in Spain. He compares horror to porn, both looking for an 'effect on the audience.'
Last House on the Beach (Franco Prosperi, 1978, Italy)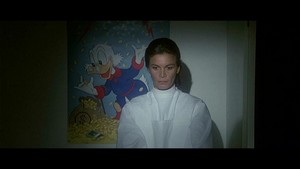 Florinda Balkan
The home invasion/containment genre has had a few notable entries in mainstream cinema, Lady in a Cage (Walter Grauman, 1964), The Desperate Hours (William Wyler, 1955, and its 1990 remake The Desperate Hours, Michael Cimino), and Whatever Happened to Baby Jane (Robert Aldrich, 1962) being the most notable, but it is undeniably one of the sub-genres of choice for the exploitation/horror genre. And the combination of exploitation/home invasion/containment commonly produces some of the more controversial and politically incorrect films of their kind. A few choice examples of the latter include Bloodsucking Freaks (Joel M. Reed, 1976) and Fight for your Life (Robert Endelson, 1977) (for misogyny and racism respectively). But when the filmmaker includes a hint of social awareness into the mix of aggression, edgy violence, and nihilism, the end product can be a lethal cinematic cocktail that aims to bruise rather than entertain. Some of the classics here include Wes Craven's Last House in the Left (1972) and The Candy Snatchers (Guerdon Trueblood, 1973). Other notable entries include House on the Edge of the Park (Ruggero Deodato, 1980, Last House on Dead End Street (Roger Watkins, 1977), and The Last House in the Woods (Gabriele Albanesi, 2006). Some films take creative liberty with the site of 'containment' by shifting from the orthodox home to, for example, a car (Bava's Rabid Dogs, 1976) and a train compartment (Night Train Murders (Aldo Lado, 1975). The Last House on the Beach is another addition to this venerable exploitation cycle, and lives up to the aforementioned qualities. Ray Lovecock (who made his debut as a youngster in Giulio Questi's great western Django Kills) stars as the leader of the low-lifes, a group of bank robbers who take refuge at a seaside villa and terrorize a nun (played by euro siren extraordinaire Florinda Balkan) and her five female arts students. Director Prosperi takes some satirical jabs at the machismo ethics of the home invasion film (impotence, implicit homosexuality) and subverts matters with a cathartic vengeance kill that invokes Shakespeare's Julius Caesar.
Severin's release comes in a near pristine 2.35 16 × 9 transfer with extras that include Italian and German theatrical trailers and an interview with star Ray Lovecock.