Scenarios USA: A Snapshot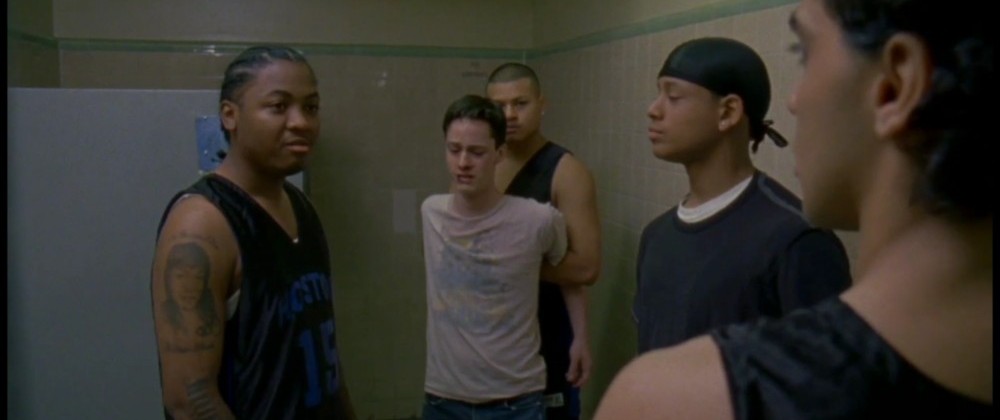 Scenarios USA is a relatively new (founded in 1999) (U.S.A.) National non-profit organization that develops innovative curricula aimed at youths, with a focus on marginalized communities (Latinos, gays/lesbians, African-Americans, low income families, etc.). The aim of Scenarios USA is for instruction, education and entertainment of young Americans making the often painful transition from child to adult. Their operations, which include curriculum formation and teacher training, are situated in three cities, Cleveland, Ohio, Brooklyn, New York, and Rio Grande Valley (since 2010 Chicago has replaced Rio Grande Valley), Texas, but their innovative curricula can be adopted by any educational institution. The organization values a teaching platform that believes the best way to engage young people with their own social and health welfare is to get them active and creative. Scenarios USA takes this philosophy to heart by incorporating the production of a short film (in the 10-19 minute range) written by a student and then directed by a professional director that stems from the school's curriculum. In fact, as explained by Maura Minsky, the Executive Director/Co-Founder of Scenarios USA "uses writing and filmmaking to help young people engage in issues that impact their lives so we can make them better citizens and we can protect their health." So that rather than going into a classroom and talking directly about gender or domestic violence or drug use, they go out and make a film about it. The professional director, usually offering his or her services for free, meets with the young screenwriter, their parents, their class and their community so as to better understand the roots of the respective problem being addressed by the film. Scenarios USA has brought in some intriguing and varied (in terms of ethnicity, gender, background, etc.) directors and crew people into its fold. Directors who helmed shorts for them include Karyn Kusama, Nancy Savoca, Joel Schumacher, Malcolm D. Lee, Alison Maclean, Ben Younger, Michael Apted, as well as Cinematographers Lee Daniel (who has shot several shorts), Stuart Dryburgh and Luke Geisbuhler (Borat). A complete list with description of the films made at Scenarios USA can be accessed on their website, and some of the category subjects include Bullying, Body Image, Pregnancy, Substance Abuse, Gender-Based Violence, Sexual Assault, Abstinence, etc. Many of these issues are part of the everyday fabric of almost every teen growing up in a world where communication via all manner of devices is omnipresent. The website also has links to their YouTube and Vimeo pages, where you can watch film extracts, trailers, behind the scene features, interviews, and other promotional material.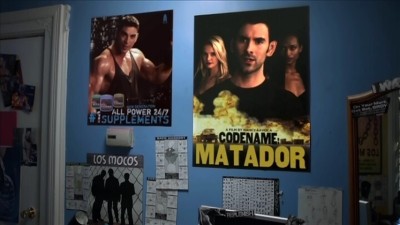 In The Tale of Timmy Two Chins (directed by Nancy Savoca, written by Luis Hernandez) an overweight Hispanic boy, Timmy (Armani Del Rio) struggles with low self-esteem that is born out of negative peer pressure at school (epitomized by the proverbial gym scene where he is ridiculed for his 'breasts') and at home (the death of his father which leaves him living with his well meaning but only too eager to feed his appetite mother, who chimes, "You're not fat your healthy"). Timmy's inner voice comes out through funny moments where macho male figures on the posters on his room wall become animated and talk to him about his burgeoning waistline. In a nice in joke, one of the posters is of a phony film entitled Codename: Matador, directed by Nancy Savoca! Timmy becomes infatuated with a cheerleader at the expense of noticing that his attractive female friend Jenifer (Gizel Jimeñez) has a crush on him. Jenifer invites Timmy to accompany him to a music concert of a band which he introduced her to, Los Mocos. The excitement of a get together with the cheerleader causes Timmy to forget about the concert and leave Jenifer stranded. But after he discovers that the cheerleader's interest in him is not amorous –she wants Timmy to tutor her– he comes to appreciate the people who care for him (his mother, Jenifer). The film stresses the importance of friendship in helping people find their own identity and be happy with who they are.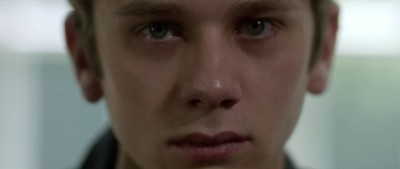 The more cinematically interesting Speechless (flashback structure, voice-over, distorted imagery, expressive editing) also employs subjectivity to deal with a more harrowing issue: sexual abuse. The film (directed by Karyn Kusuma and written by Roxanne Lasker-Hall) opens on a close-up of a teen boy, Desmond (Ryan Rex), in deep thought, with his voice-over filling us in to his troubled state of mind ("imagine waking up and dreading every minute of your life….imagine that boy is you"). Two adults, we later learn are a counselor and his father, appear on either side of the seated boy, encouraging him to break his silence and tell them what happened to him. This leads to a flashback which forms the bulk of the running time, and where we learn that Desmond was raped by his sister's older and violent boyfriend. The film ends with the continuation of the opening scene, where Desmond, supported by his father and counselor, makes the brave decision to sign the appropriate papers which will press charges on his assailant.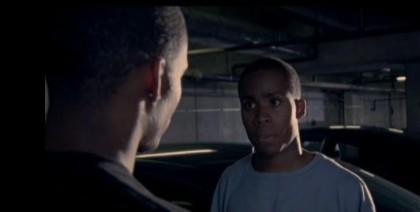 In MANchild (dir Rawson Marshall Thurber, written by Earlaina Kemp) a young black man named Tommy (Christopher Webb) with family responsibilities turns 18 on the day when an old friend returns from prison to call on a favor which will jeopardize his chance for a scholarship. Peer pressure, bullying and familial responsibility come to a head, leaving a remorseful Tommy in the hands of a College recruitment officer to decide whether he merits a scholarship or not. Tommy learns his lesson –say no to bad friends who will lead you astray– and ends up receiving the envelope which announces his scholarship. A very similar dynamic occurs in A Man Made Early (directed by Cruz Angeles, and written by Angelica Hernandez), where intelligent Latino Tony Rodriquez lives with his single mother Carmen (Marita De La Torre) and two younger sisters. The mother works as a waitress and routinely relies on her son Tony to help parent the children (cooking for them, doing home chores, etc.) When he wins a full scholarship at a prestigious University far from home, Stanford, California, he must convince his mother that it is an opportunity for both him and her. At first the mother selfishly resists, insisting he go to a local University in the Latino area of Texas called "the (Rio Grande) Valley" so he can continue to help her with his two siblings (and many of Tony's friends also put pressure on him to not leave the roost), but the mother grows to accept her son's desire to try and make a better path for his life.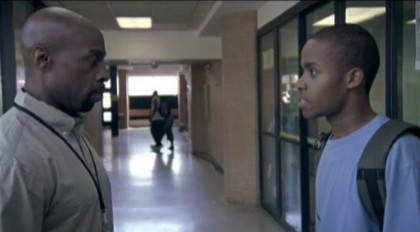 Many of the films at Scenarios USA feature single parent families (Life's Poison, Speechless, The Tale of Timmy Two Chins, A Man Made Early, Me, Myself & I, and Man Child), a fact which is no doubt a reflection of the reality many of the students live in. One of the strongest of these is Life's Poison, directed by Malcolm D. Lee and written by Angileece Williams. The film opens with a young black man (soon to turn 18) Eliyah Howard (an excellent Devon Smith) standing emotionless over the corpse of his father, who we soon learn over a series of flashbacks was an abusive man who instilled in his eldest son that to be a man meant being tough and never showing weakness (i.e. any form of emotion or compassion). Like Speechless and Timmy, Life's Poison uses subjective narration (voice-over, subjective flashbacks, memories, etc.) and achieves some convincingly touching moments between the excellent Howard's mother, younger brother and girlfriend, and the story's positive role model, the school's president, who knew Eliyah's father and tells the boy that when his father was young he "wasn't respected, he was feared."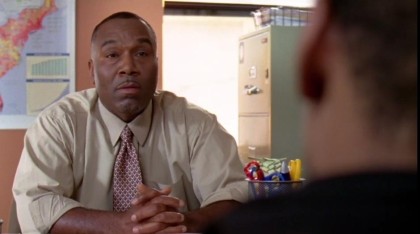 One of the first films in the series is Monster, directed by Adam Davidson, written by youths incarcerated on Rikers Island. The title refers to slang that street kids use to reference HIV/AIDS. One of the three characters has AIDS but hides the knowledge from his friends for fear of what they might think. The film plays as an homage to Spike Lee's Do the Right Thing (1990), with its use of red brick tenement buildings with their exterior staircases that are used by the neighborhood community as a social hangout.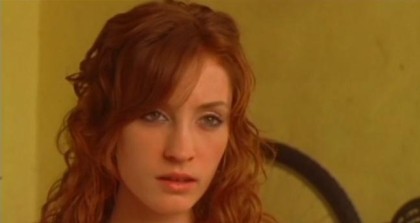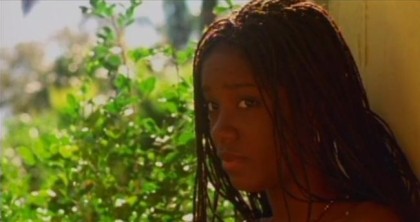 Sexual identity, racism and inter-racial sexuality dovetail in Who Am I, written by teenage Whitney Peters and directed by Jesse Perez, when a lesbian student Veronica (Rebecca Borbe) is matched up by her teacher to work on a class project with a straight black female classmate, Haley (Tashelle Whyte). As they work together Haley grows an attraction to Veronica. Torn between her boyfriend Jamal (Woody Littlejohn) and peer pressure from her straight friends, Haley comes face to face with her own sexual identity and slowly draws closer to Veronica. The direction and script keeps the resolution open ended, while suggesting that Veronica is willing to give in to her lesbian urges. In the final scene Haley attempts to kiss Veronica in the school bathroom, but is thwarted when other students enter the bathroom. In the final classroom scene Haley whispers something into Veronica's ear, and offers a final suggestive smile and glance at Veronica, seated behind her. Coming to terms with lesbianism is also the theme of Lipstick, directed by Michael Apted and co-written by Emily Alvarez, Dan Barnard, Roxy Garcia, Simone Lance, and Sophia Tavernakis, but from the vantage of a group of straight female high school friends who must come to terms with finding out that one of their friends is lesbian. After a few moments of social awkwardness, the friends accept her as she is. Social acceptance for a closeted gay man is harder to come by in Man in the Mirror, when an apparently straight Latino high school star basketball player Jason (E.J. Bonilla) is seen by a teammate being intimate with a gay student in the locker room. Even though Jason cares for his gay partner Eric (Ben Newell), going as far defending him from his friends' homophobic threads, Jason feels the pressure of coming out of his comfort zone. His 'friends' push him into a corner when they bring him into the school toilet, where we see a badly beaten Eric being contained by three other male teens. His friends tell Jason that he has to "beat the gay out of him" to 'prove' he is straight. Will Jason cave in to peer pressure homophobia and turn violent against a man he has expressed strong feelings for? Will he admit the truth, that he is involved in a relationship with Eric, and face the potential wrath of his friends? Will he call the school authorities (who have been symbolically invisible the whole film) to bring the homophobia to their attention? Man in the Mirror, written by Treviny Marie Colon, directed by Joel Schumacher, and one of the many films shot by Lee Daniel, takes a brave, 'pedagogically' motivated path to its conclusion: rather than offer a resolution, the film ends with a brief fade to black, followed by the inter-title: "You…always….have….a…choice."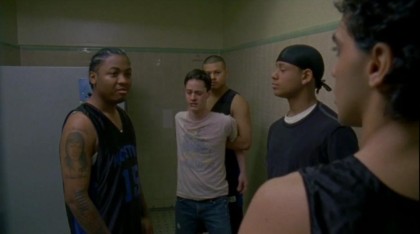 A frank and whimsical discussion of teen sex and virginity from a female perspective takes center stage in From an Objective Point of View, written and co-directed by Janet Aponte, Jim Mckay and Hannah Weyer. Close friends Kelly (Melonie Diaz) and Rachel (Judy Marte) maintain their friendship with a series of Ginger Snap style 'pacts' that includes when and how they will lose their virginity. Kelly respects Rachel's concern about her virginity but ultimately the decision is a personal one and comes without the usual social stigmas. For such a serious subject the directors adopt a refreshingly funny yet mature stylistic approach, using reflexive gestures (such as scenes that stop, rewind and play out differently) and direct camera addresses.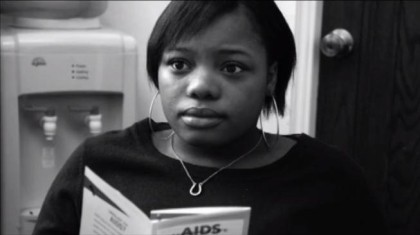 One film that doesn't end all well is Reflections, which treats the reality of HIV/AIDS honestly and poetically. In Reflections, written by Keyana Ray and directed by Gina Prince-Bythewood, three best friends in sexual relations are visited by an AIDS counselor at school. The counselor's personal appeal removes their fear and denial and hits home and they decide to get tested together. One of the three tests positive, and uses her experience to move on and instruct others on the real perils of unprotected sex. The film uses black and white still photographs at key moments to instill a sense of immediacy, realism and lyricism into the film.
As you might have noticed from the film's described, the tendency for films made within Scenarios USA is to offer a positive resolution to the social issues. Reflecting the reality of the age group and context, most of the films are set in and around a high school. With so much negativity surrounding media coverage of teenagers, especially with incidents around high schools, this decision to offer hope, positivity and resolution should be commended by the producers of Scenarios USA.