An Insider's View of Scenarios USA
An Interview with Rob York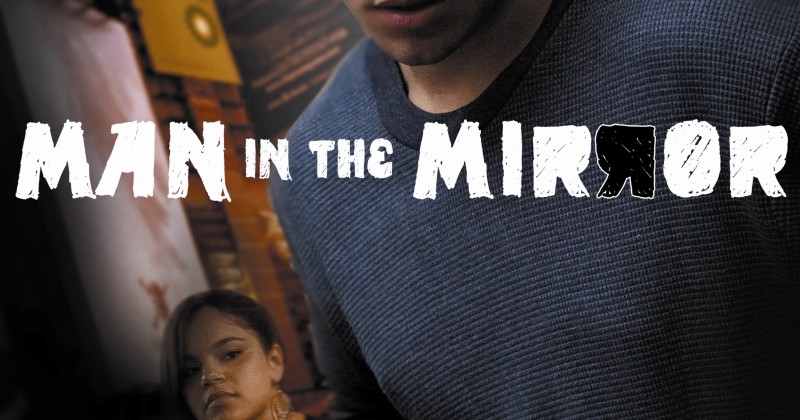 According the Scenarios USA website Rob York, "Director of Media Production and Distribution, is a member of the Director's Guild of America, has worked as a Producer, Line Producer, Production Manager, and Assistant Director on more than 20 features, as well as industrials, commercials, and television shows. He helped to co-ordinate the first Scenarios USA film in New York City in 1999 and joined the staff full time in 2008." York first contacted me about Scenarios USA on May 2013, providing me with information and material which tweaked my curiosity about the organization. The more I learned about Scenarios USA and after I starting seeing some of their films I became even more impressed with the scope of the organization and their refreshing approach to education, film and, most importantly, investment in youth.
Offscreen: Can you give us some background information on Scenarios USA? As a teacher I find the overall pedagogical philosophy of Scenarios USA interesting, the way film is incorporated so seamlessly in the curriculum. Can you talk a little about how the idea of using film to establish the school's curriculum came about?
Rob York: When Scenarios USA began making films (1999) we did not have a curriculum. Our contest presented students with writing prompts that got them thinking and writing. We would ask questions like "What are your thoughts, emotions and values connected to sexuality?" "How does HIV/AIDS fit into how you live, who you are and how you see the world?" The responses were extremely complex and varied. Our films started as 3-4 minute shorts but soon grew to 10-15 minutes each. It became clear that the ideas young people were sharing in their stories needed to be explored in a much deeper and sustained way so by 2006 our first curriculum was born from our library of films, "What's The REAL DEAL about Romance and Relationships?" We now have four curricula (see list below), each inspired by the stories and films created in the last cycle. It's essential to our mission that we amplify youth voice – students tell us what matters and we share their stories to inspire other young people.
• "What's the REAL DEAL About Romance and Relationships?"
• "What's the REAL DEAL About Masculinity?"
• "What's the REAL DEAL About Gender, Power, and Relationships?"
• "What's the REAL DEAL About Place and Power?"
Scenarios USA's work is cyclical and each cycle feeds the next. We recently completed our latest curriculum based on our 2013 films. Right now, Scenarios USA is training teachers in Chicago, New York and Cleveland to use our new curriculum titled "What's the REAL DEAL about Place and Power?" We train between 40 and 200 teachers in each contest region. The low number is for a pilot region (Chicago) and the high number is where we've run our program the longest (NYC). Teachers bring the curriculum into their classrooms and the final project will get turned in this December to our REAL DEAL contest. One winning story in Chicago, Cleveland and New York will get chosen and the winning writer(s) will get paired with a famous director to turn their story into a short film. The short films will be finished by the end of 2014 and will inspire the next curriculum and go back into the classrooms to begin the cycle all over again by the fall of 2015.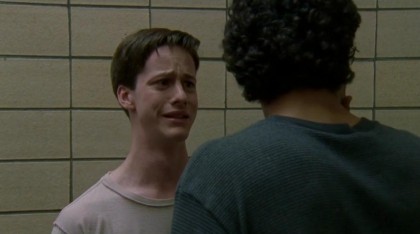 Offscreen: My understanding is that the subject of the films listed on the website which are sub-themed into pockets of films (Abstinence, Bullying, Gender-based Violence, etc.) represent the school's curriculum?
Rob York: The subject of the films listed on the website like Abstinence, Bullying etc. represent themes found in the youth written films themselves. Each cycle, the new curriculum is born from these films so these elements are definitely prevalent but our REAL DEAL curricula are project-based units of work that engage students grades 6-12 in thinking critically and writing creatively about larger issues of social justice and sexual health topics. Our interdisciplinary curricula are mostly used in English, Social Studies, Health, Film and Theater classrooms but can also be used in afterschool programs and other settings.
Offscreen: Is the curriculum the same across the three locations where Scenarios USA is active, Cleveland, Ohio, Brooklyn, New York, and Rio Grande Valley? When you scout for directors do you normally look for local talents or search anywhere? Which leads to the next question, if the former, is there a 'regional' style to the films?
Rob York: Our curriculum is distributed uniformly in our contest regions and all submissions must be based on lessons from that curriculum. But outside of our contest, any teacher is able to purchase any curriculum they wish for their students.
It's not a requirement that a film director come from the region we film in. What's most important to us is that the director is a talented, established and committed professional. Sometimes it's nice to bring someone like that into an unfamiliar environment. Scenarios USA believes that teachers can learn from students and we certainly hope our directors learn from our youth. There is definitely a regional style to the films. All of us at Scenarios and the directors we work with are in service to the young writer. Once the writer wins, the work really begins for them. We come to them and we enlist their community to participate in the project. For example, Speechless was written by a student in Cleveland Ohio and I went with Karyn to Cleveland for the project. Since the topic was sexual assault, we brought in partners from the Cleveland Rape Crisis center to help advise Roxy and Karyn on the script. We shot entirely on location in Cleveland Heights with local crew, cast and vendors. More importantly, we hope to capture an authentic representation of each young writer's community in their film. Not just the water towers and palm trees you can see in Texas but hopes, dreams and attitudes.
Offscreen: What is the age range of the students that you market your curricula for? Does your curriculum cut across the Public and Private school systems? And how is your organization funded?
Rob York: Our contest is open to students in grades 6-12. Winning writers have ranged in age from 15 – 19. Any student in the active contest region (Chicago, Cleveland, New York City) can submit but it must be done through their teacher. We train all participating teachers before the start of the school year and support them throughout the semester all the way through the contest submission process. Scenarios USA heavily targets public schools but we accept all local teachers in our regional workshops. Funding for Scenarios USA is from foundations like Ford and Gund; corporations; individual donors; sales of our DVD's and lesson plans and film licensing to broadcasters, websites and other educational resources. Scenarios USA itself is not a school or a learning center but our new curriculum is 15 lessons. Some teachers we've trained have used it for an entire semester and others select certain lessons that they share with students over a few weeks. All of our curricula are Common-Core aligned and support the development of Social Emotional Learning competencies.
Offscreen: Looking at the topics covered, the curricula does not seem to hold back on controversy and is clearly on the Liberal/Left side of things, even though Politics or Ideology as a theme is absent. Was that a conscious choice, to avoid precise politics/ideology?
Rob York: Scenarios USA is built on the idea that we should listen to young people's voices and perspectives. We believe personal narratives have the power to stimulate meaningful reflection and critical decision-making skills. We've struggled in the past with communities who held more traditional politics/ideology so we made a conscious decision that it's more important to provide young people with a means of expression and tools to sharpen their critical thinking skills than it is for us to preach politics or ideology to them.
Offscreen: How are the teachers selected? Do they have a traditional education background?
Rob York: Our contest is open to all local teachers in the active regions (Cleveland, Chicago, New York City). Teachers come primarily from public schools (including charter) and after-school programs (both within and outside of the school setting). However, our curriculum and our DVD's w/Lesson plans, our curricula, and professional development are available for all teachers. We've sold DVD's and curricula across all 50 States, Canada and even Australia.
Offscreen: How are the professional film directors chosen? Are the crews also professional, and if so, do they work for 'free' (or a token fee)? If not, how do the films get funded?
Rob York: Usually we approach directors based on their body of work and sometimes directors approach us after they've seen a film or come to an event. All participants volunteer their time to work on our films. All films are staffed by professional crew. Many of the cast are also professional but we always open the auditions to the community schools and often work with student actors in some of the main roles. We are extremely fortunate over the years to find just the most generous and remarkably talented artists to donate their time to our projects. Not to mention supporters like Deluxe, Panavision. ARRI CSC, and many, many other vendors that either completely donate their services and materials or provide them at a fraction of the cost.
Offscreen: Is there an in-house style for the films, for example, using the same type of camera, lighting and sound equipment, etc., or does it differ according to the director? I imagine all of them are shot on digital rather than film?
Rob York: Scenarios USA switched to digital in 2012 when we shot Speechless on the Alexa. Prior to that, all films were shot on Super 16 film with Kodak and Abel Cinetech providing all the film and cameras. A Scenarios USA film should entertain, educate and engage its audience. Every film we create should be useful to a teacher in a classroom. So that really sets a Scenarios USA film apart from others but the style varies according to the director, the young writer and the community. Every film is treated singularly, there is no Scenarios "conveyer belt."
On the Films
Offscreen: I've seen about a dozen of your films and thought they all did a good job of satisfying the school's stated goal of making films that are engaging, informative and entertaining. I thought Speechless was particularly strong in terms of performance, use of film form, etc.. Are there any titles that you are most proud of and feel best represent the philosophy of the school?
Rob York: It's a little like picking your favorite child but I've shared Life's Poison with you in my last email. I think that's one of our most successful films. I think if you watch Life's Poison 2011, then Reflections 2006 and The Monster 2001 you get a glimpse of how our program has evolved over the years.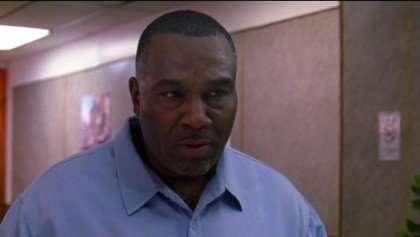 Offscreen: Many of the films I've seen have protagonists from single parent families (for example Speechless, The Tale of Timmy Two Chins, and MANchild). I imagine it is the case that social and behavioural issues may be more common in single parent homes, so is this a common plot point in many of your films, or is it just a coincidence that this is the case with the ones I've seen?
Rob York: Many of the youth we work with come from single parent families and their stories reflect that. More than half of our 24 films have major characters that come from single parent families, mostly (but not all) single mother households. But I'd have to say that many of the social and behavioral issues demonstrated in the three films you mention are also often seen in households where both parents are present.
Offscreen: Another common point in the films is how they draw the viewer into the story by the use of subjective cinema devices (the talking posters in The Tale of Timmy Two Chins, the use of voice-over and subjective internal sounds and distorted imagery in Speechless, the direct camera address in From an Objective Point of View, etc.). Given how the series tries to connect with its audience and make the films personal, this might appear to be a logical cinematic device, but again I'm just wondering whether it is a coincidence or a something broader across other films?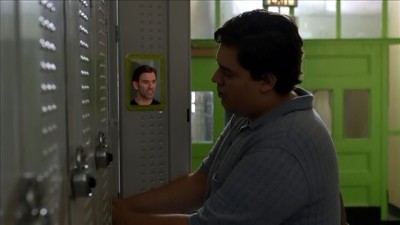 Rob York: All our stories are very personal and subjective cinema devices are very common. In Misunderstood Clark Johnson worked with the writers and the editor to create stylized "inner monologues" for boys on the stoop outside of school. Life's Poison was directed by Malcolm D. Lee and it uses color, speed, music and voice over to dive deep into the main character's psyche. We also see a lot of influence on the new script submissions from the past winning films suggesting that the stories the young writers create are really effective tools for communicating to other young people they never know or meet.
Offscreen: The actor who plays Desmond in Speechless, Ryan Rex, is very good. How much time is spent on casting for these films (this would seem a very key part of the pre-production)?
Rob York: Ryan is great. We auditioned more than 150 actors for Speechless and probably more than 50 for the role of Desmond. It really is 80-90% of the job. Casting practices vary a little depending on project and location but usually it consists of 3-4 days' worth of auditions and at least a day of call backs across 2 weeks. The films themselves are shot in two days over a weekend. Since finishing Speechless, Ryan has moved out to Los Angeles and he's starting to get work. We've also had amazing luck with cast. Rosario Dawson, Melonie Diaz and Judy Marte have all been stars of past Scenarios USA films.
Offscreen: I noticed that the name Lee Daniel, a well established cinematograher, appears on many films. Does he have a special relationship with Scenarios U.S.A.?
Rob York: Lee is one of my favorite people on earth. If I could ask Lee to shoot every Scenarios USA film, I would. He's one of the most intelligent, talented, kind and fun people to be around. He shot the first Texas film in 1999 and I think we found him through Doug Liman and Avram Ludwig. He told Maura and Kristen (our Co-Founders) that he loved our work and would love to support it in any way he could. I met Lee in 2001 when he flew up to New York to shoot Jim McKay's Scenarios short, From an Objective Point of View and just thought the world of him. We work with him when we can but we've also had some other amazing cinematographers volunteer their time including Academy Award winner Guillermo Navarro (Toothpaste), Stuart Dryburgh (Bitter Memories) and Frankie DeMarco (Misunderstood) but keep an eye out for Noel Maitland, he shot Life's Poison & Speechless for us. He's young but he's super talented.
Offscreen: This is the film analyst in me, but I noticed something visually significant in the scene where Desmond decides to 'speak' about his being raped by a man in Speechless: the camera dollies back slowly to reveal behind him on the window sill two plants, one on the screen left is a clearly phallic-shaped cactus, and on the right a more feminine 'rounder' plant (see frame grab below). I guess I would have to ask Kusama about that, but given her own background (Jennifer's Body being a good example) I would think such a sexualized use of props is not impossible?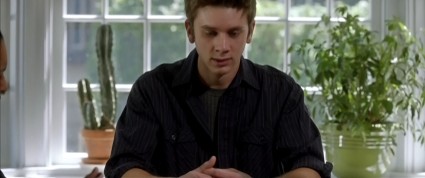 Rob York: There's a chance I wasn't involved in the conversation but I think that might be a coincidence. I'll run it by the team just to make sure! [Rob did actually speak to Kusama later about my observation and had this to report: I reached out to Karyn about the two plants on the window sill. Her response: "Definitely a coincidence, but happy to know someone was bringing their own interpretation to the mix!"]
Offscreen: Thanks so much Rob and keep doing such great work.