San Sebastian 14: Horror and Fantasy Film Festival
From Bava to Takashi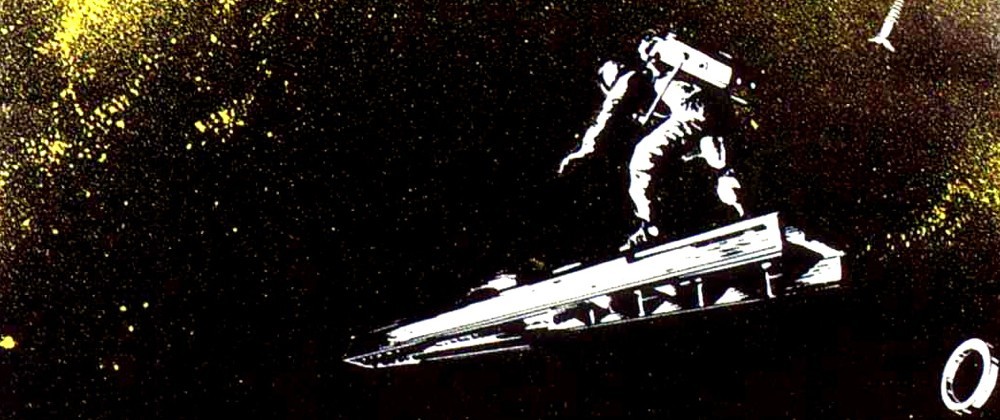 To put it crudely, most film festivals are often nothing more than exhausting marathons that only physically trained cinephiles survive: those who can sit through a daily twelve-hour projection schedule without batting an eyelid, and be able to reduce their corporal functions and needs to an almost sybaritic level. Take, for instance, last year's edition of the Venice festival, which looked like a real-life remake of Pollack's They Shoot Horse, Don't They?, with film critics instead of couples dancing – get the picture? That's why I love the annual San Sebastian Horror and Fantasy Film Festival. You never get tired of it. Actually, by the end of the week you come to wish it lasted 365 days a year. And it always offers something different from what you'd expect. Movies are just part of the fun, and you can pick up your favourite screenings as if they were the delicious entries that are served in a so-called "tapas bar", without feeling guilty or anxious if you missed this or that title. And as you get inside the Cinema Principal, where most screenings take place, you feel like you are at home.
The 14th edition (from October 31st to November 8th, 2003) dedicated a complete retrospective to John Carpenter; another one was devoted to heroes and superheroes, with titles ranging from Vadim's Barbarella to Bava's Danger: Diabolik!. Plus, classics like Pit and the Pendulum, Mask of Satan and Horrible Dr. Hichcock were projected, all of them in gorgeous, pristine prints. Compared to previous editions, though, this year's official selection was decidedly below average. Most films were mediocre, some were quite bad, with only a few welcome exceptions. This is not to say the organizers did a bad job: it's just that, after a couple of editions packed with good and extraordinary movies, they probably found themselves having to deal with lots of below-average offerings. That José Luis Rebordinos and his acolytes didn't have much to choose from, was proved by the surprise late night showing of a couple of selections from the forthcoming Sitges Festival, the Australian gorefest Undead by Peter and Michael Spierig and Rob Schmidt's Wrong Turn, as well as by the inclusion of the insipid French animated feature Les enfants de la pluie by Philippe Leclerc in the official selection.
That said, choosing Brian Helgeland's The Sin Eater (a.k.a. The Order) as the opener was a bad misstep. One couldn't believe this is the same Brian Helgeland who in the past few years has written several exceptionally good scripts (LA Confidential, Clint Eastwood's Mystic River)… unless he has already seen the director's previous A Knight's Tale. The Sin Eater is an embarrassing mess dealing with medieval heresies, the Vatican and nonsensical mumbo-jumbo about an immortal wanderer (read: a guy with a cool haircut and goatee, and with a taste for expensive dresses and furniture) who absorbs dying people's sins. If this sounds like a cool idea, wait until you see the film – at your own risk. Horror movies and Catholicism don't always make a handsome pair: and Helgeland's film is possibly even worse than Stigmata in its velleitary concoction of overwrought clichés and pretentious monologues about God, Faith and Evil. Add Kong-sized plot holes (example? How can a woman who's just escaped from a mental health facility and is tracked down by the police be able to hop on a plane to Rome without anyone noticing?), glaring theological errors, and uniformly bad acting. Pale-faced Heath Ledger is possibly the most ridiculous priest in recent cinema history: always so cute and à-la page, he seems to have just stepped out of the nearest Armani workshop, while Peter Weller is sadly ridiculed in the role of a cigar-smoking cardinal with a taste for the devilish.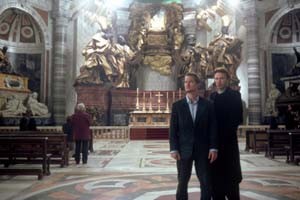 The Sin Eater
The major disappointments came from the Asian films. Shimizu Takashi's Ju-On: The Grudge is a lifeless, mechanical rip-of of Nakata Hideo's seminal Ringu, featuring a cyclically spreading curse, a mysterious house on the outskirts, and a white-faced ghost boy who appears when one least expects. If this sounds scary on paper, on screen it's boring as hell. Or rather, it would have been boring if it weren't for the audience. These are the movies that San Sebastian devotees (who quite aptly call themselves "freaks") enjoy the most: those they can have fun at, rather than with, yelling jokes at the characters and among themselves, commenting on the action, cheering, applauding, and ultimately conveying a sense of perpetual cheerfulness that is simply irresistible. That's why walk-outs are so infrequent: even when a movie is terrible, you know that something funny is going to happen, and not necessarily on screen.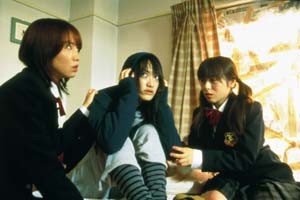 The 'Ring' Curse Continues in Ju-On: The Grudge
A similar response was met by Haraguchi Tomoo's Bakko Yokaiden Kibakichi, which is, if you can imagine, a cross between a classic jidai geki, a spaghetti western, old Japanese fantastic films full of imps, goblins and beings from mysterious lands (such as Kuroda Yoshiyuki's Yokai Daisenso), Clive Barker's Cabal and, last but not least, a Paul Naschy werewolf flick. Haraguchi – a special effects wizard who worked on a couple of Gamera flicks and on Kitano's Brother – is especially in love with Italian westerns. The movie's hero, a taciturn samurai werewolf wearing a leather poncho, wouldn't be out of place in Corbucci's Django, whereas the ending, with an army of thugs wearing black raincoats and carrying a machine gun, pays homage to Enzo G. Castellari. All of this is pretty bad, mind you, but very funny nonetheless; and it's refreshing, for once, to watch a man turning into a wolf without CGI effects, but only through old-style prosthetics (incidentally, the lycanthrope looks a lot like Rob Bottin's creature form The Howling, only made on a shoestring budget).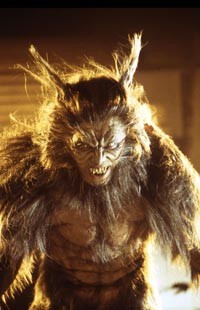 Bakko Yokaiden Kibakichi
Big budget epics all failed to impress the audience: Takahisa Zeze's Moon Child is a presumptuous mess about teenage vampires in the third millennium, while Fukasaku Kenta's Battle Royale II- Requiem is a pale retelling of his father's original. Everything from the first film is pointlessly repeated, including the victim's counter on one side of the screen, and Fukasaku even apes Spielberg's Saving Private Ryan in the scene where the unwilling teens are sent to an isle to fight against a group of equally underage rebels, but everything is overcome by the script's shortcomings. The only noteworthy thing is the strong (but puerile) anti-US feel that permeates the film, culminating in an ending that must be seen to be believed.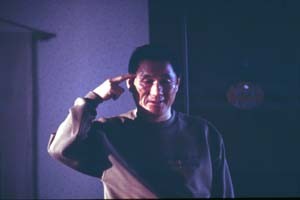 Beat Takeshi in Battle Royal 2: Requiem
Something similar – only, the target is Japan – happens with Si-myung Lee's 2009 Lost Memories, a big budget South Korean sci-fi epic which puts on screen a dystopia not dissimilar to that Philip K. Dick imagined 40 years ago in his outstanding The Man in the High Castle. US and Japan are fighting as allies in WWII, the Atomic bomb is dropped on Berlin and after the war Korea becomes a region of the Rising Sun Empire. The premise is interesting and the director shows a truly visionary talent, but there are too many magniloquently staged shootouts à-la John Woo, too many loose ends, and, clocking in at 136 minutes, the movie is simply exhausting.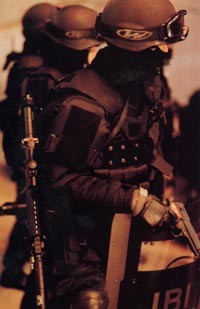 2009 Lost Memories
More controlled, but equally flawed, is Chen Kuo-Fu's Double Vision, produced by Columbia's Asian Department, which puts together HK star Tony Leung Ka-fai and David Morse for a creepy supernatural thriller set in Taipei about a chain of serial killings that turn out to be the work of a woman trying to reach immortality with the help of a mysterious sect. The film's strong points come from the good cast (Leung is especially good as a disillusioned cop) and taut direction by former critic and F/X expert Kuo-fu, culminating in an impressive, bloody massacre in a temple reconstructed inside the upper floors of a Taipei skyscraper. But one can't reject the impression that this is ultimately a lush but hollow vehicle to colonize Hong Kong cinema and export it overseas, mixing unoriginal psycho-killer themes with the (relatively) new Oriental setting and suggestions. What's more, even though Morse is undoubtedly well cast, the buddy cop stuff is old-hat, and the cultural clash that ensues is much more simplistic than in, say, Walter Hill's Red Heat.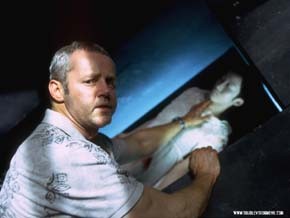 Double Vision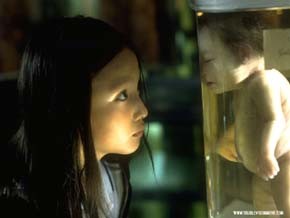 Gabe Bartalos is bald and huge and his neck circumference easily equals that of Mike Tyson. And he was sitting right by my side. Two good reasons that kept me from walking out during the showing of his debut film Skinned Deep, which looks like a zero-budget remake of Rob Zombie's House of 1000 Corpses made by a demented ten year-old kid. Considering Bartalos' previous work as make-up f/x artist with Frank Henenlotter (Brain Damage, Frankenhooker, Basket Case 2 and 3) and Matthew Barney (Cremaster 3), the gore and prosthetics are especially disappointing. And I could have done without the Forry Ackerman cameo. Yet, once again it was fun to watch, with a little help from the "freaks", who kept sending plastic plates flying throughout the theater during Bartalos' intro and whenever Warwick Davis, as "Plates", was on screen. Something similar happened during Dark Star, in the scene where Dan O'Bannon hunts the beachball alien, a myriad of red balloons magically appeared inside the theater, and a gigantic, chaotic, exhilarating game of volleyball among the audience ensued.
On the subject of games, House of the Dead was exactly what everybody expected it to be: a videogame transformed to the big screen. Besides paying ample homage to every zombie movie in the book and even poking fun at Matrix, director Uwe Boll inserts glimpses of the titular SEGA videogame during the massive shootouts (not to mention a blatant SEGA sign that pops up during a rave party scene). Blood, gore and techno music abound at the expense of everything else (logic, characters, plot – you name it). I know this is supposed to be dumb fun, but it ends up being just too dumb – and dull. Jurgen Prochnow (as the captain) and Clint Howard (as his dim-witted sidekick) are sadly wasted.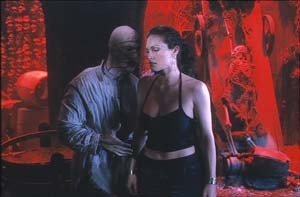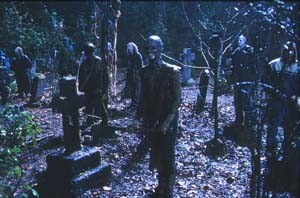 After the screening of House of the Dead, director Robert Parigi had a big smile on his face: he said he was glad his movie was not the worst one in competition. Parigi is too modest: Love Object is a clever, creepy little flick that deals with gusto with such themes as necrophilia, blow-up sex dolls and S&M relationship. What's more, it features Udo Kier in a role that allows him to say more than one or two lines in his inimitable German accent as well as a ravishing blonde angel by the name of Melissa Sagemiller as one of the two love objects of nerdy technical writer Desmond Harrington: the other side of the triangle is "Nikki", an admittedly attractive life-size silicone companion Desmond purchased from an online company specialising in custom-made sex dolls. Parigi wisely adopts a detached, black humoured approach to the subject, and even though the basic story has been told again and again, at times he eventually manages to get close to Berlanga's Life Size and Ferreri's I Love You in depicting a man who's a prisoner of his own loneliness. In the final third things start to get a bit too predictable, though, and the film takes an arguable dip into slasher territory, with a silly final twist that's shamelessly borrowed from Obrow & Carpenter's Pranks – The Dorm that Dripped Blood.
Decidedly more upbeat was Greg Pak's Robot Stories, a low budget "sci-fi of the heart" as the director called it, consisting of four simple shorts about love, loss, ageing and fatherhood, combined with technology that won the movie acclaim in a number of festivals. Pak's film has an undeniable charm, and is very well acted by a group of mainly Oriental actors, but its endearing qualities cannot hide a sense of lightweightness.
The best movies showed at San Sebastian were not exactly world premieres, as House of 1,000 Corpses, Bubba Ho-Tep and Dead End have already gained a growing reputation over the festival circuit. The latter, a witty variation of the classic Ambrose Bierce story Incident at Owl Creek, directed by Jean-Baptiste Andrea and Fabrice Canepa, won the Subterfuge Audience Award for best film: an impressive result, given that it had already triumphed at Brussels (both the Grand Prize and the audience award) and at the Montréal FanTasia film festival. Even better is Coscarelli's film, starring Bruce Campbell as a senile Elvis impersonator (who actually believes he is The King… or maybe he is …) who teams up with… er, JFK (played by the great Ossie Davis – his line explaining how and why he's been coloured black by his enemies is priceless) to fight against an Egyptian mummy who's sucking the life force out of the inmates in a home for the old. Even though the result is very often side-splittingly funny – Coscarelli's script perfectly captures the fragrance of Joe R. Lansdale's prose – Bubba Ho-Tep is most of all a heart-warming meditation on the coming of old age and a thought-provoking reflection on 20th century popular culture icons. Not bad for a horror movie.