Zhang Yimou's The Road Home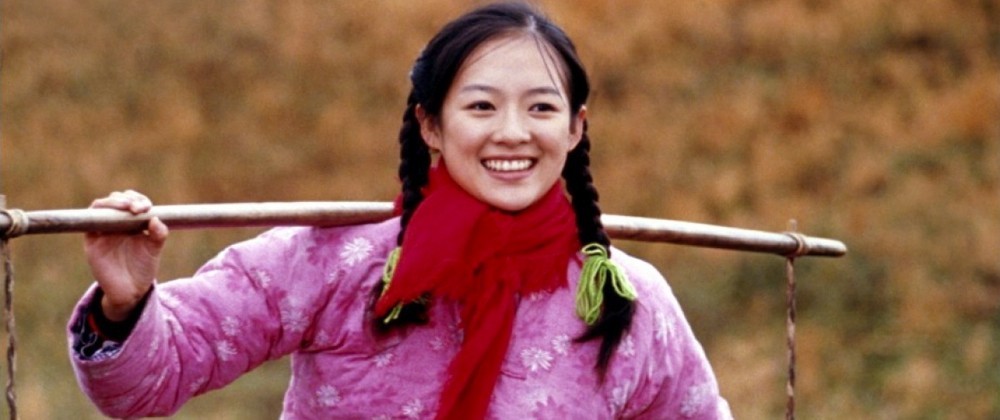 Zhang Yimou's tenth film as a director won the Grand Prix/Silver Bear at the Berlin Film International Film Festival in March 2000. Winning prizes at the top European Film Festivals was nothing new for the director, who pioneered the trend for Chinese film directors being awarded major prizes with his very first directorial effort, Red Sorghum (1987). It won the first prize, Golden Bear at the 1988 Berlin festival. This film became extremely popular with Chinese university students leading to the tragic uprising at Tiananmen Square in 1989. One wonders how this situation may have affected the relationship between Zhang and the film bureaucrats of the People's republic of China, especially because Ju Dou (1989), his third feature, was banned in China for its "sexual content," whereas it was accepted into competition at the Cannes International Film Festival in the Spring of 1990 (whereupon it won the Luis Buñuel award). In this film we can also note the use of allegory, which had become a staple of films directed by "5th Generation" graduates of the Beijing Film Academy. And thus, we find a pattern of these films being championed by foreign film festivals and acclaimed by foreign film critics, but vilified by the Chinese authorities. Often, these works were somewhat protected in being co-produced by companies based in other countries. Such was the case for Ju Dou, a Japanese co-production and Zhang's next film, Raise the Red Lantern (1991), where (taboo) Taiwanese production funds were channelled through Hong Kong. This film came under even stronger state criticism while winning the Silver Lion (second prize) at the Venice International Film Festival, various critics awards in the USA and Europe, and, perhaps most gallingly of all, being nominated for a Foreign Language Film Oscar, as the Hong Kong entry, in 1992. Cleverly, though, Zhang answered his domestic critics by turning away from historical/allegorical subjects to make a contemporary, realist drama about a feisty young peasant woman standing up for her rights, The Story of Qiu Ju (1992). From here, although his career continued to be spotted with confrontations, he gradually improved relations with the Chinese authorities to the extent that by the time of his ninth feature, Not One Less (1999), he had almost become an "official" spokesperson for Chinese film production, withdrawing his two new films from the Cannes competition, claiming, in a letter to festival President, Gilles Jacob, that they were only interested in programming Chinese films which were "against the government."*
Many felt that rejection from official competition was the reason for his "withdrawal," and yet, both films were later accepted at Venice, where Not One Less won the Golden Lion, and Berlin 2000, where The Road Home won the Silver Bear. Interestingly, Zhang Yimou's claim remains valid today, and the most pessimistic and nihilistic works of the younger "6th Generation" tend to be the films most liked by European and North American film festival programmers and critics, alike.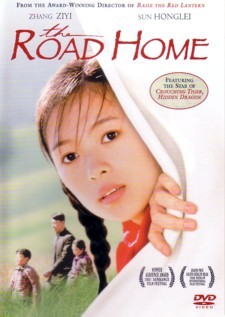 The Road Home was shot in a combination of black and white and colour cinemascope (2.35:1 aspect ratio) stock by Hou Yong, and the very first impression one has of the film is how beautiful it looks. Secondly, one is struck by the radiance of Zhang Ziyi in her first film role. (Clearly, Zhang Yimou has a knack for casting young women, as he also "discovered" Gong Li, the biggest star of 5th Generation films, especially those he directed.) The film begins in black and white, in a wintry rural northern Chinese setting. Luo Yusheng (played by Sun Honglei) is returning to his village of Sanhetun to help preparations for his father, Luo Changyu's funeral. His mother, Zhao Di (Zhao Yuelin) wants to give her deceased husband a proper burial, meaning that the body has to be carried on foot from the town where he died back to his ancestral village (hence the title, "The Road Home"). Although this request is seemingly impossible, at the end of the film, it is carried out in full, because so many of Luo Changyu's former students —he had been Sanhetun's school principal for decades— turn out to pay their respects by carrying his coffin. When Zhao Di begins to weave her late husband's funeral cloth a dissolve takes us back to her seated at the same position at the loom, at the age of 18, simultaneously shifting the film's palette from black and white to colour. It is summer and the villagers anxiously await the arrival of their new teacher from the city, 20 year-old Luo Changyu (Zheng Hao). Young Zhao Di (Zhang Ziyi) was regarded as being the prettiest girl in Sanhetun and, as such she was asked to weave the school's ceremonial red cloth. She is determined to win the teacher's affection, and, eventually she does. Their developing "true love" relationship is unusual in a time of arranged marriages.
The exact time period of The Road Home's flashback is never specified, but, it is likely that when Luo Changyu is called away from the village back to the city to "answer questions" one could assume that it is during the "Cultural Revolution." In any event, as members of the film audience, we are stuck in Sanhetun with Zhao Di, and are as perplexed as she is as to what is delaying his return to his post. In mid-winter she struggles through a dangerous fever to meet her loved one on his "road home," and once he does return he never abandons his future wife and students again. The film paints a majestic, mostly idyllic portrait of a simple, yet arduous village life under communism, and whereas one could imagine the tyranny of government, elsewhere, we never actually see this. The seasons change (sometimes too abruptly, perhaps), but throughout the film's mid-section flash-back, the beauty of Hou Yong's cinematography is transcendant. By contrast, the all-encompassing, winter-bound monochrome of the framing story is unrelentingly bleak, albeit possessing a harsh, lyrical beauty. I interpret this choice of black and white for the contemporary material to be somewhat critical of present-day China. Overall, the film seems like a poetic tribute to the simplicity of a more natural socialism in the 1950s and 60s. Little details, like the Titanic poster spotted hanging on a wall in old Zhao Di's house at the beginning of the film, could suggest both a playful mockery of Hollywood commercialism, and the implication that people's tastes are going astray in today's China. In any event, where one would least expect it, in 1999, with Zhang Yimou's work finally being accepted by the establishment, one finds a continuation of his allegorical project. But, here he implies, in a very emotionally moving way, that in a world driven by technology and personal greed, people could look to the past and to the countryside to renew their belief in community. The pallbearers of all ages do this on their "road home."

The Present

The Past
My interpretation is supported by comments made in an undated, anonymous interview by the director which is posted under "Production Notes" on the official, Sony Pictures Classics website for The Road Home, :
Chinese society has changed so fast that most people feel lost. The Chinese cinema reflects these developments. These days the market economy dominates everything and our cultural life has lost its way. Really vulgar commercial films dominate our screens. Directors who would once have been ashamed to make such films are nowadays proud to put their names to them. It's a sad state of affairs, and I find myself wondering if people really like such films. …"
The website also contains a full list of credits, a page on the director, an excellent synopsis of the film, a gallery of photos, and a review by Stephen Holden of The New York Times.
The DVD of The Road Home presents the film in its theatrical 'scope aspect ratio with yellow sub-titles below the letterbox. Throughout the film's 89 minute length, the image seems faithful to the 35mm release print. I was struck when seeing the film in a theatre that there might have been at least one lapse in the continuity of the colour timing, where a golden yellow cast suddenly shifted to a greenish-blue, but, on viewing the disc, I'm now more confident that there are more such changes and that they're motivated by seasonal shifts (but, perhaps not always coherent ones). In any event Hou Yong's cinematography is the equal of anyone's working today. He was also responsible for some of the finest 5th Generation cinematography of the 1980s, e.g., The Horse Thief directed by Tian Zhuangzhuang and the 1990s, e.g., The Blue Kite by the same director. I was fortunate enough to meet Hou Yong, through a mutual friend, Cynthia Wu, when I visited Beijing during June 2000, and I was surprised at finding how keen he is to work in the USA or Europe. He feels that he has a lot to learn and benefit from working with the most up-to-date equipment in the West, which makes his achievements in China seem all the more remarkable. On the DVD sleeve it is noted that an academy ratio version (1.33:1) is also available, but I was unable to access this, and I doubt that two versions exist on other examples. Not that I would want to view this version, but, it would be interesting to see how much would be missed on a pan and scan copy. My impression is that the widescreen image of The Road Home enhances the representation of an overall holistic sense of harmony with nature and community and that a cutting of the image at the frame edges would delimit this rather than elide any important narrative information.
I really must applaud Columbia-Tristar for releasing so many Asian titles on DVD, for retaining their original language soundtracks and for maintaining their original aspect ratios. Many of these were released by Sony Pictures Classics including two other films directed by Zhang Yimou, Not One Less and Shanghai Triad, Chen Kaige's The Emperor and the Assassin, and two films which were popular hits in mainland China, Shower and Shadow Magic. These, and other titles including Japanese star/director, "Beat" Takeshi Kitano's and Paris-based Vietnamese director trân anh hûng's most recent films are available on DVD and can be located at Sony classics.
But Columbia-Tristar are also doing a good job of extending their DVD releasing policy of original language & aspect ratio to Hong Kong titles such as Tsui Hark's Once Upon a Time in China series, Time and Tide, popular hits such as Tokyo Raiders and Gen-X Cops , and, most excitingly, they have recently released in this fashion the first two films directed by Yuen Woo-ping, which made Jackie Chan a big star, Drunken Master and Snake in the Eagle's Shadow. There might be some problems with some of the transfers —the Cantonese track of Drunken Master occasionally lapses into English— but Columbia-Tristar are definitely trying to "do the right thing." This is much more than can be said for other "majors" who are cashing in on the current popularity of Hong Kong entertainment in North America especially the conglomerate, Disney-Miramax-Dimension, who get my vote as the most appropriate alternate "axis of evil" candidate to "Dubya's" Iraq-Iran-North Korea. Disney, at least, have done sterling work in restoring some of their own Hollywood "classics" for release on DVD, e.g., Snow White and the Seven Dwarfs, but Miramax are buying up North American rights to films, promising to modify them for the U.S market, but, then never actually releasing them, e.g., Shaolin Soccer and the Thai masterpiece, Tears of the Black Tiger. Meanwhile, Dimension are destroying Hong Kong films by dubbing all of them in English, and releasing them this way on DVD. Surely, they could easily add Cantonese language versions with English (French, Spanish, whatever…) sub-titles to the discs, couldn't they? Thumbs-up to Columbia-Tristar and thumbs way down to Dimension.
*The following is the full text of this letter, translated from the original Chinese, and posted on the internet by Dr. Dina Iordanova, the Centre of Mass Communication Research at the University of Leicester, England, October 5, 1999. The original letter was posted in the internet edition of the Beijing Youth Daily, April 20, 1999:
Respected President [Gilles Jacob], I have decided to withdraw my films Not One Less and My Father, My Mother [later entitled The Road Home] from you and will not be taking part in this year's Cannes Film Festival. The reason is I feel you have seriously misunderstood these two films and it is a misunderstanding I cannot accept./ My two films both concern beloved themes. Not One Less expresses our deep love for children and this whole national cultural situation for us today and our concerns for the future. My Father, My Mother sings the praises of the truth and purity of love between a man and a woman. These are feelings common to all mankind. Therefore it is not surprising that you critique my films on 'political' grounds. This is nothing but political or cultural prejudice.

For many years, I have been an enthusiastic and active participant of the Cannes Film Festival. Cannes has an important place in my heart, just as it does for every other director around the world. To be selected to take part in Cannes is a great honour for us. But today, I have decided to withdraw because my faith in the cherished artistic motives of the festival has been shaken. I am very sorry that this has happened.

Whether a film is good or bad, each person can have his or her own way of looking at it, this is only natural. But I cannot accept that when it comes to Chinese films, the West seems for a long time to have had just the one 'political' reading: if it's not 'against the government' then it's 'for the government.' The naivete and lack of perspective (literally 'one-sidedness') of using so simple a concept to judge a film is obvious. With respect to the works of directors from America, France and Italy for example, I doubt you have the same point of view.

I hope this discrimination against Chinese films can be overcome in time. Otherwise it will not only be an injustice to me, but also to other Chinese directors, including the next generation of young directors and their works.

Yours Sincerely,

Zhang Yimou
note: In writing this review, I referred to the very first book in English devoted to a single Chinese mainland director:
Frances Gatewood, ed., Zhang Yimou, Interviews (Jackson: University Press of Mississippi, 2001)
It includes an interview conducted by Cynthia Wu, another version of which can be found here on Offscreen.
Click
hereto purchase DVD.