The Hong Kong International Film Festival, April 2001, March/April 2002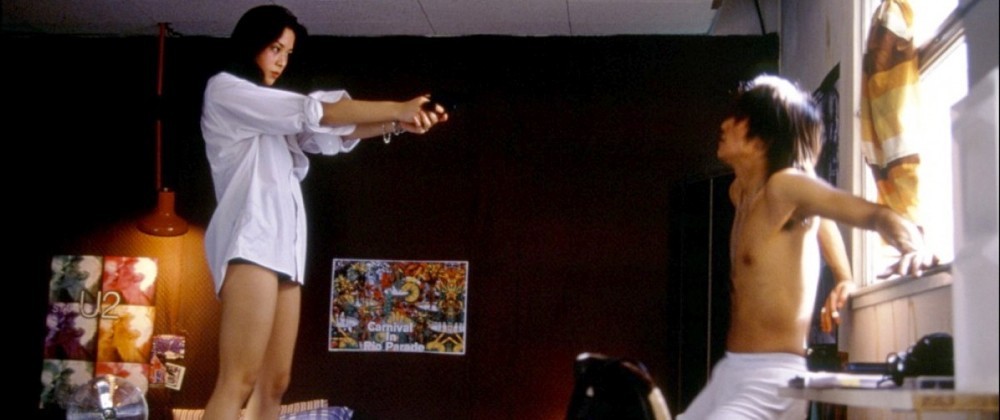 Many of us were keenly looking forward to the 26th Hong Kong International Film festival with a higher-than-usual profile of Chinese-language film programming and two major retrospectives on tap—of Ann Hui's films and Hong Kong Mandarin classics of the 1950s and 1960s. Indeed, we anticipated something of a festival renaissance as a reaction to the relative decline over the last two years. Two aspects of last year's festival, though, were remarkable: the surprising strength of the "Hong Kong Panorama, 2000–2001" and "Look Back in Glory: A Century of Chinese Cinema," mounted at the new Hong Kong Film Archive. (A separate article on the Archive and its retrospective programming is forthcoming.)
Before getting to the Panorama, I should discuss the new Asian films I saw in the various sections, "Asian Visions," "New Century Women," and The Age of Independents." I have written about most of the strong Iranian films on view elsewhere, having seen them the previous year in Montreal festivals—The Child and the Soldier, The Circle, The Day I Became A Woman, and Djomeh—and I was barely able to catch the very end of the only one I had missed, Whispers, directed by Parviz Shahbazi. Surprisingly, for an Iranian film foregrounding children, this one has a somewhat negative "edge," in its depiction of the youngsters unwittingly caught in criminal activities. There were very good new films screened from India—Uttara (The Wrestlers, 2000) by Buddhadeb Dasgupta—and Vietnam, with Tran Anh Hung's first film in five years appearing, A la verticale de l'été (The Vertical Ray of Summer). Refreshingly upbeat following the despairing nature of his second feature, Cyclo, and ravishingly beautiful in its treatment of the domestic life of three Hanoi sisters, The Vertical Ray of Summer lacks the thematic depth of Tran's earlier work. Similarly lacking the force of his Last Stop (1989), Serik Aprymov's Tri Brata (Three Brothers, 2000), with its bleak images of derelict locomotives perched above a flat, desolate landscape is a timely reminder that industrialization has left deep scars on some of the former Central Asian Soviet Republics, especially Kazhakstan, which is struggling to rebuild the film industry it lost when the Almaty studio was closed after the collapse of the Soviet Union. At the end of the 1980s Kazahkstan was one of the most vibrant centers of art film production in the world, with its striking portraits of the miserabalism of youth prefiguring this condition in other countries, and other films, and its own pessimistic future.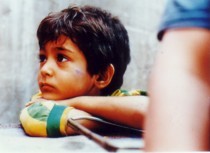 Whispers
Three Brothers
Following on some strongly positive "word-of-mouth," I found the Japanese entries quite disappointing. In retrospect, Junji Sakamoto's Face was the most interesting of the Japanese films that I saw, but, it was also the most perplexing. In it, the brilliant stage actress, Naomi Jujiyama plays Masako, a young woman who kills her sister and then spends the remainder of the film on the run, while being intermittently raped and otherwise abused by men. Although the director identifies himself with Masako in his programme notes, I found her character to be strangely unsympathetic, and the film to feel nastily misogynous. (Nevertheless, I know of at least one female film aficionado who loved Face.) Not Forgotten directed by Makoto Shinozaki, whose first feature was the brilliant Okaeri (1995), was more to my taste. It focuses on a small group of WWII veterans who interestingly experience mixed feelings of communal guilt for their past actions and personal pride in their moral character. At the end, two of them storm the offices of Utopia Ltd, a strange company in the business of euthanasia, and kill its boss. Unfortunately, ultimately, the film is not altogether successful in its own mixture of serious art film and violent, action genre movie approaches. I regret missing Hideaki Anno's Ritual, but I was able to catch the "mockumentary" Scout Man, directed by Masato Ishioka, at PiFan in Korea, in July 2001. This tale of punks tricking young women into the "adult" video trade, promised to reveal the motivations of dangerous living, by non-actors "playing themselves," but struck me as being ponderous and lacking insight. I found commercial and music video director, Isao Yukisada's second feature, Sunflower to be slickly made, but very conventional in its well-intentioned rendition of a group of young people getting together to remember their eponymous dead friend. (It is like a younger person's version of The Big Chill/Return of the Secaucus Seven.)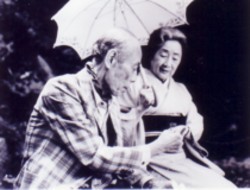 Not Forgotten
In programming relatively conservative examples of films by younger Japanese directors, the HKIFF has been ignoring the most exciting and controversial work from Japan made by the likes of Takashi Miike, Sogo Ishii and Shinya Tsukamoto. But this is certainly not the case with its Korean choices. Barking Dogs Never Bite and the short, The Anatomy Class provide more evidence that South Korea might well be producing the funniest and most innovative comedies in the world today. Only 12 minutes long, and shot on 16mm, Anatomy (which I saw on video at Fantasia in July, 2001) is directed by a woman, Zung So-yun, and it shows. At an all-girls school, teacher and students alike wear the traditional, Hanbok dress. In this very conservative environment, three soldiers enter a biology lab and shoot themselves so that their bodies can be used as specimens. As if this feminist fantasy isn't far out enough, when the teacher leaves the class, the girls run amok and fondle the genitals of one of the soldiers, who appears to still be alive: his penis is erect. But he accidentally catches fire and burns to death!! Bong Joon-ho's first feature, Barking Dogs Never Bite justifiably shared the FIPRESCI jury prize for Asian feature film directors working in this capacity for the first or second time. A humanities PhD candidate is continually disturbed in his studies by a barking dog. After trying to throw a dog (kept by tenants in the same apartment building), off the roof, and then hang it, he discovers that it is mute. Hiding in the basement, he notices that the janitor cooks and eats dog meat there. Dog lovers and haters eventually reconcile, but in between, it is hard to believe the disclaimer during the end credits that "no animals were harmed" in the making of the film, especially the dog which jumps off a high-rise roof!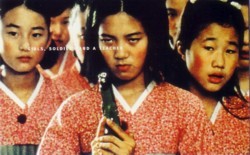 Anatomy Class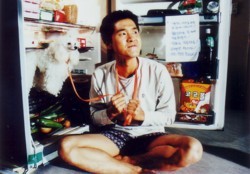 Barking Dogs
There were also a number of Korean "art films" at the 25th HKIFF, including an impressive, reflexive first feature by Sorbonne, Paris, PhD student, Daniel H. Byun entitled Interview, and Kim Ki-Duk's Seom (The Isle), both of which I viewed on later occasions. Whereas I appreciate the formal play of The Isle, with its repetition of human beings as "fish" being hooked and the lake-bound isolation of fishermen and prostitutes, ultimately I found this film to quite nasty and potentially misogynist. Unfortunately, my only opportunity to see the first Korean film ever to be accepted in competition at Cannes (in 2000), Im Kwon Taek's Chunhyang, was on video. It would clearly have been better for me to watch this sumptuous recounting of the nationalist/feminist tale, mixing a traditional pansori monologue with a costume drama, on a big screen. But its beauty shows through even on videotape and, once again, we can observe what a great visual style partnership Im and cinematographer, Jung Il-Sung make, especially when they are granted a large budget and a four month shooting schedule.
Three other films in the festival represent another significant tendency in contemporary Korean cinema: the exploration of human sexuality. A former assistant to Im Kwon Taek, Im Sang-soo, directed two of these (his 1st and 2nd features), Chunyodule Junyokshiksa (Girl's Night Out, 1998) and a digital work, Nun Mul (Tears, 2000). When I had seen Girl's Night Out on videotape some time ago, I was bothered by the fact that this attempt at depicting a woman's point-of-view on sex had been directed by a man. Part of my resistance came from the fact that, as usual in sexually explicit films, almost of all the naked flesh to be seen is female. In the festival catalogue, Im Sang-soo is quoted as saying that he wanted to redress the notion that "Women are the objects of male desire and the objects of male consumption," and that he wanted "to get past my own simple impulses and understand more what women are." [p. 79] His intentions seem honorable, but the result resembles traditional, male-oriented pornography more than feminist revisionism. Tears is more successful, in part, because it doesn't claim to be "feminist." Im's choice to shoot on video was appropriate to the subject—punkish teenagers experimenting with their lives—and with his approach—documentary style, and episodic narrative. Indeed, Tears is a better fit with Dogme philosophy than most of the Danish films which have been produced by this movement. On the negative side, the work is much too nasty for my taste, with one of the Garibong-dong street kids, who is perennially violent, perhaps crazy, pimping his girlfriend. There is a great deal of violence throughout, with everyone slapping and beating everyone else. Indeed, it is hard to believe that none of the four teenage principals were physically harmed during the shooting, especially the "electric"-haired, submissive boy who runs into a pole while trying to escape the police. (Allegedly, a camera operator died in making this scene.)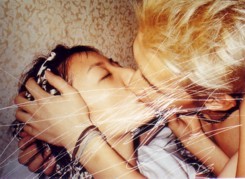 Tears
Less dynamic, but far more artful is Hong Sang-soo's Oh! Soo-jung, which carries the English title, Virgin Stripped Bare By Her Bachelors . As with his first two features, The Day a Pig Fell into the Well (1996) and The Power of Kangwon Province (1998), this film is of interest primarily for its unusual narrative structure. Here we are presented with the building of a relationship between a film financier, Jae-hoon and a script writer, Soo-jung (of the title), told in seven parts, from two different perspectives. Initially, Soo-jung is in love with her (married) film producer, Young-soo, and when the three meet, Jae-hoon's interest in her leads to friction. Both versions move towards Soo-jung losing her virginity, which she does, eventually, in the film's coda. In the story's first telling , she is represented as tough and demanding, whereas in the second, she is relatively subservient. Jae-hoon is presented as deceitful in the second version and a straightforward character in the first. Unlike the groundbreaking Rashomon (Akira Kurosawa, Japan, 1950), where each character's story is clearly marked, it isn't completely obvious here whose story is whose. There are some tellingly honest, awkward moments in Oh! Soo-jung, including that where Jae-hoon calls out the name of another woman, just as Soo-jung is about to give-in to him sexually, and his subsequent rage, when, knowing he is in the wrong, he lashes out at her verbally.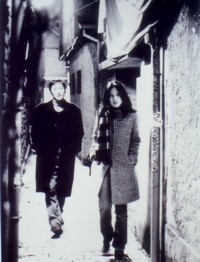 Virgin Stripped Bare
With the practice of Chinese authorities pulling "unofficial" mainland films from the HKIFF increasing over the years, the nadir was reached in 2001, with, strictly speaking, not a single new feature from the People's Republic on view. Ge Er Men (So-called Friends) is a China/Taiwan co-production, and the co-winner of the Fipresci prize, GeGe, although shot in China (by a first-time female, feature director, Yan Yan Mak), was listed as a Hong Kong production. But, there was a magnificent new Chinese film at the 2001 festival, Zhantai (Platform), directed by Jia Zhang-ke. Perhaps it wasn't pulled out because it was also a co-production, with Japan and France, and because its Chinese production company was based in Hong Kong. In any event, Platform builds on the promise of Jia's first feature, Xiao Wu (1997), already acclaimed as the key work of the "6th Generation" of Beijing Film Academy-trained directors. For me, it is the finest film to emerge from mainland China, since Tian Zhuang-zhuang's Nan fengzheng (The Blue Kite) in 1993. The film follows the lives of a group of young, travelling performers through a ten year period of reform and change after the cultural revolution, from 1979. [1] Structured something like an episodic road movie, two extremely long takes before the opening credits introduce us to the group, on stage, and then embarking the bus which is due to take them to the next town on their itinerary. Both shots have a greenish tint, and for the first, the camera is set up far distant from the action, introducing us to Platform's long take, long shot style. Cleverly, the second shot blacks out when the bus lights go out to allow the credits to roll, while comedy is introduced on the soundtrack with some actors repeating train sounds from their performance. This strategy primes the audience to listen for off-screen sounds, which throughout the film provide timely socio-political referents—with radio broadcasts, pop songs, loud speaker commands and announcements—and the ambience of every-day life. Indeed, whereas the focus on young people engaged in somewhat rebellious activities is very contemporary (perhaps, even, "punkish"), the overall style of the film, with the camera invariably set-up perpendicular to the action, with very long takes, sometimes punctuated by camera movement, is, arguably, closer to classical scroll painting than the visual style of any major film director since Kenji Mizoguchi. In an interview conducted during the festival by Shelly Kraicer, Lisa Roosen-Runge, (Cynthia) Wu Yue and myself, Jia Zang-ke stated that the sound over black at the beginning of the film sets up a heavy mood for the rest of it, and for him, the off-screen sound (of radio broadcasts, the army, the bus, etc.) triggers strong memories for his generation. In discussing the long takes, the director talked about the "uniqueness of a single piece of space and time," the relationship between people, space and time and how the "atmosphere" thus created would be "broken by cutting." Most of the cuts from the Venice version were made in the second half of the film, and when I mentioned that the pace of the second half seemed faster, with more temporal elipses, leading to a less-clear story line, the director responded that the trajectory of Platform was towards "political liberation and personal alienation." Thus the fissures of the film's second half can be understood thematically as markers of the characters' estrangement from family, friends, and society. It is a great film, even in its Berlin cut (and I would love to see an original-length print, one day).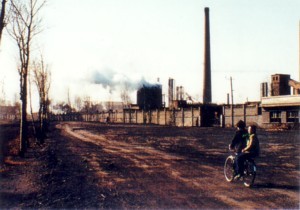 Platform
As suggested in the introduction, and based on the evidence of new Hong Kong-made films screened in the Panorama and other series, the Special Region's film production health (in 2000–01) would seem to be in much better shape than most observers believe. On the commercial front, the two Milky Way productions on view marked successful new departures for the group. Johnnie To teamed up with Wai Ka-fai to direct both Zhongwuyen (Wu Yen) and Gu Nan Gua Nü (Needing You). The first is based on a story well-known to Hong Kong audiences, of the love affair between the Emperor Qi and concubine Wu Yen. Wai suggested casting Anita Mui as the emperor, and added many Chinese New Year (CNY) genre elements to the script, as it was released in February 2001 for CNY. Not to everyone's taste, Wu Yen mixes disparate elements together, including Chinese opera costumes, lavish colour schemes and broad gestures (and the cross-dressing of Anita Mui and Cecilia Cheung's character transforming into a man in some scenes) with mahjong and card games replacing war, and the interjection of occasional puppet show versions of the story. Sami Cheng plays the title character as a very modern young woman, and, all in all, the combination of Wai's wacky comedy (emerging from his TV days) and To's action direction provides a highly original and entertaining work (which will, no doubt be championed through "post-modernist" analysis). Needing You, the most successful 2000 Hong Kong production with local audiences is a similarly original hybrid. Sammy Cheng stars here as an office worker who is recovering from a disastrous relationship. When she is assigned to work for a type 'A' executive (Andy Lau) who eats bull's penis to toughen up, the fireworks begin. The star chemistry between Lau and Cheng was obviously the crowd pleaser, but I was very impressed with how Wai and To were able to create a new kind of action film out of the woman's world of romantic comedy—the script was based on a novel written by a woman. When Cheng's character has one of her obsessive bathroom-cleaning attacks the camera charges around with her. The camera even flies through air ducts, representing the speed of office gossip, perhaps inspired by the Hollywood pyrotechnics of Mission Impossible and Fight Club. Wai and To's style injects a certain degree of machismo in an unobtrusive, inoffensive way.
I was less impressed with another popular modern romance, Xunyicao (Lavender), directed by (Riley) Ip Kam-hung. Ever since Ghost, I've had a hard time watching films with romantic male angels, and this was no exception. Here, heartthrob Takeshi Kaneshiro, complete with wings, literally drops in on a grieving young woman (Kelly Chen) whose boyfriend has just been killed—he was a "swat" team member! Lavender is well directed, and certainly has its moments, especially those involving the gay next-door neighbour, played by Eason Chen, and where one of her pupils—she teaches "scents" and perfumes—shows her a picture of when she was young, and hopelessly in love with a gay man, revealing the aging student to be none other than the great wu xia pian star of the 1960s, Cheng Pei Pei. Wilson Yip's Zhuliyi Yu Liangshanbo (Juliet in Love) was graced with even stronger performances, especially from Sandra Ng as Judy, a breast cancer survivor and Francis Ng as Jordan, a gangster pursued for his gambling debts, who become reluctant lovers. On the negative side, the film is, at times, overly melodramatic and derivative of both old and new Hollywood product—Judy's waterside shack setting is very reminiscent of Chaplin's Modern Times (1936), while tough guy, Jordan's changing diapers and baby-feeding is right out of Three Men and a Baby; he also looks a bit like Erin Brokovich's motorcycle-riding boyfriend.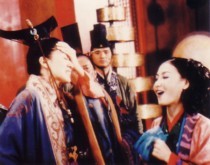 Wu Yen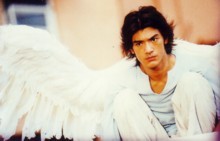 Lavender
Shunliu Niliu (Time and Tide) is a film which was a box office failure, but it is, for me, after In the Mood for Love, perhaps the best Hong Kong film of 2000. Time and Tide also marks a tendency in director Tsui Hark's work to push the envelope of visual storytelling. His career went into decline after The Blade (1995), especially through his sojourn in Hollywood. I've never been able to bring myself to watch his first Hollywood feature, and Jean-Claude Van Damme vehicle, Double Team (1997), but, in the way he parodied the entire Hollywood entertainment machine with his second effort, Knock Off (1997), one can find the roots of his recent experimental strain. Both Time and Tide and Knock Off felt as if they had a faster cutting rate, and hence a shorter average shot length (ASL), than almost any film, ever made.2 The action in Time and Tide almost never stops, and with hit men on wires climbing down the sides of tenement buildings, and the camera racing down to follow them, we feel that we are part of a spectacular big screen video game. Generally very derivative of other Hong Kong films, various U.S. media, and, even recent Korean films, the plethora of allusions is clearly deliberate. Time and Tide has an unbelievable, sometimes incomprehensible plot—e.g., the pregnant wife of a (good) gangster crawls along the ground to get to a locker in Kowloon station which is cordoned off by police—but, who cares? Arguably, this film provides the best expression of spectacular action entertainment intentionally overriding narrative continuity in contemporary world cinema. And, again, like Johnnie to/Wai Ka-fai latest work, it is a textbook example of post-modernist inter-textuality, even "intermediality."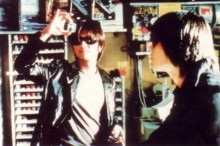 Time and Tide
Of the new Hong Kong films being premiered at HKIFF 25, I missed seeing Yonfan's Peony Pavilion, Evans Chans' The Map of Sex and Love, and a few shorts. Also I was underwhelmed by Yan Yan Mak's video work, Ge Ge, which, viewed via a not- very-high-tech projector, looked positively ugly, if not "amateurish." No doubt, the Qinghai, southwest Chinese landscapes would have looked beautiful in 35mm, and, probably, a lot better on a small video monitor. Nevertheless, many of us were truly puzzled that this very slow moving, yet, admirable attempt at an ethnic minority road movie won the FIPRESCI award over Platform (which we were told didn't win because it had been recognized at other festivals—so why was it even in competition?). A far better choice for the award would have been a second-time feature, also directed by a woman, (Carol) Lai Miu-suet, Boli Shaonu (Glass Tears). The look of the film is very striking with natural landscapes often appearing "burnout" through over-exposure, with monochromatic urban exteriors and gaudily, neon-lit interiors.3 The overall feeling of urban alienation, enhanced by the emptiness of public spaces, like parks, which in reality would invariably be crowded, is not unlike Clara Law's Autumn Moon (1992), whereas the neon world of youth, complete with jump cuts and other disorienting effects is reminiscent of Wong Kar-wai's work. But, in its attempt to provide a subjective portrait of a mysterious, spaced-out, 15 year-old, punkish female character, "P" (played by first-time actor, Zeny Kwok), visually rather than verbally—she doesn't like to talk too much—Glass Tears is very successful and original. In an interview conducted by Ching Suet-ching and published in the Hong Kong Panorama catalogue, Carol Lai discussed how the film was "the product of a nice co-operation between the director, the cinematographer [T. L. Cheung] and the art director [Poon Yik-sum]. We already have a complete storyboard before shooting starts. As the story starts with P and develops with her growing up, we have reached a consensus "on her image being dominant, so "we dress her in red and place her in a monotone environment." [p.62] I look forward to seeing more films by Ms Lai in the future.
Another very interesting "independent" feature to premiere at the 25th HKIFF was Lian'ai Qiyi (Heroes in Love), produced by (very) commercial filmmaker Gordan Chan. It is a compilation of three very different takes on young love in Hong Kong, directed by four members of what the producer calls Generation Y: Wing Shya ("Kidnap"), teen idol Nicholas Tse and fellow actor Stephen Fung ("My Beloved") and writer/actor/popular DJ, GC Boo-Bi ("Oh G").4 "Kidnap" looks great—all three shorts were shot by O Sing-pui—and has a hip, Wong Kar-wai-like voice-over narration, but very un-hip characters. One teenage girl kidnaps another believing that she is bound to fall in love with her; she does. The least of the episodes is the second, "My Beloved" where a young punk, played by (Robin) Por Wu collects guns and imagines using them. But, it is "Oh G" which is by far and away the most successful part of the film, and, something of a revelation for GC Boo-Bi's first-time direction. (For some reason, Heroes in Love was not eligible for the FIPRESCI award.) Her writing is one of the keys to her episode's success, and, perhaps, if I hadn't seen the film at its HK premiere with an enthusiastic young audience, I wouldn't have been so impressed. They cheered on the young couple, Charlene Choi and Laurence Chou as they (apparently) improvise a medley of popular songs, and were clearly delighted at his character's apartment being filled with Japanese toys. GC's future is one to watch.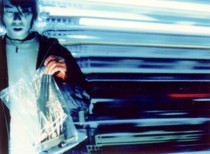 Heroes in Love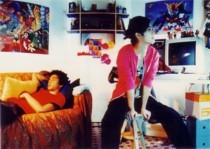 I saw nine of the thirteen Hong Kong shorts screened at the 25th HKIFF and, in all honesty, I would have to say that they were not as interesting as the 24th's selections. All except one were videos rather than films, and the lone 16mm work (which was unfortunately shown on video), The Wheelchair, was a very conventional drama on a grandfather-father-son relationship. There was some fairly imaginative animation from students of the School of Design at The Hong Kong Polytechnic University and a clever modern rendition of "The Little Mermaid," entitled Play Around made by Ngai Lai-ha, a second year City University student. The most accomplished work was This Morning, by Chiu Sing-yan, a brilliantly edited, 14 minute romp through urban anomie, where a bored office worker tries unsuccessfully to find something interesting to write in his diary. Much of the work was marred by obvious juvenilia and inappropriate or poor choices of musical accompaniment. These criticisms apply to the longest video shown, at 60 minutes Glowing (directed by Adam Wong), but this playful, self-deprecatingly reflexive view of a young, aspiring filmmaking was often humourous and imaginative in its shifting from black and white to colour.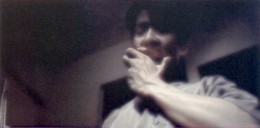 This Morning
Glowing
Remembering that 2000 was the year of In the Mood for Love and Crouching Tiger, Hidden Dragon, as well as Fruit Chan's Durian, Durian, and noting that former Hong Konger, Clara Law also had her fine new film showing at the 25th HKIFF, The Goddess of 1967 (which I've praised elsewhere), one can state that the festival ended with the Hong Kong film industry on the upswing in both commercial and artistic terms.
Second Part of this essay forthcoming soon on Offscreen.
Endnotes:
1. There is an excellent description and review of the full-length, 195 minute version of Platform, which premiered at Venice in September 2000, written on the occasion of its Toronto screening by Shelly Kraicer in cineACTION, No. 54 (2001): 67–70. The Berlin (2001), 155 minute version was screened in Hong Kong, and this is also the version that was released in Quebec (with French sub-titles) by Les Films Séville in February, 2002 following its screening in Montreal's New Cinema Festival the previous October. There may be two other versions of the film as there are references to a 185 minute length print screening at the Tokyo FILMeX (2000) and a 150 minute Dutch release print listed on the internet movie data base.
2. An amazing essay written by David Bordwell, and published in a recent issue of Film Quarterly, entitled "Intensified Continuity: Visual Style in Contemporary American Film," is essential reading for anyone who wants to keep up with stylistic tendencies in film. In it, he produces the results of statistical analyses conducted on a "corpus of 400 Anglophone films made or distributed by U.S. Studios from the years 1961–2000." [p.26] The fastest cut of these, perhaps surprisingly, is Dark City (1998) with an ASL of 1.8 seconds. [p. 17] I have yet to check the ASLs for Knock Off and Time and Tide, and it is unlikely that they will be less than this incredible statistic—Between 1930 and 1960 most Hollywood feature films had an ASL between 8 and 11 seconds [p.16]—but, in addition to "more rapid editing," Bordwell discusses "a free ranging camera" as one of the four characteristics of the contemporary "intensified" style, and, my sense is that the extreme dynamism of the recent Tsui Hark films comes from a combination of these two characteristics. In any event, Bordwell also recognizes that in the Hong Kong industry of the 1980s, "John Woo and Tsui Hark reworked Western norms, creating a flamboyant style that amounts to an intensification of an intensification." [p. 21] The article appears in, Volume
55, Number 3 (Spring 2002).
3. Whereas, I have noted other instances when I viewed a HKIFF film on a later occasion (not at the festival), I should confess that, in this case, my watching Glass Tears on DVD gave me the impression that it was shot digitally. I assume that the film probably looks very different via a 35mm print, so that, my visual impressions here may not be totally accurate.
4. In the Panorama catalogue, Gordon Chan explains how the directors were chosen for the project: "We need[ed] some people from the Generation Y. This means that they are still growing up and have yet to find their niche. But the way they see things is just what we old guys lack. I have been looking for these creative Gen Yers for a long time. . . . The four of them all have different backgrounds. GC Goo-Bi comes from radio, Wing Shya works with images, Nicholas Tse in music, while Stephen Fung is in acting. We thought it would be something just to put the four of them together." p. 24.