The 'Quintus' Montreal Italian Film Festival Makes its Debut
Italy Meets in Canada

This year a new film festival was added to Montreal's already impressive festival roster. The first annual "Quintus" Montreal Italian Film Festival, named after the famed ancient Roman actor Quintus Roscius Gallus (ca. 126 – 62 BC), was launched on September 8. And of course, there was no better place to hold an Italian Film Festival in Montreal, than at the impressive Leonardo da Vinci Community Centre in St. Leonard (Montreal's real Little Italy). All of the screenings were held in the Mirella and Lino Saputo Theatre, housed in the $17 million Leonardo da Vinci complex along with an exhibition gallery, indoor Bocce courts, a multi-sport gymnasium, and an Italian Resto-Café. The festival ran for five days with a program consisting of thirty-two contemporary short and feature length films from around the world, all of which either presented themes related to Italian culture and society or were produced by Italians and people of Italian heritage. Partly supported by the Italian Cultural Institute in Montreal, Quintus provided an interesting contrast to the larger corporate sponsored film festivals, which are usually chaotic, stressful, and overcrowded. In fact, Quintus was organized as a non-profit event, therefore all of the film screenings were offered free-of-charge, but donations were accepted. The proceeds collected from the festival go towards establishing a permanent fund that will help aspiring Quebec filmmakers produce their films. According to the festival founders, Joe Sisto and Dino Mazzone, the main objective of Quintus is to promote Italian culture and support the work of both established and emerging filmmakers, providing them with the opportunity to show their films to an audience that would otherwise not have access to them.
Also, Quintus differs from many other Italian Film Festivals held in North American because it does not limit its entries to only Italian-language films. In its inaugural year, the festival showcased various North-American, Canadian, and world premieres. The most notable world premiere was the Opening Night Gala screening of four episodes (episodes 1, 2, 6, and 9) from Ciao Bella, a new Canadian sitcom set in Montreal's Little Italy. Montrealer Steve Galluccio, the co-creator and writer of the series, was present at the screening along with several members of the Ciao Bella cast, including the star of the show Claudia Ferri. Over the past year, Galluccio has gained recognition as the writer of Mambo Italiano (2003), which he adapted for the screen from his own successful play by the same name. Ciao Bella continues Galluccio's comic exploration of Italian-Canadian life in Montreal. In many ways, Ciao Bella appears to be a televised version of Mambo Italiano – without the homosexual content of course. The sitcom follows the story of Elena Battista (Claudia Ferri), a young Italo-Canadian living in Montreal's Little Italy, as she struggles to cope with the old-world mentality of her parents (played by Ellen David and Tony Calabretta) and her Uncle Nunzio (Carlo Alacchi). On the day of her sister's wedding, Elena is hit by a bus and lapses into a coma. While unconscious, she has a near death experience in which she promises God that if he lets her live she will change her life and strive for greater independence. God accepts the deal and Elena miraculously recovers from her coma, however, she soon learns that keeping her end of the pact will not be easy. She finds it difficult to shake off her duties as a "good" daughter, especially when she is forced to help her parents run their homely Café Campania. In addition, Elena works as an accountant for her Uncle Nunzio's construction company, but his entrepreneurial ineptness leads her to take on more responsibility than she would like.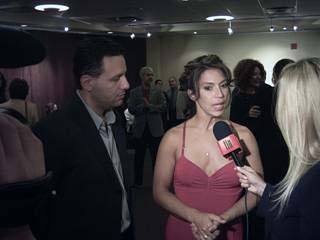 Joe Sisto and Claudia Ferri
The exaggerated comedy style of Ciao Bella is based upon very broad characterizations of Italian stereotypes that are practically identical to those found in Mambo Italiano. The most over-the-top characters are Elena's parents and her Uncle Nunzio, who continually shout Italian profanities at each other and speak with exaggerated physical mannerisms. At times, their excessive performances verge on the Carnivalesque. Fortunately, Claudia Ferri's level-headed performance as Elena functions as a binding force that holds all of the characters together. Moreover, although the overstated dialogue and performances do reduce most of the characters to one-dimensional caricatures, some of the quarrelsome banter is surprisingly funny. In one scene, Elena's father and Uncle Nunzio engage in a hilarious battle of rap rhyming (à la 8 Mile [2002]) in Italian. Yet I am not sure how funny that scene will be to viewers who are not familiar with the language. Nevertheless, the people at Quintus decided to bestow Ciao Bella with the most coveted prize of the festival, the "Quintus Award" for its achievement as the "production that best contributes to the advancement of Italians in the performing arts."
Italian-American actor and comedian Mike Marino (aka "New Jersey's bad boy") was also present at the festival where he performed two English-language stand-up comedy shows, which were the only events not offered free-of-charge. Yet the money earned from them also went into the Quebec filmmakers fund. In addition to the comedy shows, Marino had four films at the festival, The Regular Guy (Fulvio Cecere, 2003), Walking on the World (Carl T. Evans, 2004), Errors, Freaks & Oddities (Paul Battista, 2004), and 3 Tables (Jeremy Gray, 2003). Marino also acted as the Master of Ceremonies at the festival's closing awards presentation, where he could not resist throwing in a few one-liners about some of the "humble" elements of the festival, namely the lack of awards at the awards ceremony.
One of the highlights of the festival was being able to see 35mm film prints of several Italian films that have never been shown in North America. These films included Aldo, Giovanni, and Giacomo's Chiedimi se sono felice (Ask Me if I'm Happy, 2000), Emanuela Piovano's Amorfù (Foolish Love, 2003), Maria Sole Tognazzi's Passato prossimo (Past Perfect, 2003), and Piergiorgio Gay's La forza del passato (The Force of the Past, 2002). Chiedimi se sono felice stars the Italian comedy trio of Aldo (Baglio), Giovanni (Storti), and Giacomo (Poretti) (who also co-directed the film) as three friends and aspiring actors in Milan who are working on starting a theatre company together, until their relationship goes sour when a woman comes between them. The film is essentially a skit-oriented comedy with a flashback structure that traces the tragi-comic events leading up to the break up of the three friends, and their eventual reconciliation. Like most film comedies, Chiedimi se sono felice maintains a rather simplistic and predictable storyline. However, the witty inventiveness of the comedy trio makes for several funny moments of slapstick comedy and visual gags, which add to the heartfelt quality that emerges from the child-like innocence with which the three friends confront the world.
Another film that dealt with the issue of friendship was Passato prossimo, but unlike Chiedimi se sono felice, this film provided a more complex perspective upon the issue. Passato prossimo is Maria Sole Tognazzi's directorial debut, for which she was nominated as Best New Director at the 2003 David di Donatello Awards (The Italian Academy Awards). The film is essentially an updated Italian version of Lawrence Kasdan's The Big Chill (1983). A group of friends in their late twenties spend an autumn weekend together just outside Rome in a country house where they had previously shared many summer vacations. They are saddened to learn that this will be their last weekend together in the house, for it has been sold and will soon be demolished. Throughout the course of the weekend, new and old love affairs blossom and wither, along with old and new rivalries between friends who must confront their fears and accept their adult responsibilities. Passato prossimo features a cast of promising young Italian actors that do a fine job representing the various youth archetypes. Valentina Cervi plays the maternal Carola, who has already chosen the names of her unborn children even though she is not pregnant. Ignazio Oliva gives a terrific performance as the emotionally tormented Edoardo, an aspiring second-generation actor constantly struggling to stay out of his successful father's shadow. Paola Cortellesi plays the role of Claudia, a graduate student faced with the daunting task of completing a Master's thesis. The most promising member of the cast is the young Sicilian actor Claudio Gioè in the role of Giammaria, who at one point in the film amusingly compares his sexual attraction to women with his desire for pizza. A further strength of the film is the supple flashback structure that Tognazzi employs to oscillate between scenes from the present weekend in the autumn and others from a past summer weekend. Through an unconventional flashback style reminiscent of Bertolucci's La strategia del ragno (The Spider's Stratagem, 1970), Tognazzi creates fluid temporal transitions with carefully choreographed camera movements and long-takes. In one scene, we see Eduardo, dressed in a wool sweater and long pants, entering Claudia's bedroom. The camera then tracks right and leaves him offscreen to reveal Claudia lying on her bed in a bikini. Eduardo then enters the shot, but he is now dressed in a bathing suit. He walks over to a window and opens its shutters to reveal a beautiful summer day outside, therefore signaling that we are now witnessing an event from Eduardo's memory of a past summer weekend at the house. Similar temporal and spatial shifts occur throughout the film to highlight the symbolic importance of the house as a repository of the characters' youthful memories. The premise of Passato prossimo may lack in originality (particularly in its similarities with The Big Chill), but the film does merit praise for its inventive visual style and its insightful look at the angst ridden Italian youth of today.
This theme of youthful angst was also explored in Carlo Luglio's Capo Nord (North Cape, 2002), which traces the adventures (or rather the misadventures) of four teenage boys from Naples as they trek their way across Northern Europe. The young Neapolitans initially travel to Hamburg, Germany, but when their attempts at burglary prove unsuccessful, they then travel further North to Oslo, Sweden. In Oslo, they live rather decrepit lives, working odd jobs with other foreigners and getting involved in some violent situations. The film provides a rather pessimistic reflection upon the dismal economic situation in southern Italy, where most young people are forced to seek work as manual laborers either in Northern Italy or other European countries. This bleak subject matter is presented through a gritty visual style that foregrounds the film's austere settings and the sense of alienation expressed by the cast of young inexperienced actors who speak only in southern Italian dialect.
Although Capo Nord was voted Best Italian Film at last year's Los Angeles Italian Film Festival, this year at the Quintus it was overshadowed by La forza del passato, which won the award for Best Feature Drama. La forza del passato played in competition at the 2002 Venice Film Festival, but it had never been screened in North America until this year at Quintus. Set in Trieste, the film follows the story of Gianni (Sergio Rubini), a successful writer of children's fantasy novels. He is an ardent communist who had always despised his father and his career as a Fascist military officer. Shortly after his father's death, Gianni receives an unexpected visit from a stranger named Bogliasco (Bruno Ganz), who claims to have been a close friend of his father. Bogliasco identifies himself as an ex-KGB agent and he informs Gianni that his father had led a secret life as an undercover communist spy posing as a Fascist military officer. Understandably, Gianni thinks Bogliasco is crazy, until he eventually comes to realize that Bogliasco is actually telling the truth. When faced with this truth, Gianni becomes distressed and begins to struggle with his own sense of identity and personal history. The film effectively explores the contrapuntal relationship between fact and fiction, honesty and deceit. Bruno Ganz gives as an excellent performance as the eccentric Bogliasco, whose life of communist espionage has led him to live his last days in solitude, with no wife, no children, and a plethora of identities. The same cannot be said for Sergio Rubini, however, whose edgy performance as the bewildered Gianni gets to be annoying at times, especially near the end of the film.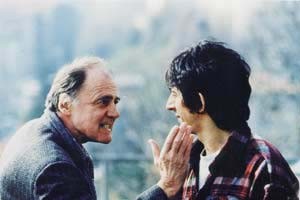 Bruno Ganz and Sergio Rubini in La forza del passato
In light of the numerous films making their North American and Canadian premieres at the festival, I thought an interesting inclusion to the program was the Italian-German-Austrian-Swiss co-production Mostly Martha (Sandra Nettelbeck, 2001), which had its world premiere at the 2001 Toronto International Film Festival. I thought it was an interesting selection for two reasons; firstly, it is readily available on DVD at your local video store, and secondly, it is a German-language film set in Hamburg. Even the voice of Sergio Castellitto, the Italian actor who co-stars in the film, is dubbed into German. Castellitto plays Mario, a free-spirited Italian cook who teaches an up-tight German gourmet chef, Martha (Martina Gedeck), how to appreciate the delicacies of life and love. Martha is forced to take care of her eight year-old niece Lina (Maxime Foerste), when her sister dies suddenly in a car accident. As a result, Martha begins missing work at the restaurant where she is the head chef, and her boss decides to hire an Italian chef, Mario, to help out. Initially, Mario's casual cooking style angers Martha and the two of them clash in the kitchen, but their feuding eventually develops into a love affair as Martha is seduced by Mario's child-like joie de vivre. Once Mario enters the picture, Mostly Martha begins to seem a lot like Big Night (Stanley Tucci, 1996), especially in the amusing scenes where Mario dances around the kitchen and cooks while listening to Louis Prima and Dean Martin songs on his portable radio. Another Big Night element is the great attention that director Nettelbeck places upon the gastronomic details of fine cuisine. Overall, Mostly Martha is a very impressive feature film debut for writer-director Sandra Nettelbeck, who manages to achieve that delicate balance between humour and pathos that is at the core of every touching romantic comedy.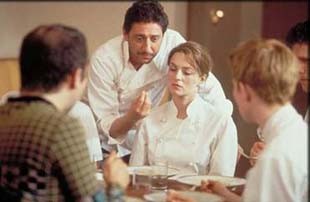 Martha
Released in Italian theatres late last May, Pontormo (Giovanni Fago, 2004) was the most recent (and with a $5 million budget, the most expensive) Italian film shown at the festival. Unfortunately, a 35mm print was unavailable and the audience had to settle for a poor DVD projection that electronically squeezed the image into a full-frame format that severely altered the film's original aspect ratio. In fact, this was a recurrent problem that plagued most of the festival's DVD projections. Nonetheless, projection problems aside, Pontormo was the closing film of the festival and it was one of the most highly attended screenings. The film stars Joe Mantegna as the tormented elderly Renaissance painter Jacopo Pontormo (1494 – 1557), who endures numerous set backs while painting a series of frescoes on the walls of the Basilica of San Lorenzo in Florence. After spending ten years of his life working on these frescoes, Pontormo is hounded by constant health problems that slow down his completion of the work. Furthermore, when word gets around that Pontormo's frescoes depict the story of the Saviour of Man through "offensive" imagery reminiscent of Michelangelo's Last Judgment in the Sistine Chapel, the painter has trouble concealing his "unfinished" work from the anxious eyes of his critics and censors. At the end of the film, we learn that the frescoes remained unfinished at the time of Pontormo's death. They were eventually completed by his assistant, but in 1738 they were completely destroyed, confirming Pontormo's prophetic statement in the film that art does not last forever. Pontormo offers an interesting glimpse into the last years of the painter's life, exploring the timeless obstacles that the artist must face in creating his art and then protecting it from censorship and destruction. Mantegna gives a rather convincing performance as the ailing Pontormo, however, the film does suffer from melodramatic moments and an unattractive movie-of-the-week visual aesthetic.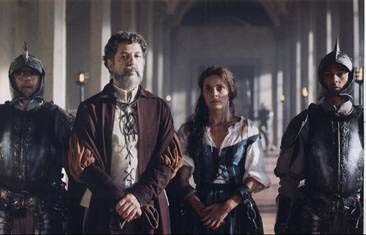 Joe Mantegna in Pontormo
In contrast to Pontormo, many films shown at the festival were very low-budget independent productions made with a minimal cast and crew. For instance, the Italian directorial team of Luisa Pretolani and Massimiliano Valli had three films playing, Tanabèss (1997), Tizcà: Gli uccelli dipinti del caucaso (2001), and Berbablù (2004), all of which were shot using very sparse production means. Also, the independently produced American film Intervention (Anton Evangelista, 2004) stood out as an excellent example of what a passionate filmmaker can achieve with a very limited budget. Intervention marks the directorial debut of Anton Evangelista, who not only wrote, directed, and produced the film, but he also acts in one of the starring roles. Shot on digital video, the film tells the story of an Italian-American couple from the Bronx as they face the pressures of marriage, friendship, and family values in 1968. Amazingly, much of the vintage 1960s props in the film, such as cars, clothes, furniture, and décor, were all provided by residents from the Bronx. The strengths of Intervention rest in its simple storyline, detailed production design, and impressive cinematography (which actually won the film a prize for Best Cinematography at the festival).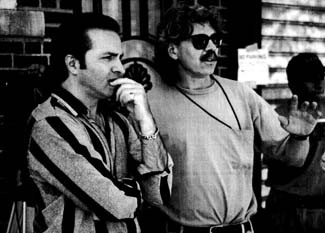 Director/Actor Anton Evangelista and Cinematographer Rob Harley of Intervention
Another extremely low-budget feature film that caught my attention with its simple, but very effective, storyline and visual style was the Italian romantic-comedy Qualcosa (Something, 2002), directed by Saverio Piunno. Filmed in Bologna on digital video over the course of only two weeks, Qualcosa employs a non-professional cast, real locations, and real props. The protagonist is Oscar (Tomasso Fortunato), an aspiring love therapist who opens an institute for women with relationship problems. Oscar often finds himself getting intimately involved with his patients during their moments of emotional distress. He cannot resist taking advantage of the women who come to him for advice, until one day he meets the woman of his dreams. Through its insightful perspective upon the complexities of love and romance, Qualcosa reveals how relationships are often shaped by a socially imposed power dynamic between the sexes. The entire film was shot using a restless handheld camera that constantly frames the characters in close-up as they speak to one another. The shaky camera style creates a very un-polished and free visual aesthetic reminiscent of Cassavetes' Faces (1968). In his brief introduction before the screening of the film, Saverio Piunno did not cite Cassavetes as a direct influence, yet he did acknowledge that the minimalist approach of his directorial style was very much shaped by aspects of the Dogma movement.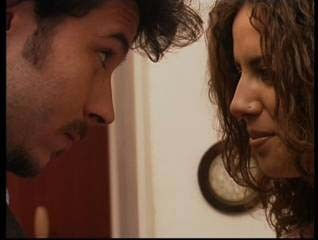 Qualcosa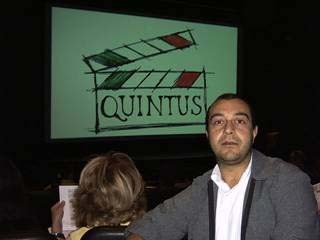 Director Saverio Piunno
Paris, Dabar (Paolo Angelini, 2003) was another interesting film from Bologna defined by a very minimalist style. Also shot using a handheld digital video camera, Paris, Dabar follows a group of oddball characters through the streets and bars of Bologna, as they compete in a bar-hopping contest for a secret prize that eventually turns out to be a free sexual encounter with a transvestite. With its wacky storyline, eccentric cast of characters, and gritty visual style, Paris, Dabar adopts a peculiar realist aesthetic that effectively captures the hip essence of a city that is presently at the cutting edge of Italian youth culture. As for the short films, the most impressive was Aspiration (Constant Mentzas, 2003), a16mm black-and-white film with no dialogue that consists of only seven shots in its 15-minute duration. It employs a contemplative long-take aesthetic that follows an unidentified man as he drives up to a beach, parks his car, and then proceeds to smash his car repeatedly with a hammer. The most impressive part of the film is a 5-minute camera pan across the protagonist's face as he sits motionless in his car and stares blankly offscreen, while the crashing sounds of ocean waves intensify on the soundtrack. Aspiration is mainly defined by an inventive juxtaposition of sound and image that aptly communicates the protagonist's sense of inner turmoil and pent up rage. Lastly, the festival's documentary film program left much to be desired, as it consisted of only three films, Prisoners Among Us: Italian-American Identity and World-War II _(Michael Angelo Di Lauro, 2004), _Sraniera come donna (Anita Aloisio, 2002), and My Grandmother (Ingrid Berzins Leuzy and Anita Aloisio, 2004). The best of the three was definitely Prisoners Among Us, which chronicles the assimilation of Italian immigrants into American culture, and the history behind the Italian internment camps created in the United States during the Second World War. The film offers an in-depth examination of how the U.S. government came to label Italian-Americans as Enemy-Aliens, imprisoning many of them or forcing them into segregated Italian neighbourhoods. Di Lauro does an excellent job at combining rare archival footage, old photographs, private letters, and interviews to recount the personal experiences of various Italian-Americans during this difficult period in U.S. history. Indeed, the film seems to bring out many parallels with the present treatment of Arabs and Muslims in America today. As any good documentary should, Prisoners Among Us generated an involved response from the audience after the screening, particularly when Di Lauro took the stage and argued that although President Clinton did sign the Wartime Violation of Italian American Civil Liberties Act on November 7, 2000, the U.S. government still continues to deny the Italian-American community proper compensation for what happened. In fact, Di Lauro explained that one of the stipulations of the Act was for the government to provide a $300,000 fund for the production of a film about the unfair treatment of Italian-Americans during WWII. Yet, this money never materialized and Di Lauro was therefore forced to make his film without any financial support from the government. Thankfully, there are courageous filmmakers such as Di Lauro who are willing to produce important films like Prisoners Among Us, and I am hopeful that Montreal will continue to have the Quintus festival to provide people with the opportunity to watch such films for many more years to come.