Play Misty for Me (Clint Eastwood, 1971) Still Shocks and Mesmerizes 50 Years Later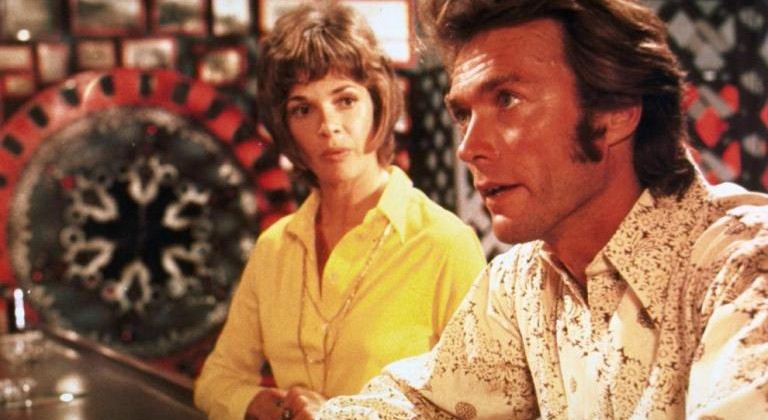 Stalkers have become the bread and butter of many thrillers, black comedies, and horror films in the past few decades. In depicting the stalker figure's volatile shifts between benign adoration and maniacal obsession, a film's take on gender roles necessarily lends the narrative a distinct character in exploring psychological dysfunction and showcasing stalkers' disturbing interpersonal conduct towards the people they target. When the stalker is a man, the story often follows a formulaic, predictable route. When the stalker is a woman, the story paves the way for a more compelling thematic orientation and the potential to revise societal tropes. One highly singular film was produced and released at a time when stalking themes, and especially female stalkers as villains, were still unheard of. While the violence in the film appears tame by today's standards, it has lost none of its shock value and mesmerizing presentation, which is a testament to the vision of its first-time director: a then-rising actor named Clint Eastwood.
One can find multiple anecdotes from co-stars, crew members, and fellow filmmakers on Eastwood's distinct skills as a director. They usually pivot towards the same points of appreciation, including Eastwood's tendency to finish a film under budget and ahead of schedule, his widely known penchant for efficiently shooting a very small number of takes, and his tremendous work ethic seemingly devoid of ego or insecurity. As documented in Marc Eliot's American Rebel: The Life of Clint Eastwood, the actor reflected on his decision to transition into a directing career at the turn of the 1970s: "After seventeen years of bouncing my head against the wall, hanging around sets, maybe influencing certain camera set-ups with my own opinions, watching actors go through all kinds of hell without any help, and working with both good directors and bad ones, I'm at the point where I'm ready to make my own pictures. I stored away all the mistakes I made and saved up all the good things I learned, and now I know enough to control my own projects and get what I want out of actors." (Eliot 123) Now 91 years old and still very much active as an actor and filmmaker, Eastwood recently released his latest film, the neo-western Cry Macho (Clint Eastwood, 2021), shot in New Mexico in late 2020. This new release not only demonstrates Eastwood's astounding tenacity in directing, producing, and acting in a feature film at his advanced age amidst the COVID-19 pandemic, but also happens to coincide with the 50th anniversary of his directorial debut.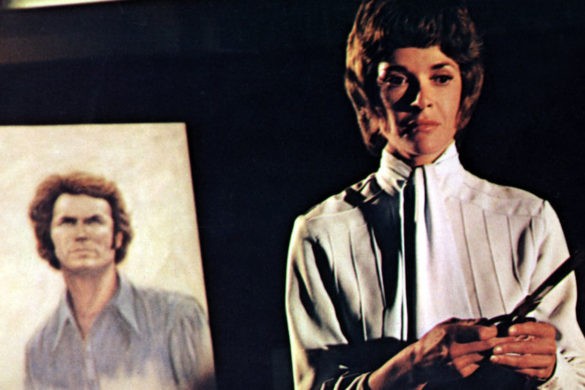 Jessica Walter as Evelyn
The subject matter of Play Misty for Me made it an unusual product for its time. Written by Jo Heims and Dean Riesner, the screenplay is set in the coastal town of Carmel-by-the-Sea in Northern California and follows radio disc jockey Dave Garver (Eastwood) as he meets female fan Evelyn Draper (Jessica Walter) and begins a casual relationship with her. Before long, Evelyn fixates further on Dave and stalks him in his personal and professional life. Howard Hughes' Aim for the Heart: The Films of Clint Eastwood highlights the emotional complexities inherent to the narrative: "He presumes they have had a 'no strings' one-night-stand, but Evelyn misconstrues their relationship, showing up at his home unannounced and acting as if they're lovers. Matters are further complicated by the return to Carmel of Tobie Williams (Donna Mills), Dave's long-term girlfriend; their relationship was scuppered by his womanising and the constant parade of intrusive roommates at her house, affording them little privacy. Dave tries to discourage Evelyn, but her behaviour becomes increasingly obsessive, erratic and psychotic." (Hughes 101) While relying on Hitchcockian-style tension to build up suspense, the screenplay provided a very real and thus chilling look at the dangers of a fan's fixation and the spiral of dysfunction that suffocates the lives of everyone around them.
There had been films dealing with obsession and the fears associated with human sexuality produced prior to Play Misty for Me, including Repulsion (Roman Polanski, 1966) as a prescient examination of such themes, but Heims' original story, which she had written by herself first before polishing the screenplay with Riesner, felt very fresh to Eastwood when he first read it. As he explained in a 1971 interview: "Play Misty for Me was taken from a true story. […] Jo Heims, who wrote the story, worked it up, fictionalizing it. What appealed to me about the script is that there are incidents like this in everyone's life, to some degree, this whole thing of interpretation of commitment, or misinterpretation of commitment. A girl may say: Sure, I feel the same way; I don't want any part of marriage. But then next week, slowly, there's that kind of throwing a blanket over a person. [The constriction] is a very important part of the film, because that's the thing that makes it personal to the audience as opposed to just a horror movie. If you've had any kind of experience in your life where somebody has just tried to move in too fast, or has just held on too hard; I think everybody has had something like that. It's something that could happen" (Kaminsky 15). While stalking themes have become much more common in films released since – including The King of Comedy (Martin Scorsese, 1982), Fatal Attraction (Adrian Lyne, 1987) and Fear (James Foley, 1996) – the freshness of Evelyn Draper's characterization as an obsessed fan turned homicidal stalker, grounded in Heims' real-life experience, directly made her a highly distinct villain for a thriller released in the early 1970s.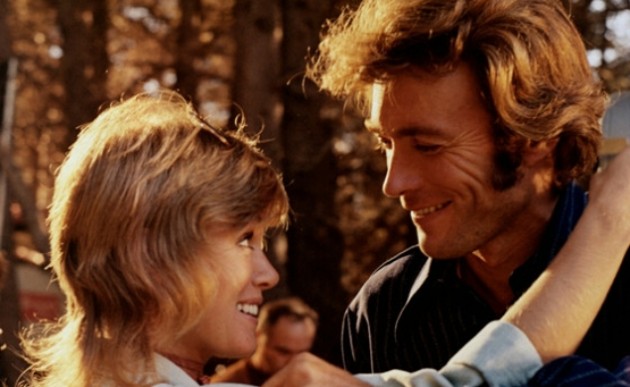 Donna Mills as Tobie
The casting of Evelyn proved to be perhaps the film's single highest achievement in making the story believable and utterly disturbing. Jessica Walter, who sadly passed away last March at the age of 80, was able to use her unconventional acting sensibilities in unearthing the character's complex psychological makeup and manifesting her instability, desperation, and delusion through her increasingly uncomfortable interactions with Dave. Evelyn is a woman entrenched so deeply in erotomania, so desperate to cling onto Dave no matter the harm she causes to him and everyone else around her, that her behavioral patterns have become ruled by unpredictable shifts, veering abruptly from playful infatuation to obsessive fury, from childlike mischief to uncontrollable sobbing. Hughes further addresses Evelyn's psychological issues: "Evelyn Draper is a nerve-jangling example of what has since become known as a 'Bunny Boiler'. Misty deals with the misinterpretation of love – not just avid fandom, but all-consuming, psychotic destructiveness. […] Evelyn is initially just another in a long line of one-night-stands for Dave, but when she sees Tobie stealing him back, it affects her psychologically. Evelyn is the ultimate groupie who knows everything about the object of her affections. […] High-strung and unstable to begin with, Evelyn's unreciprocated love scratches away her thin veneer of sanity – her wired, sudden mood swings and spurts of rage shock Dave. These rapidly escalate from pestering phone calls and unexpected visits, to housebreaking, stalking and murder" (Hughes 104).
As a direct counterpoint to Evelyn, Dave's characterization also provides an intriguing take on the shifting conventions of masculinity at the turn of the 1970s. Adam Knee elaborates on the film's tackling of the traditional male conception in his essay "The Dialectic of Female Power and Male Hysteria in Play Misty for Me": "Even aside from the fact that he is seriously threatened by a female character, the masculinity of the Eastwood persona is already called into question here in that he possesses a number of evidently contradictory characteristics. David does refer us to the machismo of many earlier Eastwood characters in his tendency toward violence, his trademark stony stare, etc., but at the same time director Eastwood offers an implicit acknowledgement that such a traditional figuration of the masculine may be (for the time being) somewhat outmoded: strong efforts are made to imbue David with signifiers of 'sensitivity' and 'hipness,' to suggest at least a tacit assent to the social aims of contemporary progressive political movements – in short, to make him a man in tune with the 1970s" (Knee 88).
While Knee's presentation of Dave as a man with a "tendency toward violence" is misleading, exaggerating the few instances in the film in which he physically fends off Evelyn's attacks, his argument on the film's depiction of contradictions in the male figure remains relevant in further evaluating gender dynamics as presented in the story. As he continues in his essay: "Evelyn functions in one sense as just such an intrusion, as an overt manifestation of the threat posed by the flourishing of the women's liberation movement. David's trepidation over the new deference to women required of him as a man of the 1970s – his fear of women with newly won social power – surfaces in the form of an ultimately violent, sexually desirous female aggressor. Ironically, Evelyn appears as a threat precisely because she has taken on traditional masculine characteristics, of the very type David is being forced to give up, and in this way she is simultaneously a return of the masculine repressed. […] Evelyn thus stands as a constant reminder of David's macho past, impeding his efforts to reconnect with Tobie, to become a man of the 1970s" (Knee 91-92). His essay ultimately proposes the following dichotomy in the film's reversal of traditional gender roles: "By acting on violent and sexual desires in ways no longer open to the Eastwood character – in being sexually aggressive and ultimately homicidal – it is Evelyn rather than David who is crucial to forwarding the narrative; for the most part, she acts, while he reacts. In conjunction with this, Evelyn's presence undermines traditional Hollywood conventions of the male orientation of the gaze" (Knee 92).
The female perspective provided by Heims in her development of the original storyline certainly allowed for this reimagining of gender tropes. As Eileen McGinley and Andrea Sabbadini explain in their essay "Play Misty for Me (1971): The perversion of love": "This collaboration between Heims and Eastwood enriches both the female and male perspectives of the protagonists, and gives further depth to the accuracy of their psychological depiction. […] The film depicts the conflicts inherent in maintaining close personal relationships, the difficulties we all face with intimacy, and the inevitable envy and jealousy that have to be borne when we fall in love" (McGinley and Sabbadini 589).
McGinley and Sabbadini bring up an interesting point as they address the element of relationship conflicts in the film, for the toxic interplay between Dave and Evelyn is one side of the film's emotional pendulum, the other side being Dave's rekindling of his relationship with Tobie. Donna Mills' subtle, endearing portrayal of Tobie provides a balance to the story and establishes a captivating contrast to Evelyn's maniacal fixation. The gradual reconciliation between Dave and Tobie turns out to be what makes Play Misty for Me a surprisingly moving film. Even as Dave begins to know Evelyn and becomes more and more unsettled by her behavior, he persists in trying to reconnect with Tobie, even suggesting to Evelyn the first time he meets her that Tobie is the one person he's hung up on. Dave's efforts in reconciling with Tobie amidst the chaos spread by Evelyn even evoke an acknowledgement of Eastwood's own personal life, as Daniel O'Brien's Clint Eastwood: Film-Maker presents: "A curious footnote to Play Misty for Me is Eastwood's later revelation that the story contained an element of autobiography. As a teenager, he had been the unwilling object of an older woman's sexual obsession. […] A more strikingly autobiographical element of Misty is Garver's apparently pathological promiscuity. The scene where he attempts to explain his infidelity to Tobie, arguing that her possessiveness and jealousy drove him into the arms of other, less demanding women comes over as a case of celluloid imitating (or at least drawing on) life. For Garver, Evelyn represents the pick-up from Hell, a clinging, emotionally draining parasite posing as a casual fling" (O'Brien 106).
The emotional anchor of Dave and Tobie's relationship becomes more prominent around the middle of the film, as Evelyn is committed to a psychiatric hospital after vandalizing Dave's house and savagely assaulting his housekeeper. The tension radiating from Evelyn's toxic presence over Dave's life dissipates for a little while, until her inevitable return at the climax. This part of the film takes the time to focus on the reconciliation between Dave and Tobie, which ultimately happens through a montage set to Roberta Flack's rendition of "The First Time Ever I Saw Your Face". More vividly than any other scene in the film, the montage eloquently captures the elemental sensuality of the wilderness around Carmel-by-the-Sea by grounding the two characters' physical and emotional reconnection in the rocky beaches and lush forests of the region. While some may dismiss this montage as being out of place in the film and interrupting the flow of the piece, the scene confirms the emotional crux of the story. After showcasing a profoundly dysfunctional relationship that originated from a misguided hookup and the fixation of a stalker, the scene swings the film's emotional pendulum the other way by showing the reaffirmation of a complex yet normal and ultimately caring relationship between two sensible, self-aware adults. Once Evelyn reappears at the end of the film, holding Tobie hostage and goading Dave into a desperate game of cat-and-mouse at Tobie's cliffside house, the film offers a true reason to become invested in the resolution of the story and to hope for the defeat of the twisted vision of attachment represented by Evelyn's degenerating personality.
The setting of the story in a small town on the coast of Northern California also contributes greatly to the film's credibility. Even for his debut as a director, Eastwood demonstrates striking craftsmanship in capturing locations, lighting the sets, and directing the cast within the environment of Carmel-by-the-Sea. Introducing Dave as a sort of local celebrity in his community, the film embraces the distinct townscape of Carmel through the restaurants, bars, and houses in which the characters meet and interact, as well as the sensual, elemental scenery of the coastal wilderness surrounding the town. By grounding the story in the real-life environment of Carmel, as well as relying on natural light and minimal production design for most of its scenes, the film introduces the audience to a setting that is utterly new and thoroughly believable. It brushes away any points of geographical familiarity as opposed to the largely recognizable sites of Los Angeles or San Francisco, and thus raises the stakes for the emotional resolution of the story within the rugged environment surrounding this quaint coastal town. Hughes further elaborates on the importance of these exterior locations to the film's narrative and thematic momentum: "The spectacular scenery, often filmed in sweeping helicopter shots, provides an elemental expression of the tempestuous emotional turmoil in the story. In the opening scene, Dave looks down from Tobie's veranda at the waves crashing on the rocks below – the rocks where Evelyn is dashed against in the finale. When Eastwood cuts away from the story, the rugged coastline, battered by the sea, with gulls screeching and waves crashing, recalls Roger Corman's Poe adaptations, such as Pit and the Pendulum (1961), The Raven and The Terror (both 1963) – Monterey Gothics shot in California" (Hughes 102). Hughes' mention of a Poe sensibility within these locations is doubly interesting when remembering Evelyn's cunning use of the poem "Annabel Lee" in deceiving both Dave and Tobie at the climax, amidst the nighttime coastal wind and the tumultuous waves below Tobie's house.
Linda Ruth Williams additionally provides a compelling developmental aspect to the genre of the erotic thriller in her book The Erotic Thriller in Contemporary Cinema, which can be applied to the conception of Play Misty for Me in the early 1970s. As she elaborates: "A seasoned erotic thriller aficionado will recognise, for instance, the 'Fredricks of Hollywood' co-ordinated underwear, the security cameras with sexual potential, the half-hidden gun in a lingerie drawer. He or she might also expect a mild lipstick-lesbian performance, a murder or financial double-cross, a scene in a strip-joint. Perhaps a courtroom sequence. A lousy or a dead husband. A femme or homme fatal(e). However, these elements are not present in their varying measures because some transcendent generic structure called 'erotic thriller' deems them to be crucial components. They are there because they provide opportunities for innovative variations on dependable staples, satisfy the filmmaker's sense of interesting workmanship, and sell the films to their target audiences" (Williams 17). While the tropes she addresses are more akin to the erotic thrillers released after Play Misty for Me – a film that has more in common with the psychological thriller than the erotic thriller – Williams' argument on the opportunities channeled by these tropes evokes the contextual advantages that allowed Play Misty for Me to be crafted and released to critical and commercial success in its time. The novelty of Heims' original story and the thematic challenges it offered, coupled with Eastwood's ambition to transition into a directing career by helming a film that would be taken seriously by audiences, all coalesced into the crafting of the film with the exact narrative, thematic, and even aesthetic directions it ended up presenting.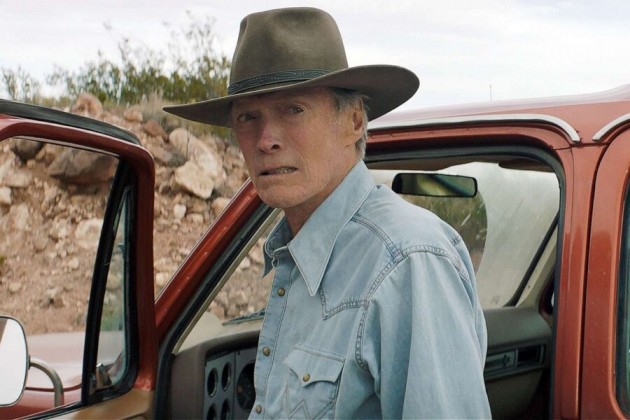 Cry Macho
Ultimately, Play Misty for Me proved that Eastwood was an actor more than capable of embarking on an equally impressive directorial career. Showing a craftsmanship and evident rapport with actors in bringing the story to life, the film brought forward the possibility of delving into stalking themes and addressing the figure of the female stalker as a credible antagonist. For a psychological thriller released in the early 1970s, it relied just enough on Hitchcockian thrills to convey efficient suspense without feeling derivative, while presenting a chillingly evocative take on the shifting sexual mores and gender dynamics of its era. Fifty years later, Cry Macho carries on the same trademarks that have been recognized in Eastwood's long directorial trajectory starting with Play Misty for Me: an unhurried pace, a tremendous attention to character and performance, an authentic look and feel, and the depiction of unconventional yet surprisingly relatable storylines.
Essay submitted on September 2021
Bibliography
Marc Eliot. American Rebel: The Life of Clint Eastwood. New York: Harmony Books, 2009.
Howard Hughes. Aim for the Heart: The Films of Clint Eastwood. London: I.B. Tauris & Co Ltd, 2009.
Stuart M. Kaminsky. "Eastwood on Eastwood." Clint Eastwood: Interviews – Revised and Updated. Edited by Robert E. Kapsis and Kathie Coblentz. Jackson: University Press of Mississippi, 2013, 7-19.
Adam Knee. "The Dialectic of Female Power and Male Hysteria in Play Misty for Me." Screening the Male: Exploring Masculinities in Hollywood Cinema. Edited by Steven Cohan and Ina Rae Hark. London: Routledge, 1993, 87-101.
Eileen McGinley and Andrea Sabbadini. "Play Misty for Me (1971): The perversion of love." The International Journal of Psychoanalysis. Volume 87, Issue 2, 2006, 589-597.
Daniel O'Brien. Clint Eastwood: Film-Maker. London: B.T. Batsford Ltd, 1996.
Linda Ruth Williams. The Erotic Thriller in Contemporary Cinema. Bloomington: Indiana University Press, 2005.